The buzz on Boerum Hill: How an iconic Brooklyn neighborhood blends old and new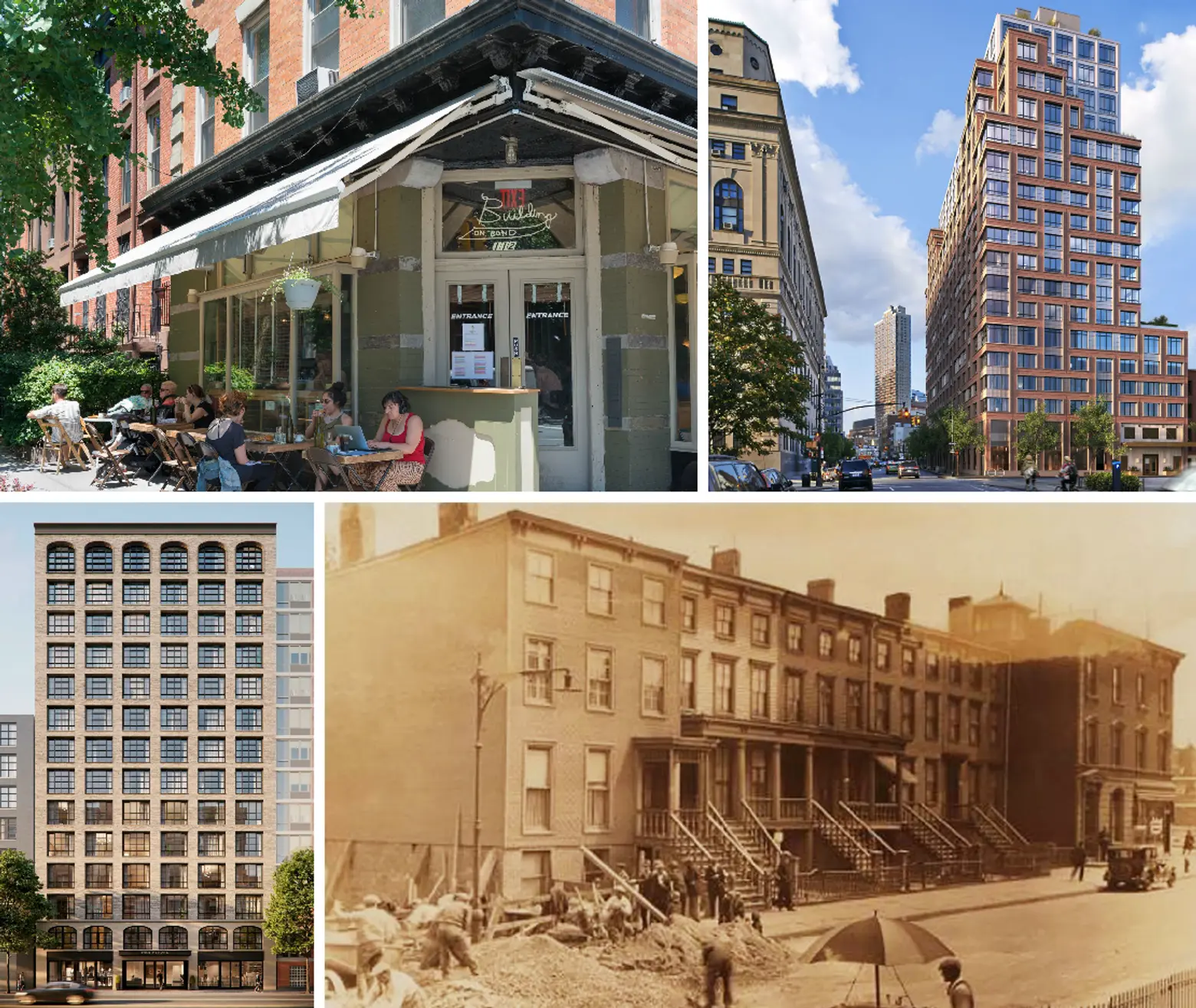 Shelly Place, an agent with Triplemint, describes Boerum Hill as "the perfect blend of old and new. Geographically, it is smack dab in the middle of Brooklyn, convenient to downtown [Manhattan], and close enough without being in the middle of the hustle and bustle. You can go days or weeks without ever leaving Boerum Hill but, if you want, you have the rest Brooklyn right there."
Known for tree-lined streets filled with historic brownstones, Boerum Hill is one of those unique neighborhoods that has successfully blended past and present in a way few communities have been able to. There are a ton of great restaurants and creative cocktail lounges and independent specialty stores alongside the big brands, like Apple, Whole Foods' 365, and Lululemon, lining Smith Street and Atlantic Avenue. And with a slew of new contextual developments springing up, it's time to turn your attention to the buzz on Boerum Hill.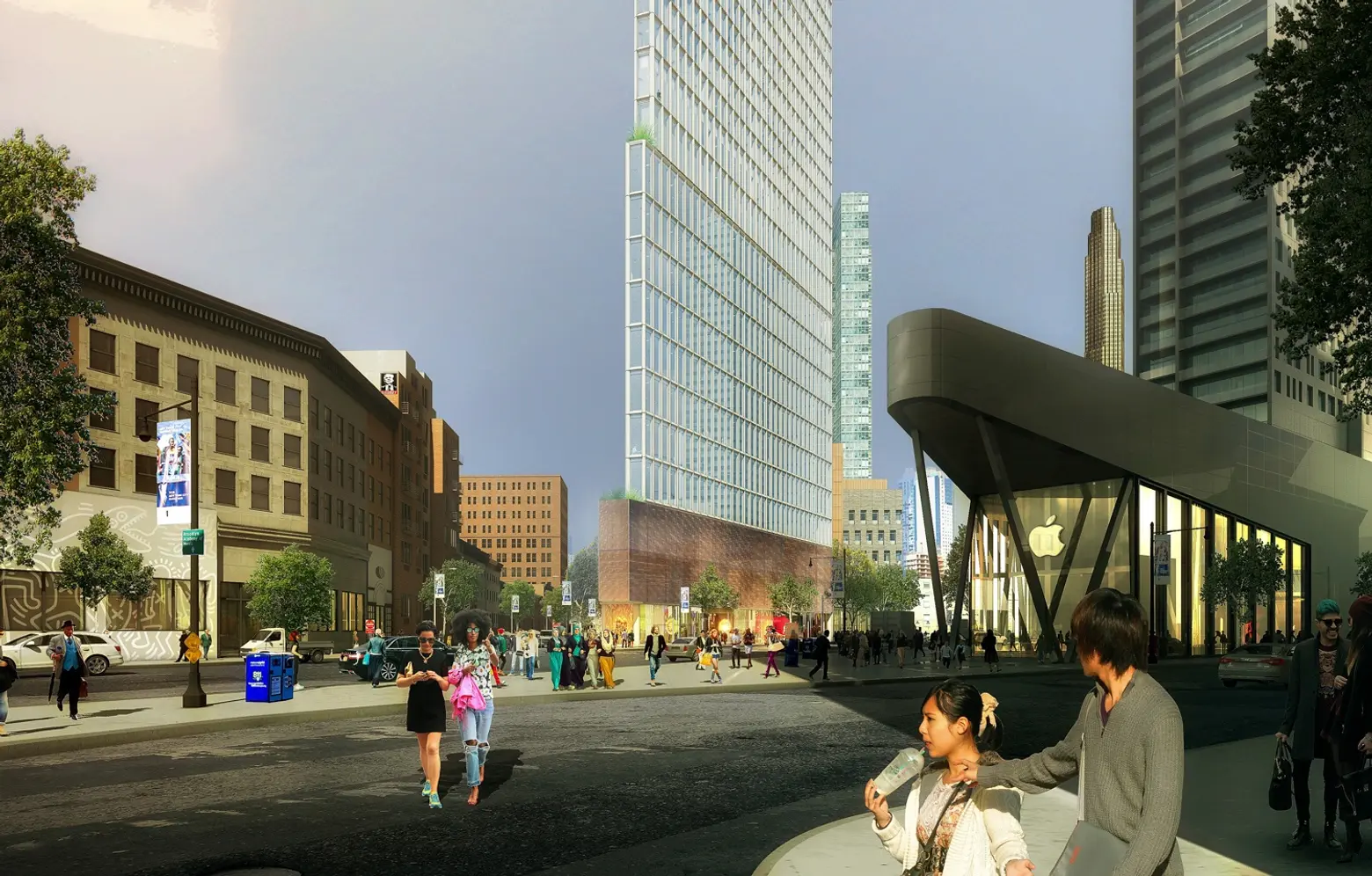 Rendering of 80 Flatbush, via Alloy Development
Just last week, Brooklyn's Community Board 2 overwhelmingly voted against a controversial plan (32 against, 1 in favor) to develop a huge, five-building development with 900 apartments and two schools at 80 Flatbush Avenue, on the border between Boerum Hill and Downtown Brooklyn. As part of a seven-month Uniform Land Use Review process and after many heated debates, this massive project has gotten the most resistance over the height of the proposed buildings, at 74 and 38 stories. Managing growth is not easy.
Katie Kooris, a Boerum Hill resident, moved to the Boerum Hill from the Upper West Side when she and her husband had their son. "We love it here because it's got an amazing location coupled with a terrific neighborhood feel with all the modern conveniences. I have an eight-month-old and everyone is very friendly. We know the barista on the corner–there are five different coffee shops on the block–and everyone takes the time to recognize your face. It's really nice. This is the epicenter of this part of Brooklyn but has a very familial atmosphere as well."
Brendan Aguayo of Halstead agrees and describes the community as "a beautiful, contextual neighborhood with intact brick federal blocks offering tons of conveniences and amenities. It offers the best of all worlds."
History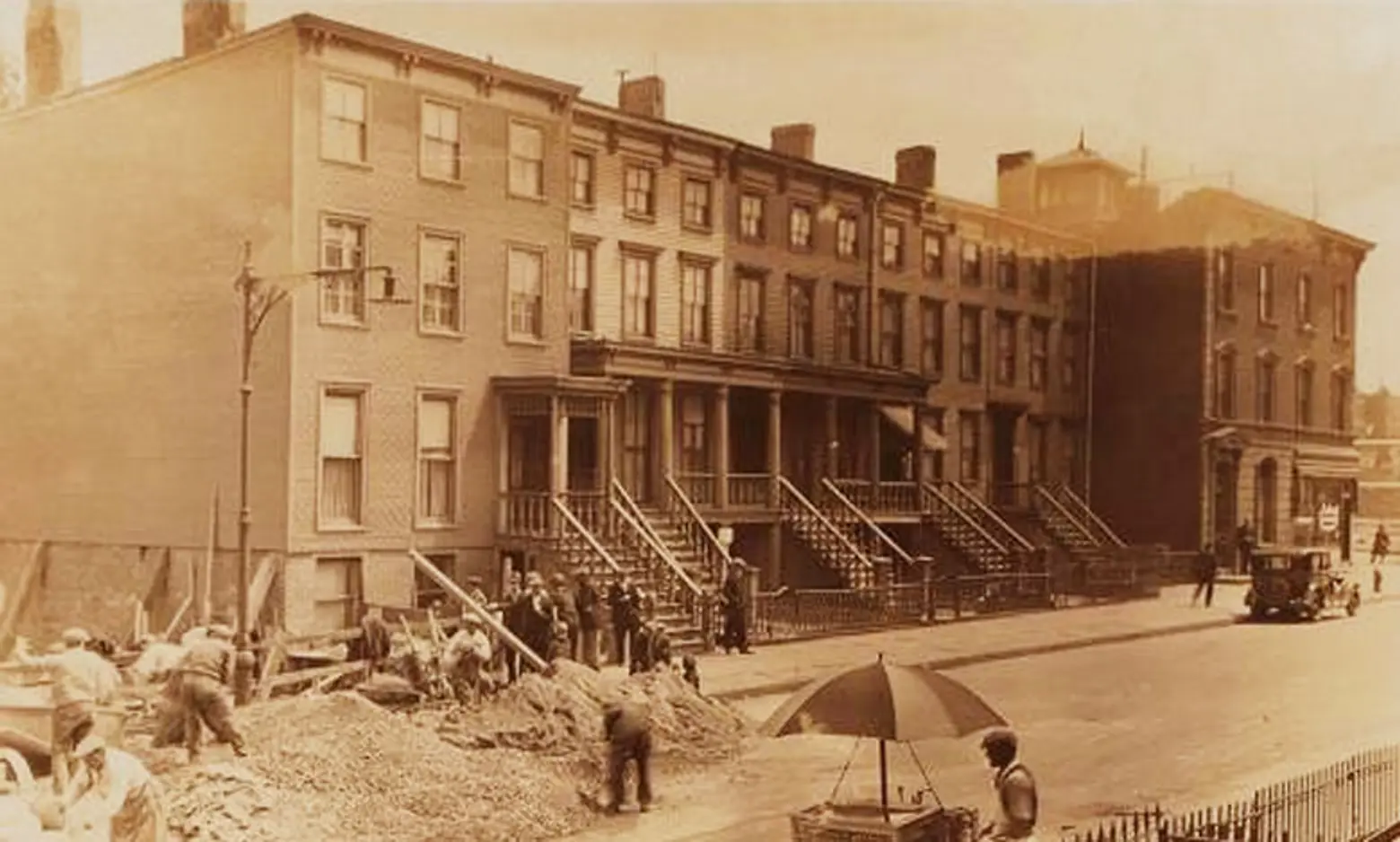 Dean Street and 4th Avenue in 1929, via NYPL
Named for the colonial farm of the Boerum family there is actually no hill in Boerum Hill. In fact, it is so flat it used to be a former marsh bordering Gowanus Creek. In the early 20th century, many of the buildings were boarding houses. There was a large Native American population that settled on Smith Street. It was known as the center of New York's Mohawk community who were skilled ironworkers and did most of the work building the skyscrapers in Manhattan.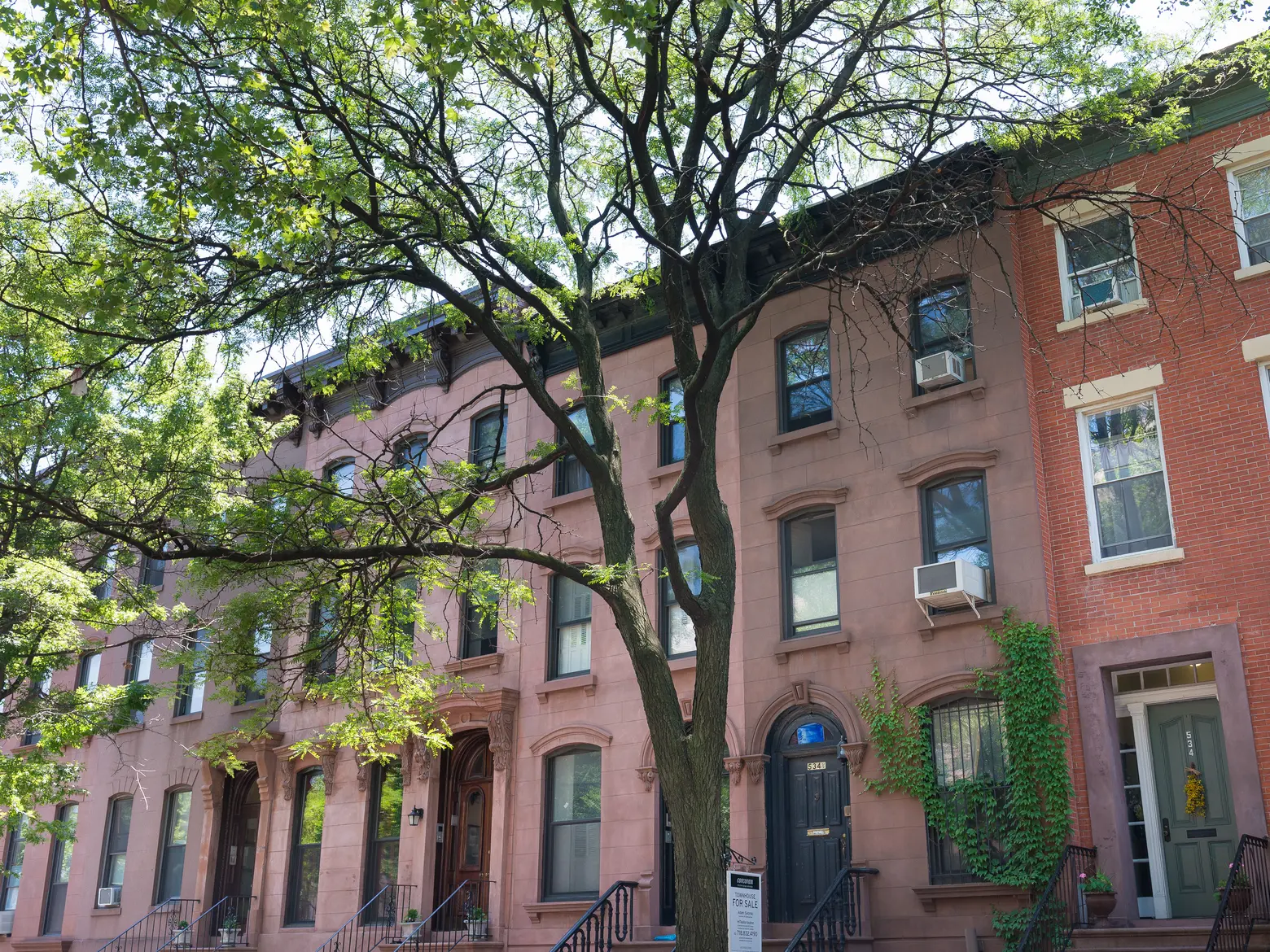 Boerum Hill brownstones via CityRealty
Most historic Boerum Hill townhomes were built at a time when the emerging middle class was looking for an alternative to the awful boarding house conditions in Manhattan. During the 1960s, urban renewal plans threatened many of the aging buildings of this area but neighborhood groups worked together to prevent their demolition.
From the early 1970s until the late '90s, Boerum Hill was populated mostly by working- and middle-class families. At that point, gentrification brought in wealthier residents. Now, Place says there is such a huge mismatch in supply and demand for housing that there are very few residences available. The families who move there tend to be young families and the others are renovating their homes and no one has any plans to leave.
In 1973, the Landmarks Preservation Commission designated the Boerum Hill Historic District. The Boerum Hill Association is now attempting to broaden the borders of the district, calling for more than 50 rowhouses with storefronts to join the district. But some locals are not as thrilled as others, worried that the landmark status will affect the value of their buildings. The Brooklyn Eagle reported that Boerum Hill resident Glenda Forde said in her testimony in front of the LPC last Tuesday morning, "I am a senior citizen whose sole livelihood depends on the investment in my Atlantic Avenue property. The building is my 401(k)."
Residential buildings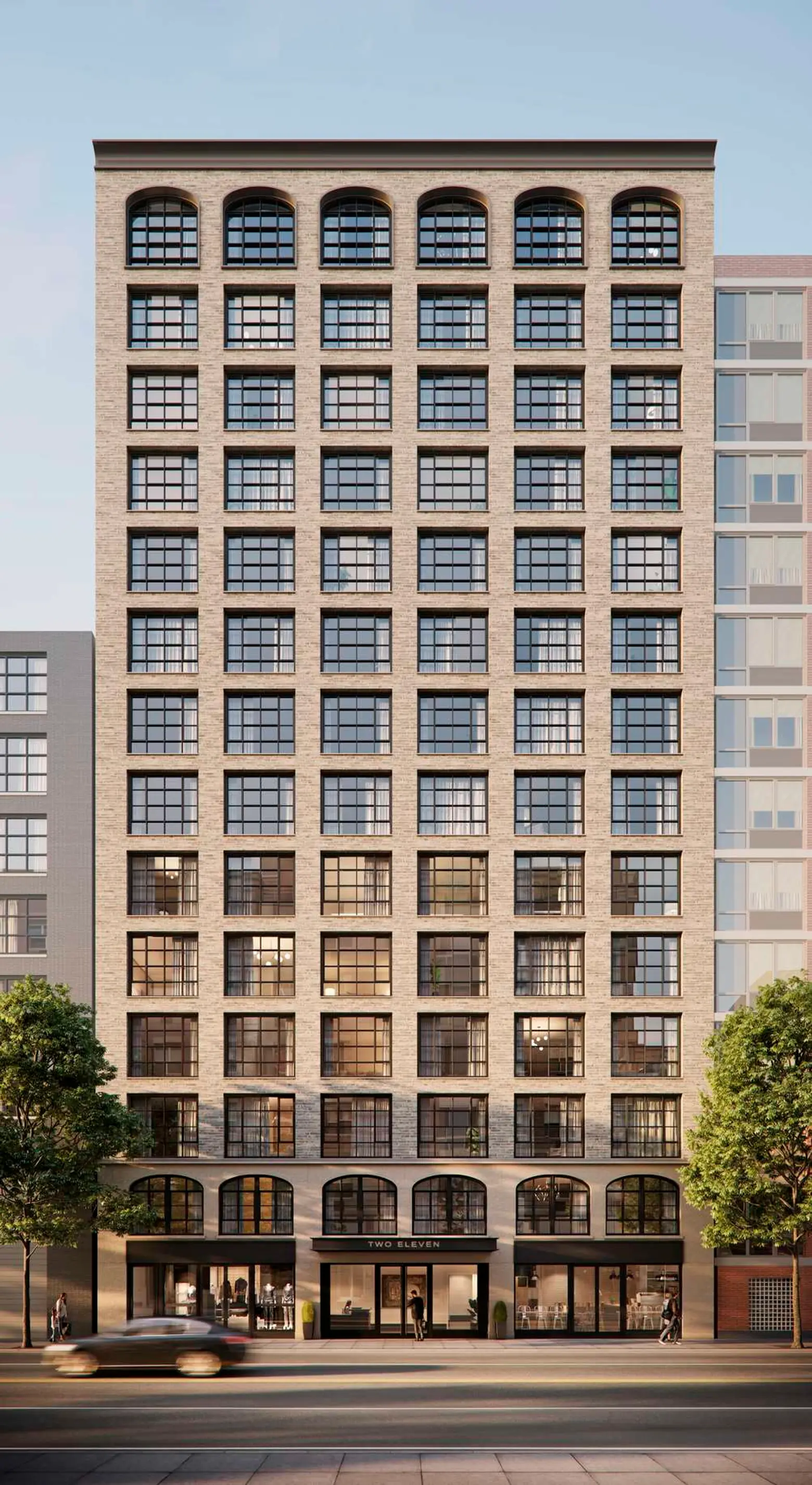 Renderings via 211 Schermerhorn
Due to be completed by April 2019, the 14-story 211 Schermerhorn is a collection of 48 one- to three-bedroom condominiums. Morris Adjmi's design is an elegant and modern interpretation of classic neighborhood architecture. The building's floor to ceiling windows capture the historic roots of Boerum Hill's industry while flooding the units with light. Stribling broker Michael Chapman said of choosing Adjmi to design 211, "his whole design aesthetic is wonderful and just perfect for this building and this neighborhood."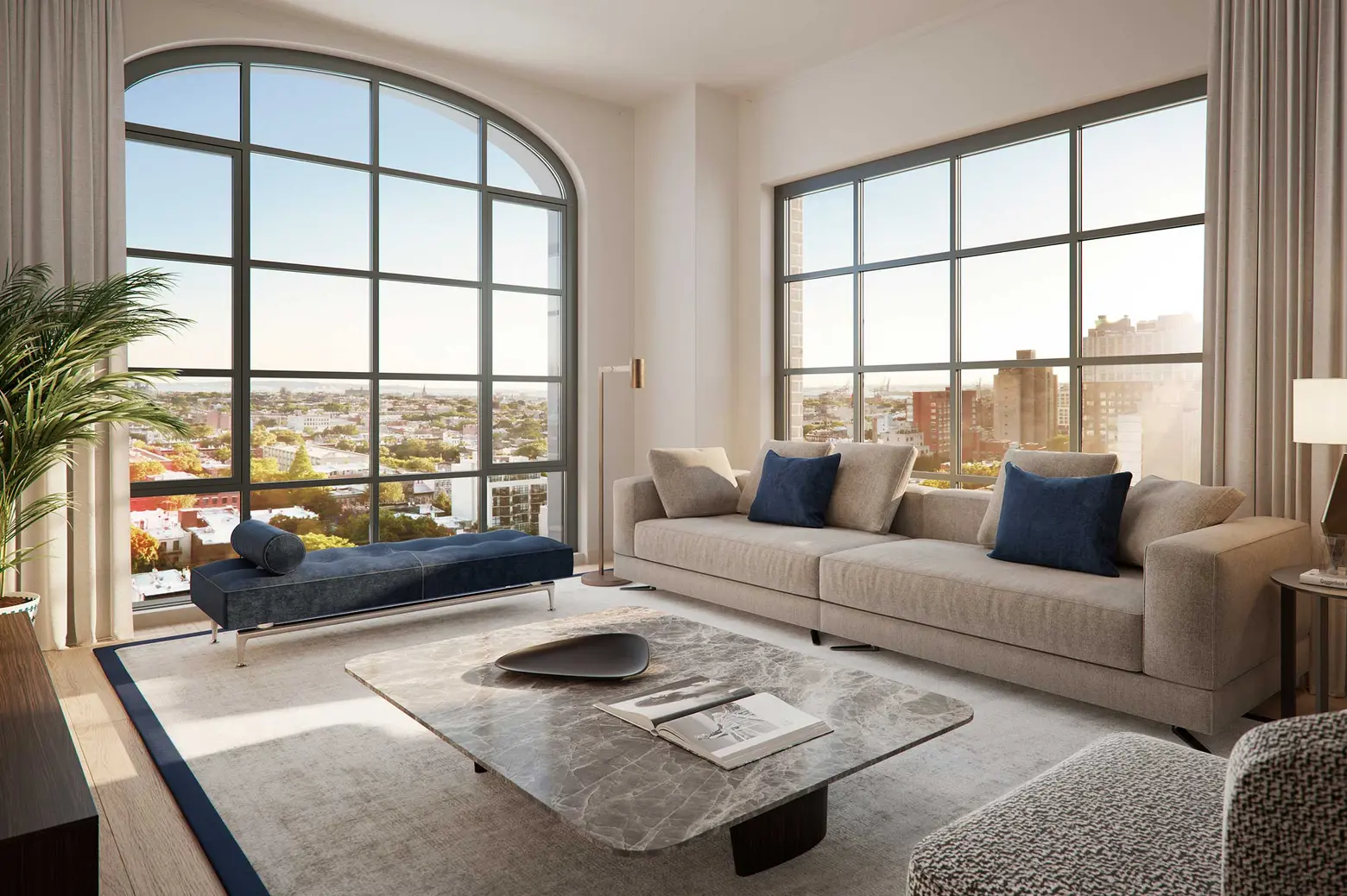 Morris Adjmi says, "The design is a modern take on the stately palazzo block architecture of the context of Downtown Brooklyn. The light colored Peterson brick on the front façade relates to the brick and limestone palette found on many of these buildings. The classic base, middle, and top organization of the façade, the special arched openings at the storefront and top as well as the strong cornice reinforce the reference to the context. The steel sash windows, which are an MA signature, refer to the industrial structures also found throughout this neighborhood."
Amenities include a roof terrace, media room, game room, fitness center, yoga studio, children's playroom, laundry, and bike room. Chapman adds "Developers of the popular Ace Hotel are building the "Lifestyle Hotel" just down the block. There is also a Whole Foods' 365, an Apple store, the BAM theaters, the Shakespeare Theater on the street. Schermerhorn Avenue has become for all this new development and the infrastructure around it."
The Hendrik
509 Pacific Street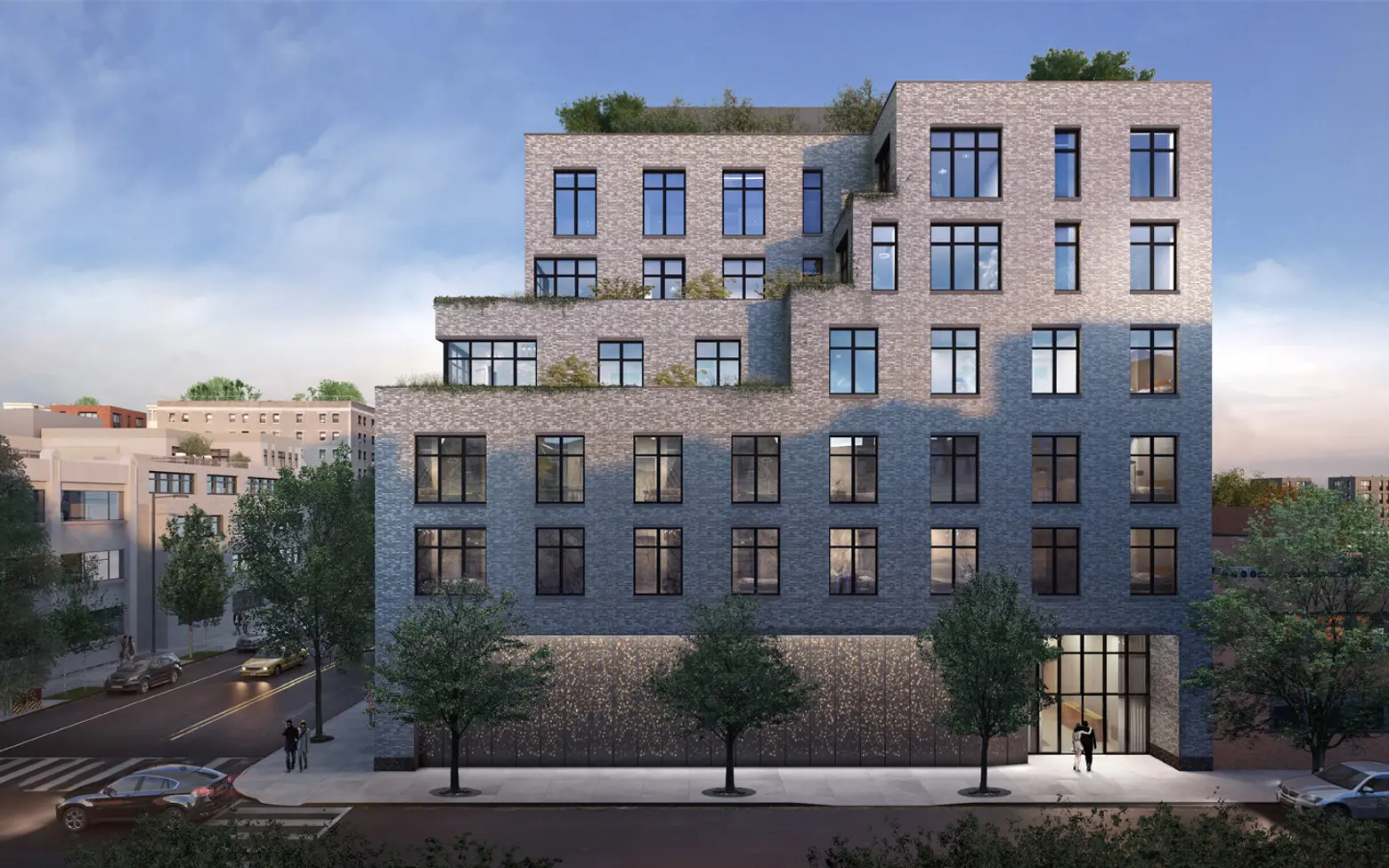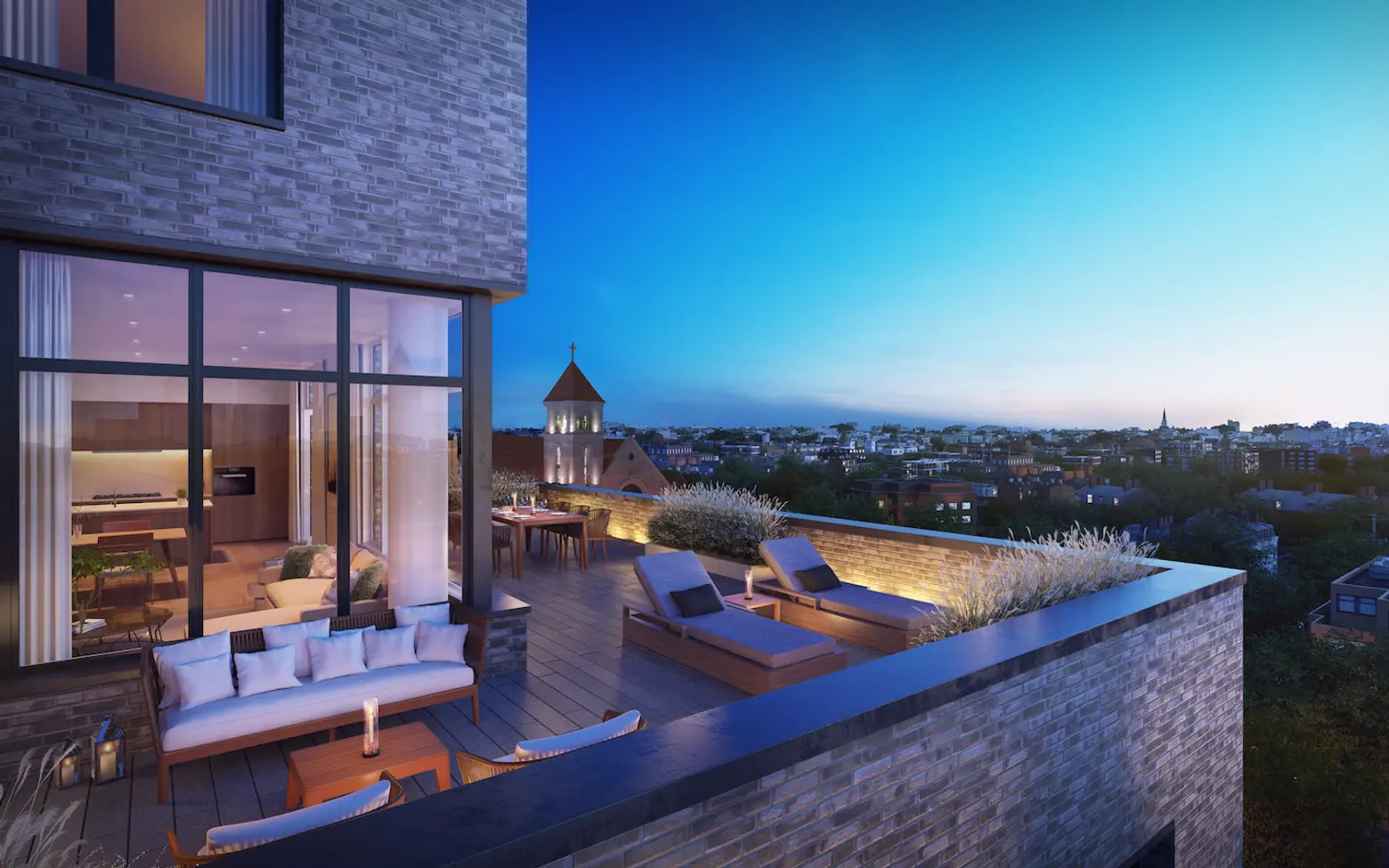 Via The Hendrick
Built in 2017, this six-story building has 33 condominiums. Designed by Beyer Blinder Belle, the Hendrik boasts Danish sophisticated minimalism with superior craftsmanship. Some of the standout features are the double-height lobby with custom-dyed polished concrete floor and paneled ash-white oak walls, 24-hour doorman service, state-of-the-art fitness room, children's playroom and library, residents lounge, bike storage, landscaped rooftop terrace with great views, a landscaped viewing garden designed by landscape architecture firm MPFP and a pet spa.
The Boerum
265 State Street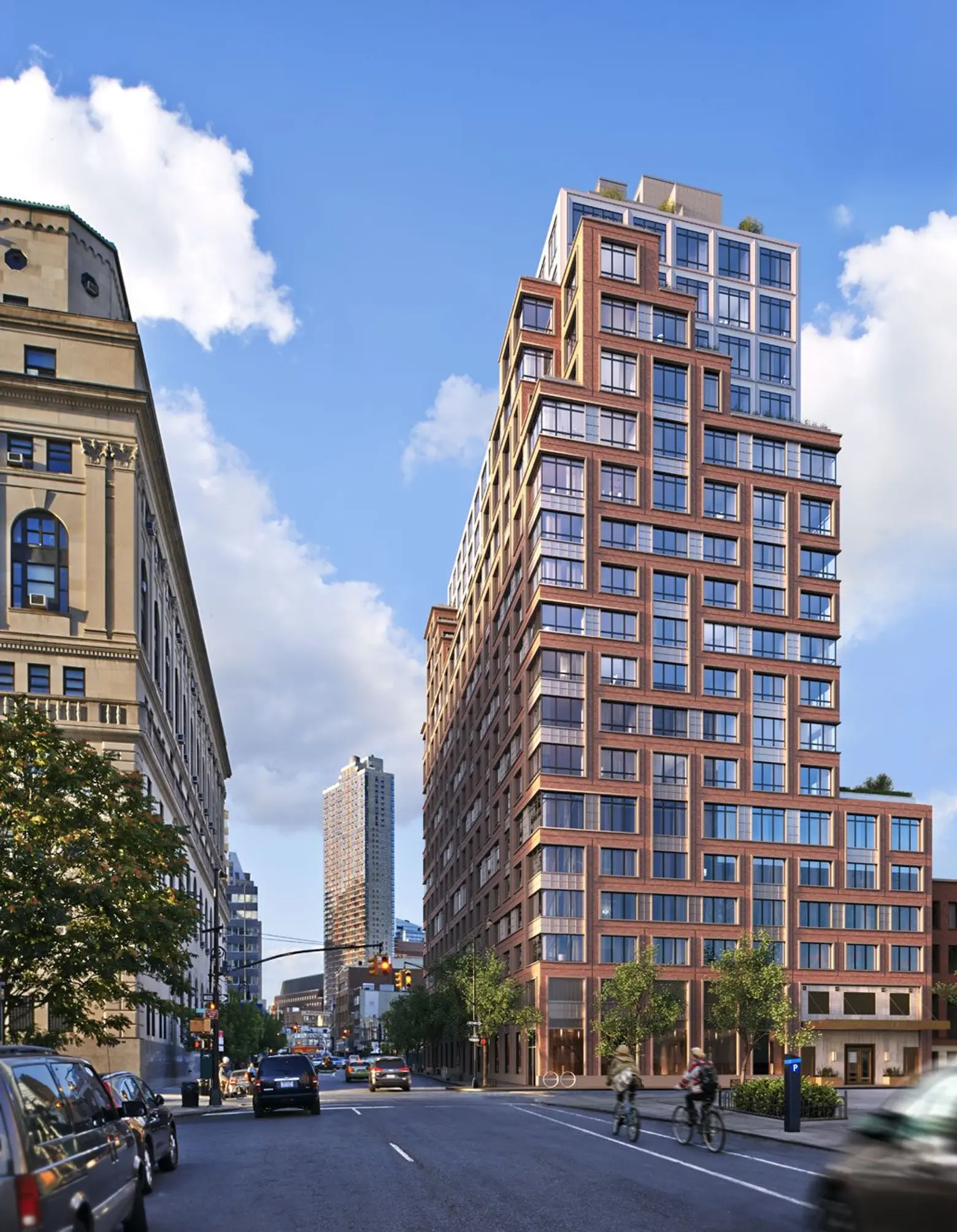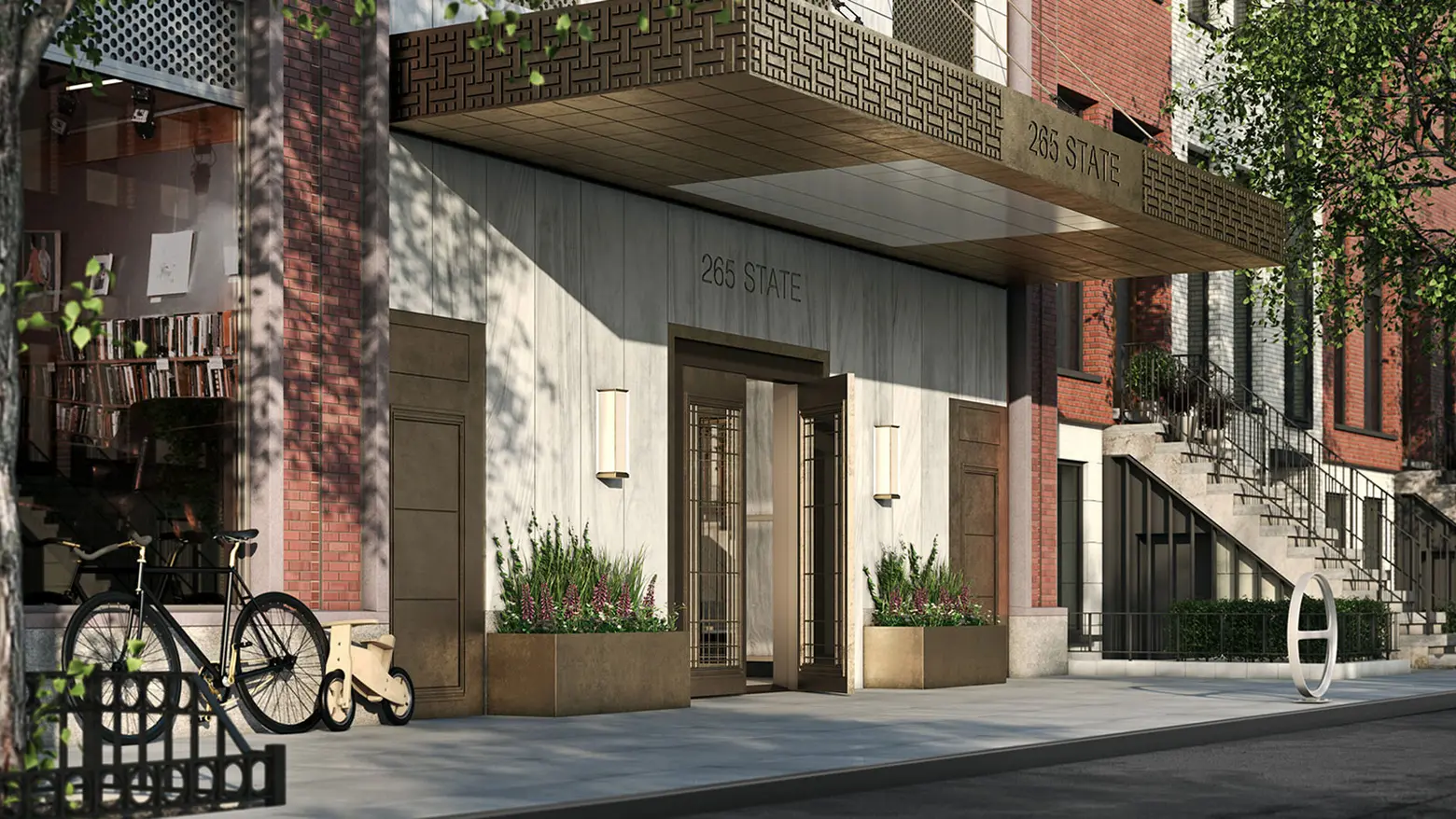 Via The Boerum and Flank Architecture + Design
The Boerum is a handsome, 19-story condo/hotel development designed by Flank. The residential condominium section of the building begins on the seventh floor and will have 128 apartments. According to their site, "The Boerum pays homage to this rich historic streetscape through its primary façade of classic red brick, and windows framed with cast stone. The exterior is inspired by townhouse proportions and modernized by a modulating basket-weave pattern to integrate a sense of rhythm into a larger visual field. With its upper levels composed of sculpted aluminum panels, The Boerum's subtle shift of form and material rises to create a building of understated substance, and a respectful nod to the surrounding streetscape."
The Bergen
316 Bergen Street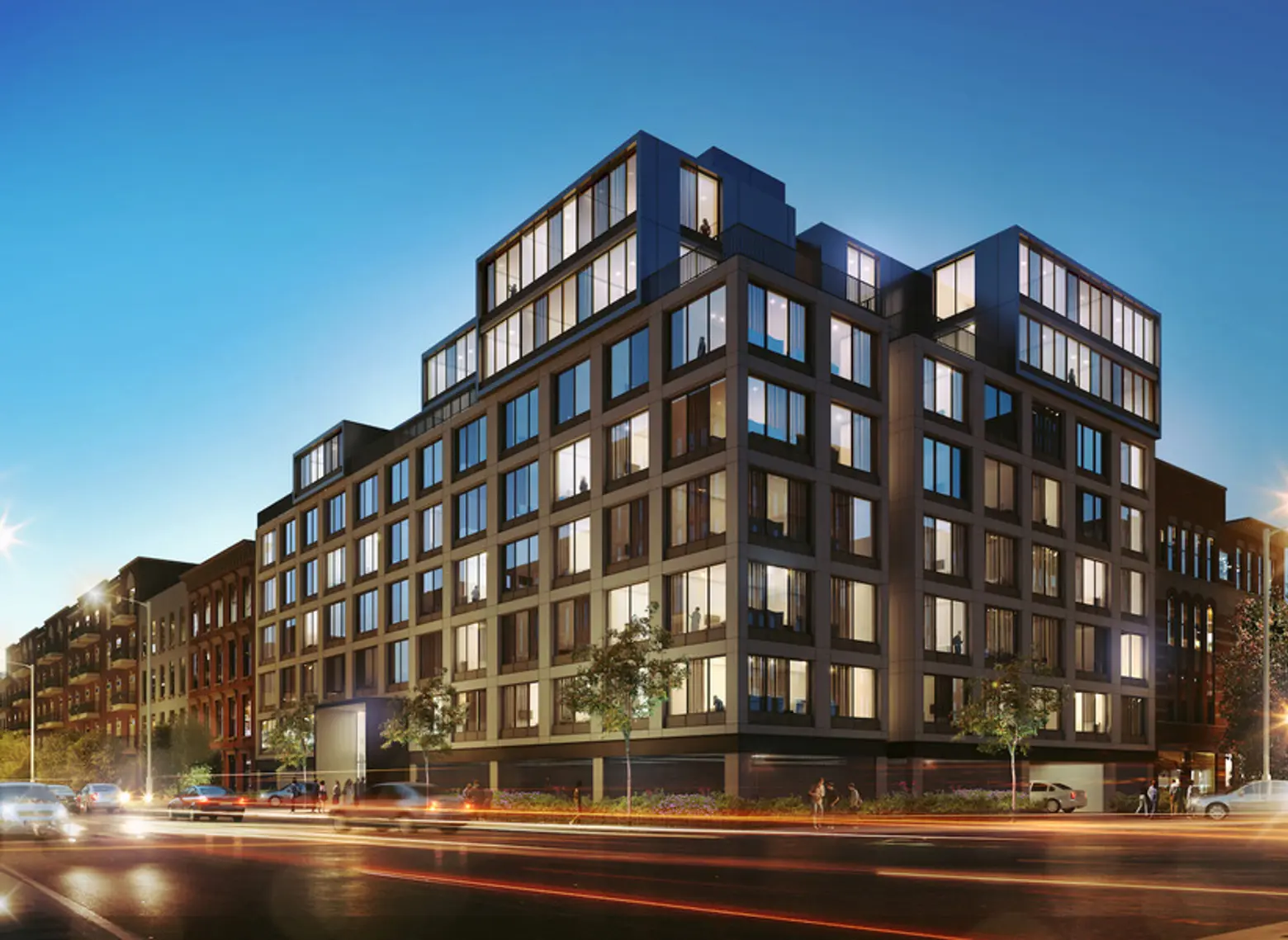 Rendering via ODA Architecture
This eight-story apartment building with 84 rental apartments is at the corner of Third Avenue. Built in 2014 by the Naftali Group and AEW Capital Management, it later sold to a European investor for $52.2 million. Interiors were designed by Eren Chen's ODA.
The Bergen offers studios to two-bedroom units. Some of the building's amenities are its landscaped rooftop deck with cabanas, private dining areas, an outdoor shower and barbecue, a fitness center with outdoor workout space and yoga deck, a landscaped outdoor lounge, a media lounge with a wet bar entertainment area, a full-time doorman, concierge service, laundry areas and on-site parking.
Upcoming buildings:
Brooklyn Grove
10 Nevins Street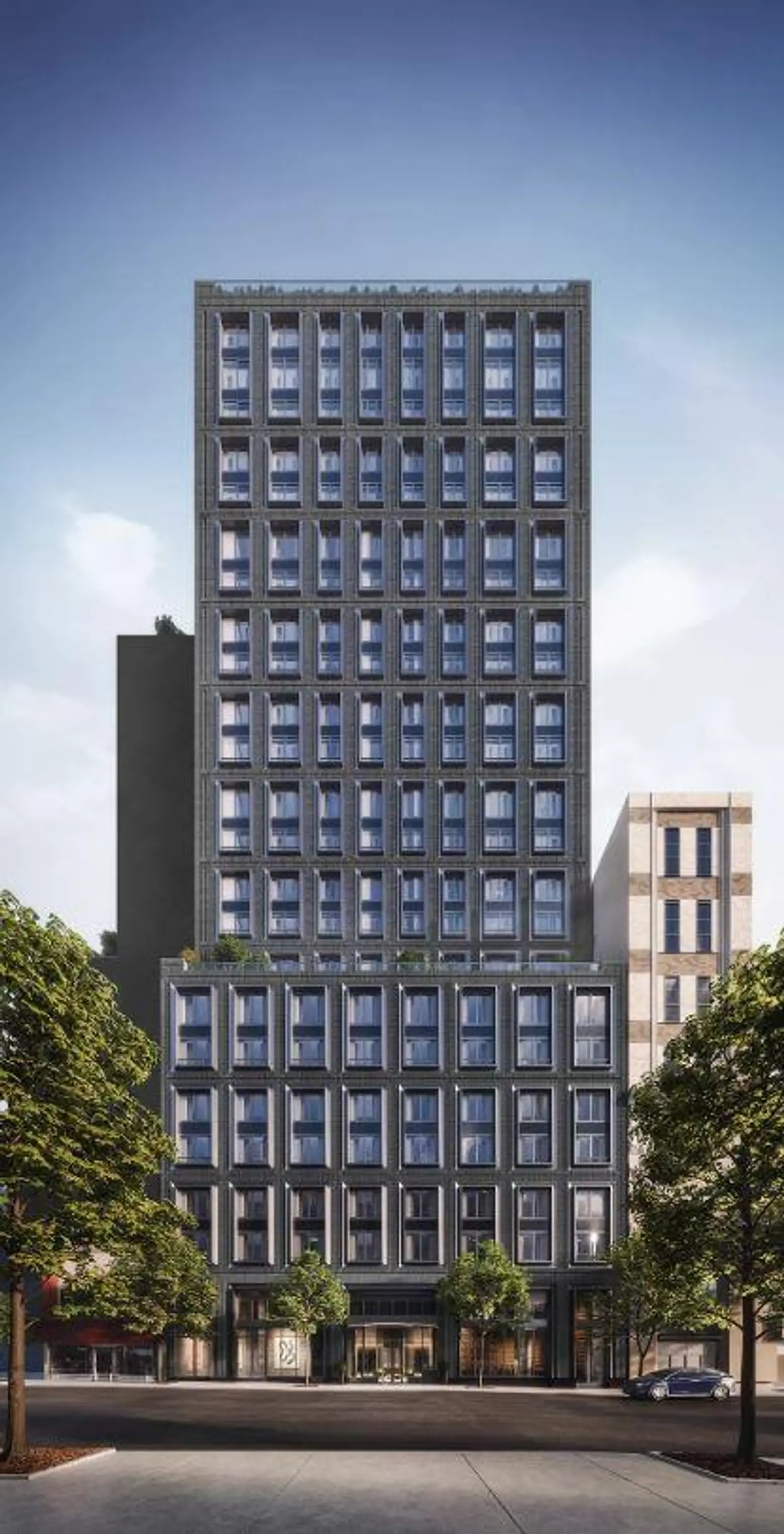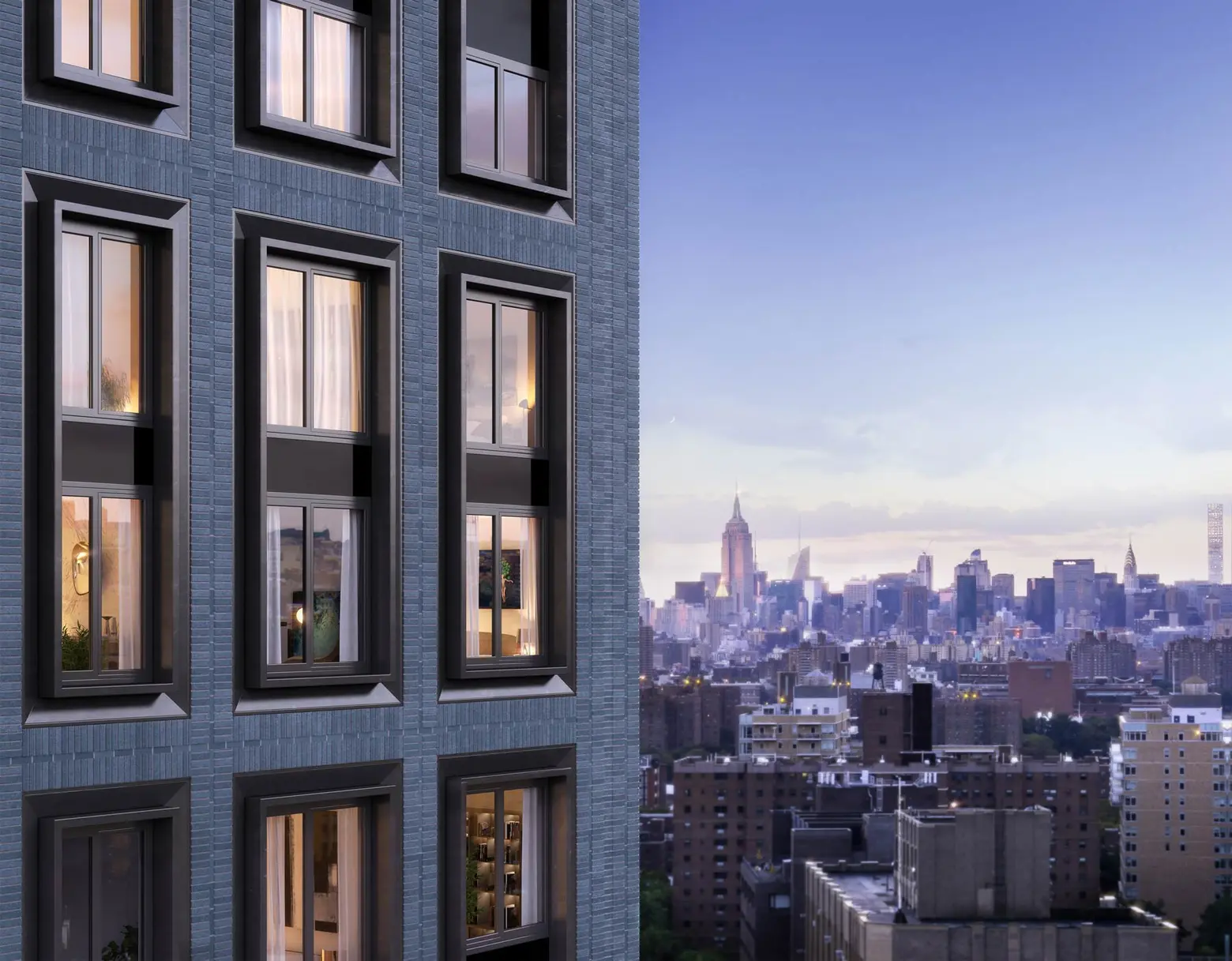 Renderings via Binyan Studios/The Brooklyn Grove
The Brooklyn Grove is being developed by Adam America Real Estate and Slate Property Group with interiors designed by ODA. It will have 184 studio to three-bedroom residences with amenities like an innovative aquatic, fitness, and entertaining spaces that creates a dual-level amenity area, with entrances at Nevins Street and Grove Place. Estimated to range from $590,000 to more than $2.5 million. Sales are expected to begin this summer with the Aguayo Team at Halstead Property Development Marketing is handling exclusive marketing and sales.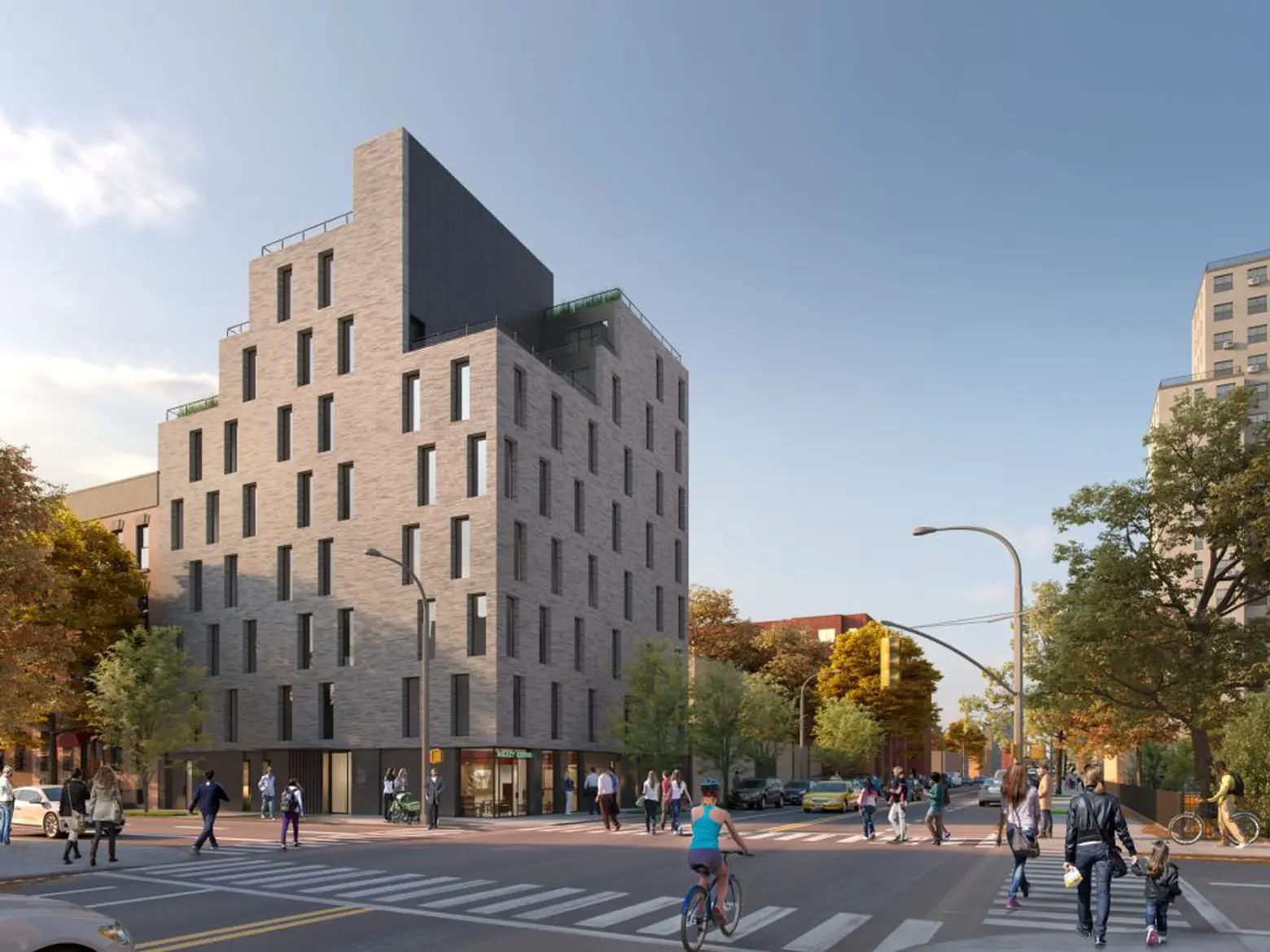 Via Barrett Design
Eight St. Marks is being developed and designed by Barrett Design. The boutique building will have 13 units; one- to three-bedroom residences. Some of the amenities will be bike storage, private storage, and a Virtual Doorman. Sales are expected to begin this summer also with the Aguayo Team at Halstead Property Development.
Cafes, Cocktails, and Restaurants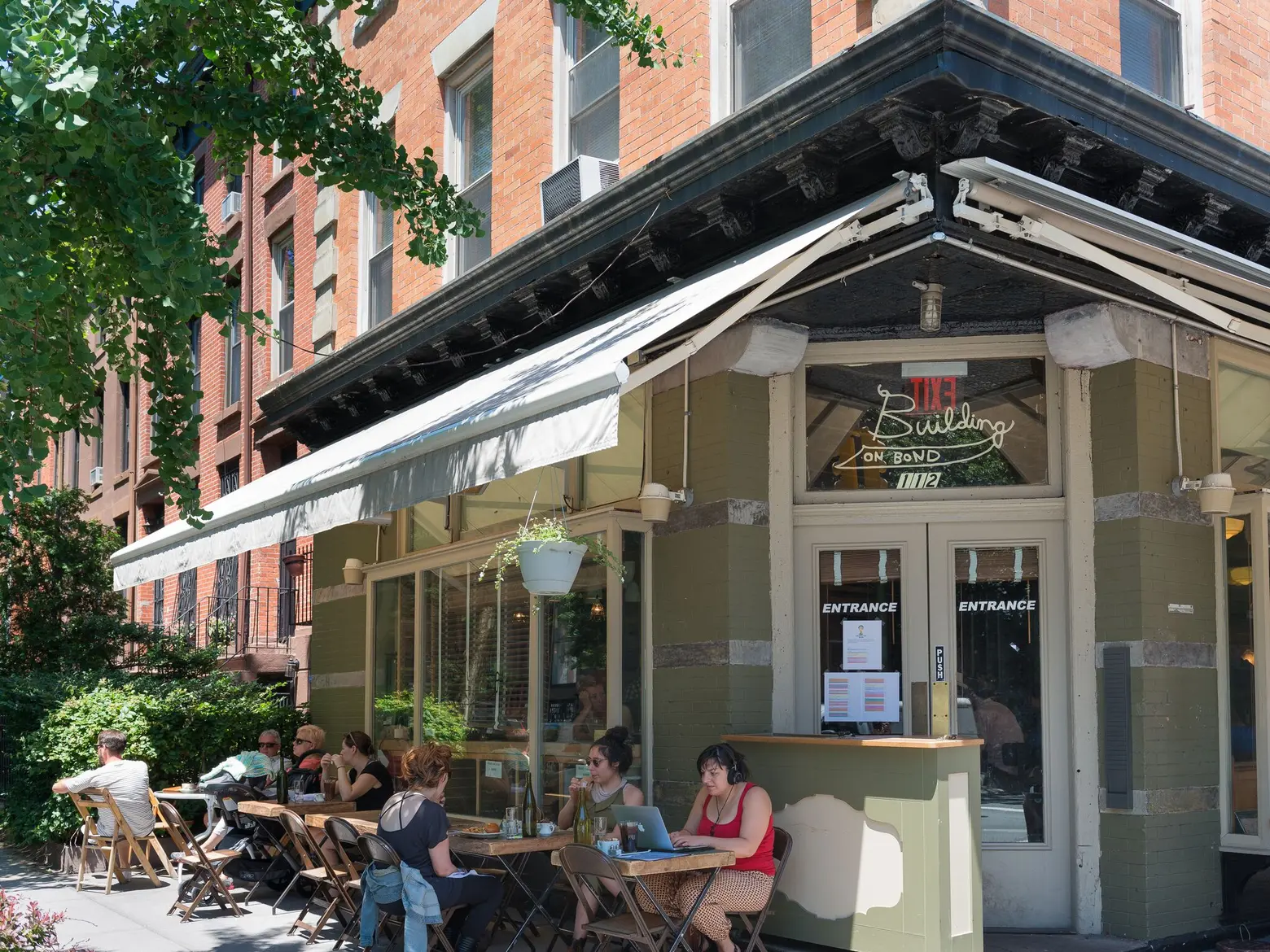 Popular cafe and WiFi hotspot Building on Bond, via CityRealty
Boerum Hill is filled with an abundance of authentic food and drink choices, most notably French and Middle Eastern restaurants, coffee shops, and custom cocktail bars. Here are a few of note.
Blue Bottle
85 Dean Street
Despite being a national chain, this itty bitty Blue Bottle cafe prides itself on putting neighborhood first. At 266 square feet, it may be the smallest Blue Bottle but it's big on charm. This DCR- and Super Paprika-designed cafe is inlaid with warm wood finishes, "like a jewelry box for coffee. Ultra-economical by design, it has everything it needs, and no more."
Absolute Coffee
327 Atlantic Avenue
Absolute Coffee is an intimate, neighborhood spot offering artisanal espresso drinks and pastries in a chill atmosphere.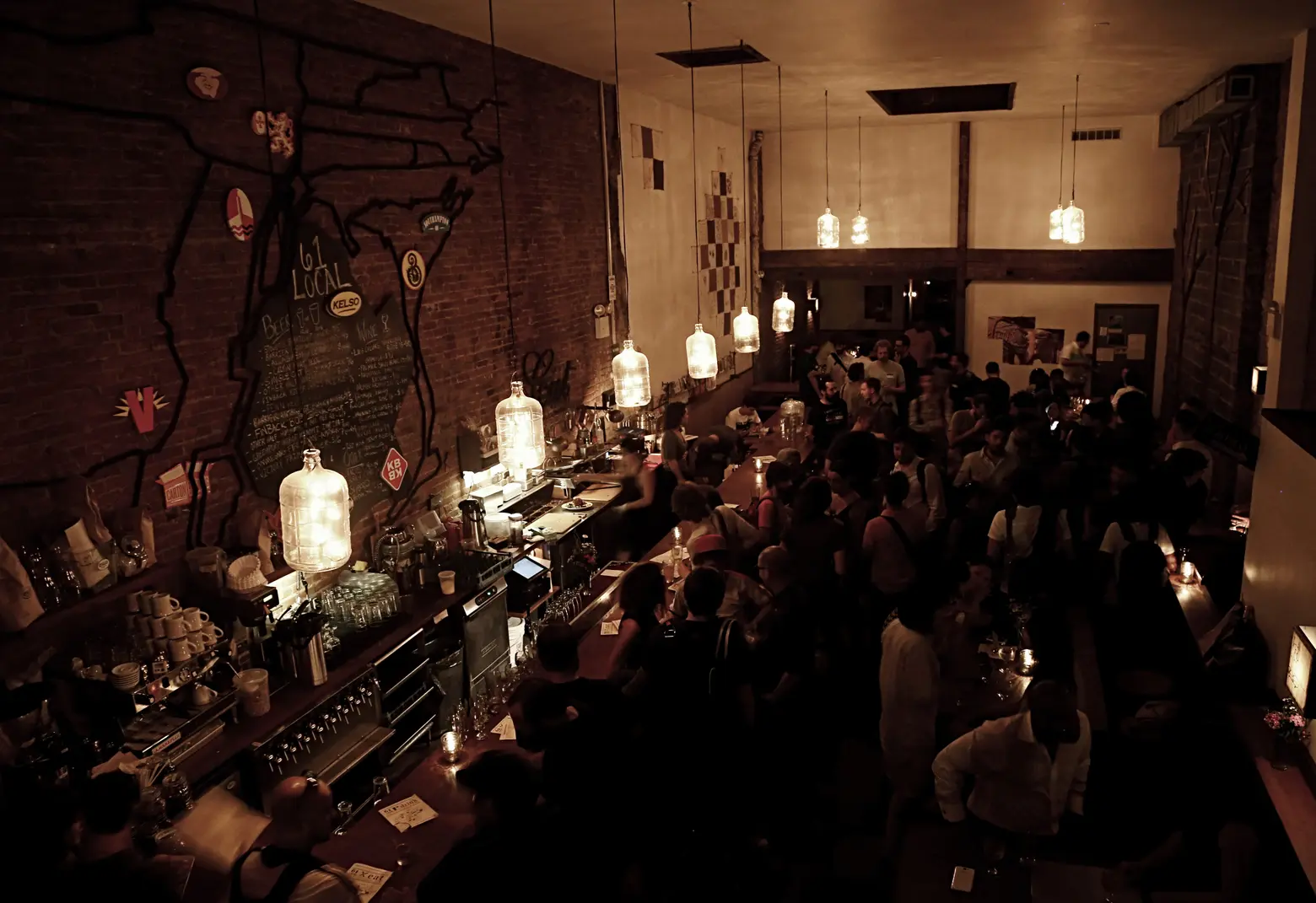 Courtesy of 61Local
61Local
61 Bergen Street
61 Local supports and advocates for local food producers. In this cool space, there are a cafe, craft cocktail purveyor, and big event space. They even serve as a weekly CSA pick up location. The owners, Renee and Steven, are intent to build the local food movement at the same time as they build their community.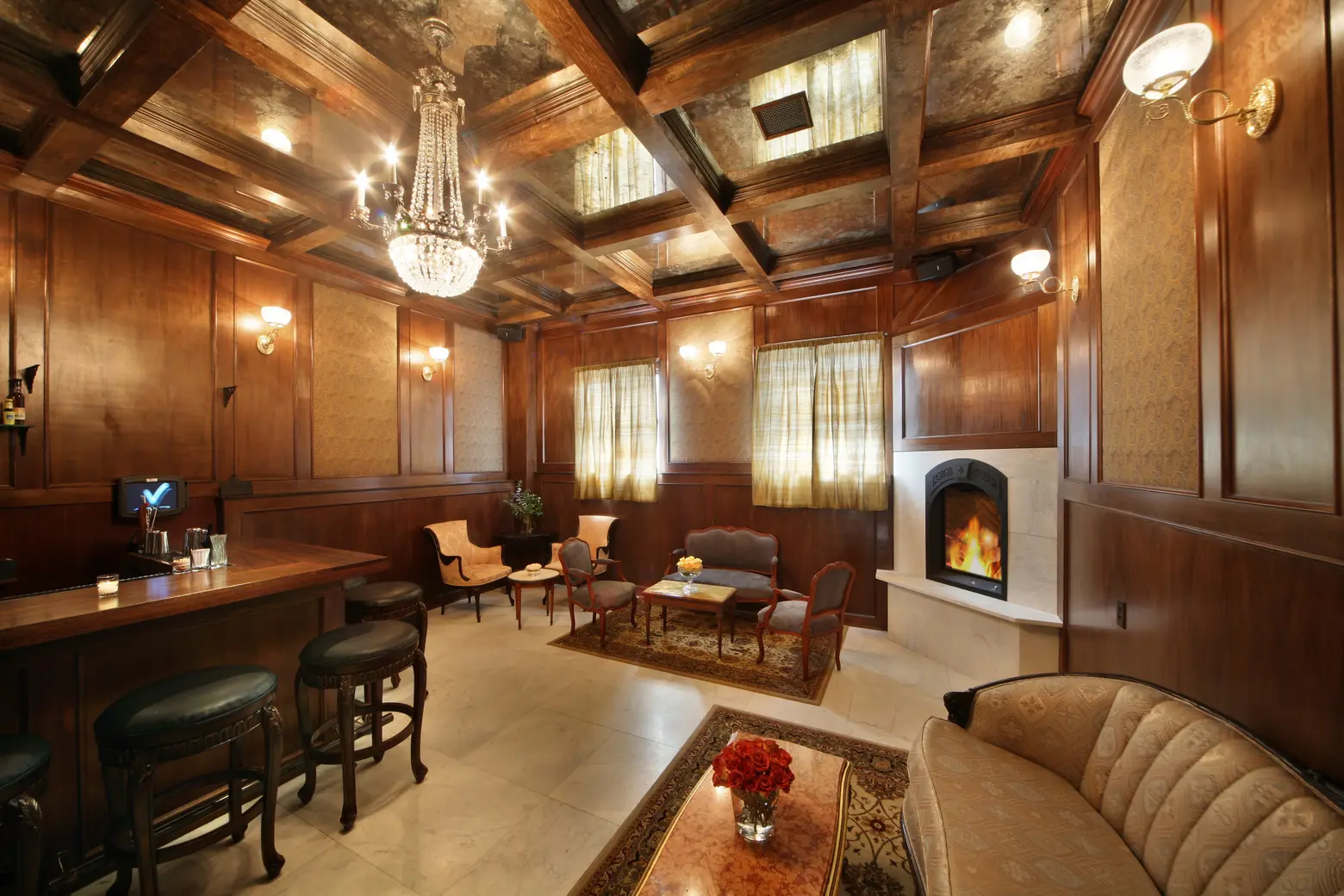 Courtesy of Clover Club
Clover Club
210 Smith Street
The Clover Club amusingly describes itself as "Clover Club is the premiere cocktail bar in Brooklyn. Sure, that means exquisite cocktails, real food and an atmosphere of true hospitality. But it's a Brooklyn cocktail bar, so that also means no velvet rope, a low-key, neighborhood vibe, live jazz from time to time and a cozy back room with a fireplace. Oh, and brunch, because you need brunch."
Grand Army
336 State Street
With Spring cocktails inspired by their favorite My Little Pony characters, Grand Army is bursting with character. Grand Army Bar is co-owned by Damon Boelte, an award-winning bartender who has built custom motorcycles, plays in the band Brothers with his twin and has a strong collection of cowboy boots and Carissa Clay who began her cooking career with Chez Panisse in Berkeley and has since led the kitchen at an integrative medical center in Santa Rosa, Grand Army has quite a pool of talent and personality in their personal cadre.
Rucola
190 Dean Street
Open for breakfast, lunch, and dinner, Rucola is a rustic Northern Italian restaurant inspired by the slow food movement in Piedmont. This farm-to-table restaurant focuses on the highest quality ingredients available in and around New York. Their food, wine, and cocktail menus change seasonally. Rucola boasts it is a "carbon neutral establishment." (It's also the favorite of Ample Hills Ice Cream owners and Boerum Hill residents Jackie Cuscuna and Brian Smith.)
Bedouin Tent Restaurant
405 Atlantic Avenue
Bedouin Tent is a small, family-run local favorite known for its warm hospitality and authentic cuisine. They serve a mix of Mediterranean and Middle Eastern food at great prices. They serve pita and falafel sandwiches, along with chicken and lamb plates.
Culture
New York Transit Museum
99 Schermerhorn Street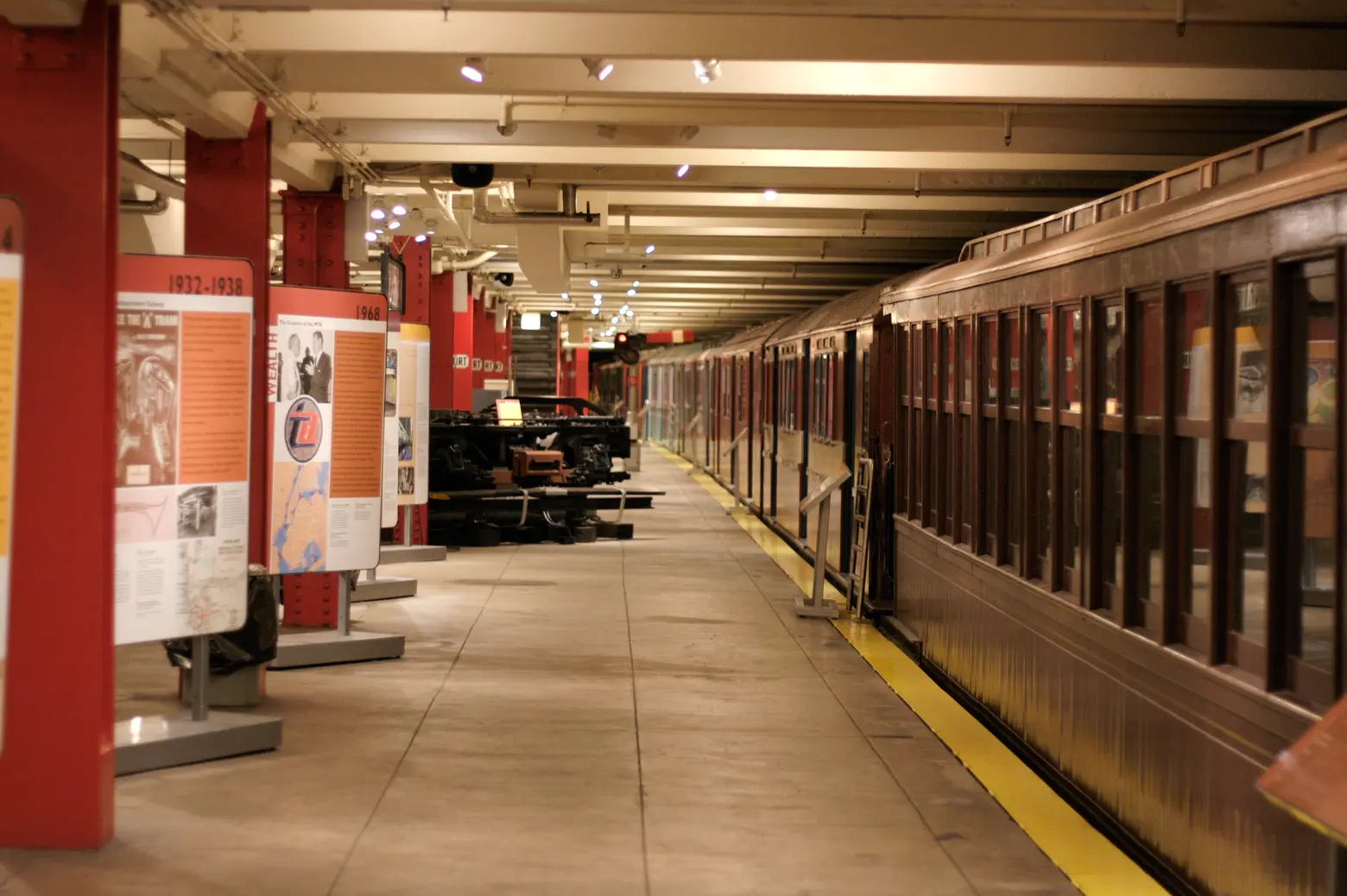 Via Wiki Commons
Founded in 1976, the New York Transit Museum is dedicated to Housed underground in an authentic 1936 subway station, the New York Transit Museum was founded in 1976. The museum's mission is to "telling and preserving the stories of mass transportation – extraordinary engineering feats, workers who labored in the tunnels over 100 years ago, communities that were drastically transformed, and the ever-evolving technology, design, and ridership of a system that runs 24 hours a day, every day of the year."
The current exhibit, running through June 24th, is an exhibit on Philip Ashforth Coppola's ornamental designs of the New York City subway system. Coppola's drawings celebrate the original intent for this great public work and the power of intense observation and preservation.
The Invisible Dog Art Center
51 Bergen Street
Opened in 2009 in a 30,0000 square foot converted factory, the Invisible Dog Art Center was founded to create a new kind of interdisciplinary arts center that blends events, performance space and artists studios and residences. The Invisible Dog's events include visual art exhibits, dance, theater, and music performances, film screenings, literary arts and poetry readings, lectures, community events and more.
Chelsea Piers Fitness
265 Schermerhorn Street
Chelsea Piers Fitness' 52,000 square foot gym will open in the base of the new rental building at 33 Bond Street. The gym will have a 3-lane pool, fitness center and workout spaces. "Our goal is to create an environment that supports physical, mental and creative fitness. We aim to deliver the future of fitness, incorporating state-of-the-art training options, studio-quality class experiences, open creative spaces, unique design and first-rate customer service."
Place concludes, "Boerum Hill is a relatively small geographic area so there is never a ton of inventory. Generally speaking, the amount of people who want to move here far outweighs the amount of people leaving. There are a lot of people raising families and renovating homes here with no plans to leave."