Staten Island's New York Wheel may get its turn after all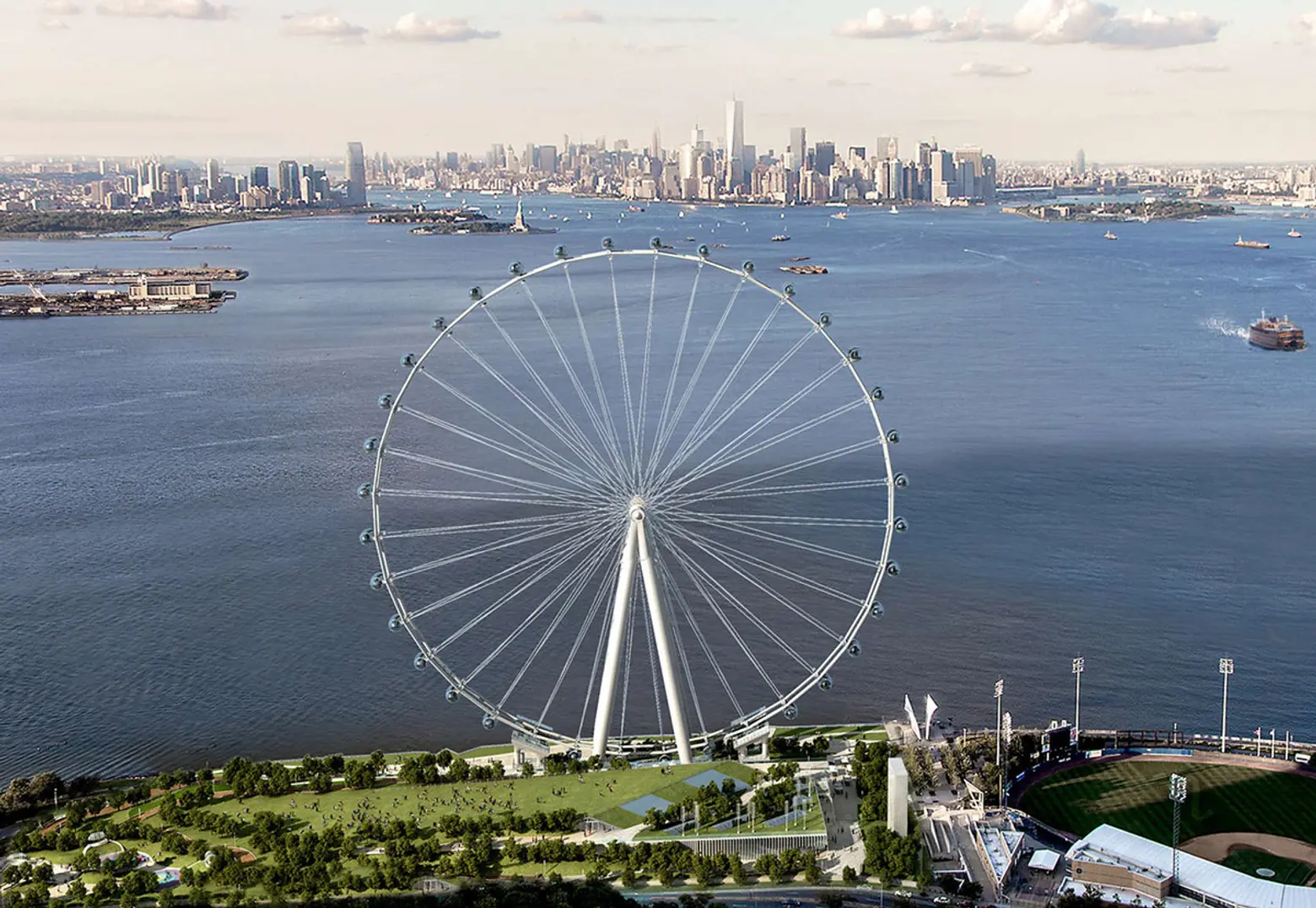 Image credit: S9 Architecture / Perkins Eastman
The fabled and forsaken New York Wheel, Staten Island's ill-fated answer to the Eiffel Tower, may be getting yet another chance. Last October it was announced that the 630-foot would-be world's tallest Ferris wheel, anchoring the borough's North Shore, was a no-go, mired in years of court battles and pay disputes. Now, NY1 reports, plans for a scaled-down version of the wheel may be back on the table. The city's Economic Development Corporation (EDC), who set the original wheel idea in motion, is meeting with a new developer about the possibility of a smaller wheel.
Construction on the privately-funded project that had been in the works for over half a decade was halted in May of 2017, with $450 million already invested and an expected cost of nearly $1 billion. The Wheel was originally scheduled to open in October of 2016. Though the project, part of a part of a $1.2 billion redevelopment of Staten Island's North Shore, was being built on city-owned land, it was completely funded by private investors.
As 6sqft previously reported, Senior vice president of public affairs for the EDC had called the NY Wheel, which was intended to bring tourists and vistitors to the borough "an ambitious venture," but that the city "is committed to working with the community and local stakeholders to determine potential uses for the Wheel site."
NY1 now reports that the EDC held at least two meetings in recently to explore bringing the project back to life with a new developer, using the foundation already in place at the site. Last month Mayor Bill De Blasio acknowledged that "EDC has been talking to elected officials and community leaders about what they'd like to see. I don't know if they've put out any formal requests for proposals yet, but that will certainly be coming soon."
Among the reasons to resurrect the project: CanAm Enterprises, representing the 412 foreign investors that had raised $206 million for the construction of the Wheel in exchange for green cards as part of an federal program, still hopes to recoup their investment. According to SI Live, those investors have said they may obtain additional funding by bringing on a large company as a partner. Building a similar structure on a site that was already created would mean there would be no lengthy approval process required.
The project's principals continue to lose money on the undeveloped site since it has not yet terminated its lease–an agreed-upon $1 million annually, plus interest, deferred until November of 2021–on the city's land, and the project is still on the hook for the cost of restoring the site. The NY Wheel is accountable for the deferred rent, with payments that already amount to more than $2.3 million.
RELATED: