Scoping Out Staten Island: New Developments in the Oft-Forgotten Borough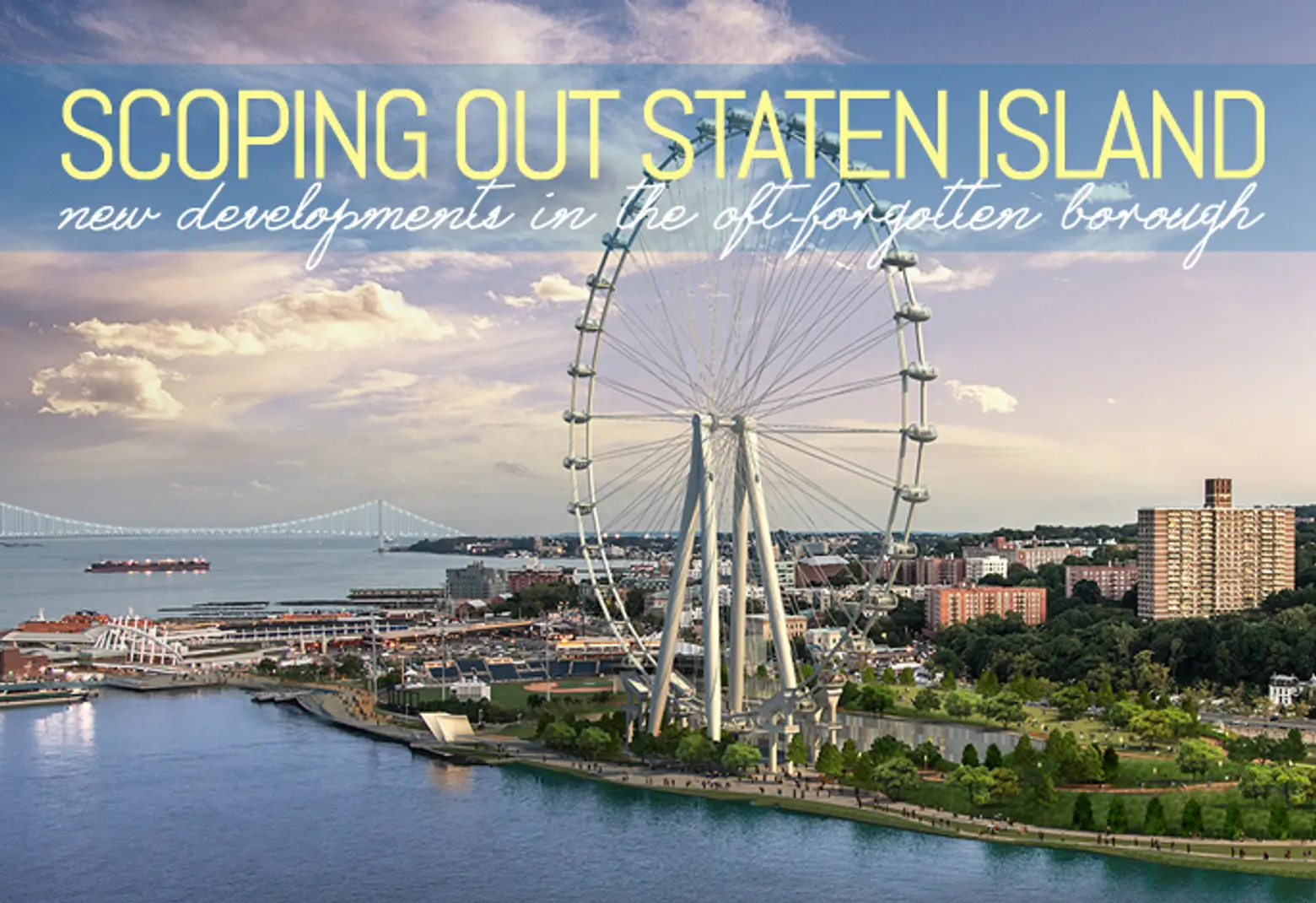 You won't find any Staten Island jokes or snarky references to secession here. No, we're celebrating the borough that so easily gets forgotten amid the shiny new towers of Manhattan and trendy culture waves of Brooklyn. But just because it might not make daily headlines, doesn't mean that Staten Island isn't in the middle of some pretty amazing developments. From the Staten Island Ferris Wheel to the borough becoming the next great tech hub, we've rounded up the cultural, economic, and architectural projects that are going to make you want to board the Staten Island Ferry in pursuit of your new home.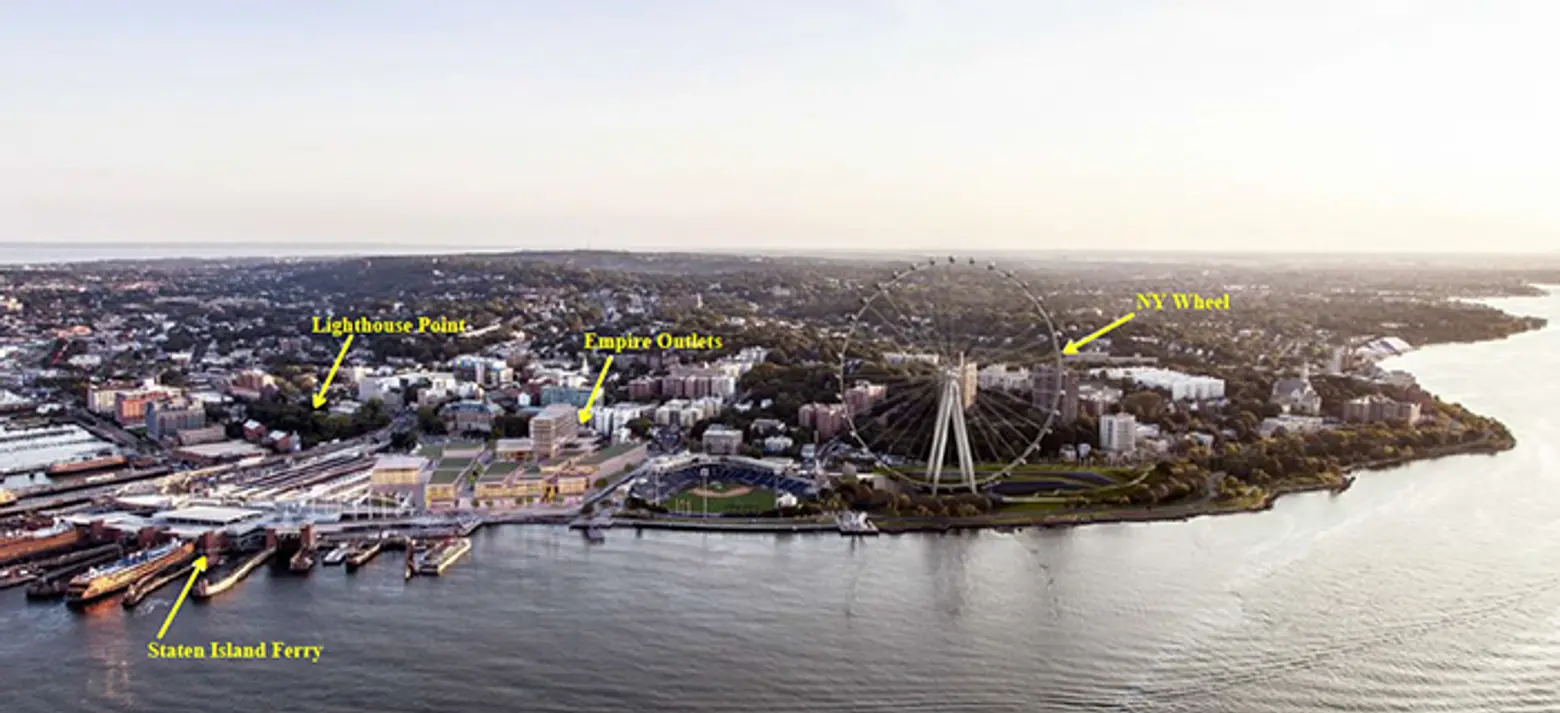 Plan of St. George Waterfront Redevelopment Project courtesy of NYCEDC
St. George Waterfront Redevelopment Project
Staten Island started making the real estate rounds when the city announced its North Shore 2030 plan in 2011. Now known as the St. George Waterfront Redevelopment Project, the undertaking will transform the shoreline area into a mixed-use development with the world's tallest observation wheel, a retail outlet complex, and hotel.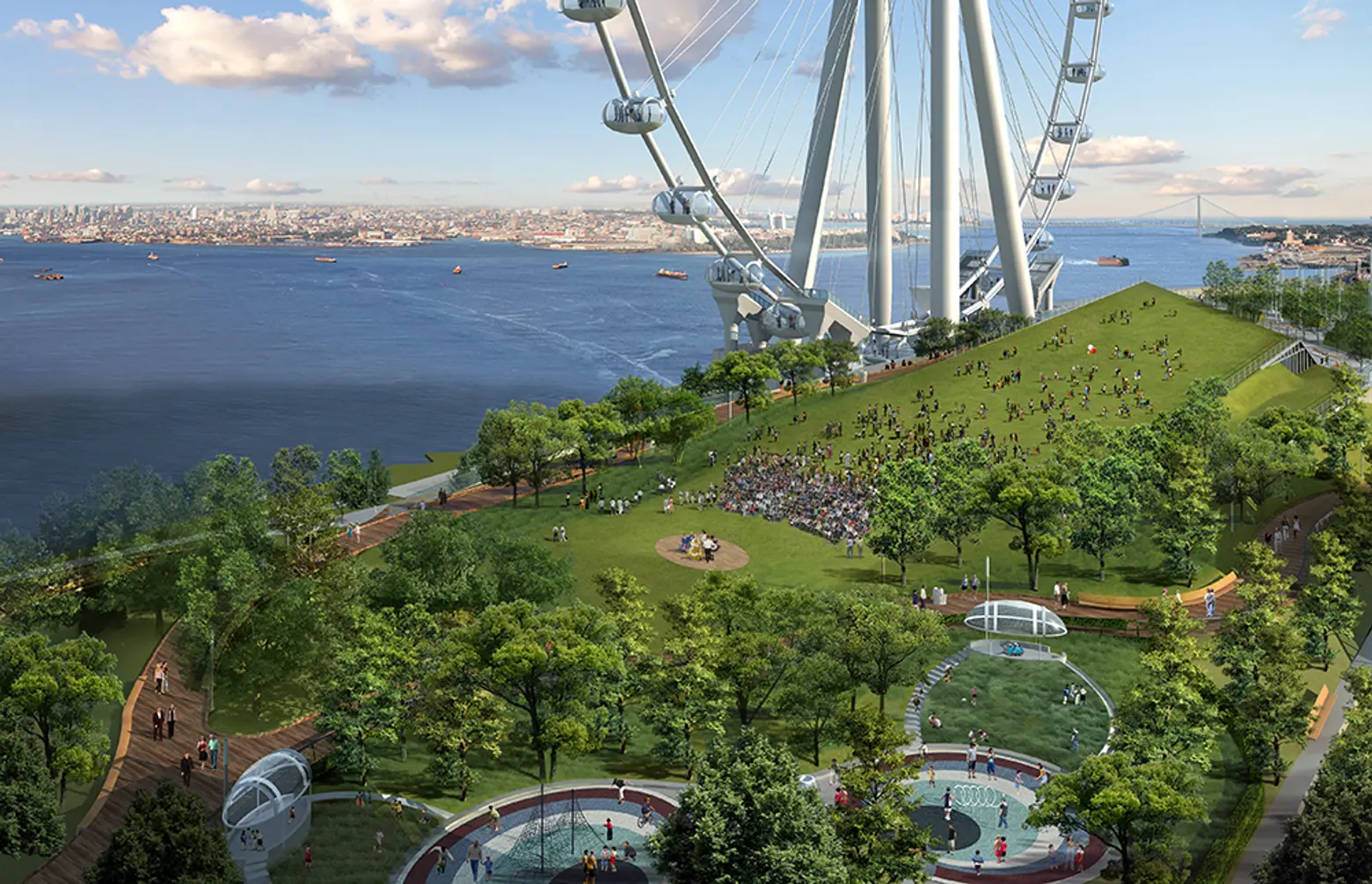 Photo of the New York Wheel and surrounding green roof courtesy of NYCEDC
The New York Wheel
Admittedly not a favorite project among locals, the Staten Island Ferris wheel, officially called the New York Wheel, was masterminded in 2013 by the Bloomberg administration. Set to soar at 60 stories, it will be the tallest observation wheel in the world, accommodating 1,440 people per ride and ushering in an expected 4 million visitors annually. After the 38-minute orbital ride, visitors will be able to take a dip in the floating swimming complex. At the base of the Wheel will be a 125,000-square-foot Terminal Building that will offer retail space, a restaurant, 4-D theater, and exhibition space about New York City history. A large parking garage on the site will feature a green roof with open space, solar panels, planted gardens, and a playground.
Just last month, the project received $150 million from 300 Chinese investors through a federal program that allows foreigners and their families to obtain temporary visas when they invest at least $500,000 in U.S. job creation. This will definitely help in reaching the $420 million needed to complete the project.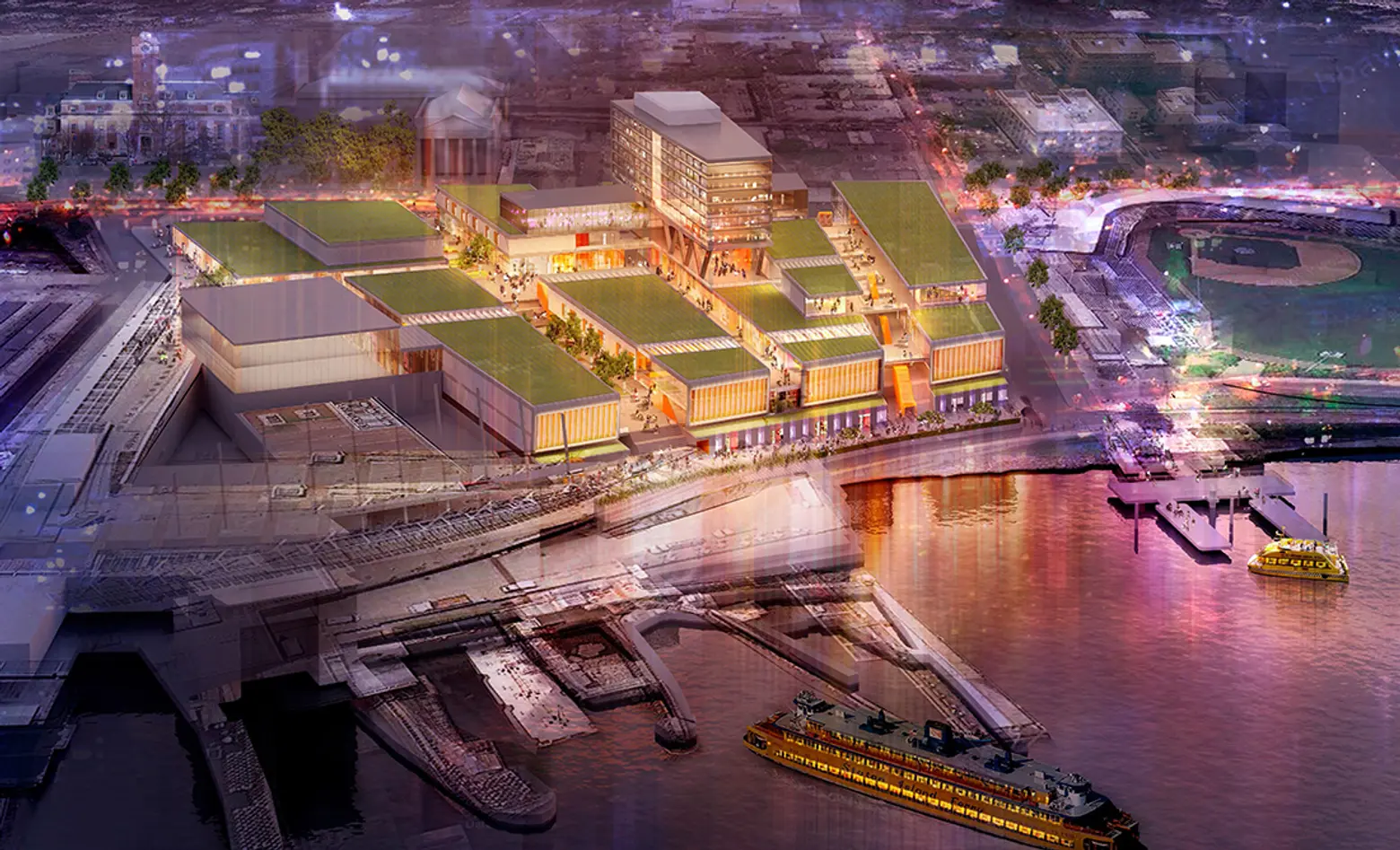 Rendering of Empire Outlet Mall courtesy of NYCEDC
Empire Outlet Mall
Another component of the St. George plan, the Empire Outlet Mall is designed by SHoP Architects as a 1,000,000-square-foot retail and entertainment complex. It will offer 340,000 square feet of leasable space, as well as restaurants and a 200-room hotel. The project is estimated to cost between $250 and $275 million and is expected to open on Black Friday 2016. Just this week, the mall announced Nordstrom Rack as its first tenant, and we're sure many more will be soon to follow.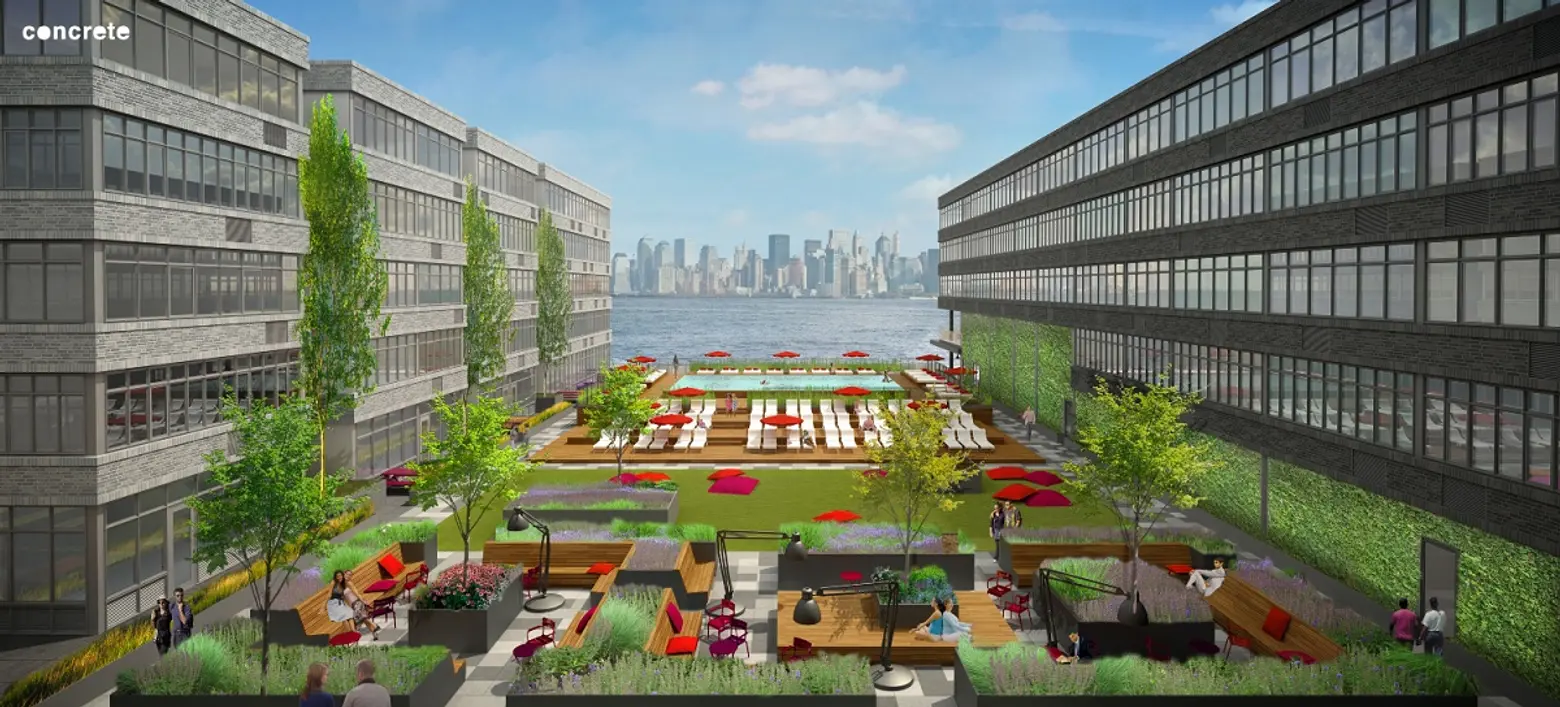 Rendering of URL Staten Island courtesy of Ironstate Development
New Stapleton Waterfront
After sitting dormant for 20 years, the Homeport Naval Base on the shoreline in Stapleton is being transformed into another mixed-use development that will include retail, affordable housing, and a waterfront esplanade. Known as URL Staten Island, the LEED-certified project will feature 900 residential units, 600 parking spaces, and 30,000 square feet of retail space. It has been designed with state-of-the-art storm prevention measures thanks to a $150 million investment from Ironstate Development. To attract young residents, URL will offer a 4,000-square-foot gym with yoga studio, rooftop bee farm, and a system where building staff helps check in AirBnB guests. What might not lure 20-somethings from Manhattan and Brooklyn are the rents (1,600 for a studio and $2,400 for a two-bedroom unit), which are not as affordable as one might think.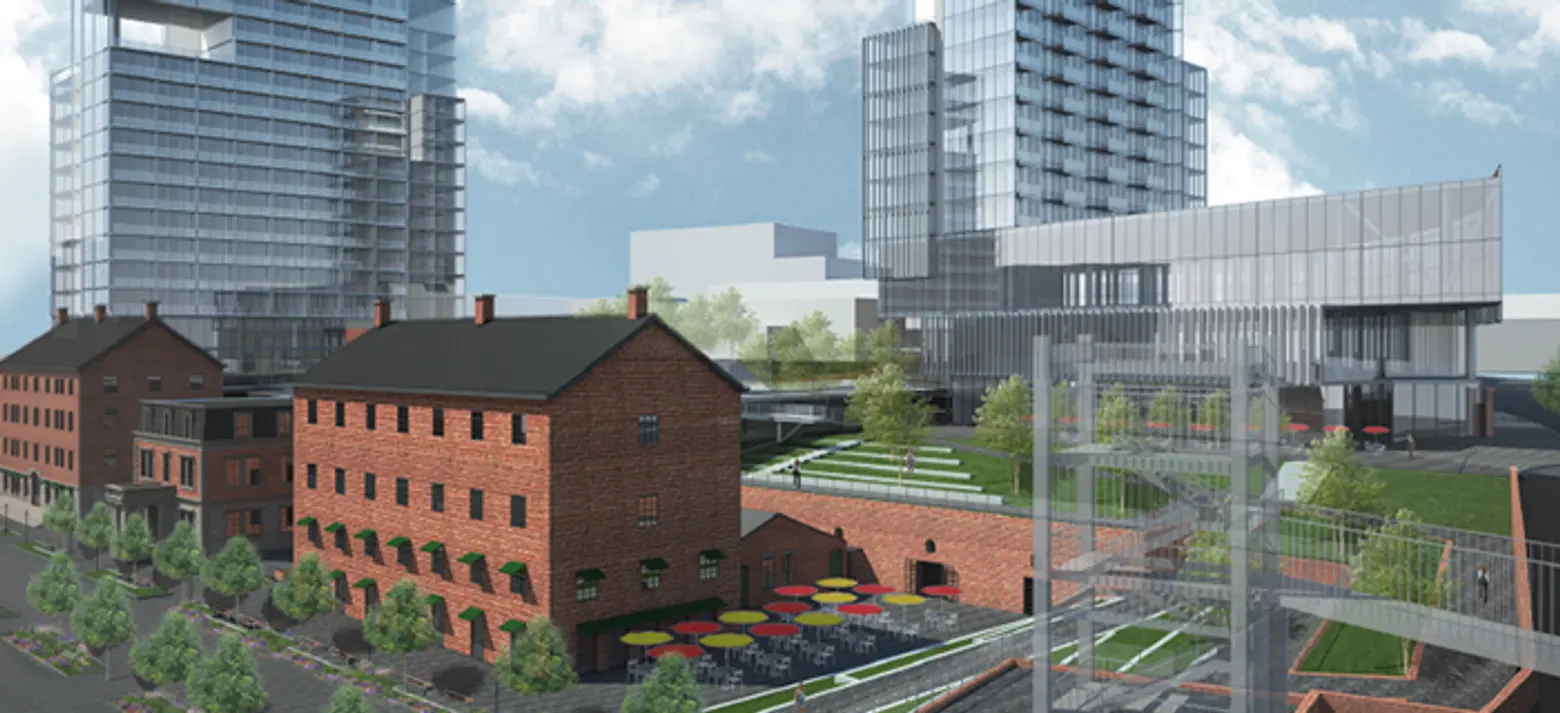 Rendering of Lighthouse Point courtesy of Triangle Equities
Lighthouse Point
Along with the New York Wheel, Empire Outlets, and New Stapleton Waterfront, Lighthouse Point is a key element of NYCEDC's ongoing efforts to transform the St. George waterfront into a vibrant community. Construction on the three-acre site is expected to commence this fall, with a completion date of 2019. The centerpiece of the $200 million development will be a 12-story, residential tower with 100 units, 20 of which will be sold at below-market rates. There will also be 85,000 square feet of retail space, a hotel with more than 160 rooms, communal-style workspace for local start-up businesses, an urban beach, and a series of outdoor recreational areas.
From 1863-1966, this site was home to the U.S. Lighthouse Service Depot, the center of national lighthouse operations during that time. In 1966, the Coast Guard relocated to Governor's Island, and by 1984 they had completely vacated the property. The city selected Triangle Equities in 2006 to develop the new complex, which will adaptively reuse the existing, historic structures. Additionally, the National Lighthouse Museum just opened this summer in an adjacent historic building.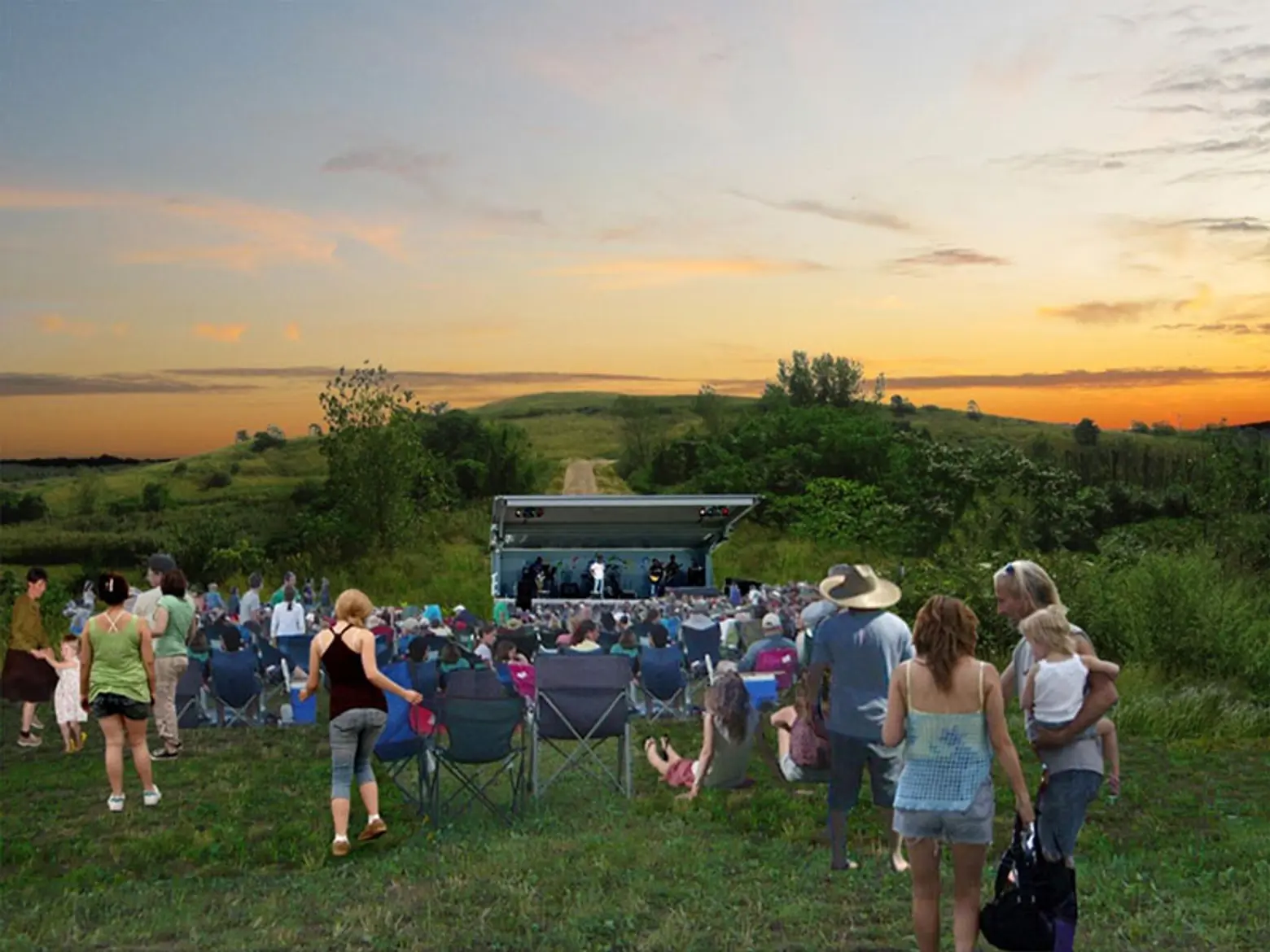 Rendering of concert meadow at Freshkills Park courtesy of NYC Department of Parks and Recreation
Freshkills Park
Once the world's largest landfill, this 2,200-acre site will be three times the size of Central Park when fully completed in 30 years. Current development at Freshkills Park is focused on providing public access to the interior of the site, showcasing its natural and engineered beauty, including creeks, wetlands, expansive meadows, and spectacular New York City views. The park's design, ecological restoration, and cultural and educational programming will emphasize environmental sustainability. It will have five main areas, each with its own distinct character and programming approach. There will be a 3.3-mile greenway along the eastern edge of the park, public art installations, recreation fields, a wildlife refuge, and much more.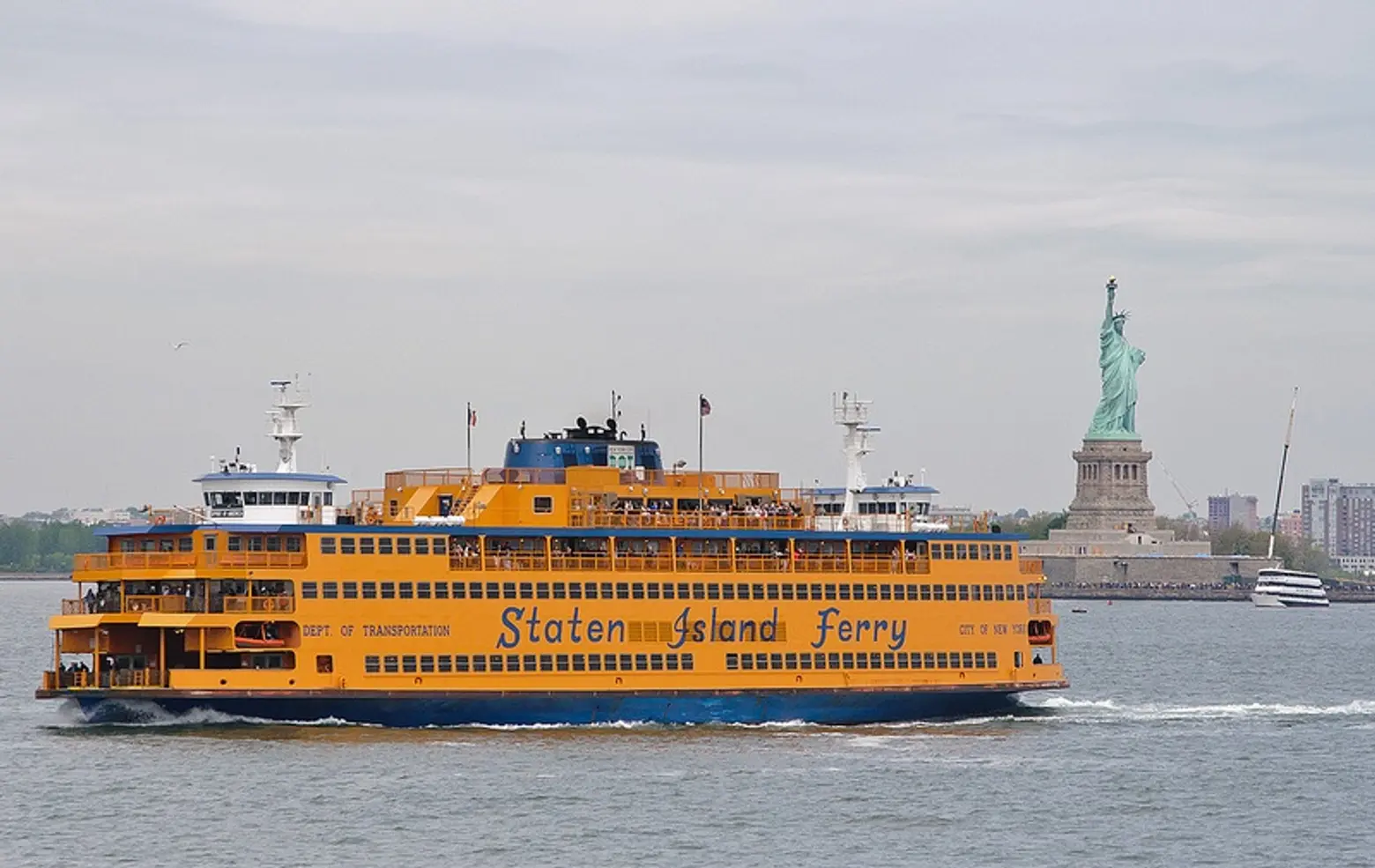 Photo InSapphoWeTrust via photopin cc
Tech Industry
A recent Crain's article wondered if Staten Island's North Shore will be the next Silicon Valley, and it's not surprising why. The area has some of the least expensive commercial space in the city, is conveniently located near the ferry, has one of the country's best broadband infrastructures, and ranks second in the nation for average internet connection speed by city area. Though only 15 tech firms operate on the island currently, the St. George Redevelopment Project is sure to attract more, especially if the private-public partnerships that turned Dumbo, Brooklyn into a tech hub are utilized here.
We're guessing all of you Staten Islanders are starting to get a little nervous that your secrets are out, but don't worry, we won't all hop on the ferry at once.
Lead image courtesy of NYCEDC