Plan to revitalize Staten Island's North Shore includes 2,400 homes and waterfront esplanade
Conceptual rendering of the future St. George Esplanade. Credit: FXCollaborative.
After several failed projects, Staten Island's North Shore could finally see a long-promised revitalization. Mayor Eric Adams on Thursday announced a $400 million investment and released a new roadmap to redevelop a stretch of the borough's waterfront with 20 acres of continuous open space, 2,400 units of housing, and new commercial space. Construction will resume this fall on a two-mile waterfront esplanade that will be "on par with Brooklyn Bridge Park and Hudson River Park," according to Adams.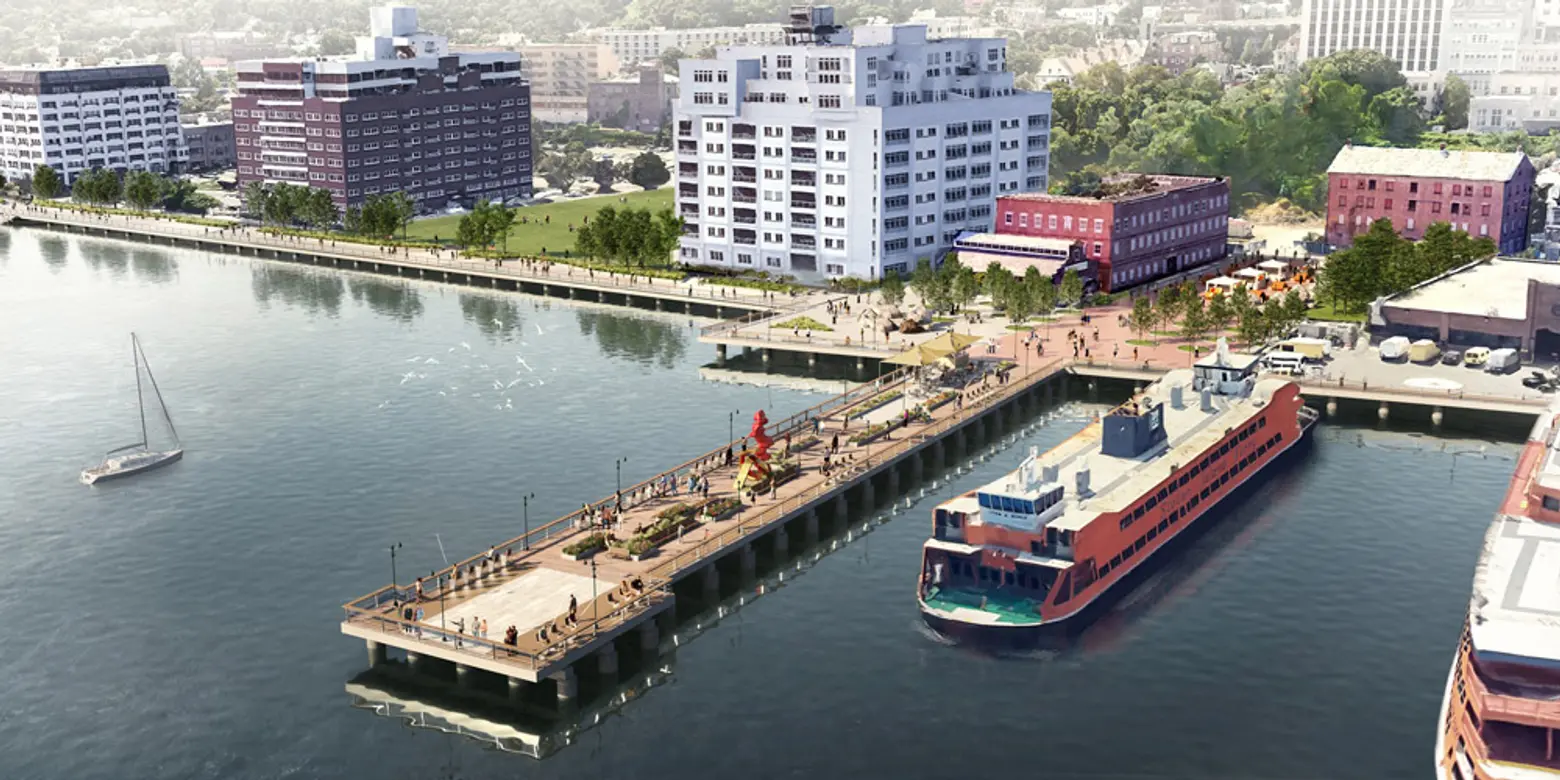 The "Staten Island North Shore Action Plan: Building a Vibrant, Mixed-Use Waterfront Community" includes a four-year timeline to deliver major improvements to the North Shore, along with more than 7,500 jobs and an estimated economic impact of $3.8 billion.
"For many years, the residents of the North Shore have been subjected to failed projects and broken promises. With the implementation of this action plan, we will have a roadmap to build a vibrant waterfront for Staten Islanders to enjoy," Council Member Kamillah Hanks, who represents the North Shore and has led the planning effort, said in a statement.
"We deserve a publicly accessible waterfront that balances commerce, industry, housing for all income levels, and recreation. Now we have an action plan which represents a framework that reflects what this community has been demanding for decades. The goal is to finally have a waterfront that is comparable to others across the city and our country."
The city's first focus will be completing the waterfront esplanade, extending from St. George to Stapleton and creating 20 acres of continuous waterfront access. Construction is expected to be completed by 2027.
The plan includes the redevelopment and reopening of Pier 1, which has been closed since 2017. Originally designed for water transportation, the pier will be repurposed for public waterfront access. The city's Economic Development Corporation (NYCEDC) is currently working to secure funding to complete this project.
Later this year, NYCEDC will release a request for proposals calling upon developers to submit designs to reactive the terminal on Bank Street, the former site of one of the city's biggest failures: the proposed New York Wheel. The city wants the terminal to host year-round programming and events. The plan also includes restoring public access to the three-acre St. George Esplanade.
The first phase of the New Stapleton Waterfront plan, which involves transforming a 35-acre former US Navy base with open space, housing, retail, a 600-seat public school, and more, was completed in 2016. The city plans to break ground on the second phase this year and wrap up work by 2027.
The action plan will also work to boost the completion of the Lighthouse Point and Staten Island Urby housing projects, two developments hit by construction delays. The city will also work to improve the retail experience at Empire Outlets, an outlet mall that opened in 2019 and entered foreclosure in 2022, according to SILive.
The city will work with its partners to connect members of the local communities with jobs, as well as continue to support public and private investment in arts and culture along the North Shore.
"For too long, our economic development plans have focused on Manhattan and slices of Brooklyn and Queens — but New York is a five-borough city," Adams said. "Our plan for the North Shore executes on a once-in-a-generation investment of more than $400 million to bring homes, a school, jobs, open space, waterfront access, and flood resiliency to Staten Island — but, more importantly, it offers more breaks to hard-working New Yorkers who have historically faced long commutes and fewer economic opportunities."
The city's plan delivers on promises Adams made in his "Working People's Agenda," which was released in January.
RELATED: