Skyline Wars: As Queens Begins to Catch Up, A Look at the Towers Defining Its Silhouette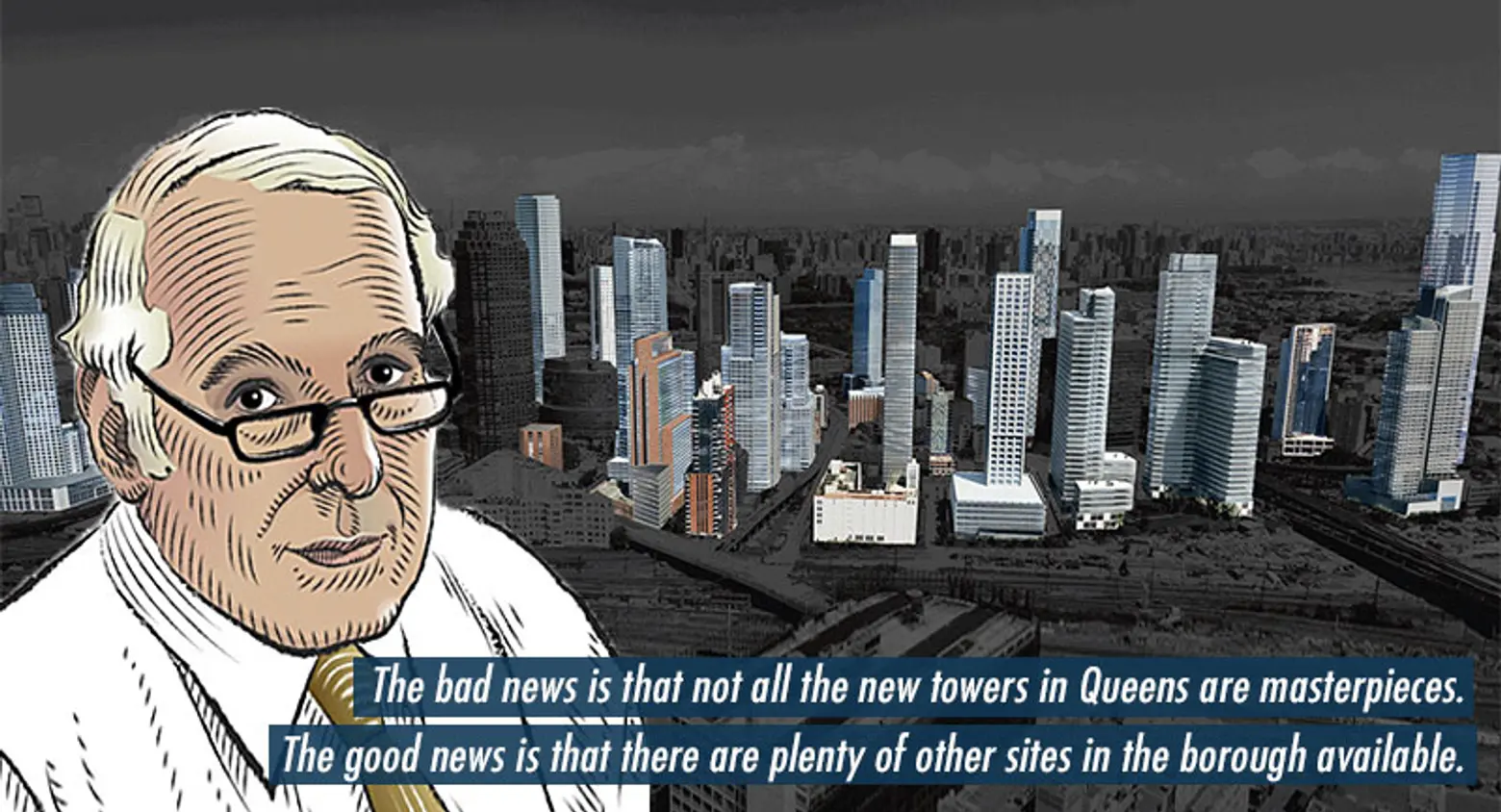 Carter Uncut brings New York City's latest development news under the critical eye of resident architecture critic Carter B. Horsley. Here, Carter brings us his sixth installment of "Skyline Wars," a series that examines the explosive and unprecedented supertall phenomenon that is transforming the city's silhouette. In this post Carter looks at the new towers defining the Queens skyline.
For a long time, the glass tower erected by Citibank was the lone skyscraper of note in Queens. Known initially as Citicorp at Court Square, it was built in 1989 and designed by Raul de Armas of SOM as a blue-green metal-panel-and-glass office tower with just a few setbacks at its 633-foot-high top—an extremely clean-cut, modern obelisk of fine proportions.
In a 1988 article in The New York Times, Anthony DePalma wrote that the tower "dominates the Queens skyline like a sequoia in the desert" and Paul Goldberger, then the newspaper's architecture critic, wrote the tower was "rapidly becoming one of the most conspicuous structures in the entire city." He added, "It is a very unlikely thing, this building—no other skyscraper in New York is remotely like the Citicorp tower, not so much for its design as for the fact that it stands free, alone in this landscape of gas stations, warehouses and row houses,"
The bank tower transformed "the landscape of New York" and "no longer does Manhattan virtually by itself control the skyline," Mr. Goldberger continued. "Skyscrapers built at random all over New York would be devastating, but an occasional exclamation point, well designed and carefully placed, will do the skyline no grievous harm," he concluded. This is a very important but also very controversial point as currently evidenced in Manhattan where traditional precincts are being pin-pricked to exhaustion and confusion by supertalls.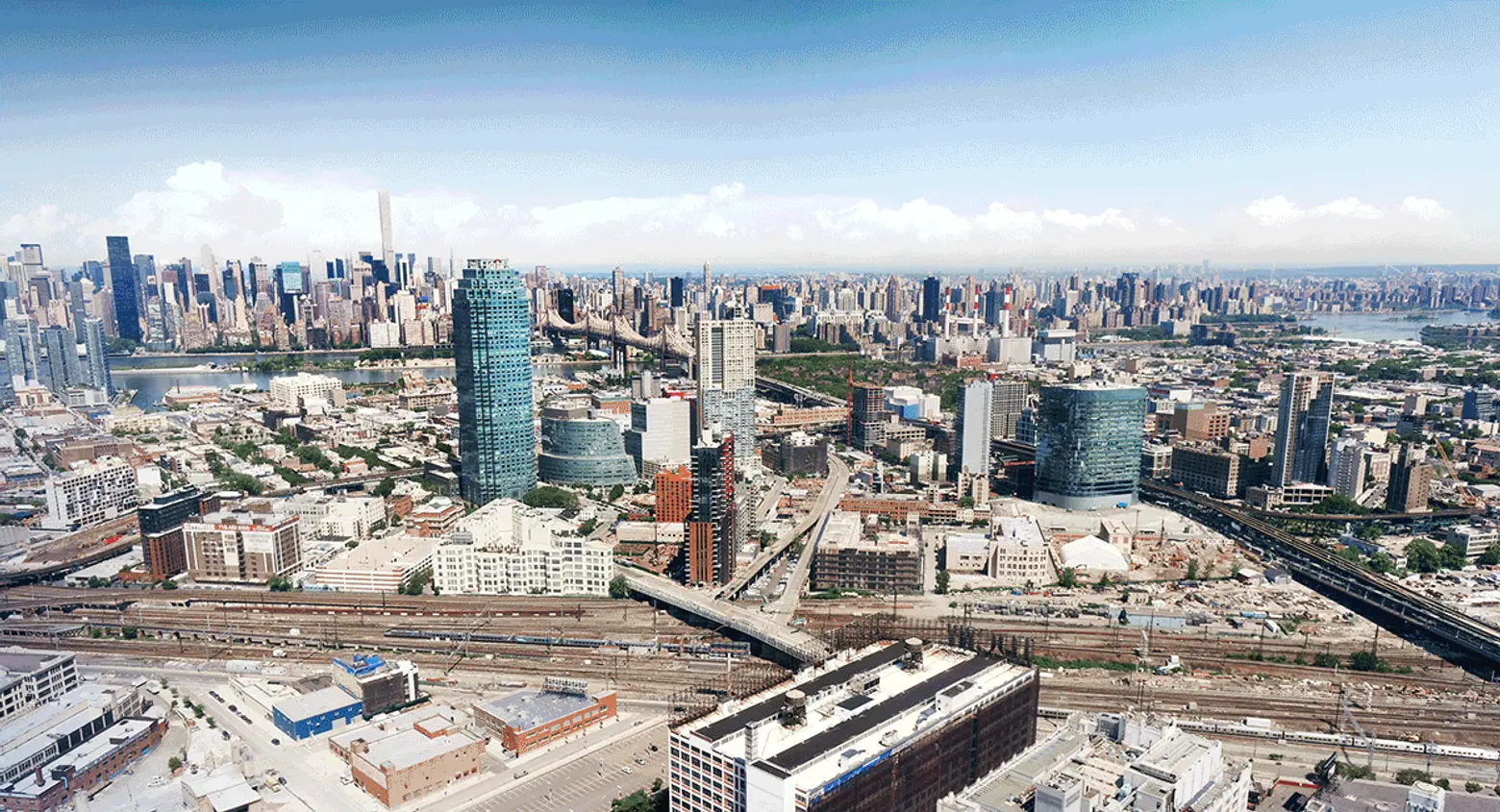 The Citicorp at Court Square Tower was joined in 2007 by a 15-story, curved office building known as Two Court Square that was a happy marriage with the tower architecturally but in 2010 it sold six floors to the City University of New York School of Law. More recently, however, the environs are getting crowded and with many projects of lesser quality.
Sequoias tend to not remain solitary for lone and now, almost three decades later, Citibank at Court Square, is getting an assortment of neighbors that in the aggregate comprise a significant, if not distinguished, urban cluster of 30- to 58-story towers.
A more visible and more significant high-rise cluster is further south along the East River at Hunters Point. It has been prominent from Manhattan for some time but is now being significantly expanded. The Hunters Point enclave is an impressive phalanx of residential towers of about 40 stories in height tucked very nicely behind former railway gantry structures and extensive landscaping and esplanades. The newer towers at Hunters Point continue the rhythm of almost equal spacing and general height of about 40 stories.
The supertall breakthroughs across the river, however, have not gone without notice in Queens and recently one was announced in Long Island City.
A preliminary design by SLCE for a 915-foot-high, 930-rental apartment tower at 29-27 Queens Plaza North
To put things in perspective, the 14-story building shown in gray in the above rendering was the tallest building in Queens when it was erected in 1927 and held that title until 1990. In November 2014, it was acquired by Property Markets Group and the Hakim Organization and they have filed plans for a 77-story apartment building to rise up behind the 14-story building. The 915-foot-high tower will contain 930 apartments and will be the tallest building in Queens by a significant margin. It has been designed by SLCE Architects.
Property Markets Group is building with JDS Development Group a 1,428-foot-tall residential tower that will be one of the tallest in the city at 111 West 57th Street adjacent to the elegant limestone mid-rise Steinway Hall, but it will only have 60 apartments! One of the major diffences between Manhattan's new crop of supertalls and the merely giant new towers of Brooklyn and Queens is that the former have very large and luxurious apartments and the latter have many small apartments. The small apartments attract younger, often single, buyers while the full-floorers are a bit older "family" people with nannies, drivers and the like.
The developers bought air rights from the 14-story building at 29-27 Queens Plaza North and another property but those would only have permitted them to build a tower of about 38 stories. The developers then bought 477,000 square feet of air rights from the Metropolitan Transportation Authority for about $56 million from a site of a tunnel that will permit the Long Island Rail Road to reach Grand Central Terminal.
The 14-story building will retain its highly visible clock tower that Matt Chaban noted in a March 2015 article in The New York Times is "at the mouth of the Queensboro Bridge and the bend in the elevated Flushing and Astoria subway lines."
That same month, the city's Landmarks Preservation Commission began a public review of a proposal to designate the clock tower building a landmark, a proposal that would prevent its demolition but permit construction around it. The proposal was supported by the developers and the local council members. The developers had previously indicated that they wanted to buy 750,000 square feet of air rights from the MTA, which would have permitted them to erect a much bigger building.
The recent rendering, shown above, indicates that the tower will at least have elan.
It will be the dominant centerpiece, for the time being, of the Court Square area, which is now undergoing an explosive building boom. The bank tower at Court Square remains the glass act architecturally, but is likely lose much of its solitary grace and charm.
***
Linc LIC at Court Square
A controlling interest in CitiGroup at Court Square was acquired in 2014 by Savanna from an investor group headed by David Werner that bought the skyscraper in 2011 for $500 million. The handsome tower was eventually joined by an attractive, curved and chamfered blue-glass mid-rise but that aesthetically pleasing duo did not last long in isolation and were joined recently by the amorphous and ungainly, 42-story, Linc LIC tower (seen center) at 43-10 Crescent Street, which has 709 rental apartments erected by Rockrose Development Corporation and designed by Avinash K. Malhotra Architects.
43-25 Hunter Street
Between Linc LIC tower and Citigroup is 43-25 Hunter Street, another Rockrose Development that will have 975 rental apartments with 20 percent of them affordable for 30 years. That tower, which has a slightly angled roofline and a slightly angled wing, has been designed by SLCE Architects, SPaN Architecture with Matthews Nielson Landscape Architects.
In a May 2013 article in the Commercial Observer, Justin Elghanayan of Rockrose said that the Citigroup Tower "looked so lonely" and that it needed "a girlfriend" and that 43-25 Hunter Street "is its girlfriend." He added, "You know when you have a couple and one person kind of softens the other person? I'm hoping that this building will have the same effect architecturally on the Citigroup tower because right now it's so monolithic and lonely on the skyline." 43-25 Hunter Street will have a nine-sided tower and a separate 15-story building.
In 2009, Rockrose, then owned by the Elghanayan family, split in Rockrose and TF Cornerstone with the former concentrating on development in the Court Square area and the latter focusing on the waterfront properties along the East River across from the United Nations where Rockrose had bought a 40-acre site from Pepsi in what become known as Queens West and subsequently Hunters Point.
Eagle Loft
In March 2015, Rockrose announced it would erect a 54-story residential tower with 783 "loft" apartments at 43-22 Queens Street on the former site of the Eagle Electric warehouse.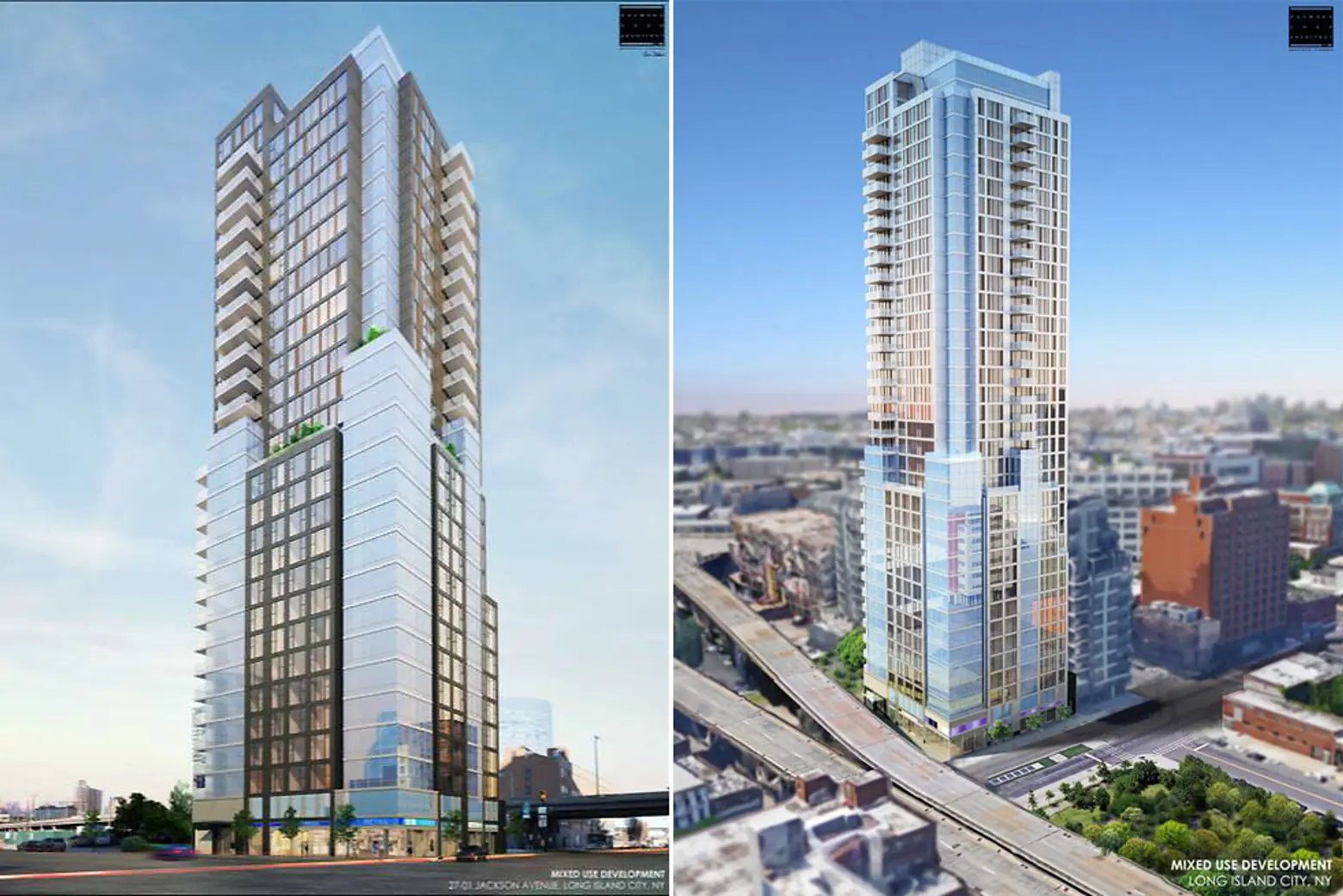 Jackson East at 26-22 Jackson Avenue, left, and Jackson West at 27-01 Jackson Avenue, right
The Lions Group announced in February 2015 it would erect Jackson East at 26-32 Jackson Avenue and Jackson West at 27-01 Jackson Avenue. The former would be about 40 stories high and the latter about 30 and both are designed by Raymond Chan Architects with glass-clad corners at their bases and many balconies in the towers.
Goldstein Hill & West has designed at 57-story residential tower at 42-12 28th Street that will have 447 rental apartments. It will be 635-feet high, just about 20 feet shorter than Citigroup at Court Square. The developer is Heatherwood Communities, who completed the slick blue-glass mid-rise residential tower known as 27 on 27th designed by the prolific Karl Fischer nearby on the same block in 2013. The new tower will be known as 28 on 28th and it is one block southwest of Dutch Kills Green that was completed in 2012 across from the Queensboro Plaza subway station. Much of the building has a staggered fenestration pattern that breaks up it's the strong thrust of its verticality as do some corner balconies near the top.  With few setbacks and an unfussy top, the tower exudes a robust presence in the Court Square cluster. It doesn't have the angled visual interest of 43-25 Hunter Street but it is nicely crisp.
44-28 Purves Street
Another new project nearby is 44-28 Purves Street, which is only 33 stories tall but is one of the handsomest new designs in Queens based on the above rendering. It is a project of Brause Realty and the Gotham Organization and is scheduled for completion in 2017. The architect is FXFowle. It will contain 270 rental apartments in a tower of four slipped slabs of unequal heights with the middle slab being the tallest. The long facades have a banded glass appearance somewhat akin to that of the Secretariat Building at the United Nations but the end facades are copper-colored with small corner windows.
The 386-foot-tall complex will have a two-story amenity and retail building next door with a pool, grill, bar area and movie screen and various other amenities. The ground floor of the tower will have a double-height lobby and there is also a billiards room, a wet bar and a terrace on the 35th floor. According to the project's press release, the interiors will also have "industrial materials such as raw wood and blackened steel and work from local artists."
The overall massing is reminiscent of the great Embarcadero Center in San Francisco except that it is more "high-tech" but does not have connecting elevated retail walkways wrapping around its five office towers and two hotels. The Embarcadero Center was started in 1971 and was a project of architect John Portman and developers Trammell Crow and David Rockefeller. Its slipped towers have more slab elements but the influence on this project is clear.
Nearby, the Rabsky Group is completing Halo LIC at 44-41 Purves Street, a 26-story, glass-clad apartment building with 284 units that like the Linc LIC has one shallow setback about half way up. Designed by Salomon Engineering Group, it is a bit odd in that the center of its base has dark red masonry piers but it has a seemingly random bunch of balconies, some of which wrap around corners, and its tower has two small pinnacles and a slightly lower center section. The truncated twin pinnacles are perhaps a throwback to the great twin-towers designed by Emery Roth on Central Park West or at least a faint echo. Because of its basic slab configuration, this building has a rather big presence.
The Graffiti "Palace" at 5Pointz and Its Redevelopment 
The infamous 5Pointz manufacturing facility at 22-44 Jackson Avenue was the city's most famous and colorful graffiti "palace/place." The graffiti reportedly began in 1993 and a decade later Jonathan Cohen became an unofficial curator and eventually there were more than 350 works on the building.
It is being replaced by G&M Realty, which is headed by Jerry Wolkoff and his son, David, with two similar residential towers designed by H. Thomas O'Hara with light-beige stone facades punctuated by square windows with gray glass corner windows and low-rise elements. The towers have girth, slightly different gray-colored "crowns" and bases with different fenestration. The 48- and 41-story towers will contain a total of more than 1,100 apartments of which 20 percent will be below market rate. The project will also have parking for more than 260 cars, 40,000 square feet commercial space including retail and "20 artists' studios." The north tower has taller windows and the podium of the south tower will contain the development's amenity spaces.
In August 2014, a Daily News article noted that the site's owners would dedicate some wall space at their development to graffiti. The article said there will be "numerous surfaces for artists to paint on, including [a] space along its rear courtyard…which will be open to the public. The new building will feature a 40-by-80-foot edifice above its garage meant to be spray-painted and a separate space for about 20 artists' studios."
The owners took a lot of heat for whitewashing the graffiti-covered building without getting the tagging artists' permission, but David Wolkoff told the News "We're putting up a wall so they can graffiti it. We're happy to do it."
That article elicited a lot of comments about "sanctioned graffiti walls. Andy Dufresne posted that the planned dedication of a graffiti wall 'defeats the purpose of graffiti…It's supposed to be illegal. Imagine if banks set aside money for robbers.'"
The day-glo extravaganza that was 5Pointz was extremely visible as it could be viewed by passengers on the 7 subway line.
22-22 Jackson Avenue
Just across the street from 5Pointz is one of the most attractive new buildings in Long Island City, the push-pull, 11-story residential building at 22-22 Jackson Avenue. Designed by ODA, it has 175 apartments. It is being developed by Jeffrey Gershon and is next to the sprawling Sunnyside Yards. It is a "happy" little building that reminds one of Paul Rudolf and children's building blocks. The architects' website notes that "the atmosphere allows for a more daring aesthetic, featuring a cast concrete, boxy form that plays with notions of space and scale." In continues that "the exposed concrete façade, revealing as much as it keeps hidden, maintains the structure's seeming ability to change shape, leaving onlookers surprised upon every visit."
Mayor de Blasio recently proposed a rezoning of the area and in December 2015, Crain's wrote that City Council majority leader Jimmy Van Bramer said his constituents "are terrified" about the prospect of "50-story mega-towers" rising in Long Island City's Sunnyside Yards.
The Rabsky Group acquired a site at 29-26 Northern Boulevard in 2013 for $35 million and commissioned Stephen B. Jacobs to design an apartment tower. The site is surrounded by transportation infrastructure including the access ramps to the Queensboro Bridge, the East Side LIRR access tunnel, the Sunnyside Rail Yards, entrances to the subway, as well as two elevated subway lines.
Mr. Jacobs designed the Gansevoort Hotel in the Meatpacking District that is notable for its rooftop bar and pulsating light show at its entrance. The Rabsky Group soon sold the site to the Simon Baron Development Group in early 2014 and it decided to retain the plans that call for a 43-story tower with 415 condominium apartments.
29-26 Northern Boulevard, designed by Stephen B. Jacobs Group PC
"The curved shapes of the top of the building and the LED illuminated tracks on the front façade were inspired by the Y-shaped path of the elevated tracks adjacent to the site," according to the Jacobs website that referred to the project as "an urban vertical cruise ship." The building is distinguished by two angled roof elements at slightly different heights that rise in different directions and are outlined in blue neon-like lights that run down the tower's front. Mr. Jacobs used the slanted roof element "signature" atop his pale blue tower at 325 Fifth Avenue but here he has amplified and complicated his lights how with finesse and given Long Island City a prominent new "lighthouse," something that Dallas has pioneered for decades and New York has only recently begun to catch up at last.
While elevated tracks once were considered very noisy and unattractive, the immense popularity of the High Line Elevated Park in Chelsea and the relative rarity of elevated tracks are probably a plus for the development now, at least a few floors up. Their motion and fluidity and the dimensionality of their shadow are urban glories to be cherished especially as the increased popularity of the city makes traditional street traffic, severely impacted by pedestrian plazas and bike racks, increasingly difficult. Mr. Jacobs' website notes that "on axis with the Queensboro Bridge, this site is as significant as it is challenging," adding that "the noise attenuation requirements required a triple-glazed curtain wall system for a portion of the facades." Ain't technology wonderful!
In the vicinity, Tishman Speyer Properties, the owner of the Chrysler Building and a former owner of Stuyvesant Town, is planning a very large apartment complex with 1,789 units in three slab towers at 28-34 Jackson Avenue, 28-10 Jackson Avenue and 30-02 Queens Boulevard. Goldstein Hill & West is the architect but no renderings are available. The towers, which have some small setbacks at their tops, range from about 33 to 55 stories. The site has been cleared and completion is due in 2018.
The large Silvercup West project just south of the Queensboro Bridge
Another very major development is Silvercup West, a large, $1 billion, mixed-use project planned for the Queens riverfront just 100 feet south of the great Queensboro Bridge. Special permits were approved by Community Board 2 in 2006 and renewed in 2011. The project would include about 1,000 apartments, 20 percent of which would be affordable, a 1,400-car garage, eight sound states, a large Silvercup sign facing the river. The project was approved by the Department of Planning, the Queens Borough President and the City Council in 2006. Rogers Stirk Harbour & Partners is the architect and the three towers will have cross-bracing to echo the diagonal bracing the bridge.
The tallest tower in the complex will be 600 feet high and is located at the project's southwest corner. The corner at the southeast corner will be 517 feet high and the tower at the northwest corner will be 537 feet high and steps down twice towards the river.
The huge "high-tech-style" project held the promise of modernizing Queens, but that was about a decade ago and architectural tastes have changed a bit. More importantly, the development will affect some views of the eastern tower of the multi-towered bridge but the environmental impact studies paid scant notice then.
45-40 Vernon Boulevard
A copper motif will bring flair to a new development that is being planned by the Simon Baron Development and designed by SHoP architects. Three residential towers are set to rise next to the Paragon Paint factory at 45-40 Vernon Boulevard along the eastern end of the Anable Basin Inlet in Long Island City. The tallest tower will be 300 feet high and glass and will rise from the rear section of the factory. The lower two towers will have angled sections that are copper-framed.

Hunters Point Riverfront
The Hunters Point riverfront was run-down in 1983 when the Port Authority of New York and New Jersey said it was interested in developing 74 acres there bounded by Anable Basin at 45th Road on the north, Newtown Creek on the south, and Fifth and Second Streets on the east.
In a 1994 article in The New York Times, architecture critic Herbert Muschamp said that "the project was originally planned to accommodate back office space, along with some luxury housing." He noted that its design guidelines were "clearly descended from those designed for Battery Park City in 1979" that encouraged the "recall" of "the architecture of pre-war New York," going on to ask "what if you don't think that architecture should resemble a pre-war icon?"
In the center of the properties was a Pepsico bottling plant. The city and state came up with $125 million for infrastructure improvements and a master plan was commissioned from The Gruzen Partnership with Beyer Blinder Belle. The ambitious plan was announced in 1986 and called for the creation of about five million square feet of residential development, four million square feet of offices, one million square feet of retail and hotels, underground parking for 6,400 cars, and seven to ten acres of open space.
In their great book, "New York 2000, Architecture and Urbanism Between the Bicentennial and the Millennium," Robert A. M. Stern, David Fishman and Jacob Tilove noted that "this preliminary plan was largely ignored by the press, perhaps because it seemed so much a rehash of themes from Battery Park City," adding that "a year after its release, in October, 1987 the stock market crash, and ensuing collapse of the real esta4e market halted progress, a fate that also befell other ambitious waterfront schemes, including three in Manhattan: South Ferry, Riverwalk, and the Hudson River Center."
Eventually, the Hunters Point plan was revised downward to include three 38-story residential towers with 6,385 apartments, 10 percent of which were to be affordable, 2.25 million square feet of commercial space in three buildings, a 350-room hotel, garages for 5,000 cars, a 650-student school, and 20 acres of open space. This plan was approved by the Board of Estimate in 1990 and was called Queens West.
In 1994, it was announced that Manhattan Overlook Associates, which included William Zeckendorf Jr., Trotwood Corporation and two Japanese companies would erect the first building at Queens West, a 42-story apartment tower designed by Cesar Pelli. It was competed and named Citylights in 1996, and was joined six years later by a 32-story apartment tower just to the south designed by Perkins Eastman Architects and known as Avalon Riverview.
In 2001, Rockrose was designated to build several towers on 21 acres to the north of Citylights and Rockrose chose Arquitectonica as the architect for its buildings at the time. Arquitectonica said that its plan was "a collage of abstract, rigorously orthogonal geometries, emphasized by the contrasting materials of the city—glass, steel and masonry."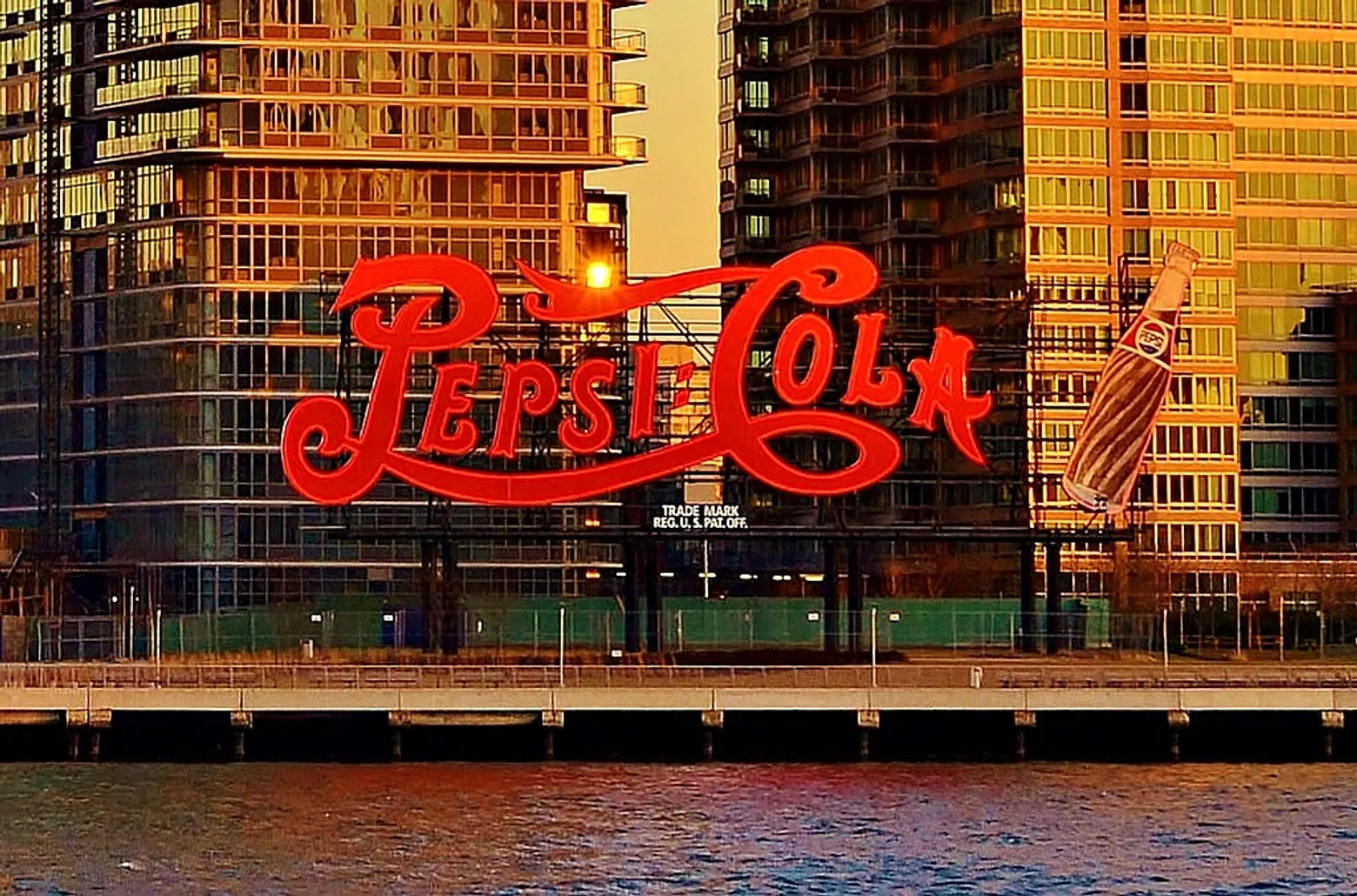 The famous Pepsi sign that once was on the roof the bottling plant was moved in front of the building at 47-20 Center Boulevard and then was moved to 46-10,
but some of its parts, such as the dot over the "I," fell into the river. The building at 47-20 has 585 units and 46-10, which has a dizzying array of balconies spread across its broad façade, has 820. The 41-story 45-45 Center Boulevard is the most attractive of this group with a rippling main façade that overlooks a very large amenity terrace that also overlooks Manhattan.
Rockrose subsequently split in two and its successor on the East River was T. F. Cornerstone and its buildings were quite glitzy glass mountains of small apartments that bore little semblance to pre-war luxury dwellings and did not break new architectural ground but did have lots of amenities and views.
To the south of Avalon Riverview, SHoP designed two apartment towers that also did not break the massing mold of pre-war New York but were distinctly different.
To its credit, SHoP can be relied upon to surprise with its sometimes off-the-wall designs as can be seen at its Hunters Point South development for The Related Companies, Monadnock Construction and Phipps Houses. Ismael Leyva Architects was also involved in the project.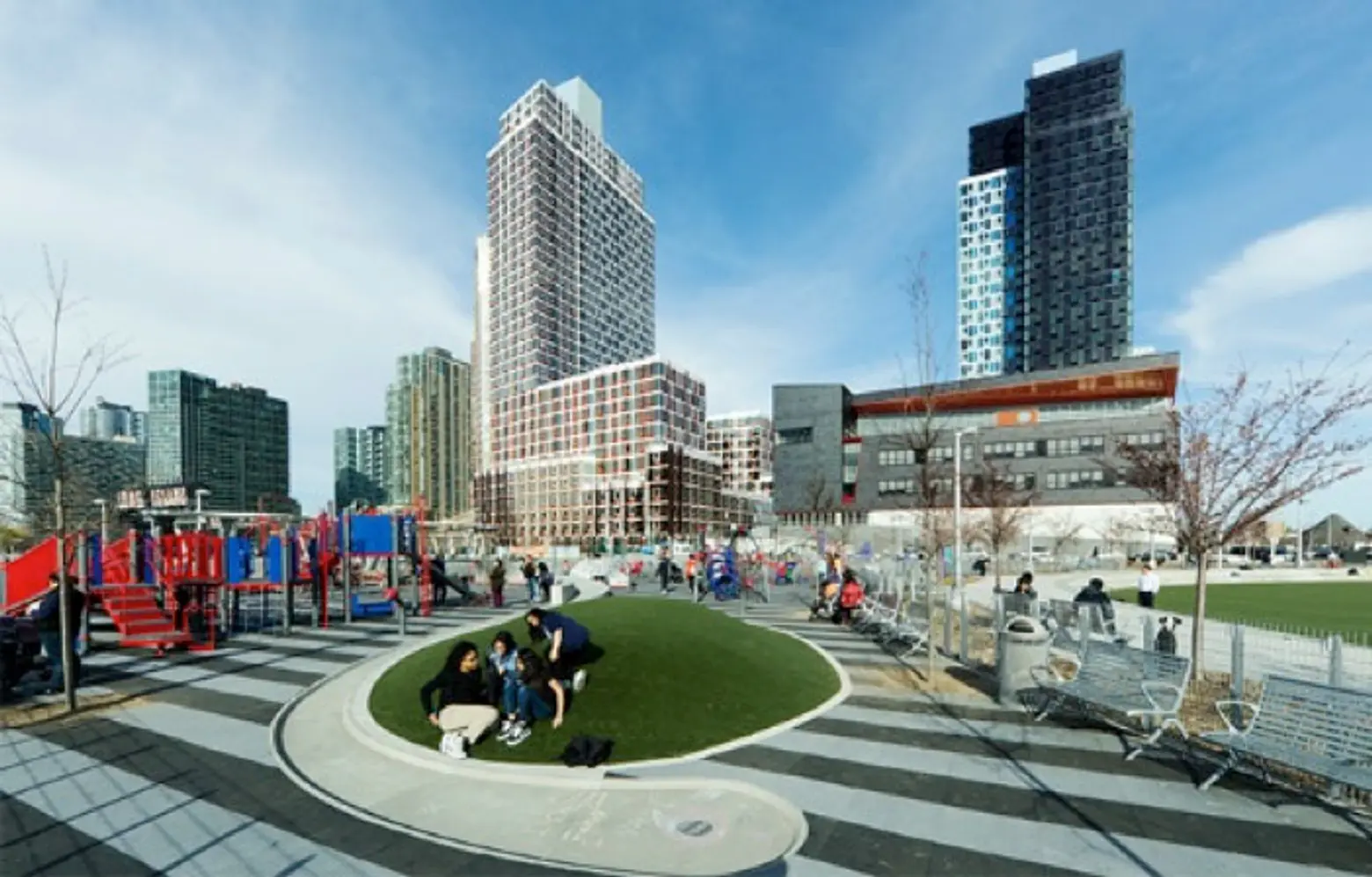 Two towers at Hunters Point South built by Related, Monadnock and Phipps Houses designed by SHoP Architects and low-rise school designed by FXFowle

There it has designed a nicely tiered and setback tower with bright red spandrels and covered the lower two sections of the building with an slapped-on "exoskeleton" of dark tridents, possibly in honor of Poseidon. The tridents are not applied to the upper portion of the tower and its setback top nor even entirely around its base and they are not employed at all in the south tower, which has no bright red spandrels but a mostly black façade.
Furthermore, the north tower's fenestration is not at all consistent and changes at different heights and from different perspectives. It is also very different from its dark southern neighbor that has many protruding window frames that give its facades a more sculptural texture for those looking closely.
The two buildings, named Hunters Point South and Crossing, will contain a total of 925 affordable apartments that will be priced below market rate in perpetuity.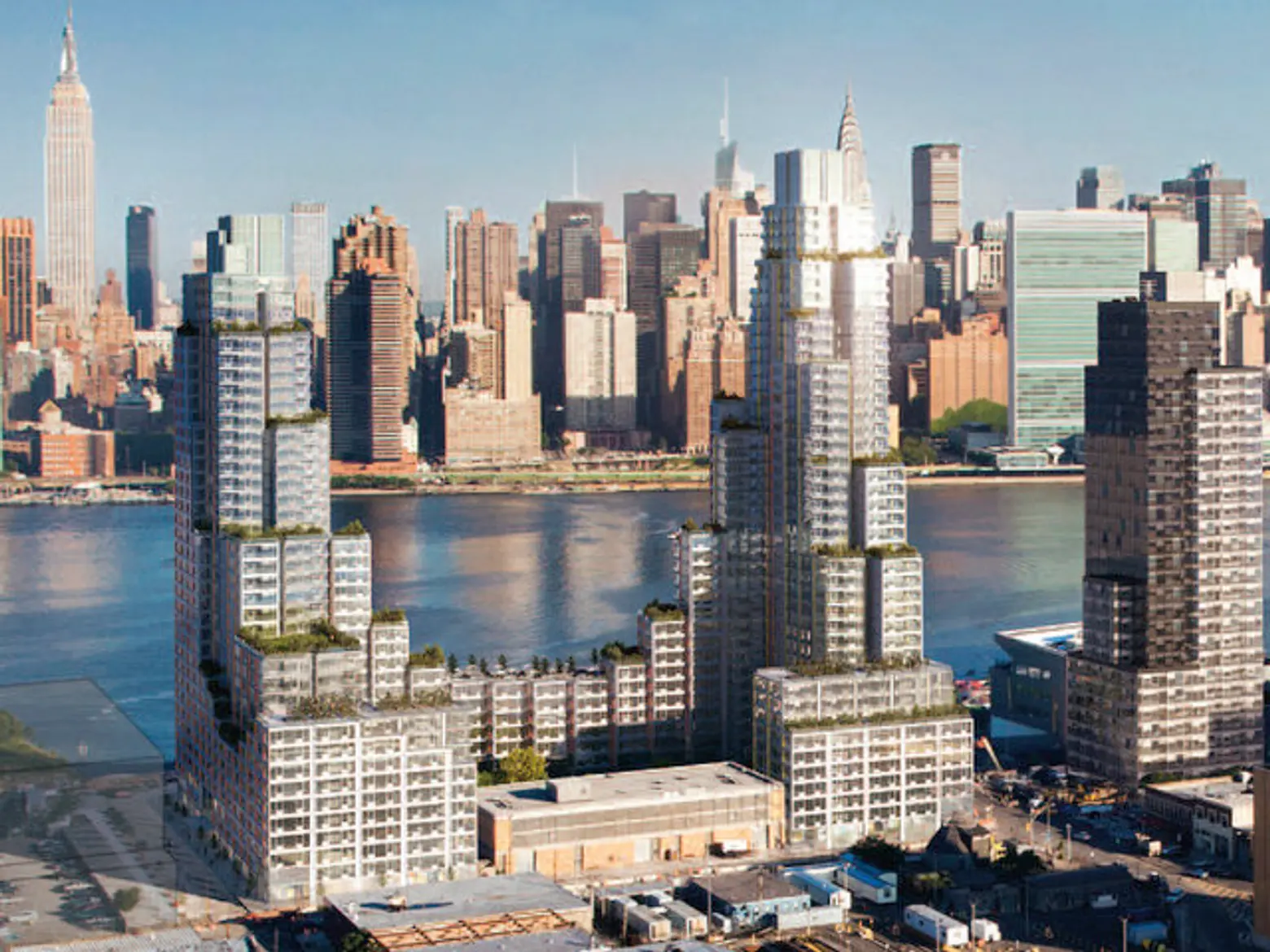 The next phase of Hunters Point South is a two-towered, stepped and staggered megastructure designed by ODA for TF Cornerstone.
Hunters Point Community Library by Steven Holl
It's not the tall buildings that give "character" to Queens, at least on its riverfront. Across from the United Nations complex in Manhattan are two small but very prominent structures along the riverfront. One is the famous "Pepsi" sign and the other, several blocks to the south, is the old railroad gantry structures.
Now, in between them is rising a third small structure designed by Steven Holl, officially known as the Hunters Point Community Library, a 80-foot-high building with large, irregular window cut-outs reminiscent of some of the work of Louis Kahn, the late architect whose wonderful FDR Memorial Park at the southern end of Roosevelt Island opened just a few years ago.
In his review of this project in January 2011 in The New York Times, Nicholai Ouroussoff wrote that "it is a striking expression of the continuing effort to shake the dust off the city's aging libraries and recast them as lively community hubs, and should go far in bolstering the civic image of Queens," adding that its "beguiling appearance…should make it an instantly recognizable landmark… Mr. Holl's design is not about escaping this world but transforming it into something more poetic."
"Seen from Manhattan," he continued, "it have a haunting presence on the waterfront" and "at dusk the library's odd-shaped windows will emit an eerie glow, looking a bit like ghosts trapped inside a machine. And late at night, when the building is dark, spotlights will illuminate its pockmarked façade and the windows will resemble caves dug into the wall of a cliff.
***
The new, emerging Queens is no longer a wasteland of car dealerships, a graveyard, a tennis center, a large park and one solitary skyscraper. It now has some of the most exciting and spectacular riverfront residential developments in the country, complete with historic gantries, but also two quite impressive skylines and one "almost" supertall.
The bad news is that not all the new towers in Queens are masterpieces. The good news is that there are plenty of other sites in the borough available. 

Carter is an architecture critic, editorial director of CityRealty.com and the publisher of The City Review. He worked for 26 years at The New York Times where he covered real estate for 14 years, and for seven years, produced the nationally syndicated weeknight radio program "Tomorrow's Front Page of The New York Times." For nearly a decade, Carter also wrote the entire North American Architecture and Real Estate Annual Supplement for The International Herald Tribune. Shortly after his time at the Tribune, he joined The New York Post as its architecture critic and real estate editor. He has also contributed to The New York Sun's architecture column.