Schedule for 2018 Open House New York sites and events is now live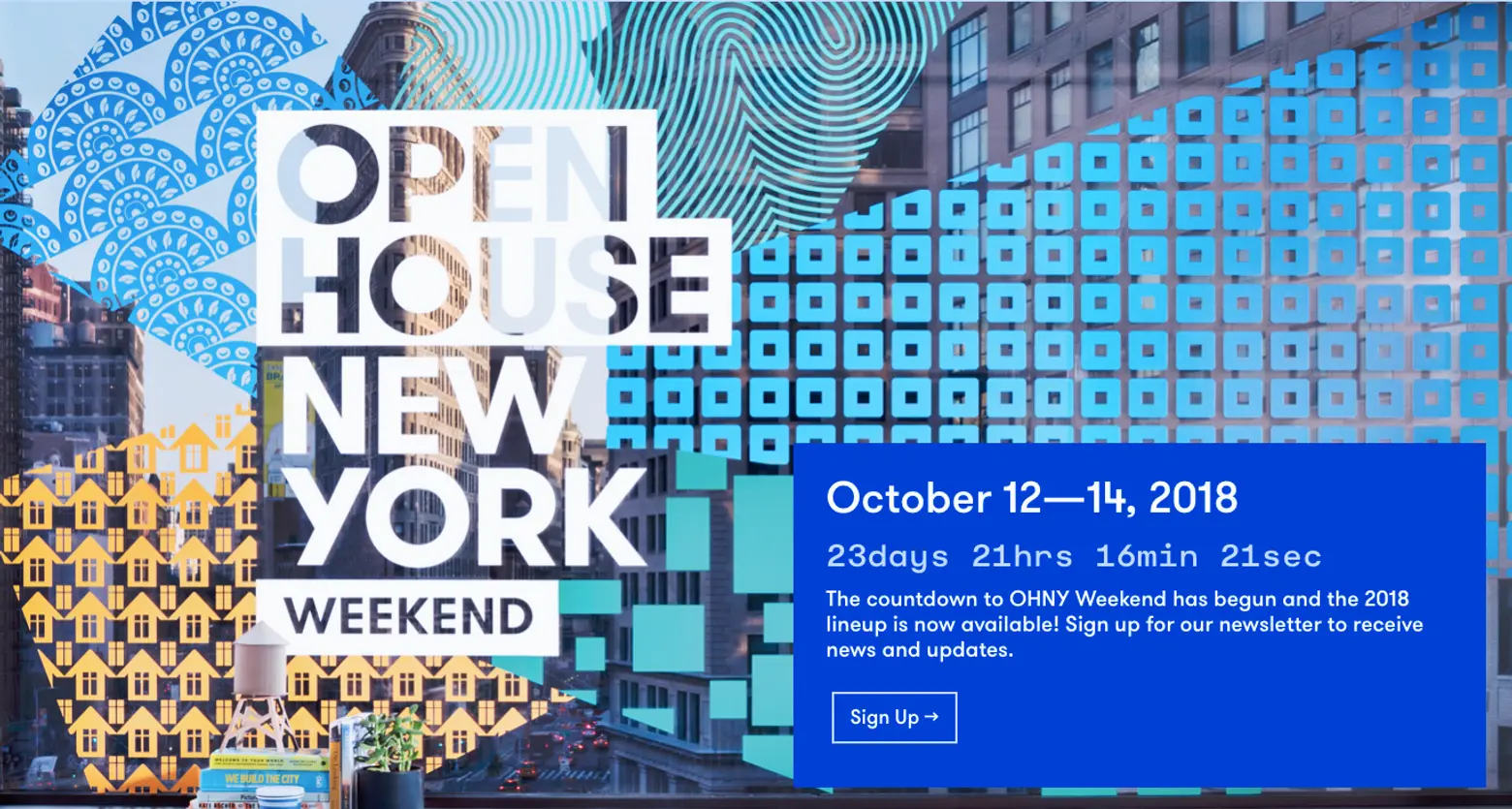 Last week brought a sneak preview of the 16th annual Open House New York; the schedule for tours, events, and access to typically off-limits sites has been released. OHNY is happening on Friday, October 12, Saturday, October 13 and Sunday, October 14. Highlights include recently-opened sites like 3 World Trade Center, Domino Park and Pier 17,  construction previews of 150 Rivington and Hauser & Wirth Gallery West 22nd Street and specially curated series like Works by Women, MAS 125, Factory Fridays and Open Studios. There's also an event guide, interactive map showing where ("open access" only) sites and events are located throughout the five boroughs and an itinerary planner.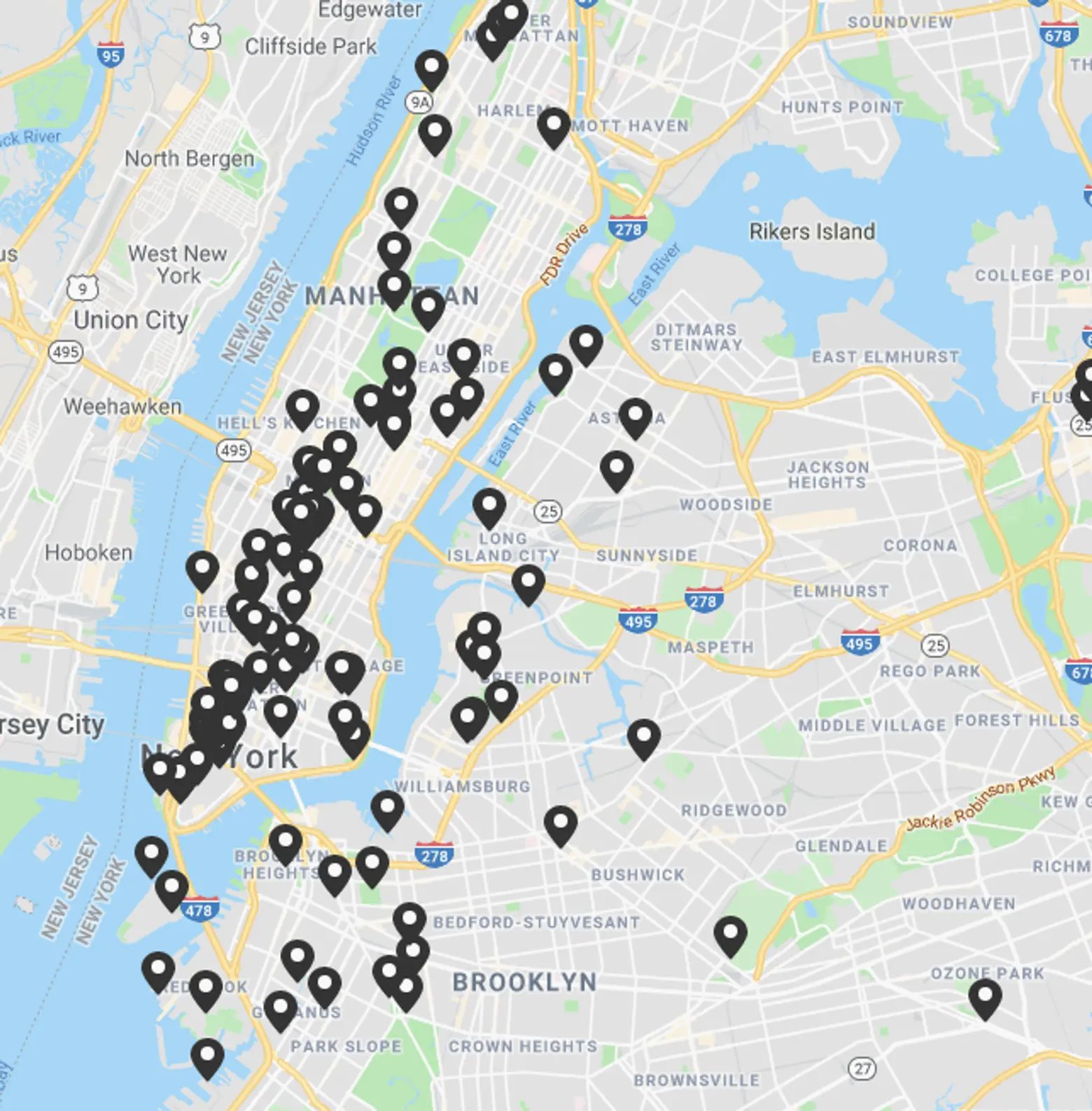 This year's interactive OHNY map
Since the first Open House New York Weekend in 2003, buildings and sites throughout all five boroughs have opened their doors to the public; last year visitors toured  SHoP Architects' American Copper Buildings and their iconic skybridge, got a peek inside the artifacts and archival gems at the New York Transit Museum Archives and got a look at the Bridge at Cornell Tech at the university's new Roosevelt Island Campus and the new global headquarters of West Elm.
While the majority of OHNY Weekend sites are Open Access and can be visited free-of-charge during open hours, some sites and tours are Reservations Required with a $5 fee per person. Reservations for these sites will begin on Tuesday, September 25 at 11 a.m.
Highlights of 2018 Open House New York include:
3 World Trade Center, a 1,079-foot tall skyscraper designed by Pritzker-prize-winning Richard Rogers and opened in June 2018
150 Rivington, a new condominium development by GLUCK+ under construction on the former site of Streit's Matzo Factory in the heart of the Lower East Side
Brooklyn Navy Yard's Building 77, where a top-to-bottom rehabilitation by Beyer Blinder Belle and Marvel Architects has transformed a WWII US Navy warehouse into a 21st-century commercial and light industrial hub
Dime Savings Bank of Brooklyn, a Gilded Age landmark with an opulent domed rotunda, along with a peek at SHoP Architect's ∫, the new residential tower in Downtown Brooklyn that is expected to be the borough's tallest building
Governors Island South Battery (Officers Club), which was built as a key fortification for the War of 1812 and has been vacant since the Coast Guard departed the island in 1996
MTA New York City Transit's Mother Clara Hale Bus Depot in Harlem, STV's LEED Gold-certified transit hub featuring a green roof and solar heating wall
Nevelson Chapel, a sculptural environment by celebrated artist Louise Nevelson, tucked away in the modernist icon Saint Peter's Church at the Citicorp Center, that will close for an extensive renovation and restoration immediately after OHNY Weekend
Ocean Wonders: Sharks! at the New York Aquarium, a new exhibition by Edelman Sultan Knox Wood that lets visitors go nose-to-nose with eighteen kinds of sharks and rays, with daytime tours of the building and evening tours of the lighting
SHoP Architects-designed Pier 17, which brings festive retail and entertainment space- plus a massive multicolored balloon sculpture-to the South Street Seaport, with daytime tours of the building and evening tours of the lighting.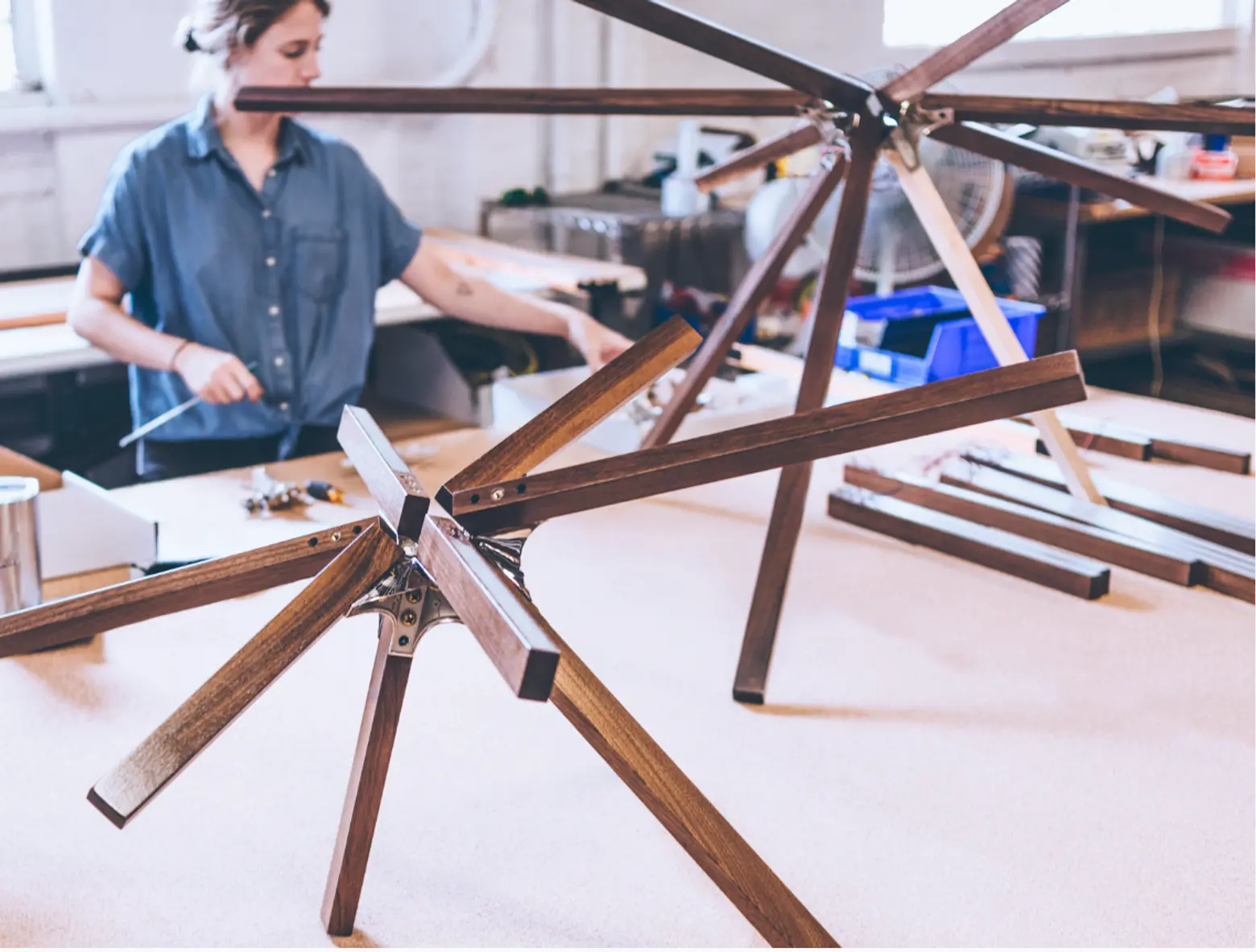 Factory Friday: Stickbulb Showroom at Rux Studios. Image Courtesy of Stickbulb.
Factory Friday
Open House New York Weekend expands to three days and Factory Friday will open doors to manufacturing spaces across the city for rarely offered factory tours. More than a dozen factories are participating, including:
Breuckelen Distilling, South Slope, Brooklyn | whiskey and gin
M&S Schmalberg, Midtown Manhattan | custom fabric flowers
Kepco, Inc., Flushing, Queens | DC power supplies
Roni-Sue's Chocolates, Lower East Side, Manhattan | chocolate
Sure Iron Works, East New York, Brooklyn | steel fabrication
Tri-Lox, Greenpoint, Brooklyn | architectural fabrication, wood products
Works by Women
This year Open House New York Weekend celebrates the contributions that women are making to shape the contemporary city, highlighting a range of architecture, landscape architecture and urban design projects that all have a woman as one the principal designers. Among the participating projects are:
122 Community Arts Center, Deborah Berke Partners, East Village, Manhattan
American Copper Building Plaza, SCAPE Studio, Midtown, Manhattan
Brooklyn Army Terminal, WXY architecture + urban design, Sunset Park, Brooklyn
Domino Park, James Corner Field Operations, Williamsburg, Brooklyn
Hauser & Wirth Gallery West 22nd Street, Selldorf Architects, Chelsea, Manhattan
Hunter's Point South Waterfront Park, SWA/Balsley and WEISS/MANFREDI, Hunter's Point, Queens
NYPL 53rd Street Library, TEN Arquitectos, Midtown, Manhattan
Spring Street Park, Mathews Nielsen Landscape Architects, Hudson Square, Manhattan
The Edge Park Williamsburg, W Architecture and Landscape Architecture, Williamsburg, Brooklyn.
Open Studios
Two dozen of the city's leading architects and designers will open their studios for Open House New York Weekend, offering a glimpse of their workspaces and a chance to see new projects in the design phase. Among the participating studios are:
Dattner Architects, Midtown, Manhattan
Fogarty Finger Architecture | Interiors, Tribeca, Manhattan
FXCollaborative Architects, Chelsea, Manhattan
Jaklitsch/Gardner Architects, Flower District, Manhattan
LOT-EK, Nolita, Manhattan
Rogers Partners Architects + Urban Designers, Tribeca, Manhattan
Skidmore Owings & Merrill, Financial District, Manhattan
SPAN Architecture, Financial District, Manhattan
Workshop/APD, Midtown, Manhattan.
MAS 125
In honor of its 125th anniversary year, the Municipal Art Society (MAS) curated a series of tours of iconic sites especially for Open House New York Weekend where the advocacy of the MAS helped preserve, shape, or reimagine the City's built environment. Among the participating are:
Freshkills Park, Travis/Arden Heights/New Springville, Staten Island
Moynihan Train Hall Phase 1: New West End Concourse at Penn Station, Midtown, Manhattan
Grand Central Terminal, East Midtown, Manhattan
St. Bartholomew's Church, Midtown, Manhattan
Snug Harbor Cultural Center & Botanical Garden, Randall Manor, Staten Island
Times Square, Manhattan
Free copies of the OHNY Weekend Event Guide (PDF) are also available at Porcelanosa (202 Fifth Avenue, New York) and at select distribution locations.

The 2018 OHNY Weekend will kick off with a ticketed fundraiser launch party on Thursday, October 11 at 204 Fifth Avenue. Once home to a bank, the 1980s nightclub MK, and a celebrated graphic design firm, this Beaux Arts building overlooking Madison Square Park will soon house the expanded flagship showroom of host Porcelanosa. Proceeds will support OHNY Weekend.
Check for more information and peruse the events and locations included in the 2018 OHNY Weekend at OHNY.org.
RELATED: