SCDA's Switchback Skyscraper Launches Teaser Site and Clears Its Midtown East Lot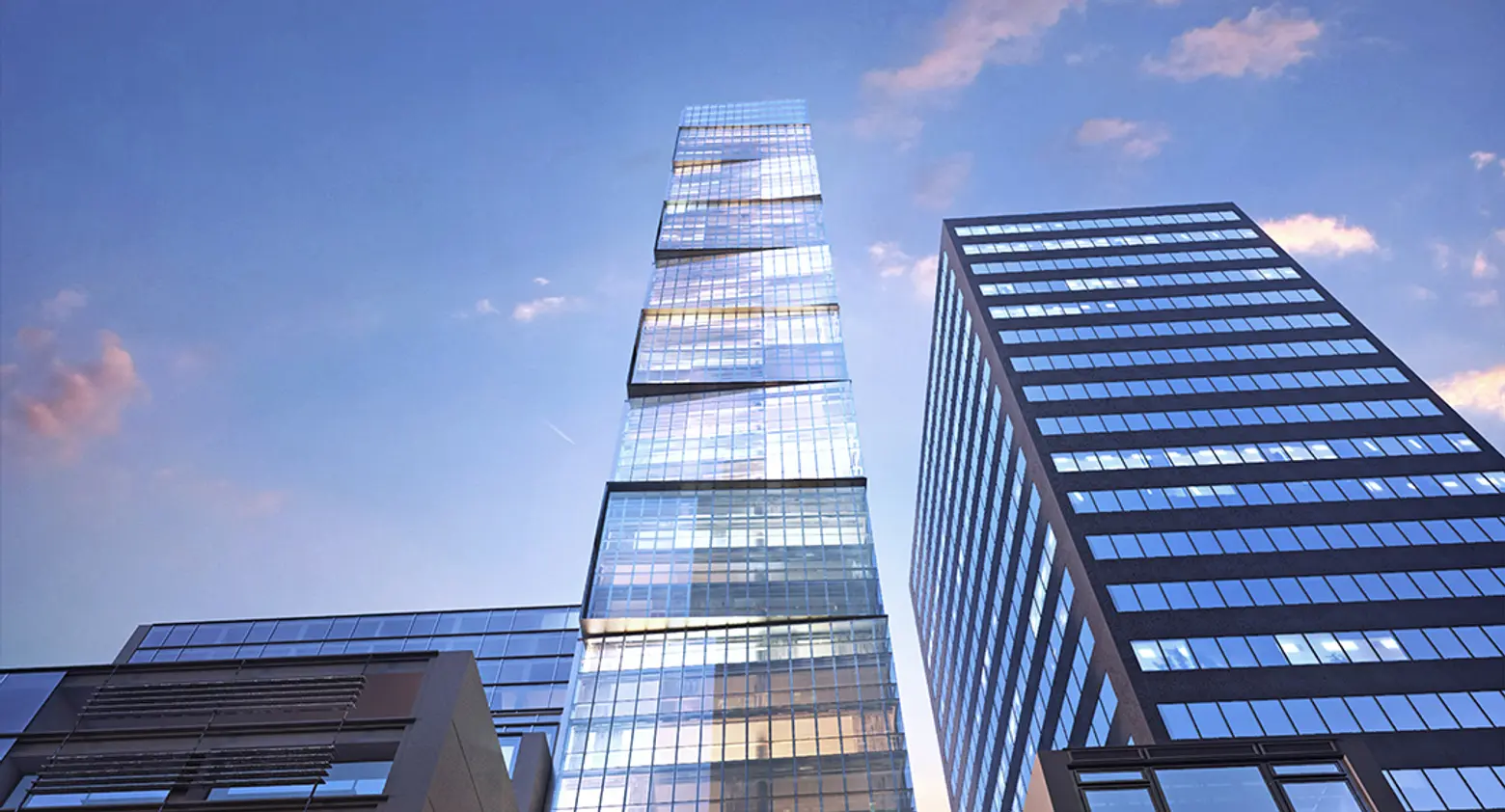 Last November, 6sqft brought you news that a 29-unit boutique condominium would rise at the edge of Billionaires' Row, in that somewhat ambiguous zone occupied by Bloomingdale's and Bloomberg LLP. Now, the high-end development's teaser site has launched, which showcases a handful of images of the tower's common spaces, and we took a trip to the site to get a first look at the construction progress.
Just last month, the two 4- and 6-story office buildings occupying the site at 116-118 East 59th Street were cleared, and recent Department of Buildings filings reveal that the envisioned $330 million tower will stand exactly 500 feet tall, making it spot-on-the-mark of what we (and other bean-counters) officially deem a skyscraper.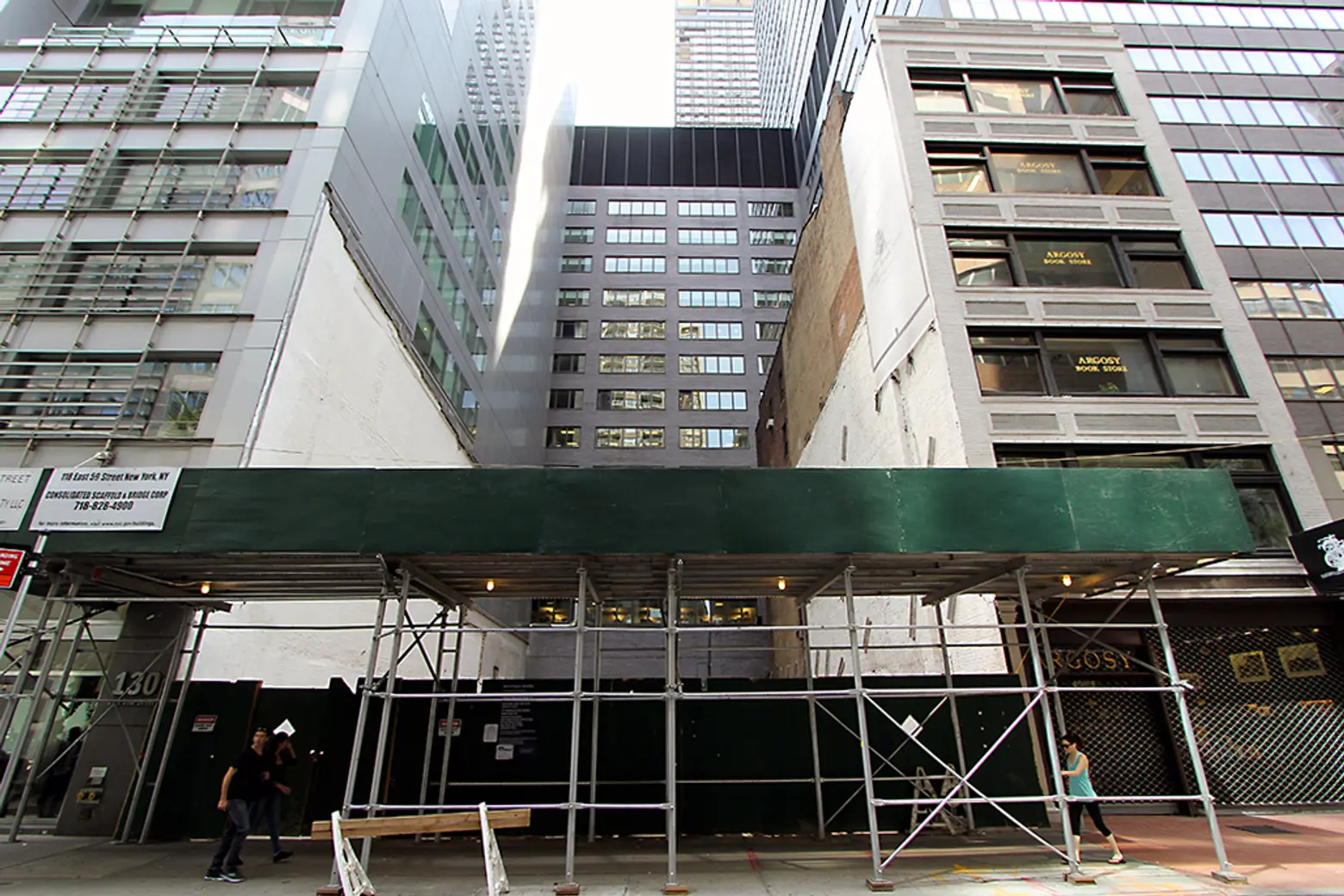 The Midtown East 100-by-50-foot parcel formerly owned by the Rudd family was sold to Hong Kong-based development and investment firm, Euro Properties for $49M in 2013; and as the Times reported, it will become the first condominium project in Manhattan developed entirely by a Chinese-based firm. The company, headed by Neo Que Yau, also paid an additional $6.18 million for development rights and a light, air and views easement.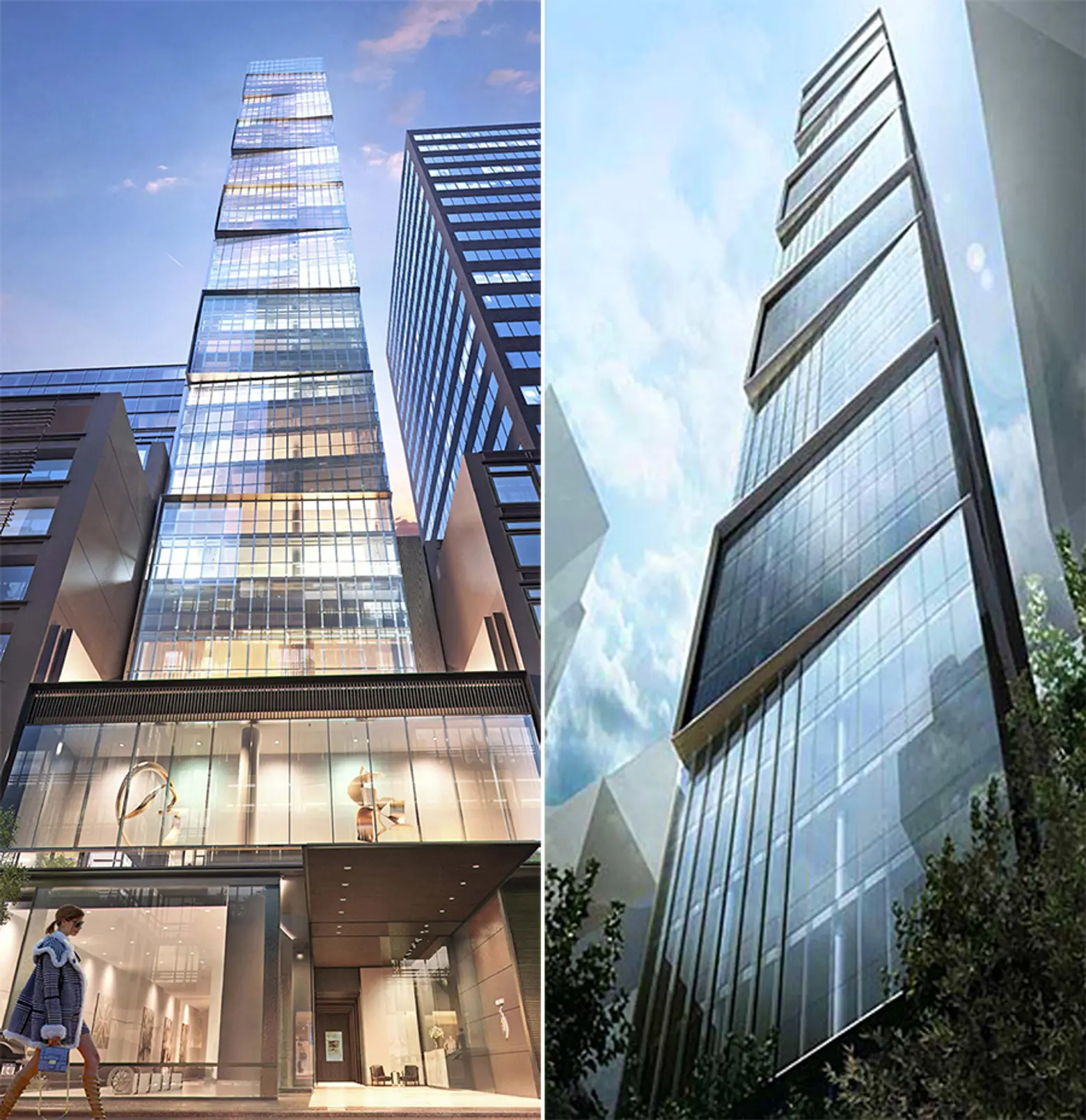 Renderings courtesy of SCDA Architects
Singaporean architect Soo Khian Chan of SCDA Architects is handling the building's exterior and interior design, while local experts SLCE are serving as the architects of record. The slender tower rises into Midtown's forest of skyscrapers on three elevations; the 59th Street elevation is distinguished by an all-glass facade divided into ten four-story volumes. Alternating cubes angle slightly eastward, granting residents airier and slightly differentiated views of Central Park to the west and the Ed Koch Queensboro Bridge and East River to the east.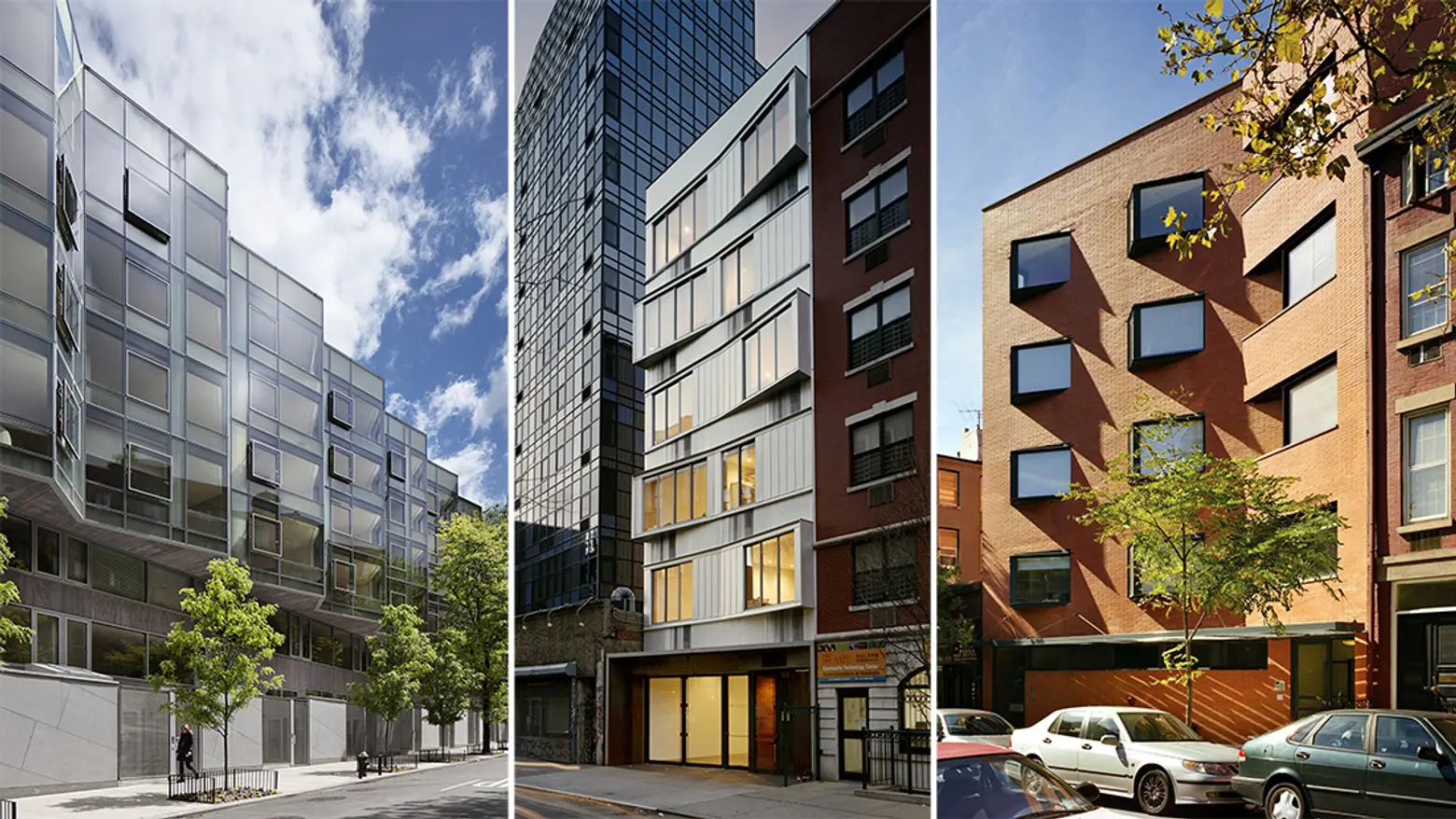 Other recent developments with a similar angled facade, L to R: The Dillon, The Switch Building, and Studio 322
A modern take on the classic bay window, the angled facade tactic has been used by a number of recent developments to animate exteriors and elongate their residents' views.
With throngs of Bloomingdale's, Barneys, and Madison Avenue shoppers milling about the area, the tower will be anchored by a two-story, 6,000-square- foot retail base well suited for a high-end boutique. Above, 70,000 square feet is dedicated to residential use with apartments averaging 2,000 square feet in size and ceiling heights averaging more than 12 feet. Floors 6-31 will be single full-floor residences, while floors 32-38 will feature two duplexes and a trophy 5,000-square-foot triplex.
Prices will be consistent with neighboring developments such as One Beacon Court, where the nine available units are priced at $4,737 per square foot, according to CityRealty. 118 East 59th's offering plan, uncovered by The Real Deal late last year, reveals the one-bedroom homes will start at $2.8 million, two-bedrooms at $3.6 million, the two 2,989-square-foot duplexes for $15.5 million and $16.5 million, and the triplex penthouse at $30 million.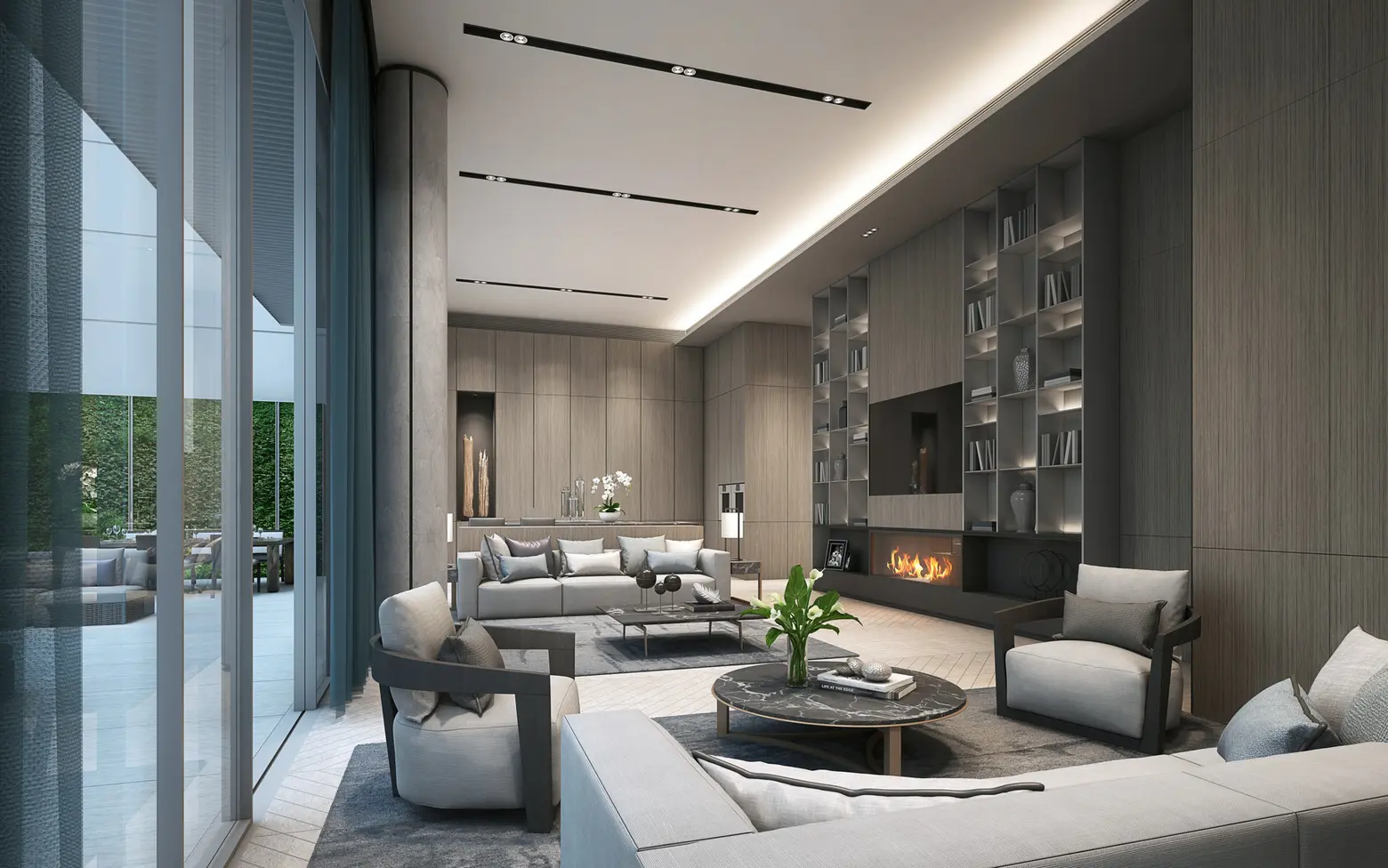 Rendering depicting common lounge area and adjacent terrace
Residences will include floor-to-ceiling windows, solid oak flooring, marble-clad kitchens featuring appliances by Gaggenau and custom European wood cabinets, and marble baths with top of the line fixtures. Building amenities will include a residents' lounge, fitness center, treatment rooms for massages, an indoor pool, and a landscaped roof terrace. Additionally, basement storage units will be available for $45,000. Sales at 118 East 58th Street are expected to commence this fall with project delivery in 2017.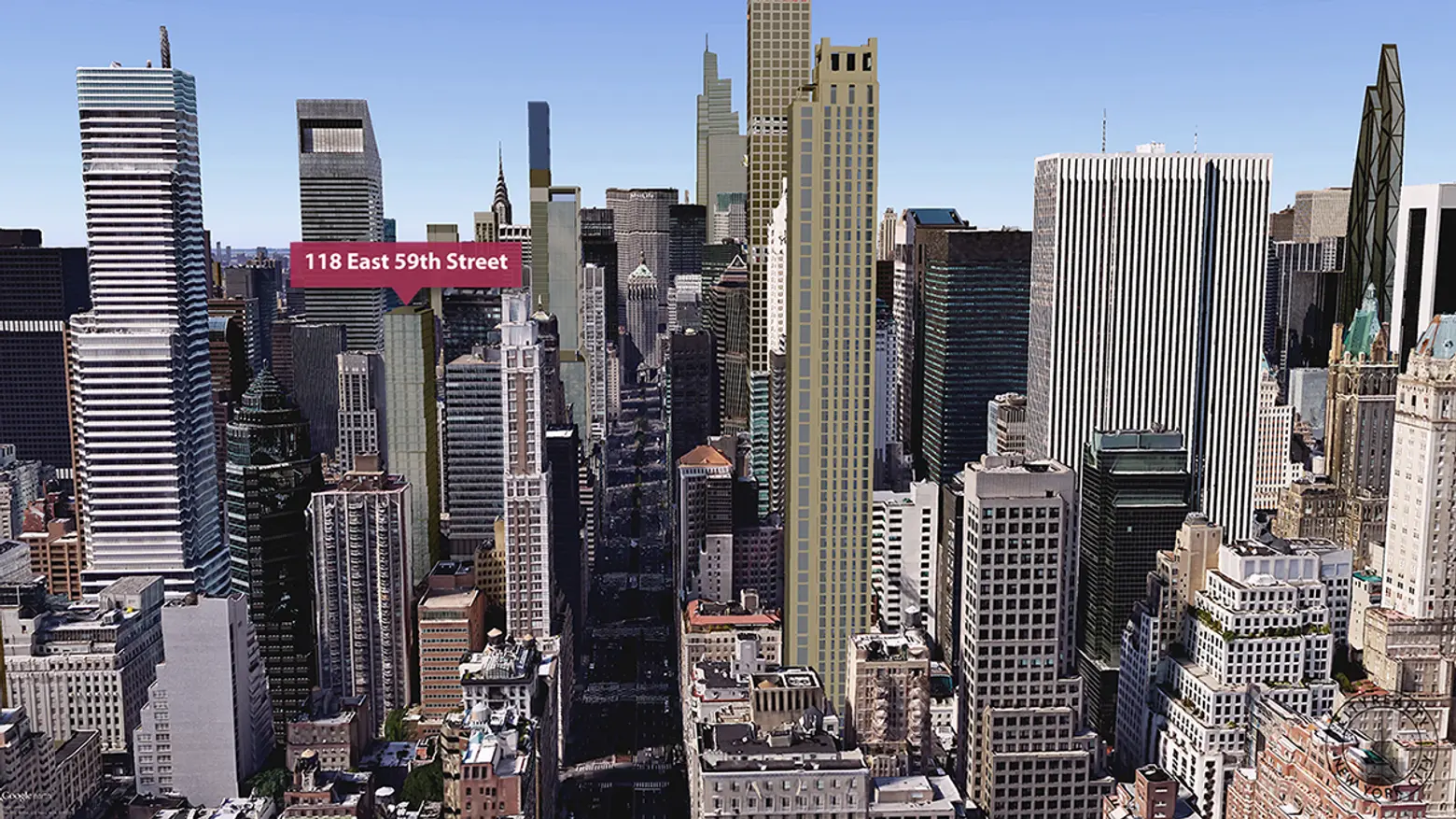 Future rendered views courtesy of CityRealty
Follow updates on 118 East 59th Street at CityRealty.
Reporting contributed by Heather Cooper-Vivares
RELATED: