REVEALED: Tishman Speyer's Long Island City office development boasts food hall and rooftop park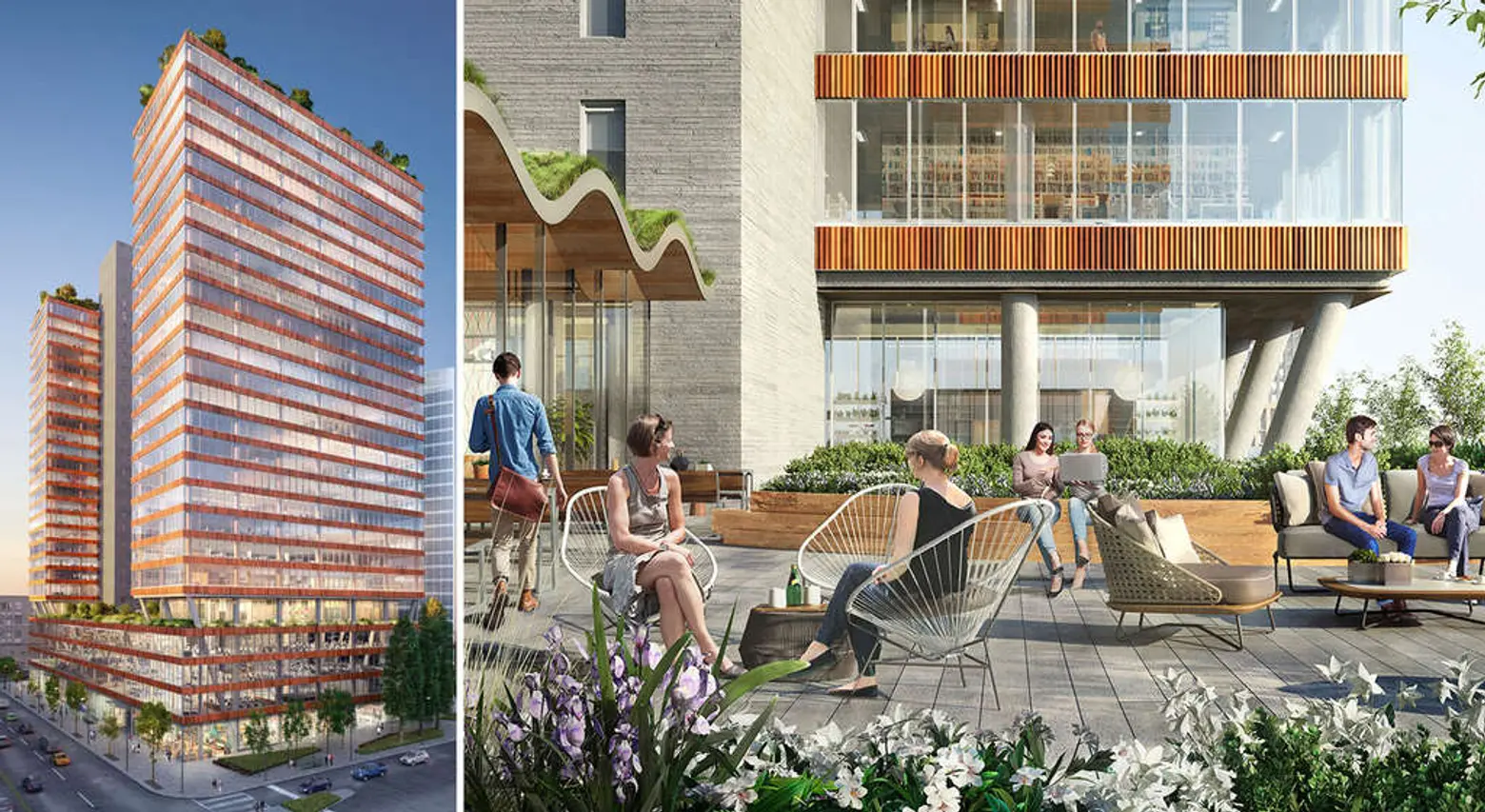 Long Island City, New York City's fastest growing neighborhood, shows no signs of slowing down. Following the completion of Jackson Park, the residential phase of Tishman Speyer Properties' massive Gotham Center development, renderings have been revealed for their creative office space across the street at 28-01 Jackson Avenue. As CityRealty learned, the development, called the JACX, consists of two identical towers that will include over 40,000 square feet of retail space, with a gourmet market, food hall, dining, and boutique fitness centers, as well as a one-acre rooftop terrace.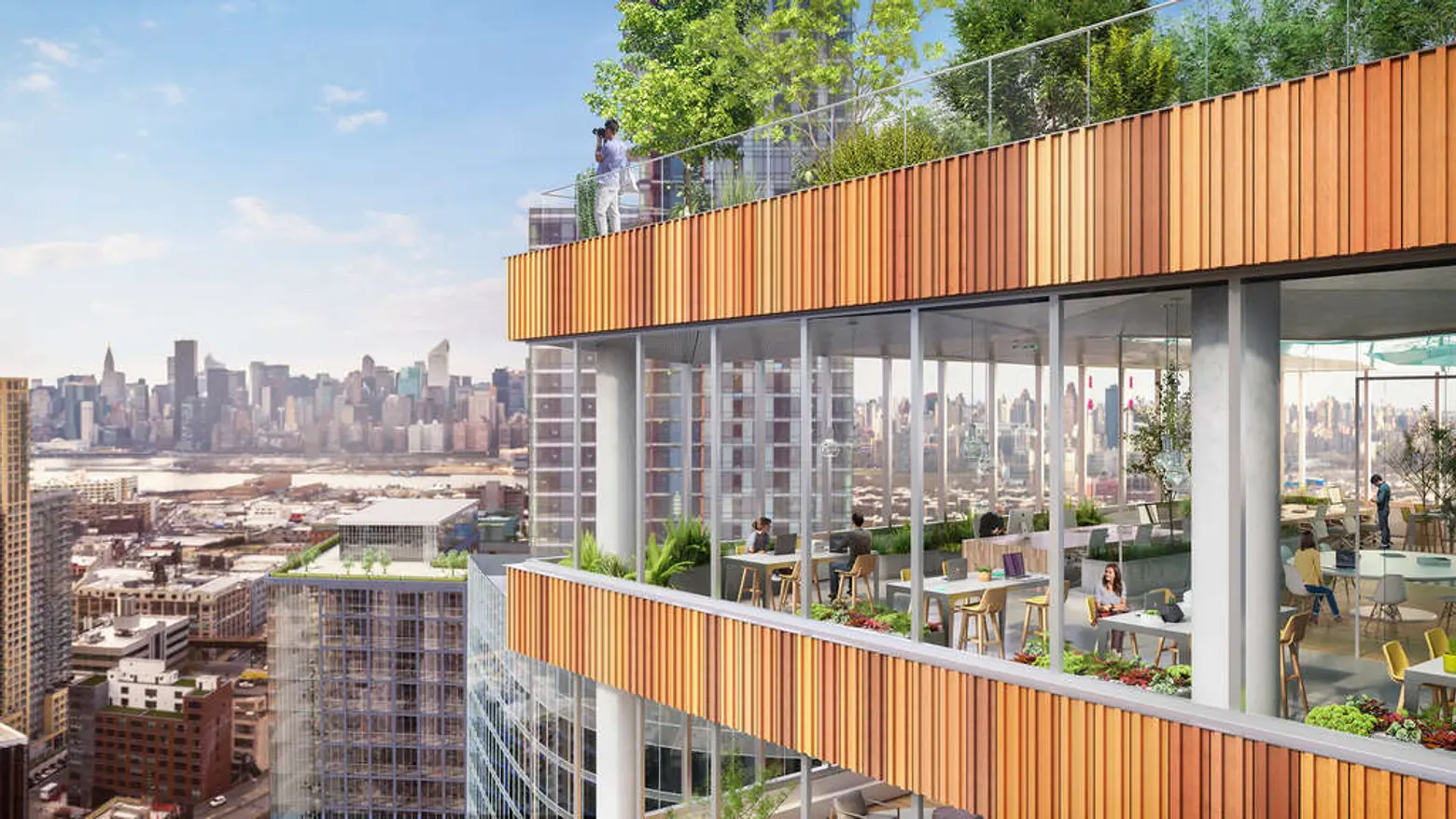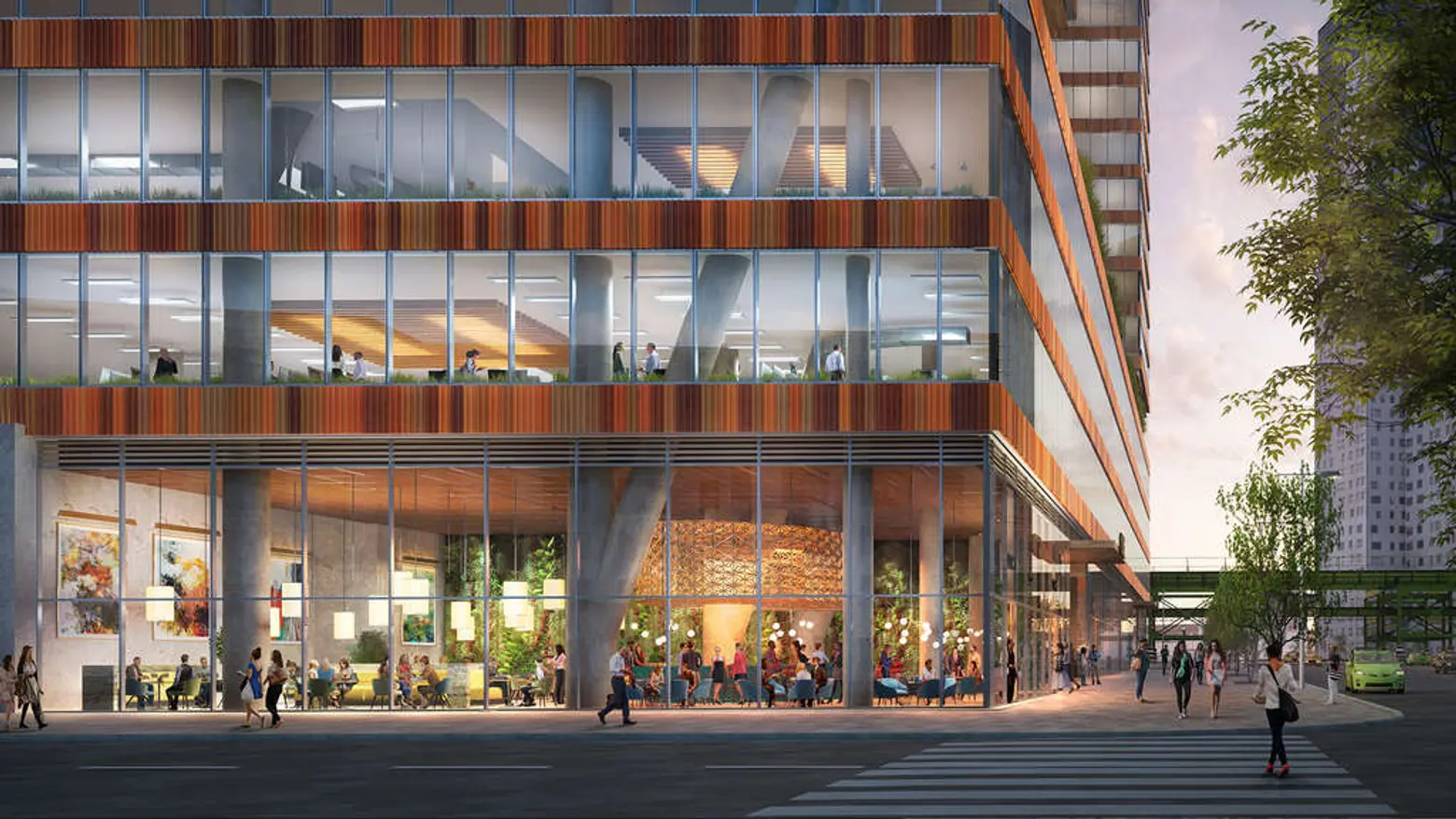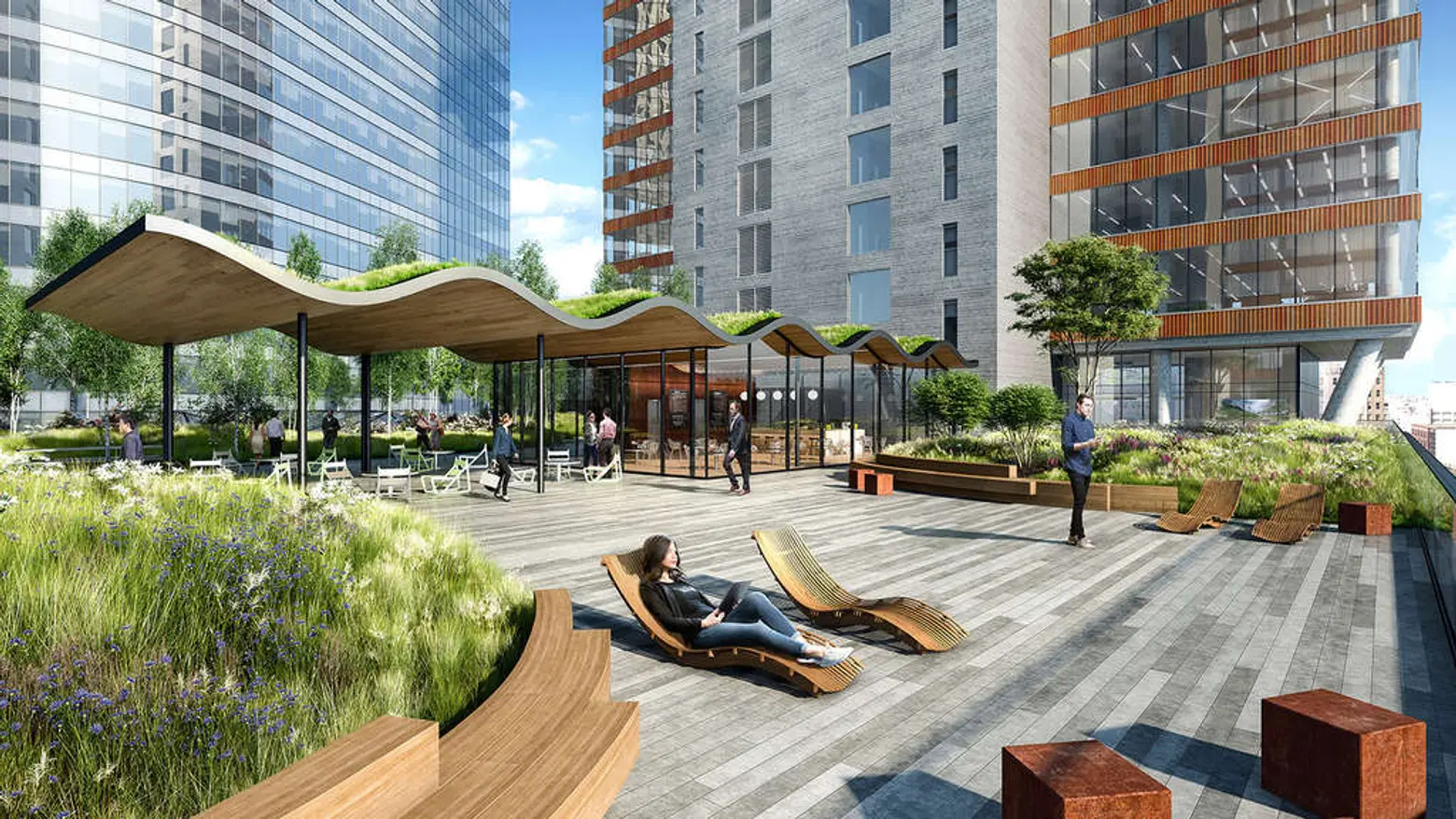 Construction is currently underway for the two 26-story towers that will include 1.2 million square feet of office and retail space. Designed by Moed de Armas & Shannon Architects (MdeAS) to "bring the outside in," the towers feature a landscaped terrace and rooftop with lots of greenery. The roof of the buildings' connecting podium features a one-acre landscaped "park" that will "serve as a quad where tenants can socialize, dine or work." The quad will also have a spacious 2,000 square foot food and beverage pavilion. At ground level, there will be a plant-filled plaza along Queens Plaza.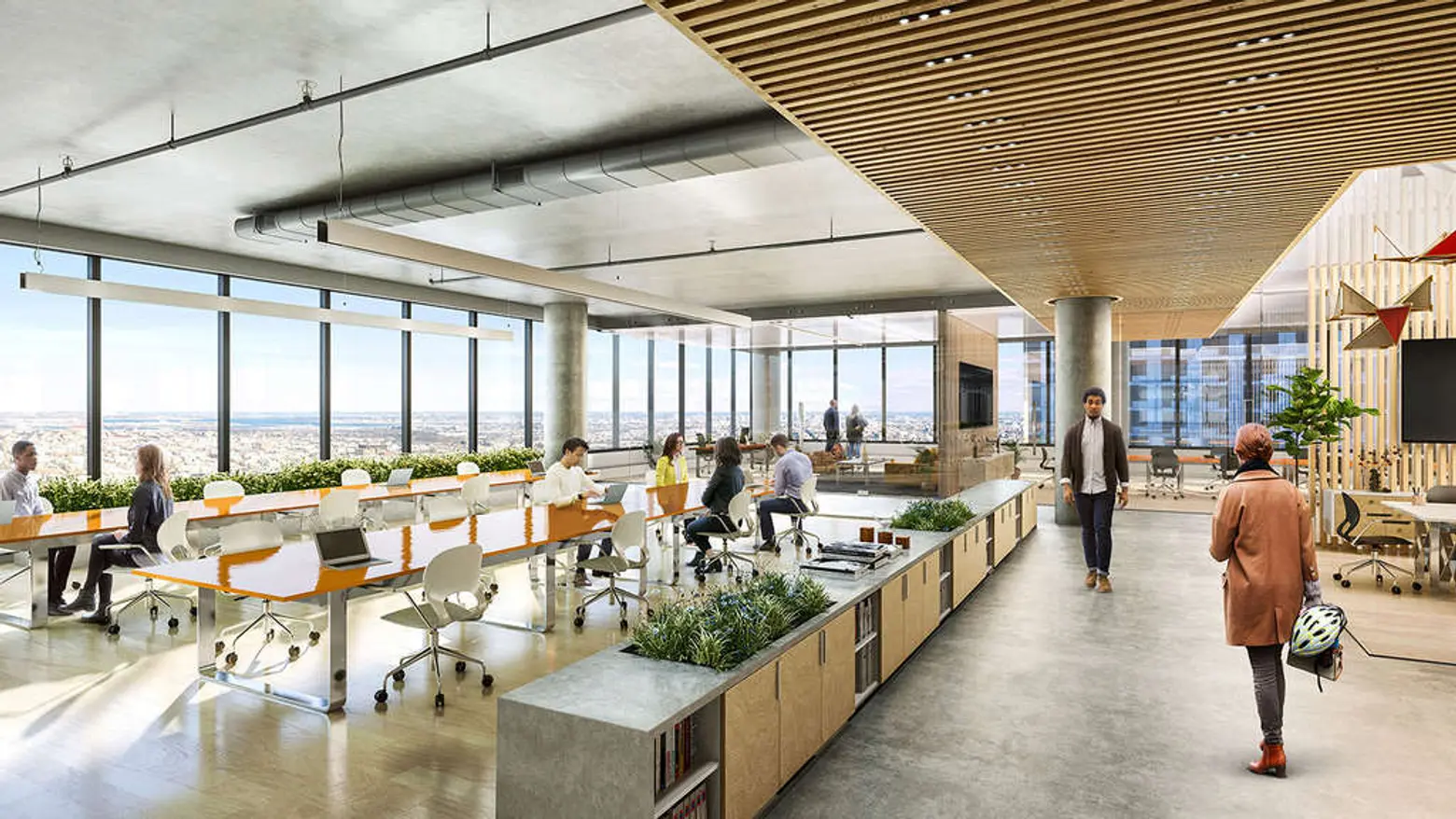 The facade of the JACX boasts a glass curtain wall and five terra-cotta panels, each about four feet tall. Natural light streams into the building due to its 12-foot high office windows, the windows in the elevator cores and over nine-foot tall windows in the stairwells. According to the developers, the building's interior reflects the "changing nature of how we work today" by offering open and airy environments, a mixture of seating options and communal tables. Plus, its location in LIC offers sweeping views of Manhattan, Brooklyn and further into Queens.
The towers expect to become LEED Silver certified and will feature energy-efficient gas-fired condensing hot-water boilers, tenant-controlled water-cooled DX units on each floor and a 100,000-gallon storm-water reclamation and filtration system.
Over 70 percent of tenants, which will include fashion and tech companies, have been pre-leased at the JACX. So far Macy's has claimed a 550,000 square foot lease and the company WeWork has netted a 250,000 square foot lease.
RELATED:
Renderings via Tishman Speyer