Rent-Stabilized Tenant Gets Evicted for Listing His Apartment on Airbnb in a Landmark Decision
Inside the apartment. Image via Airbnb
If you were questioning how truly serious the city is about its beef against Airbnb, look no further than this landmark ruling to evict a rent-stabilized tenant from his ultra-luxe 450 West 42nd Street building. The Post reports that Henry Ikezi was just given the boot by a Manhattan Housing Court judge for posting his 46th-floor Hell's Kitchen apartment on the site for $649 per night, about triple what he was paying at $6,670 per month. The home's market value is upwards of $9,000.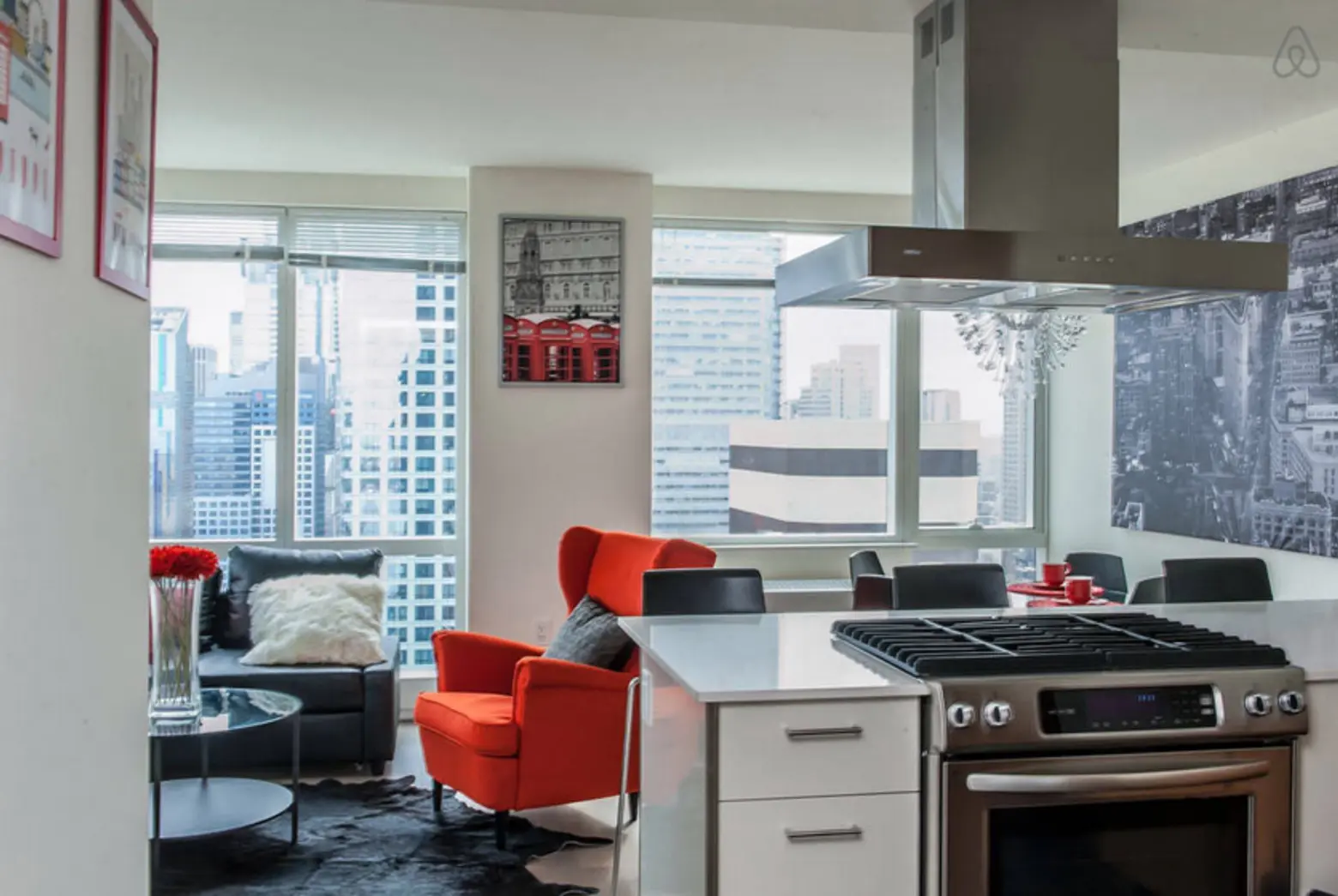 Inside the apartment. Image via Airbnb
Izeki claimed to be a full-time resident of the building, living there with his wife and child while guests were present (as required by law). But the building's owners, Related Companies, contested this claim, saying that he lives in a million-dollar-plus home in Jamaica, Queens, and the city apartment was plain and simply being used for extra income. The judge sided 100 percent with the owners, and the ruling is the first to evict outright a rent-controlled tenant without giving him a second chance, according to the Rent Stabilization Association.
"They will go after anyone who is not using their apartment properly," said Todd Nahins, Related's lawyer. "They will not tolerate the apartment being used as a hotel."
The decision should make it easier for landlords to bust rent-stabilized tenants trying to make big bucks off the city's limited affordable housing. Although it does not qualify as precedent case law, it can be cited in future rulings in similar situations.
[Via NYP]
RELATED STORIES: