Proposal calls for a floating pedestrian bridge to connect Greenpoint and Long Island City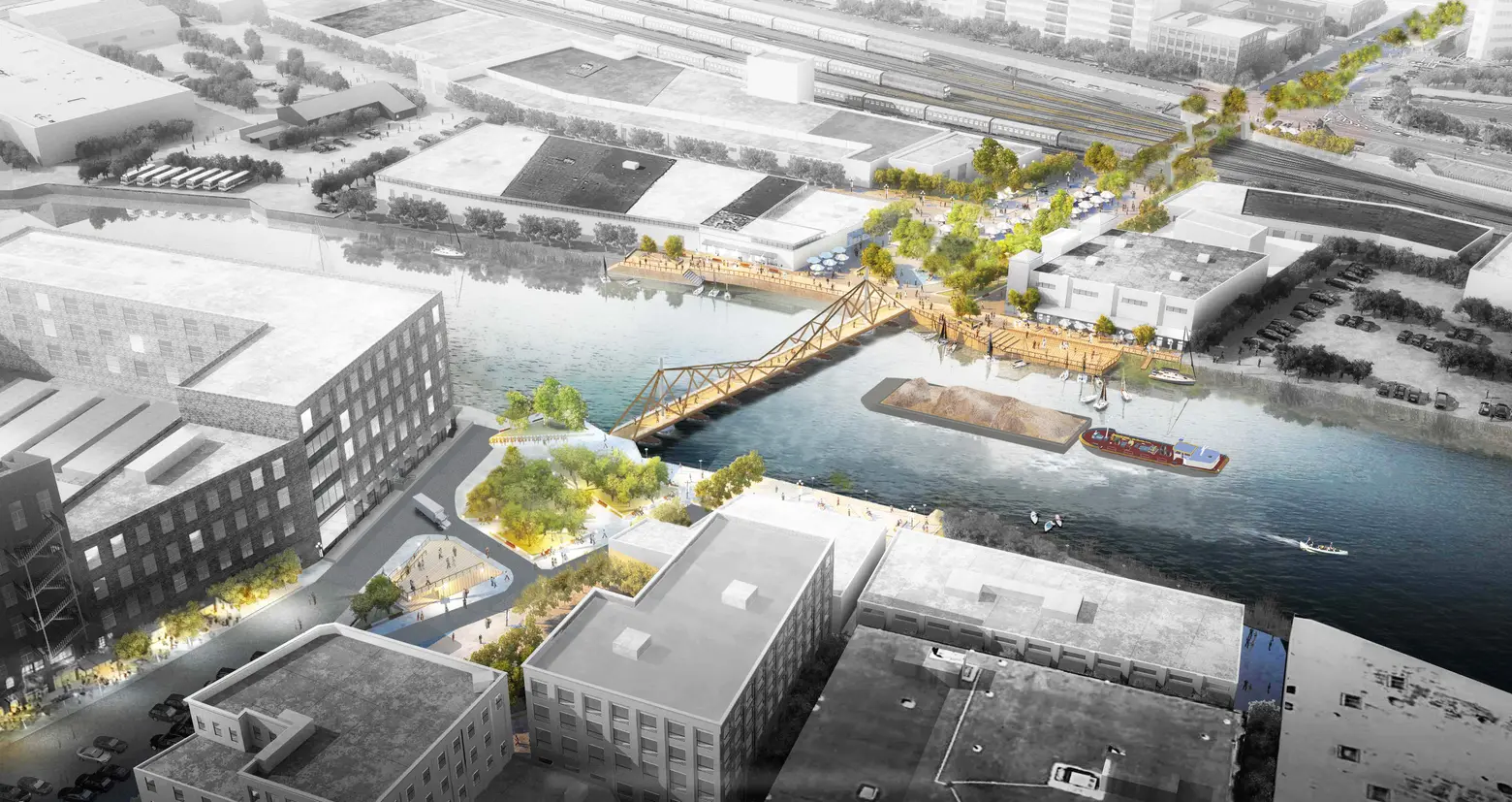 Rendering via CRÈME / Jun Aizaki Architecture and Design
A Kickstarter campaign launched on Thursday for a civic design project aimed at reconnecting the neighborhoods of Greenpoint and Long Island City and the residents who live there. Brooklyn-based studio CRÈME/ Jun Aizaki Architecture & Design's concept, called Timber Bridge at LongPoint Corridor, calls for constructing a floating bridge made of durable timber that would sit on Newtown Creek and expand past to the LIRR rail yard in LIC. Not only would it provide people greater access to transit options, according to the design team, Timber Bridge would give bikers and pedestrians a safer commute than the Pulaski Bridge, a less-than-ideal path with lots of cars.
Constructed in 1905, the Vernon Avenue Bridge once served as a connection between Long Island City and Greenpoint via Manhattan Avenue. In 1954, after it was deemed too faulty to use, the bridge was demolished and later replaced with the Pulaski Bridge. The Pulaski serves as the only point of access between the two neighborhoods, besides the subway, and does not have enough bike lanes, according to CRÈME.
CRÈME's proposal "reacquaints" the two spots, revitalizes underused areas on both sides and makes transit options more accessible.
"Our practice is defined by solutions-driven principles," Jun Aizaki, principal of the firm, said. "Tackling a problem this large is a first, but creating a solution with the end user in mind is only natural. Despite the difficulty of this feat, we are confident that New York City needs to rectify this problem as the neighborhoods of Long Island City and Greenpoint grow exponentially."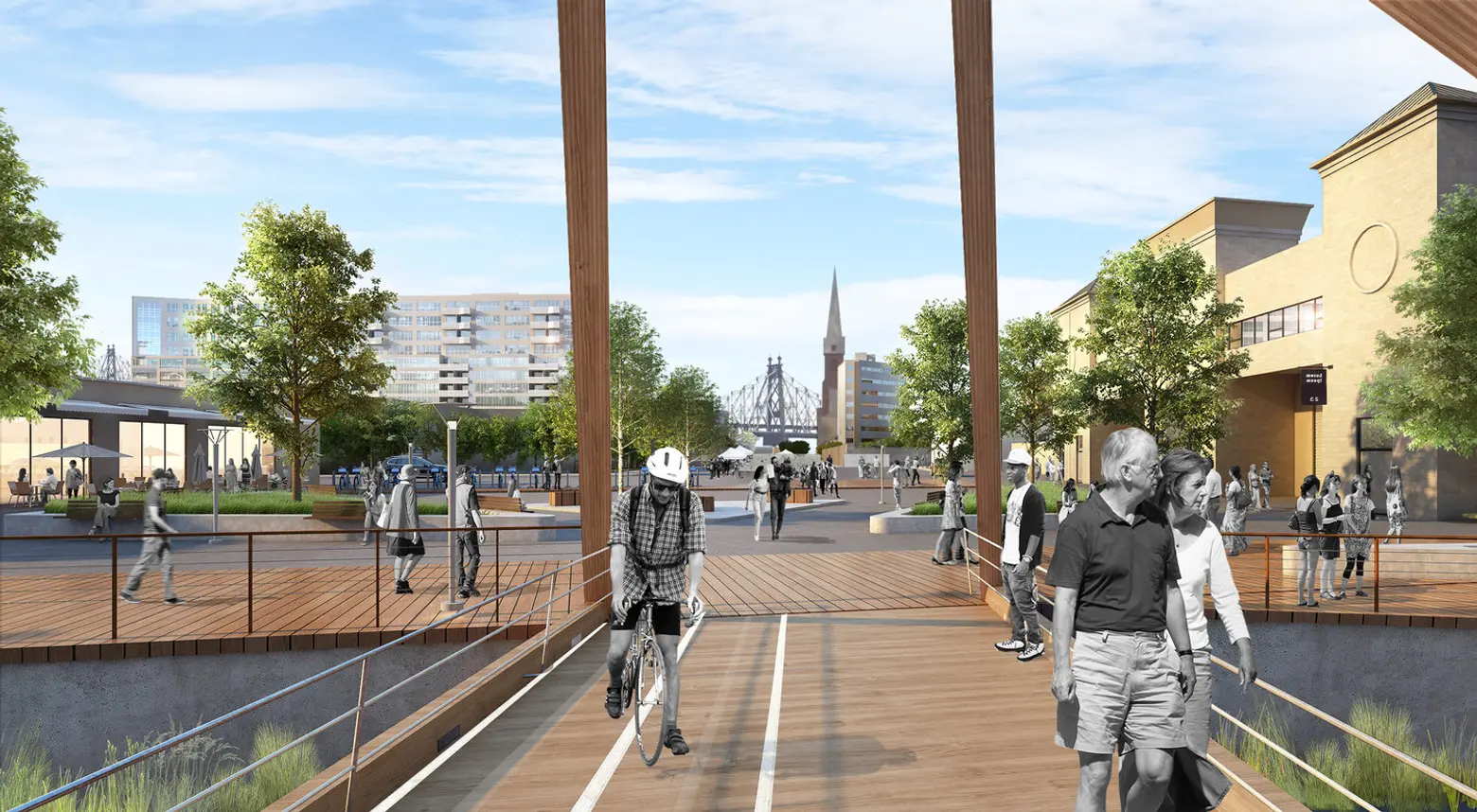 The LongPoint Corridor will continue beyond the creek and 54th Avenue in Long Island City and cross over the LIRR rail yard. The surrounding rail yard currently has many parking lots and is not "living up to its full potential," according to the firm's presentation. Greenpoint's Manhattan Ave Landing currently has a small park, but the project calls for more storefront and retail opportunities to make it more enjoyable for commuters and visitors.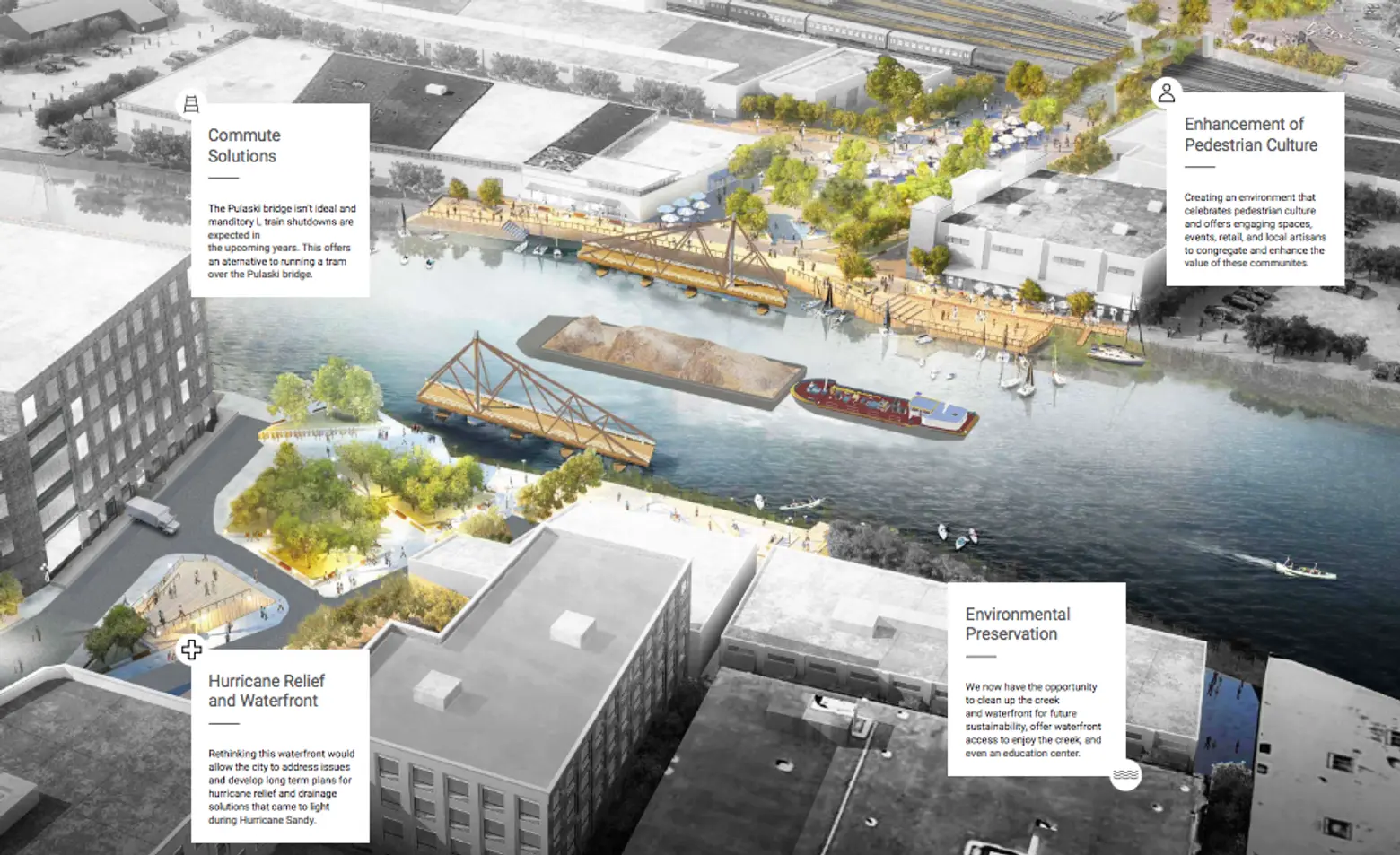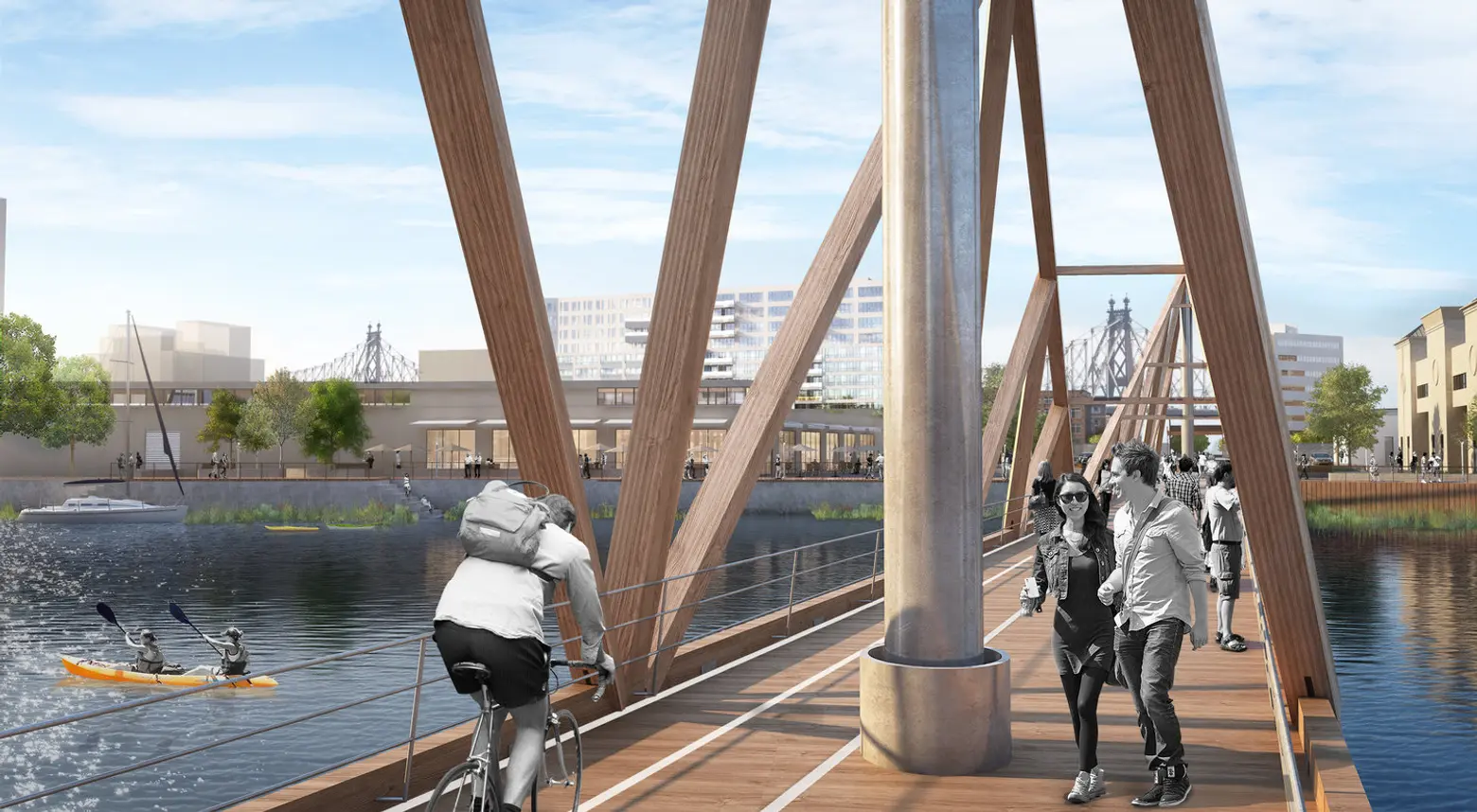 The bridge is the main focus of the LongPoint Corridor and would have swinging capability and allow for small vessels to pass under the bridge at any time without opening. The design of the bridge would be simple, cheap and quickly constructed.
Timber Bridge would consist of a floating platform and a wood armature fixed on a pole that allows the bridge to swing open. The floating pontoon allows for the platform to rise and fall with the tides, but remain at a set height to let kayaks and row boats pass underneath.
CRÈME's Kickstarter will run for 30 days in the hopes of raising $50,000, which will go towards a feasbility study and a light installation of the bridge, expected this fall. The designers estimate the project to cost $32 million with a construction timeline of about two years. Learn more about the project here.
RELATED: 
All renderings via CRÈME / Jun Aizaki Architecture and Design