A new seven-acre park will open under the Kosciuszko Bridge in Greenpoint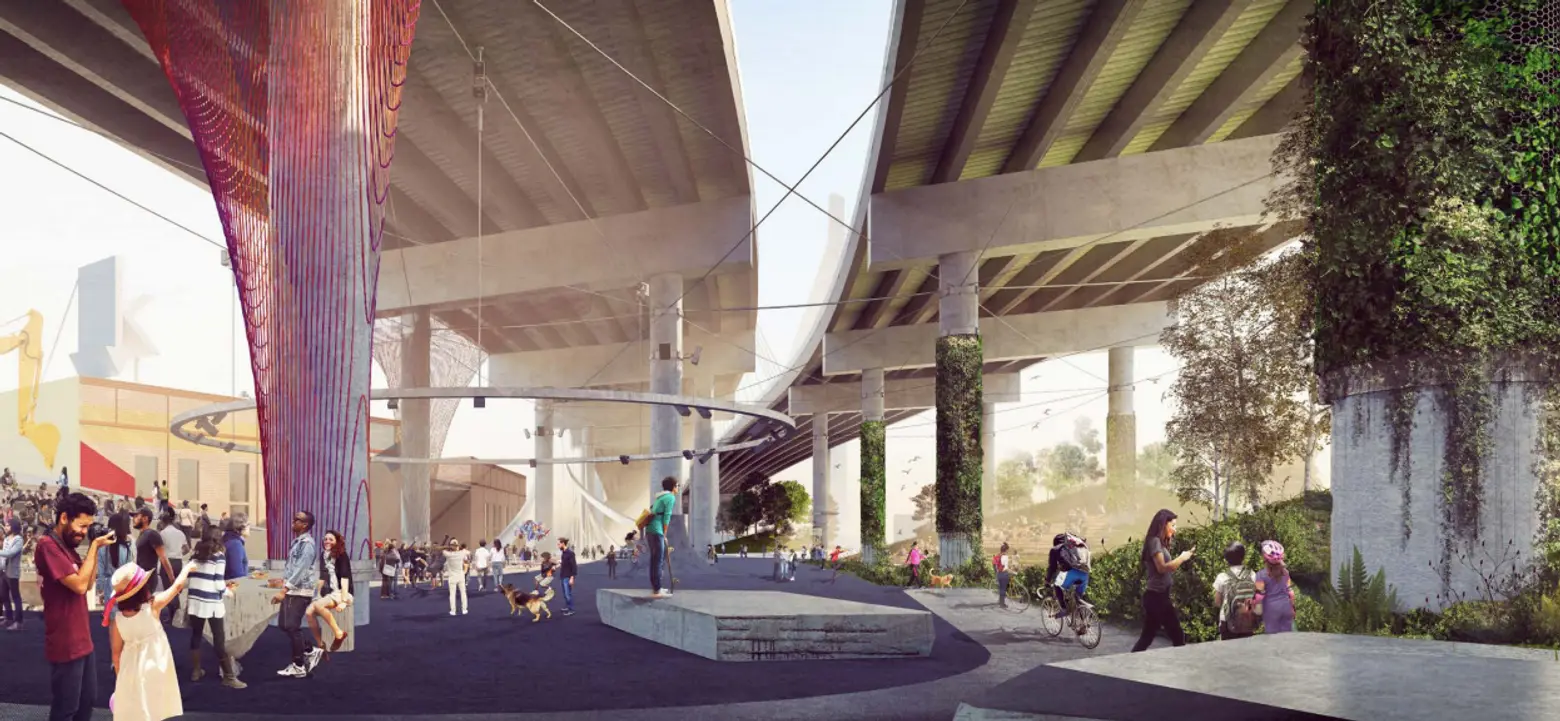 Rendering of 'K-flex 2' courtesy of Public Work
Plans to build a new seven-acre public park under the Kosciuszko Bridge in Greenpoint are moving forward. Last month, the North Brooklyn Parks Alliance unveiled designs for "Under the K," a linear public space that will feature four distinct spaces and stretch to Newtown Creek. Designed by Toronto-based architecture firm Public Work, the new park will feature access to the waterfront, public art installations, performances, and areas for recreation on land currently vacant.
The first part of the new Kosciuszko Bridge, which replaced the old 1939-built truss bridge, opened to traffic in 2017 and connects Brooklyn and Queens. That same year, the state asked the North Brooklyn Parks Alliance to develop ideas to turn the open space under the bridge's Brooklyn side into a park.
The Brooklyn-bound span of the bridge is expected to open in September. According to Curbed NY, construction of the section below the bridge will wrap up a month after.
"As our neighborhoods became increasingly dense amid historic development, we must reimagine the types of spaces that can become open and public," Katie Denny Horowitz, the executive director of the Alliance, said. "Under the K is a visionary solution to the urban plight of limited space, transforming how cities can and should approach future parks."
The design from Public Works, the firm behind "The Bentway," a public space that opened last year under the Gardiner Expressway in Toronto, is defined by the bridge's concrete beams, which range in height from 40 feet at the entrance to 120 feet at the waterfront.
Four distinct spaces will be constructed beneath the Bridge: the "Arm," the "K-flex 1," the "K-flex 2," and the edge of Newtown Creek. The Arm links pedestrians and cyclists from the bridge to the main park, with planting zones able to host markets. The two flex zones will be multifunctional with space for programming, play, and larger events. The Creekside will contain public seating, outlooks, and restored ecologies, as well as programming geared toward environmental initiatives.
"Few parks could offer such raw potential for community engagement in activation, recreation, culture, and nature–a testing ground for contemporary expressions of social and ecological transformation," Marc Ryan and Adam Nicklin, cofounders of Public Work, said in a statement. "Under the K dreams of a collaborative space that celebrates the resilience of nature and Brooklyn's diverse community culture."
RELATED: