Permits filed for 22-story Union Square tech hub with plans for major digital training center
The New York Economic Development Corporation (NYCEDC) has filed permits to construct a 22-floor tech hub at 114 East 14th Street near Union Square, CityRealty reports. Officially known as the Union Square Tech Training Center, the 254,000-square-foot, $250 million, facility has big plans to ramp up NYC's high-tech firepower: In addition to affordable office space for startups, market-rate office space for tech companies, and a retail and market area run by Urbanspace, the nonprofit Civic Hall will be running a new digital skills training center at the midblock site once occupied by a PC Richard & Son electronics store.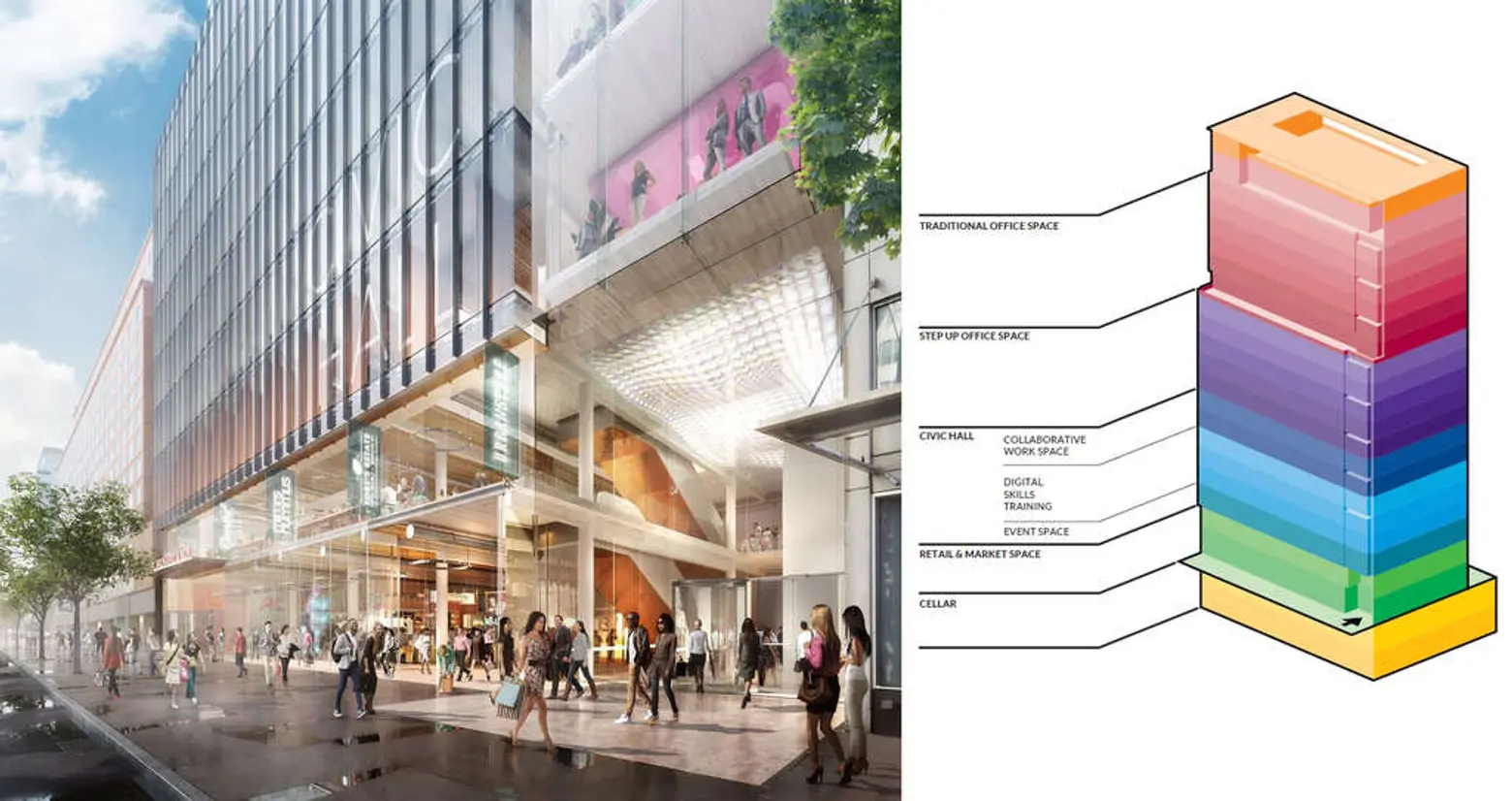 The new training center hopes to address both a current digital skills shortage and to prepare a wider population of New Yorkers for digital economy jobs in the future, Crain's reports. A $2 million grant from Cognizant Technology's U.S. Foundation and a partnership with the workforce-development nonprofit Per Scholas are helping Civic Hall to launch a pilot program that will update the current model for teaching digital skills. The South Bronx-based nonprofit Per Scholas has more than two decades of experience bringing digital training to underserved communities.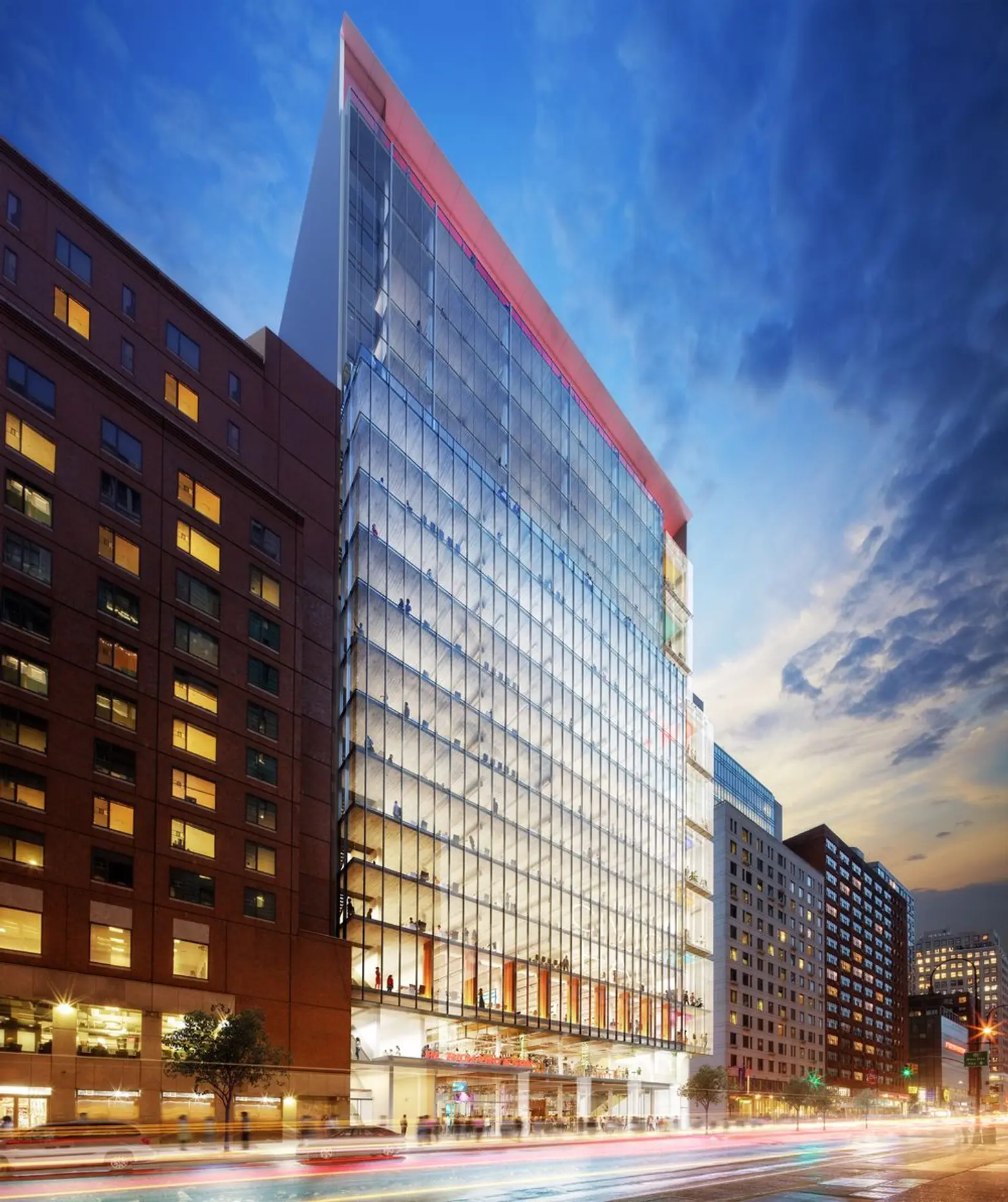 Civic Hall founder and Chief Executive Andrew Rasiej said the strategy is to have trainers work with tech companies to develop cutting-edge programs in areas like cybersecurity and artificial intelligence where talent is sorely needed: "The goal is to reach out to big and small tech companies to be able to provide a balanced perspective in the creation of these programs. We're also going to reach out to large nonprofit employers who themselves are starting to build teams for cybersecurity and AI development and see what their needs are."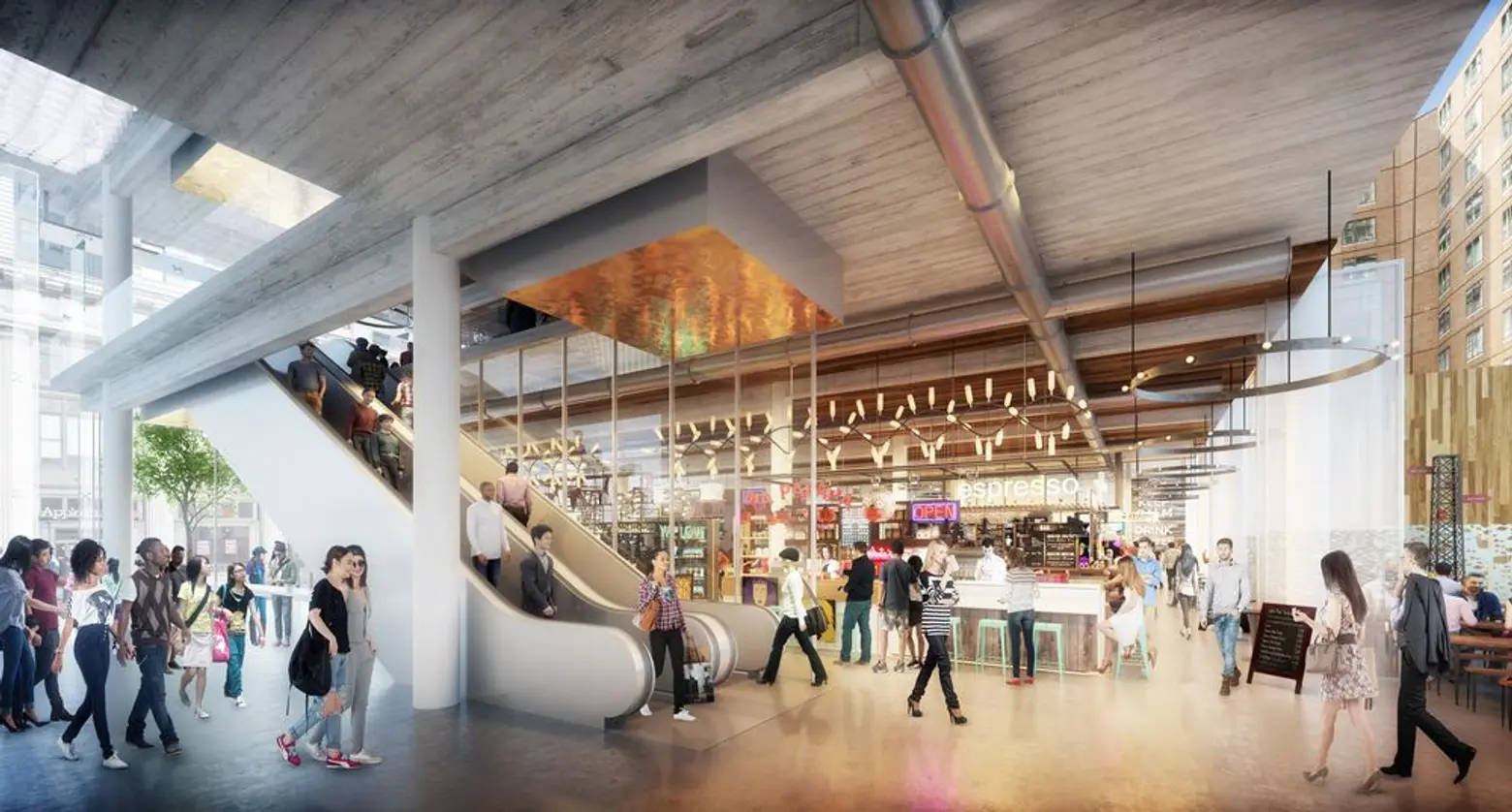 The Flatiron-based company will have at least 15 classrooms in the new building. The organization eventually hopes to have between 5,000 and 10,000 graduates per year.
The 22-floor project, which exceeds as-of-right zoning, was approved by the local community board and City Council this past summer. The area was upzoned without landmark protections, allowing for about 85,000 square feet of office space and 16,500 more square feet between Civic Hall, step-up space and the workforce development hub.
Davis Brody Bond is listed as the architect and renderings show a sheer glass facade with color-coded double-height spaces along its western side. The application shows the building will stand 286 feet tall to the top of its highest floor and there will be a roof terrace on the top floor. The building is being co-developed by the NYCEDC and private developer RAL Development Services and is expected to open sometime in 2020.
Not everyone is thrilled with the project, however. Neighborhood activists and preservationists feel the commercial addition to the area will bring profits to the site's developers and change the tone of nearby residential neighborhoods with little benefit to residents.
Andrew Berman, executive director of the Greenwich Village Society for Historic Preservation, told 6sqft,"While the planned Tech Hub will provide important jobs and training, it will also provide a giant windfall for generous donors to the Mayor who get to develop this incredibly valuable piece of public land for next to nothing."
Berman added: "More disturbingly, the commercial upzoning for the site, which was only necessary to expand the developer's profits, not to provide any public benefits, will increase the pressure to turn the nearby East Village and Greenwich Village into an extension of 'Silicon Alley,' with multiple glass office buildings now rising throughout those residential neighborhoods."
[Via Crains, CityRealty]
RELATED: 
Images courtesy of NYCEDC.