NYC's plan to rezone Soho and Noho moves forward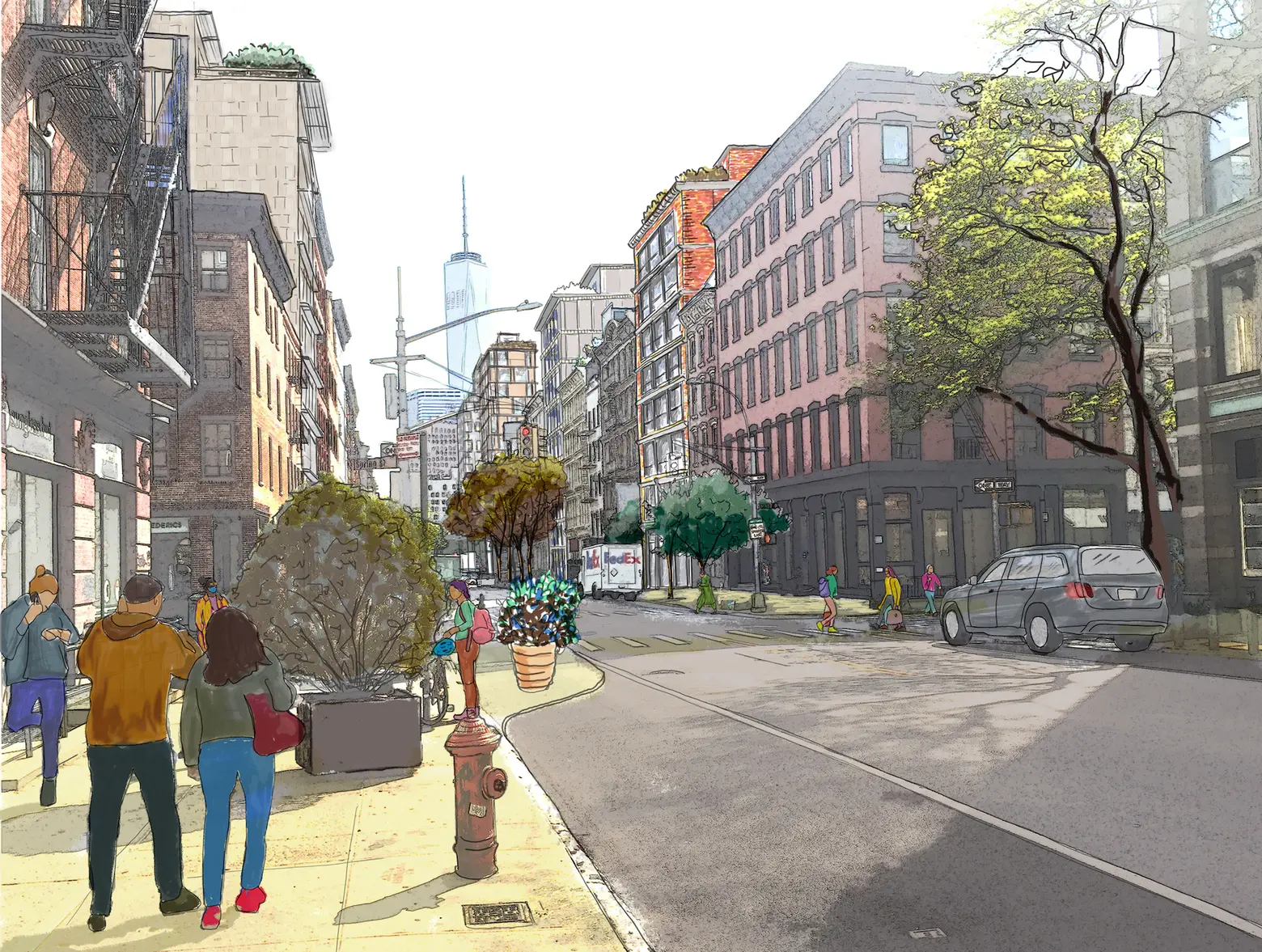 A rendering of West Broadway in Soho, looking downtown; courtesy of City Planning Commission
A proposal to bring more affordable housing in two of the city's wealthiest neighborhoods is moving forward. The City Planning Commission on Monday certified the application to rezone Soho and Noho, kicking off the public review process. The plan replaces existing 1970s-era zoning rules with medium- to high-density mixed-use districts that could create as many as 3,500 new homes, with 900 units of permanently affordable housing.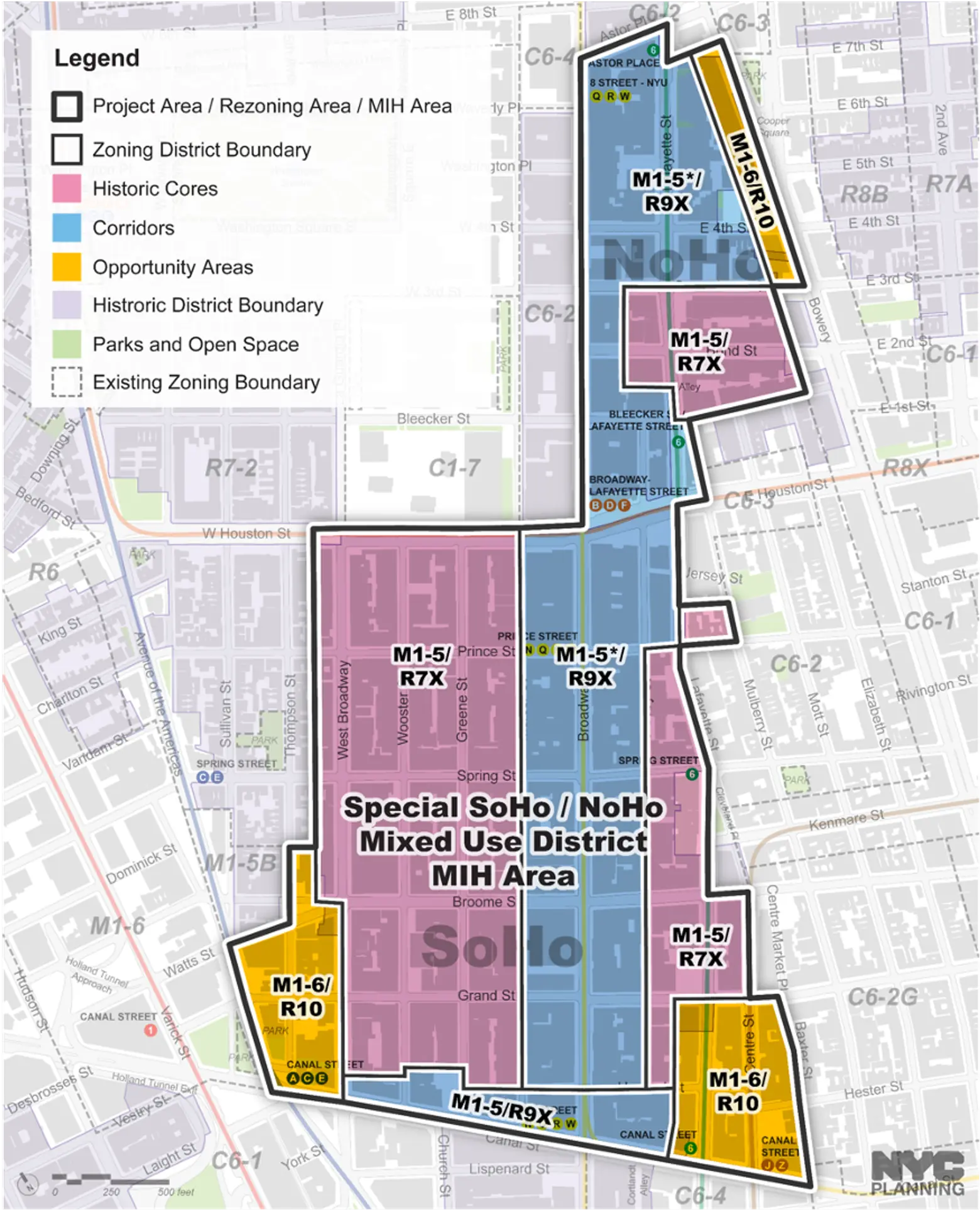 Map of the proposed zoning
The land-use proposal would upzone 56 blocks in the Lower Manhattan neighborhoods, encompassing an area bounded by Canal Street to the south, Houston Street and Astor Place to the north, Lafayette Street and the Bowery to the east, and Sixth Avenue and West Broadway to the west.
The city established the existing zoning rules 50 years ago as a way to address the neighborhoods' transformation from a manufacturing area to a hub for artists. The proposal would also legalize ground-floor retail space, which is prohibited if the storefront is larger than 10,000 square feet under current zoning laws.
Under the plan, new buildings outside of the historic districts (which make up a majority of the area) would be a maximum of 275 feet tall. In the historic district commercial corridors, including on Broadway, the maximum height would be 205 feet. In the "historic cores" of the proposed area, the maximum height would be 145 feet.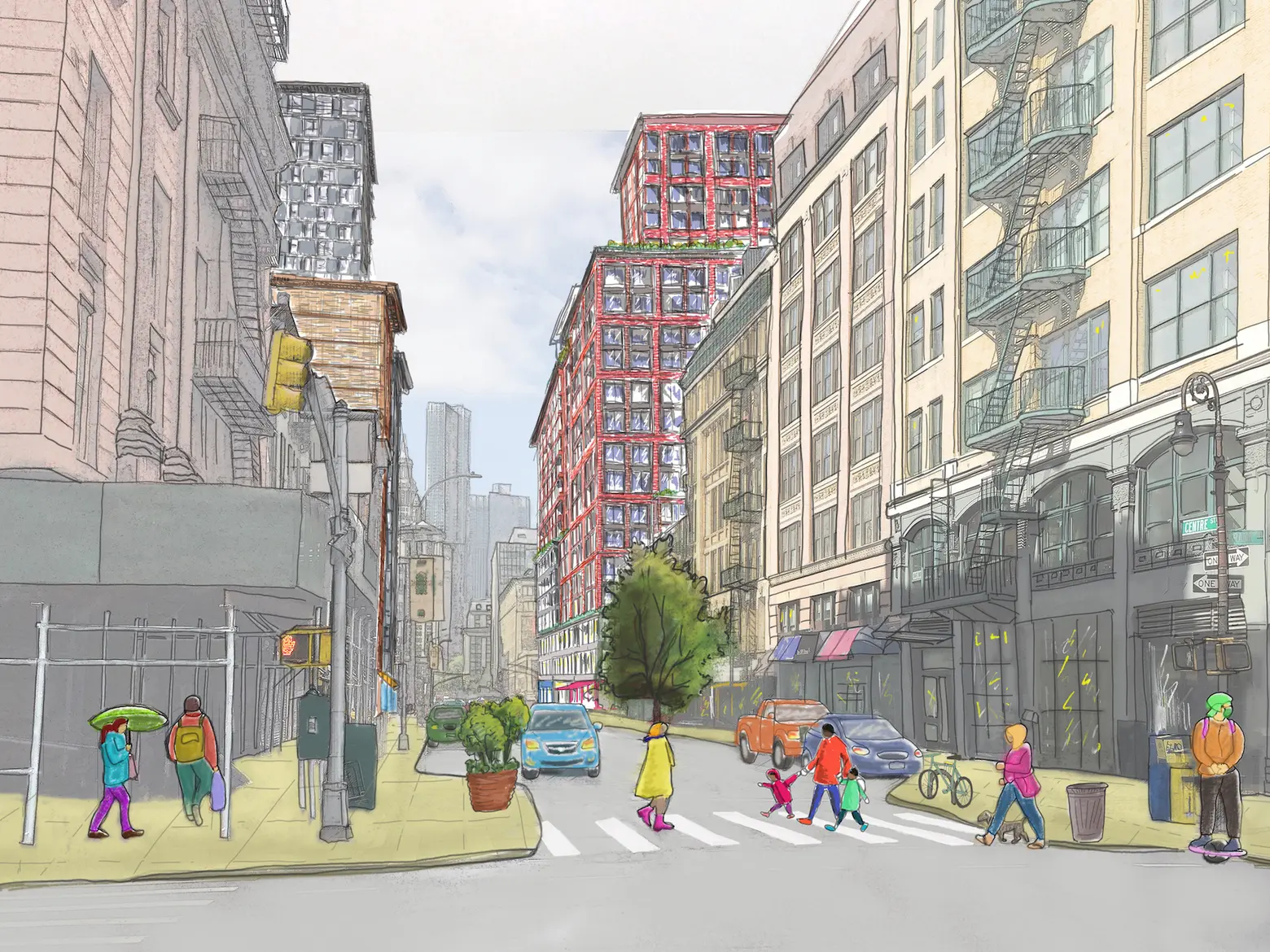 Rendering of Center Street and Grand Street after a rezoning; Courtesy of the City Planning Commission
The proposal also creates a new arts fund model, which would allow those living in Joint Living Work Quarters for Artists (JLWQA) to convert to residential use through a contribution to a neighborhood art fund. This is optional and the JLWQA program will remain an option for certified artists in perpetuity.
"Every New Yorker should have the opportunity to live in transit-rich, amenity-filled neighborhoods like SoHo and NoHo. Built on years of community engagement, this proposal was crafted with a lens focused on fair housing, an equitable recovery from the COVID-19 pandemic, reinforcing SoHo/NoHo as a regional hub for jobs and commerce, and preserving and augmenting the arts," Marisa Lago, the chair of the City Planning Commission, said.
"Through permanently affordable housing requirements and support for the arts, this plan is a giant step forward towards a more equitable and even livelier New York City."
Mayor Bill de Blasio's rezoning efforts have typically targeted low-income areas and communities of color, including East Harlem, East New York, and Inwood. The Soho/Noho rezoning falls under the administration's Where We Live NYC plan, which aims to build affordable housing in every neighborhood, especially in high-income, transit-rich areas.
Opponents of the rezoning say the plan would actually create more luxury buildings and out-of-scale high-rises in the historic neighborhoods, as well as allow more "big box" retailers to open in the area.
A lawsuit was filed last month by community groups, including the Soho Alliance and Broadway Residents Coalition, aimed at halting the rezoning process, as the Real Deal reported. The groups claim the proposal should not be allowed to move forward with proceedings held only virtually.
"Wrapped in a false veneer of affordable housing and social justice equity, de Blasio's SoHo/NoHo proposal is a fire sale giveaway of enormously valuable real estate that will destroy hundreds of units of existing affordable housing and create few if any new ones; displace hundreds of lower-income residents and residents of color; make these neighborhoods richer, more expensive, and less diverse than they are now; and destroy locally and nationally recognized historic neighborhoods while pushing out the remaining independent small businesses with a flood of big-box chain retail," Andrew Berman, executive director of Village Preservation, said in a statement.
"It's a classic de Blasio bait and switch, and one has to wonder, after 7½ years of seeing this Mayor in action, who is naive or desperate enough to not see it for what it is?"
The plan moves on to Manhattan Community Board 2, which has 60 days to review the proposal, followed by the Borough President, CPC, and lastly, the City Council.
RELATED: 
Images courtesy of the City Planning Commission