NYC spring art guide 2019: Don't-miss exhibits, events, and installations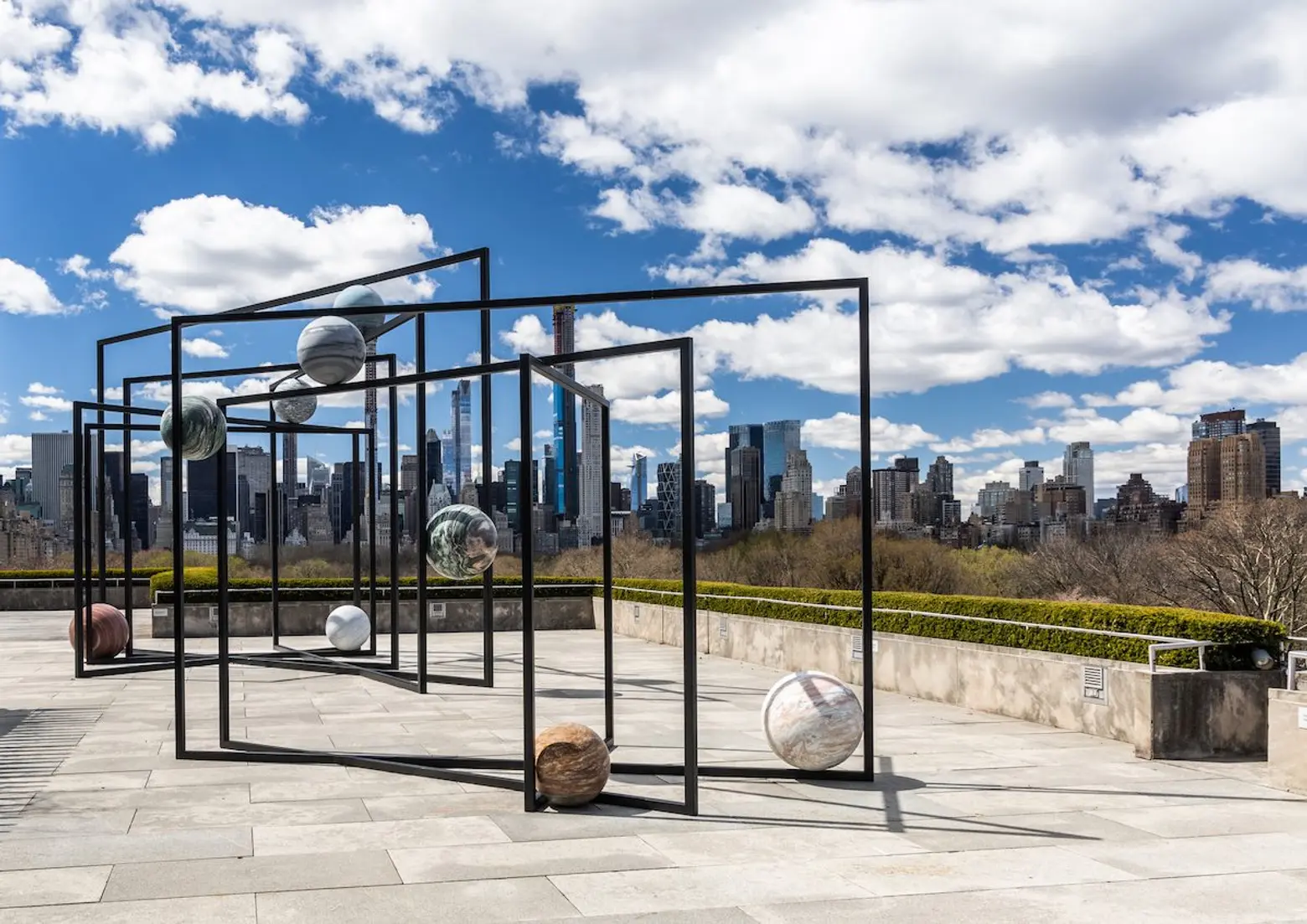 Alicja Kwade, ParaPivot. Image credit: The Metropolitan Museum of Art, Photograph by Hyla Skopitz.
New York City's art scene blossoms anew in springtime, with fresh ways to look at classic museum collections, international art fairs, cutting-edge installations and everything in between. And new public works pop up in the city's parks and gardens, making it possible to enjoy both the outdoors and the art. We've rounded up a list of must-see exhibits, fairs, and installations to get you started.
Opening/new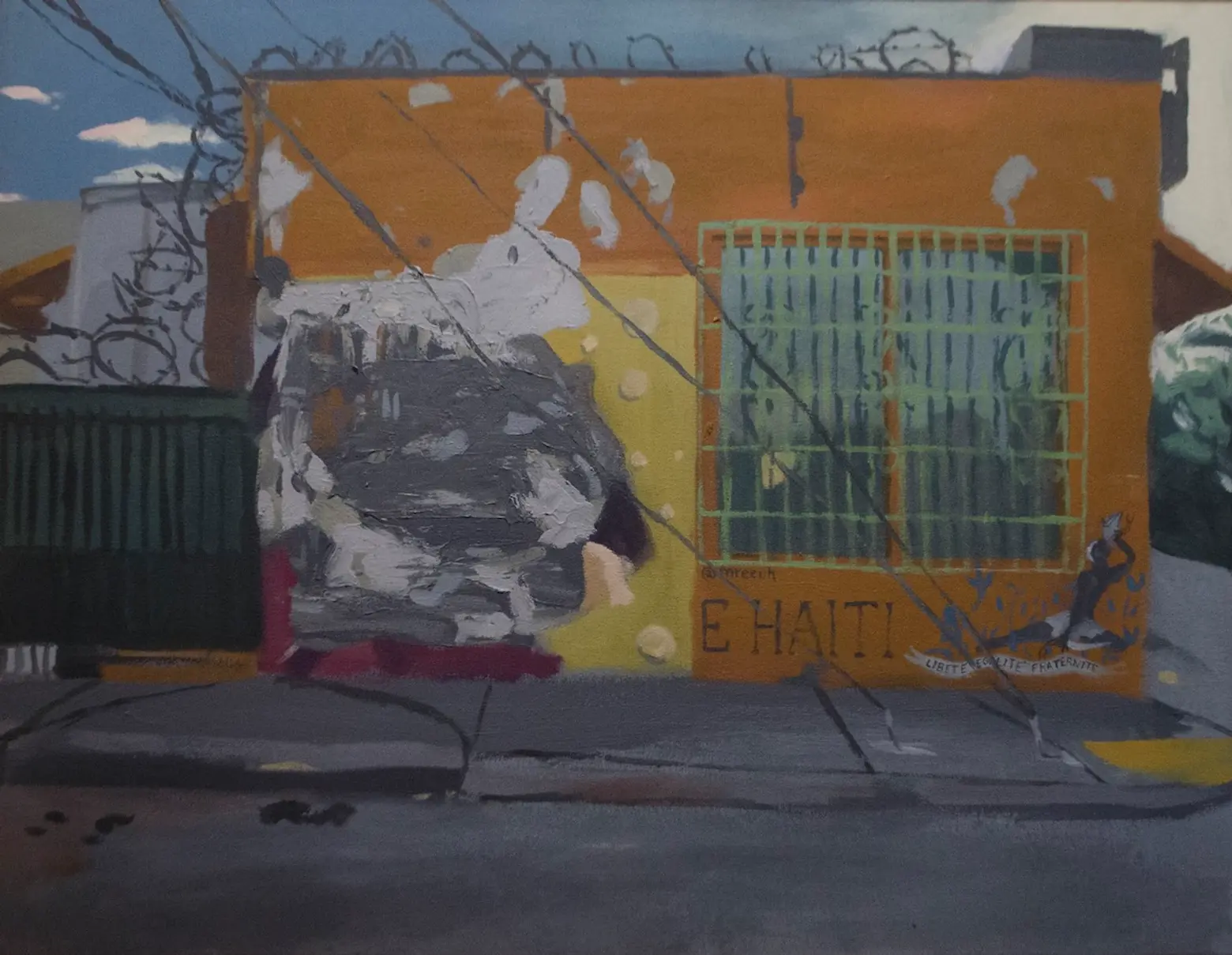 At the Whitney Biennial: Eddie Arroyo, 5825 NE 2nd Ave., Miami, FL 33137, 2017. Acrylic on canvas, 28 x 36 in. (71.1 x 91.4 cm). Image courtesy the artist and Spinello Projects, Miami. Photograph by Eddie Arroyo
Whitney Biennial 2019
May 17 – September 22, 2019
Whitney Museum of American Art, 99 Gansevoort Street
The Whitney Biennial is an event not to be missed for anyone interested in what's happening in art today. For the 2019 event, curators Jane Panetta and Rujeko Hockley have spent the past year visiting artists in search of the most important and relevant work. You'll find 75 artists and collectives represented in painting, sculpture, installation, film and video, photography, performance, and sound, all on the cutting edge of the contemporary artistic moment. Begun in 1932, the Biennial is the longest-running exhibition in the country to chart the latest developments in American art.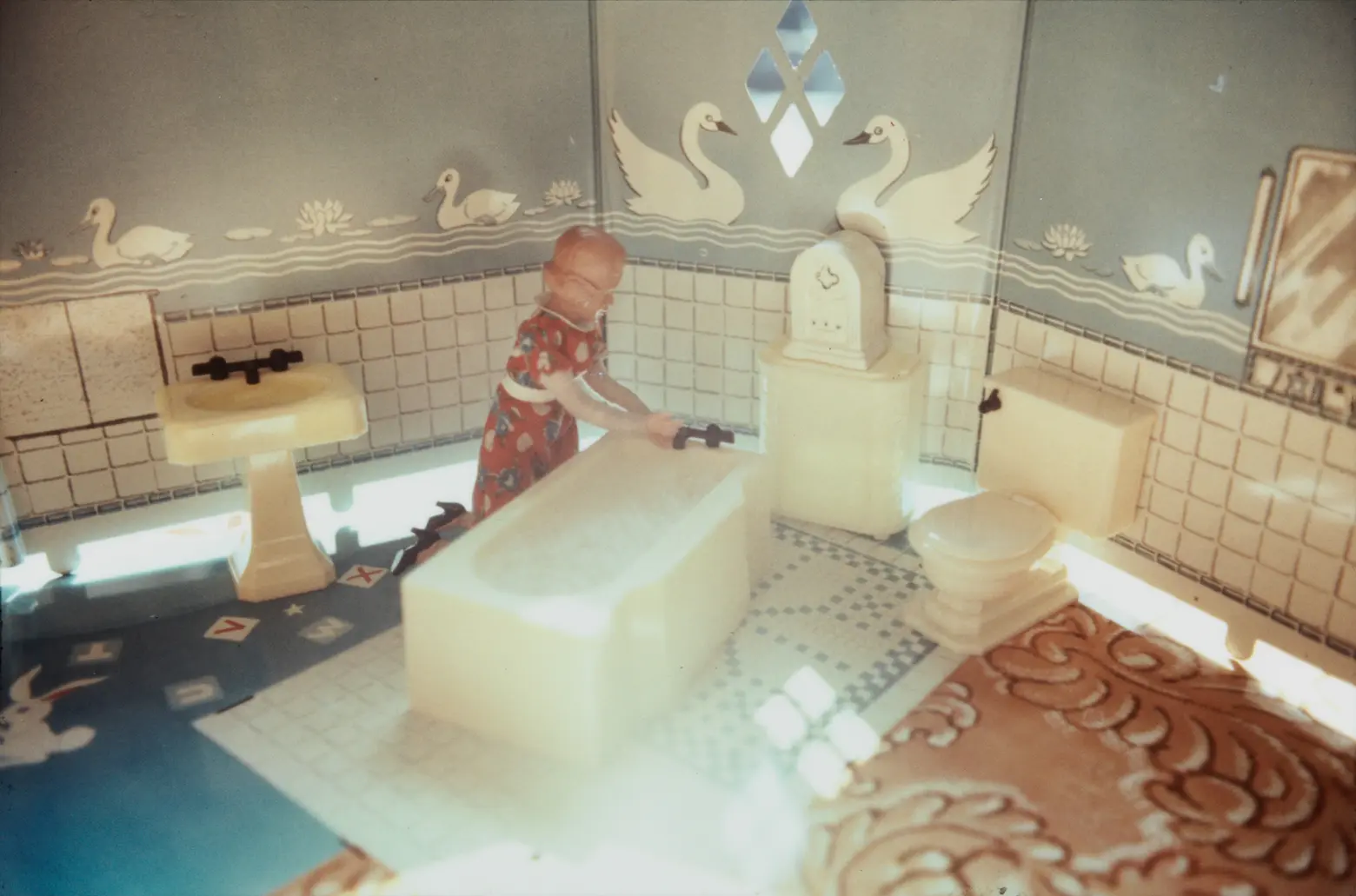 Laurie Simmons, "First Bathroom/Woman Kneeling, 1978;" Silver dye bleach print, 8.9 x 12.7 cm; Solomon R. Guggenheim Museum, New York. Purchased with funds contributed by the International Director's Council 2015.37 © Laurie Simmons
"Artistic License: Six Takes on the Guggenheim Collection"
May 24 – January 12
Solomon R. Guggenheim Museum, 1071 5th Avenue
This full-rotunda exhibition celebrates the institution's extensive 20th-century holdings through the intervention of six contemporary artists. Curators include Paul Chan (b. 1973, Hong Kong), Cai Guo-Qiang (b. 1957, Quanzhou, Fujian Province, China), Jenny Holzer (b. 1950, Gallipolis, Ohio), Julie Mehretu (b. 1970, Addis Ababa, Ethiopia), Richard Prince (b. 1949, Canal Zone, Panama), and Carrie Mae Weems (b. 1953, Portland, Oregon), in a unique presentation that brings together collection highlights and rarely seen works from the turn of the century to 1980 and some surprises from the artist-curators, all of which create critical dialogues with the Guggenheim's history and the history of modern and contemporary art. The exhibition will include nearly 300 paintings, sculptures, works on paper, and installations from the utopian aspirations of early modernism to the formal explorations of midcentury abstraction to the sociopolitical debates of the 1960s and '70s, with each curated section providing a distinctive opportunity for refreshing new interpretations.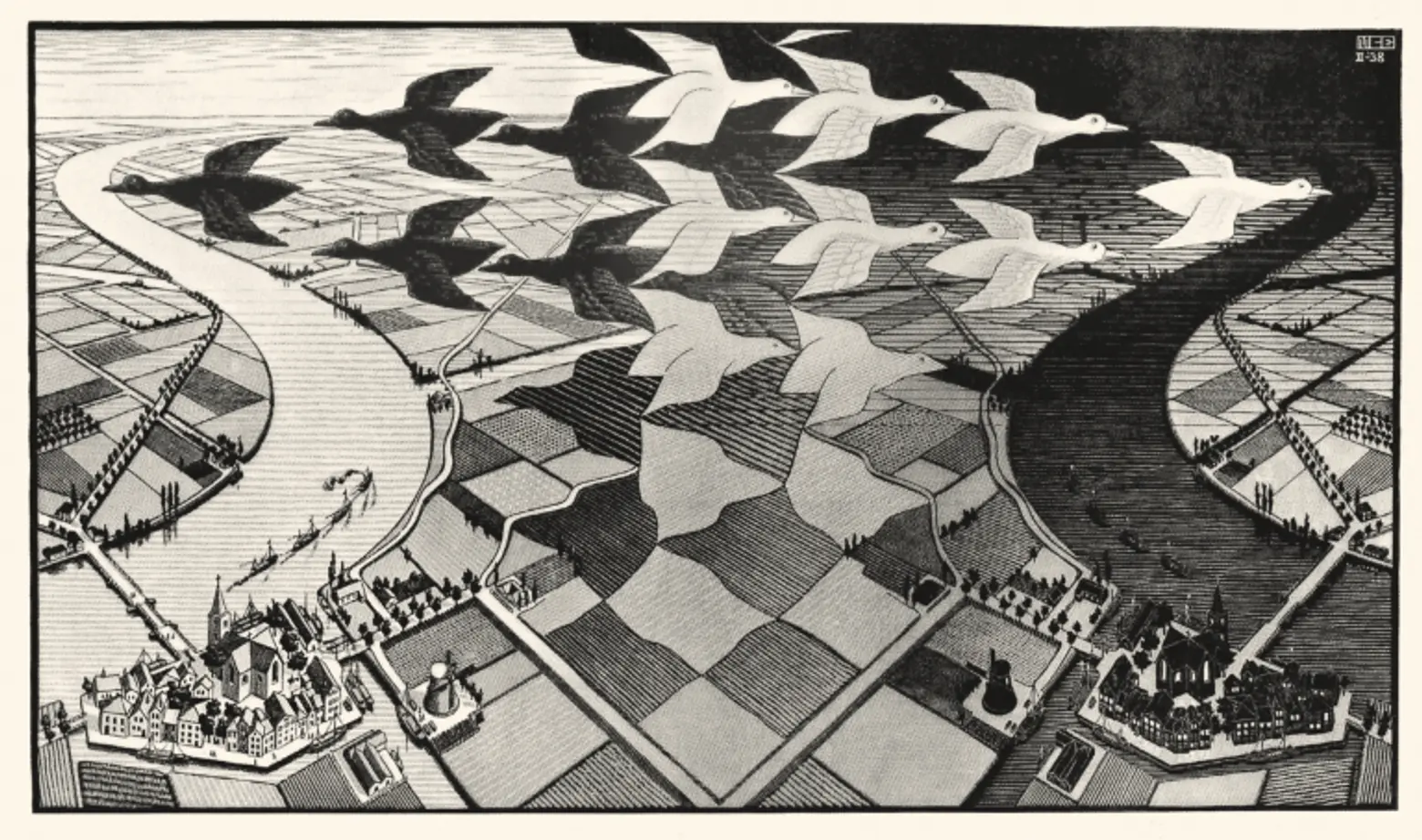 M. C. Escher, Day and Night, woodcut. Private Collection, USA. All M.C. Escher works © The M.C. Escher Company. All right reserved.

"Escher: The Exhibition & Experience."
Through May 26
Industry City, 34 – 34th Street, Building 6, 2nd Floor, Brooklyn NY
Maurits Cornelis Escher (1898 – 1972) is known throughout the world for his enigmatic sketches and paradoxical, mind-bending designs filled with incredible detail and mathematic precision. "Escher: The Exhibition & Experience" is the most important and the largest exhibition of M.C. Escher ever presented in the United States. With an extended stay through this spring, this immersive, interactive exhibit features over 200 world-renowned works of art, plus guided tours for adults, kids and families and more.
Installation view, New Order: Art and Technology in the Twenty-First Century at The Museum of Modern Art, New York (March 17 – June 15, 2019). Digital image © 2019 The Museum of Modern Art, New York. Photo: Jonathan Muzikar

"New Order: Art and Technology in the Twenty-First Century"
Through June 15
The Museum of Modern Art, 11 West 53rd Street, Manhattan
"New Order" explores the ways in which even today's most advanced technological systems are still rooted in the physical world. Drawn entirely from MoMA's collection, highlighted works point out "the uneasy coexistence of intelligent networks and dumb stuff, high tech and raw material, the fabricated and the readymade." The exhibit includes recent acquisitions and never-before-shown large-scale installations that make up a diverse range of techniques and media. Examples include live digital simulation, industrial vacuum-formed plastic, and ultrasound gel, all of which represent the weird and unexpected. The show features works made since the turn of the millennium that push and challenge the boundaries of technology and which ultimately invent even more novel techniques and substances.
Leonard Cohen. Courtesy of Old Ideas, LLC
"Leonard Cohen: A Crack In Everything"
April 12 – September 8, 2019
The Jewish Museum, 1109 5th Ave at 92nd Street, Manhattan
Leonard Cohen, we miss him so. This loving exhibition of Cohen's life and work lets in a little light with a deep and rich exploration of the beloved global icon through the lens of contemporary art, featuring 12 artists and 18 musicians from 10 countries.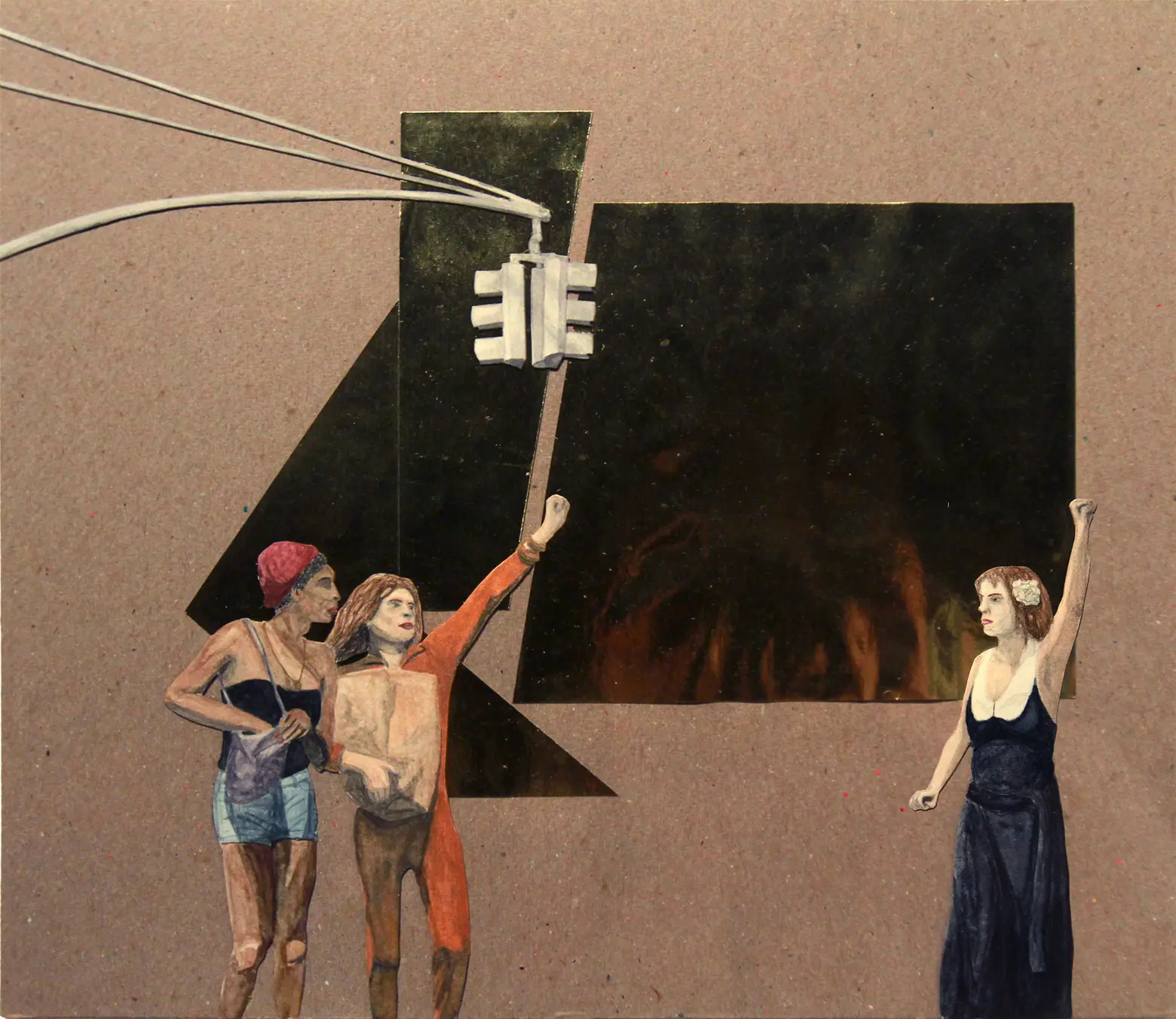 Tuesday Smillie (American, born 1981). S.T.A.R., 2012. Watercolor, collage on board, 91⁄2 x 11 in. (24.1 x 27.9 cm). Courtesy of the artist. © Tuesday Smillie
"Nobody Promised You Tomorrow: Art 50 Years After Stonewall"
May 3–December 8, 2019
The Brooklyn Museum, 200 Eastern Parkway, Brooklyn
"Nobody Promised You Tomorrow: Art 50 Years After Stonewall" commemorates the 50th anniversary of the 1969 Stonewall Uprising and explores its legacy within contemporary art and visual culture today. Getting its title from the words of transgender artist and activist Marsha P. Johnson, the exhibition presents twenty-two LGBTQ+ artists born after 1969 whose works grapple with the unique conditions of our political time and question how moments become monuments. Through painting, sculpture, installation, performance, and video, these artists engage interconnected themes of revolt, commemoration, care, and desire.
Art fairs and festivals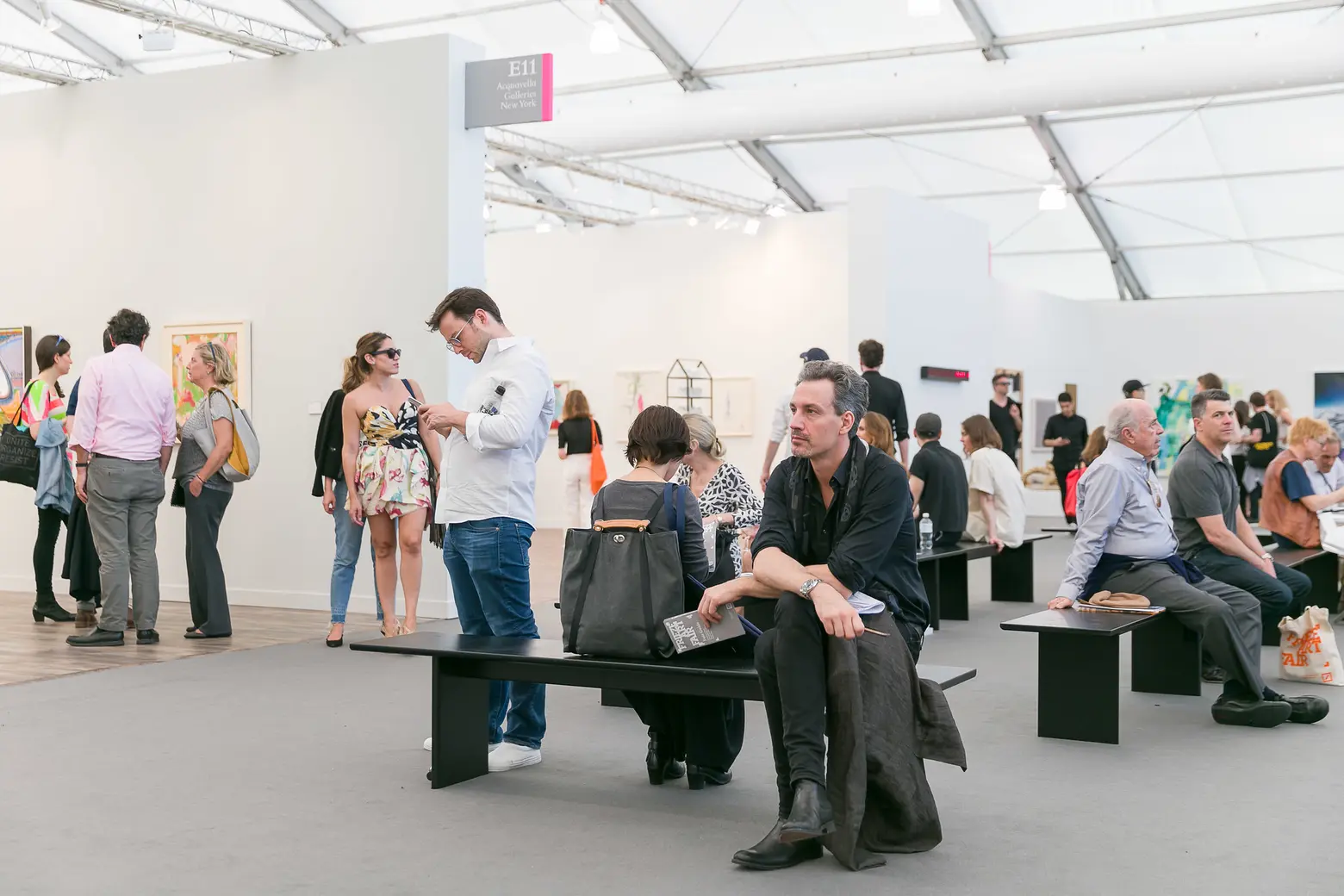 Frieze New York 2018. Photo by Mark Blower. Courtesy of Mark Blower.
Frieze New York
May 2-5, 2019
Randall's Island Park
The eighth edition of Frieze New York at Randall's Island Park promises the usual glitter and glow, with many of the world's most prominent contemporary art galleries under one gigantic pop-up roof. At this arty party thrown by Frieze media, you can also expect a full slate of classes and talks by thought leaders in the worlds of art, design, and fashion. Exhibitions like "The Doors of Perception" with the Outsider Art Fair and curated by artist Javier Téllez and Electric, a new VR presentation curated by Daniel Birnbaum, Director of Acute Art are just a tiny sampling of what to expect from one of the world's most important and innovative art fairs. The temporary art city offers food and refreshments, too, all within the verdant backdrop of Randall's Island Park.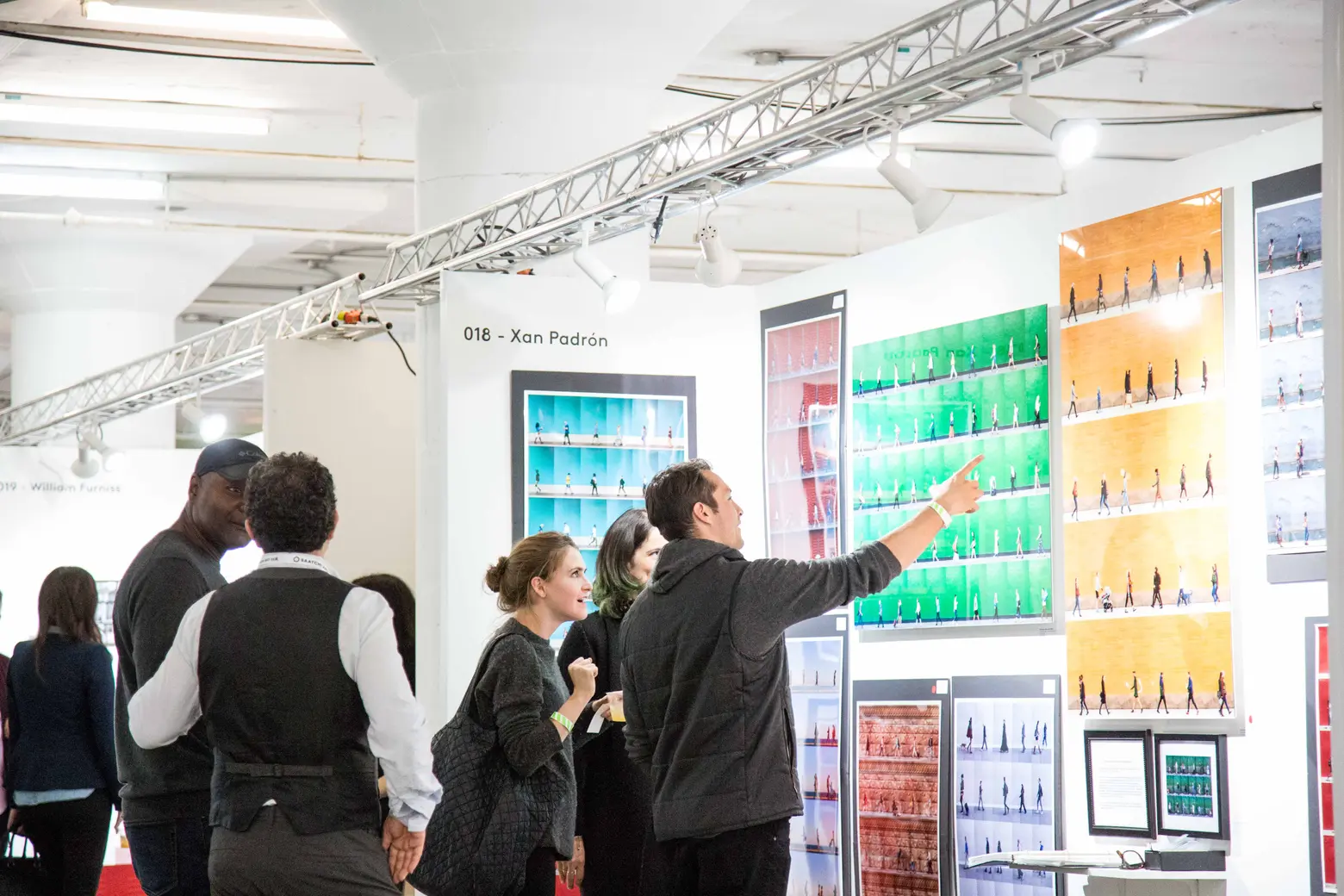 Image courtesy of  The Other Art Fair
The Other Art Fair
May 2-5, 2019
Brooklyn Expo Center, 72 Noble Street Brooklyn
Celebrated for its unique visitor experience, the Other Art Fair, presented by Saatchi Art, bills itself as the leading artist fair for art lovers to meet and acquire art directly from the top emerging and undiscovered artists. With fairs across the globe in the US, UK and Australia, each edition of The Other Art Fair showcases work by a selection of talented artists handpicked by a committee of art industry experts, resulting in a highly curated and distinctive menu of immersive fair features that add up to a platform for the unexpected.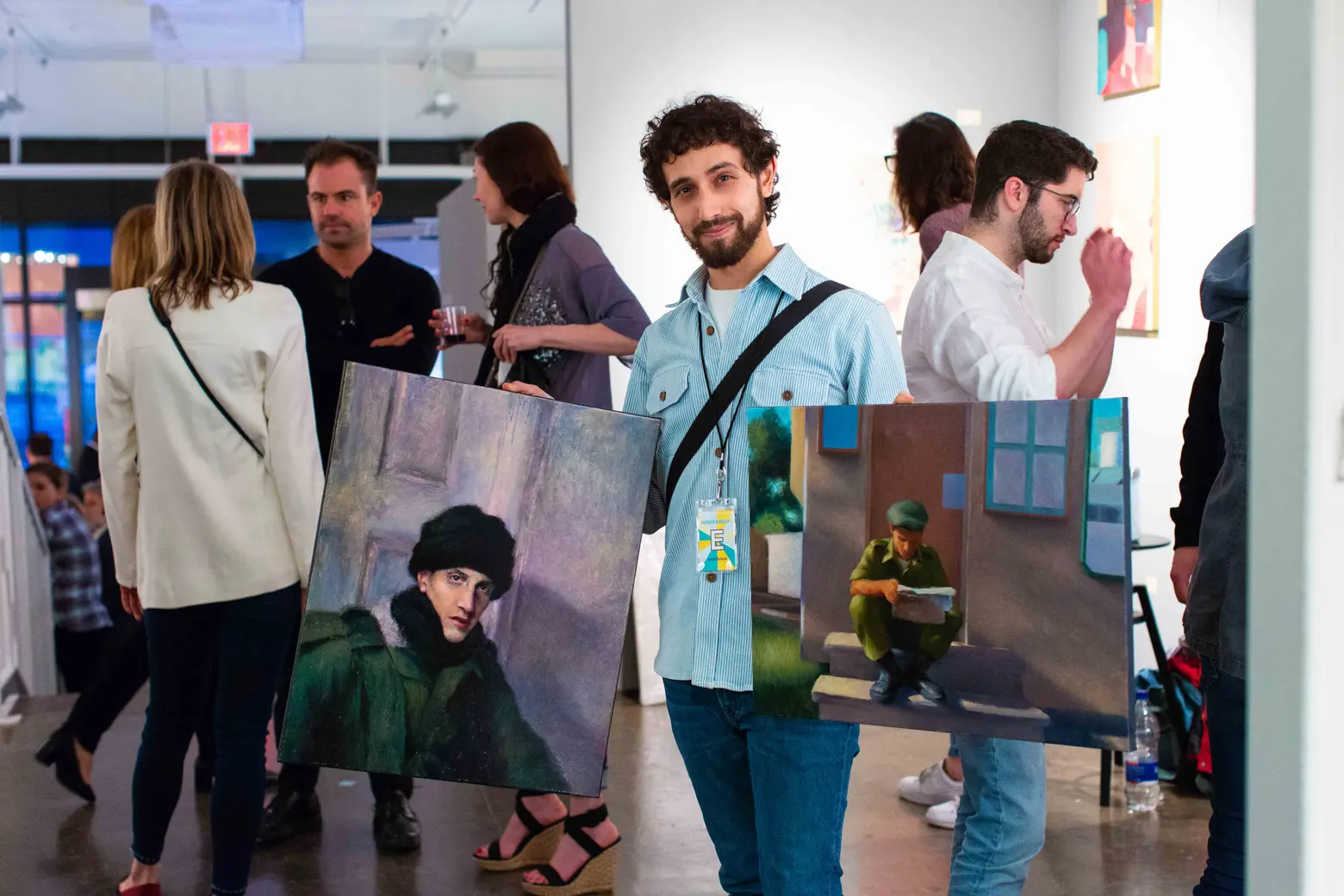 Superfine NYC. Photo-credit: James-Miille
Superfine! Art Fair
May 1-5, 2019
107/111 Grand Street, Soho, Manhattan
Coming this year to what's-old-is-new-again Soho, Superfine! calls itself "the smart fair," with a no-BS, accessible approach to buying and collecting contemporary art. Superfine! believes that buying art should be a simple process and that an art fair should be an enjoyable atmosphere where anyone who wants to collect art can do so.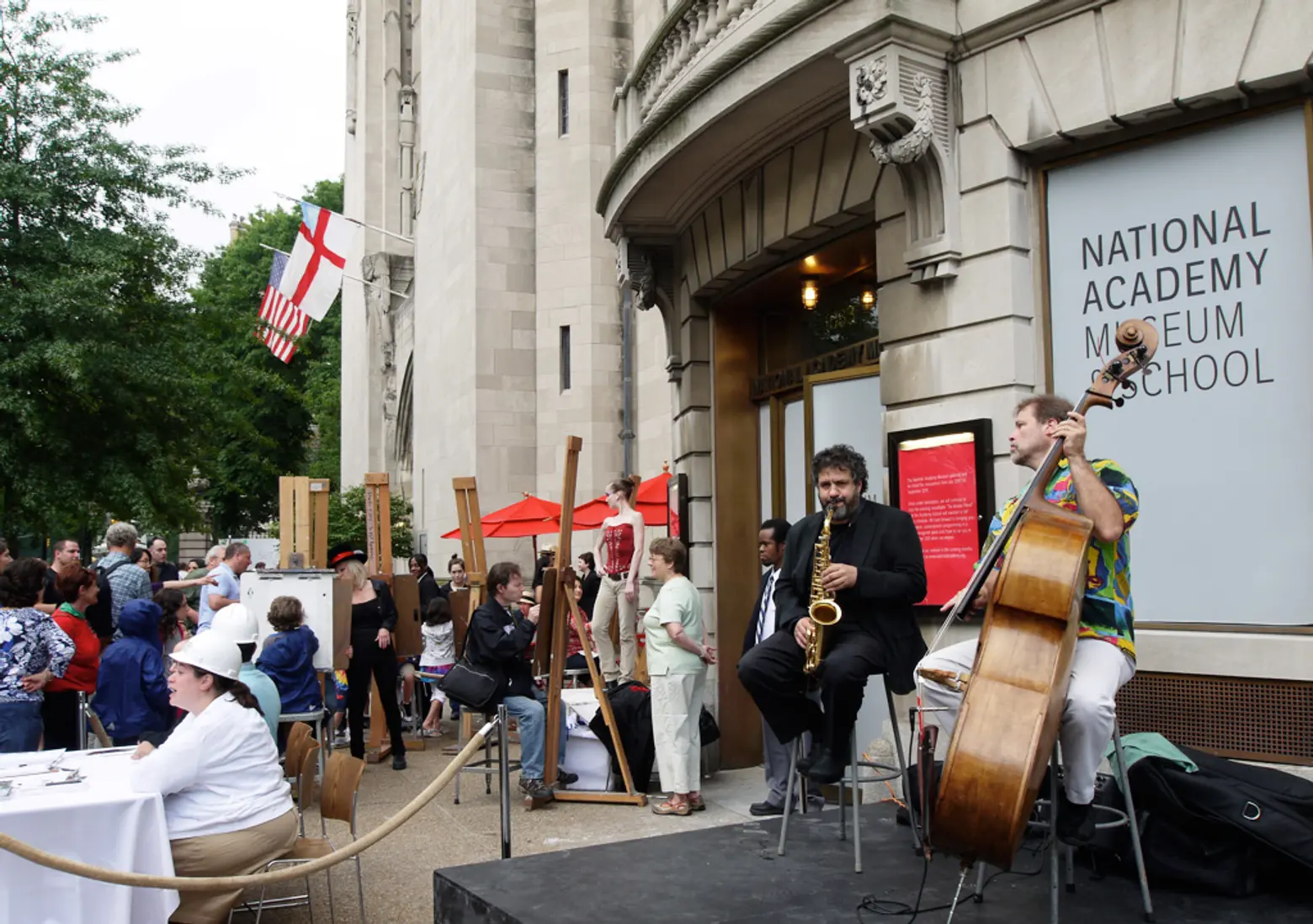 Museum Mile Festival at the National Academy, via Flickr cc
The 41st Annual Museum Mile Festival
June 11th from 6-9pm
Fifth Avenue between 82nd and 105th Streets
"New York's biggest block party" means seven museums along New York's famed Museum Mile will be open to the public for free. Every year, the Metropolitan Museum of Art closes down Fifth Avenue to car traffic and teams up with six other cultural institutions along the Fifth Avenue to offer free access to the public as well as many fun and interactive children's activities such as pop up performances, chalk drawing, photo booths and more.
Public Art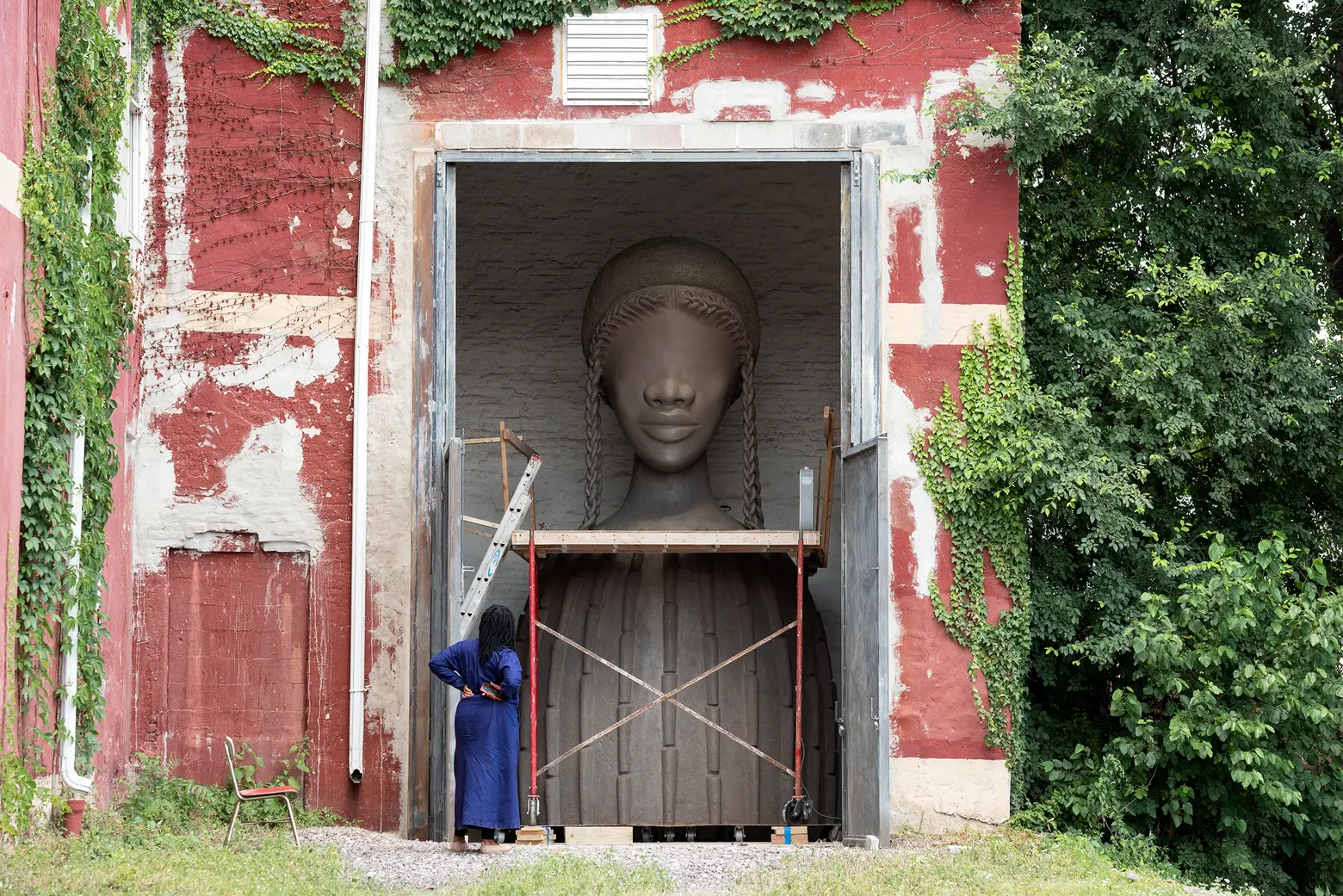 Simone Leigh gazing at her sculpture Brick House while in progress; Photo by Timothy Schenck

Simone Leigh, "Brick House"
June 2019 – September 2020
On the High Line at the Spur, at 30th Street and 10th Avenue
The inaugural High Line Plinth commission will be Simone Leigh's "Brick House," which will be unveiled at the opening of the Spur. The work was chosen by an international advisory committee of artists, curators, and art world professionals who submitted recommendations for artists who were then invited to submit a proposal. "Brick House" is the first monumental work in "Anatomy of Architecture," Leigh's continuing series of sculptures that combine architectural forms from regions as varied as West Africa and the American South with the human body.
"Mark Manders: Tilted Head"
On view: Mar 6 – Sep 1, 2019
Doris C. Freedman Plaza, Central Park
A new work to ponder in Central Park this spring, Mark Manders' "Tilted Head" has the appearance of unfired clay combined with everyday objects–though it's made entirely of cast bronze. The cracks and fissures that cover its surface imply an organic process of drying and decay, yet its metal form is fixed. These shifts in scale, unexplained objects, and trompe l'oeil bronze effects change our perception and ignite the imagination.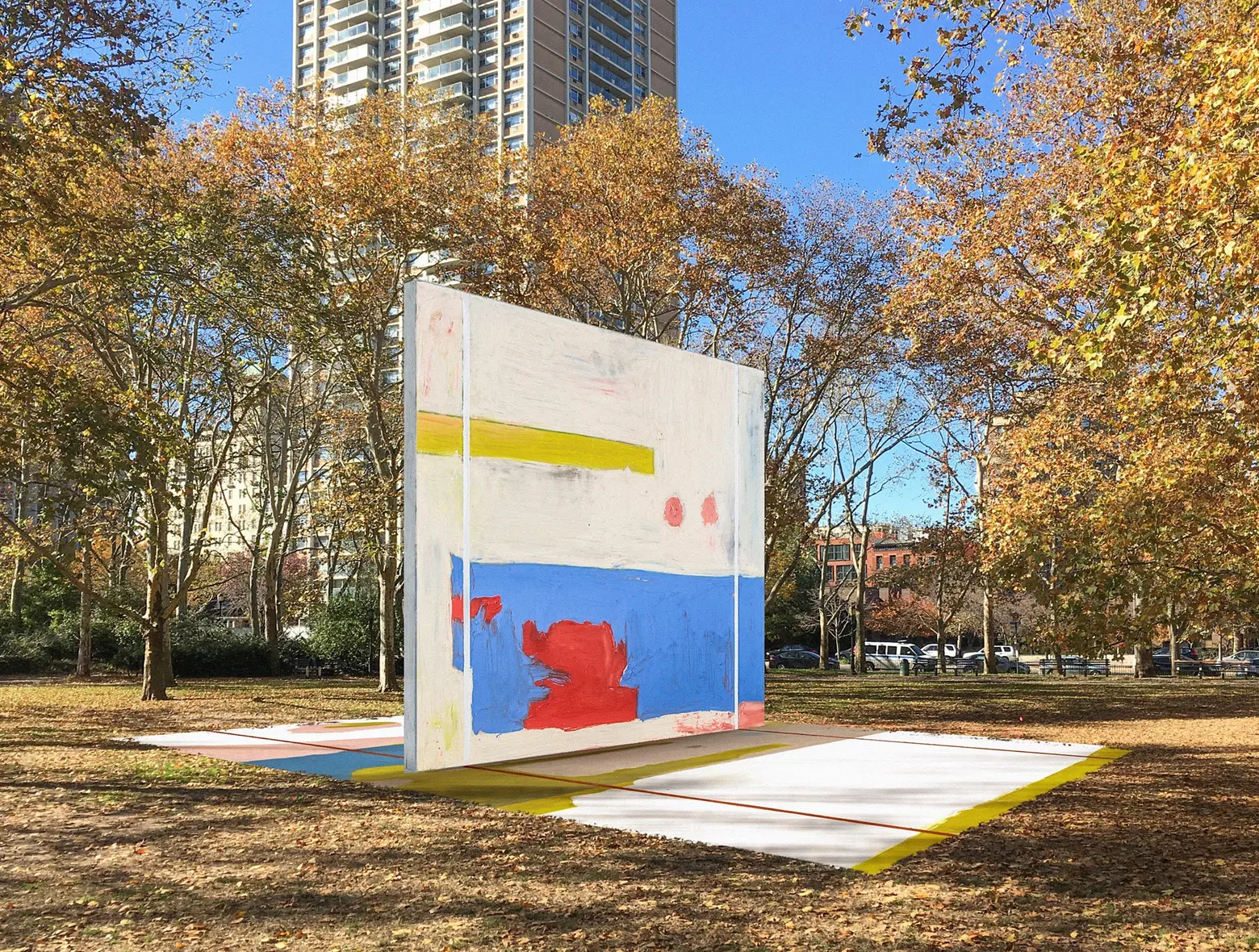 In-process concept rendering of Harold Ancart: Subliminal Standard at Cadman Plaza Park in Brooklyn, courtesy the artist. (Design and orientation are subject to change)
"Harold Ancart: Subliminal Standard"
On View: May 1, 2019 – Mar 1, 2020
Cadman Plaza Park
"Subliminal Standard" is an interactive new commission by Brooklyn-based, Belgian-born artist Harold Ancart. The artist has constructed a large-scale, painted concrete sculpture inspired by New York City's ubiquitous handball courts, which have fascinated Ancart since boyhood. Popularized by early 20th century immigrants to the United States, handball is among the most democratic sports, requiring nothing more than a small ball and a wall to play. The painting will reference the traditional boundary lines of the court and the inadvertent abstract compositions created when city courts are repaired and repainted to mask graffiti and weathering over time. The handball court is also the only type of playground that offers a freestanding double-sided wall which, according to the artist, "offers a unique possibility to show painting in a public space."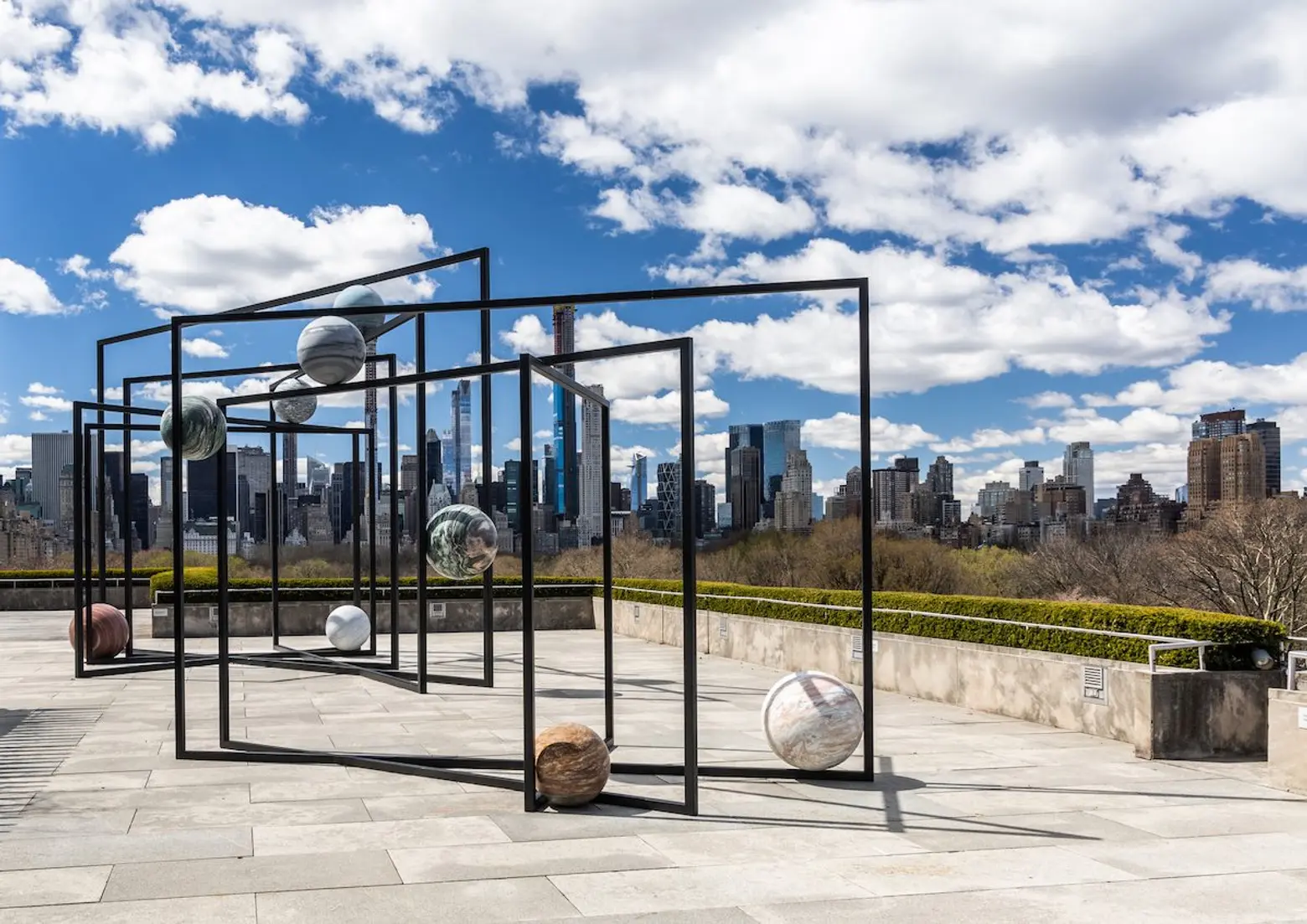 Alicja Kwade (b.1979, Poland). The Roof Garden Commission: Alicja Kwade, ParaPivot. Installation view, The Metropolitan Museum of Art, 2019. Courtesy of the artist; 303 Gallery, New York; KÖNIG GALERIE, Berlin/London; and kamel mennour, Paris/London. Image credit: The Metropolitan Museum of Art, Photograph by Hyla Skopitz.
The Roof Garden Commission: "Alicja Kwade, ParaPivot"
April 16–October, 27, 2019
The Met Fifth Avenue, Cantor Roof Garden, 1000 Fifth Avenue
Berlin-based artist Alicja Kwade's (born 1979, Poland) work is elegant, rigorous, and highly experiential. Using a wide range of media, Kwade creates sculptures and installations that reflect on time, perception, and scientific inquiry. For The Met, Kwade has created two sculptures using steel and stone to evoke a miniature solar system, a piece of space that has settled temporarily on the Iris and B. Gerald Cantor Roof Garden. This is Kwade's first solo exhibition at a museum in the United States.
RELATED: