NYC launches plan to expand greenway network by 40 miles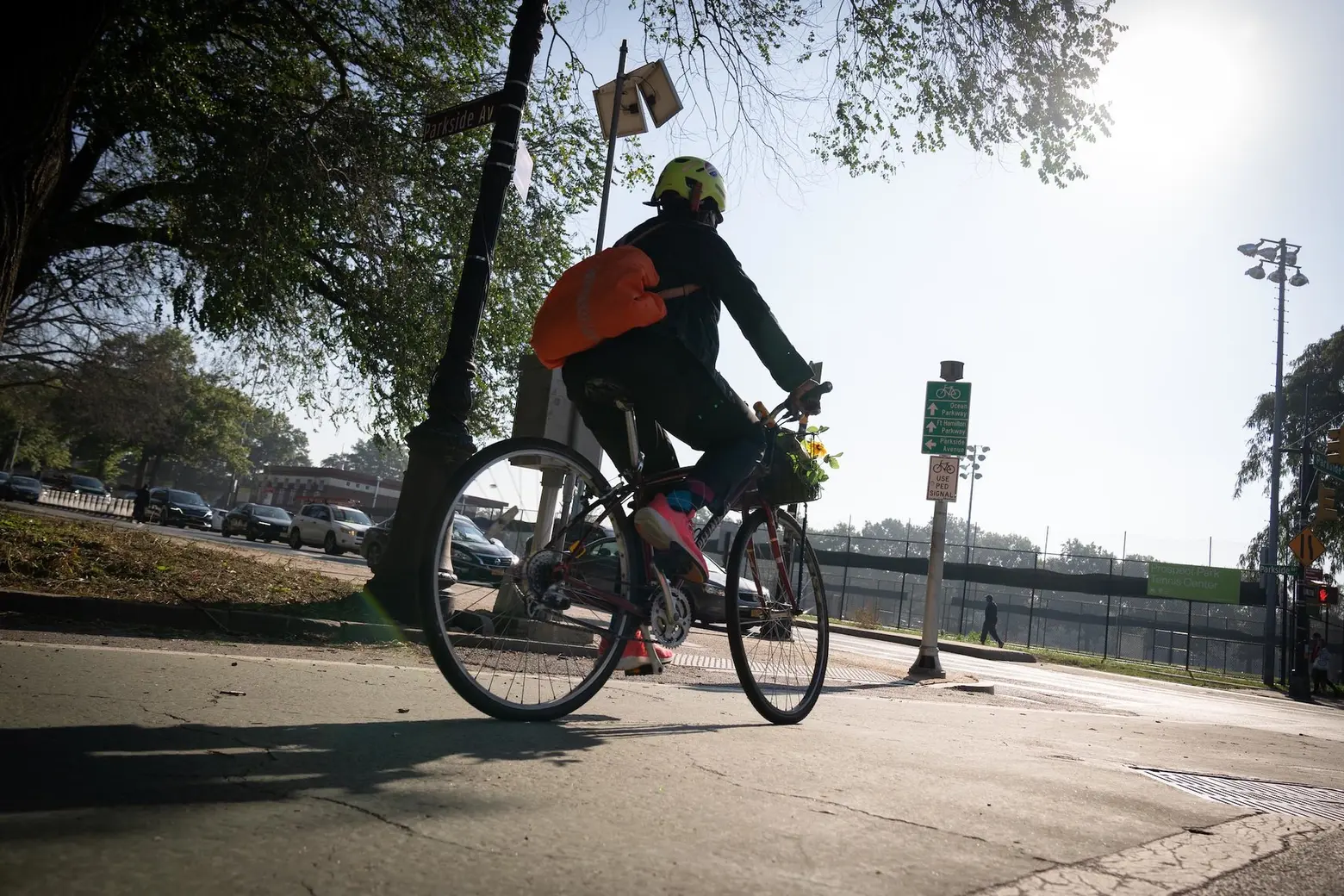 New York City will build more than 40 miles of new greenways in the outer boroughs. Mayor Eric Adams on Thursday announced that the city would fill the gaps in the existing greenway network with protected bike lanes and pedestrian-friendly infrastructure, bringing the citywide total of greenway corridors to 60 miles. The expansion, funded in part by a $7.25 million federal grant secured by the mayor last summer, will support existing greenway projects and the creation of new corridors, including the seven-mile Harlem River Greenway in the Bronx.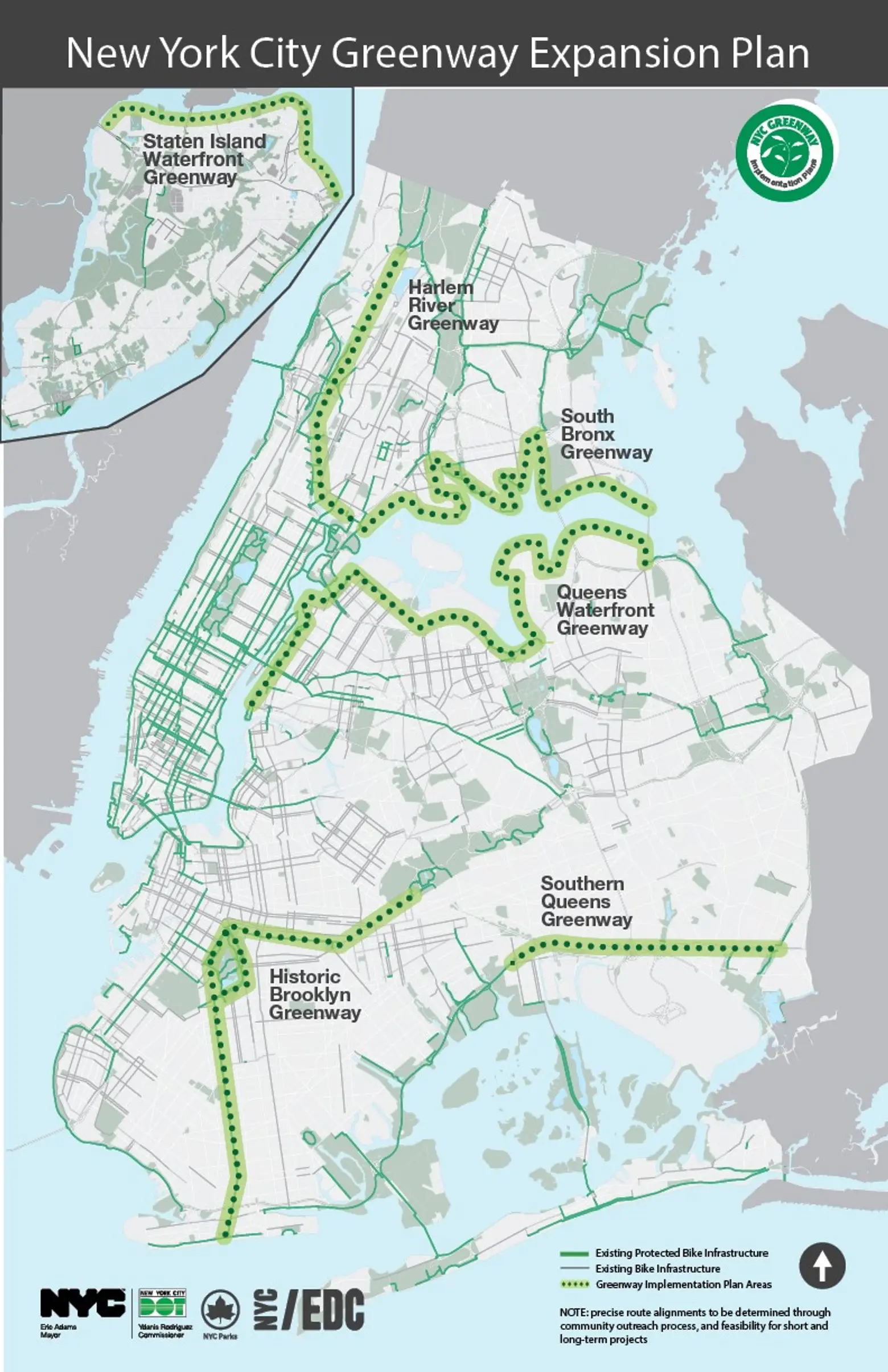 The corridors selected for the project have been chosen based on their access to parks, equity, utility, and economic development. These include:
Queens Waterfront, which will stretch from Gantry State Plaza in Long Island City to Little Bay Park in College Point. The city will work to close gaps in cycling routes along the greenway, which will improve transportation options throughout Queens and make it easier for residents of neighborhoods with limited green space access to travel to parks.
Historic Brooklyn, which will stretch 11 miles from Coney Island to Highland Park. The new route will connect to Broadway Junction, which is the site of a monumental $500 million overhaul that will deliver public realm improvements, accessibility upgrades, and more. The plan will also establish new design and maintenance standards for these historic routes, which are the country's oldest bike lanes on the Ocean and Eastern Parkways.
Staten Island Waterfront, which will span 10 miles from the Goethals Bridge to the Verrazzano Bridge. This greenway will provide a safe cycling and walking route from east to west across Staten Island's entire North Shore. The new greenway will connect to new upgrades coming to the North Shore that were recently announced in Adams' Staten Island North Shore Action Plan, including 20 acres of continuous waterfront open space, 2,400 units of housing, and new commercial space.
Southern Queens, which will stretch 7 miles from Spring Creek Park on the Jamaica Bay shoreline to Brookville Park in Springfield Gardens. This corridor will enhance access to John F. Kennedy International Airport. It will also connect to the existing Jamaica Bay Greenway and parks in Southeast Queens.
South Bronx, which will span 15 miles from Randall's Island Park to SUNY Maritime. This new corridor will undo decades of disinvestment in the South Bronx. With this plan, South Bronx residents will have the same kind of waterfront access that New Yorkers in all other boroughs have experienced.
"When our administration came into office, we promised New Yorkers a five-borough administration – and we are taking a 40-mile step to deliver on that promise again today," Adams said.
"This historic expansion of our city's greenways in Queens, Brooklyn, the Bronx, and Staten Island will transform the ways New Yorkers live, work, and get around. And with more New Yorkers biking than ever, it will connect every corner of our city with this safer, greener mode of transportation."
The city has already hosted multiple workshops and pop-up engagements for the development of the Harlem River Greenway. Planning for the Queens Waterfront Greenway will begin in early 2024.
Over the next two years, NYC will begin a new implementation plan for the other corridors every six months. The city will conduct extensive outreach with local community members where the expansions are planned.
No timeline for the completion of the expansion was announced.
RELATED: