21 places to celebrate Mardi Gras and eat King Cake in NYC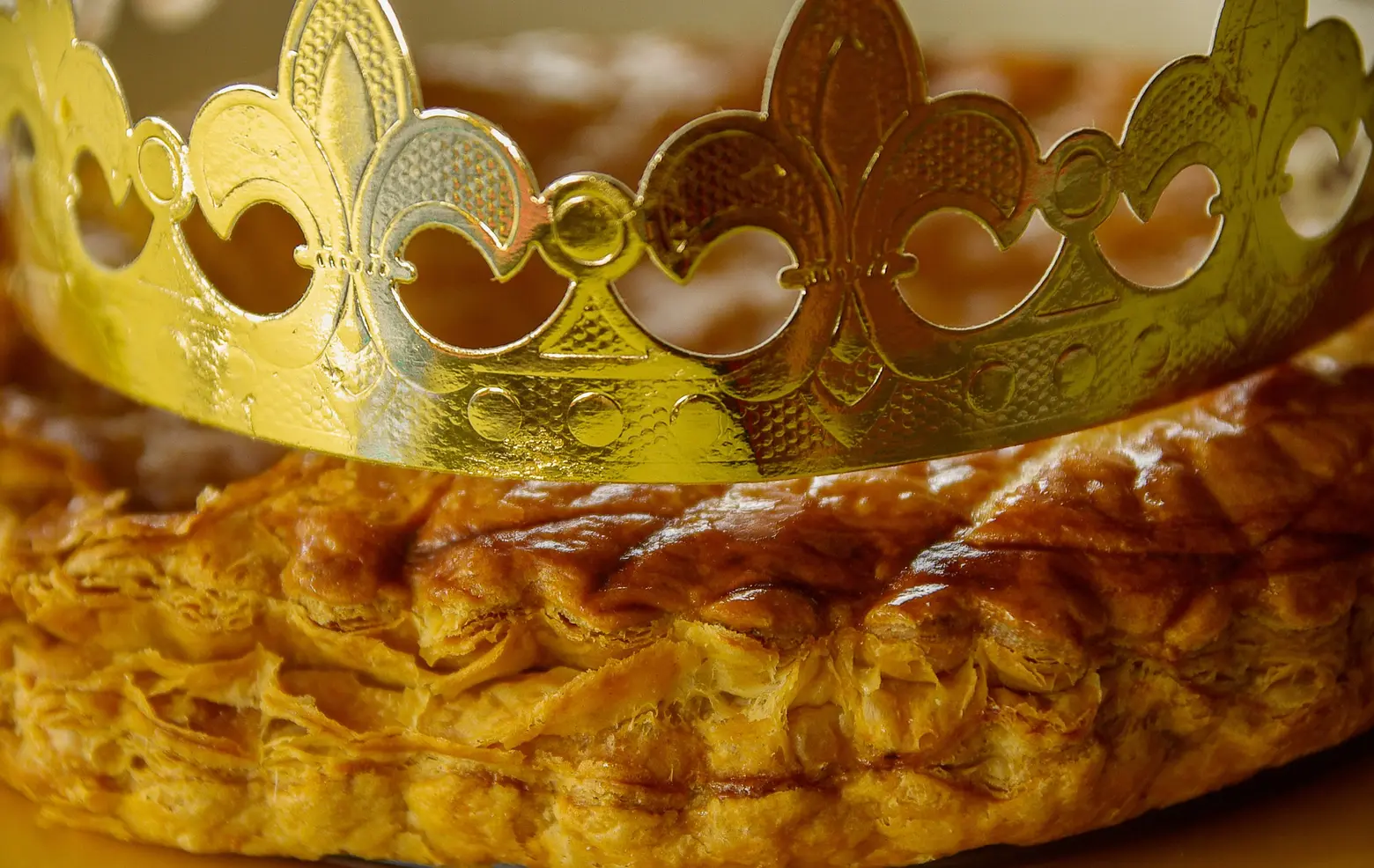 You don't have to travel to New Orleans to get in on the Mardi Gras festivities; New York City has some fun Fat Tuesday events of its own (though they may be a tad tamer than what you'll find in Louisiana!). From brass bands and jazz performances to crawfish boils and King Cake, we've rounded up 20+ great ways to celebrate Mardis Gras this year.
1. SugarTone Brass Band at Ginny's Supper Club
Ginny's Supper Club, the speakeasy downstairs from Harlem's Red Rooster, is celebrating Mardi Gras early on Friday the 21st with Sugartone Brass Band and their "funky New Orleans grooves." Reserved dinner seating is $15.
East Village global music venue Drom is also celebrating Mardi Gras on the 21st with an 11pm performance from Cha Wa, a "New Orleans brass band-meets-Mardi Gras Indian outfit." General admission is $20; reserved seating is $35.
3. Mardi Gras Weekend at Rosé Mansion
If you don't mind the hordes of Instagrammers, Midtown's Rosé Mansion–which dubs itself "a wine bar, an Insta-worthy amusement park, and a science museum"–is celebrating Mardi Gras from Friday the 21st through Sunday the 23rd. It's $35-$45 to enter, and that'll get you eight rosé tasting samples, a wine glass and a pin, and entry to RoséLand. In addition, they'll have festive can wine specials, King Frosé, beads, and a French Cabaret.
4. Black Tie Brass Band at Brooklyn Bowl
Horn-driven jazz/funk band Black Tie Brass may be based in NYC, but they're all about that New Orleans style. On Sunday, February 23rd, they'll be headlining a Mardi Gras Celebration at Williamsburg's Brooklyn Bowl as part of the Rock and Roll Playhouse family concert series. It's $12; doors open at 11am and the show starts at noon. Adults can also hang into the evening, as the band goes back on at 6pm (this is $8).
5. All-You-Can-Eat Shrimp Boil at Aqua Boil
In Hell's Kitchen, casual Cajun-inspired seafood boil restaurant Aqua Boil is having a week-long Mardi Gras celebration from Monday, February 24th through the following Monday. They're offering 90-minute all-you-can-eat shrimp boils for $35 along with some specialty cocktails. Stop by on Fat Tuesday for complimentary beads and masks.
Midtown's Art Deco cocktail bar and restaurant Valerie is celebrating Mardi Gras from February 24th to 28th with New Orleans-inspired food and drink specials like a popcorn shrimp po' boy, pecan chocolate bourbon pie, and a French 75 cocktail. On Fat Tuesday, enjoy the menu with music from Nola-inspired jazz band Richard Barratta Trio.
7. Jimmy Cobb at Blue Note Jazz Club
You can't celebrate New Orleans without jazz, and what better place to do it than New York's legendary Blue Note jazz club. On the 25th, enjoy a performance by jazz drummer Jimmy Cobb, most famous for his work with Miles Davis. The show starts at 8 (doors at 6); a seat at the bar is $20, while a table reservation is $35/person.
8. Crawfish Boil at Essex Pearl
Essex Pearl, the new seafood restaurant in Essex Crossing's Market Line food hall, is hosting a Louisiana Crawfish Boil on the 25th from 5-10pm. For two hours, dig into piles of crawfish, spicy corn on the cob, Andouille sausage, shrimp, mussels, and more. Oysters Rockefeller, etouffee, and oyster po'boy sliders will also be passed around. In addition, a $65 ticket gets you two drinks–beer, wine, or a rendition of the Hurricane.
9. Fat Tuesday at Threes Brewing
Gowanus hangout favorite Threes Brewing is pulling out all the stops for its Fat Tuesday event. In addition to all their regular beers, the bar will have Sazeracs on special and the Meat Hook will be serving "your favorite bayou classics." DJ Half Sour Sklover is playing the main bar, and 3 Ring Bender is performing their rendition of Louisiana native Dr. John's Gris Gris in the Tiny Montgomery space. Things kick off at 5pm, and there's no cover.
10. Bourbon Street at Freehold
Williamsburg co-working space/bar Freehold is really trying to replicate the energy of New Orleans on the 25th. They'll have live music, stilt performers, and even fire breathers! All the entertainment starts at 7pm, while a Cajun-style menu will start being served at 5pm. RSVP is recommended.
FiDi's French food hall Le District is offering a Cajun family feast at their restaurant Beaubourg. It's $48 for adults and $12.95 for kids; the menu has tons of New Orleans classics like fried okra, creole shrimp, crawfish boil, beignets, and banana's foster. There will also be face painting, beads, and masks.
12. Brass, Sass & Ass at House of Yes
Known for its funky, themed events, Bushwick night club House of Yes is celebrating Mardi Gras with "brass, sass, and ass." New Orleans-style brass band Hudson Horns will be playing alongside DJ Dirtyfinger. It's free to enter, and costumes are encouraged. There will also be the usual "death-defying sexy circus performances."
13. Bubby's
Bubby's is famous for its pies, and from February 25th to March 2nd some slices will have a King Cake plastic baby inside; get it, and your slice is free! At their Tribeca and High Line locations they're also offering New Orleans classics like gumbo and muffuletta sandwiches all week long.
14. Mardi Gras Catch the Fever at Heavy Woods/Tchoup Shop
There's always a bit of Mardi Gras spirit at New Orleans-style bar/restaurant combo Heavy Woods and Tchoup Shop, so of course, on the 25th the Bushwick spot is kicking it up a notch with live music from 6-8m from the Brass Queens. There will also be $5 Abitas, $7 Wray and Nephew Hurricanes, and King Cake. You can enjoy Tchoup Shop's regular menu that includes NoLa favorites like four different po'boys, cheesy crawfish bread, a vegan hoppin' John, and pecan praline bread pudding.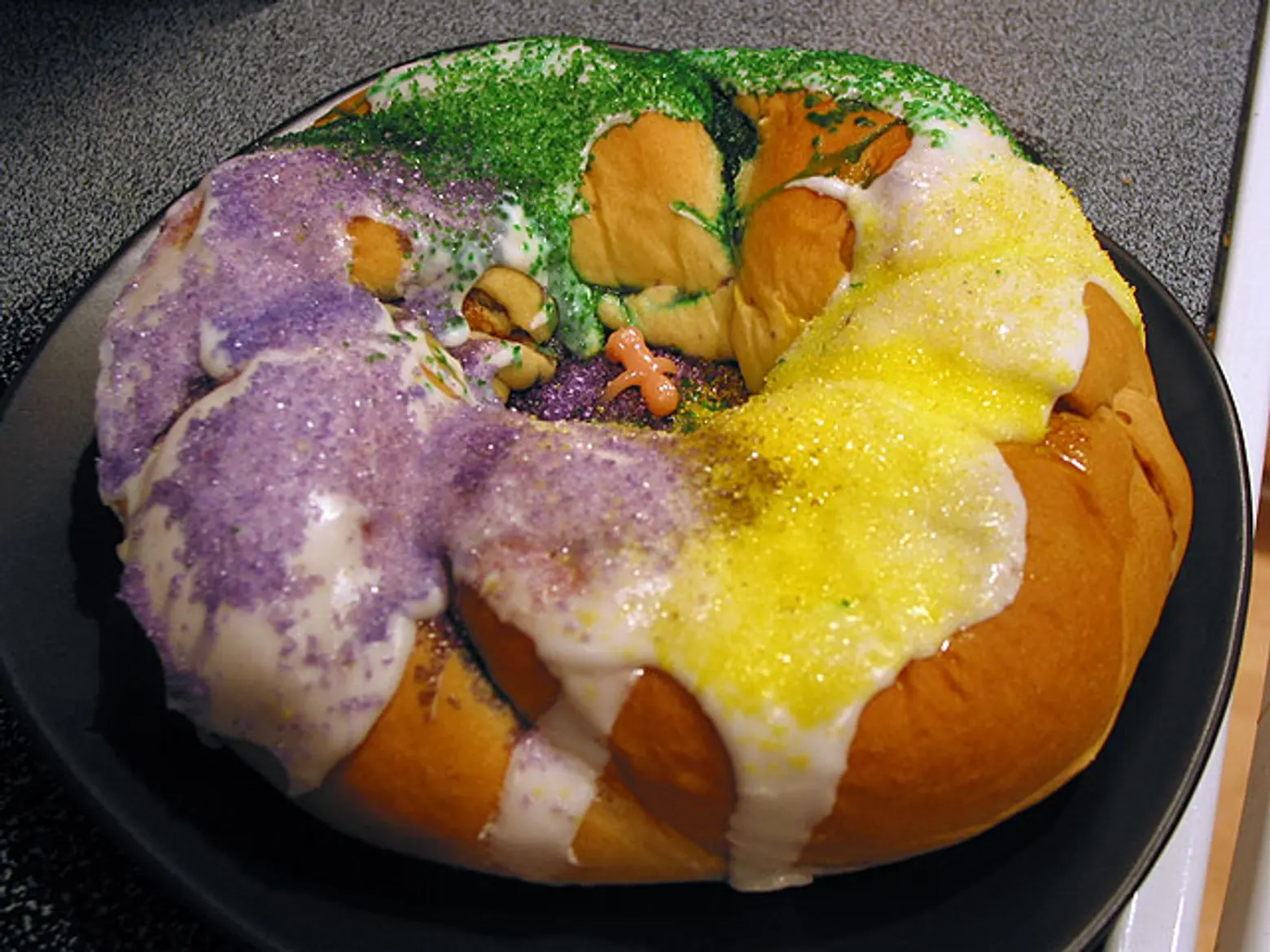 A New Orleans-style King Cake, photo by Darjeelingtea via Wikimedia Commons
King Cake!
King Cake, also known as galette des rois, is a round pastry typically filled with almond marzipan, and it's said to have originated in Spain and France during the Middle Ages to mark Ephiphany, a Christian feast day on January 6th that's often called Three King's Day. You'll find the cake in New Orleans during Carnival season, Epiphany through Ash Wednesday, and often adorned with a crown. The main-stream NoLa version is a bit different as it's more of a cake-dough that is twisted into a circle or oval and colored green, gold, and purple (the Mardi Gras colors that represent faith, power, and justice). There's a porcelain baby inside, and whoever gets the piece with this inside is supposed to host the next year's Mardi Gras celebration (others say the baby represents good luck). In addition to the traditional King Cake, there are tons of fun variations to be eaten around NYC.
15. Mille Feuille
At their Greenwich Village and Upper West Side locations, French bakery Mille Feuille has a pastry-version of King Cake– a "flaky puff pastry delicately filled with almond cream and French custard cream."
In Clinton Hill, this bakery specializes in Texas-style kolaches, sweet rolls with a fruit filling. For Mardi Gras, they're selling King Cake Rolls, decorated in icing and colored powdered sugar.
17. Billy's Bakery
This pastel cupcake shop has a special cinnamon cupcake with cream cheese frosting, Mardi Gras colored royal icing, and a traditional baby. Billy's has locations in Chelsea, Tribeca, the Plaza Food Hall, and the Upper West Side.
This popular Upper West Side bread bakery makes two kinds of King Cake–the classic version throughout Epiphany (though they do add raspberry preserves to the marzipan) and a New Orleans-style for Mardi Gras.
Cobble Hill Cajun restaurant The Gumbo Brothers are ready to go with their homemade King Cakes–a "hand-rolled brioche cake with cinnamon, cream cheese filling, and a colorful lemon glaze." Do note that you'll need to order 48 hours in advance.
20. Almondine Bakery
Dumbo's French Bakery Almondine makes classic King Cake to order.
This cute little cafe on the Upper West Side also makes classic King Cake to order. It's done with their homemade puff pastry, almond Frangipane, and a touch of orange zest.