New York to open $1.6B life science campus in Kips Bay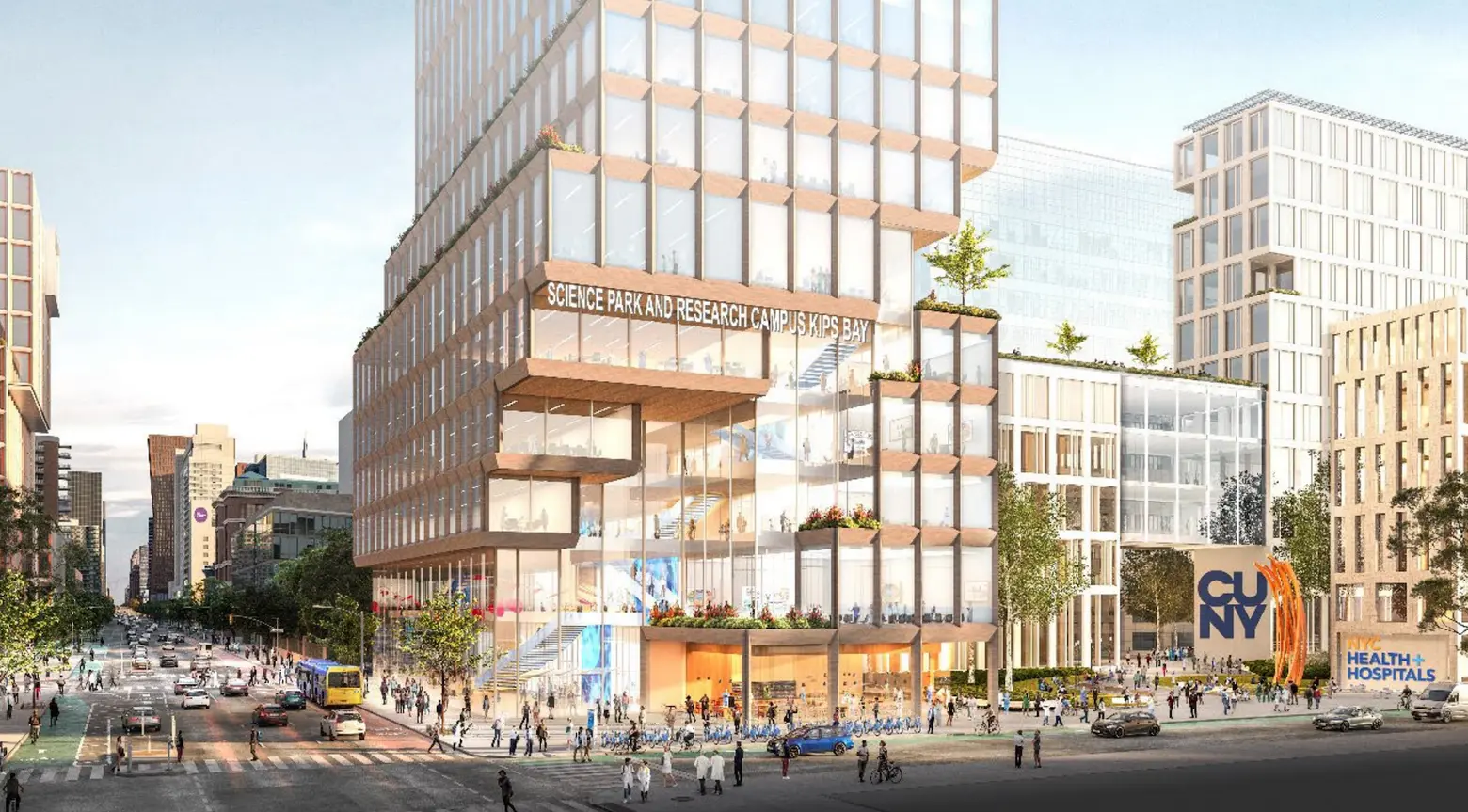 A conceptual rendering of the SPARC Kips Bay campus. Courtesy: New York City Economic Development
Corporation
A $1.6 billion state-of-the-art life sciences hub will open in Kips Bay, Gov. Kathy Hochul and Mayor Eric Adams announced Thursday. Located on East 25th Street and First Avenue, the Science Park and Research Campus will provide modern facilities for 4,500 City University of New York students, as well as an ambulatory care center, a Health + Hospitals training center, a health care and sciences high school, and a training center for forensic pathologists. SPARC Kips Bay will be funded jointly by the city and state with additional private investment, according to officials.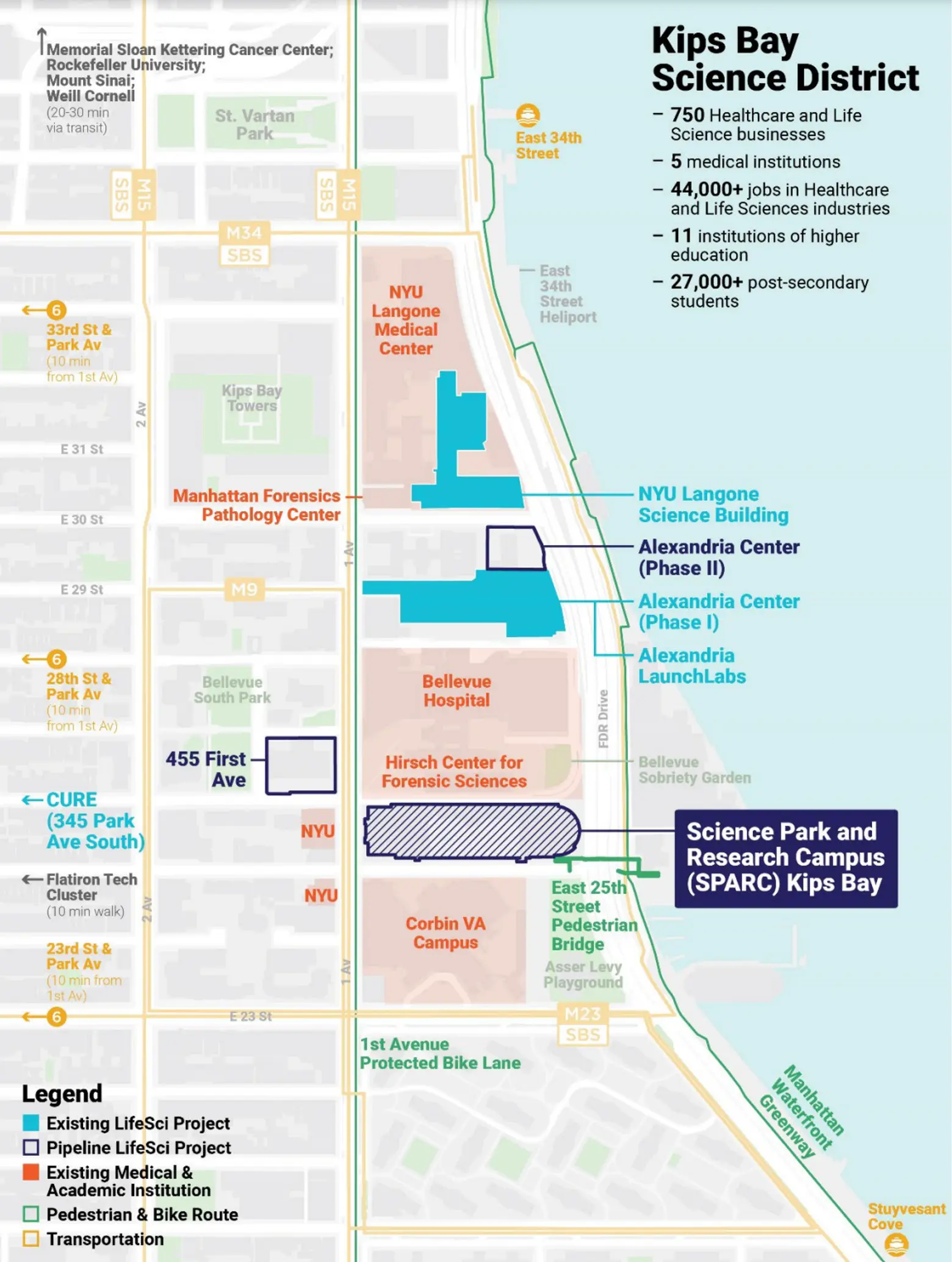 Map of the Kips Bay Science District, including the SPARC Kips Bay campus. Courtesy: New York City Economic
Development Corporation
"Thanks to this agreement with the city, SPARC Kips Bay will give New York's life sciences sector a major boost, creating thousands of high-paying jobs, investing in education, and making New York the place where miracles are made," Hochul said.
Hochul continued: "My administration remains laser-focused on saving lives and making New York the home of the transformative fields of the future. With this project, we will achieve both of these goals at the same time."
The massive facility will replace Hunter College's Brookdale Campus, transforming an entire city block. The project will double the amount of space dedicated towards life sciences in Kip Bay, encompassing more than 1.5 million square feet of academic facilities.
Funded in partnership with the City University of New York (CUNY), SPARC Kips Bay will help to generate nearly $25 billion over the next 30 years and create 10,000 jobs, 2,000 of which will be permanent.
The construction project will also rebuild an accessible pedestrian bridge on East 25th Street that connects to the East River and Manhattan Waterfront Greenway.
The types of jobs that will be made available through the new facility include doctors, nurses, biochemists, engineers, as well as business managers, lawyers, and administrative assistants.
In all, the so-called "Kips Bay Science District" will include 750 healthcare and life science businesses, five medical institutions, and 11 higher education institutions. The district will contain more than 44,000 health care and life sciences jobs and host more than 27,000 secondary students.
New York City's life science field is a growing industry, with the city currently employing more than 750,000 New Yorkers in related jobs. 150,000 new jobs were created in the industry last year, with the number expected to increase exponentially with the creation of SPARC Kips Bay.
The project's announcement is part of New York State's $620 million Life Science Initiative to expand the healthcare and life sciences fields.
Construction on SPARC Kips Bay is expected to begin in 2026 and is projected to be complete by the end of 2031.
RELATED:
NYC opens new lab that will process COVID-19 tests within 48 hours