New Yorkers 65+, teachers, first responders eligible to receive COVID vaccine as of this week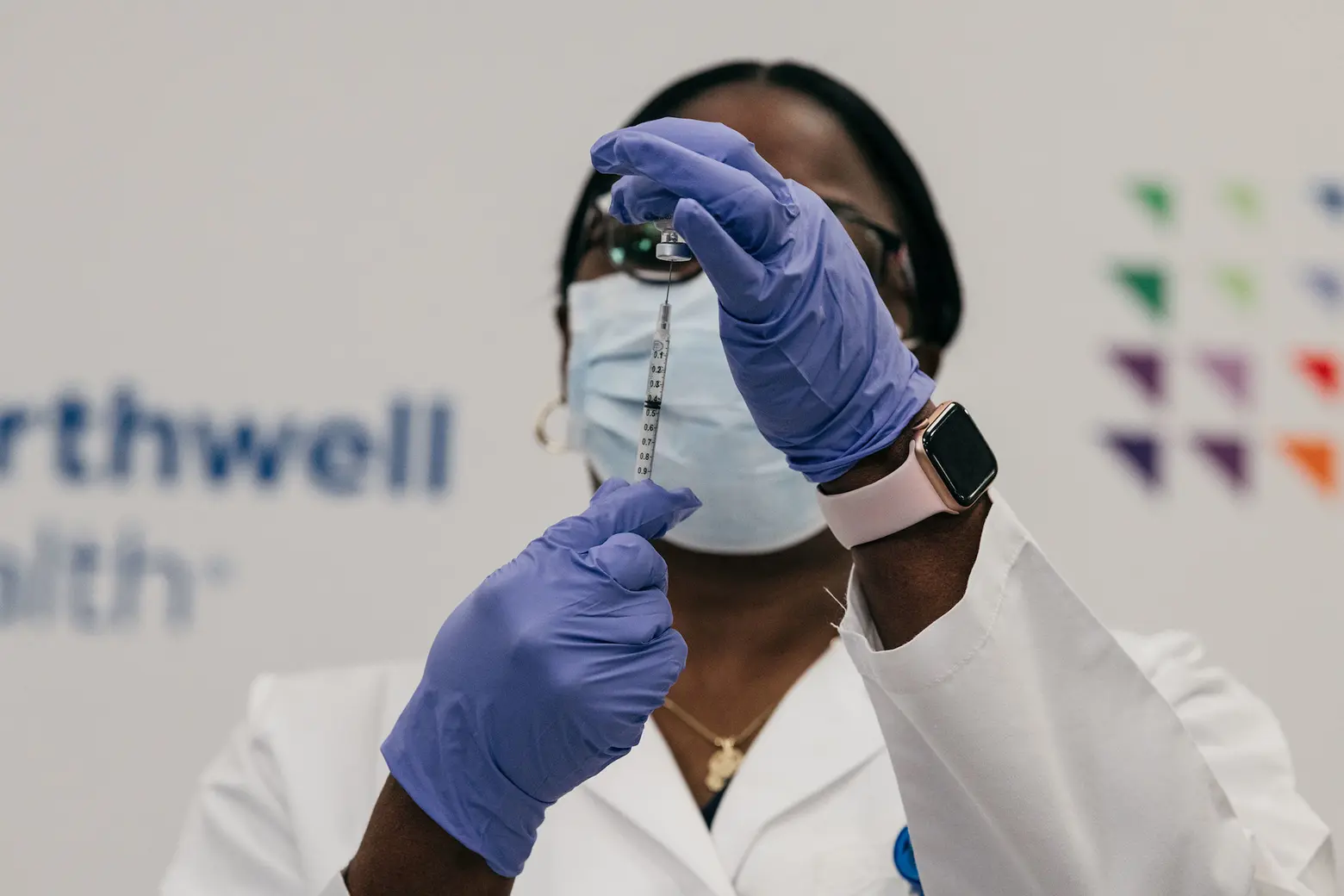 Dr. Michelle Chester of Northwell Health in Queens prepares to administer the first coronavirus vaccine in New York State; Photo: Scott Heins for the Office of Governor Andrew M. Cuomo on Flickr
After a very public disagreement between the governor and the mayor over vaccine eligibility, Governor Cuomo announced on Friday that he's expanding eligibility to the initial groups of phase 1B starting this week. Previously, only healthcare workers and nursing home residents and staff were eligible. The expansion initially allowed education workers, first responders, public safety workers, public transit workers, public-facing grocery store workers, and New Yorkers 75+ to receive the vaccine. But in a Tuesday press conference, the governor expanded this list further, allowing those 65+ and immunocompromised persons to be eligible. This now qualifies roughly 7 million New Yorkers, however, the state is only receiving about 300,000 doses per week.
"Over the past week, we have seen hospitals increase their vaccination rates and I thank them for their efforts, but it's still not enough, so we're going to accelerate the distribution," Governor Cuomo said on Friday, referring to a previous mandate he put out that hospitals stop letting doses sit unused. Stories have been popping up across the state of hospitals and providers throwing away unused vaccines or distributing them to those outside of the current phases so as not to trash them.
The governor's decision to expand eligibility to those 65+ was based on new guidance that's expected to come from the CDC today. But he expressed frustrations that the federal government did not lay out specifics as to who qualifies as immunocompromised and said he and his team will be working to clarify this. He also criticized the CDC's lack of prioritization. "If I'm 90 years old and I have cancer and heart disease, I'm in the same category as a person who is 65-plus."
Governor Cuomo has long criticized the Trump administration for withholding vaccines from the state. "At the end of the day, you only have 300,000 dosages for a population of 7 million on the other side… This compounds the request for patience because how do you say on one hand 7 million people are eligible and then on the other hand say we only have 300,000 dosages per week? But there will be a new federal government and the new federal government at the top of the list has to be increasing the priority of production of dosages," said the governor on Tuesday.
President-elect Biden has already committed to a wider distribution network and a goal of vaccinating at least 100 million Americans during his first 100 days in office. In the interim, the Trump administration is also expected to announce today that they'll begin releasing millions of doses of Pfizer and Moderna vaccines that were previously being held for second doses.
According to the CDC's vaccine tracker, only nine million vaccines have been administered nationally of a total of 25.5 million delivered doses. Closer to home, New York City, according to its own vaccine tracker, has delivered 239,324 of the total 669,175 doses it's received.
A more specific breakdown of those currently eligible for the vaccine is as follows:
Individuals age 65 and older
Immunocromposed individuals (more details to come)
First responders and support staff of first responder agencies

Fire service
State fire service, including firefighters and investigators (professional and volunteer)
Local fire service, including firefighters and investigators (professional and volunteer)
Police and investigators
State police, including troopers
State park police, DEC police, forest rangers
SUNY police
Sheriffs' offices
County police departments and police districts
City, town, and village police departments
Transit of other public authority police departments
State field investigators, including Department of Motor Vehicles, State Commission of Correction, Justice Center, Department of Financial Service, Inspector General, Department of Tax and Finance, Office of Children and Family Services, and State Liquor Authority
Public safety communications
Emergency Communication and Public Safety Answering Point Personnel, including dispatchers and technicians
Other sworn and civilian personnel
Court officers
Other police or peace officers
Support of civilian staff of any of the above services, agencies or facilities
Corrections
State Department of Corrections and Community Supervision Personnel, including correction and parole officers
Local correctional facilities, including correction officers
Local probation departments, including probation officers
State and local juvenile detention and rehabilitation facilities
P-12 schools
P-12 school or school district faculty or staff (includes all teachers, substitute teachers, student teachers, school administrators, paraprofessional staff, and support staff including bus drivers)
Contractors working in a P-12 school or school district (including contracted bus drivers)
In-Person college instructors
Employees or support staff of licensed, registered, approved or legally exempt childcare setting
Licensed, registered, approved or legally exempt childcare providers
Public-facing grocery store workers
Public transit
Airline and airport employees
Passenger railroad employees
Subway and mass transit employees (i.e., MTA, LIRR, Metro North, NYC Transit, Upstate transit)
Ferry employees
Port Authority employees
Public bus employee
Homeless shelters
Individuals living in a homeless shelter where sleeping, bathing or eating accommodations must be shared with individuals and families who are not part of your the same household
Individuals working (paid or unpaid) in a homeless shelter where sleeping, bathing or eating accommodations must be shared by individuals and families who are not part of the same household, in a position where there is potential for interaction with shelter residents
The first group of New Yorkers who began receiving vaccines on December 14 included nursing home residents and staff and patient-facing healthcare workers. Last Monday, the state expanded the 1A list to include all doctors, nurses, and healthcare staff who come in contact with the public, including testing site workers, contact tracers, dentists, and NYPD medical staff. Phase 1A is a total of 2.1 million New Yorkers.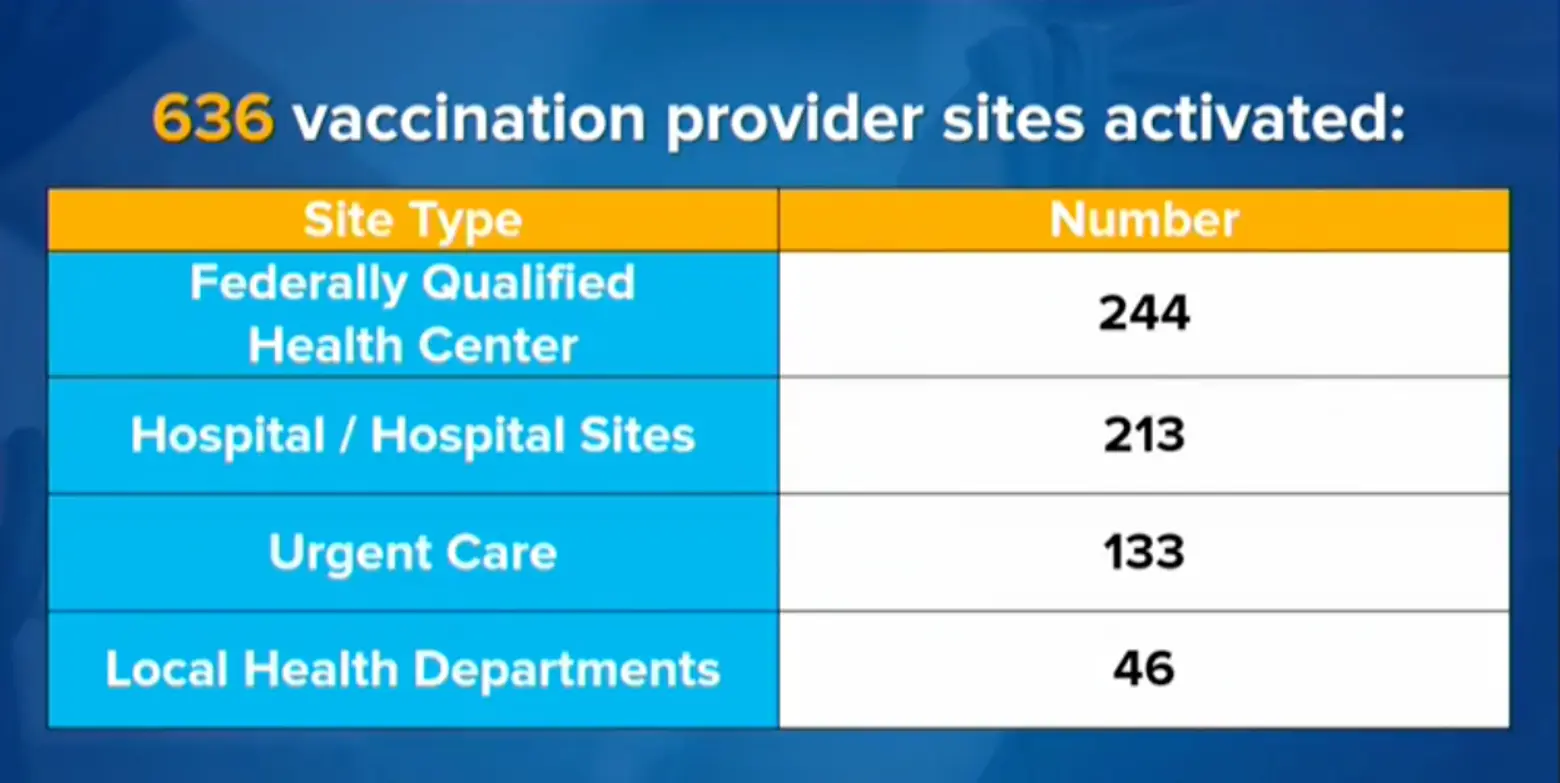 Phases 1B and 1A will now operate simultaneously. To accommodate the increase, the state will allow vaccines to be distributed through private doctors' offices and urgent care clinics, federally-qualified health centers, county health departments, ambulatory centers, and pharmacies. This will amount to a total of 3,762 vaccination sites, 636 of which have already been activated. Additionally, the Department of Health is setting up 20 mass distribution sites, which includes three drive-in vaccine sites at the SUNY and CUNY campuses, as well as at the Javits Center, which previously served as an emergency field hospital in the spring. The Javits site will open on Wednesday, January 13.
The city has also begun increasing its distribution capacity. Two 24/7 vaccination sites opened over the weekend at the Brooklyn Army Terminal in Sunset Park and the Bathgate Industrial Park in Morrisania in the Bronx. This week, more round-the-clock hubs are opening in Lower Manhattan, on Staten Island, in East Harlem, and in Corona, Queens. Today, Mayor de Blasio announced that another 24/7 site will open at Citi Field in Flushing, Queens later this month with the capacity to vaccinate between 5,000 and 7,000 people each day. The city will open more than a dozen additional vaccine hubs across the city beginning Friday, January 15th. These hubs will be open from 9:00 AM – 7:00 PM, seven days a week; they will all require an appointment, which can be made online. You can see the full list of NYC's vaccine hubs here.
To further increase distribution, the state expanded who is able to administer the vaccine to include licensed practical nurses, pharmacists, pharmacy technicians, midwives, dentists, certain dental hygienists, podiatrists, emergency medical technicians, and certain eligible students.
On Monday, a centralized state website went live online for those in phases 1A and 1B to make vaccine appointments. But the governor warned that New Yorkers should expect to wait for their vaccine. At the rate the state is currently receiving vaccines, it would take roughly six months to vaccinate everyone currently eligible.
Editor's Note: This story was updated on Tuesday, January 12 with new information about those 65+ being eligible to receive the vaccine. Previously, the state only included those 75+.
RELATED: