New York City has administered just 25% of COVID vaccine allocation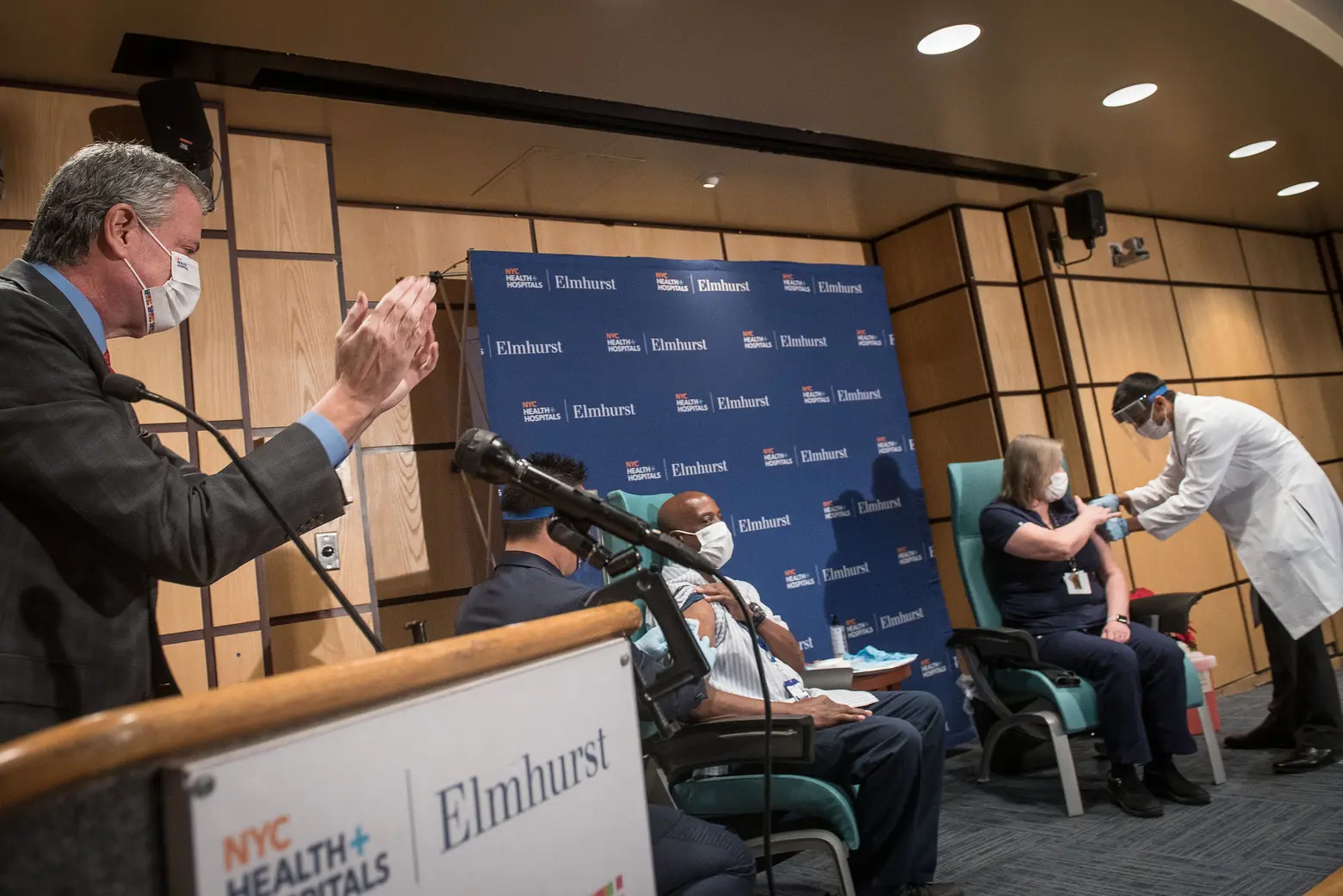 Mayor de Blasio attends first vaccinations at NYC Health + Hospitals/Elmhurst in Queens last month. Photo by Michael Appleton/Mayoral Photography Office
The latest city-state discrepancy comes in the form of vaccine distribution. Last week, Mayor de Blasio announced his goal of administering one million COVID-19 vaccine doses by the end of January. However, in a press conference today, Governor Cuomo turned attention to New York City, as their 11 publicly run hospitals have administered just 31 percent of their vaccine allocation. And on a whole, the city has administered a mere 25 percent of those doses received, according to its own vaccine tracker.
As of 12:00am this morning, just 111,241 New York City residents have received the first dose of the vaccine. That's 21 days since the vaccine rolled out in New York City on December 14. As the New York Times explained, that is only about one percent of the entire city. Dr. Ronald Scott Braithwaite, a professor at N.Y.U. Grossman School of Medicine and an adviser to the city, told the Times that 10 to 20 percent of the city would need to be vaccinated for cases to begin dropping.
Part of the reason for the delay is that fewer vaccines have been distributed on weekends and on Christmas and New Year's Day. But the mayor is also pointing the finger at the state. "We are doing everything we can to vaccinate as many New Yorkers as possible, but to really pick up the pace, we need our federal and state partners on board—and fast. It will be tough, but I believe that we can do it," de Blasio said last week.
The most notable item on this request-list is for the state to open the eligibility criteria up further. "We need the state guidance in terms of the categories of people, and the more that expands, the faster we can go," said the mayor. Today, NYC Health Commissioner Dr. David Chokshi called upon the state to allow the city to begin vaccinating residents 75 years and older.
So far, the vaccine has been distributed to nursing home residents and staff and patient-facing healthcare workers. As of today, the state expanded that list to include all doctors, nurses, and healthcare staff who come in contact with the public.
In his press conference this morning, Mayor de Blasio laid out that the following groups are newly eligible as of today:
Testing site workers
Contact tracers
Outpatient and ambulatory care providers
Dentists
Physical therapists
Workers at specialized clinics
NYPD medical staff
As of January 11, home care workers, hospice workers, and more nursing home staff will also be eligible.
In addition, the mayor announced new measures to increase vaccine capacity, including two new vaccine pop-up centers for healthcare workers that will be set up by the Department of Health, five new NYC Health + Hospitals vaccination sites, and three new NYC Vaccine Hubs this weekend. The hubs will be operational as of this Sunday, January 10th. They'll be located at the Bushwick Educational Campus in Brooklyn, Hillcrest High School in Queens, and the South Bronx Educational Campus. The mayor said that more schools will be transformed into vaccination hubs for the community in the coming weeks and months.
Dr. Chokshi said the city's goal is to have 250 vaccination sites by the end of the month. Currently, there are 125 sites, with 160 anticipated this weekend. NYC Councilmember Mark Levine has also drafted legislation that would require at least one COVID vaccination site in each zip code to be open 24/7.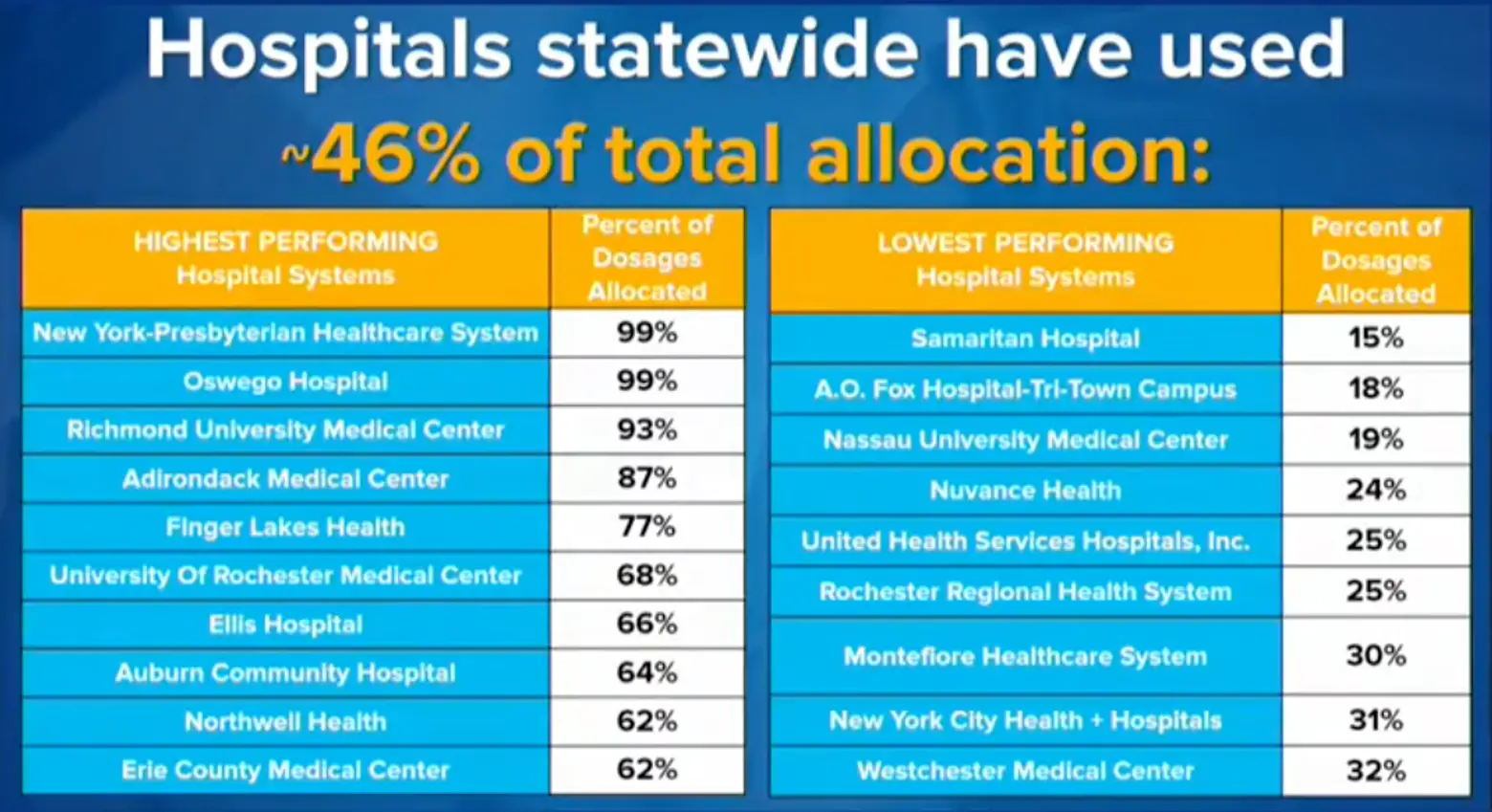 But the mayor's expressed frustrations do not necessarily account for why the city has so many vaccines sitting unused. To date, the city as a whole has received 443,000 doses but has only administered about 25 percent of that. This includes private hospitals as well as public, though the city is only responsible for the operation of the latter.
As evidenced in the state's chart above, which shows the top 10 best- and worst-performing hospitals, it's not only New York City Health + Hospitals that have used a troublesome percentage of their vaccine allotment. Statewide, hospitals have distributed just 46 percent. To ensure that hospitals expedite the process and provide as many vaccines as possible, the State Department of Health is implementing strict new regulations that are as follows:
Any provider must use vaccine inventory this week or receive up to a $100,000 fine.
Going forward, facilities must use all vaccines within 7 days of receipt.
Provider can be disqualified from future distribution.
Providers seriously deficient can be subject to more serious sanctions.
To further expedite public distribution, the state will establish drive-through vaccination sites, use public facilities, and recruit additional retired personnel, nurses, doctors, and pharmacists. The governor did not provide any additional details on these efforts.
As of today, New York state's overall positivity rate is 8.34 percent. In New York City, the positivity rate varies greatly by borough: 7.31 percent in the Bronx, 7.15 percent on Staten Island, 6.99 percent in Queens, 5.90 percent in Brooklyn, and 3.52 percent in Manhattan. There are currently 8,251 New Yorkers hospitalized from the coronavirus, the most since May 7.
RELATED: