New York releases preliminary plan for distributing COVID vaccine to the general public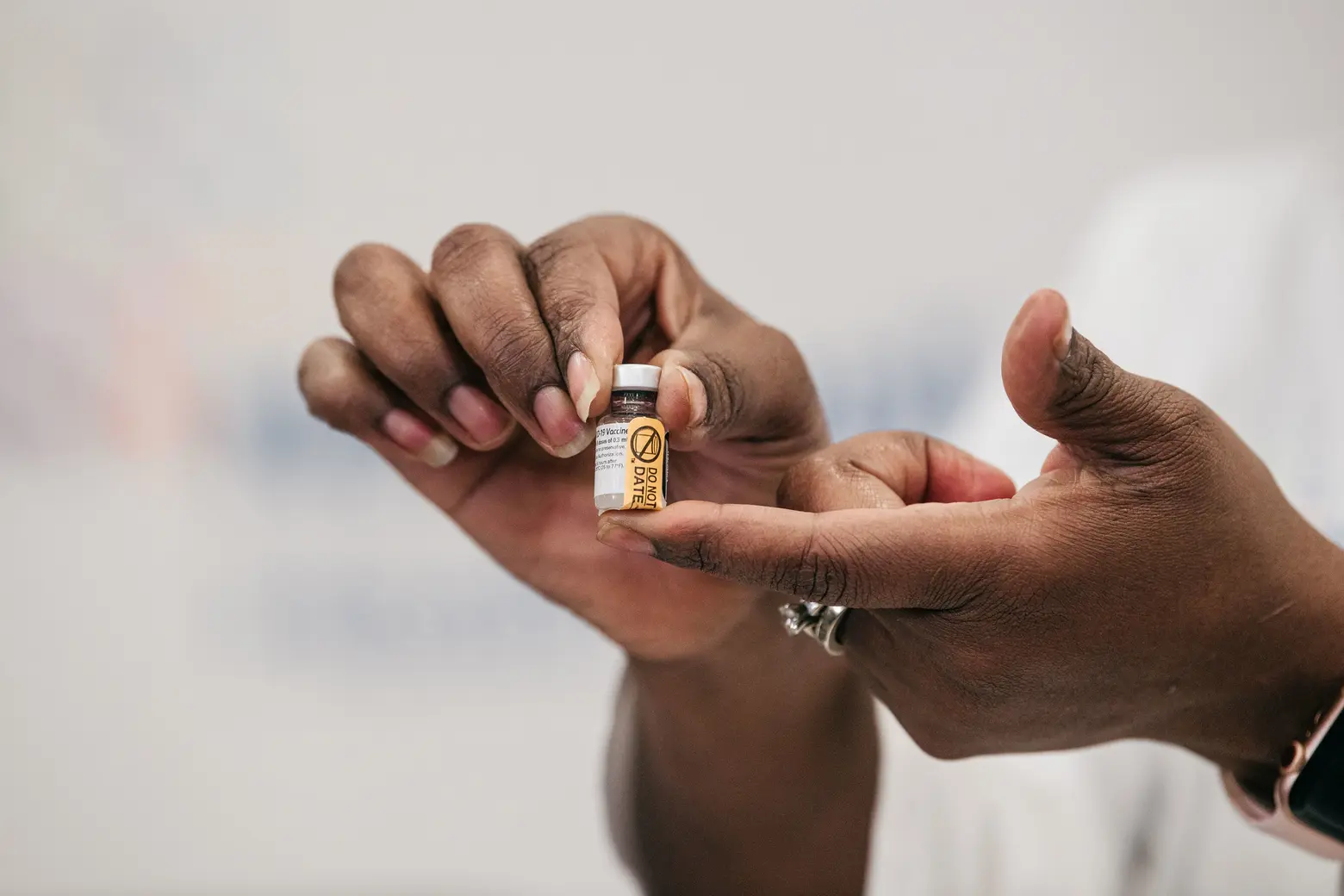 Photo of a Pfizer vaccine vial by Scott Heins/Office of Governor Andrew M. Cuomo
Photo of a Pfizer vaccine vial by Scott Heins/Office of Governor Andrew M. Cuomo
On Monday, the first COVID vaccine in the nation was administered to Sandra Lindsay, an ICU nurse at Long Island Jewish Medical Center in Queens. New York's initial allotment of Pfizer vaccines includes 170,000 doses earmarked for those included in the first phase of distribution. Once these groups have received vaccinations, the state moves to phase two, which includes essential workers and priority general public (those with underlying health conditions, etc.). In a press conference today, Governor Cuomo said he expects phase two to begin in late January if the vaccine supply continues. He also outlined more details about this phase, including the establishment of Regional Vaccination Hubs and the launch of a new vaccine-focused website.
The first phase of vaccine distribution includes high-risk hospital workers (emergency room workers, ICU staff, and Pulmonary Department staff), nursing home residents, nursing home staff, followed by all long-term and congregate care residents and staff, EMS workers, other health care workers, coroners, and medical examiners.
As of today, New York has received 87,750 doses that are being given to healthcare workers. The state expects to receive roughly 80,000 additional doses in the next few days which will be used to start the vaccination program for nursing home residents and staff. Pending approval of the Moderna vaccine, which is expected within days, New York could receive another 346,000 doses next week. Once the state receives the vaccines, they distribute them proportionately among regions.
The vaccines will be free to any resident of New York. Today, the state Department of Financial Services is directing health insurers to immediately cover and COVID vaccination administration costs in full.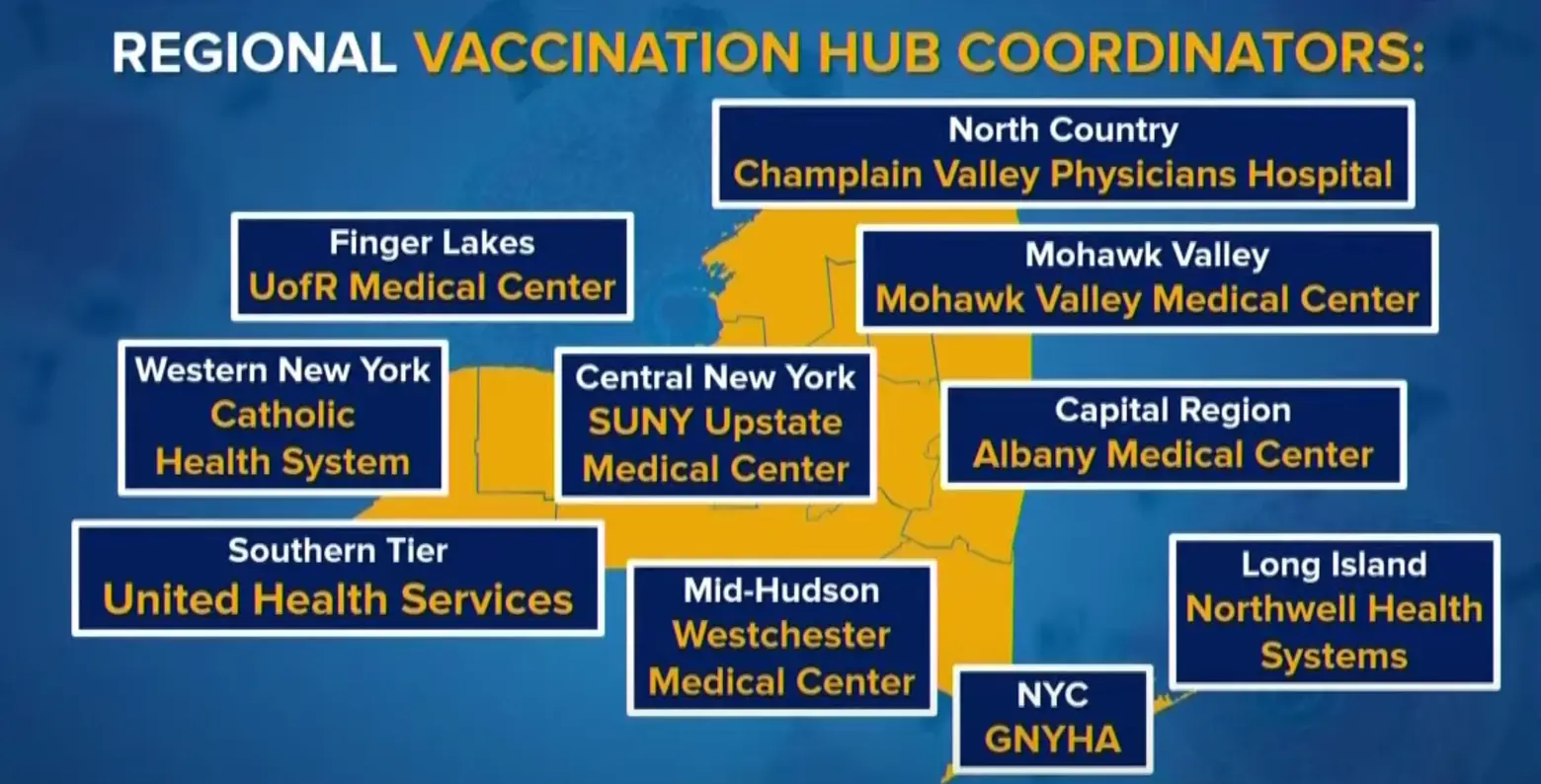 A slide from Governor Cuomo's 12/16/20 press presentation
In preparation for phase two, Regional Vaccination Hubs, led by local hospital systems, will develop a plan with community leaders for a regional vaccination network pursuant to state guidelines. "It's a medical procedure, it will be handled by medical professionals, there will be no political favoritism," said the governor. As outlined in the graphic above, there will be one Hub for each of the state's 10 regions. In New York City, the Greater New York Hospital Association will administer the vaccination.
The Hubs' core goals for their regional implementation plans are as follows:
Work with local stakeholders, such as governments, health organizations, etc.
Connect directly to communities and build trust in the vaccination program
Tailor the plans to the needs of their specific region
Establish efficient and expedited delivery and administration
Create a fair and equitable strategy that focuses on communities with lower vaccination rates/poorer health outcomes
The plans will be submitted to the state the first week of January. The New York State Department of Health will review and approve all the plans and will then provide the necessary operational and logistical direction and support.
And now that the vaccination program is underway, the state has also set up a new website that the governor described as a "one-stop-shop for vaccine information, safety, distribution, FAQs."
There are still many months ahead, though, until a critical mass of people has received the vaccine. Yesterday, both Governor Cuomo and NYC Mayor Bill de Blasio warned that another full shutdown could occur in January if COVID hospitalizations continue to rise. The governor has been warning for several weeks now that the numbers are heading in a dangerous direction. His administration has already directed all New York hospitals to increase their bed capacity by 25 percent and ensure that they have a 90-day stockpile of PPE, in addition to other measures. There has been a good deal of criticism of this post-holiday shutdown, with many wondering why it's not being implemented before Christmas. The state reported last week that 74 percent of New York's COVID spread is coming from at-home gatherings.
As of today, the overall statewide positive rate is 6.21 percent. Without the micro-clusters, it's 5.86 percent. In only the microclusters, it's 7.11 percent. There are 6,097 New Yorkers hospitalized (up 115 since yesterday), 1,098 of whom are in the ICU and 611 of whom are intubated.
In New York City, the positivity rate is 4.14 percent. The percentage breakdown by borough is as follows: Staten Island (5.3), Queens (4.77), Bronx (4.46), Brooklyn (4.2), Manhattan (2.77).
RELATED: