24/7 mass vaccination site will open at Citi Field this month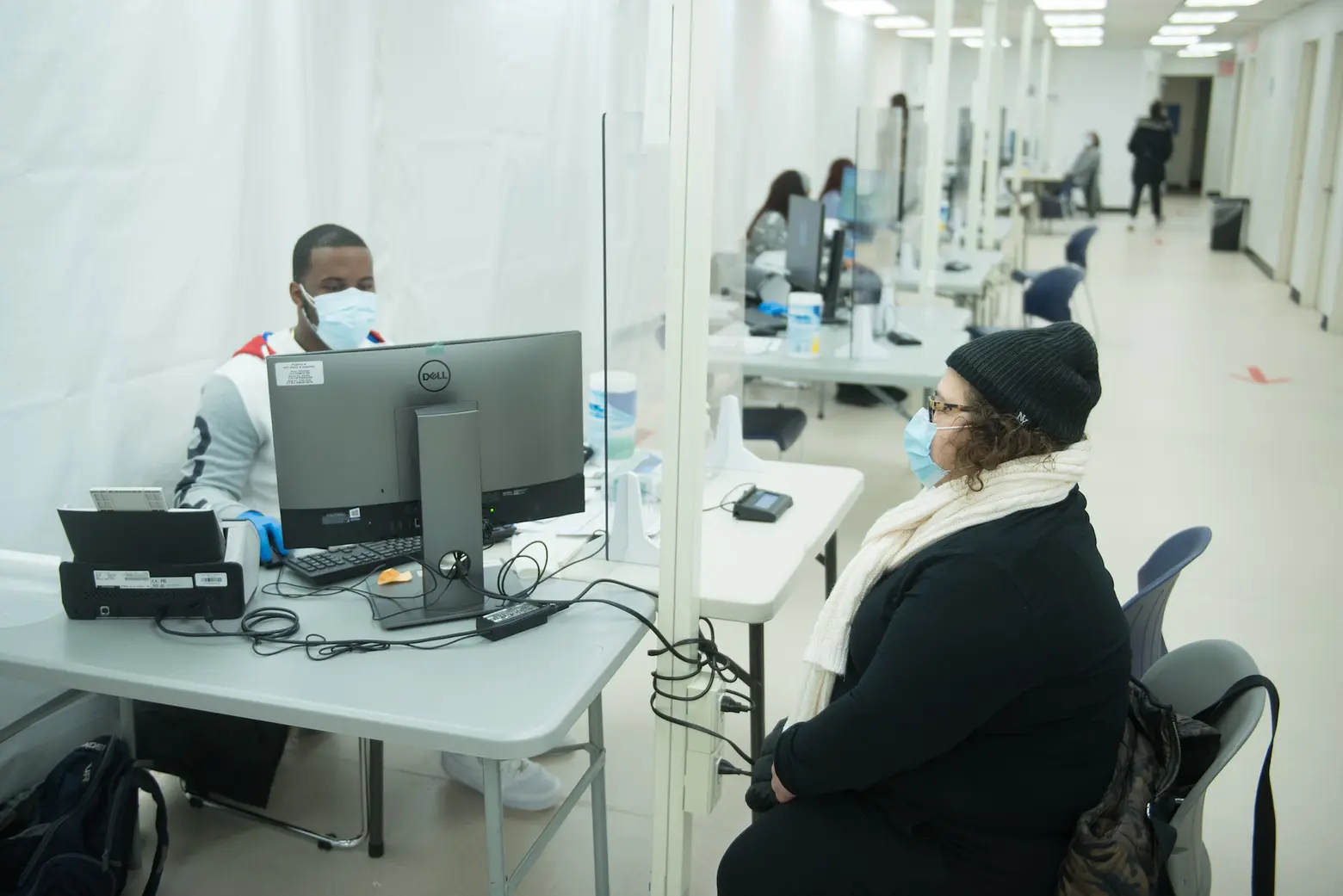 A mass vaccination site at NYC Health + Hospitals/ Bathgate in the Bronx; Photo: Michael Appleton/Mayoral Photography Office on Flickr
Mayor Bill de Blasio on Tuesday announced some "Amazin'" news. A 24/7 coronavirus vaccination site will launch at Citi Field in Flushing, Queens later this month with the capacity to vaccinate between 5,000 and 7,000 people each day. "The Mets organization has stepped up to the plate to help us out," de Blasio said during a press briefing. "I really appreciate the fact that the Mets wanted to do this. They wanted to be part of solving this problem, helping the Queens community, and helping all of New York City." Launching the week of January 25, the vaccine hub will be run by NYC Health + Hospitals and open to New Yorkers eligible under the first phase of distribution, "even Yankees fans," the mayor said.
Mets owner Steve Cohen virtually joined the mayor during a press briefing about the new vaccination site at Citi Field and touted the central location of the ballpark. "We can be reached by subways, by train, by highway. We're at the intersection of Queens," Cohen said. "The goal is just to get the vaccine in people's arms so we can get this crisis over with and get back to living a normal life."
While there is plenty of parking on-site, the subway remains closed between 1 a.m. and 5 a.m. for nightly cleaning, making the convenient 7 train not an option for anyone with an overnight appointment.
Other 24/7 mass vaccination sites are opening in New York City this week. After two round-the-clock hubs opened at the Brooklyn Army Terminal in Sunset Park and at Bathgate Contract Postal Station in the Bronx over the weekend, the mayor said new sites will open at 125 Worth Street in Lower Manhattan on Tuesday, the Health + Hospitals Vanderbilt Clinic on Staten Island on Wednesday, La Marqueta in East Harlem on Friday, and at the Queens Corona Clinic on Saturday. A location is also expected to open at Staten Island's Empire Outlets next week, with more sites to be announced in the coming weeks.
Vaccines are currently only available to those eligible under the state's first phase of priority distribution, which was expanded last week to include more essential workers and New Yorkers aged 75 and older who qualify under phase 1b. Appointments are required and can be made through an online reservation system or by calling 877-VAX-4NYC.
Additional appointment-only vaccine hubs that run from 9 a.m. to 7 p.m. opened Sunday with locations at the Bushwick Educational Campus in Brooklyn, the Hillcrest High School in Queens, and the South Bronx Educational Campus in the Bronx. As of Monday, SOMOS Community Care will operate three vaccine hubs for those in phase 1B, and the FDNY will operate two hubs. New York State will operate a vaccine site at the Javits Center starting Wednesday.
The city said 12 more vaccine hubs set to open Friday, January 15. They are the following:
Abraham Lincoln High School (Brooklyn)
Canarsie High School (Brooklyn)
George Westinghouse Vocational High School (Brooklyn)
Marta-Valle Secondary School (Manhattan)
Wadleigh Campus (Manhattan)
August Martin High School (Queens)
Beach Channel Educational Campus (Queens)
Aviation High School (Queens)
Port Richmond High School (Staten Island)
Staten Island Technical High School (Staten Island)
Walton Educational School (Bronx)
Adlai E. Stevenson High School (Bronx)
The city also launched a new website that helps those eligible find a vaccine location near them and make an appointment. Find it here.
The city aims to open 250 vaccination sites by the end of the month. Currently, there are 160 hubs open at hospitals, clinics, urgent care centers, pharmacies, and private providers. As of 12 a.m. Monday, 194, 501 New Yorkers have received at least the first dose, with 18,295 residents who have received both doses, according to the city's vaccine tracker.
After a slow start to the vaccine roll-out, de Blasio on Monday said the city administered 101,799 doses last week and set a goal of 175,000 doses this week. The mayor remains confident the city will hit its goal of 1 million doses by the end of January.
After calls from de Blasio and other officials to expand the first phase of vaccine distribution, Cuomo on Friday opened eligibility to include phase 1B starting Monday. Teachers and education workers, first responders, public safety workers, public transit workers, public-facing grocery store workers, and New Yorkers who are 75 years old and older can now receive the vaccine.
As 6sqft reported, the group includes 3.2 million New Yorkers, 1.4 million of which are in the 75-plus group. In the last month, adults aged 75 years and older have accounted for just six percent of all new cases, but 30 percent of all hospitalizations and 58 percent of all deaths,  NYC Health Commissioner, Dr. Dave Chokshi said during a press briefing last week.
The state has also launched a website that will determine if you are eligible to be vaccinated during the current phase. If you are, you'll be directed to a list of providers that you can call to make an appointment.
"After ten long months, the expansion of eligibility for additional New Yorkers to begin making their COVID-19 vaccination plan is a light at the end of the tunnel," Cuomo said in a statement. "The vaccine is the weapon that will end the war, and as we continue to prioritize healthcare workers as hospital capacity necessitates, New York is proud to have reached this milestone and we strongly encourage all who are newly eligible to schedule their free vaccination appointment as soon as possible."
RELATED: 
Editor's note: A version of this post was originally published on January 6, 2021, and has since been updated.