New underwater habitat with 20 million juvenile oysters deployed at NYC's Gansevoort Peninsula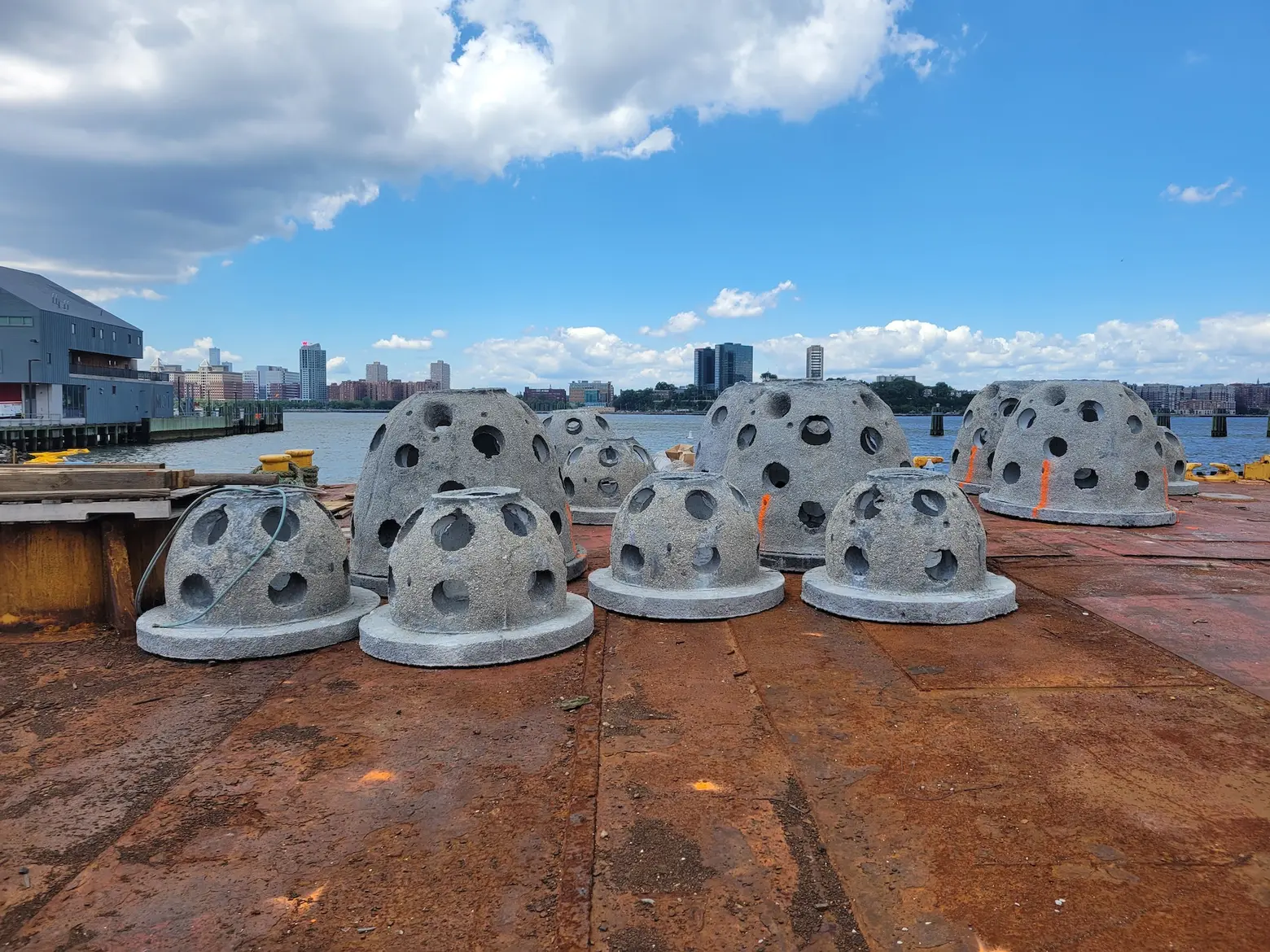 Photos courtesy of Max Guliani for Hudson River Park
A new man-made underwater habitat with 20 million juvenile oysters was installed along the northern shore of Gansevoort Peninsula in the Hudson River this week. As part of a major project to restore and protect Hudson River Park's 400-acre Estuarine Sanctuary, the reef-like system includes hundreds of submerged "reef balls" and "gabions" seeded with baby oysters. Ultimately, the project aims to create an oyster reef complex, improve habitats for organisms found in the river, and help mitigate the effect of storm surges.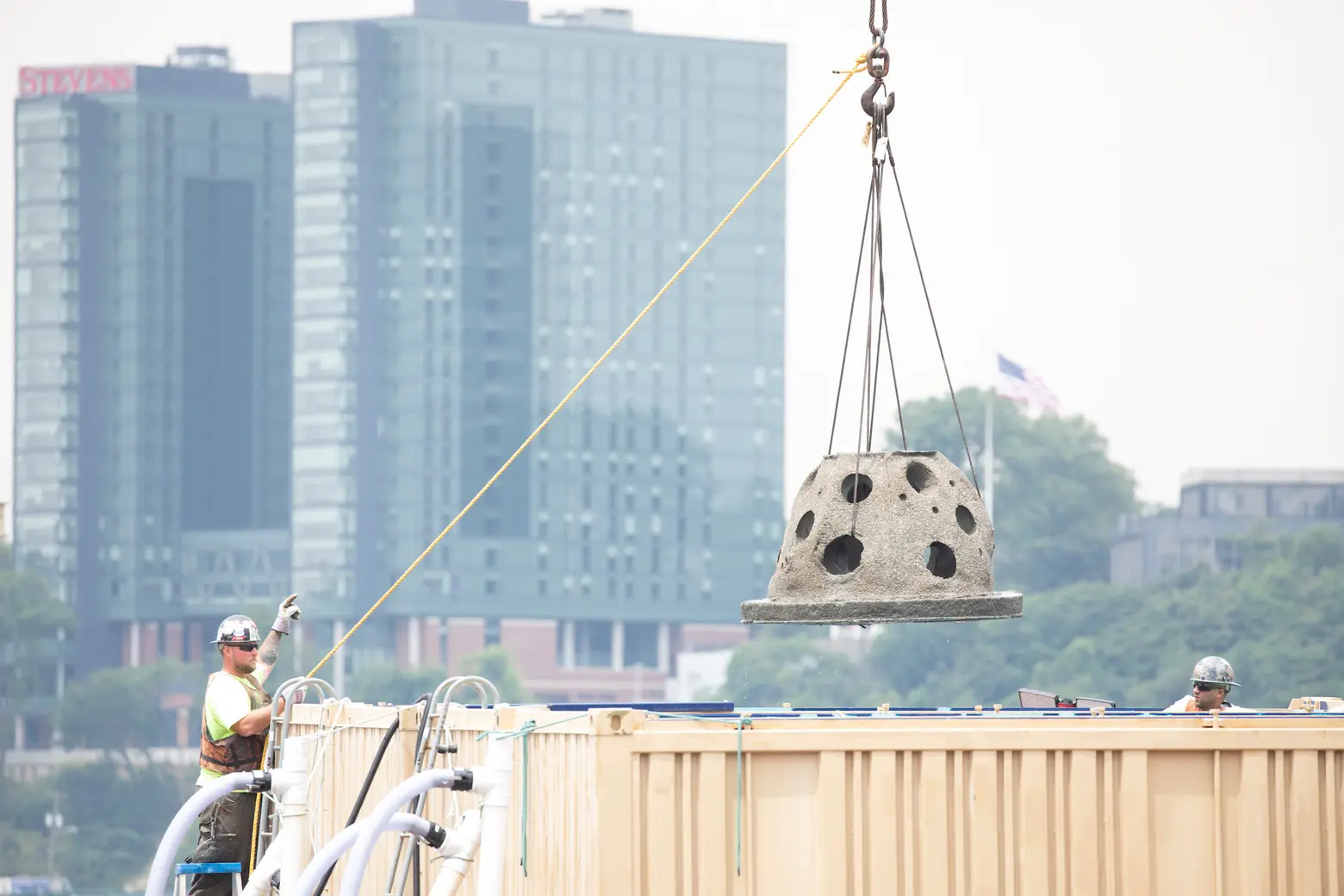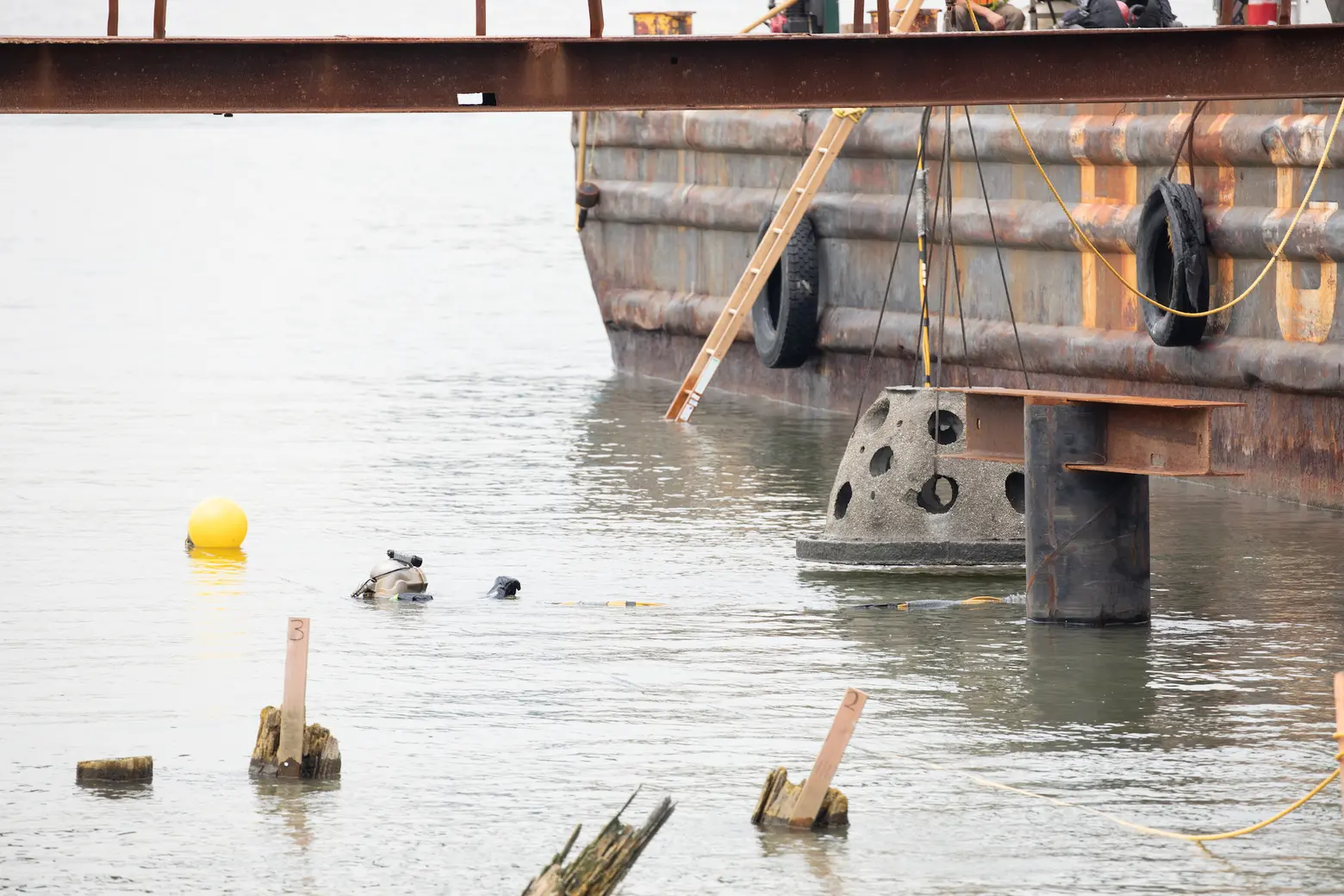 The installation includes hard, submerged structures where "encrusting organisms" can settle and local fish can hide out. The Billion Oyster Project created and seeded the structures, which were then installed by Trevcon Construction. This latest habitat enhancement project follows the deployment of 11.2 million juvenile oysters between Pier 26 and Pier 34 last December.
"This new underwater habitat at the Gansevoort Peninsula advances the Trust's mission of protecting and supporting the Park's Estuarine Sanctuary by creating new homes for the variety of marine life that resides in or passes through Park waters, and it will also help us create a more resilient Park," Noreen Doyle, president and CEO of the Hudson River Park Trust, said.
"Restoring the local oyster population provides important benefits for humans, wildlife and the environment and we are proud to be a local leader in these efforts."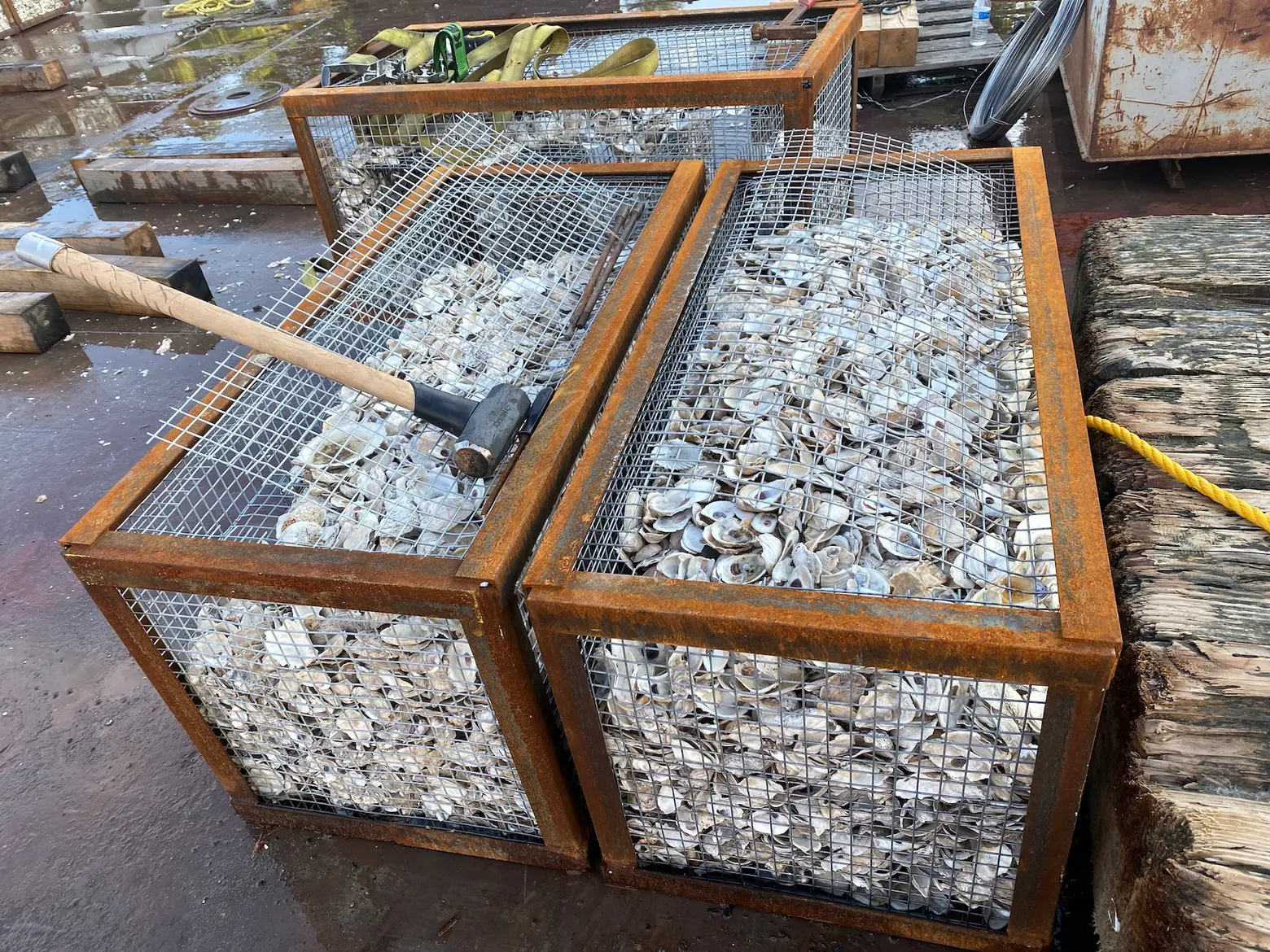 The habitat restoration project is a component of the new public 5.5-acre park being built on the Gansevoort Peninsula in the Meatpacking District on the site of a former sanitation department parking lot. The park will include Manhattan's first "beach," kayak and small boat access, a lawn, a seating area north of the waterfront, a sports field, a dog run, lounge chairs, and a salt marsh with native grass and plantings.
In 2019, the Hudson River Park Trust tapped James Corner Field Operations, the team behind the High Line and Domino Park, to design the new park. Construction began on the park last year; the space is expected to open next spring.
The oysters will create a healthy habitat for fish and other species, while the structures protect the Gansevoort Peninsula's northern shoreline by "reducing wave energy and storm surge impacts," which will protect the adjacent salt marsh expected to be installed in the coming months, according to a press release.
According to Sanjukta Sen, a senior associate at James Corner Field Operations, the design team was challenged to create a park that is not only beautiful but also helps meet habitat goals.
"Our design team analyzed the site and determined that the north edge provided an ideal location due to its relatively sheltered location," Sen said. "We developed a design that incorporates a combination of reef balls and oyster gabions deployed in a carefully engineered reef system along the north edge of the peninsula. We're proud that our design will provide valuable habitat opportunities within the Hudson River Estuarine Sanctuary."
RELATED: 
Photos courtesy of Max Guliani for Hudson River Park