$70M plan to build Manhattan's first public beach moves forward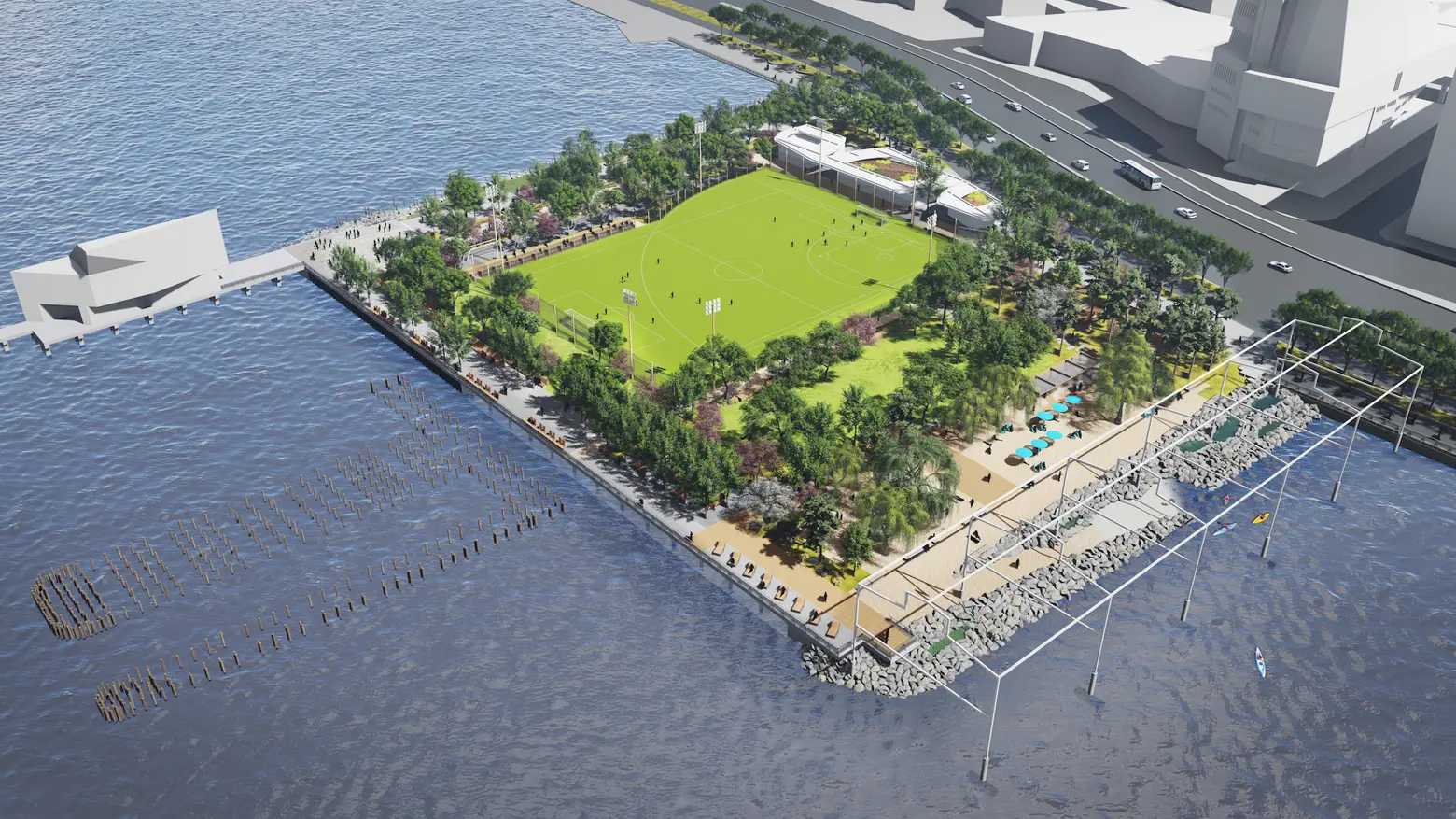 Credit: James Corner Field Operations, courtesy of the Hudson River Park Trust
What at first appeared a lofty dream is now closer to reality. The Hudson River Park Trust on Thursday announced three requests for proposals for the construction of Manhattan's first public beach. The project includes a 5.5-acre public park on the Gansevoort Peninsula in the Meatpacking District that would be home to a resilient "beach" with kayak access, a sports field, scenic lounge spots, and a large public art installation.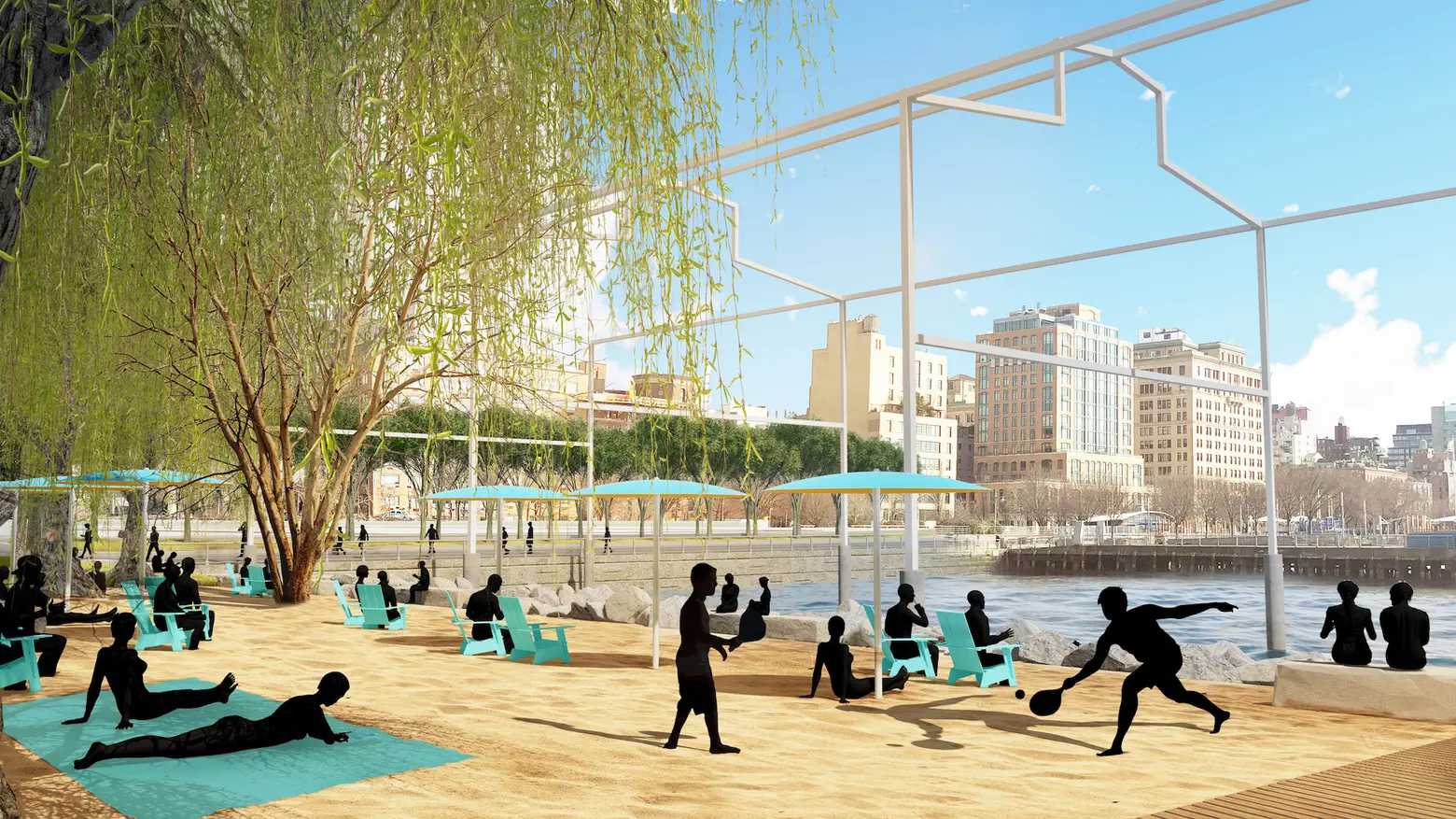 The site, located on the western end of Little West 12th Street and what remains of 13th Avenue, formerly served as a parking lot for the city's Department of Sanitation. In 2019, the Hudson River Park Trust tapped James Corner Field Operations, the team behind the High Line and Domino Park, to design the new park.
The park at Gansevoort Peninsula will include a sandy beach area with kayak and small boat access, a lawn, a seating area north of the waterfront, a sports field, a dog run, lounge chairs, and a salt marsh with native grass and plantings.
On the southern end of the park, the Whitney Museum of American Art is currently constructing David Hammons' Day's End art installation. With its open, skeletal structure, the publicly accessible artwork is an ode to an earlier work created by Gordon Matta-Clark on Pier 52. Gansevoort Peninsula will be the largest single green space in the four-mile-long Hudson River Park, according to the Trust.
"Gansevoort Peninsula will be a spectacular public space for all New Yorkers, whether they're enjoying Manhattan's first public beach, playing on the ballfields, or looking out in the salt marsh," Madelyn Wils, president of the Hudson River Park Trust, said. "As Hudson River Park moves closer to completion, we are excited to be in position to start construction on one of our signature projects this coming spring."
The $70 million project is being funded by the city and restricted funds to the Trust. Construction was initially expected to begin last year, but like most development projects, the coronavirus pushed the start date to later this spring with a completion date of 2023.
Hudson River Park's Pier 26 opened last September and includes 2.5 acres of indigenous plants, recreation fields, and an impressive man-made rocky tidal marsh, and a cantilevered walkway. Forthcoming projects included Little Island at Pier 55, which has a spring opening date, Pier 57 with Google as the anchor tenant, Pier 97, and the reconfiguration of Chelsea Waterside Park.
"We are thrilled that the Trust is continuing to build on the success of the recently opened and very popular Pier 26 with the redevelopment of Gansevoort Peninsula," Deputy Mayor Vicki Been said. "The creative and unique design will add to New York City's diverse and ever-growing selection of world class parks and community spaces. The City is proud to invest in expanding open spaces for New Yorkers and moving the Hudson River Park one step closer to completion."
RELATED: