Tribeca's eco-friendly Pier 26 opens with innovative man-made tidal marsh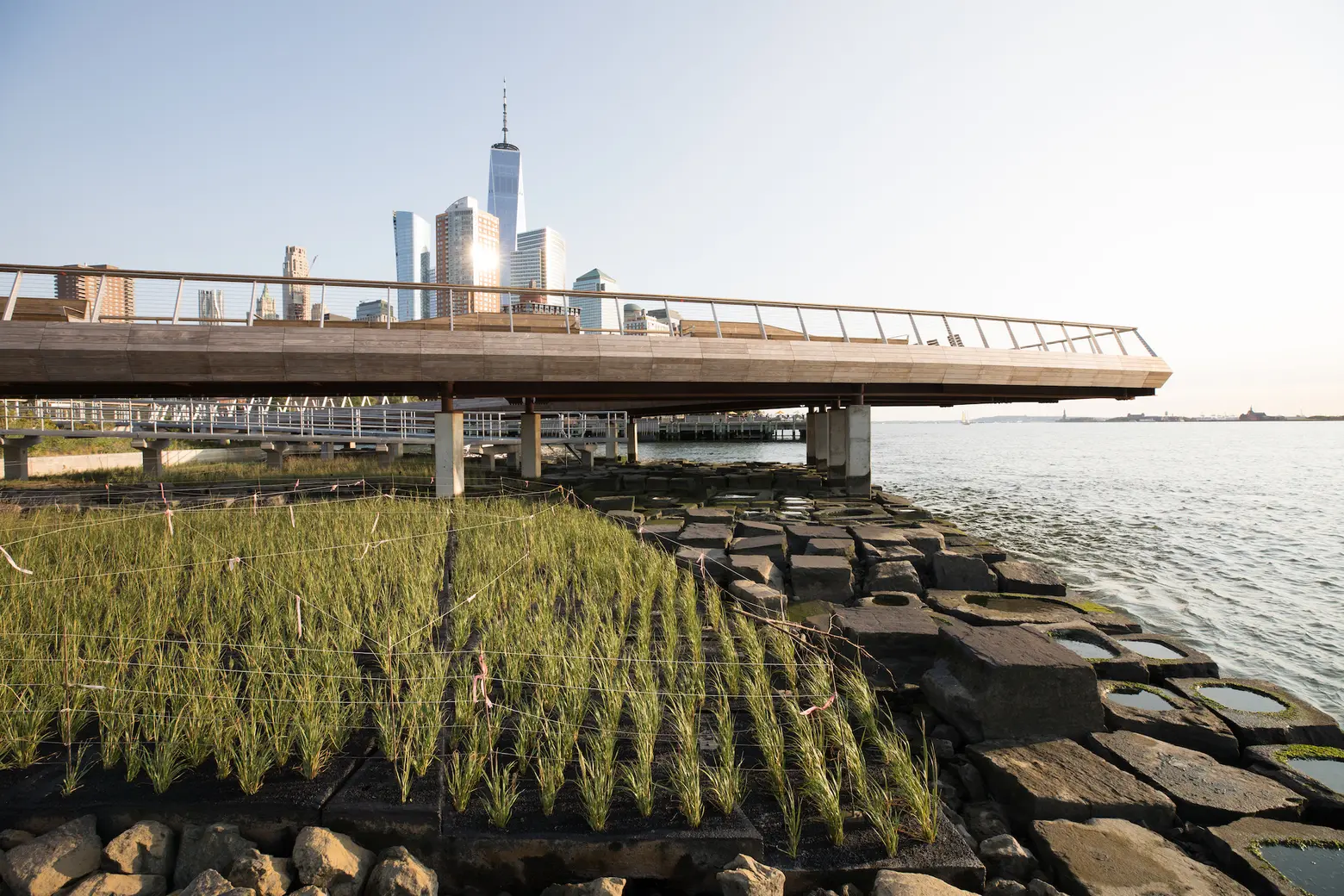 Photos by Max Guliani for Hudson River Park
A new eco-friendly public pier opened in Tribeca on Wednesday, the first to open at the four-mile-long Hudson River Park in 10 years. Designed by landscape architecture firm OLIN, Pier 26 spans 2.5 acres, features indigenous plants and trees, and boasts multi-use recreation fields. But the most unique element of the new $37.7 million pier is a man-made rocky tidal marsh and the cantilevered walkway that hangs above it, providing an ecological experience and incredible water and Statue of Liberty views at the same time.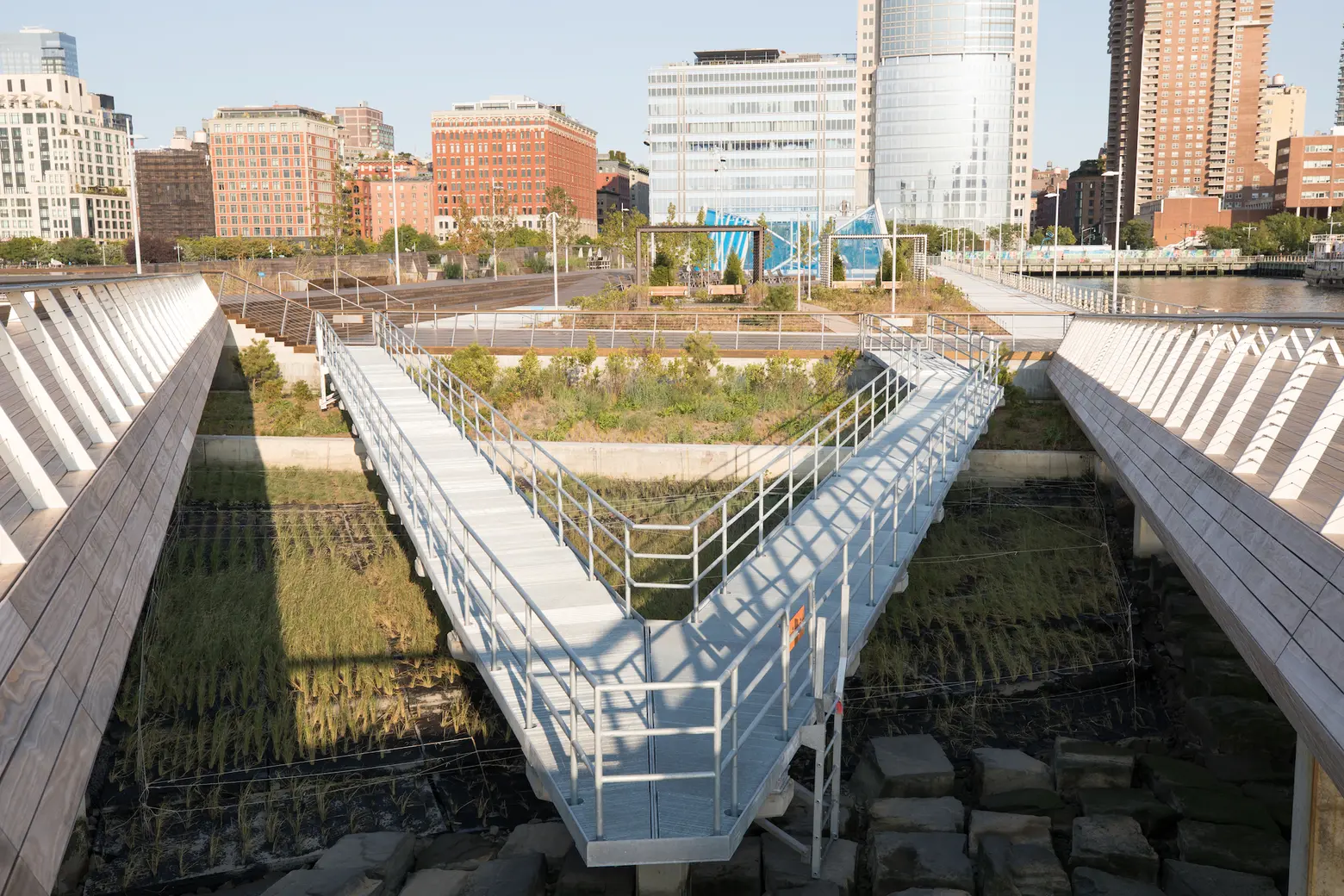 Pier 26 sits within the Hudson River Estuary, a body of water that contains a hybrid of freshwater and ocean saltwater. The goal of OLIN and the Hudson River Park Trust was to create a public pier that acts not only as an educational resource but also features passive and active recreational spaces.
The new pier includes a 15,000-square-foot wetland called the Tide Deck, an engineered representation of a marsh, on its western end that sits on a platform above 36 steel piles. The deck has been planted with native shrubs, trees, and grasses to "mimic the wetlands that once existed along the Hudson River," according to the Trust.
As the New York Times reported, the design team selected 1,300 boulders from upstate New York that aimed to break waves and wakes. They carved into them in order to make tidal pools for marine creatures. An elevated walkway above the Tide Deck provides stunning views and will be accessible for guided tours and educational programs.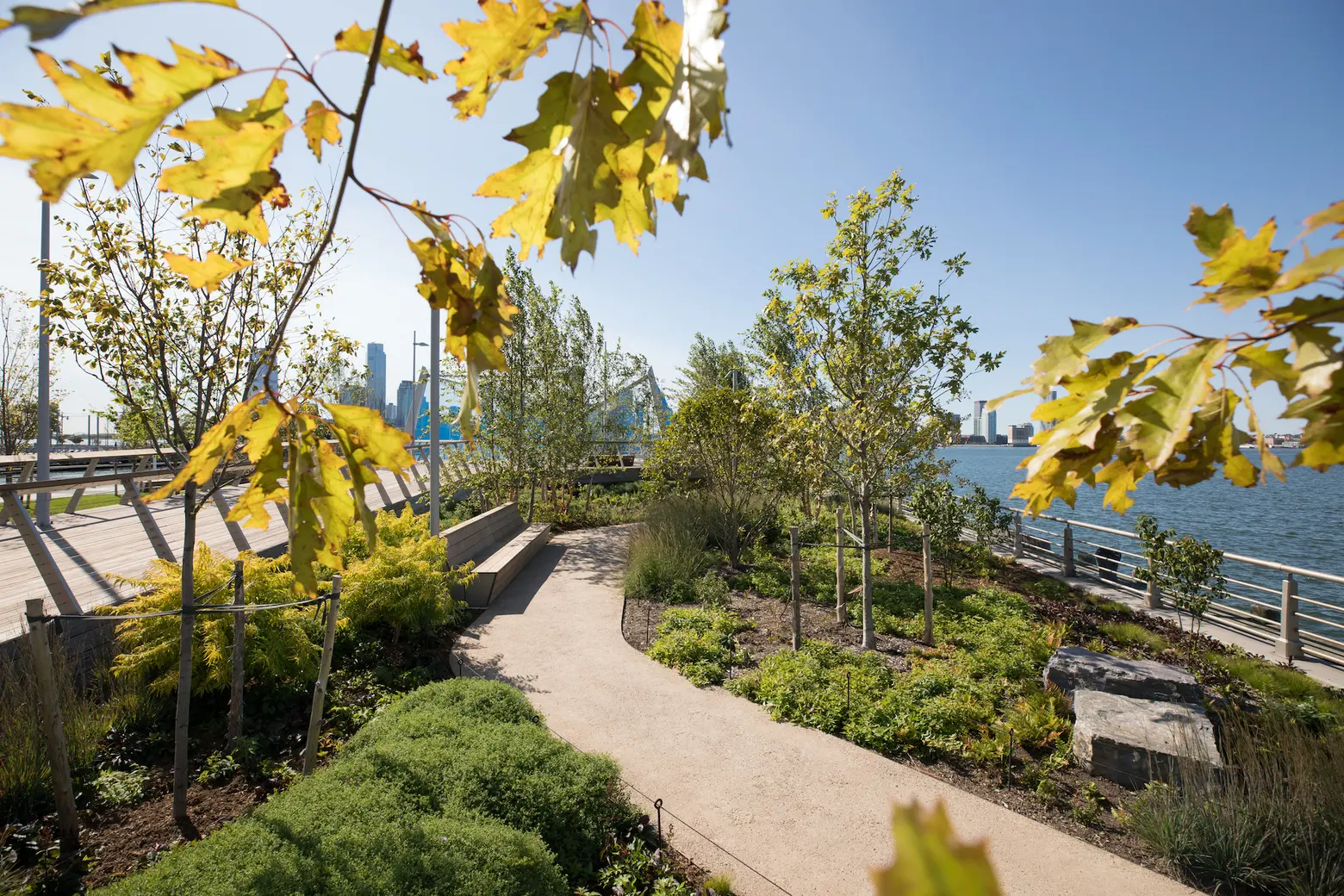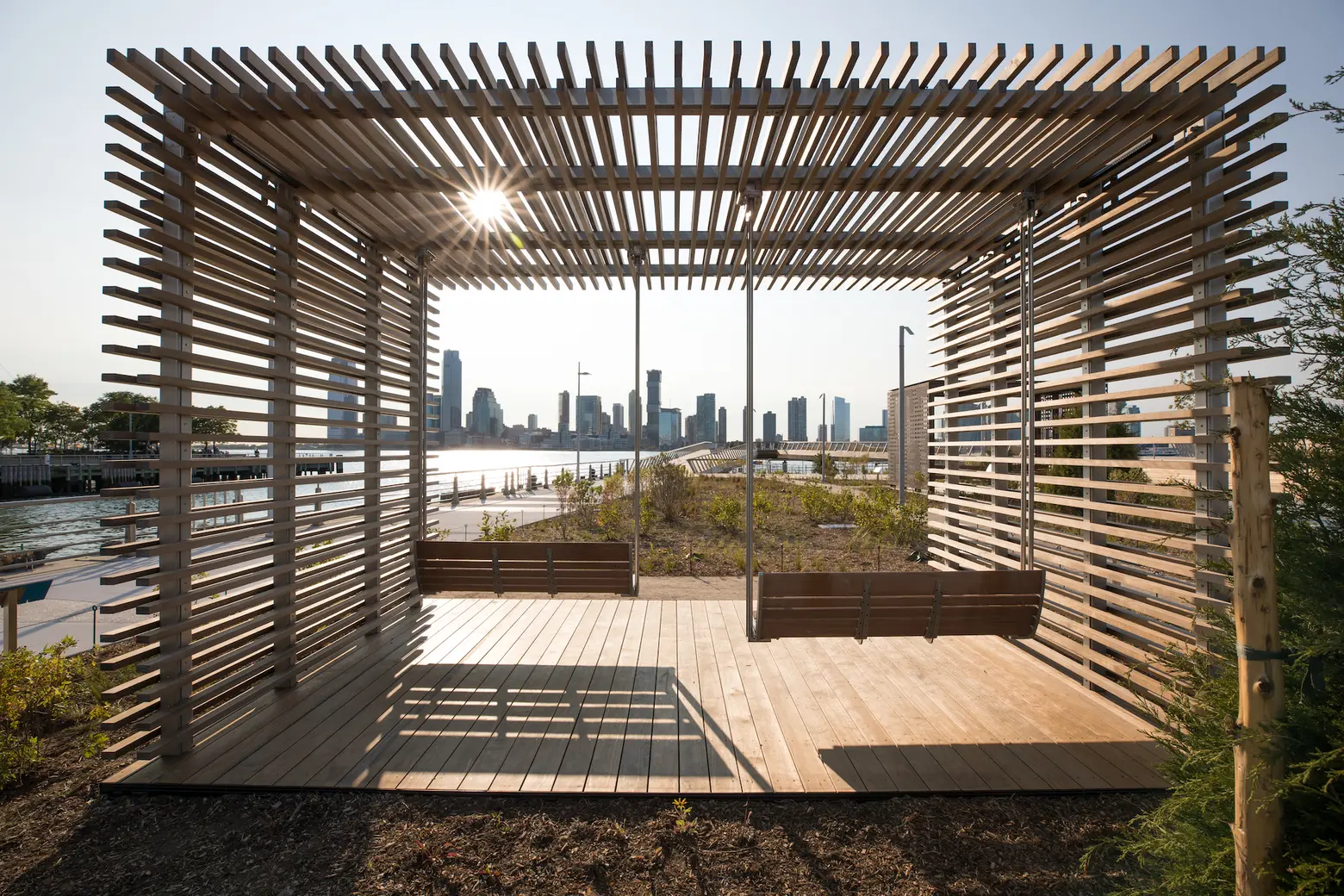 "By designing a pier that brings New Yorkers closer to the city's natural wildlife and habitat, we hope to offer critical hands-on learning opportunities for students, places to play, and plenty of quiet spots for people to take in the nature around them," Madelyn Wils, president and CEO of Hudson River Park Trust, said.
"And while Pier 26, like the rest of Hudson River Park, was originally conceived as a way to help New York City recover from 9/11, we hope this new pier will play a vital role as we once again look ahead to recovery."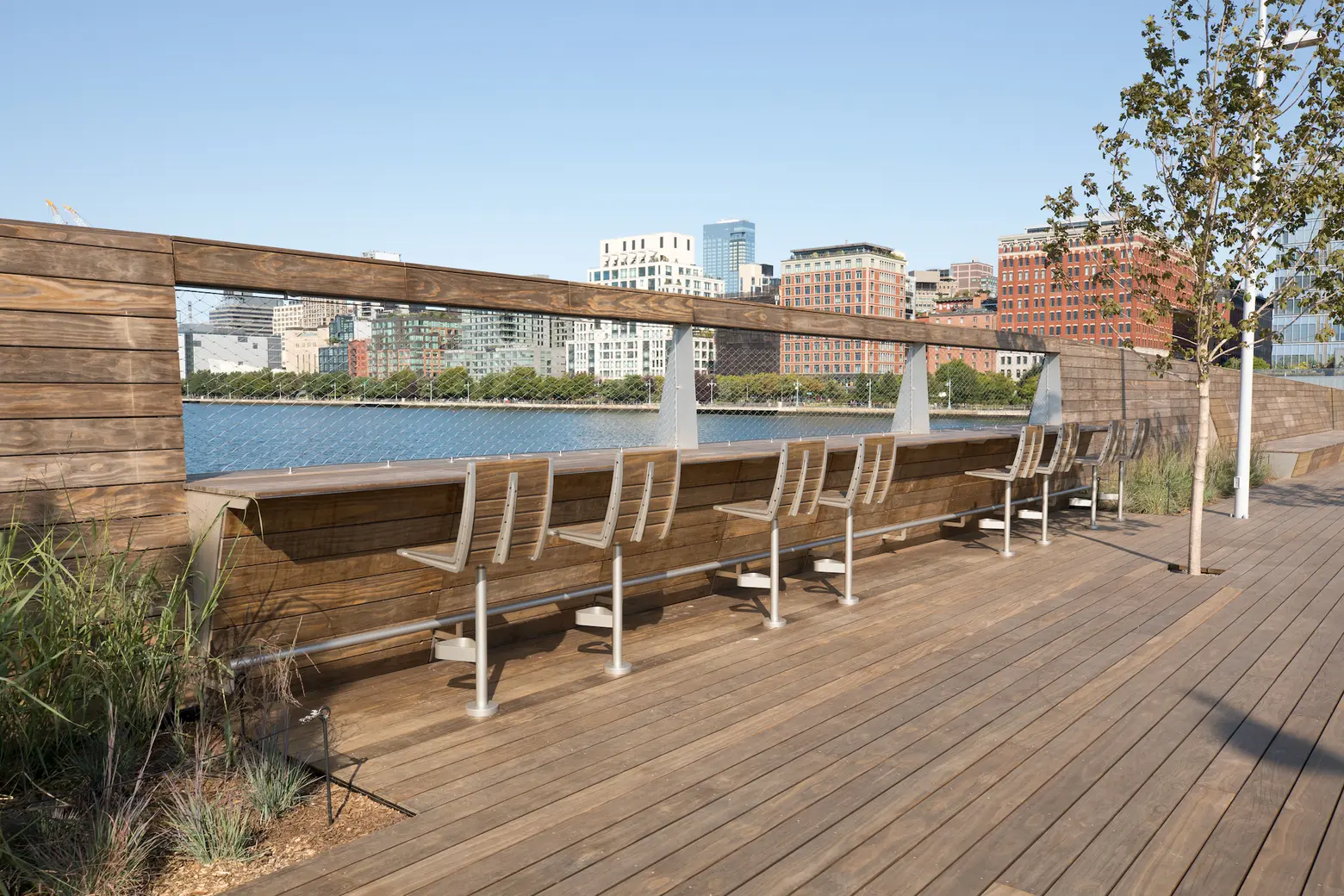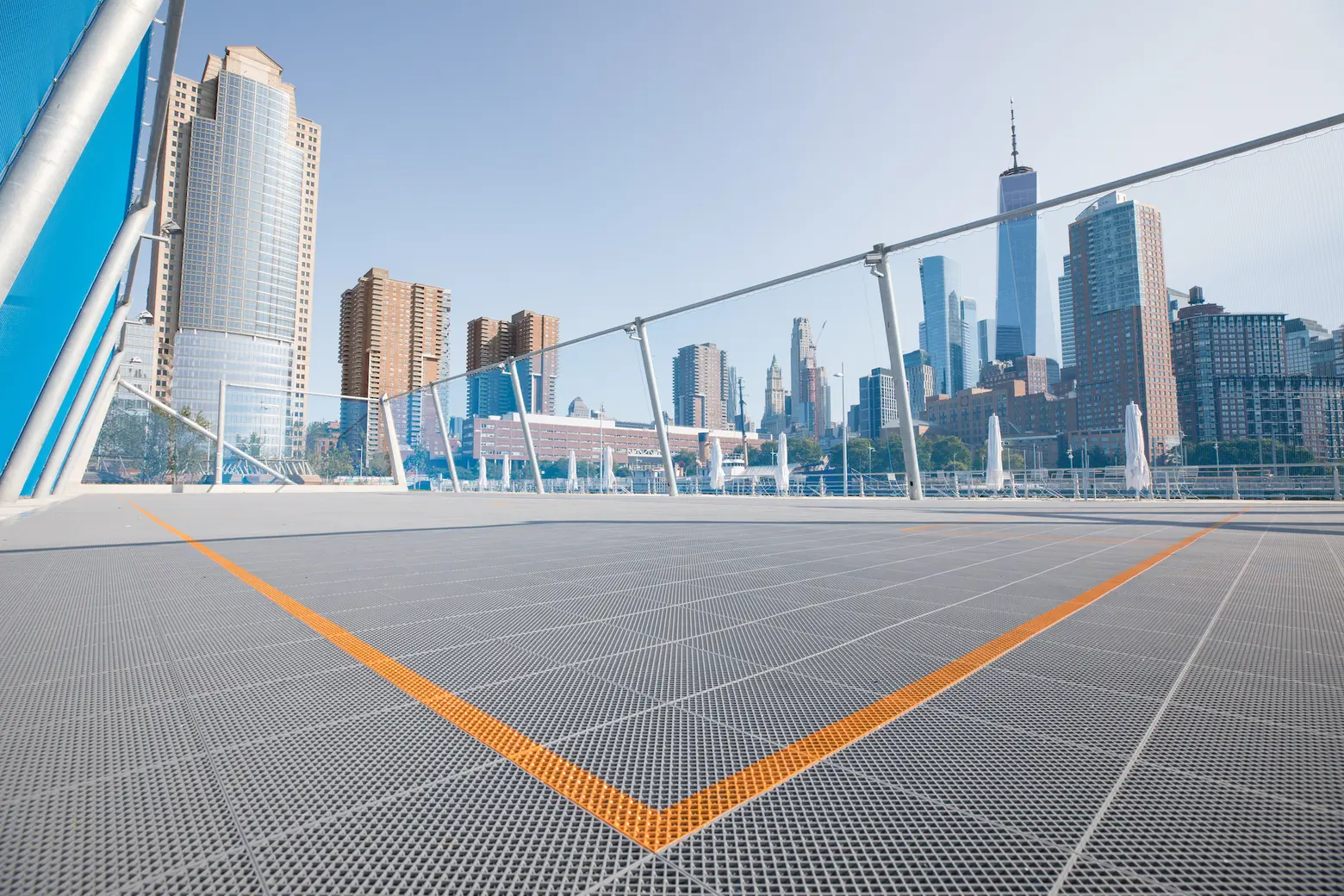 Other features of Pier 26 include a walk leading visitors through five ecological zones (woodland forest, coastal grassland, maritime scrub, rocky tidal zone, and the Hudson River), a lawn, a sports area, and plenty of seating areas. City Vineyard restaurant and Downtown Boathouse, which provides free kayaking, already called the pier home.
As part of the project's next phase, the Trust will open a science-themed playground designed by OLIN. And a $30 million research and education center with live fish from the Hudson River is still in the fundraising stage.
"Pier 26 is another step in the remarkable evolution of Hudson River Park into a premier open space for all New Yorkers and visitors to enjoy," Deputy Mayor for Housing and Economic Development Vicki Been said. "The pandemic demonstrates the importance of access to outdoor space, and the completion of this beautiful new space expands that access."
The $37.7 million Pier 26 was funded Citi, the Lower Manhattan Development Corporation (LMDC), and the city. New York State's Environmental Protection Fund provided funding for the Tide Deck. Other projects in the works at Hudson River Park include Little Island, Google's Pier 57, Gansevoort Peninsula, Pier 97, and the reconfiguration of Chelsea Waterside Park.
RELATED: 
Photos by Max Guliani for Hudson River Park