New East Village Target store now open in Extell's EVGB rental building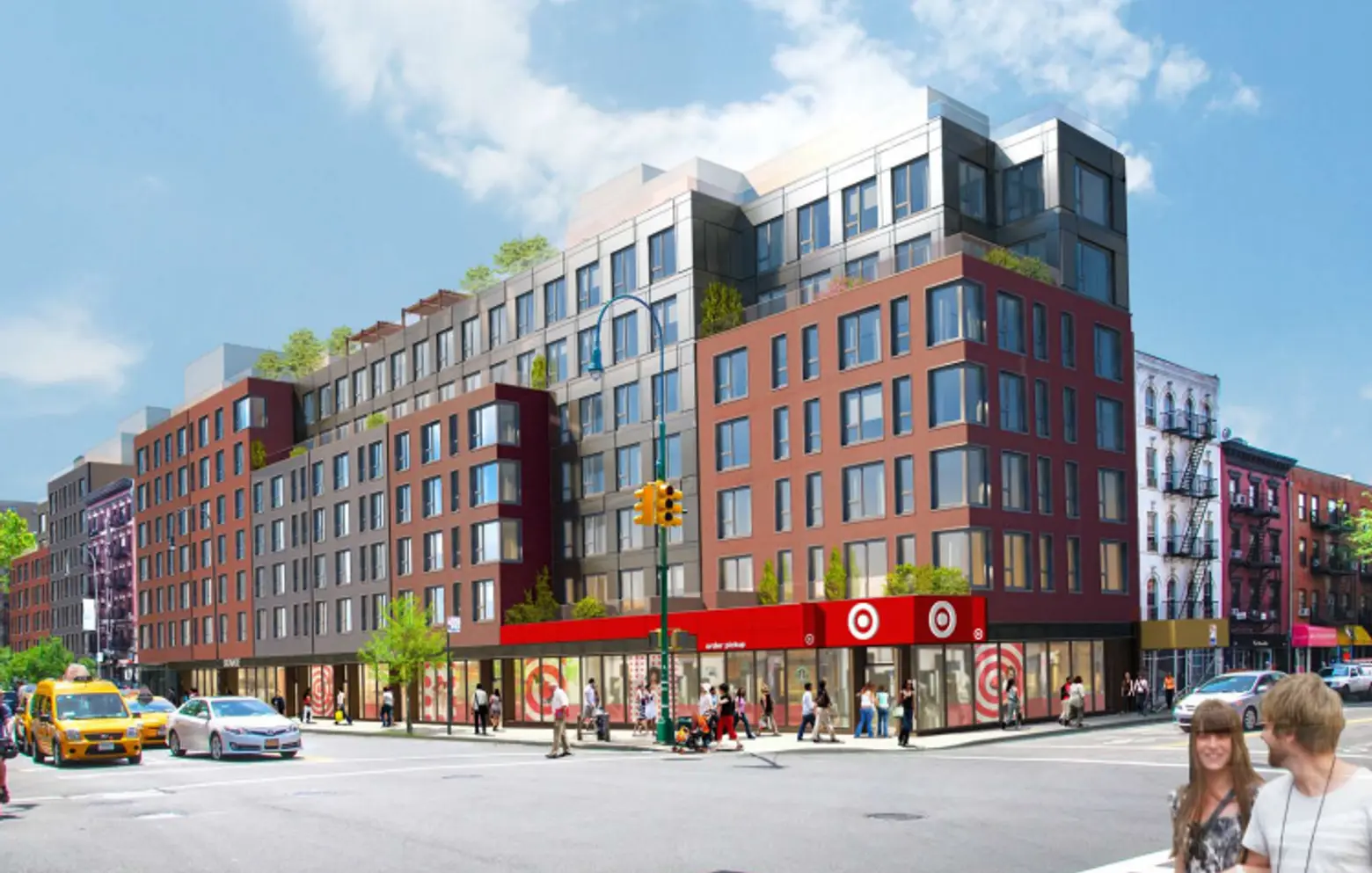 It might seem like it's been there forever, but the new East Village Target store at 14th Street and Avenue A opened its doors this week ahead of a scheduled grand opening Saturday, July 21. The small-format chain icon occupies the corner spot in the EVGB ("East Village's Greatest Building") rental building that opened at 510 East 14th Street this year and is now stocked and ready to supply residents (the building is 50 percent leased according to a press release from developer Extell) and the rest of the 'hood with everything from cosmetics and cleaning supplies to apples and Amy's Bowls to the cheap-but-funky home goods the store is famous for. Also beer.
It's clearly long past the time anyone in the neighborhood would grumble about the arrival of a chain store; it's been 20 years since Kmart–old timers now wax nostalgic about the store with the amazing views down Broadway–arrived in Astor Place and nobody could live without the Bowery Whole Foods. The store adds well-priced grocery options for the immediate neighborhood–and residents of the new apartment building. The only grumbling we've heard so far is about the beer selection, which is apparently a bit lacking (h/t EV Grieve), though we're sure no one is worried about access to beer in the immediate area.
The new addition will be open 'til Midnight every day except Sundays (11PM), which fits perfectly with the neighborhood's night owl culture. Though the store is already open, a grand opening ceremony on Saturday, July 21st will bestow a free Target tote bag on the first 1,000 shoppers. The new store is part of the brand's plan to open small-format stores in urban areas, dense suburban neighborhoods and near colleges with 130 similar locations planned throughout the U.S. by the end of 2019.
RELATED: