MTA sued over L train shutdown plan to transform 14th Street into an all-bus corridor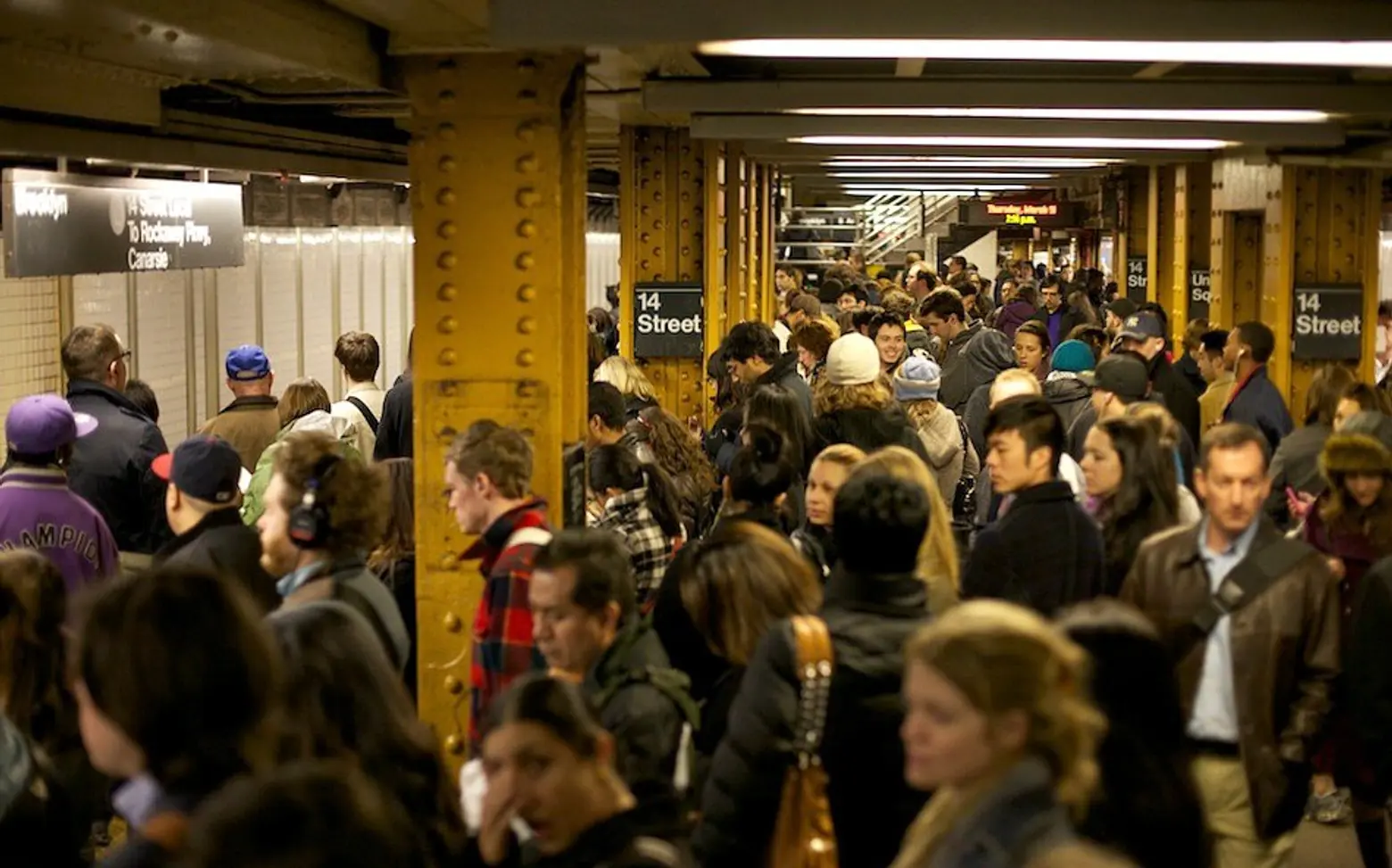 The Metropolitan Transportation Authority released late last year its mitigation plan for the 15-month shutdown of the L train, set to begin in April of next year, calling for an all-bus, no-car corridor on 14th Street between Third and Ninth Avenues. The city says the MTA will have to run 70 buses every hour across the Williamsburg Bridge in order to accommodate the projected 84,000 daily bus riders. According to the New York Times, this would make 14th Street the busiest bus route in the country. In response, a coalition of Lower Manhattan neighborhood groups on Tuesday filed a federal lawsuit against the MTA and the city's Department of Transportation in attempt to stop repairs of the L train, claiming the agencies failed to conduct an environmental review before releasing its plan.
In order for buses to cross 14th Street in 20 minutes, the city says they will travel at a speed rate of over 6.5 miles per hour, more than 40 percent faster than buses currently travel the same route. Some transit advocates have pushed for free fares on these buses to accelerate loading and prevent bunching.
But it's more than the barrage of buses that have Lower Manhattan residents worried. It's the anticipated 5,000 bicyclists who are expected to take advantage of the two-way bike lane planned for 13th Street and the increase of vehicles attempting to get around car-free 14th Street. Traffic on 12th Street is projected to increase by 71 percent during the peak morning rush hour and 29 percent at night.
In 2012, Hurricane Sandy severely damaged the more than a century-old Carnarsie Tunnel, which carries hundreds of thousands of daily commuters between Manhattan and Brooklyn, filling it will seven million gallons of saltwater and forcing a total reconstruction of the tunnel. The city's transportation commissioner, Polly Trottenberg, said shutting down the tunnel cannot be "impact free."
"One thing we know is that New Yorkers, they can be pretty tough and resilient and make the best of things," Trottenberg told the Times. "I hope they will do everything they can in this case."
A coalition of New Yorkers is doing everything they can to stop the shutdown of the L-train.  More than two dozen West Village and Chelsea block associations, as well as a disability rights groups, is suing the MTA, DOT and the Federal Transportation Administration, for failing to conduct an environmental review and for failing to comply with the Americans With Disabilities Act. Only two of the closed L stations will get an elevator.
Judy Pesin, the co-chair of the 14th Street Coalition, told the Daily News: "These plans were designed only with the commuters in mind. We're commuters we take subways to work, we empathize. Our communities will be impacted 24/7."
[Via NY Times]
RELATED: