Live in an affordable Bronx building with a rooftop garden and greenhouse, from $883/month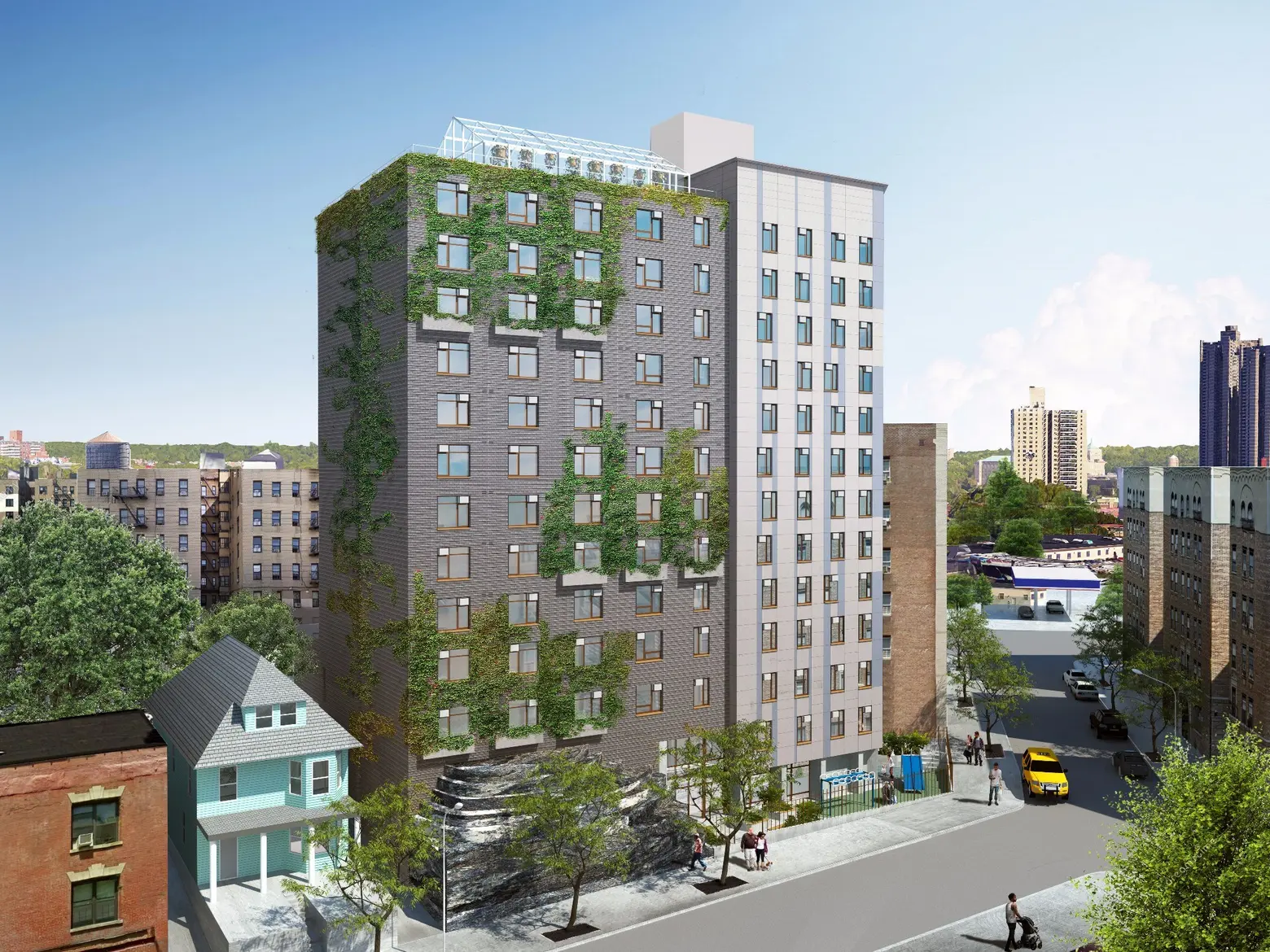 Rendering of the Bedford Green House courtesy of Edelman Sultan Knox Wood/Architects LLP and Hollister Construction Services
A Bronx affordable housing development with lots of green perks launched a lottery this week for 46 units. Dubbed the Bedford Green House, the 13-story building at 2865 Creston Avenue offers its residents unique amenities that center around healing through nature, a concept called biophilic design. Bedford Green House, located within the Bedford Park neighborhood, will have a rooftop aquaponics greenhouse where residents will be able to raise fish, grow fresh produce, and participate in healthy cooking demos. Qualifying New Yorkers earning 60 percent of the area median income can apply for the units, ranging from $883/month studios to a $1,148/month two-bedrooms.
The project, developed by Project Renewal and designed by Edelman Sultan Knox Wood Architects, contains 118 units across roughly 82,700 square feet of mixed-use space. Developers broke ground on the project in November 2017, with the building topping out in March.
The greenhouse at the building, which will pursue LEED certification, will utilize an aquaponics system to produce live fish and vegetables in a "symbiotic ecosystem." A horticultural therapist will be on site to help residents grow their food. And, according to the architects, the building has been "laid out to encourage socialization and security including accessibility and physical activity."
Biophilic design can be found throughout the development, including the living green facade on its exterior. According to the developer, vines on the building's exterior will reduce energy usage during the hot summer months, while solar radiation will warm the building during winter. And, the vines help remove airborne pollutants.
Residents will be able to enjoy a public playground in the front, as well as a landscaped courtyard with space for group exercise and mindfulness classes.
Bedford Green House completes the first phase of the two-phase project, which will eventually bring a total of 234 residences, medical clinic, and a playground. As a supportive housing project, most of the units are designed for those with mental illness or those formerly homeless. The building is expected to open by the end of 2019.

Qualifying New Yorkers can apply for the affordable apartments at 2865 Creston Avenue until August 19, 2019. Complete details on how to apply are available here (pdf). Residents of Bronx Community Board 7 will be given preference for 50 percent of the units. Questions regarding this offer must be referred to NYC's Housing Connect department by dialing 311.
RELATED: