Bronx Point phase one opens with 542 new homes and a waterfront park
Photo credit: Sylvester Zawadzki
The first phase of a major mixed-use development in the South Bronx has officially opened. Officials on Thursday unveiled 542 new units of affordable housing and a 2.8-acre waterfront public park now complete as part of the $349 million Bronx Point project. The development will also be home to the Universal Hip Hop Museum, which will open in 2025 as the first museum of its kind in the country.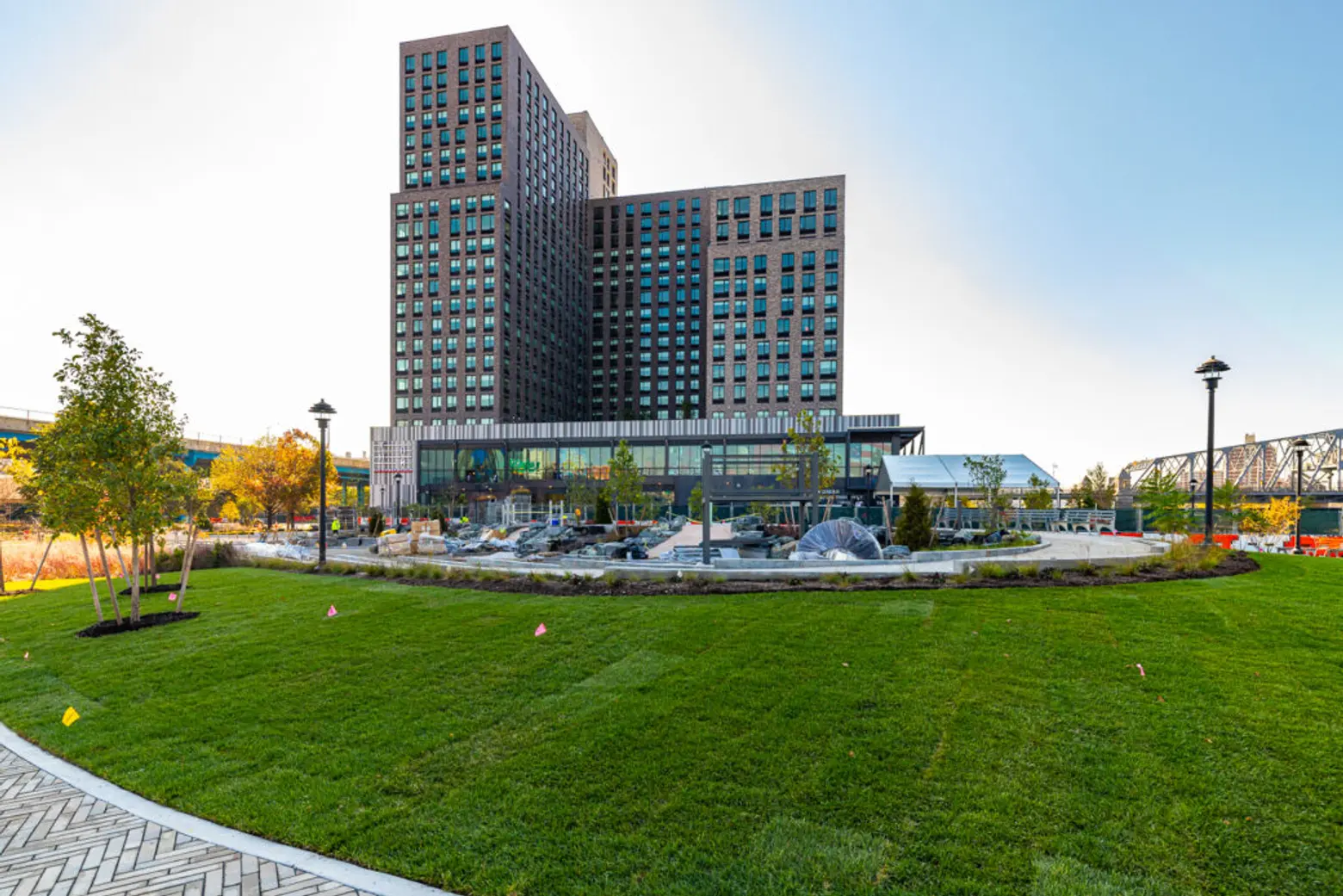 Developed by L+M Development Partners, Type A Projects, Bronx Works, and the city of New York in a public-private partnership, the 22-story mixed-use development measures roughly 530,000 square feet. The development, designed by S9 Architecture, sits on a formerly vacant city-owned site on the Harlem River.
"Today's ribbon cutting ceremony represents the next step forward in our complete reimagining of a once dormant site, and we look forward to welcoming our first residents to Bronx Point in the coming weeks," Lisa Gomez, CEO and Partner at L+M Development Partners, said. "We are especially grateful to Type A Projects, The Hip Hop Museum, BronxWorks and our partners in city and state government for their crucial assistance in making the dream of Bronx Point a reality."
A majority of the 542 homes that are now open were available to New Yorkers through a housing lottery that opened in May. According to the developer, more than 63,000 people applied to live at the development.
The apartments include 135 studios, 192 one-bedrooms, 122 two-bedrooms, and 93 three-bedrooms, priced between $465/month and $3,332/month. New Yorkers earning 30, 50, 80, and 120 percent of the area median income– or between $18,515 annually for a single person and $198,600 for a household of seven–were eligible to apply for the apartments.
Bronx Point residents have access to on-site laundry, a gym, a community center, outdoor space, a children's playroom, a 24-hour attended lobby, and an outdoor terrace.
Also officially open is the new public park and esplanade designed by Marvel with Abel Bainnson Butz. The open space includes a new waterfront promenade with flood mitigation measures, a children's play area, and a plaza at Exterior Street.
"Bronx Point symbolizes a culmination of collective vision in community-driven design. A design that not only meets the neighborhood's active space needs but that also champions waterfront ecology, landscape, and education," Yadiel Rivera-Diaz, Partner, landscape architect at Marvel, said.
"Now fully accessible and usable, the waterfront and new park seek to forge connections between residents and the Harlem River. Paying testament to the power of community, Bronx Point is a hub for learning, gathering, play, physical activity, and exploration for all ages and abilities. Marvel is elated to have played a role in this project, giving Bronx residents 'a voice' in its design and outcome."
Construction on the project broke ground in January 2021 shortly. The second phase of the project includes the remaining apartments and the retail and community spaces.
The permanent home for the Universal Hip Hop Museum will open in 2025 on the ground level of the development. Exhibits will celebrate all things hip hop, which was invented in the Bronx in the 1970s.
RELATED: