New affordable housing building in the Bronx has a rooftop greenhouse and aquaponic farm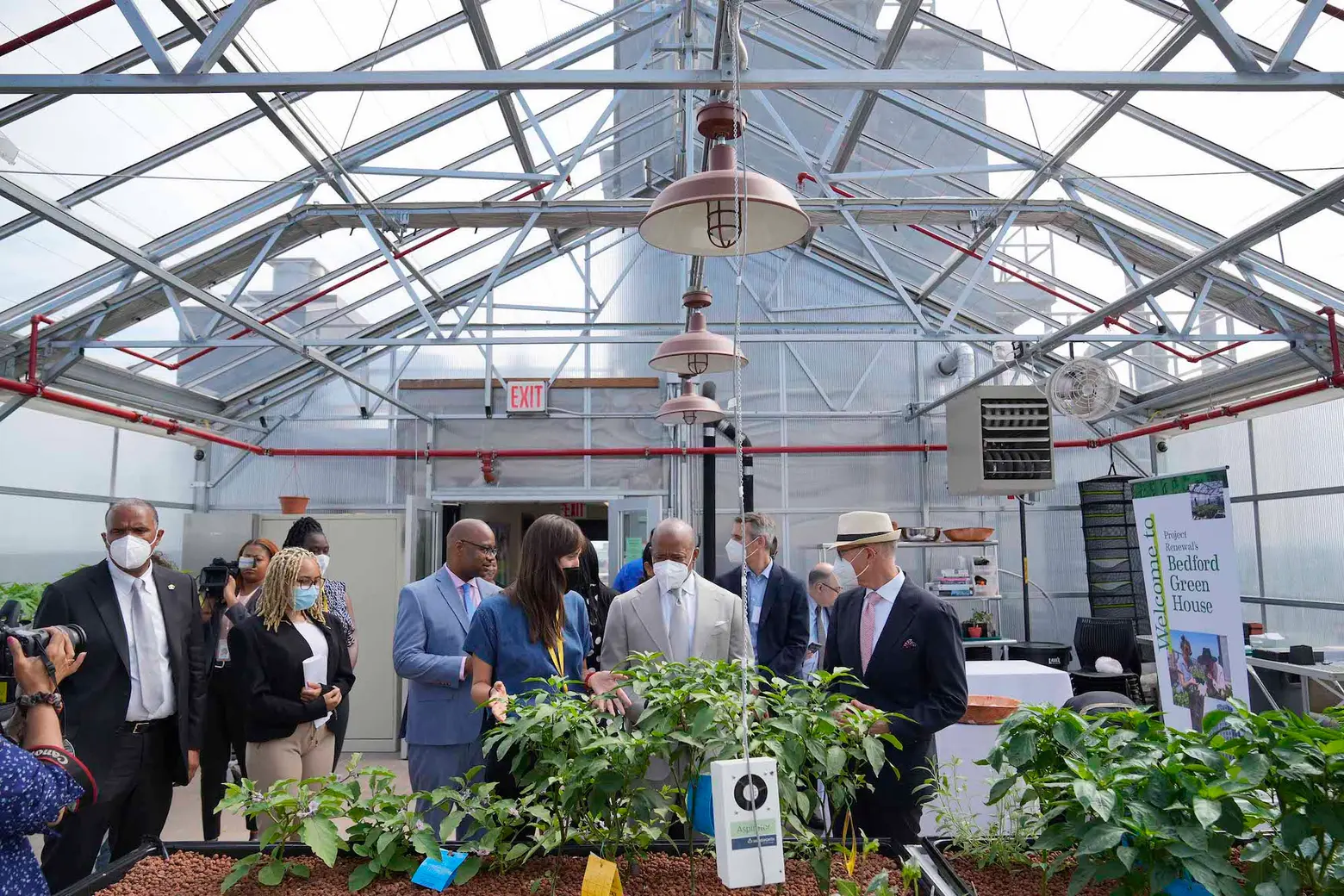 All images courtesy of Ed Reed/Mayoral Photography Office
A new housing development with more than 100 deeply affordable and supportive apartments, a rooftop greenhouse, and an aquaponic urban farming system officially opened last week. Located at 2865 Creston Avenue in Bedford Park, the project was developed by homeless services nonprofit Project Renewal. Bedford Green House includes social services for residents and amenities that center around healing through nature.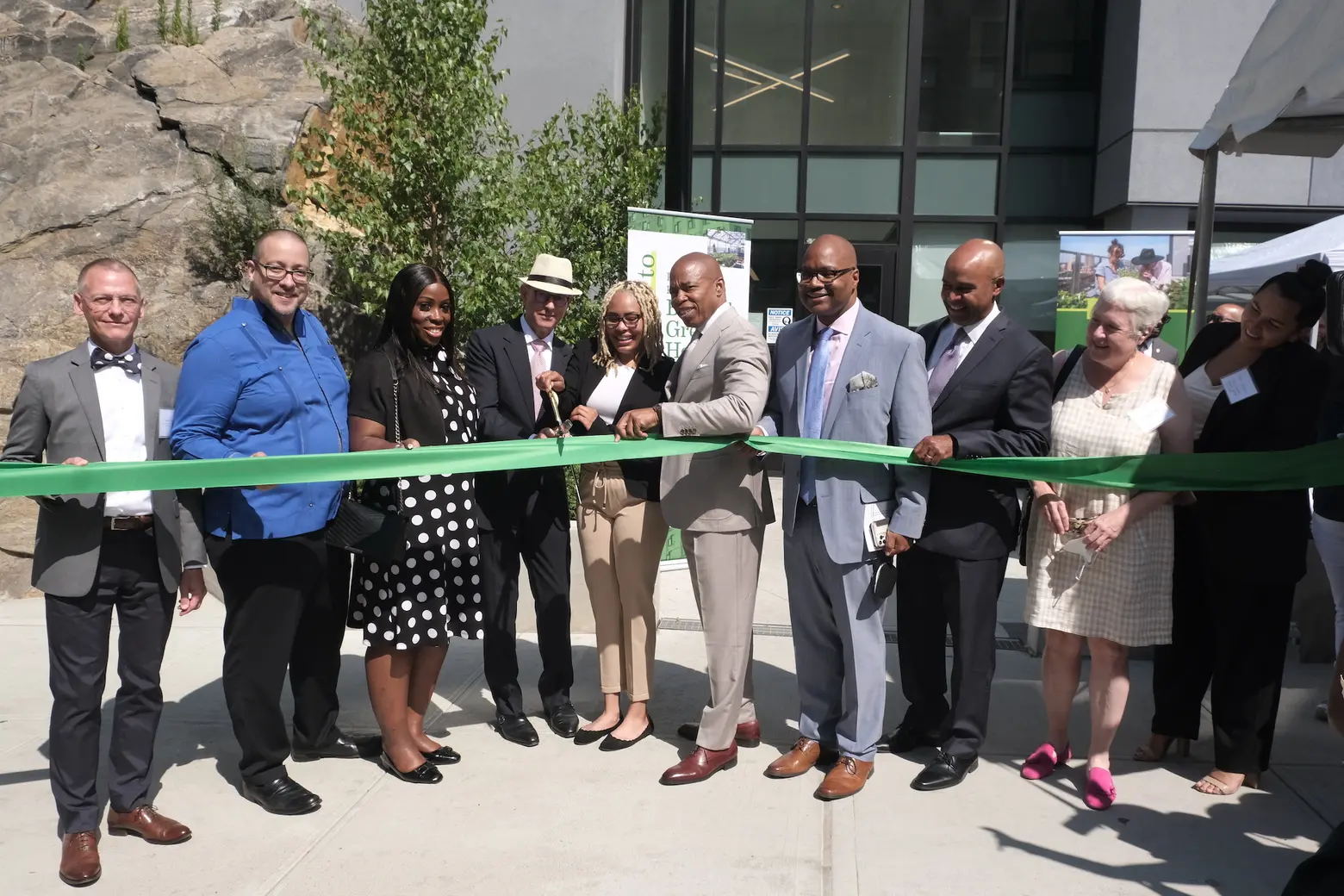 The project, developed by Project Renewal and designed by Edelman Sultan Knox Wood Architects, contains 117 units. Developers broke ground on the project in November 2017 and the building topped out in 2019, followed by the launch of an affordable housing lottery for 46 units.
It took three years since the topping out to open the building because the contractor went bankrupt, the insurance company that was meant to complete the project "reneged on their commitment," and unsurprisingly, the pandemic, according to Eric Rosenbaum, the president and CEO of Project Renewal. Rosenbaum said the nonprofit had to invest $3.5 million of its own money into the project.
Of the 117 units at Bedford Green House, 71 will be set aside for families impacted by mental illness and substance use disorder, New Yorkers who recently faced homelessness, and people living with HIV/AIDS.
The building stands out for its 1,500-square-foot rooftop greenhouse and aquaponics urban farming system that gives residents the ability to grow fresh vegetables during the entire year. The farming system will contain fish, herbs, vegetables, and microgreens, all of which will be grown in a "symbiotic ecosystem," according to a press release.
The facade has been equipped to hold plantings that will grow from the top floors to the ground level, a feature that will reduce energy usage and remove pollutants from the air. During the winter, the plantings will shed their leaves and allow sunlight to warm the building.
Project Renewal will be providing on-site case management, occupational therapy, and horticultural therapy, which will take advantage of the resources being grown in the building's greenhouse.
"Bedford Green House helps meet our city's urgent need for supportive and affordable housing and embodies Project Renewal's mission to empower individuals and families to renew their lives with health, homes, and jobs," Rosenbaum said.
"More than just an apartment building, Bedford Green House's design and programming brings residents together, from children to seniors, around shared activities that support healthy living. As we celebrate the opening of this first phase, we look forward to the second phase, bringing more housing and services to more formerly homeless New Yorkers and the wider community."
The second phase of development includes the construction of 116 additional apartments, approximately half of which will be set aside for low-income seniors.
The project includes a gym, a 5,000-square-foot medical clinic, and a library and learning center for residents. The medical center will offer residents primary care, podiatry, pediatrics, digital radiology, and broader health services to the whole community. Residents will be able to use the development's public playground and landscaped courtyard.
"Affordable housing, homelessness, public health, and our environment are all connected, and Project Renewal demonstrates the kind of creative thinking we need to tackle all of them together," Adams said.
Adams continued: "My administration is laser-focused, not on simply creating housing on paper but on getting New Yorkers into the safe, high-quality, affordable homes they deserve, while helping fight climate change and creating our own nutritious food. We are doing that today in the Bronx at Bedford Green House, and we will continue doing it all across the city."
The Bedford Green House is part of Adam's "Housing Our Neighbors" blueprint that he initiated to tackle the city's ongoing housing crisis. Through the initiative, the city aims to complete the construction of 15,000 supportive homes by 2030, two years earlier than projected.
RELATED: