How an 1894 Hangover Created an Eggs Benedict Controversy in New York City
Brunch is inarguably one of New Yorkers' favorite pastimes, and if there's one dish that represents the lazy, and perhaps boozy, Sunday afternoon meal it's Eggs Benedict — poached eggs and Canadian bacon on an English muffin, topped with hollandaise sauce. Which is why it's not surprising to learn that the egg creation originated right in our fine city. There is however, a bit of controversy over just who gets the credit for inventing it. Was it the Wall Street bigwig who was looking for a hangover cure at the Waldorf Hotel? Or was it Charles Ranhofer, the legendary Delmonico's chef who published a recipe for it in his cookbook "The Epicurean?"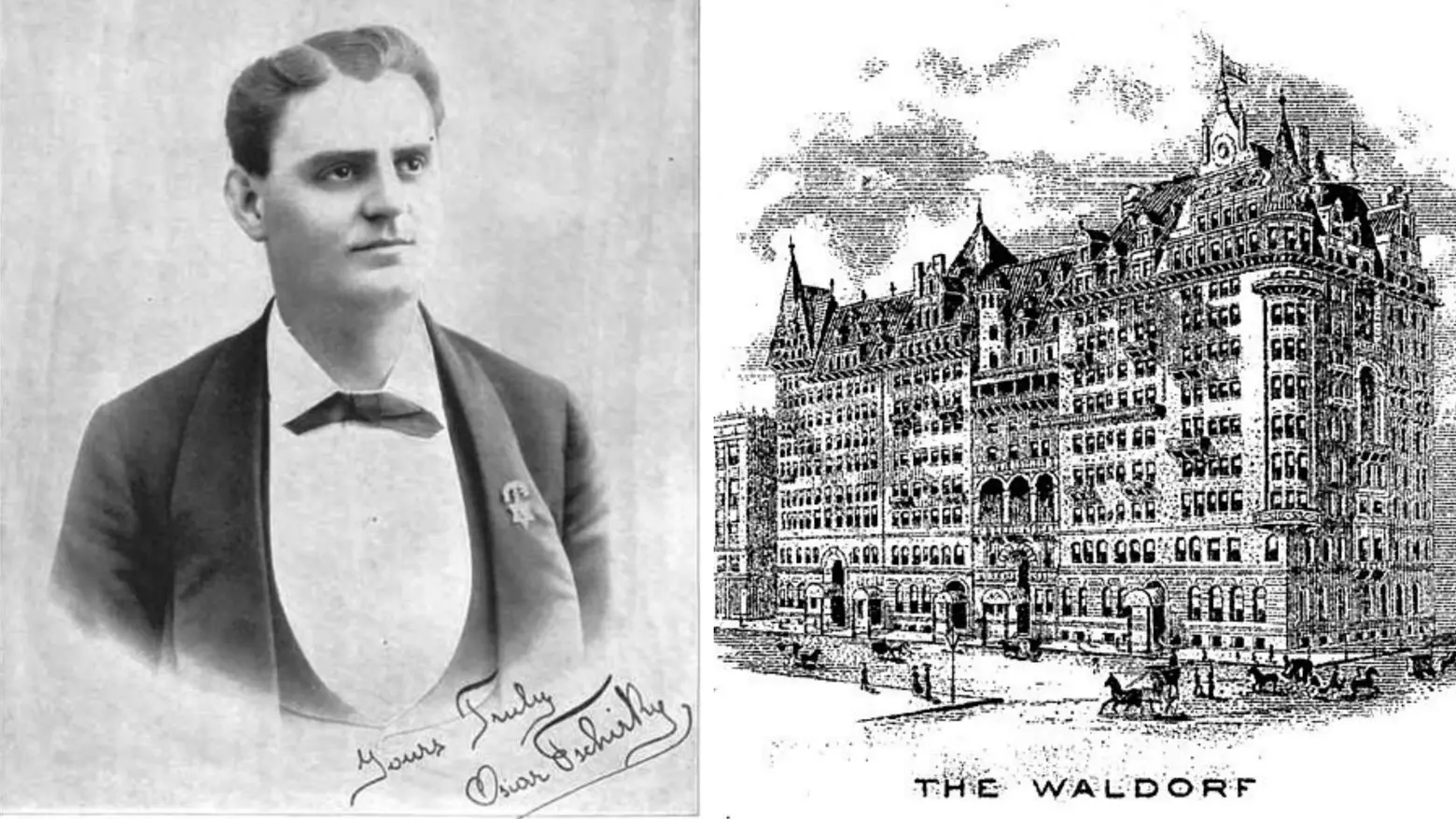 Oscar Tschirky via Wiki Commons (L) and the Waldorf Hotel via Wiki Commons (R)
The mystery begins in 1894 when retired Wall Street stock broker, heavy partier, and ladies' man Lemuel Benedict walked into the Waldorf Hotel (then on Fifth Avenue and 33rd Street) and asked for a hangover cure. According to a 1942 New Yorker article recounting the event, he ordered "some buttered toast, crisp bacon, two poached eggs, and a hooker of hollandaise sauce." The unusual order caught the attention of maître d Oscar Tschirky, aka Oscar of the Waldorf, who put it on the menu, substituting ham for bacon and and an English muffin for the toast (Oscar is also credited with inventing the Waldorf salad and popularizing Thousand Islands dressing). According to an investigation in the Times, "After that history-making morning, Lemuel Benedict reveled in the attention and prestige that resulted from his breakfast order. But his original request had specified toast, and he never warmed to the idea of English muffins."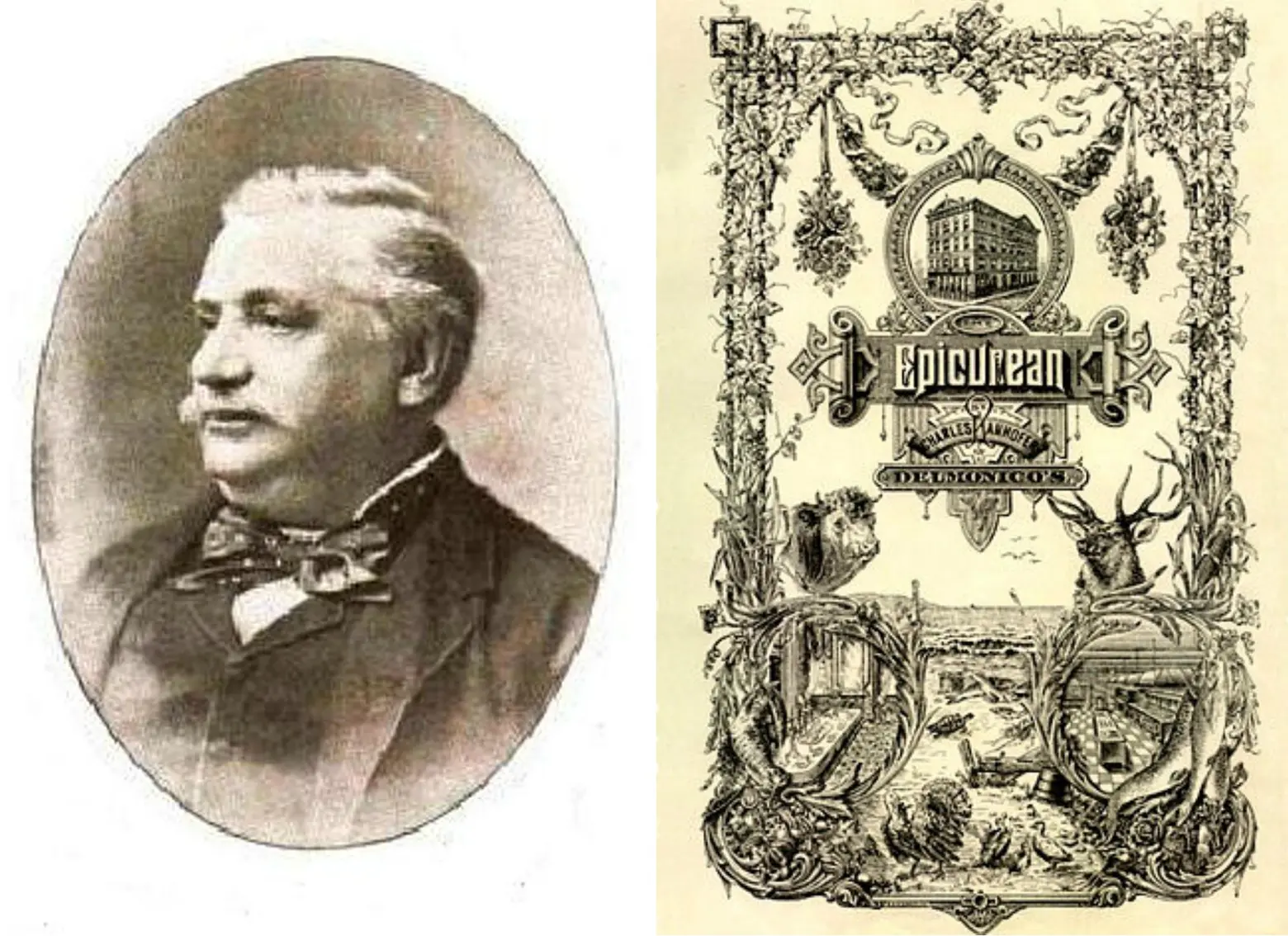 Charles Ranhofer via Wiki Commons (L) and the Epicurean via Wiki Commons (R)
As mentioned, Lemuel's story was recounted in the New Yorker in a 1942 "Talk of the Town" installment, less than a year before he died. The controversy didn't truly begin until 1978, when Bon Appetit published the article "Perfect Eggs Benedict," which credited Delmonico's restaurant for creating the dish. As they noted, at the turn of the century, a Mr. and Mrs. LeGrand Benedict were eating at the iconic Financial District restaurant (the first to allow diners to order à la carte) as they did every Saturday and decided they were bored with the steakhouse menu. They took up their frustration with the chef, who in turn made them a version of Eggs Benedict. The article did mention a conflicting account where a Samuel Benedict ordered the dish at the Waldorf, but in 1894, the same year as Lemuel's hangover egg-craving, Delmonico's classical French chef Charles Ranhofer published his cookbook "The Epicurean," which included a recipe for Eggs a la Benedick that read:
Cut some muffins in halves crosswise, toast them without allowing to brown, then place a round of cooked ham an eighth of an inch thick and of the same diameter as the muffins one each half. Heat in a moderate oven and put a poached egg on each toast. Cover the whole with Hollandaise sauce.

Delmonico's at 2 William Street, where it remains today, via Wiki Commons
Thanks to the Bon Appetit article, Ranhofer became the widely-known inventor of Eggs Benedict, prompting Lemuel's nephew Jack Benedict to defend his uncle's name. Also in 1978, Jack opened a restaurant in Winter Park, Colorado called L. C. Benedict Restaurant and Tavern, where he offered two versions of the egg dish — Eggs Benedict Lemuel's Way, using toast and bacon, and Eggs Benedict Oscar's Way, using an English Muffin and Canadian bacon. He even went so far as to install an informational board in the restaurant that provided documentation as to his uncle's rightful honor. And, according to the Times' sleuthing, after his restaurant closed six years later, he put an entire egg shrine in his home, full of "menus, photographs, restaurant signs." He also suggested the Eggs McBenedict breakfast sandwich to McDonald's (too bad the Egg McMuffin had been around since the mid '70s) and received 15 rejection letters from magazines unwilling to publish his story.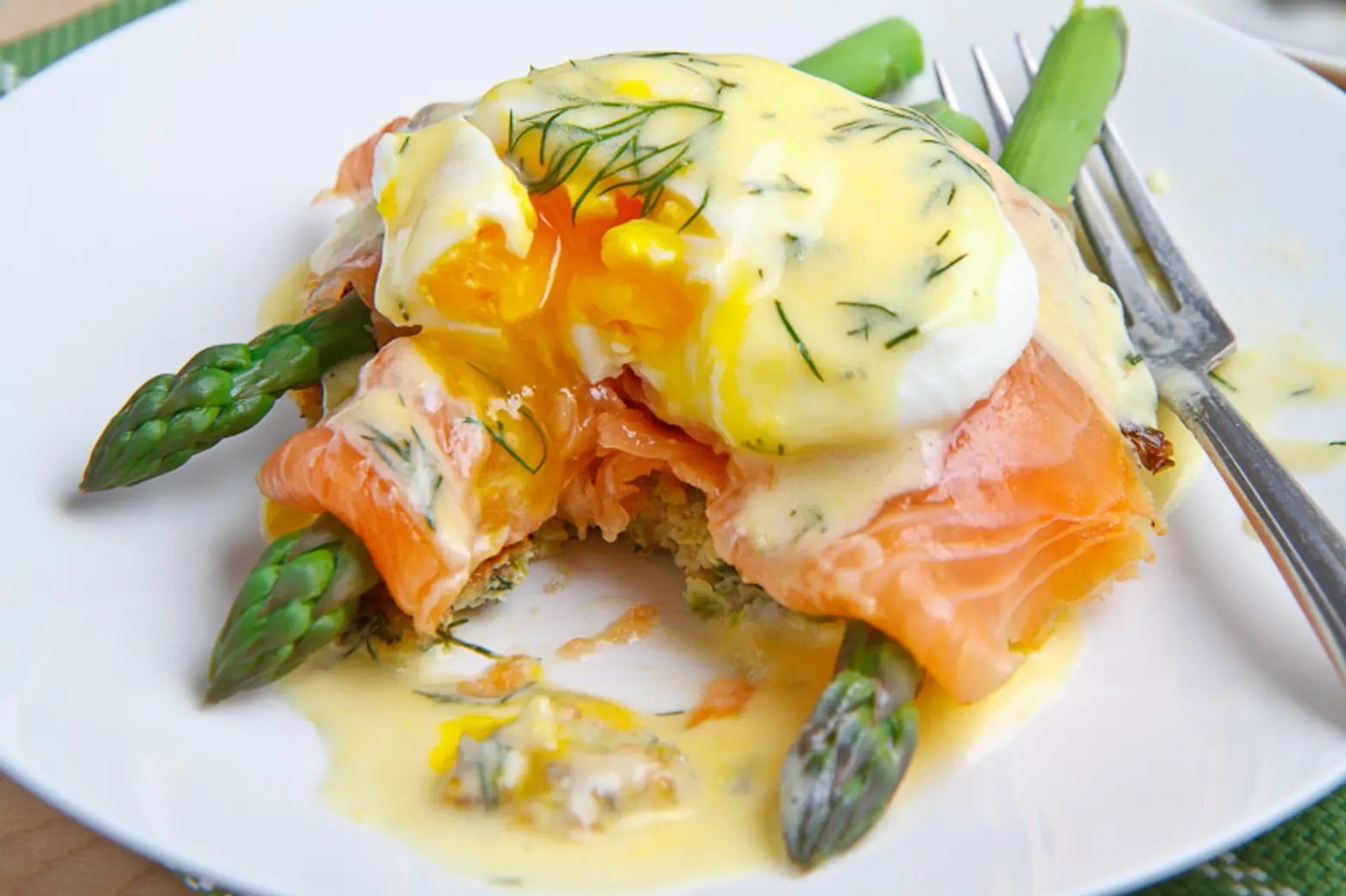 Smoked salmon benedict, a popular modern take on the dish, via Closet Cooking
It's important to note that Oscar of the Waldorf never took credit for the dish as he was quick to do for the Waldorf salad. However, before his days at the Waldorf Hotel, he was the maître d at Delmonico's. For this reason, the American Egg Board (now this is getting serious) backs up the Lemuel Benedict version, explaining "What if we're talking about the same person, and he simply got his two favorite chefs to make him his own special dish? Couldn't he have walked into two different places with the same request?" The world may never know…
RELATED: