First Full Look at Extell's 80-Story One Manhattan Square, 800 Condos Aimed at Asian Buyers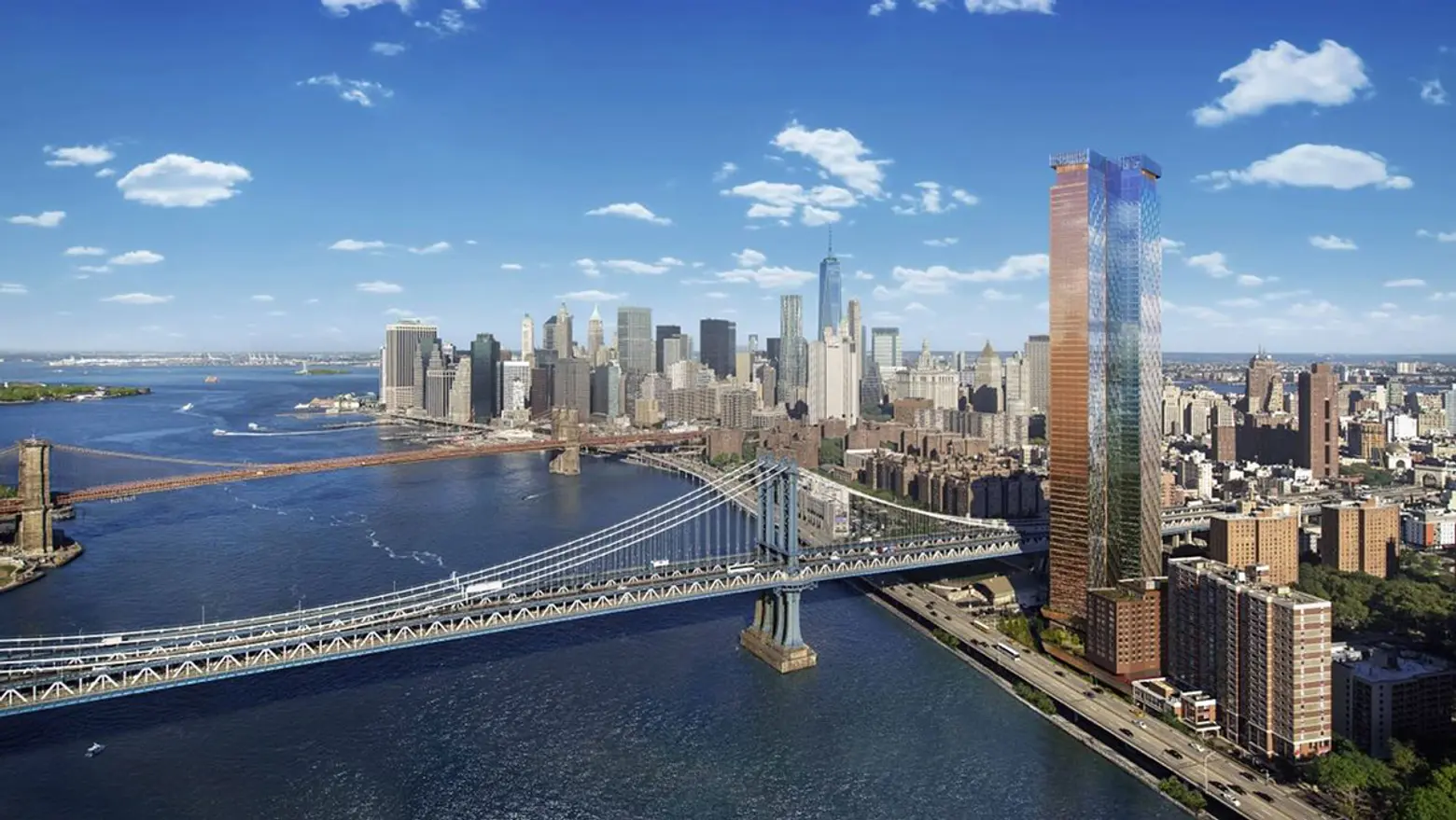 Bloomberg News reported yesterday that the restless developer Gary Barnett will soon begin marketing the 800 condominiums of his upcoming One Manhattan Square development to Asian buyers first. Apparently not satisfied with erecting two of the tallest and priciest residential buildings in the city, One57 and the Central Park Tower, the Extell Development Company founder and CEO is busy laying the groundwork for one of the largest condominium towers in the city at the foot of the Manhattan Bridge.
Going by the address 252 South Street, the bipartite tower is being designed by Adamson Associates Architects (AAI) and will soar 80 stories tall, roughly to the same height as the Comcast Building (former GE/RCA Building) in Midtown. At nearly 850 feet, the tower will be the tallest skyscraper on the island between Midtown and downtown, and by far the tallest building directly along the waterfront. Its staggering 800 units will fall just short of the city's largest individual condo-tower, the 816-unit Corinthian in Murray Hill.
A previously unpublished rendering accompanying the Bloomberg story provides us with our first glimpse of the tower's two-toned facade that appears to be composed of a patterned, vertically-pleated glass skin and a copper-toned elevation. Along the site's Cherry Street frontage will be a 205-unit building of affordable rentals designed by Dattner Architects.
In an all-too-rare effort to tap into Manhattan's non-super luxury market, prices at One Manhattan Square will range from $1 to $3 million, well below its uptown counterparts. The developer told Bloomberg, "There are a tremendous amount of people who would like to own something in New York City but are priced out because everybody's building super-luxury." According to the media site, Barnett has tapped Jones Lang LaSalle Inc. to sell the tower's units internationally, with exhibitions planned in Shanghai, Hong Kong, Beijing, Singapore and Kuala Lumpur this November.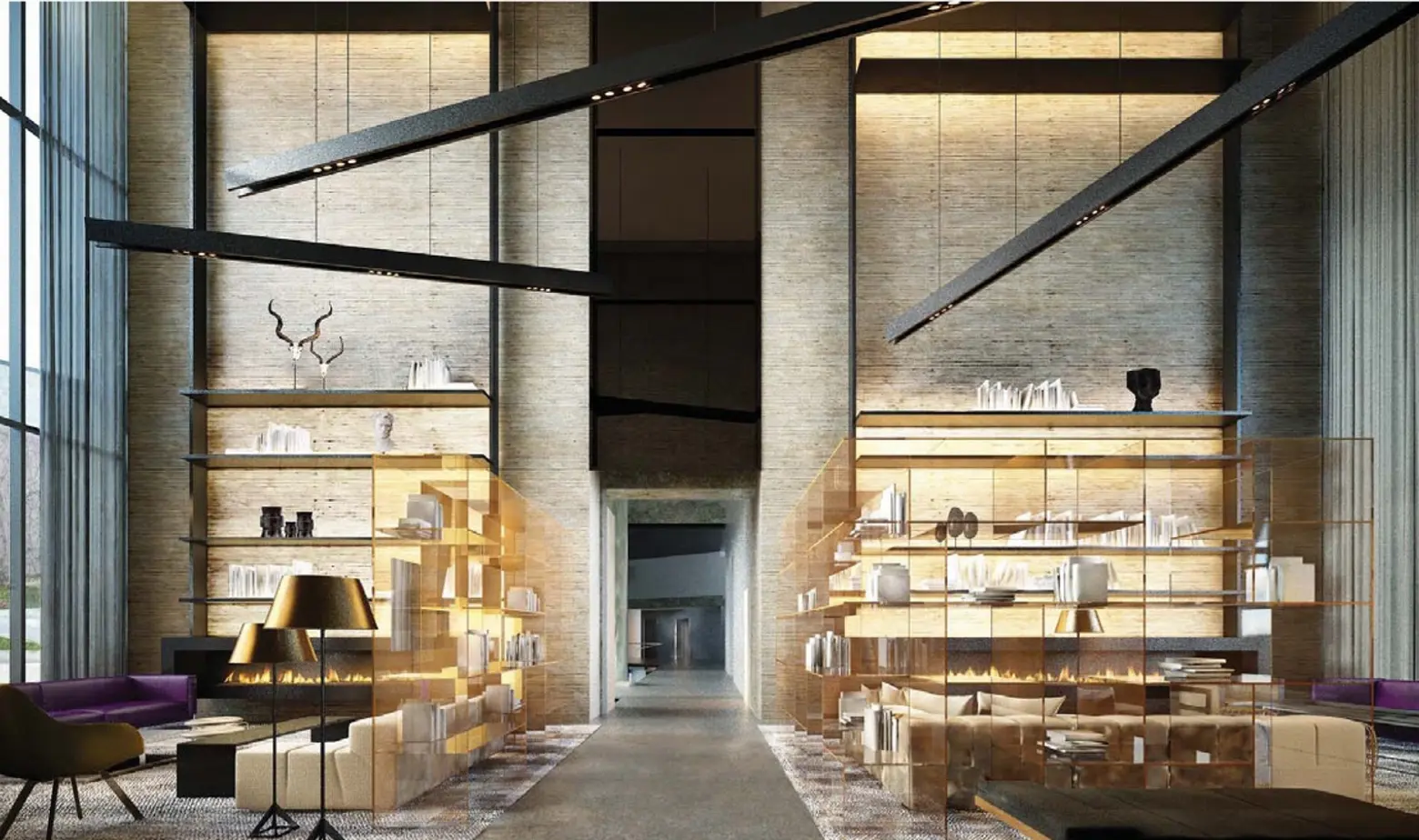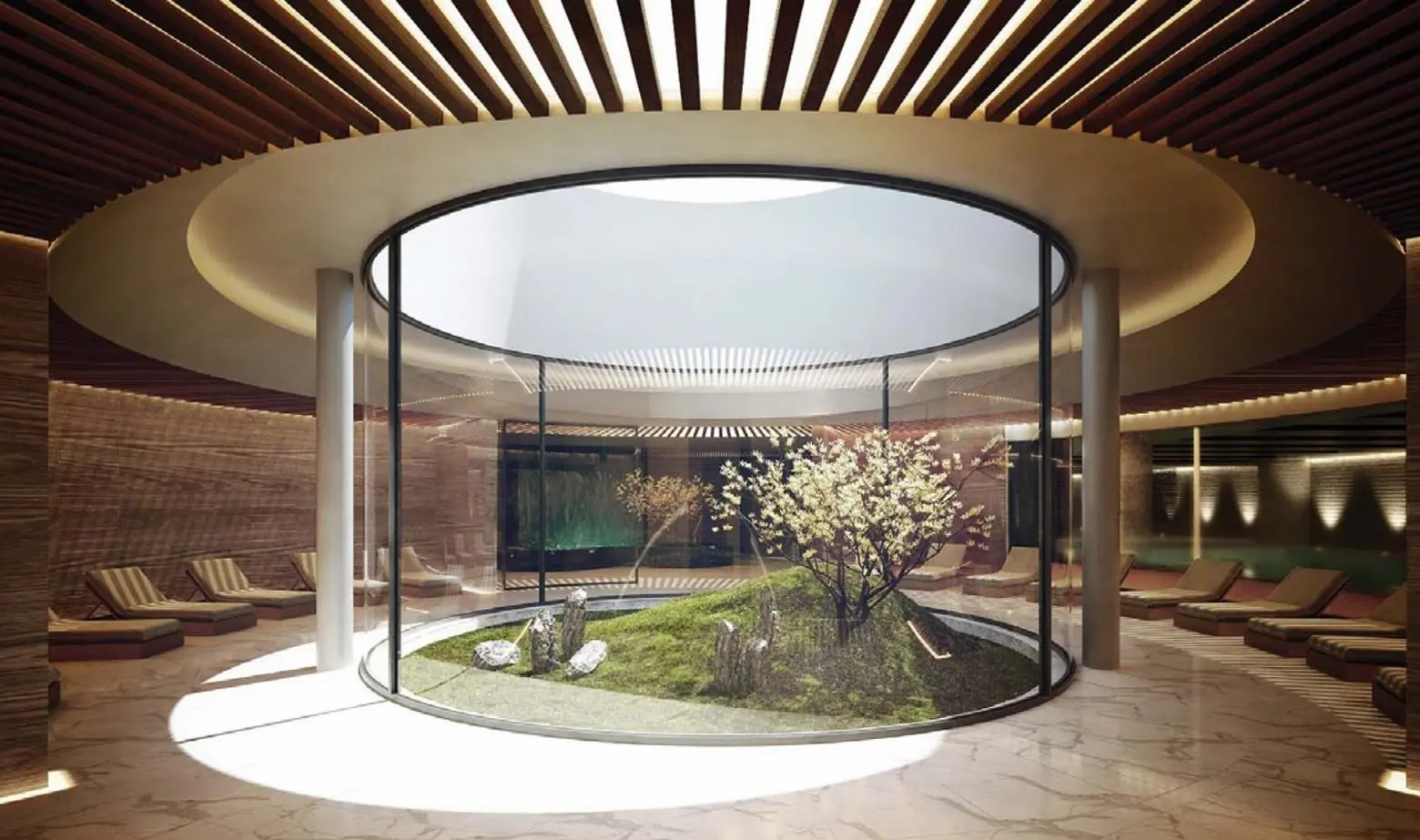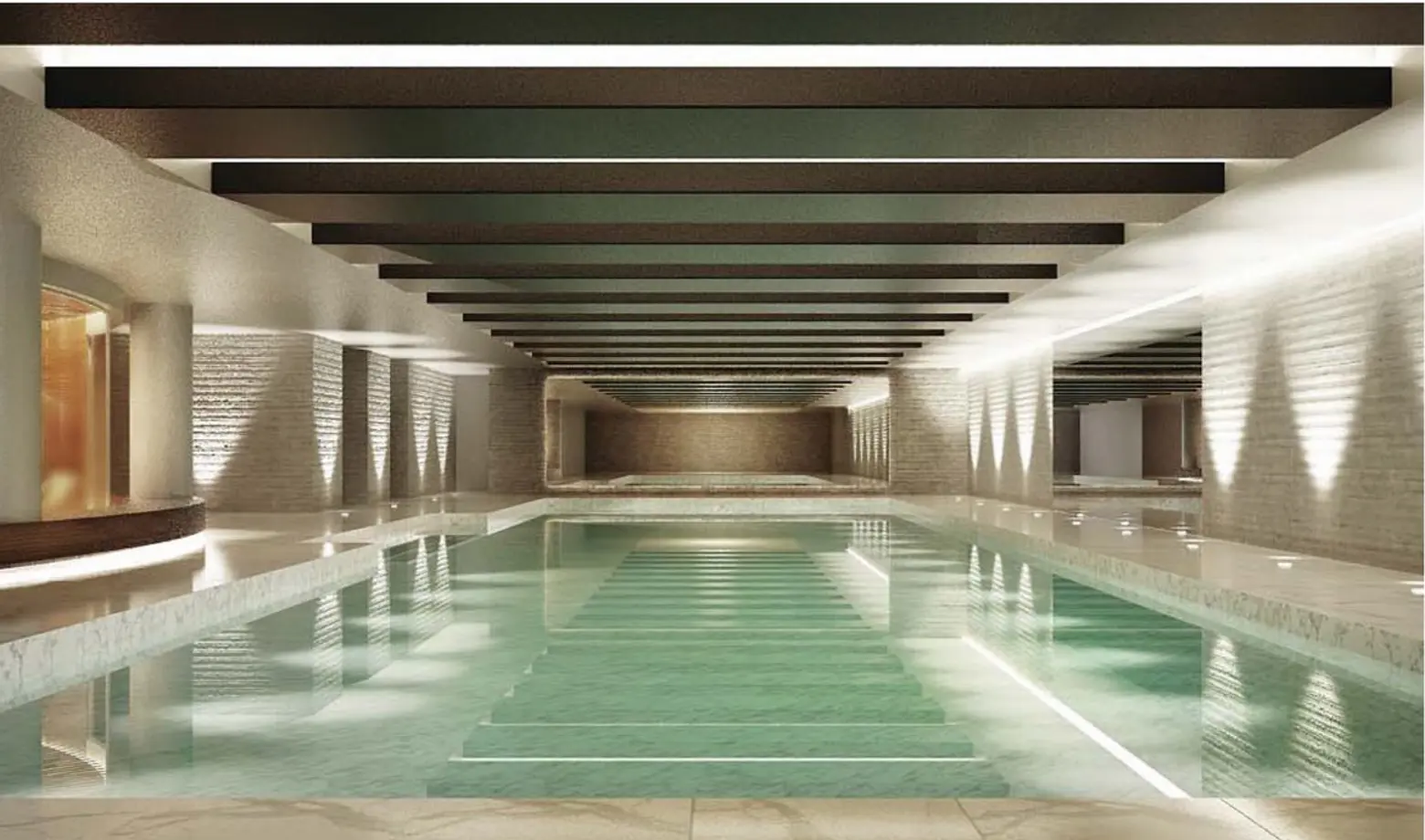 The complex will rise in a remote section of the Two-Bridges neighborhood along the East River and adjacent to low-rise Chinatown and the Lower East Side. Most units will have incomparable views of the cityscape, rivers, and bridges and as we previously noted, will have a hotel-worthy amenity package to include a squash court, golf simulator, bowling alley, basketball court, lap pool, a Turkish bath, sauna and steam rooms, landscaped gardens, a tea pavilion, and art studios.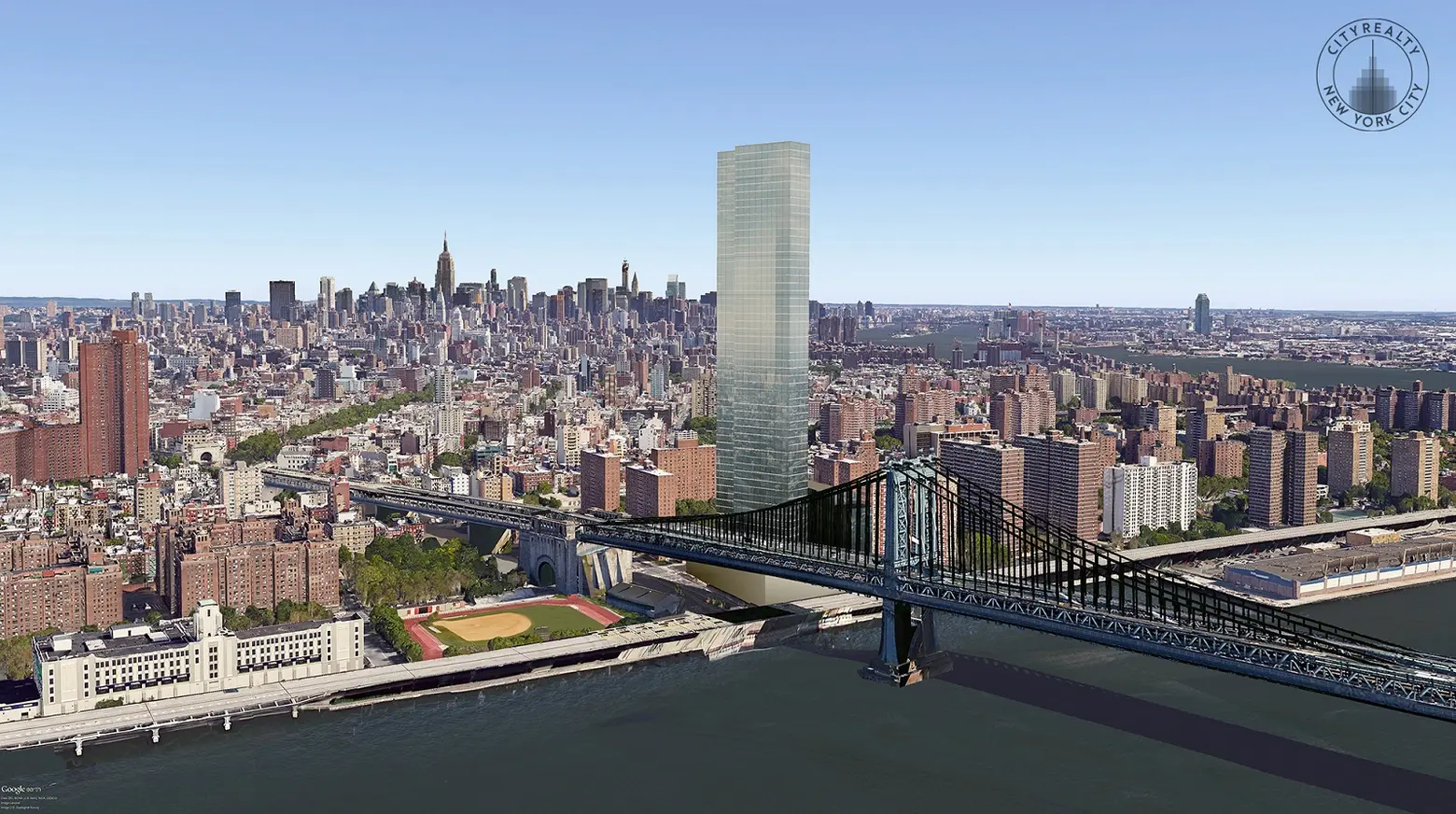 Image of 252 South Street's massing by CityRealty
According to Barnett, the complex is slated to be completed in late 2018 and units will hit the U.S. market early next year. Follow updates on the progress of One Manhattan Square at CityRealty.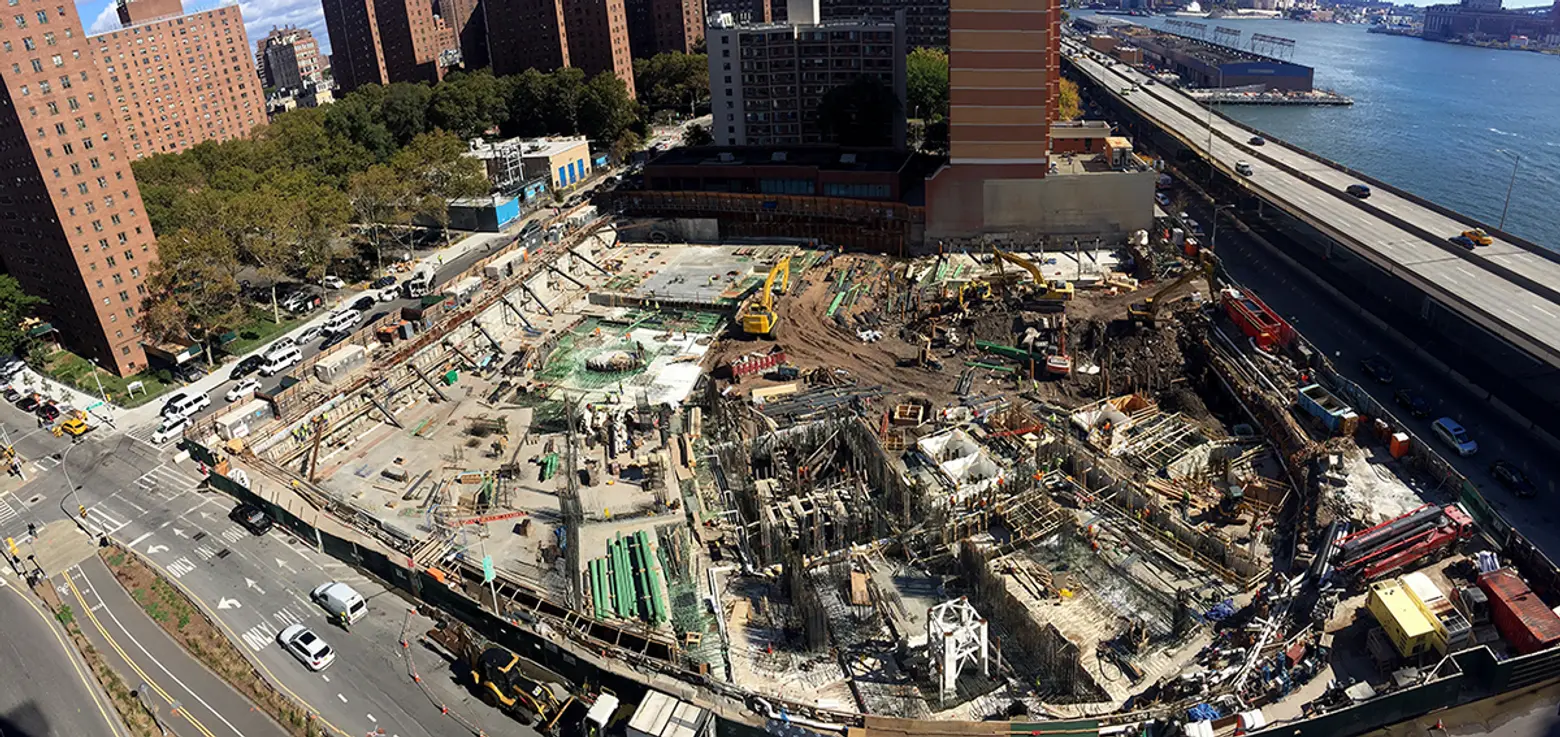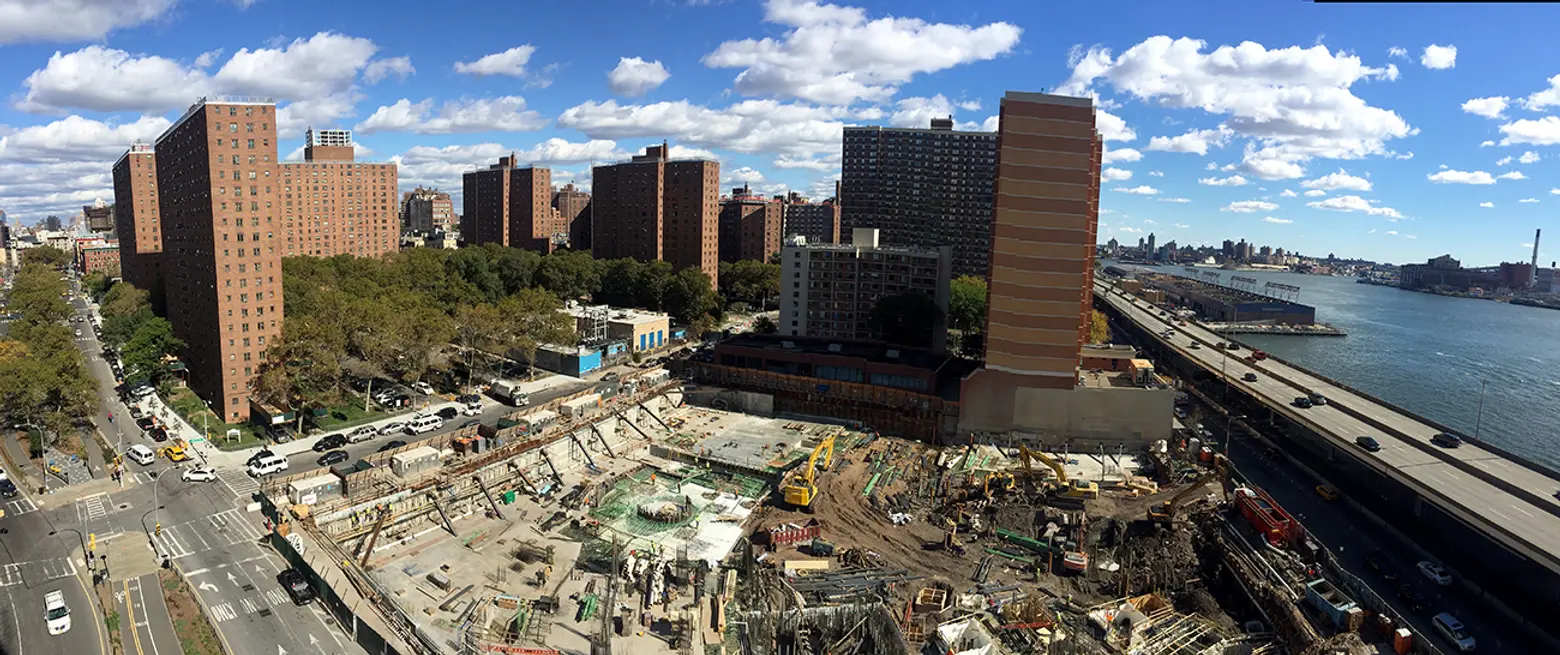 Construction photos courtesy of Ferrati Valerio
RELATED:
All building renderings courtesy of Extell Development; Massing/aerial renderings via CityRealty