Fifth Avenue to transform into car-free holiday wonderland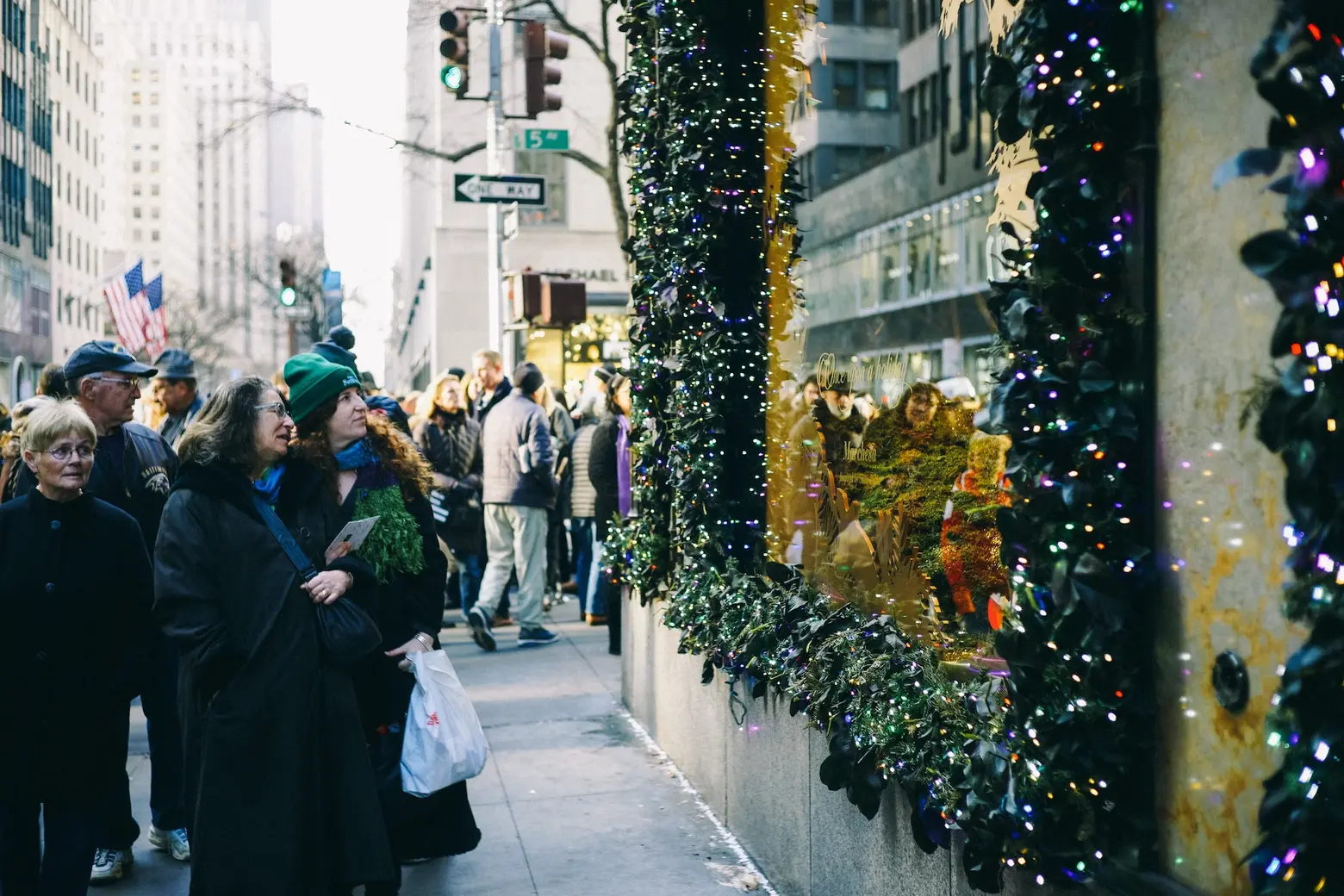 Attention revelers: the streets of Midtown will soon be filled with fun, pedestrian-friendly cheer. As part of a special holiday open street, Fifth Avenue will close to cars and transform into a winter wonderland on three Sundays in December. The Fifth Avenue Association on Tuesday revealed the "Gift of Fifth" campaign that will turn the historic corridor from 49th Street to 59th Street into a holiday destination, with jolly decor, festive food and beverages, photo-ops, store giveaways, and more.
Last week, Mayor Eric Adams announced plans to fully pedestrianize Fifth Avenue from 48th and 59th Streets, expanding the open street by three blocks to reach Central Park. Additionally, select streets around Rockefeller Center and Radio City Music Hall will be closed to cars every day throughout the holiday season, ensuring that the hundreds of thousands of people visiting the festive area have a safe experience.
The Fifth Avenue Open Street will run on December 3, 10, and 17 from 12 p.m. to 6 p.m. There will be 11 blocks of curated programming, 19 food and beverage partners, eight performance areas, 15 participating retail brands, and about 500,000 visitors.
"Fifth Avenue is always iconic, but during this holiday season everything will be even more exceptional and beautiful," Marie Boster, president of FAA, said. "The Gift of Fifth gives all New Yorkers and visitors more beauty, more music, more creative seasonal food, and for the first three Sundays in December, more space beyond the sidewalks to take it all in. We are grateful to our partners for sharing in our vision to transform our streetscape into a winter wonderland for everyone."
Kicking things off on November 20, the upper portion of Fifth Avenue will become a winter wonderland. The corridor will feature all-new sidewalk decor, including an installation of 150 live Fraser and Noble firs twinkling with warm white lights sitting atop 50 custom silver platforms. Visitors will also be able to snap a photo under a double arch made of holiday greenery outside GM Plaza at 767 Fifth Avenue.
On December 17, the Doris Duke Foundation will feature Grammy Award-winning jazz singers to pay tribute to Fifth Avenue's intricate role in jazz history. The avenue was better known as "Swing Street" during the early 20th century due to its hosting of legendary jazz musicians like Miles Davis and Billy Holiday.
Other performers will include Michael Arenella & His Dreamland Orchestra, a jazz ensemble provided by Hire Juilliard Performers, the Fiorello H. LaGuardia High School of Music & Art and Performing Arts, Metropolitan Klezmer, Brooklyn Youth Chorus, and the Frank Sinatra School of the Arts High School.
Food lovers will be able to enjoy blackcurrant donuts and non-alcoholic eggnog from the Modern, a two Michelin-starred restaurant at the Museum of Modern Art, hot chocolate from the world-famous Longchamp's pop-up cafe, and bao buns and bubble tea from local vendors Mao's Bao and Tea and Milk.
A selection of Fifth Avenue brands, including Assouline, Bergdorf Goodman, Coach, DIOR, P448, The Plaza, Puma, Tag Heuer, and Victoria's Secret, will create fun pop-up retail experiences.
In October, it was revealed that last year's Open Streets program on Fifth Avenue drove an additional $3 million in spending at businesses on pedestrianized streets. According to a study conducted by Mastercard, merchants on pedestrianized streets saw an average of $90,000 in additional spending per day.
RELATED: