Fall art roundup: Highlights of the season's new crop of exhibitions, openings and events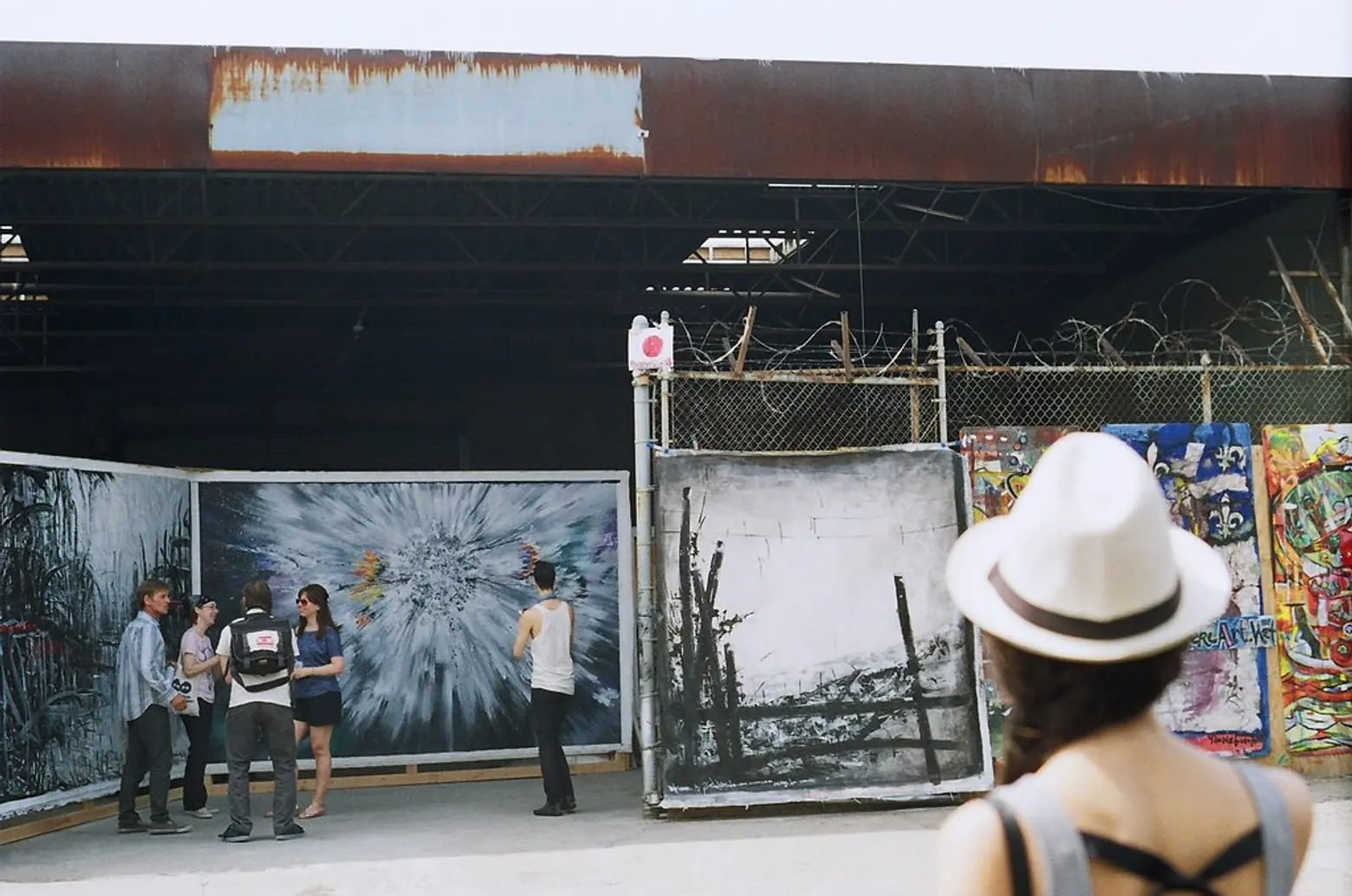 When autumn rolls into New York City, the fall arts season heats up with museum exhibits, gallery openings, art fairs and more to keep us culturally fulfilled through shorter days and colder nights. Below are our top picks and suggestions for the season's art whirl, from an all new MoMA to open studios in Bushwick.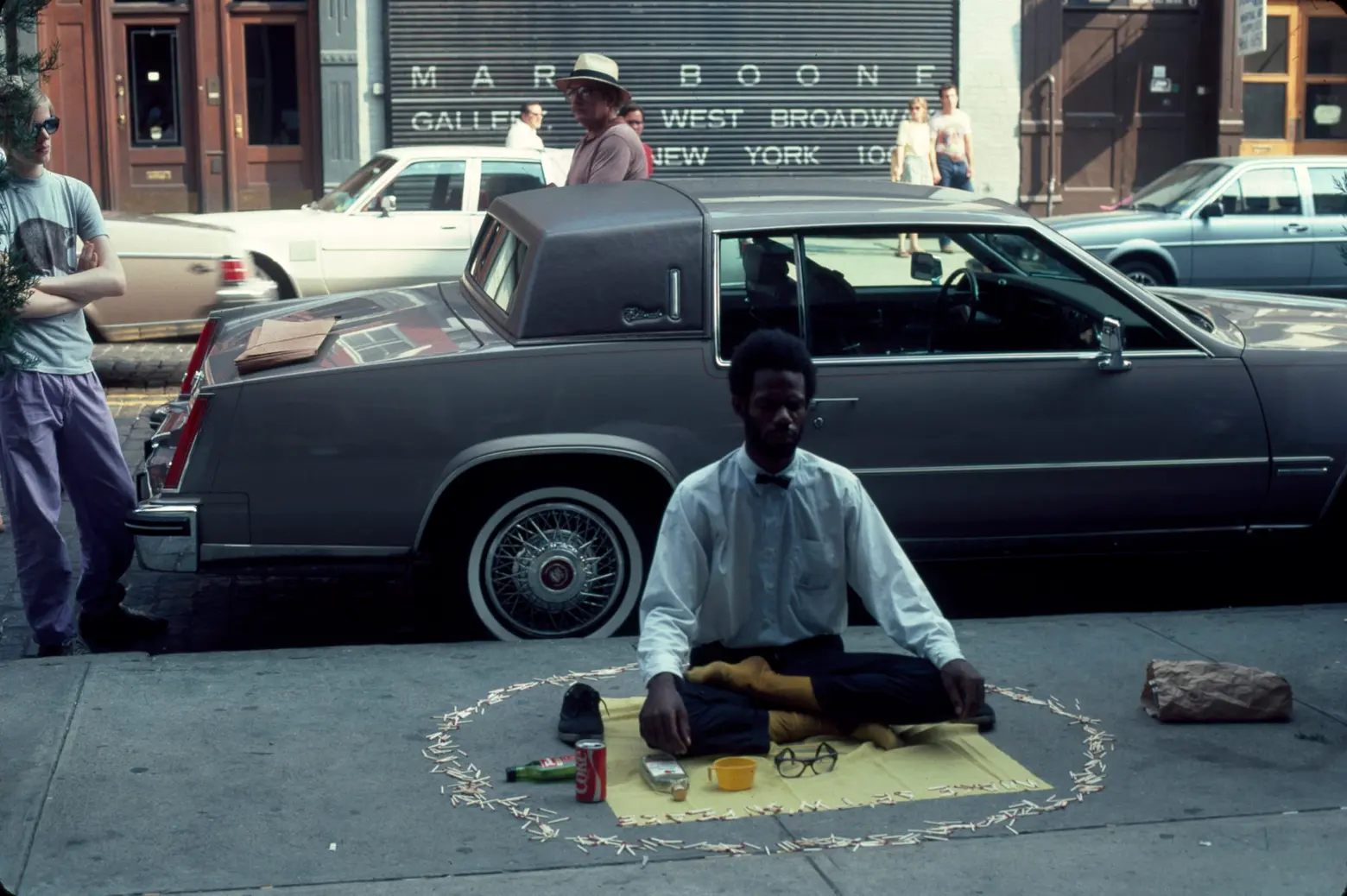 Pope. L. Thunderbird Immolation a.k.a Meditation Square Pieces New York, NY 1978. Digital c-print on gold fiber silk paper. 9 by 6 in. 22.86 by 15.24 cm. © Pope. L. Courtesy of the artist and Mitchell – Innes & Nash, New York.
Museums
MoMA reopens ↑
11 West 53rd Street
October 21
The Museum of Modern Art was closed for the summer in preparation for opening the doors on a $400 million expansion, developed by MoMA with architects Diller Scofidio + Renfro in collaboration with Gensler. The new expansion adds more than 40,000 square feet of gallery spaces to allow for more art to be shown in new, interdisciplinary ways. Also new are innovative performance and education spaces, an expanded MoMA Design and Bookstore and free street-level galleries on the ground floor that will make art more accessible for all.
A highlight among the expanded museum's inaugural roster: "member: Pope.L, 1978–2001" (October 21, 2019-January, 2020) focuses on a group of landmark performances that have defined the artist as an agitator and humorist who has used his body to examine division and inequality in New York City and in the more tranquil setting of Maine, where he taught for 20 years.


Photos by Zachary Tyler Newton
LMCC's Arts Center at Governors Island↑
September 19 – October 31
The first permanent home for artists and audiences on Governors Island opens to the public on September 19, 2019 in a 19th century warehouse. The 2019 fall season includes exhibitions by Yto Barrada with guest artist Bettina and Michael Wang as well as The Take Care Series, a fall public program that reframes art curation as a mindful practice stemming from the concept of care.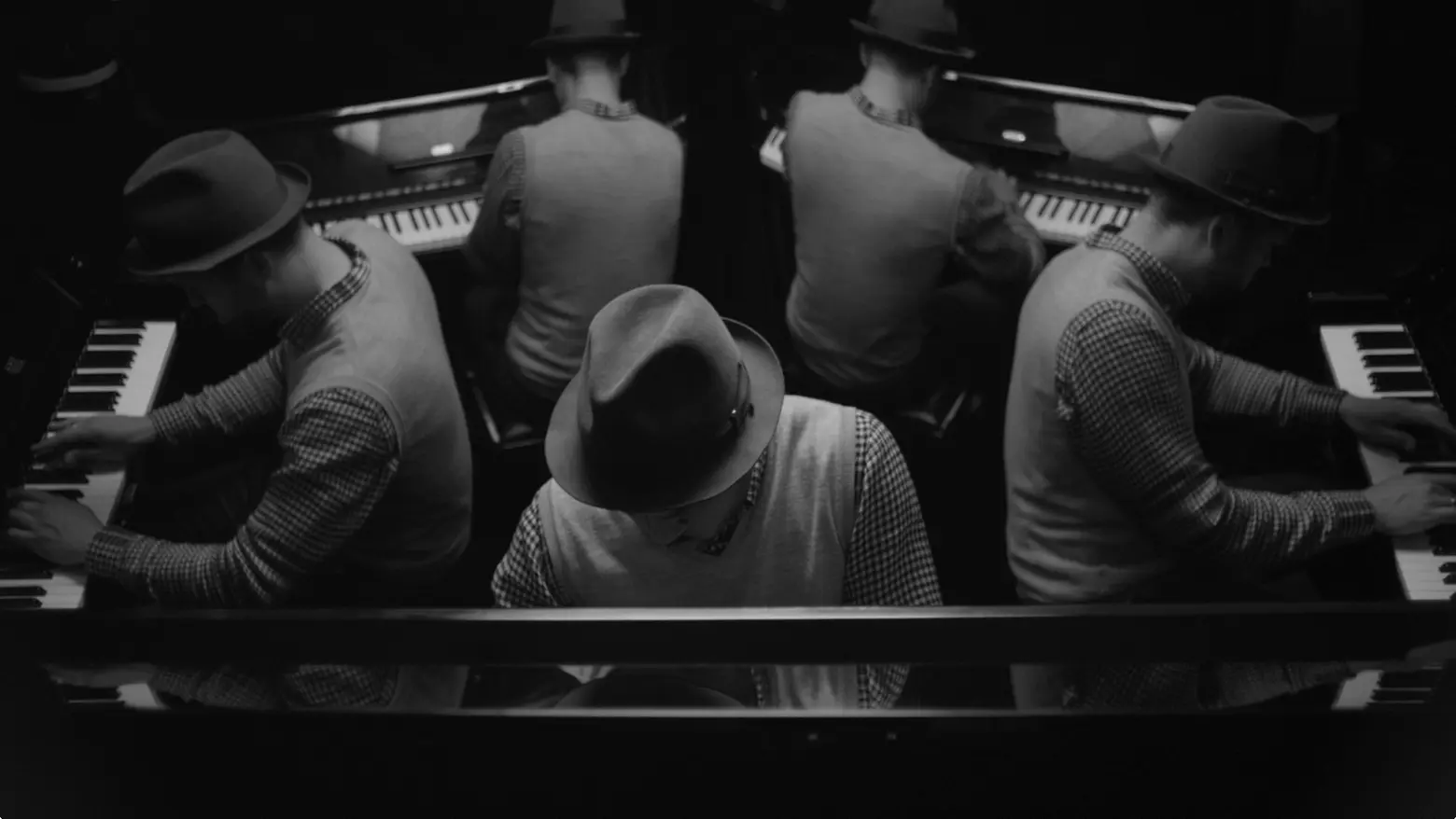 Lorna Simpson, Chess, 2013 (still). 3-channel HD video, black and white, sound, looped; 10:19 min. Edition of 3, with 1 AP © Lorna Simpson; Courtesy the artist and Hauser & Wirth

Jason Moran ↑
The Whitney Museum of American Art
99 Gansevoort Street
September 20, 2019 – January 2020
The boundary-busting artist Jason Moran (b. 1975) grounds his practice in jazz composition, bridging the visual and performing arts. Heralded as one of the country's leading jazz innovators, Moran translates his personal experiences into dynamic musical compositions that challenge the medium's formal conventions. His experimental approach to art-making embraces the intersection of objects and sound. This exhibition—the artist's first solo museum show—presents a range the artist's work, from his own sculptures, drawings and performances to collaborations with visual artists including Joan Jonas, Kara Walker, Lorna Simpson, Glenn Ligon, Stan Douglas, Carrie Mae Weems, Adam Pendleton, Theaster Gates, Julie Mehretu, Ryan Trecartin, and Lizzie Fitch.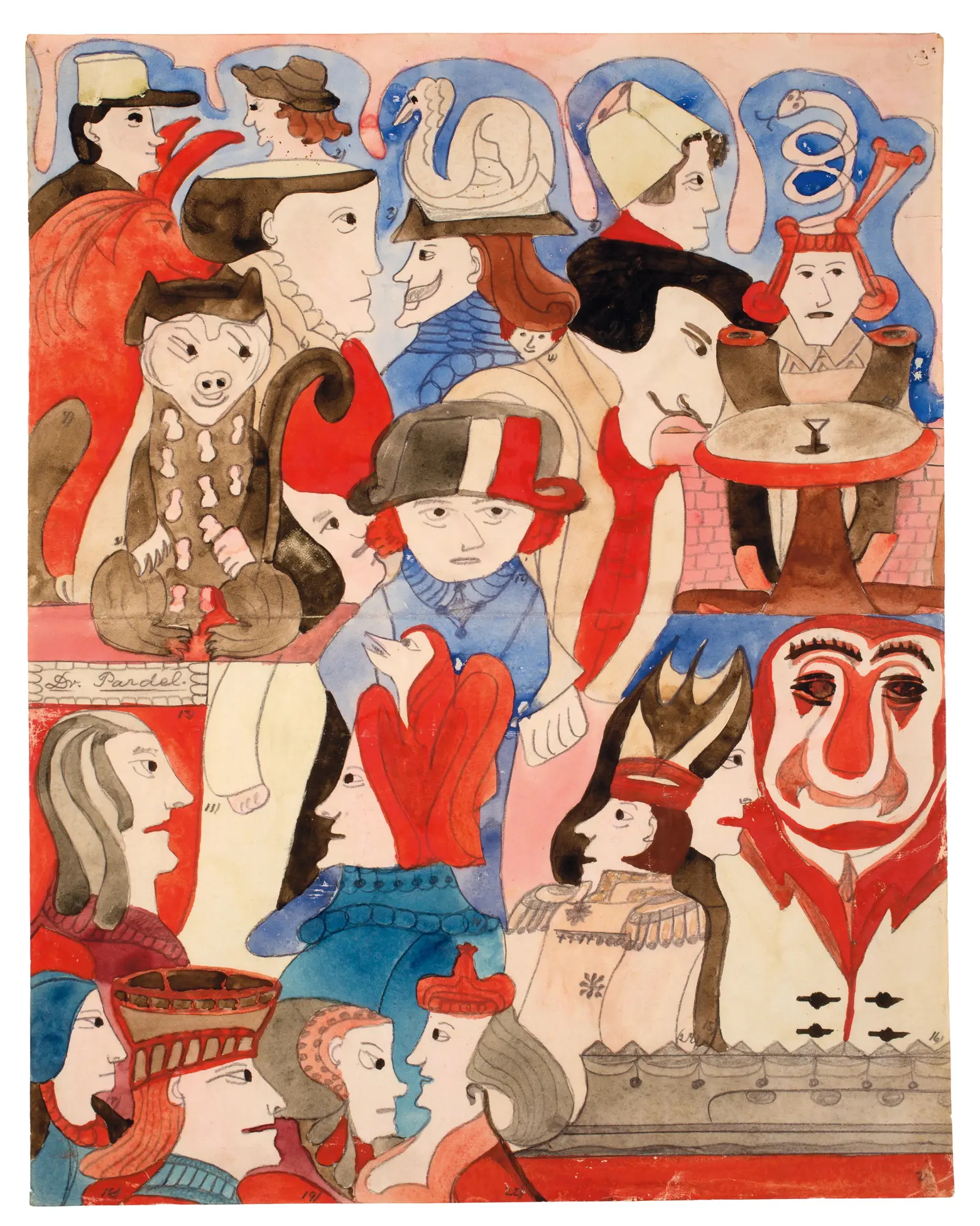 August Klett (1866–1928, Germany). Untitled ("Dr. Pardel") c. 1914–1918. Watercolor and graphite on paper. 16 1/4 x 11 3/4 in. Collection of Audrey B. Heckler. Photography © Visko Hatfield, courtesy of the Foundation to Promote Self Taught Art and Rizzoli International Publications, Inc.
"Memory Palaces: Inside the Collection of Audrey B. Heckler" ↑
American Folk Art Museum
2 Lincoln Square
September 17, 2019–January 26, 2020
The collection of Audrey B. Heckler  includes self-taught art and art brut created by more than 70 artists.  The collection is emblematic of the growth of the field of self-taught art in the United States. Heckler, a committed patron of the American Folk Art Museum, has surrounded herself with excellent examples by artists like Emery Blagdon, Aloïse Corbaz, William Edmondson, August Klett, Augustin Lesage, Martín Ramírez, Thornton Dial, and Anna Zemánková.


Henry Chalfant. Dust Sin, 1980. Courtesy of Eric Firestone Gallery.
"Henry Chalfant: Art vs. Transit, 1977-1987"↑
The Bronx Museum of the Arts
1040 Grand Concourse
September 25, 2019 to March 8, 2020
Widely known as one of the most significant documentarians of street art, Henry Chalfant has produced a voluminous body of photographs that capture the birth of subway-car graffiti art–and, with it, hip-hop–in the 1970s and '80s, starting with its early days in the Bronx. Chalfant became interested in graffiti art as a newly-arrived New Yorker in 1973. By 1977, he had developed a technique of capturing exposures in rapid succession on a 35mm camera from different positions on the platform, which enabled him to document the entire train in multiple overlapping shots.
Also of note at the Bronx Museum this fall is "The Life and Times of Alvin Baltrop," up through February 9, 2020. A quiet man who supported himself doing odd jobs, Bronx native Alvin Baltrop left an important body of work after his untimely death in 2004. Like the haunting images of Peter Moore, Robert Mapplethorpe, Peter Hujar, and Gordon Matta-Clark, Alvin Baltrop's photograph's memorialize New York City at a precarious moment amid ruin and chaos.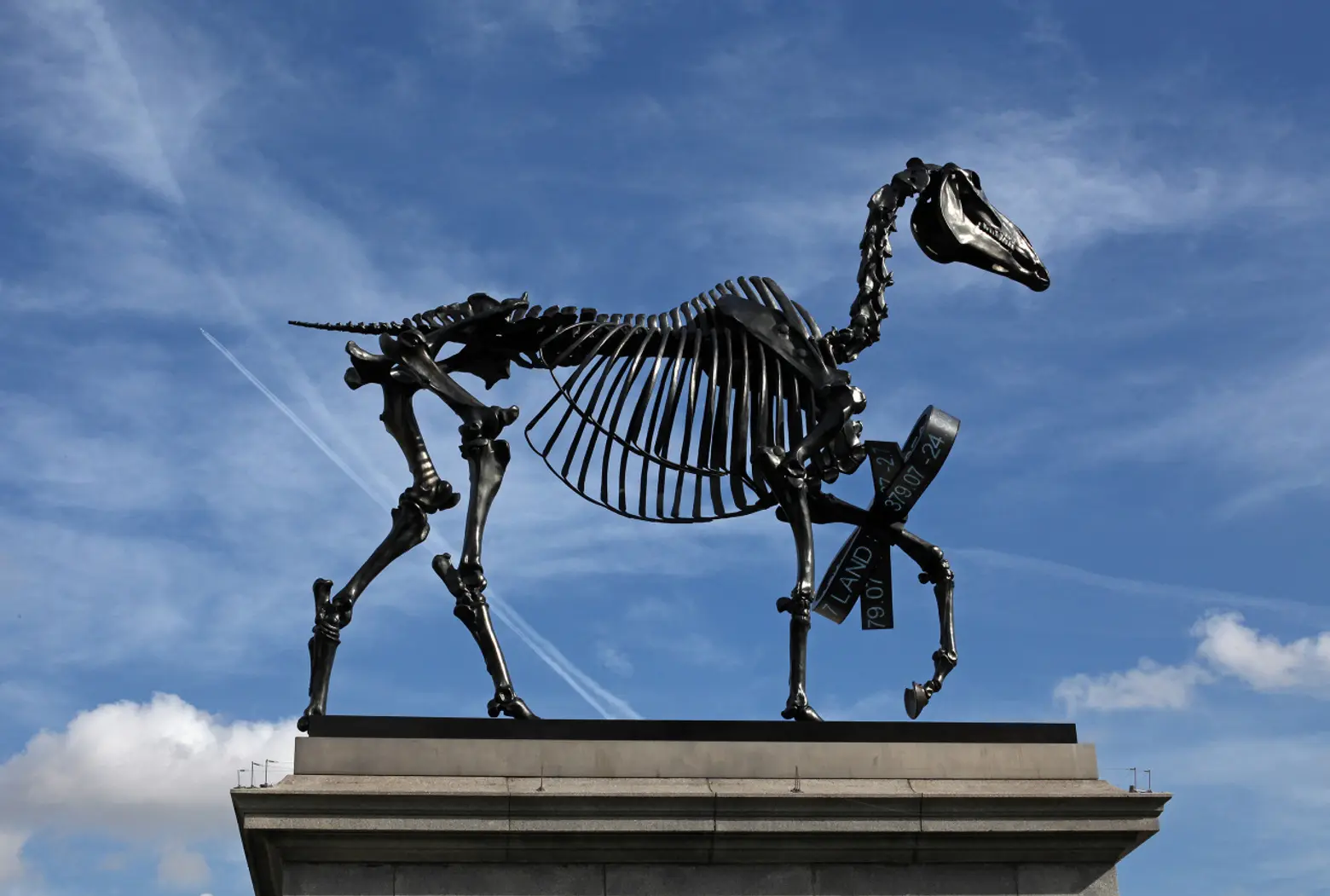 Hans Haacke, Gift Horse, 2014. Bronze with black patina and wax-finish stainless steel fasteners and supports, and 5 mm flexible LED display with stainless steel armature and polycarbonate face, 183 × 169 × 65 in (464.8 × 429.3 × 165.1 cm). Commissioned by the Mayor of London's Fourth Plinth Programme. Courtesy Paula Cooper Gallery, New York. Photo: Gautier Deblonde
"Hans Haacke: All Connected ↑
New Museum
235 Bowery
October 24, 2019 – January 26, 2020
This major retrospective of the work of Hans Haacke (b. 1936, Cologne, Germany) will be the first major American museum exhibition to survey Haacke's work in over thirty years. For six decades Haacke has been a pioneer in kinetic art, environmental art, conceptual art, and institutional critique. This retrospective will include over thirty works from across the artist's career, focusing in particular on the way he expanded the parameters of his practice to encompass the social, political, and economic structures in which art is produced, circulated, and displayed. The exhibition will include a number of Haacke's rarely seen kinetic works, environmental sculptures, and visitor polls of the late 1960s and early '70s, works from the 1970s and '80s and more recent works that consider the intersection of global capitalism, nationalism, and humanitarian crises.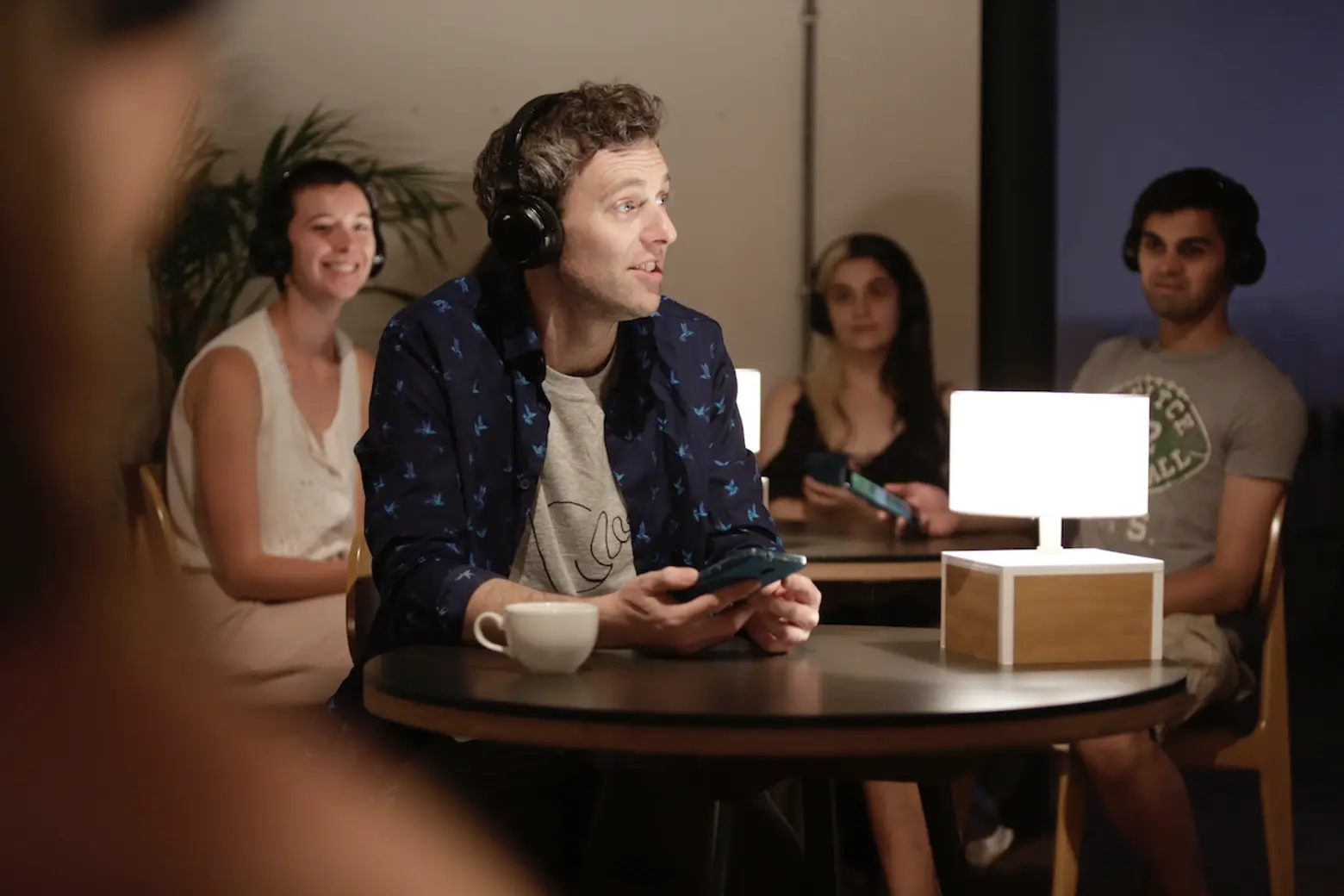 "User Not Found. Photo credit: Justin Jones.
Next Wave 2019 ↑
Brooklyn Academy of Music
Brooklyn NY (See site for specific event venue)
October – December
The Next Wave Festival returns with 12 weeks of cross-genre performance including music, opera, theater, physical theater, dance, film/music, and performance art. This year's program will be the first curated by BAM's new artistic director, David Binder.
Galleries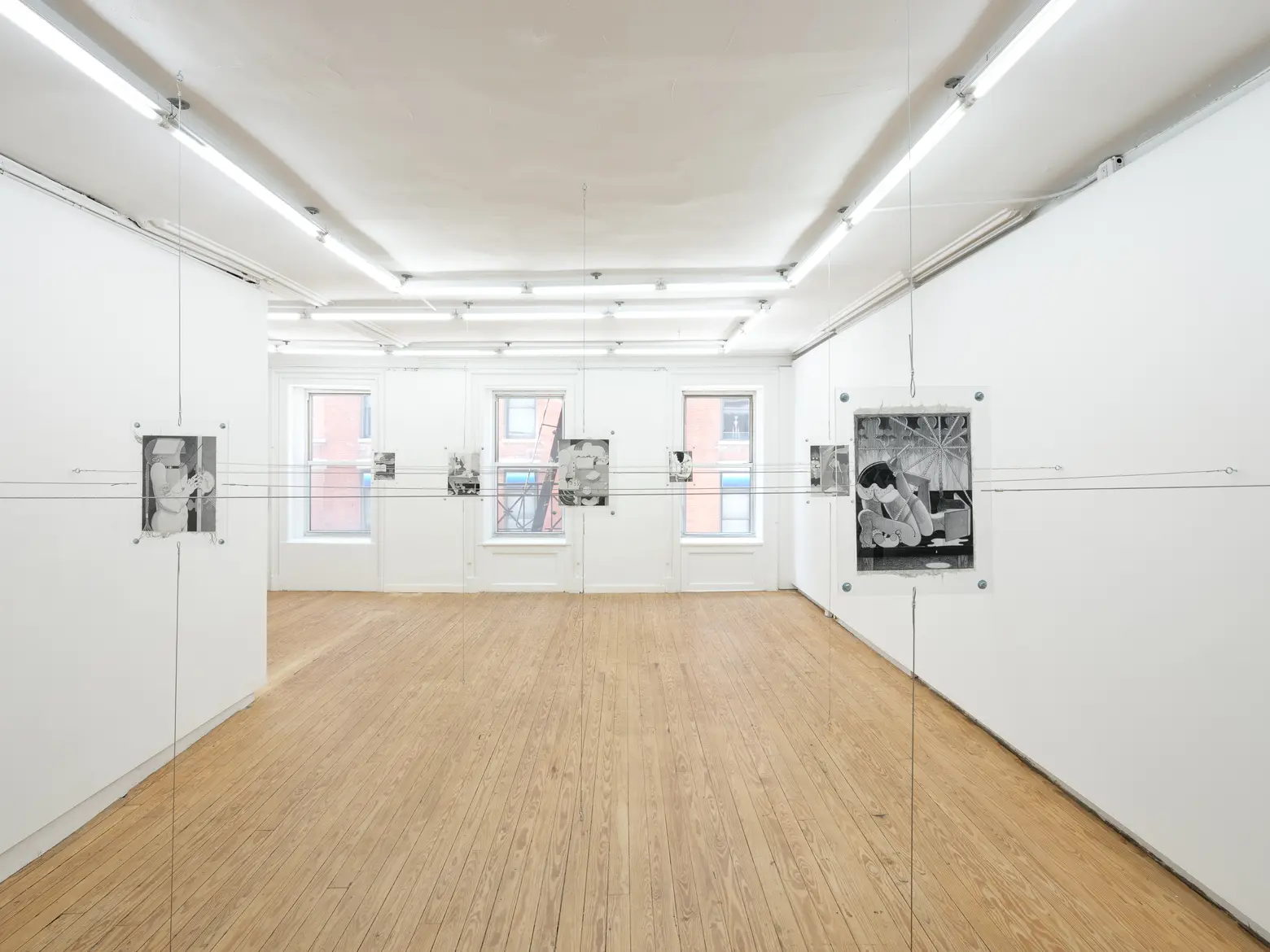 Image courtesy of the artist and Helena Anrather.
Cindy Ji Hye Kim: "Verses from the Apocalypse" ↑
September 6 – October 13, 2019"
Helena Anrather Gallery
28 Elizabeth Street
Foxy Production
2 East Broadway, 200
Helena Anrather and Foxy Production simultaneously offer an exhibition of new work by Cindy Ji Hye Kim comprised of paintings, sculptures, and drawings across the two galleries. The artist explores our desire for and dependence on structural limits and boundaries in image-making.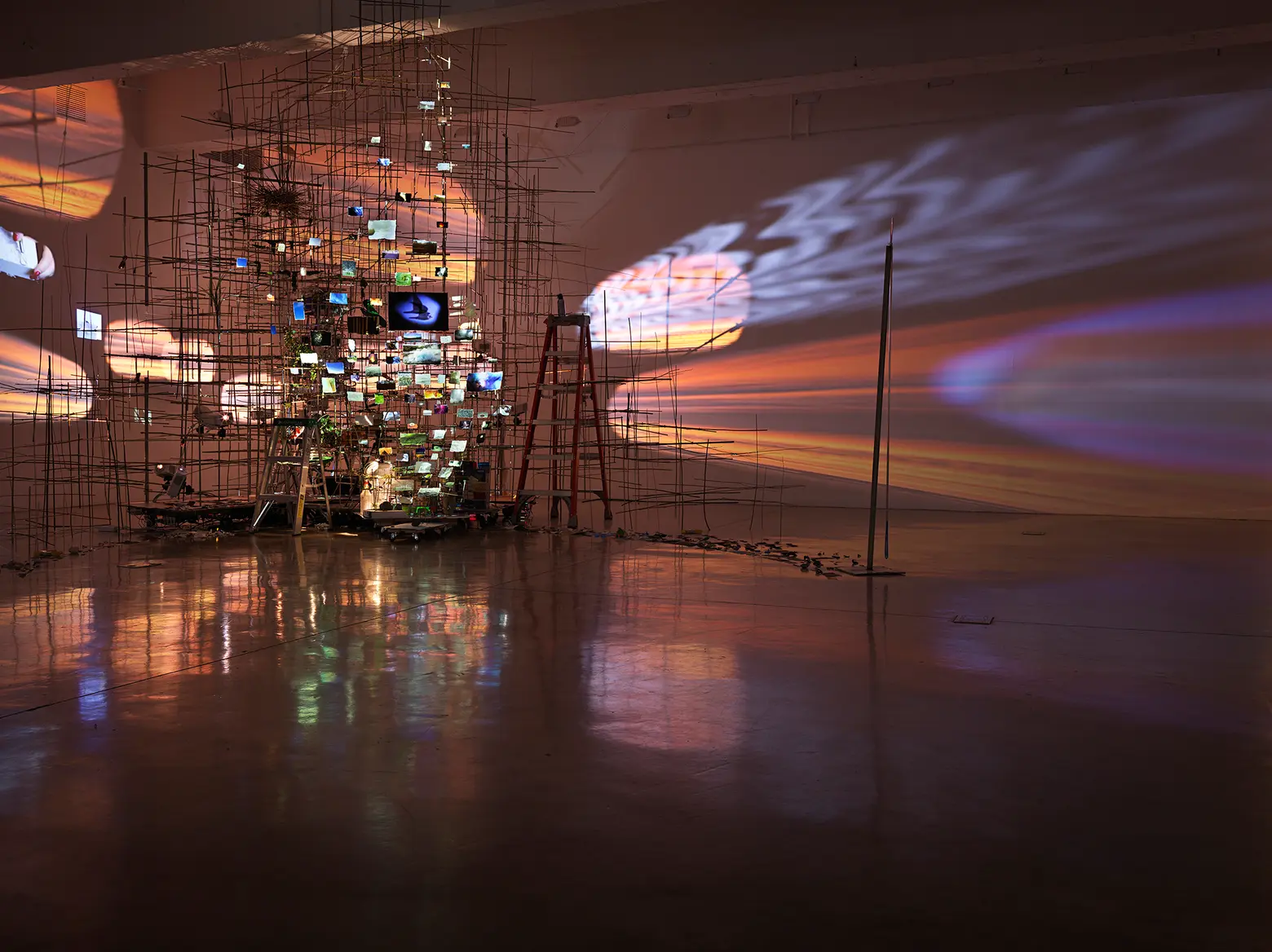 Sarah Sze, Installation view, Tanya Bonakdar Gallery, New York, September 5 — October 19, 2019. Photo by Genevieve Hanson. Courtesy the artist and Tanya Bonakdar Gallery, New York / Los Angeles
Sarah Sze ↑
Tanya Bonakdar Gallery
521 West 21st Street
September 5 – October 19, 2019
Sarah Sze's work has defied the limitations of artistic media for two decades using sculpture, installation, video, photography, printmaking and painting. Sze has been credited with dismantling and re-envisioning the very potential of objects, simultaneously celebrating the particular relevance of sculpture in contemporary visual culture, while also expanding its definition. Sze's latest body of work evokes the generative and recursive process of image-making in a world where consumption and production are more interdependent.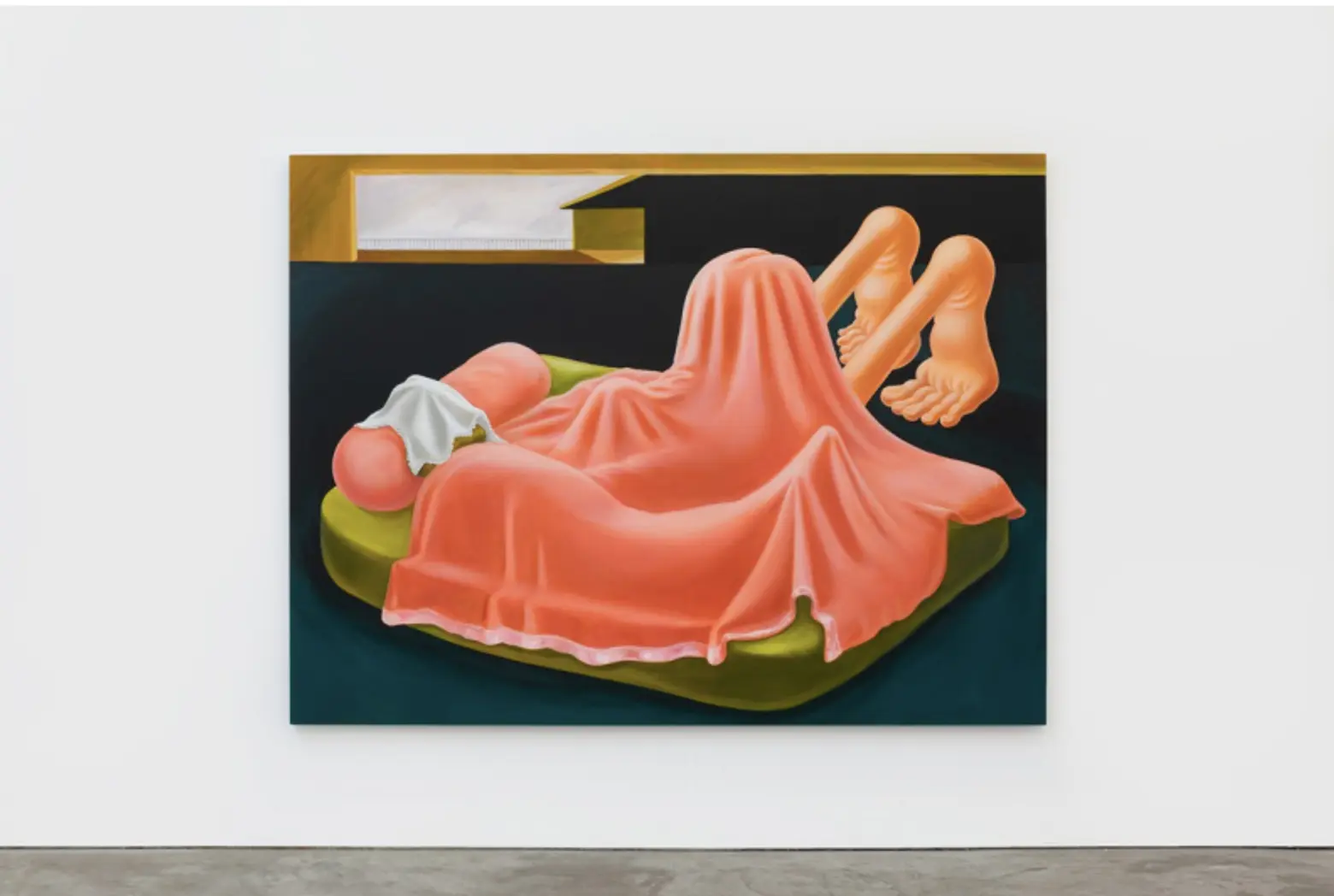 Louise Bonnet, Interior with Pink Blanket, 2019, oil on linen, 72 × 96 inches (182.9 × 243.8 cm) © Louise Bonnet.
Domestic Horror ↑
Gagosian
Park Avenue at 75th Street
September 5–October 19, 2019
While you're checking out Richard Serra: "Triptychs and Diptychs," recent sculptures and drawings by the octogenarian Serra, American's best-known living sculptor, this group exhibition of young, emergent artists given a venerable platform is a must-see. Curated by gallerist Bill Powers, "Domestic Horror" focuses on the darker fears that arise when we encounter the unknown, "Domestic Horror" probes the friction between the civilized world and baser human impulses.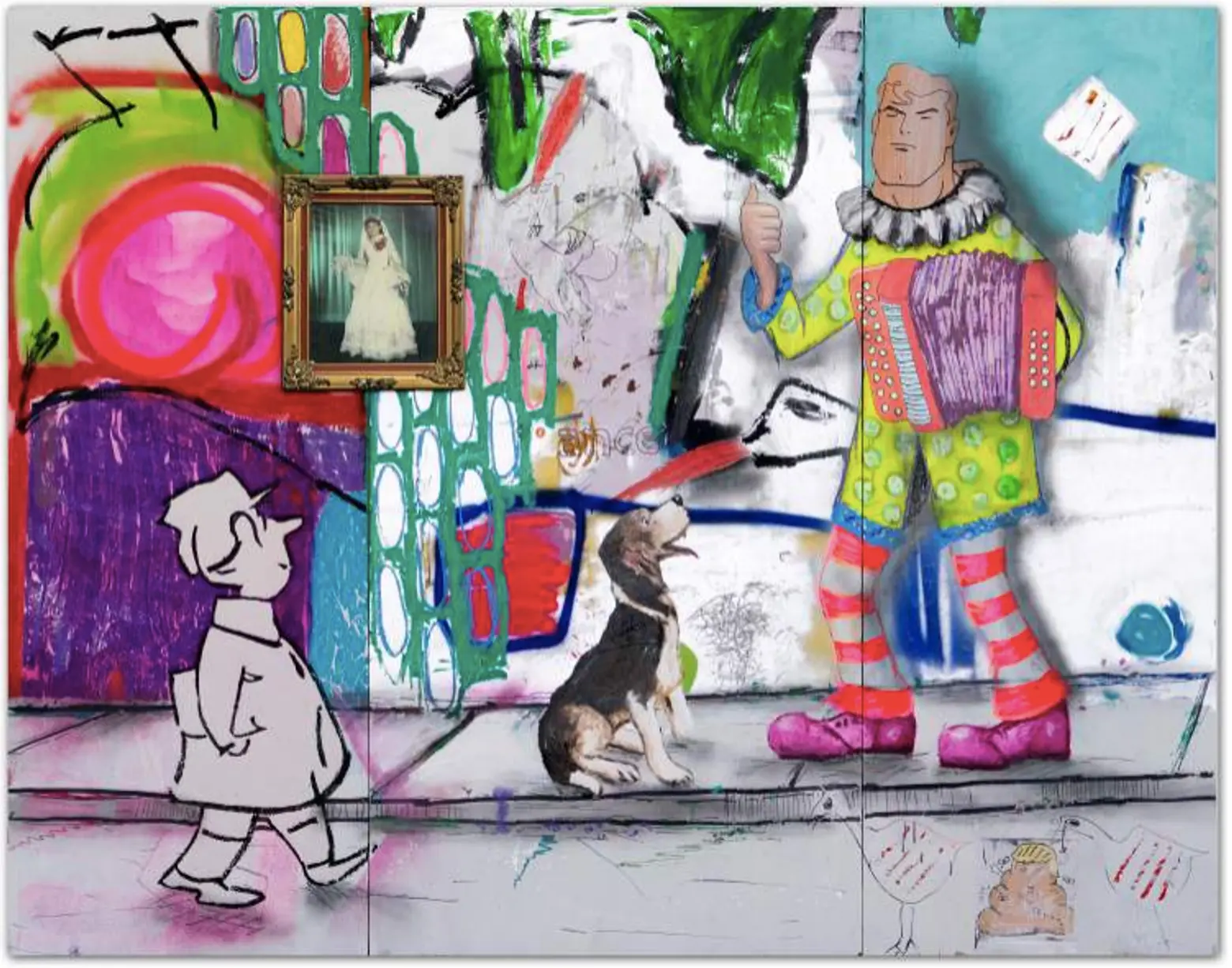 Cande Aguilar. Chanito, 2018, multimedia painting with image transfer & found object on panel, 81×96.5 in. Courtesy of the artist and 81 Leonard Gallery.
Cande Aguilar: barrioPOP at 81 Leonard ↑
81 Leonard Gallery
81 Leonard Street
Through October 1
Artist Nancy Pantirer has long been a fixture in the Tribeca art scene. She's now reimagined the front of her studio space into the 81 Leonard Gallery, with the goal of "[giving] back to the artistic community by showing underrepresented artists." For its inaugural exhibition, the gallery presents Cande Aguilar's first solo show in New York. The retrospective charts the development of Aguilar's vibrant artistic style barrioPOP. Inspired by the hybrid culture of Brownsville in the Rio Grande Valley in South Texas, the artist's work celebrates the barrio in which he grew up, using humorous juxtapositions of pop-cultural references.
Fairs & Events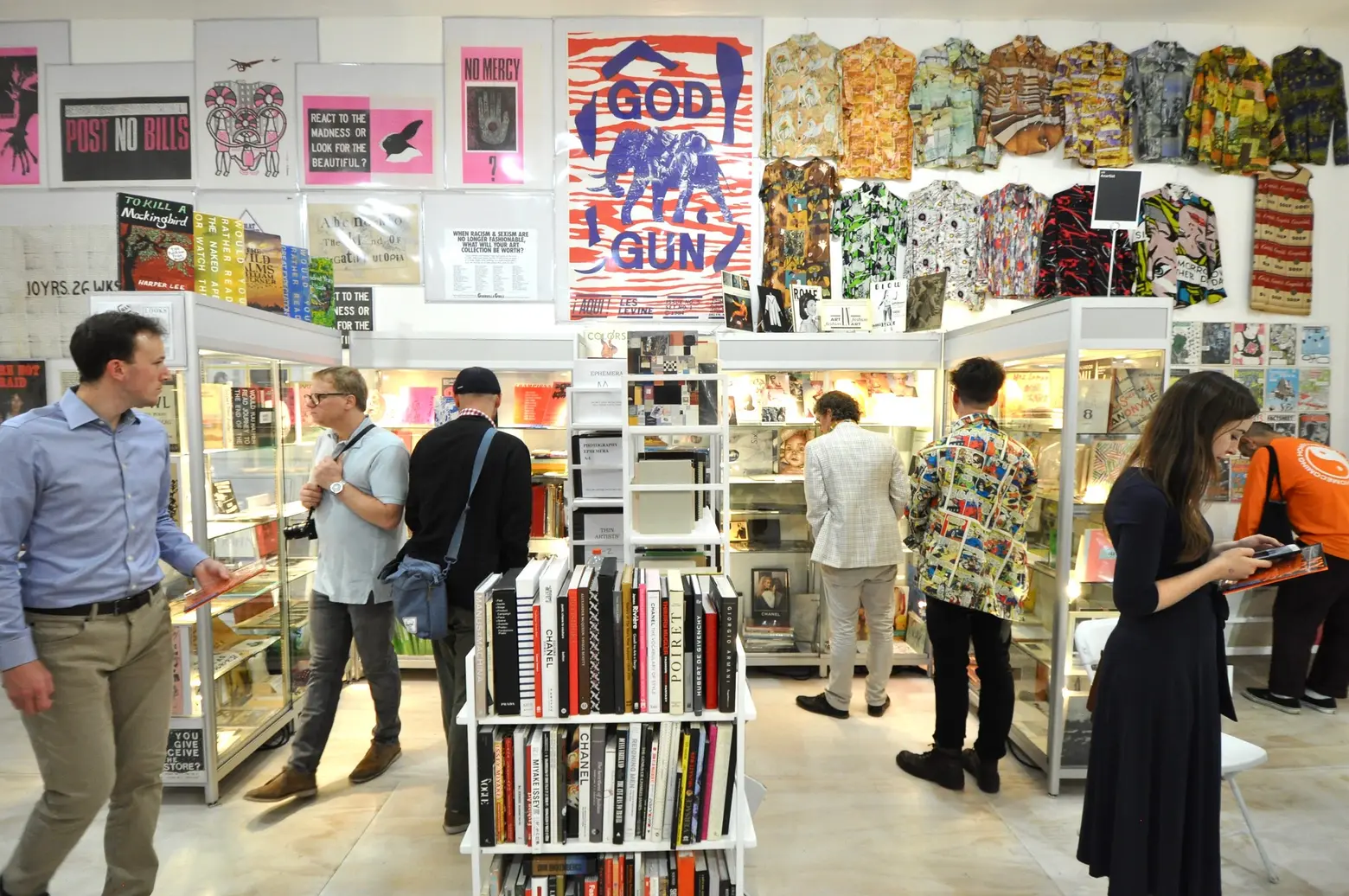 Image: Hrag Vartanian via Flickr.
Printed Matter NY Art Book Fair ↑
MoMA PS1, 22-25 Jackson Avenue, Long Island City
September 20–22
Opening Night: September 19
Printed Matter's NY Art Book Fair (NYABF) is the leading international gathering for the distribution of artists' books, celebrating the full breadth of the art publishing community. Held at MoMA PS1 in Long Island City, the 2019 NY Art Book Fair will host 369 exhibitors from 31 countries, including a broad range of artists and collectives, small presses, institutions, galleries, antiquarian booksellers, and distributors. Free and open to the public, the event draws more than 40,000 visitors each year.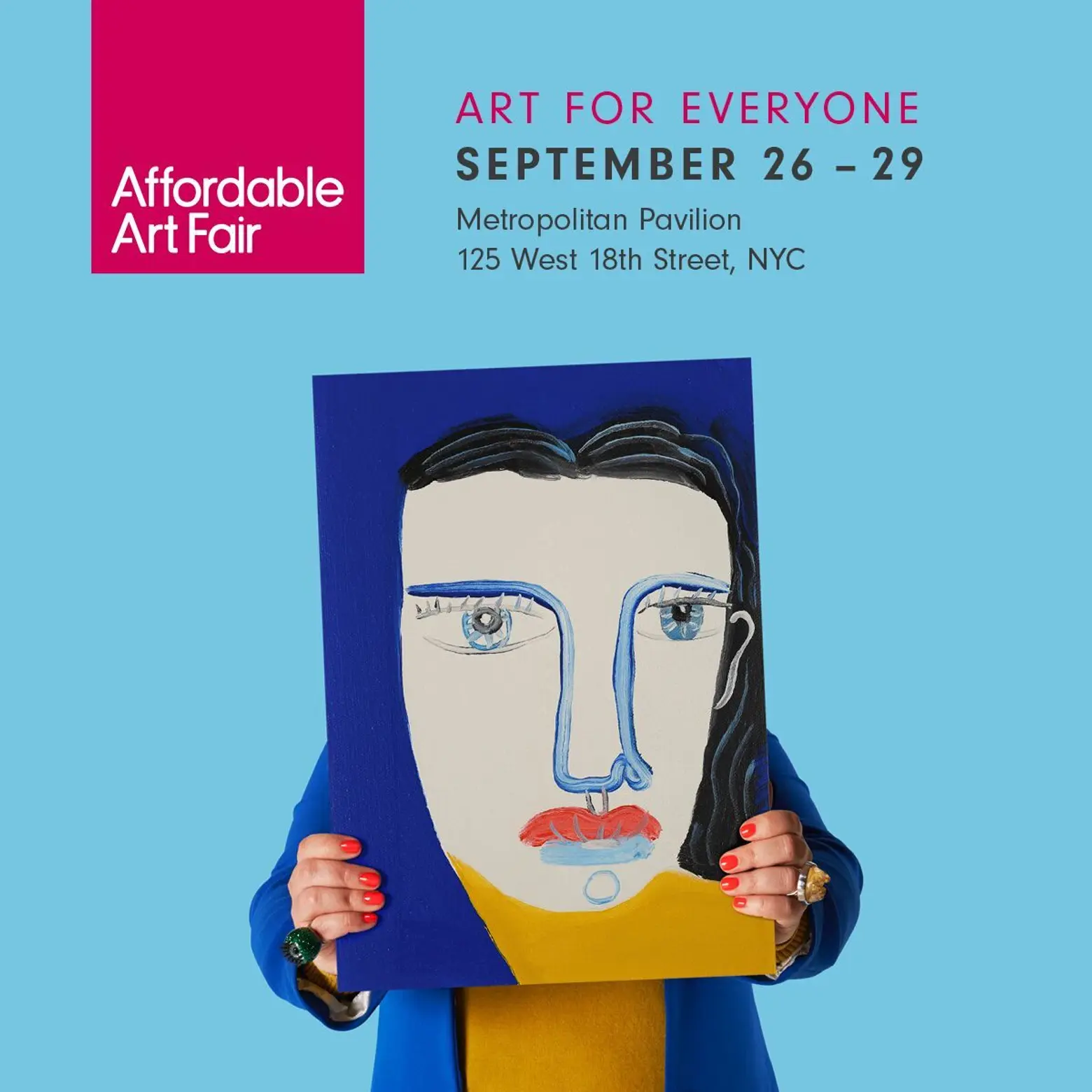 Image courtesy of Affordable Art Fair.
Affordable Art Fair  
Metropolitan Pavilion, 125 West 18th Street, New York, NY 10011
September 26 – 29
Affordable Art Fair NYC will return to the Metropolitan Pavilion in September for its fall edition, welcoming over 75 local, national and international exhibitors, to showcase original work from over 400 contemporary artists. Browse a diverse curated selection of artworks ranging between $100 to $10,000. Visitors will enjoy the friendly and relaxed atmosphere filled with hands-on-workshops, kids' activities and personal shopping experiences.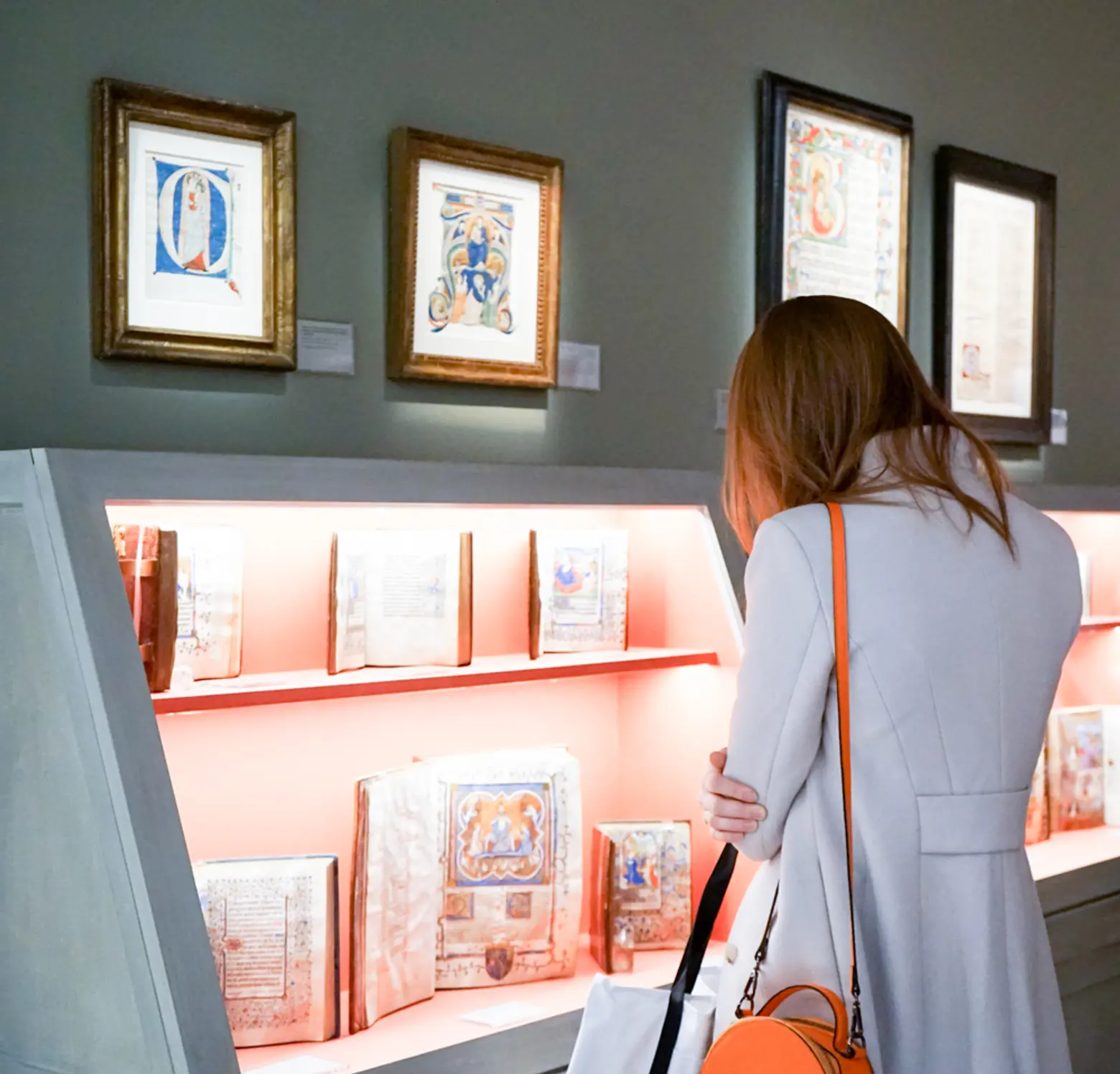 Photo: Kirsten Chilstrom.
TEFAF ↑
Park Avenue Armory, 643 Park Avenue
November 1-5, 2019
The first of the season's important international art fairs have a focus on fine and decorative arts from antiquity to 1920.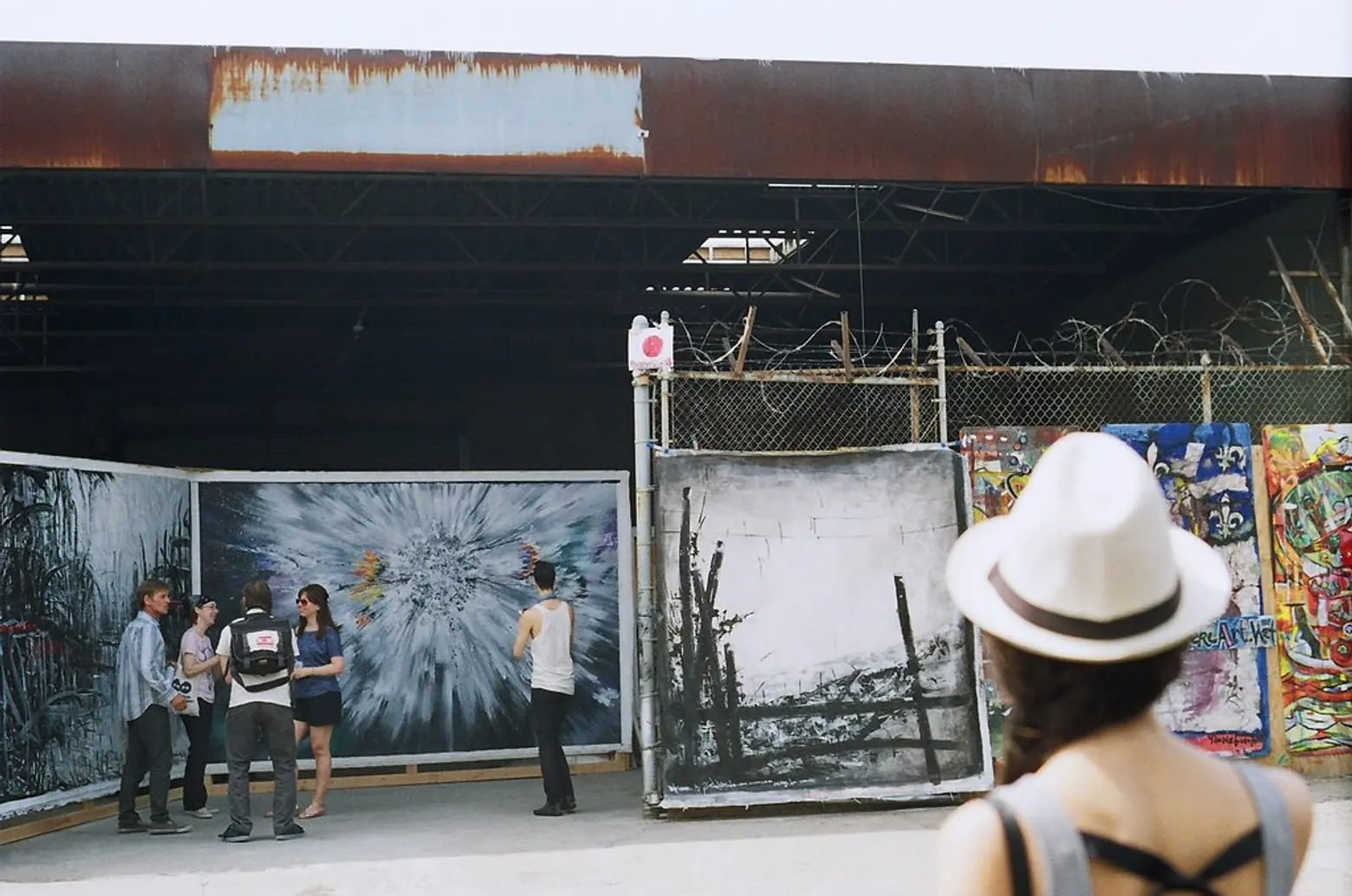 Image courtesy of Harold Navarro via Flickr
Bushwick Open Studios ↑
Various locations in Bushwick
September 20-22, 2019; opening night, September 20
This year's event, titled "Seeking Spaces," is a group exhibition featuring over 60 artists in one of New York City's most fertile art enclaves, the Brooklyn neighborhood of Bushwick. The three-day, neighborhood-spanning festival gives you a chance to watch artists in action in the studio, get a behind the scenes look at your favorite galleries, attend block parties and performances and take advantages of art sales.
Outdoors
Carmen Herrera: "Estructuras Monumentales" ↑
City Hall Park
Through November 8, 2019
"Monumental Structures" is the first major exhibition of outdoor sculptures by New York-based artist Carmen Herrera (b. 1915, Havana, Cuba). She has created vibrant and colorful abstract paintings for over 70 years but has only recently received her well-deserved art-historical recognition. Herrera's radiant compositions create a distinctive clarity by emphasizing what she sees as "the beauty of the straight line." This series of sculptures,  which Herrera began in the 1960s, is even less well known and is informed by her architectural training.
RELATED: