Designer Gift Guide: 10 NYC Creatives Share What They're Giving (and Want) This Holiday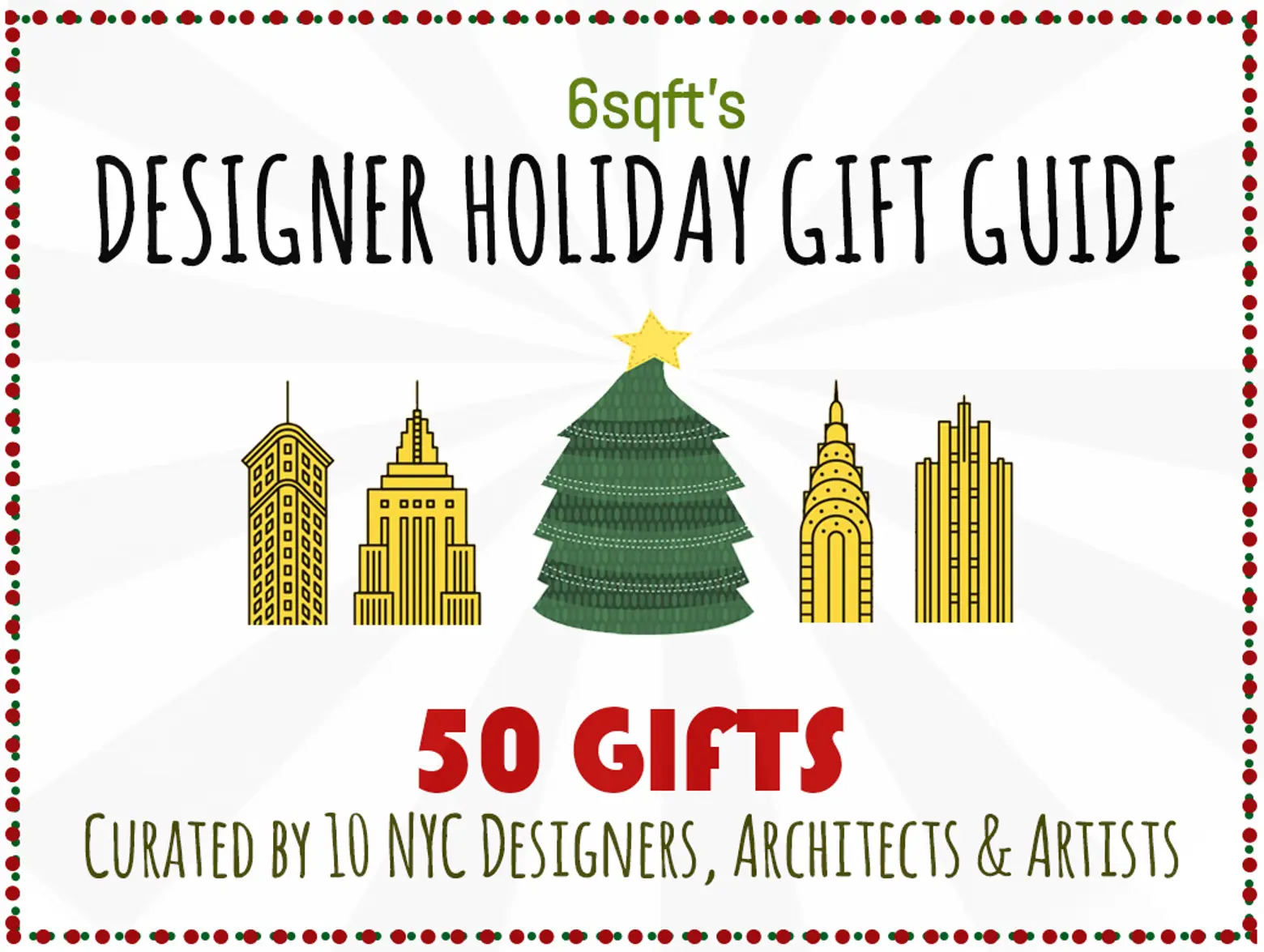 Image: skyline illustration adapted from Linda Eliasen's "There's no place like home." Prints available for purchase here.
Who better to ask for unique gift ideas than those with an eye for the amazing? This year, 6sqft asked 10 New York City designers, architects and artists to share five things that they're gifting this holiday season—as well as what they'd love to get their hands on for themselves!
Ahead you'll find 50 fantastic gift ideas for every budget and for every kind of person on your gift list, from the techie to the design buff to your pal with kids to the hip hop and "Star Wars" nerds in your life. Start checking off your holiday shopping list here!
↓↓↓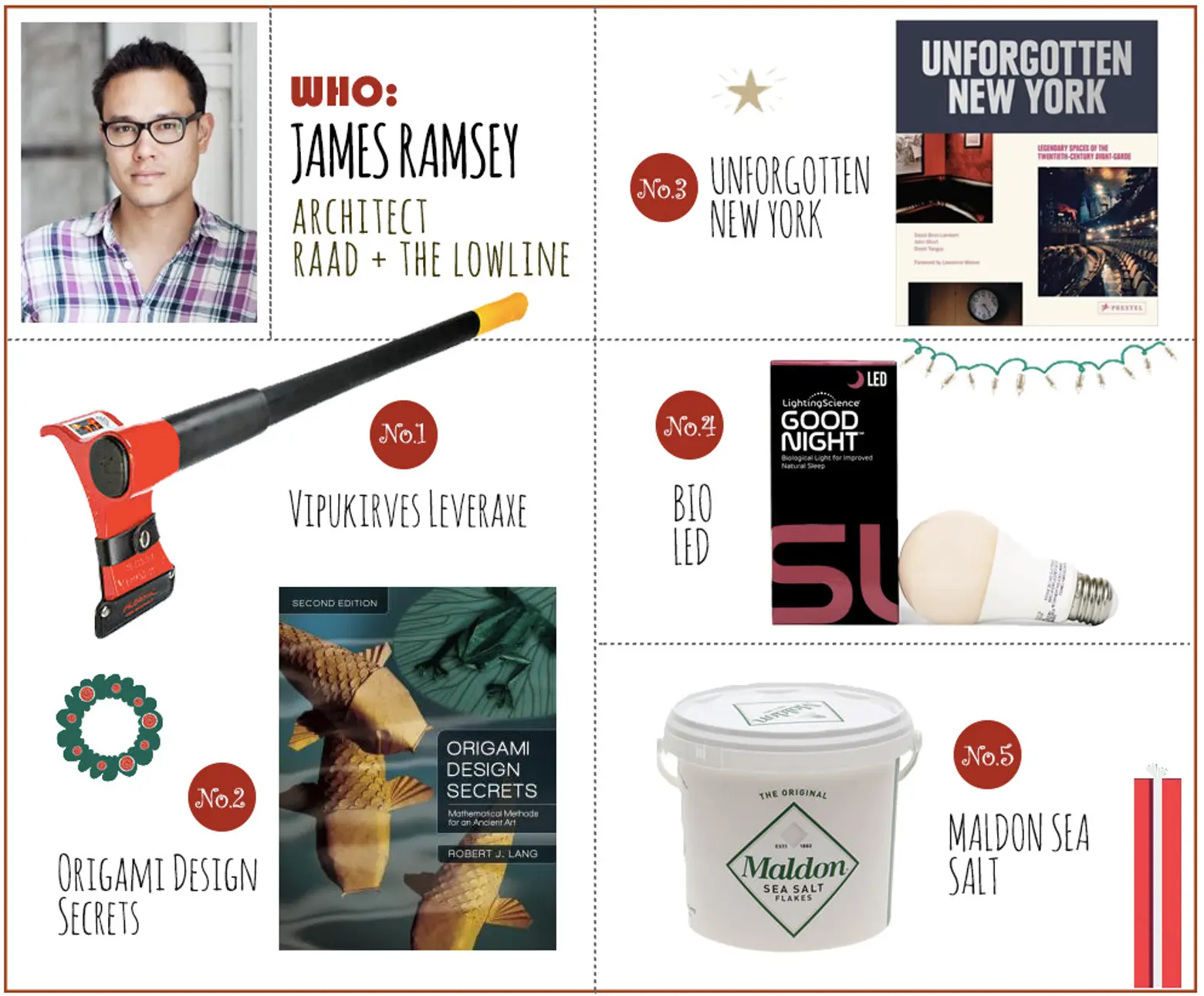 James Ramsey, architect and principal of RAAD, creator of the Lowline underground park
1. Vipukirves Leveraxe: How is it that a 5,000 year old tool can be reinvented… better?? Turning an axe from a wedge into a lever is brilliant. And it's beautiful. Check it out.
2. "Origami Design Secrets," Robert Lang: Robert Lang, a mathematician cum origamist, is kind of the reigning god of the art. Bet you had no idea that origami was in a golden age, emerging as a perfect fusion of art and math, and not just a kid's activity anymore. You won't believe the rigor that goes into creating these eye-popping folded pieces.
3. "Unforgotten New York": In as forward-looking a city as New York, it's often easy to forget the sheer density and richness of our cultural forebears that surrounds us constantly. Here's to not forgetting!
4. Good Night LED: Did you know your eye actually has four receptors, not two?? Well good thing someone did. Lighting Science Group has been kicking ass in the emerging field of creating "bio lighting," which acknowledges the effect that light has on our bodies and minds. This LED bulb will make you sleep better, no joke. This is not quackery, it's real science.
5. Maldon 1.5 kg tub: Maldon sea salt makes literally everything taste better. The little crystalline pyramids are relatively cheap and actually have better texture than the expensive stuff. Oh, and it comes in a mammoth tub now. Completely over the top, but your salt-tooth will thank you!
↓↓↓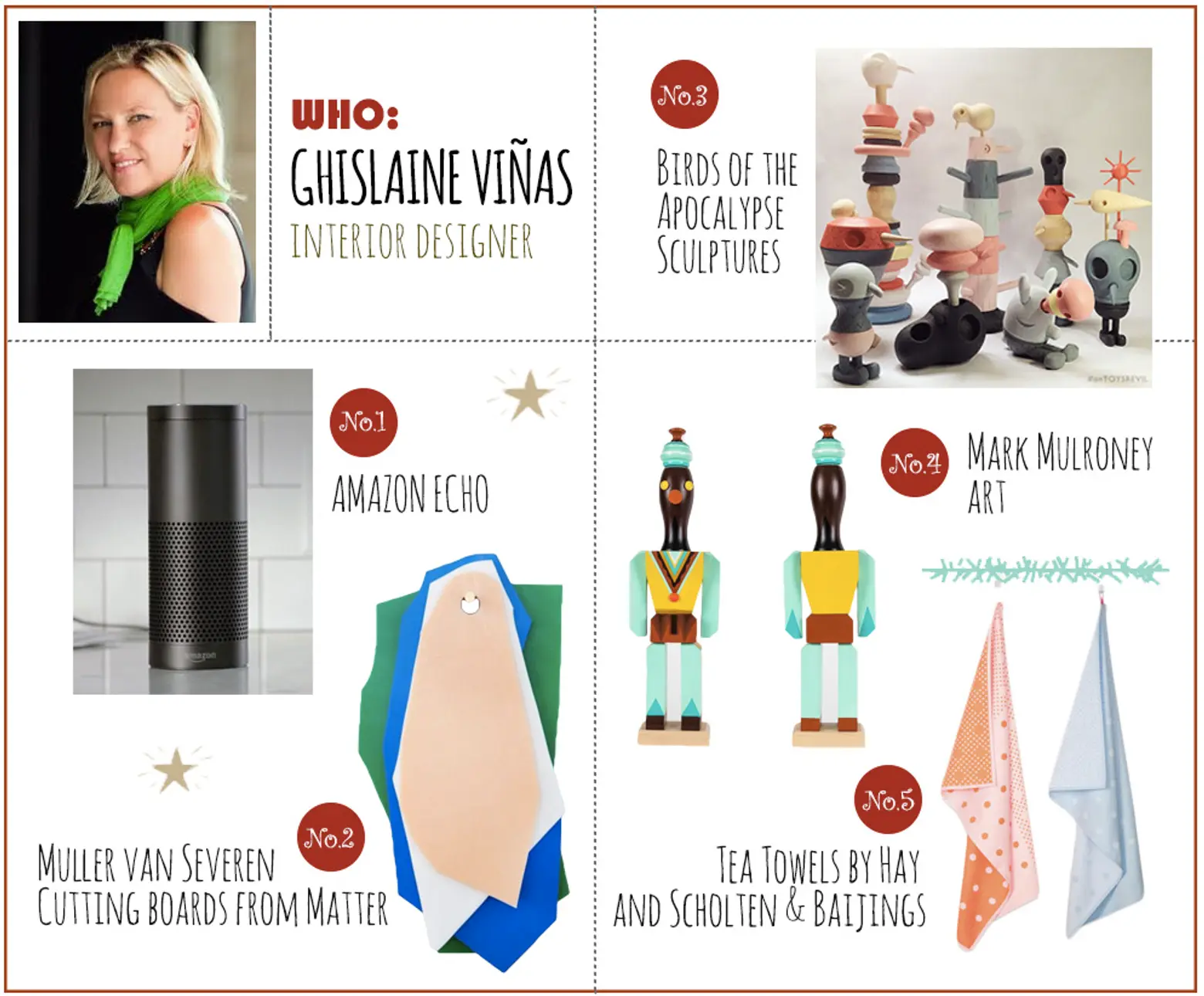 Ghislaine Viñas, interior designer 
1. Echo from Amazon: Friends of ours gave my husband one and I have seen the light. Shout things like "set the timer to ten minutes;" "add tampons to my shopping list" or "play Christmas music" and this little creature makes it all happen. Now I want everyone to have one of these handy gadgets.
2. Muller van Severen cutting boards from Matter: I first saw these at Dutch Design Week last year and think they would be perfect for cheese plates and other appetizers. The colors are fantastic and just love the bizarre shapes.
3. Birds of the Apocalypse sculptures by Jeremyville: These sculptures are available through Cappellini in Soho and I want everyone on my holiday list to enjoy one of these fun and happy creatures.
4. Mark Mulroney artwork: Instead of gifting this, I would probably want this for myself; this sculpture by Mark Mulroney or any of his other sculptures available through Mixed Greens Gallery.
5. Tea towels by Hay and Scholten & Baijings: This one is a double rainbow kind of love—Dutch design coupled with polka dots makes these tea towels the perfect way to make drying dishes something to look forward to.
↓↓↓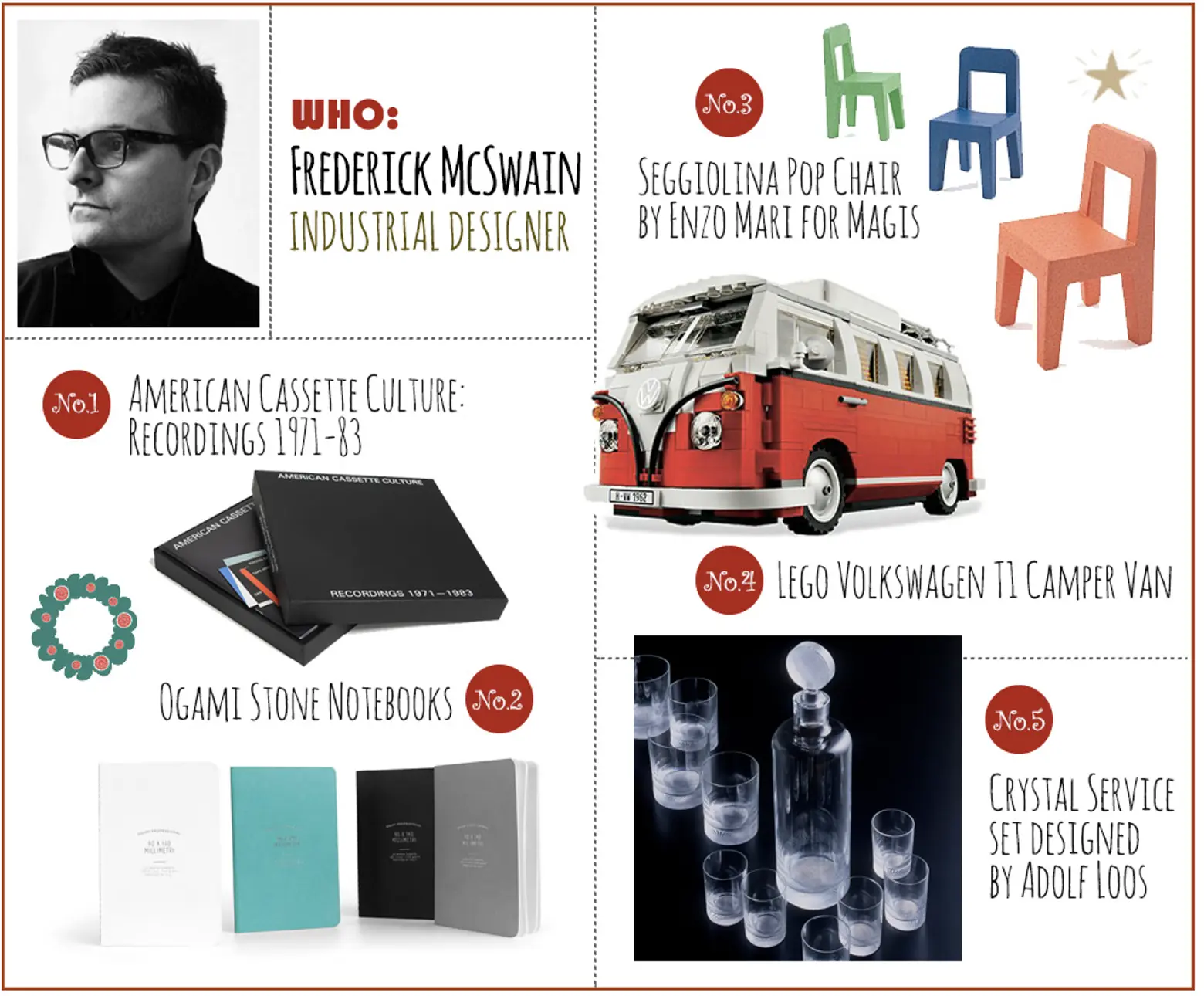 Frederick McSwain, industrial designer, Chief Creative Officer of LR Paris
1. American Cassette Culture: Recordings 1971-83: A limited eight LP box set…the covers alone are worth the investment.
2. Ogami stone notebooks: I was introduced to Ogami by my design team who all fell head-over-heels for their stone paper notebooks. Since I haven't purchased one myself, I think these will make great little stocking stuffers.
3. Seggiolina Pop Chair by Enzo Mari for Magis: I've loved these featherweight little chairs since my days with the Conran Shop. Now, with a toddler running around, I finally have a use for them.
4. Lego Volkswagen T1 Camper Van: Living in New York, automobiles can many times be more of a hassle than a luxury. Although I would love to buy the real thing, for now I'll settle for an amazing Lego version.
5. Crystal service set designed by Adolf Loos for J & L Lobmeyr: Fact — I am prone to breaking glassware. I am completely aware that crystal is not the smartest investment for someone in my predicament. That being said, in my opinion, this is one of the most elegant, subtle, and timeless collections ever designed.
↓↓↓
Fauzia Khanani, architect and principal of Fōz Designs
1. Macon et Lesquoy brooches: The respective daughters of an antiques dealer and an astrophysicist take the traditional art of embroidery and apply it to brooches of commonplace objects such as a cactus, steak, and lobster. There are endless versions of the caricatures and I, personally, would like one of each.
2. Death Star vase: From Andrea Claire Studio, this beautiful porcelain vase with a metallic finish will add a bit of glam to any interior not to mention a rotating splash of color depending on the flora. It wouldn't hurt if the recipient is also a fan of a particular sci-fi genre.
3. Indigenous Blooms Collection pillows: The stunning patterns and bold colors of this pillow collection from Bolé Road Textiles are inspired by traditional textiles and are handwoven in Ethiopia. Added bonus: a percentage of the proceeds go towards education and deforestation.
4. Tableware from Caskata: Each piece in this assortment of tableware tells a story with its mesmerizing detail. The colors and graphics provide a texture to what is actually smooth porcelain produced here in the US. It's almost so beautiful that you might think twice about covering it up with food.
5. Grand Taxonomy of Rap Names print: Pop Chart Lab's color-coded infographic highlights the semantic origins and relationships between the names of 282 hip-hop artists. Designed and produced by Brooklyn-based Pop Chart Lab, the print is bound to keep you or guests occupied for some time. I especially liked the "Audacious Misspelling" and "Guys Named Rob" categories.
↓↓↓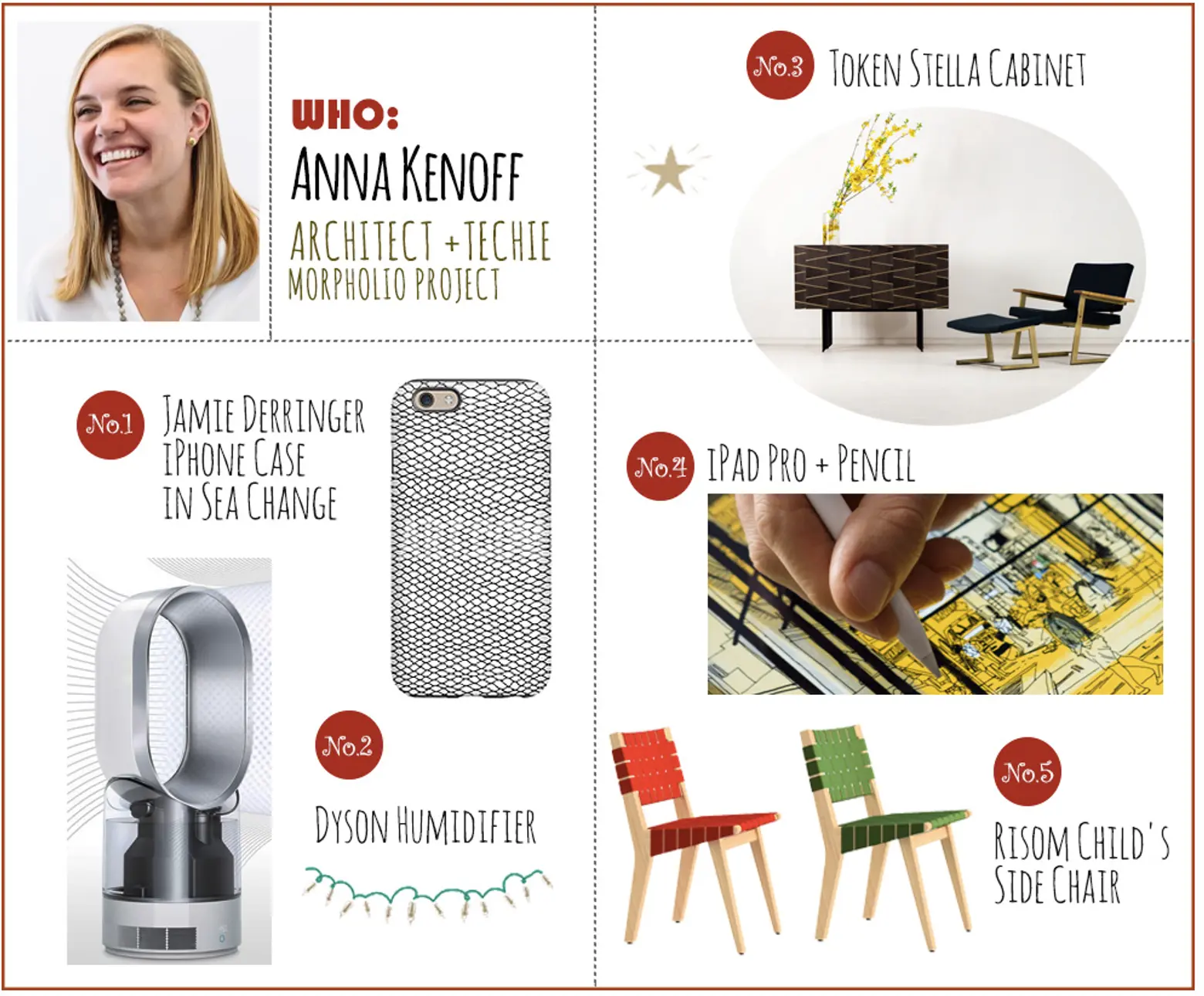 Anna Kenoff, architect, co-founder of the Morpholio Project
1. Jamie Derringer iPhone case in Sea Change: Why not make our everyday accessory our most stylish? Not to mention the soothing effects of Jamie's work can now be experienced every time you grab your phone. A reminder to slow down and take notice of the world around you, outside of your phone.
2. Dyson humidifier: When the heat finally cranks up this winter, these will turn your hot dry apartment into a soothing health spa that the whole family will appreciate. A great gift for anyone with a new baby.
3. Token Stella cabinet: Token is pushing the envelope with hand-crafted pieces made in Brooklyn that have a truly fresh look, feel and aesthetic. This vanity combines interesting materials, sleek lines, and plush detailing. A perfect spoil for that couple who is looking for something to give "each other" for the house!
4. iPad Pro + Pencil: Embrace the revolution—the pencil changes everything for designers in terms of how they use the touchscreen. There are so many exciting new possibilities with this tool, putting the delight of free-flowing thinking and sketching back into your software experience!
5. Knoll Risom Child's Chair: Kids love things made especially for them, and this is one they can pass down for generations. Start them early with a love of inspired, modern, conscientious design.
↓↓↓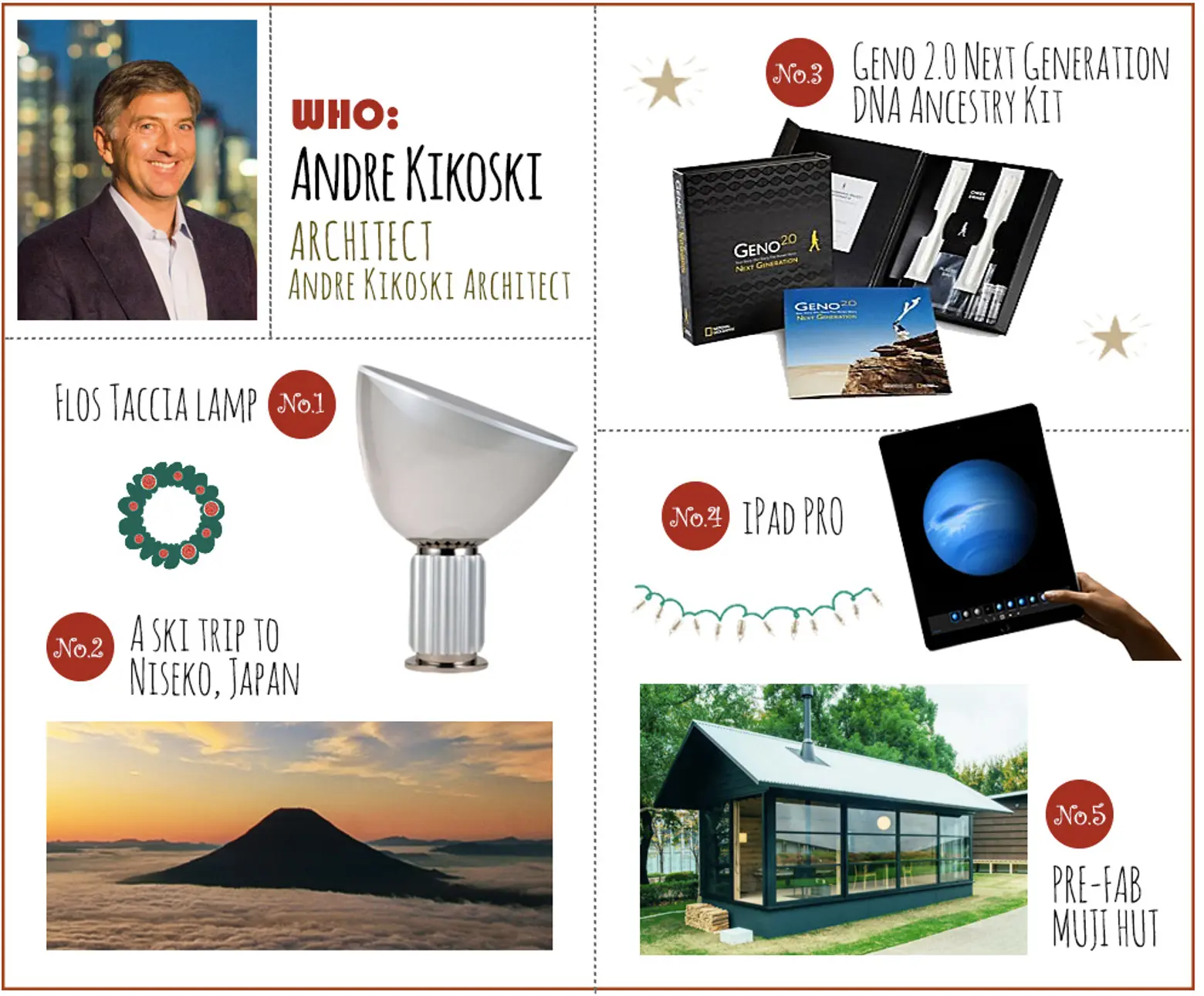 Andre Kikoski, principal at Andre Kikoski Architect
1. Flos Taccia lamp: I've always loved the clean lines of the metal base, the dramatic form of the glass lens, and the imaginative way this lamp refracts light.
2. A ski trip to Niseko, Japan: I took my son to Tokyo and Kyoto this summer and we are both yearning to go back. The next time we'd stay in the penthouse of the Vale Niseko.
3. Geno 2.0 Next Generation Genographic Project Participation and DNA Ancestry Kit: Two quick swabs will unlock the last 60,000 years of your ancestors' globe-trotting; what a cool way to think about family history beyond recent generations.
4. The new iPad Pro: Because the power of digital technology becomes even more amazing with this new toy.
5. A pre-fab house from Muji – the MujiHut: I dream of a simple getaway that's as beautiful as it is convenient. Muji just introduced a series of prefab houses and there is one I love, with a wood lined interior, a big wall of glass, and a deep soaking tub. It's perfect.
↓↓↓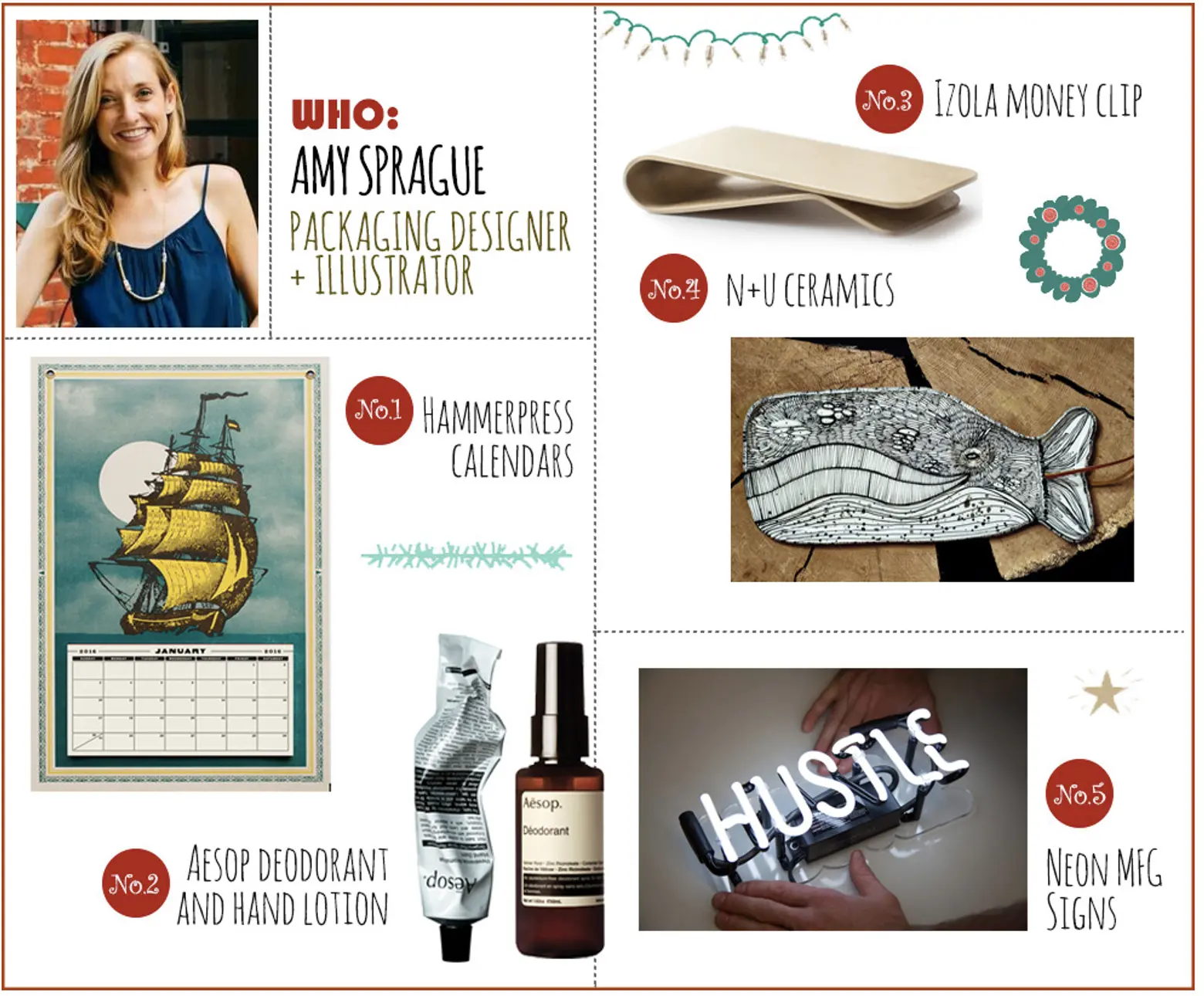 Amy Sprague, packaging designer and illustrator
1. Hammerpress calendars: These calendars are beautiful, useful, and only $30. Hammerpress offers different designs for different tastes.
2. Aesop deodorant and hand lotion: Aesop never disappoints! Their scents are intoxicating, and their products are beautiful to have out. I use the deodorant as a body spray and love it. And their lotions last for a very long time! Perfect for dry skin in the winter time!
3. Izola money clip: Izola and their partnering women's collection, Odeme, have fantastic, clever little gifts for great prices online and in lots of small shops around the city. This money clip is a great little accessory for girls or guys.
4. n+u ceramics: These gorgeous ceramic pieces are handmade by the very talented Natalia Szalc. The free willy soap dishes are affordable, and extremely unique. If the budget is a bit larger you can find stunning jewelry and other, larger pieces for purchase. Each is different and crafted with so much detail—they would make very special gifts.
5. A Neon MFG sign: These neon signs are actually affordable and so much fun to have at home (side note: check out Amy's apartment here!). A great way to spice up Christmas. This site offers a variety, but "HUSTLE" is my personal favorite!
↓↓↓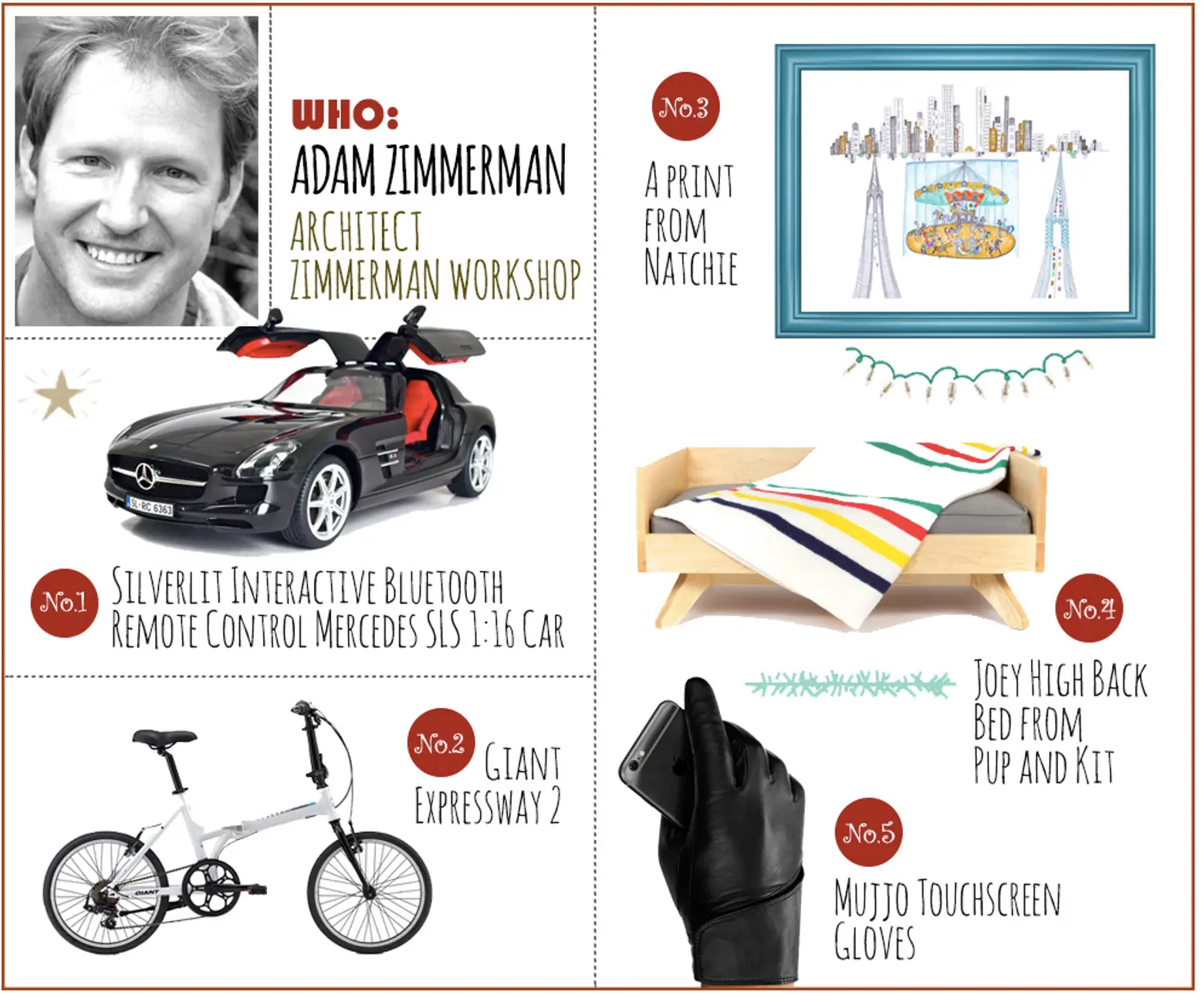 Adam Zimmerman, architect and principal of Zimmerman Workshop Architecture
1. Silverlit Interactive Bluetooth Remote Control Mercedes SLS 1:16 car (for myself): Who says I can't get a fun toy?! This Mercedes I can control from my iPhone is a pretty good set of wheels.
2. Giant Expressway 2 (for my wife): She gets something on wheels too. For years she's been meaning to replace a folding bike that was stolen. This one looks great for getting around town.
3. A print from Natchie (for the kids): Our kids will get plenty of toys for me to stumble on at 3 a.m. But as long as I'm picking, these prints by Natchie are—literally—a safe bet. Natchie, aka Nadia Ackerman, has her shop in the same building as my office and I walk by all the time. They're whimsical enough for now, but they are also the kind of pieces that will be neat when they're older too. The Jane's Carousel illustration is one of my favorites.
4. Joey High Back Bed from Pup and Kit (for the dog): I bring our westie, Dolly, to the office every day. She usually zonks out on the couch or in front of a space heater. This bed, which I saw at the Architectural Digest show last spring, would be so much nicer, although I'm pretty sure she would be happy with a new blanket and a heating pad!
5. Mujjo Touchscreen Gloves: This is for just about anybody else. I have a very basic—and not so warm—pair of touchscreen gloves, and I use them all the time. These ones are a step up (and it might be time for my own upgrade…).
↓↓↓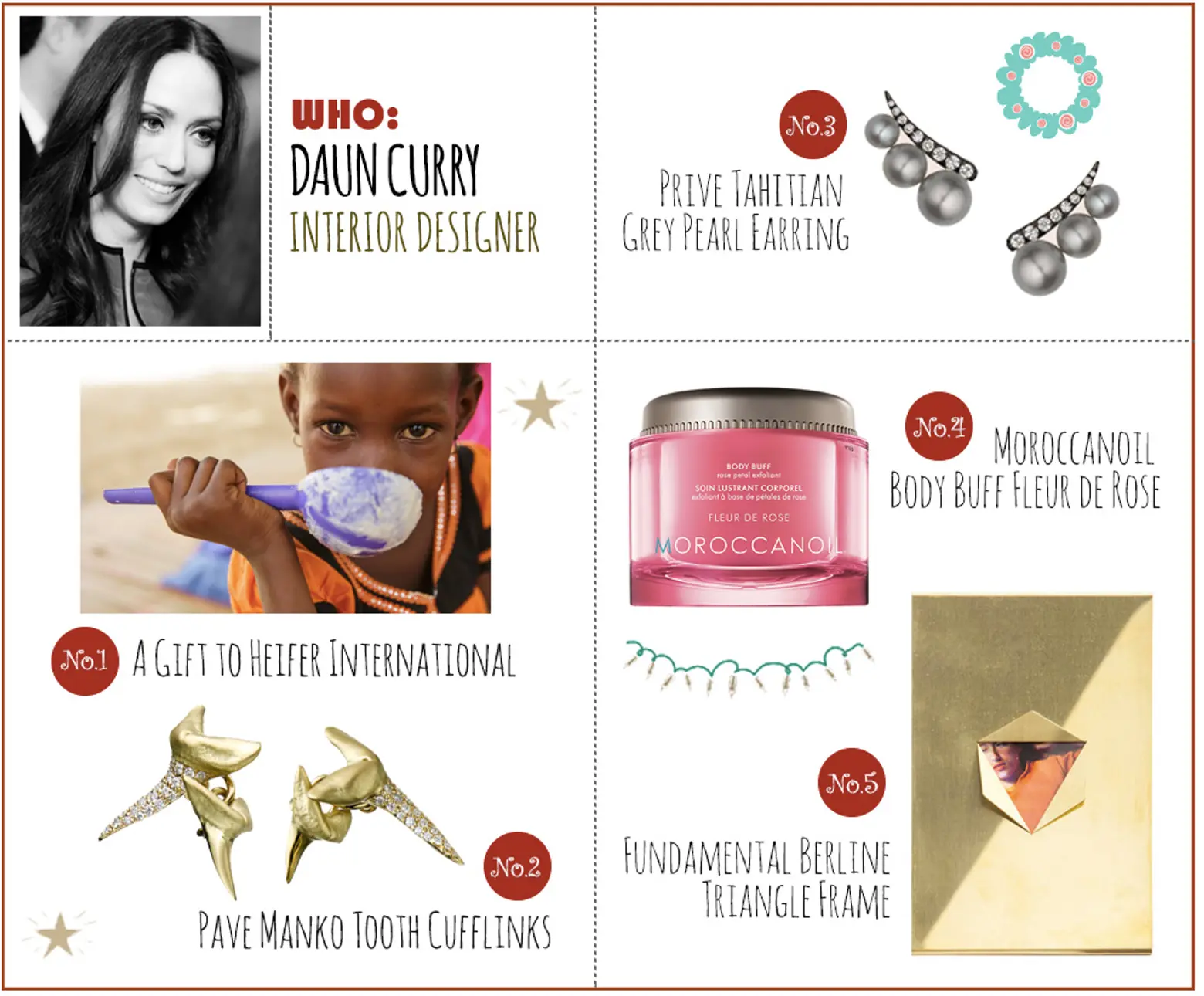 Daun Curry, interior designer
1. A gift to Heifer International: A lovely gift to give to the "no gifts please" person in your life.
2. Pave Manko Tooth cufflinks: Perfect gift for the man who has stolen your heart.
3. Prive Tahitian grey pearl earring: Modern twist on the classic pearl earring.
4. Moroccanoil Body Buff Fleur de Rose: Leaves your skin feeling silky smooth and delicately fragranced with the scent of roses.
5. Fundamental Berlin Triangle Frame: A picture frame for the person who doesn't do picture frames.
↓↓↓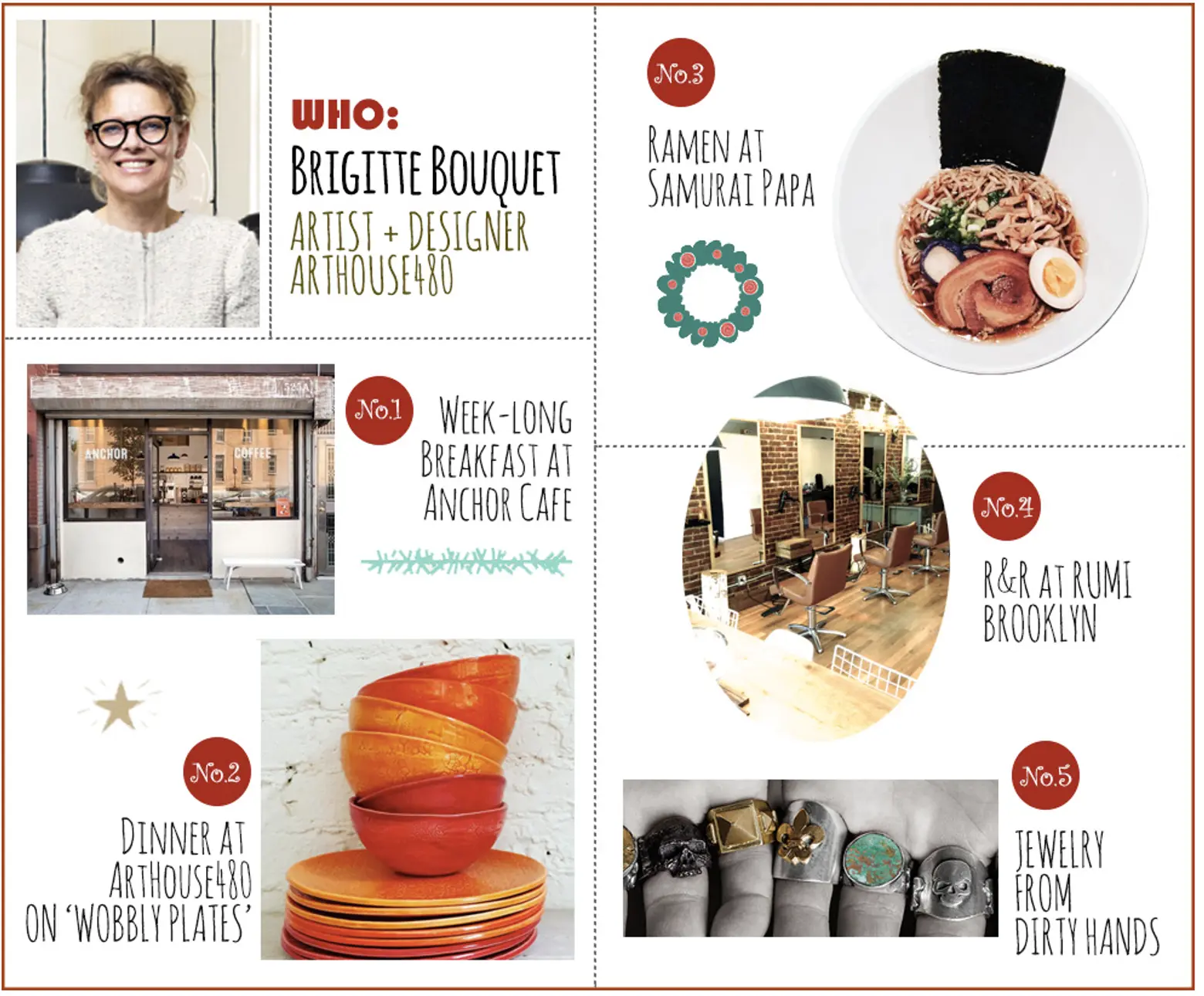 Brigitte Bouquet, artist, designer and founder of ArtHouse480
These five gifts I've rounded up are all local and from Brooklyn. As a Bed-Stuy resident, I want to support small businesses!
1. Breakfast at Anchor Coffee: For the friend who is up as early as I am in the morning, a week-long coffee and a pastry at the best coffee spot in Bed-Stuy.
2. Dinner at ArtHouse480: For the friend I haven't seen in ages, a home-cooked meal with a great bottle of wine at my home and workspace, ArtHouse480, with food served on my Wobbly Plates.
3. Ramen at Samurai Papa: For the friend who is always busy but will find time to squeeze in a quick meal.
4. A day of R&R: For the friend who had a tough year, a haircut and the best head massage you can wish for at the fabulous Fumi's.
5. Jewelry from Dirty Hands: For the one I love the most, a one-of-a-kind piece of jewelry from this unique Williamsburg outpost.
+++
RELATED: 15 Hip Holiday Markets and Indie Pop-Up Shops in NYC