As this weekend's heat wave sweeps over the city, here are some ways to beat the heat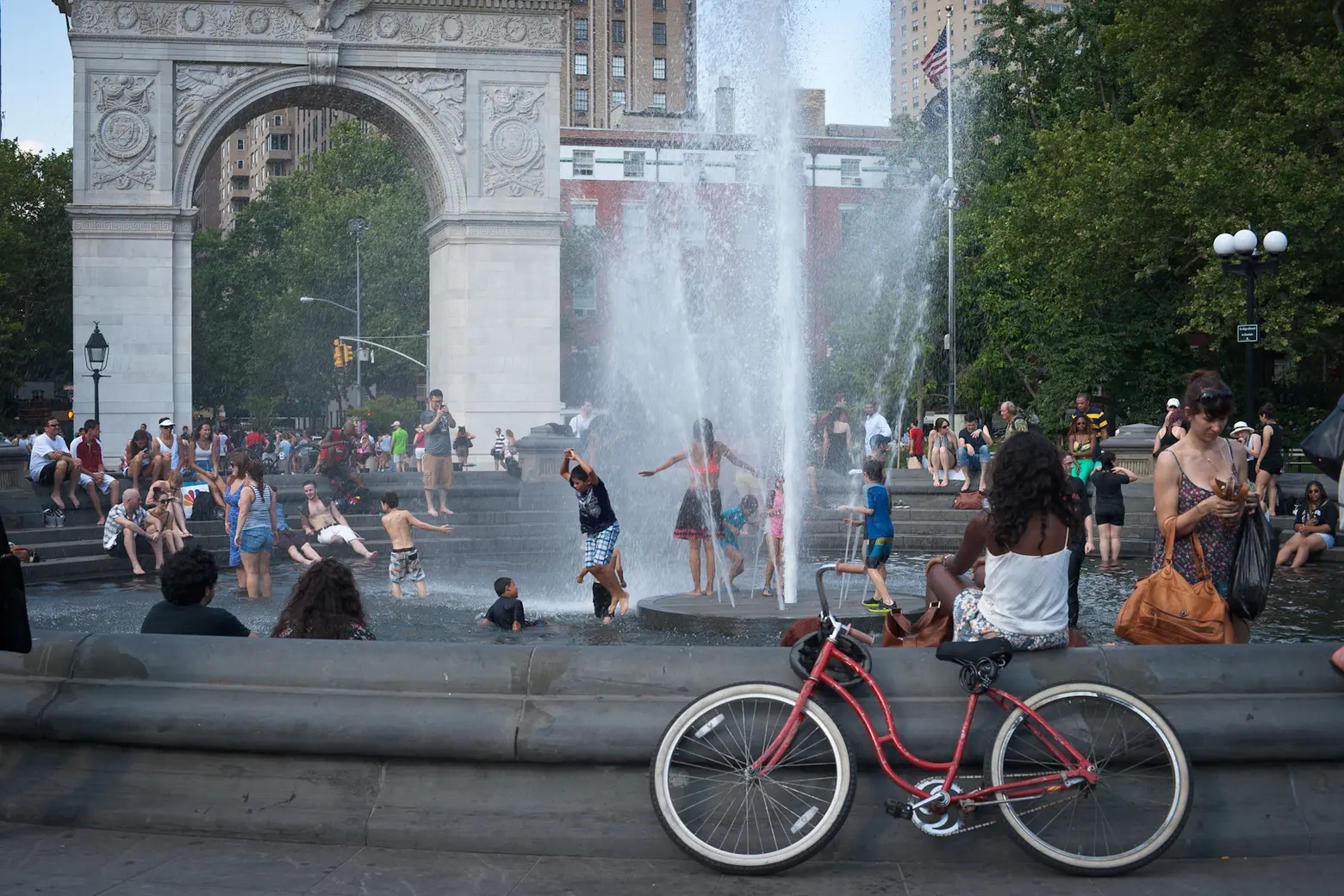 After a toasty week, the city's first heatwave of the year is about to get even hotter, with Friday's expected heat index reaching 98 degrees and as high as 109 degrees over the weekend. The city is taking precautions to keep residents safe as the temperatures continue to heat up. Mayor Bill de Blasio declared an official heat emergency and directed office buildings and residents to set their AC to 78 degrees in order to prevent another power outage. The city's annual Triathlon, originally scheduled to take place on Sunday, was just canceled for the first time in its history. While the best advice is still to stay indoors as much as possible, out of the sun, and well hydrated, there are some ways to beat the heat in the city, all for free.
Seek out air conditioning
If you don't have AC in your home, there are about 500 designated cooling centers throughout the five boroughs. Use this interactive map to find the closest air-conditioned public facilities in your neighborhood. And if you've waited until today to buy an air conditioner, don't fret. Step-by-step instructions on how to choose and install one can be found here.
Free outdoor pools, beaches, and spray showers
"We want New Yorkers to stay safe and cool during the high temperatures," said NYC Parks Commissioner Mitchell J. Silver in a recent statement. "From tree shade and cooling centers to spray showers, pools, and beaches, we encourage all to use our city resources to beat the heat in the coming days."
All Olympic and intermediate-sized outdoor pools will offer extended hours this weekend, from 11 a.m. to 8 p.m. with a one hour break from 3 p.m. to 4 p.m. for cleaning. Beaches will also be open late, until 7 p.m each day. If you can't get to a pool or a beach, the city has 600 spray showers throughout its parks. In general, the spray showers operate on days when the temperature hits 80 degrees or higher so it's safe to say they'll be running this weekend! Use this search tool to find a spray shower near you.
NYC's public libraries
A few New York Public Library locations (considered city cooling centers) have decided to stay open on Sunday to help New Yorkers stay cool. Highbridge Library and Soundview Library in the Bronx; Morningside Heights Library and Harlem Library in Manhattan; and Stapleton Library in Staten Island will all be open from 1 p.m. to 5 p.m. on Sunday.
Sunday service will be offered at Bronx Library Center and Melrose Library, Parkchester Library in the Bronx; 53rd Street Library, Inwood Library, and Hudson Park Library in Manhattan; and Todt Hill–Westerleigh Library in Staten Island.
This weekend you can snag a free ride to select NYPL locations via Lyft—more details on that below.
Unleash a fire hydrant
A New York tradition since 1896, uncapping fire hydrants is not entirely legal but tolerated when temperatures reach sweltering levels. If you're 18 and older, you can ask your local firehouse to uncap a fire hydrant and have it fitted with a spray cap. This way, you'll avoid any potential fines (which can reach $1000 if you're caught splashing without a cap) and be a bit more environmentally-conscious.
Avoid the subways–take a free Lyft instead
Subways are notorious sauna-like environments during the summer months. To help New Yorkers get around more comfortably, Lyft is providing free rides this weekend to select cooling centers across the five boroughs. Those impacted can use the code NYCCOOL19—valid for 2 rides up to $15—and plug in any of the following addresses:
Manhattan:
New York Public Library, Inwood: 4790 Broadway, New York, NY
New York Public Library, Morningside Heights: 2900 Broadway, New York, NY
New York Public Library, Harlem: 9 West 124th Street, New York, NY
University Settlement, Meltzer Senior Center: 94 East 1st Street, New York, NY
YM YWHA Washington Heights Center for Adults Living Well: 54 Nagle Avenue, New York, NY
Hudson Guild: 119 Ninth Avenue, New York, NY
Brooklyn:
Brooklyn Public Library, Central Branch: 10 Grand Army Plaza, Brooklyn, NY
Brooklyn Public Library, Ulmer Park Branch: 2602 Bath Avenue, Brooklyn, NY
Brooklyn Public Library, Stone Avenue Branch: 581 Mother Gaston Boulevard, Brooklyn, NY
Wayside Tompkins Park NSC: 550 Greene Ave, Brooklyn, NY
JASA Scheuer House of Coney Island: 3601 Surf Avenue, Brooklyn, NY
The Bronx:
New York Public Library, Bronx Library Center: 310 East Kingsbridge Road, Bronx, NY
New York Public Library, Parkchester: 1985 Westchester Avenue, Bronx, NY
New York Public Library, High Bridge: 78 West 168th Street, Bronx, NY
SHOPP Casa Boricua Senior Center: 910 East 172nd Street, Bronx, NY
PSS Parkside Senior Center: 644 Adee Avenue, Bronx, NY
PSS Andrew Jackson Senior Center: 25 East 156 Street, Bronx, NY
Queens:
Queens Public Library, Rochdale Village: 169-09 137th Ave, Jamaica, NY
Queens Public Library, Averne: 312 Beach 54 Street, Arverne, NY
Queens Public Library, Corona: 38-23 104 Street, Corona, NY
Sunnyside Community Services Senior Center: 43-31 39 St Queens, NY
JSPOA Theodora Jackson Senior Center: 92-47 165th Street, Queens, NY
Staten Island:
New York Public Library, Stapleton: 132 Canal St., Staten Island, NY
New York Public Library, Todt Hill-Westerleigh: 2550 Victory Boulevard, Staten Island, NY
New York Public Library, Mariners Harbor: 206 South Ave, Staten Island, NY
JCC of Staten Island: 1466 Manor Road, Staten Island, NY
CASC Cassidy Coles Senior Center: 125 Cassidy Place, Staten Island, NY
RELATED: