As Rem Koolhaas Finally Designs First NYC Building, A Look Back at His Unbuilt Proposals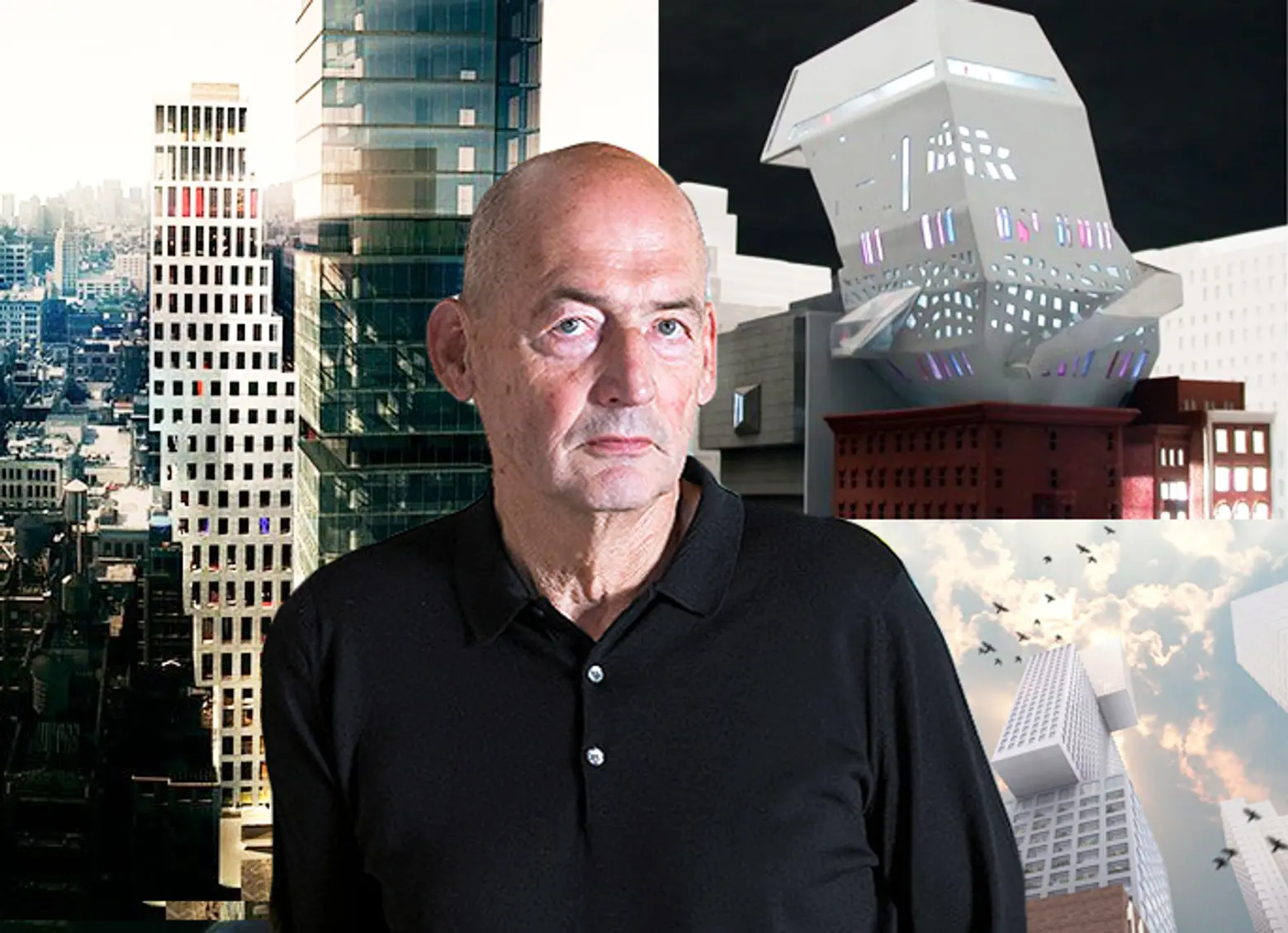 Thirty-eight years after the publication of his acclaimed book "Delirious New York," Dutch architect Rem Koolhaas and his global architecture firm the Office for Metropolitan Architecture (OMA) seem to have finally landed their first ground-up New York City commission. Excavation is already underway at the 22,000-square-foot project site located at 122 East 23rd Street and will soon host a pair of block-through residential towers articulated by faceted elevations and chiseled corners. While there has been no official announcement that Koolhaas is on board, several consultant websites and Linkedin profiles indicate that the Pritzker Prize-winner has been tapped, while New York-based SLCE will serve as the architects of record.
To mark the occasion, and as we eagerly await the design unveiling, 6sqft has rounded up Koolhaas' prior unlucky attempts to build in the city. The proposals befell to the usual suspects that typically stymie bold architecture in the city—community opposition, economic downturns, and the conservative nature of the city's developers and public sector.
*Update 4/21: OMA has confirmed their involvement in the project and share that Shohei Shigematsu, partner and director of the firm's New York office, is leading the design effort.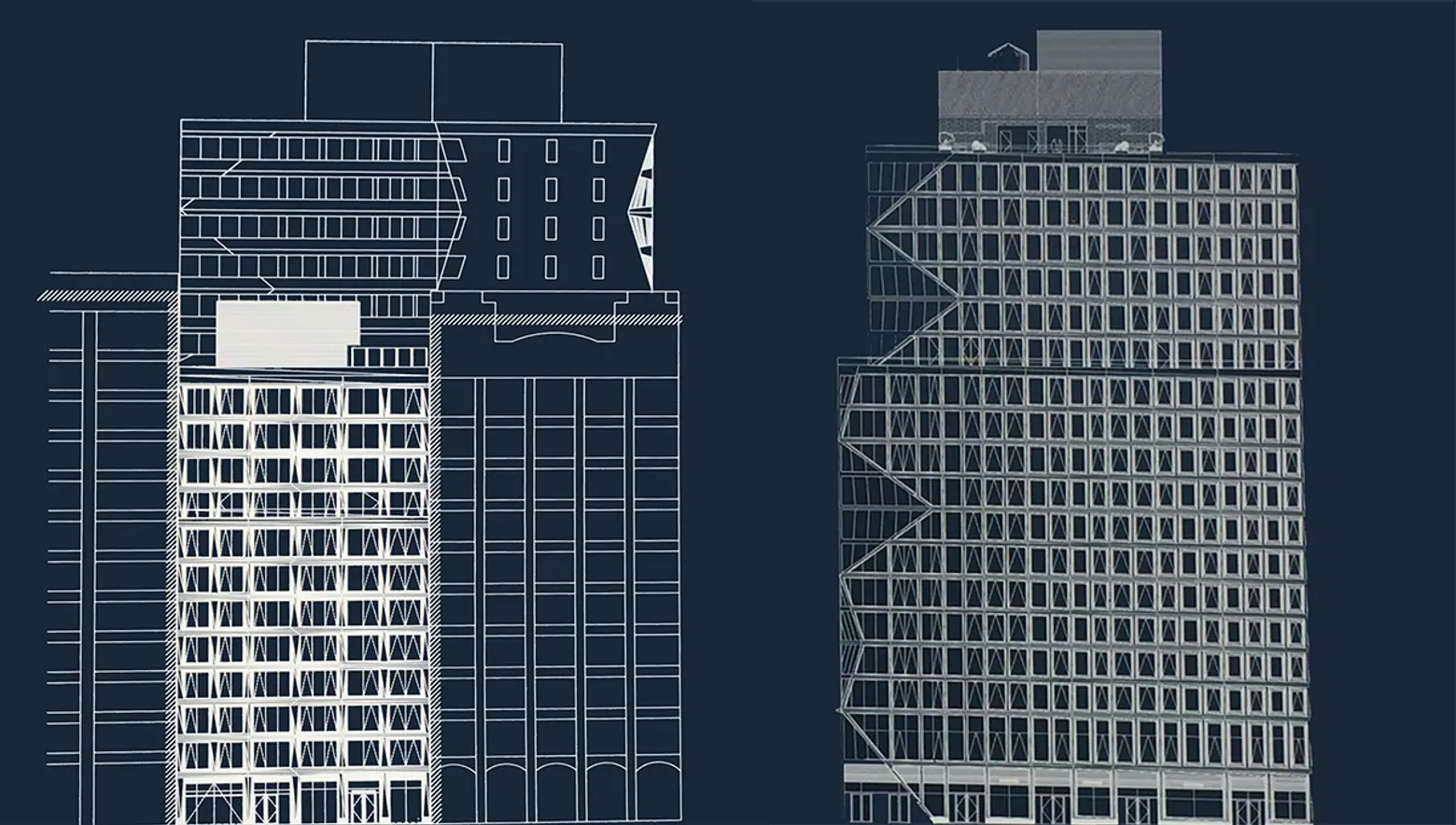 Elevations posted on the site's construction fence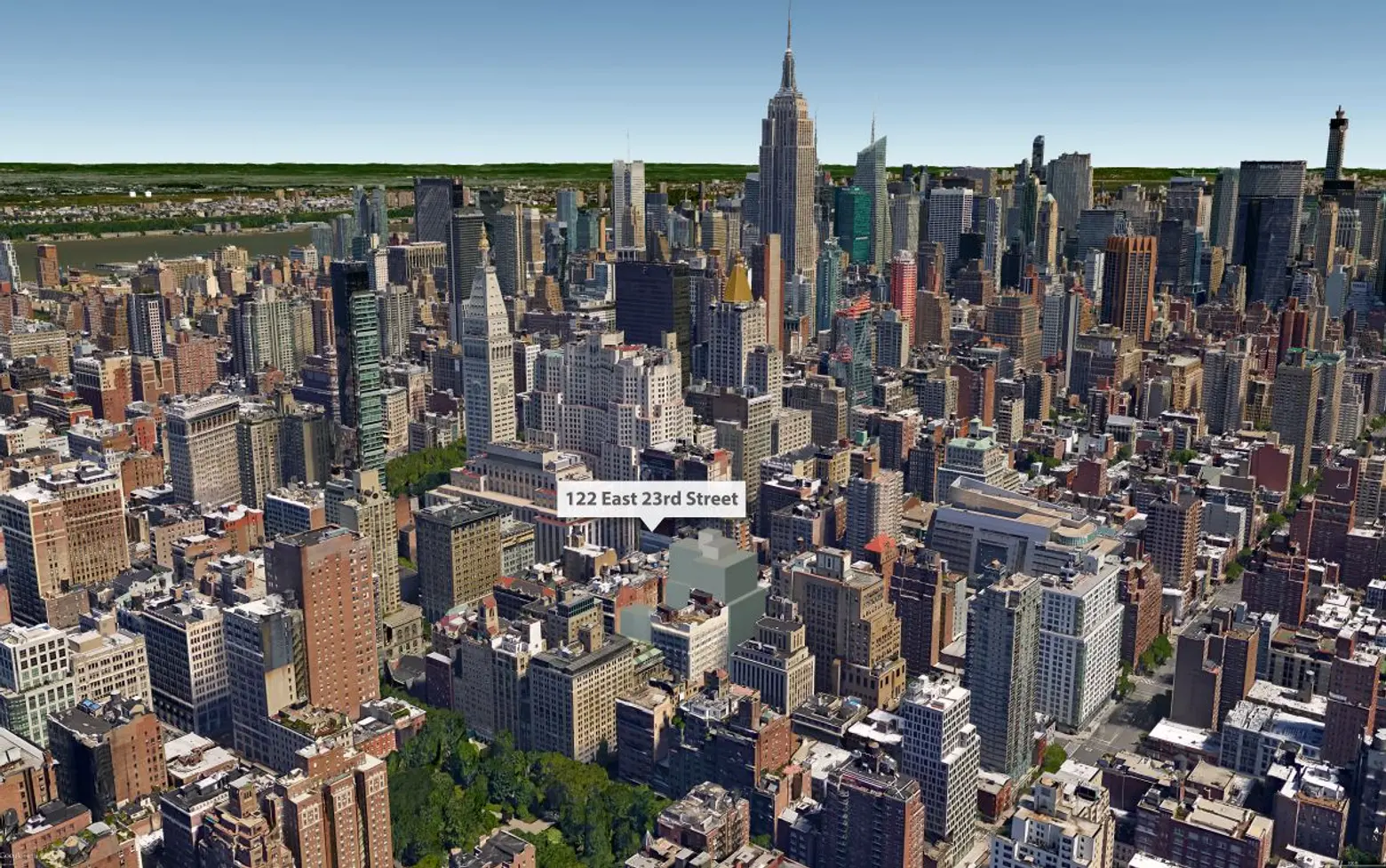 Google Earth rendering via CityRealty
The project is being led forward by Toll Brothers, whose City Living division has unexpectedly become champions of distinguished architecture. Recent projects include a nearby condominium and rental tower at 400 Park Avenue South designed by Christian de Portzamparc and recently topped-off condominium tower at 55 West 17th Street designed by Morris Adjmi.
This latest venture will rise just one block north of Gramercy Park and is an avenue east of a foundered Koolhaas vision that would have erected a peek-a-boo high-rise condo behind One Madison. The L-shaped corner lot has frontages along Lexington Avenue and both 23rd and 22nd Streets and was previously occupied by a building belonging to the non-profit United Cerebral Palsy of New York City. According to Real Estate Weekly, the parcel was sold to Toll Brothers in late 2014 for $135 million or $750 per buildable square foot.
Approved plans filed by SLCE Architects indicate the project will be divided into two wings with a mid-block courtyard separating them. Consistent with the scale of its block, the larger 23rd Street structure will stand 18 stories/210 feet tall, while the 22nd Street building will rise just 135 feet high. Altogether, the 275,000-square-foot development will house 133 dwelling units (presumably condos) with four retail storefronts at ground level. Listed amenities will include a 26-car garage, a fitness center, swimming pool, and a communal rooftop terrace.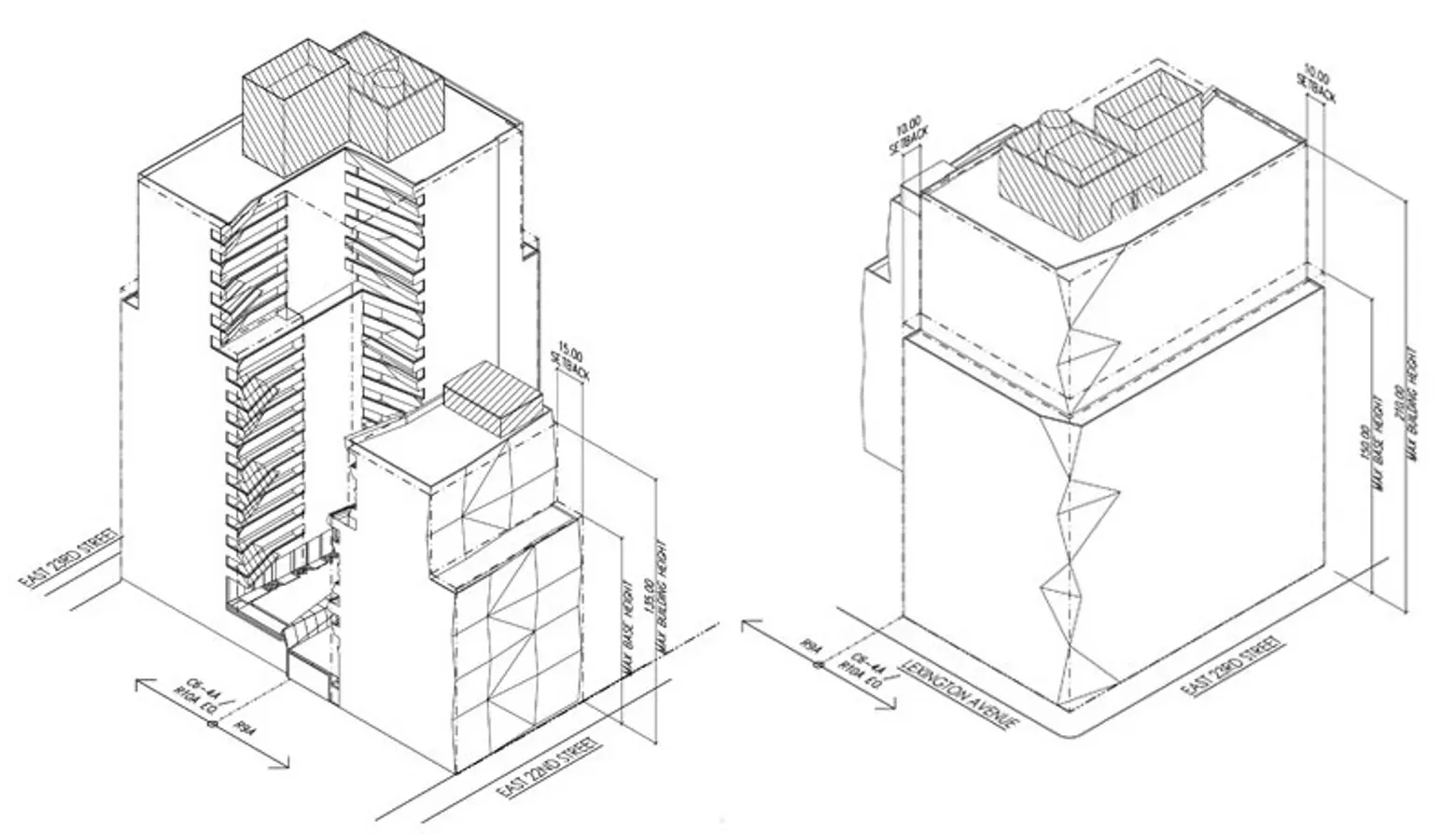 Zoning diagrams and elevations posted on the site's construction fence provide clues as to what the complex will look like. The neighborhood's prescribed height and setback regulations not only deter a towering glass-o-saur from overshadowing Gramercy Park, but also place a lid on formal extravagance, as other recent nearby projects have shown. Thus, Koolhaas' buildings tightly assimilate into the area's consistent streetwalls, mid-rise scale, and wedding-cake massings. Some design flare is still evident, however. The north building's corner condition is chiseled away, exposing fractured and chipped edges clad in glass. The south tower's street-facing facade seems to also bare the faceted look, though in a more uniform manner. The courtyard-facing elevations will be arrayed in balconies that angle and crease in a seemingly haphazard fashion.
+++
Now, as we anticipate the release of official renderings, take a gander at Koolhaas' past unrealized New York developments:
Museum of Modern Art Renovation & Expansion ↓
11 West 53rd Street
Institutional Space
Competition Design: 1997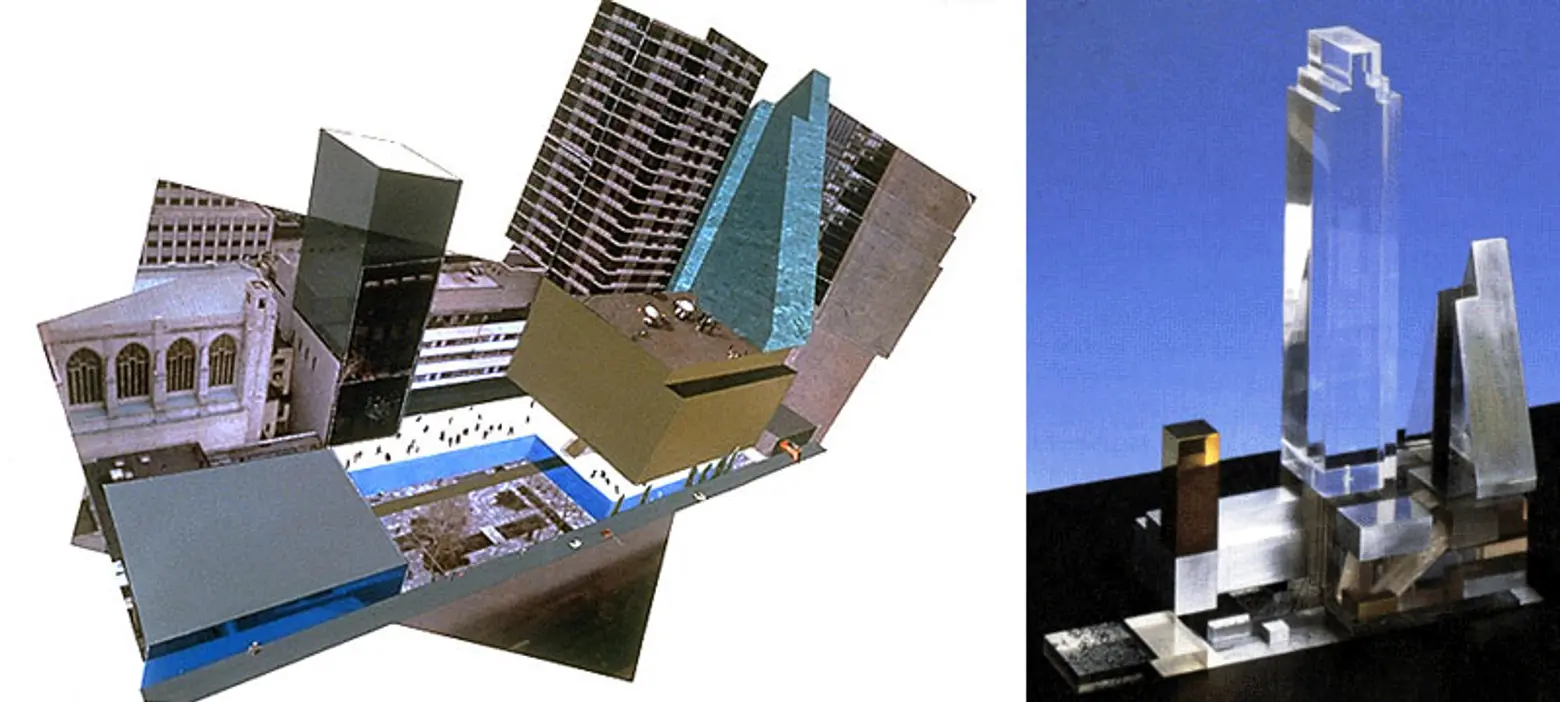 In the fall of 1997, the Museum of Modern Art held a charette and exhibition displaying the works of ten architects' proposals to expand and renovate the museum. Koolhaas envisioned an extension that "maintains what is good, undoes what is dysfunctional, creates new potentials, and leaves open what is undecidable." The institution's controversial 54th Street wall would have been removed and its sculpture garden sunken below street level. A tapering tower conforming to the zoning envelope would contain a restaurant at its apex, storage, research facilities, individual viewing cabins for contemplation or study, offices, a library, conservation studios and a special events venue.
Astor Place Hotel ↓
445 Lafayette Street
Ian Schrager / Related Companies
20 Stories | 100,000 square feet
Mixed-use
Never Built: 2000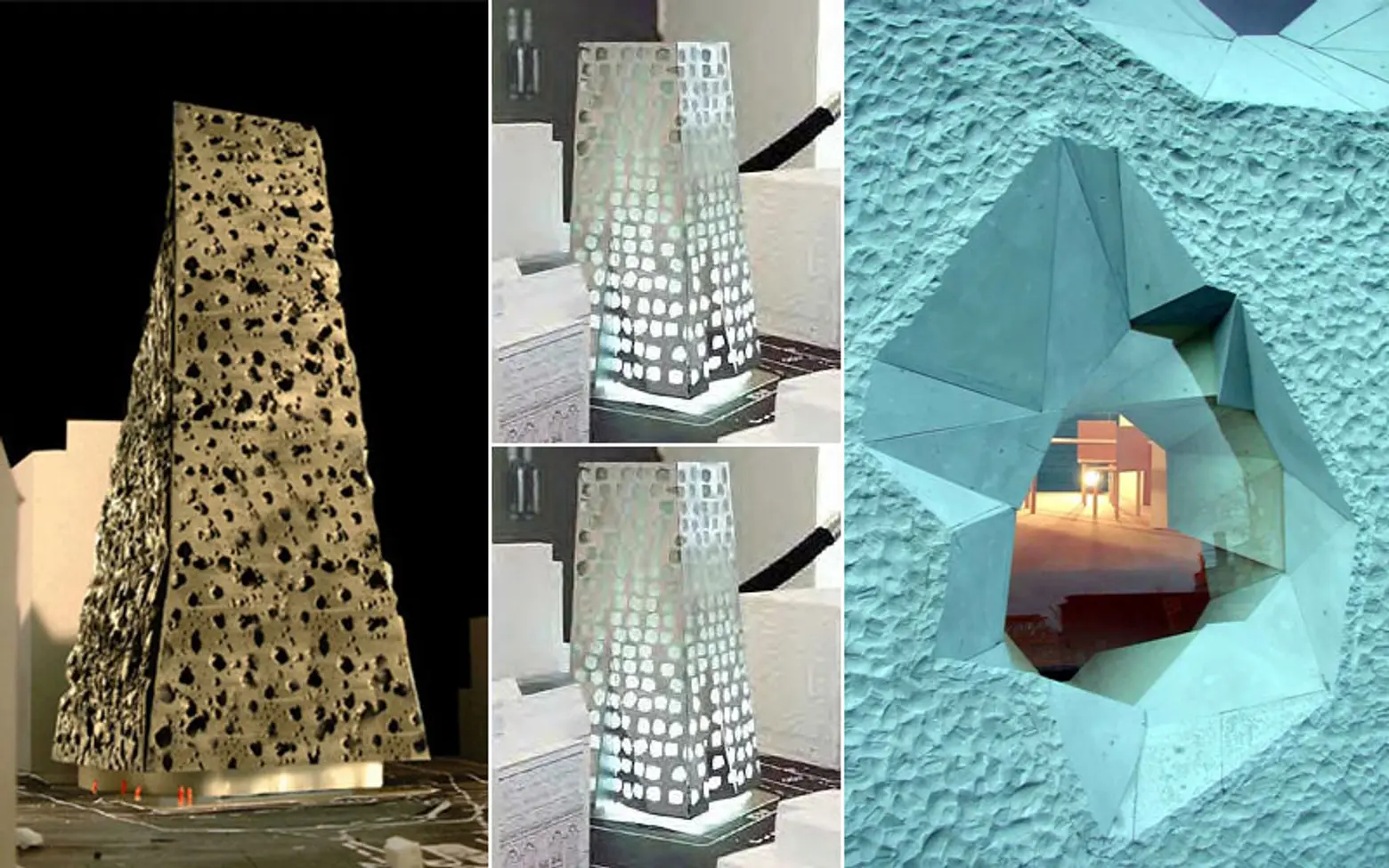 In 2000, hotelier Ian Schrager tapped OMA/Koolhaas and Herzog & de Meuron to design a 100,000-square-foot hotel tower at the southern edge of Astor Place. Partnering with the Related Companies, the development team leased the parking lot site owned by Cooper Union and envisioned a 20-story hotel that resembled a rippling and tapering block of emerald swiss cheese. The project unraveled after 9/11 and due to alleged conflicts between Schrager and Koolhaas. Related went on to build the undulating condo dubbed 'The Sculpture of Living' designed by the late Charles Gwathmey.
Whitney Museum of American Art Expansion ↓
East 74th Street & Madison Avenue
Whitney Museum of American Art
11 Stories
Never Built: 2000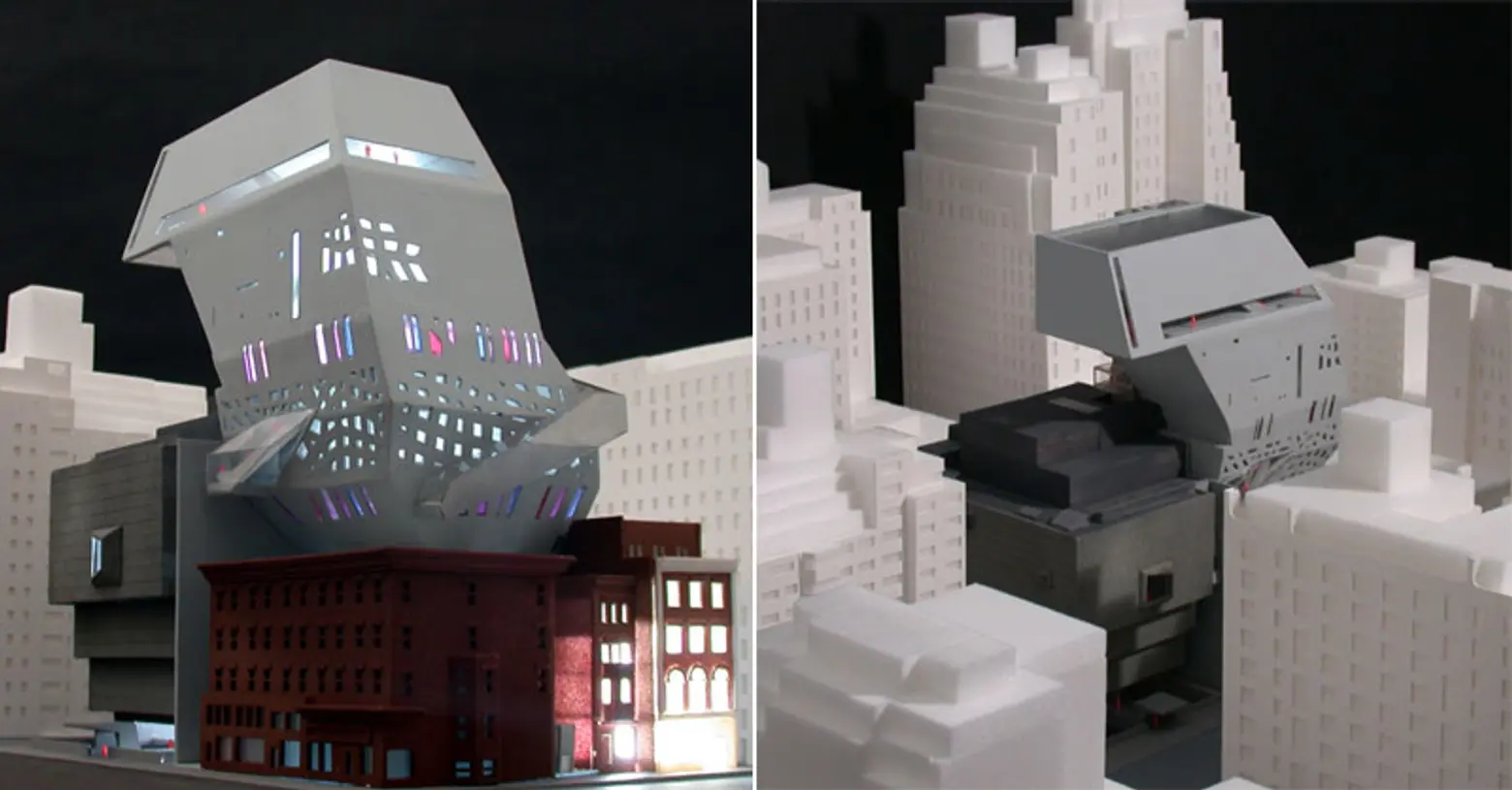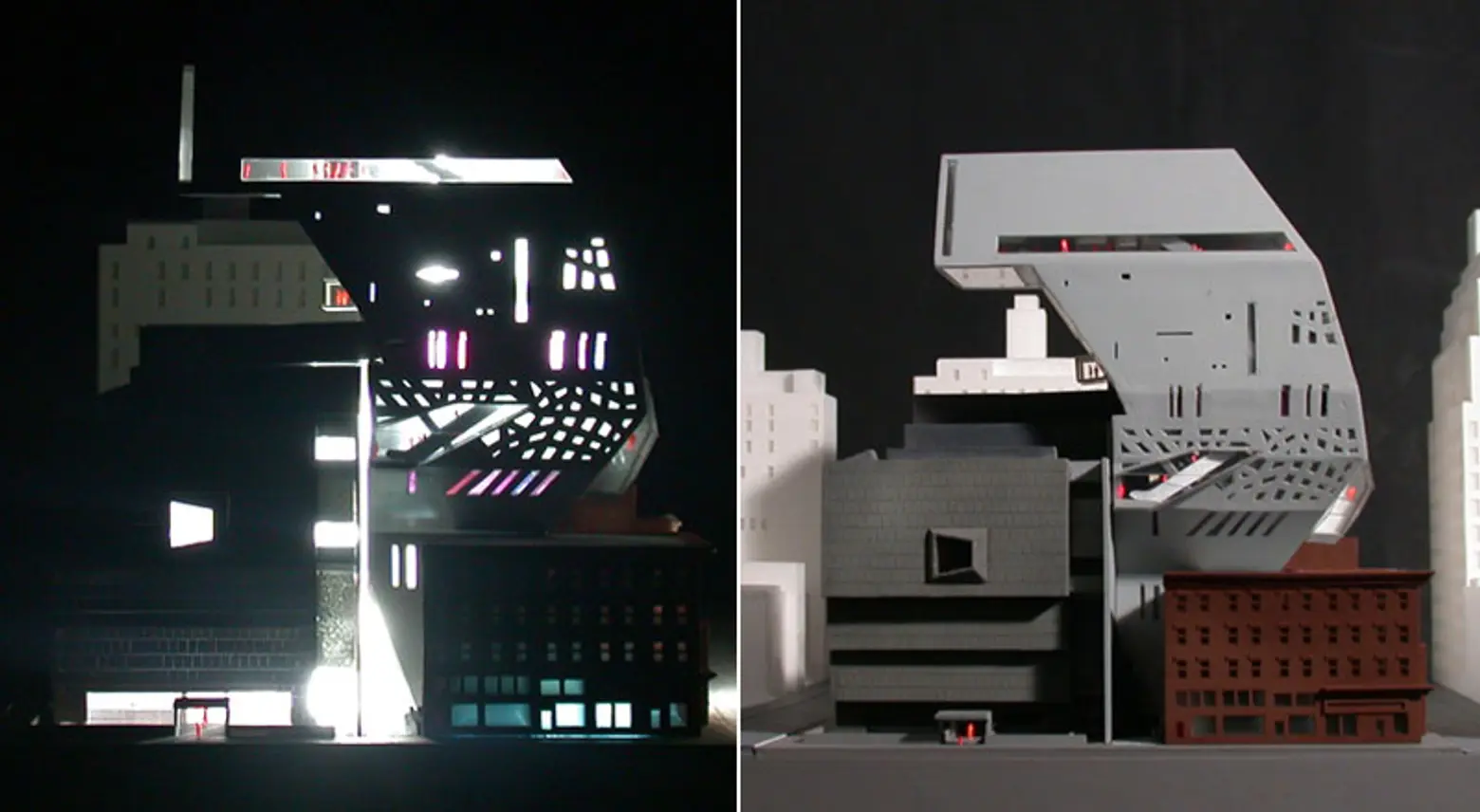 In what would have been perhaps the most riveting building finished on the Upper East Side since Marcel Breuer's 1966 Whitney Museum, Koolhaas/OMA were contracted to design a $200 million plan to expand the museum. The dramatic structure Koolhaas envisioned would have doubled the museum's by building behind a row of landmarked brownstones then used as commercial space by the museum. A dramatic, cantilevering eleven-story structure would have risen behind them. Plans were scrapped after 9/11 in 2003, and Renzo Piano would later be tapped for a more conservative approach that also proved controversial. Recently, the museum abandoned their long-time Upper East Side home and opened their new Piano- designed museum at the foot of the High Line in the Meatpacking District. The brownstones adjoining the Marcel Breuer building have been converted into the Whitney Condos.
UN City | Consolidated Edison Waterside Redevelopment Plan ↓
First Avenue between 35th and 41st Streets
Fisher Brothers and Sheldon H. Solow
5.2 million square feet | Residential, office, retail, and parkland
Competition Design: 2000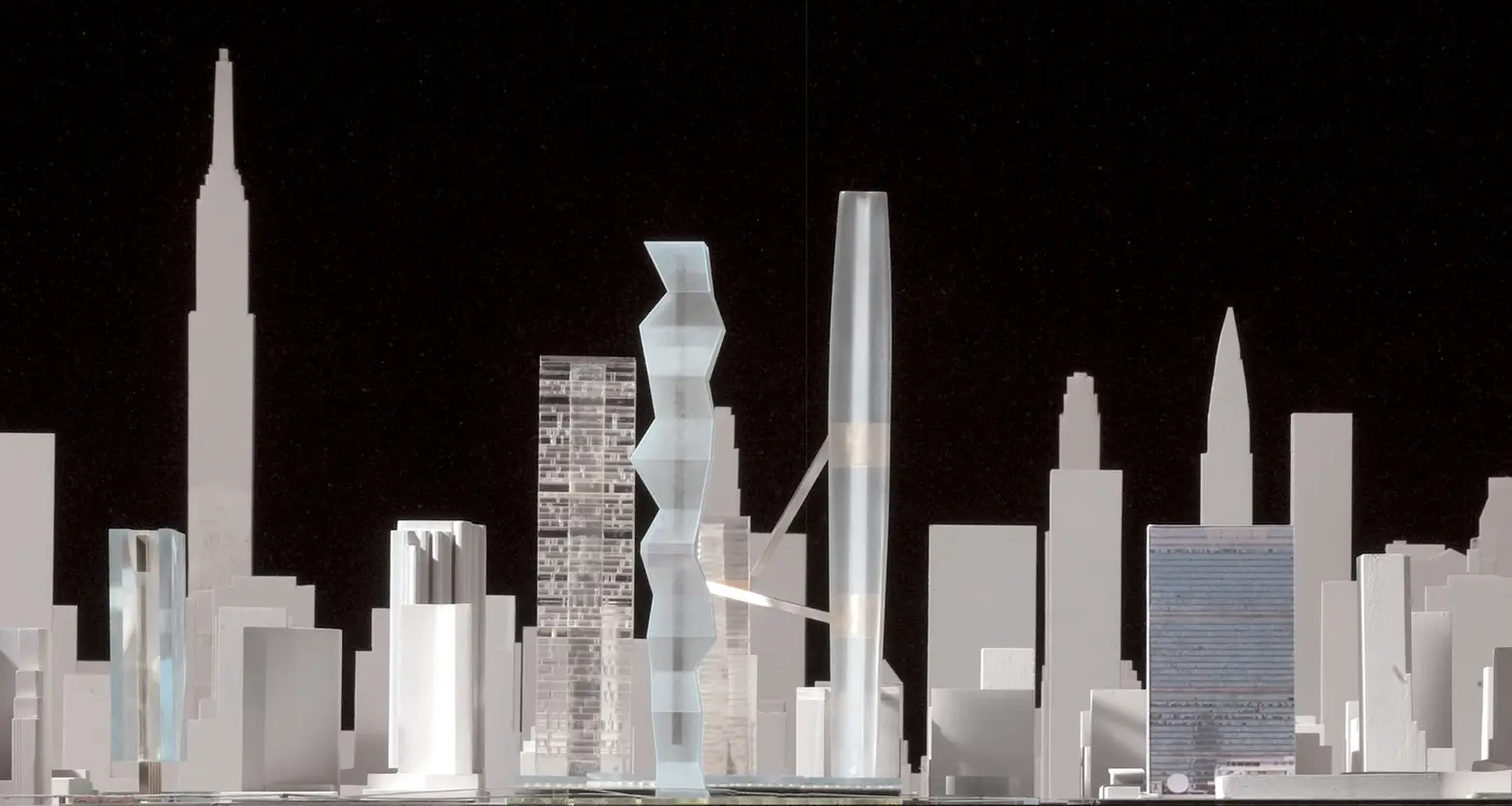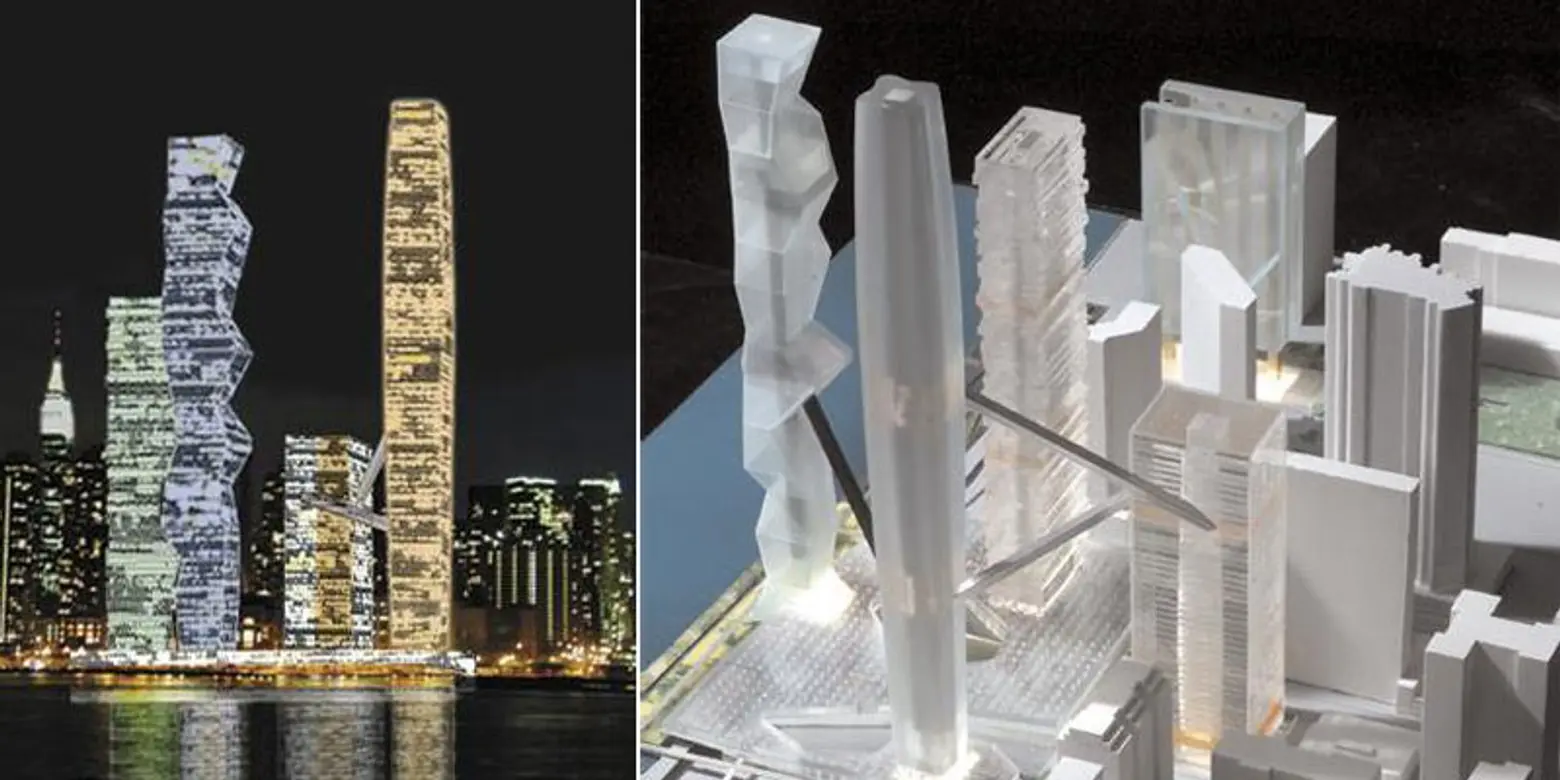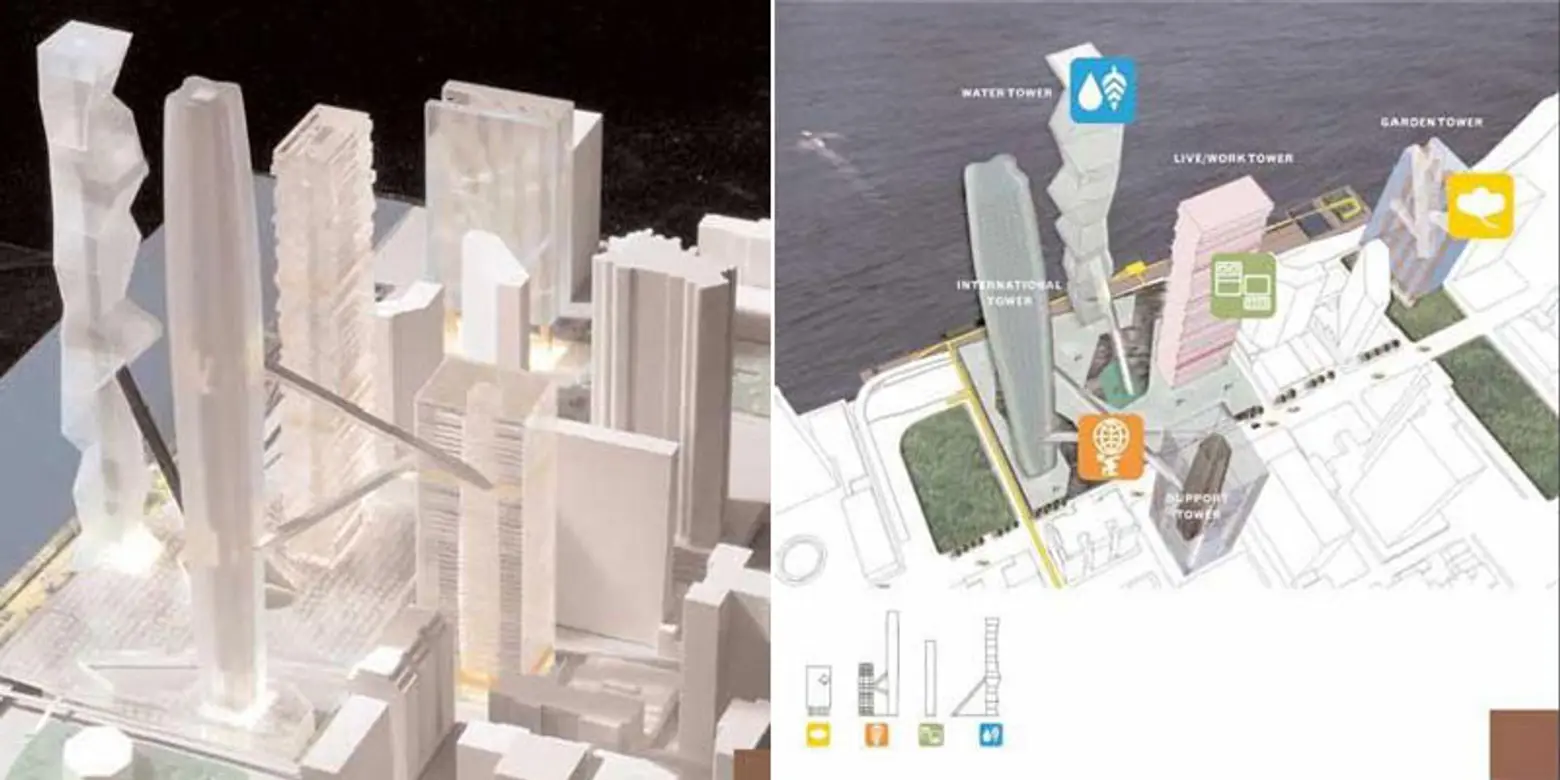 In 2001, Koolhaas collaborated with a team comprised of Kohn Pedersen Fox, Davis Brody Bond, Toyo Ito and Arup to create a master plan for one of the largest undeveloped tracts of land in Manhattan. To rise from a 9-acre parcel south of the United Nations, a team of developers led by Sheldon Solow and Fisher Brother envisioned a 5.2 million square foot mixed-use development. Koolhaas' team were among the finalists, and proposed a mixed use high-density scheme of slender, sculptural towers connected by diagonal sky bridges. Koolhaas' page describes the dramatic forms as being shaped by new ideas about hybrid programs and as a way to eschew the programmatic stagnation that has rigidly shaped New York. Ultimately a team consisting of Richard Meier Architects and David Childs of SOM were chosen, and after suffering through the city's approval process, a much more conservative plan is being built.
111 First Street ↓
Jersey City
BLDG Management, The Athena Group
52 Stories | 1.2 million square feet
Mixed-use
Approved 2005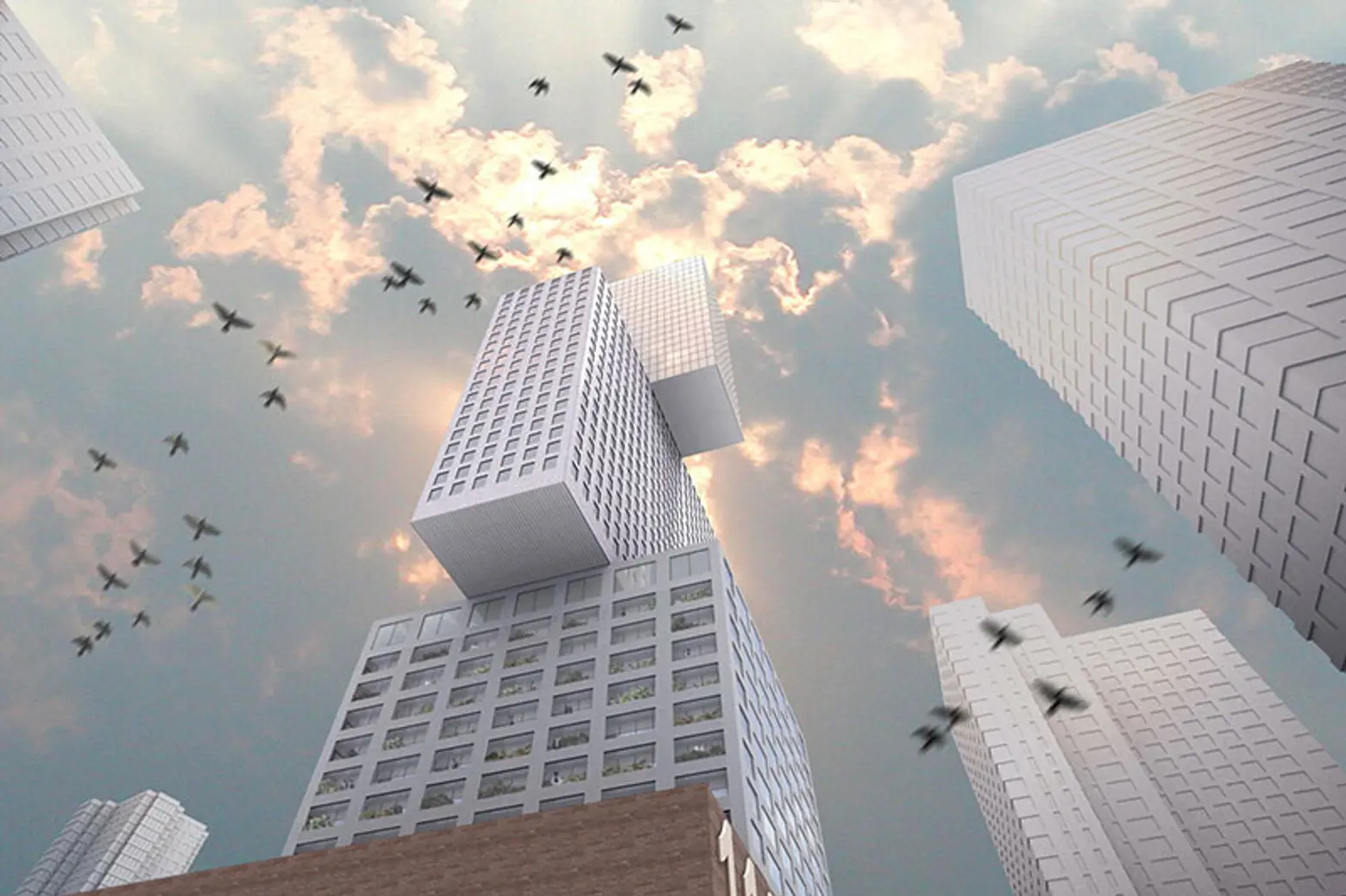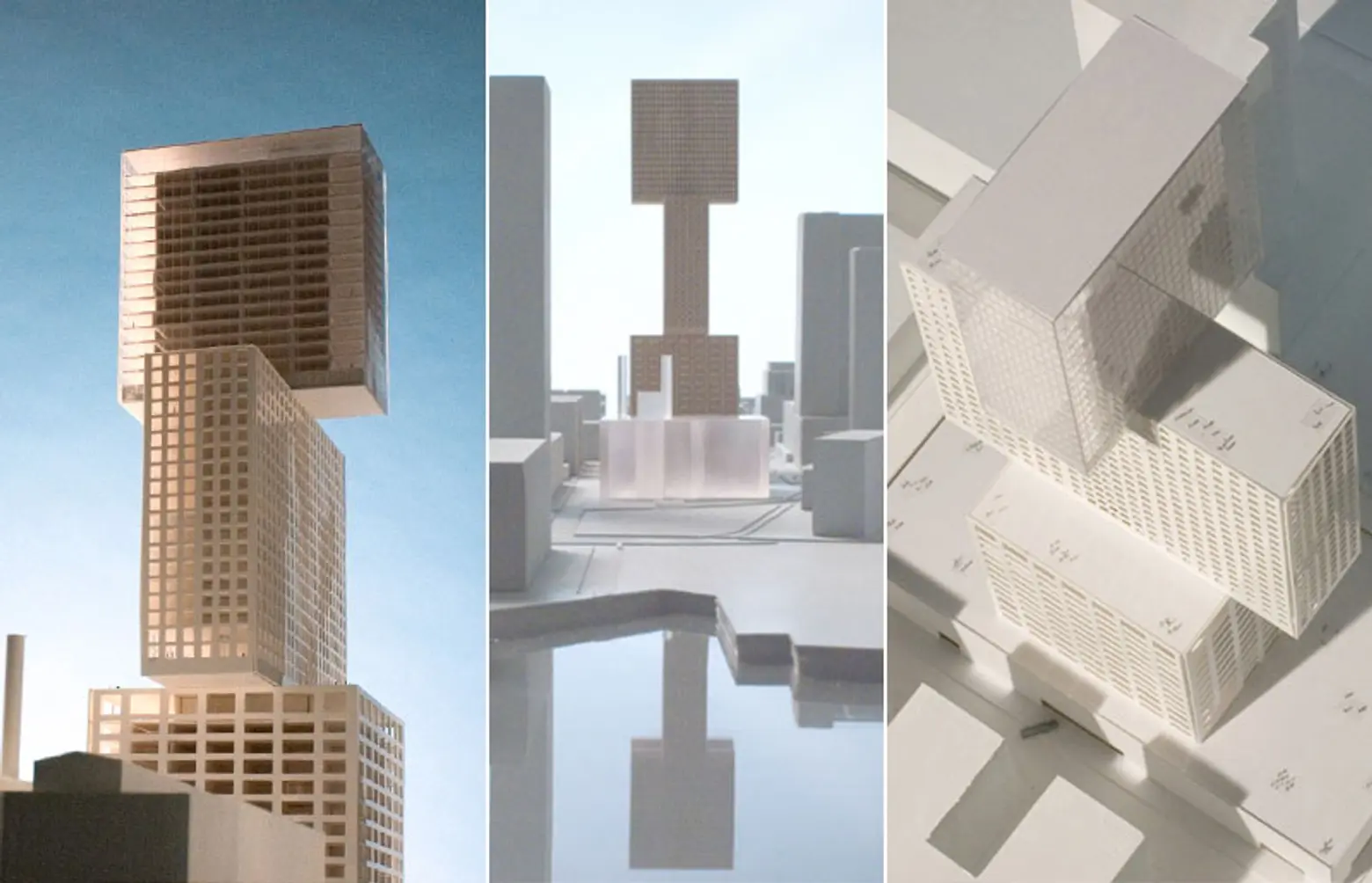 At the center of Jersey City's Powerhouse Arts District, 111 First Street was slated to be a 52-story, 1.2 million-square-foot, mixed-use development split between apartments, hotel, artist space (studios, apartments and gallery), and retail. The design was comprised of three volumes stacked perpendicular over one another. As a byproduct of the alternating volumes, outdoor spaces would sit at their junctions at the 5th, 17th and 36th levels.
Demolition of the former artists' lofts building commenced in 2006, displacing approximately 100 artist studios, some of whom were showcased in the 2012 documentary titled "111 First Street, From Paris to Jersey City, they showed no love." Due to the economic downturn (which hit shortly thereafter) and the difficulty in satisfying development requirements in the specially zoned arts district, construction on the skyscraper was put on hold indefinitely.
23 East 22nd Street ↓
Flatiron
Slazer Enterprises
22 Stories | 355 feet
Residential Condominiums
Never Built: 2008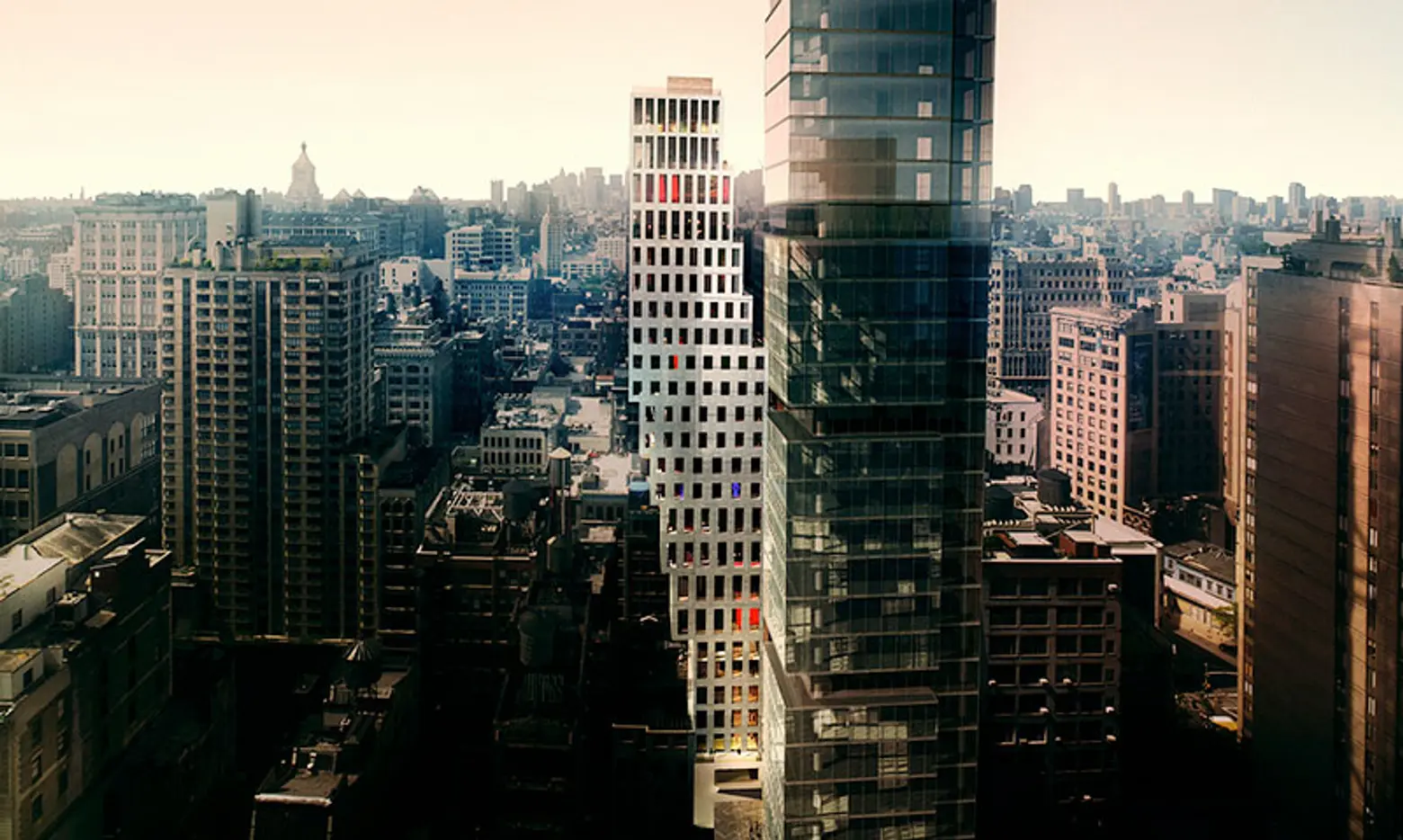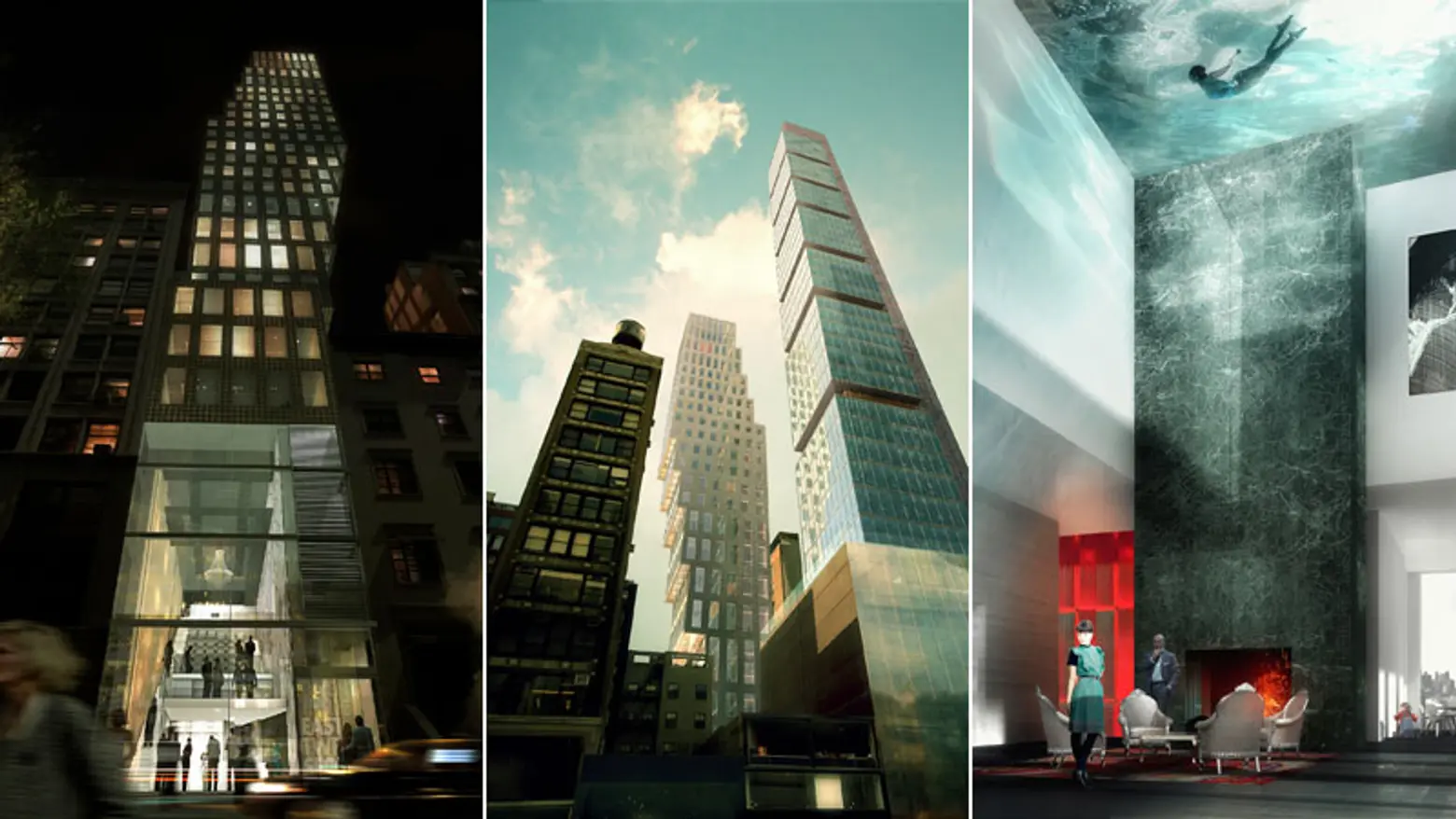 As a follow up to Slazer Enterprises' then-sold-out One Madison condo tower, the team commissioned OMA to design a 22-story condominium of 18 residences that would peak out behind its big sister and capture views of Madison Square Park. According to OMA's project page, "The asymmetrical form mirrors the traditional New York setback, the building's form is at once familiar and unique." Ultimately, the project and its developers unraveled, and most of the air rights were transferred to Eichner's underway condominium tower 45 East 22nd Street. Last year, BKSK Architects completed their design for a terra-cotta clad, 22nd Street entrance to One Madison at the site of Koolhaas' unrealized vision.
425 Park Avenue ↓
Midtown East
L&L Holding
37 Stories | 687 feet
Mixed-use Commercial
Never Built: 2012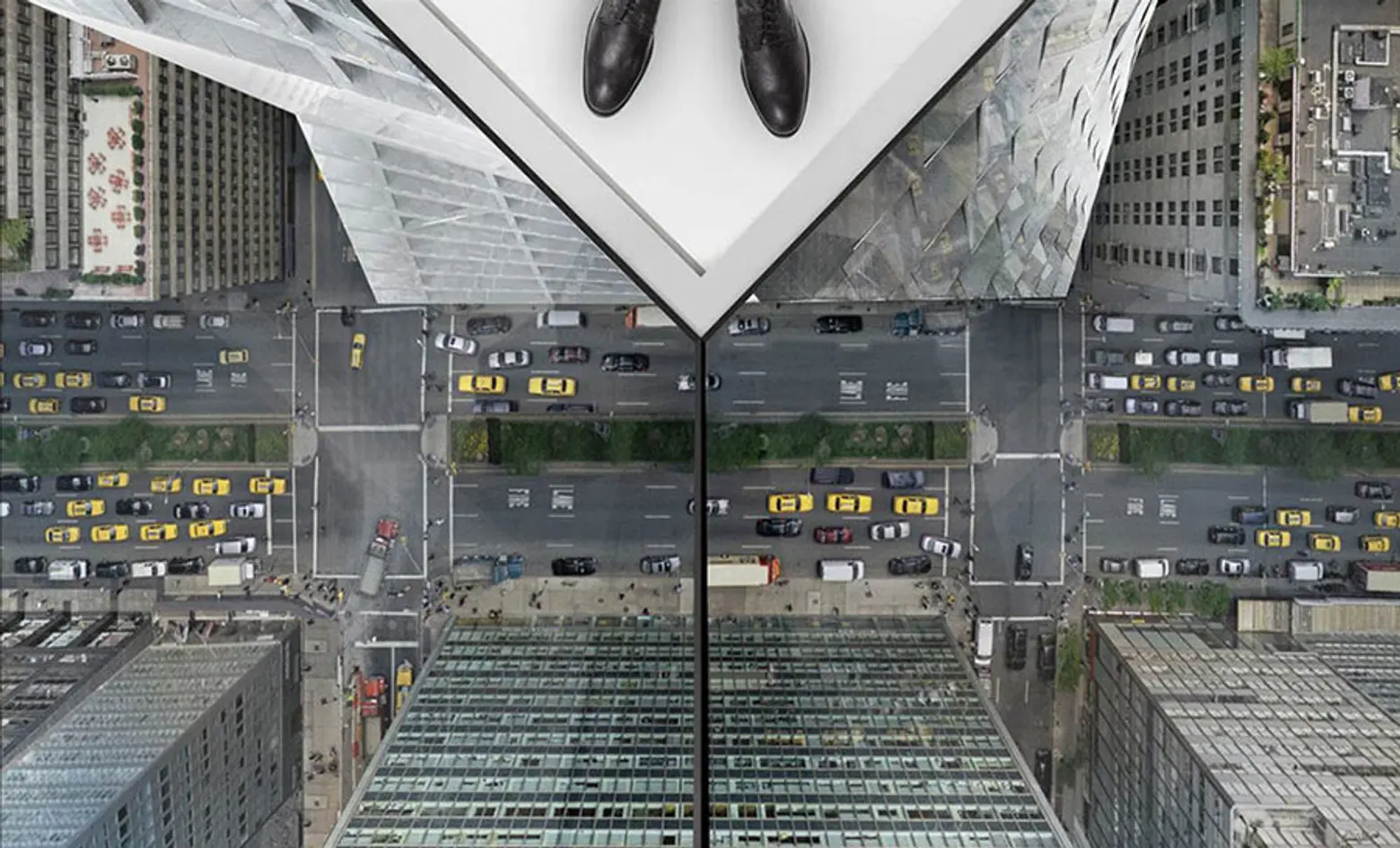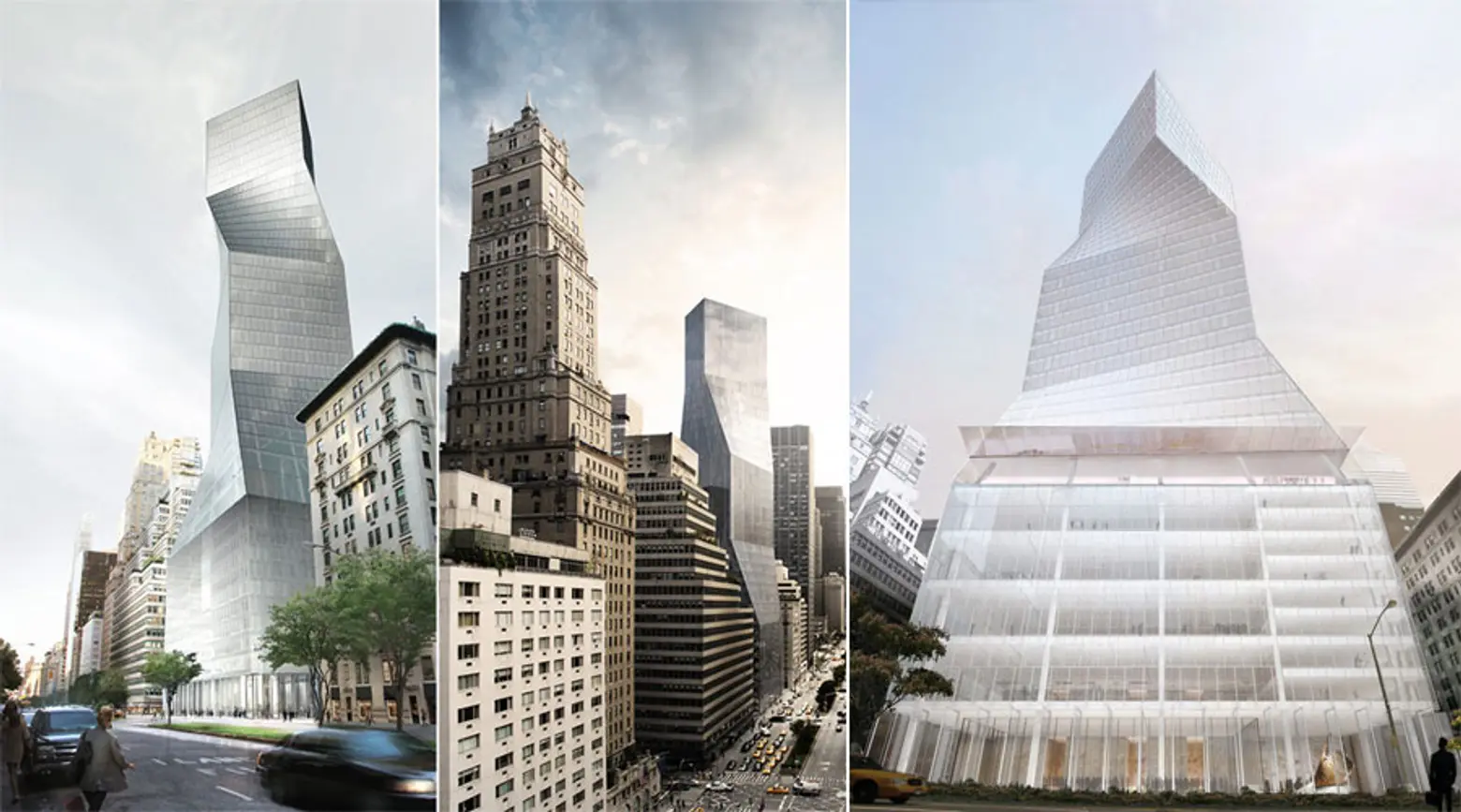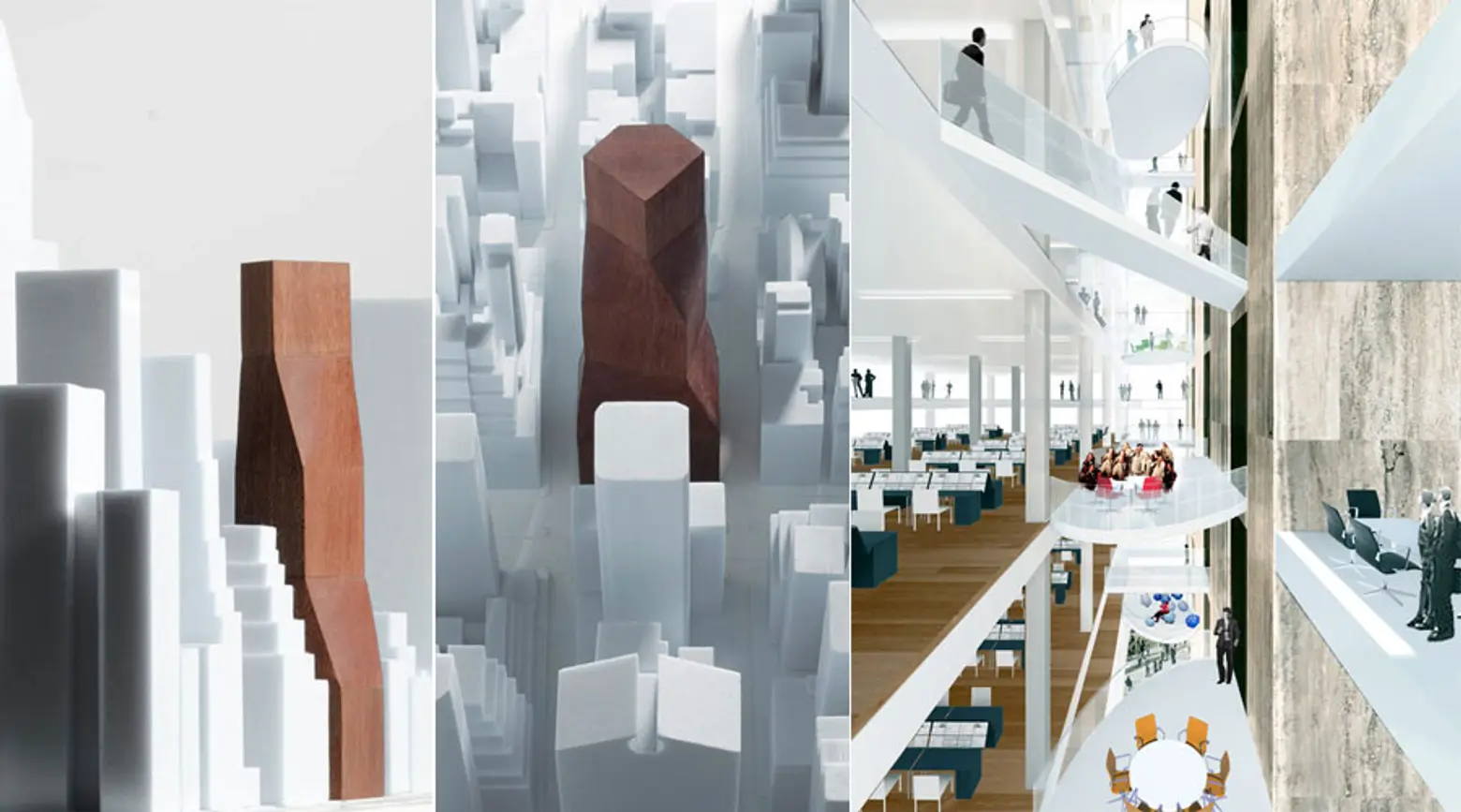 In 2011, L&L Holding held a rfp for their property at 425 Park Avenue. OMA's submission led by Shohei Shigematsu and Rem Koolhaas (pictured above) conceived a torqued, glass paneled structure composed of three cubes. The lowest one based on the foundation of the existing structure (to preserve the ability to build higher than zoning currently permits) with "the smallest on top, rotated 45 degrees."
Some of the other heavy hitters involved included Ateliers Jean Nouvel, Herzog & de Meuron, KPF, Maki and Associates, Richard Meier, Atelier Christian de Portzamparc, Renzo Piano Building Workshop, the late Zaha Hadid's firm and Rogers Stirk Harbour + Partners; with the bid eventually going to Foster + Partners.
+++
To view future listings for 122 East 23rd Street, visit CityRealty.