60 Wall Street revamp swaps out postmodern atrium for a skylight and massive 100-foot green wall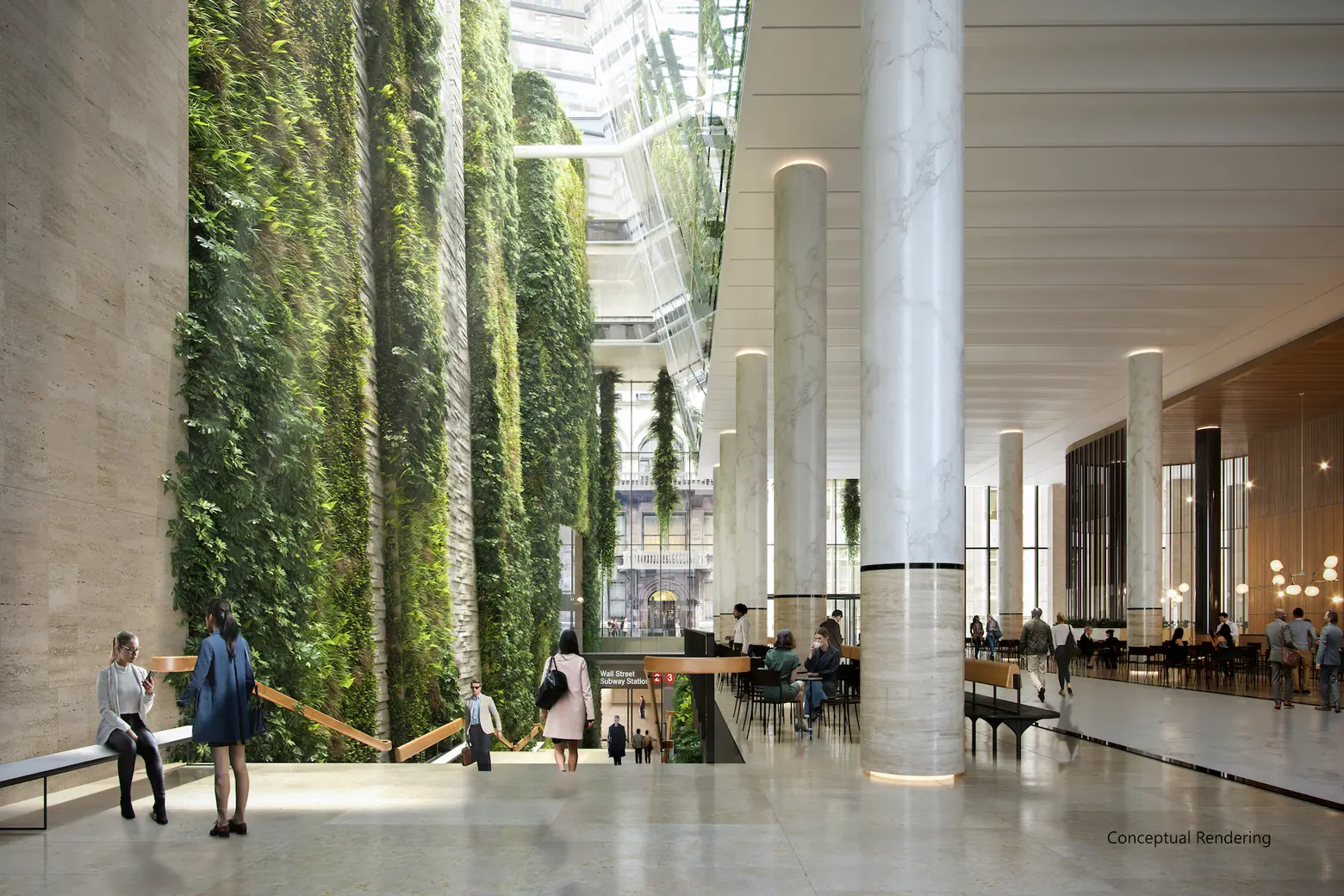 New atrium proposed for 60 Wall Street; Conceptual renderings courtesy of Paramount Group
The eccentric 1980s atrium at the Financial District office tower 60 Wall Street is getting a 21st-century makeover. As part of a major renovation, owner Paramount Group is ditching the indoor palm trees and man-made rock displays and creating a public space they feel is more attractive in a post-pandemic era. With designs from Kohn Pedersen Fox, the updated atrium of the 47-story tower will boast a new skylight and a 100-foot-tall, block-long interior green wall.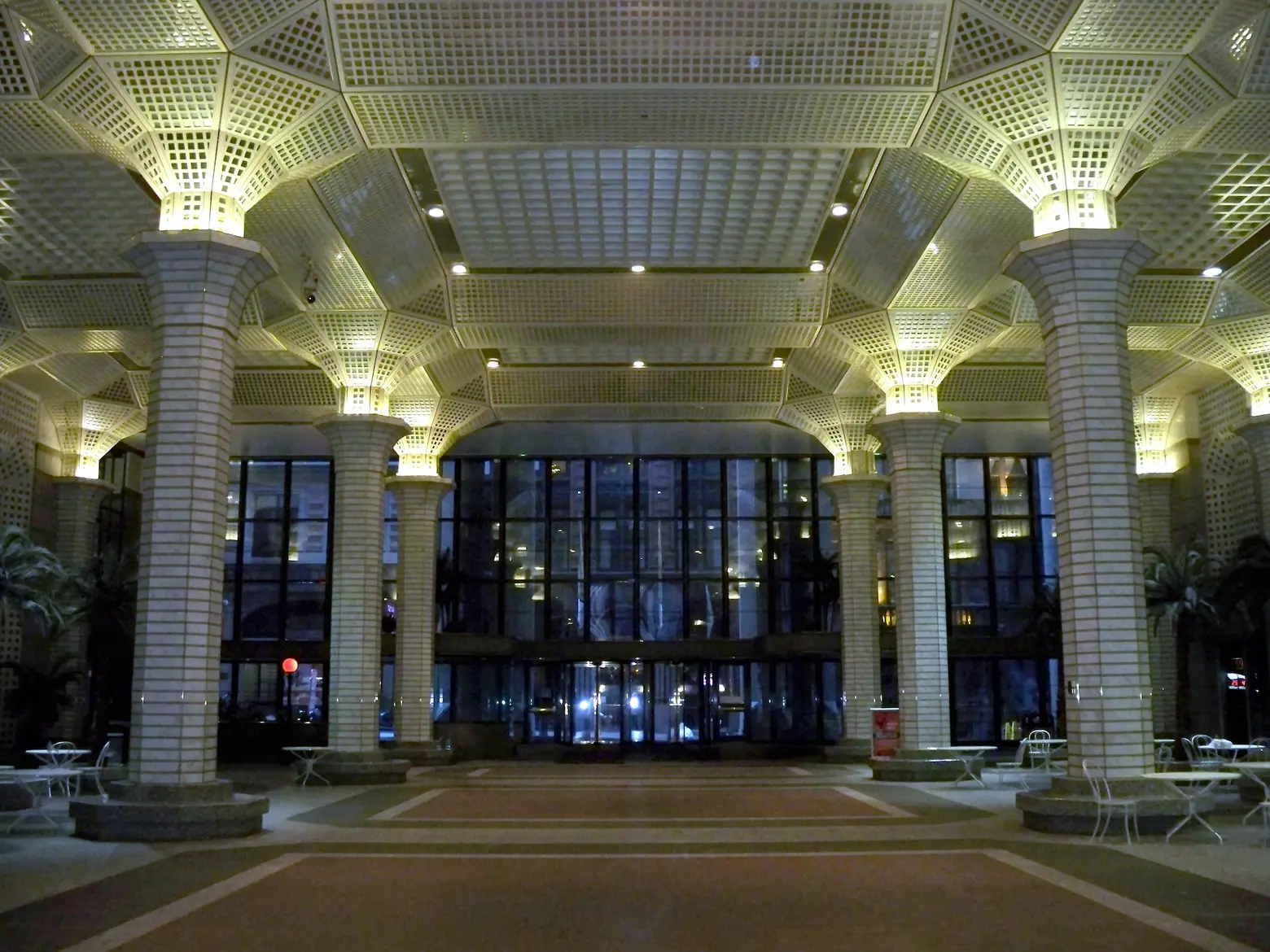 The current atrium. Photo by Matthew G. Bisanz on Wikimedia
Opened in 1988, the tower at 60 Wall Street was designed by Kevin Roche John Dinkeloo & Associates, the firm behind iconic buildings like the Ford Foundation headquarters and the Museum of Jewish Heritage.
The 24-hour public atrium features trelliswork, marble grids, mirrored ceilings, palm trees, and direct access to the 2, 3 trains at Wall Street. During the Occupy Wall Street protests in 2011, the atrium was used as a meeting space for protesters.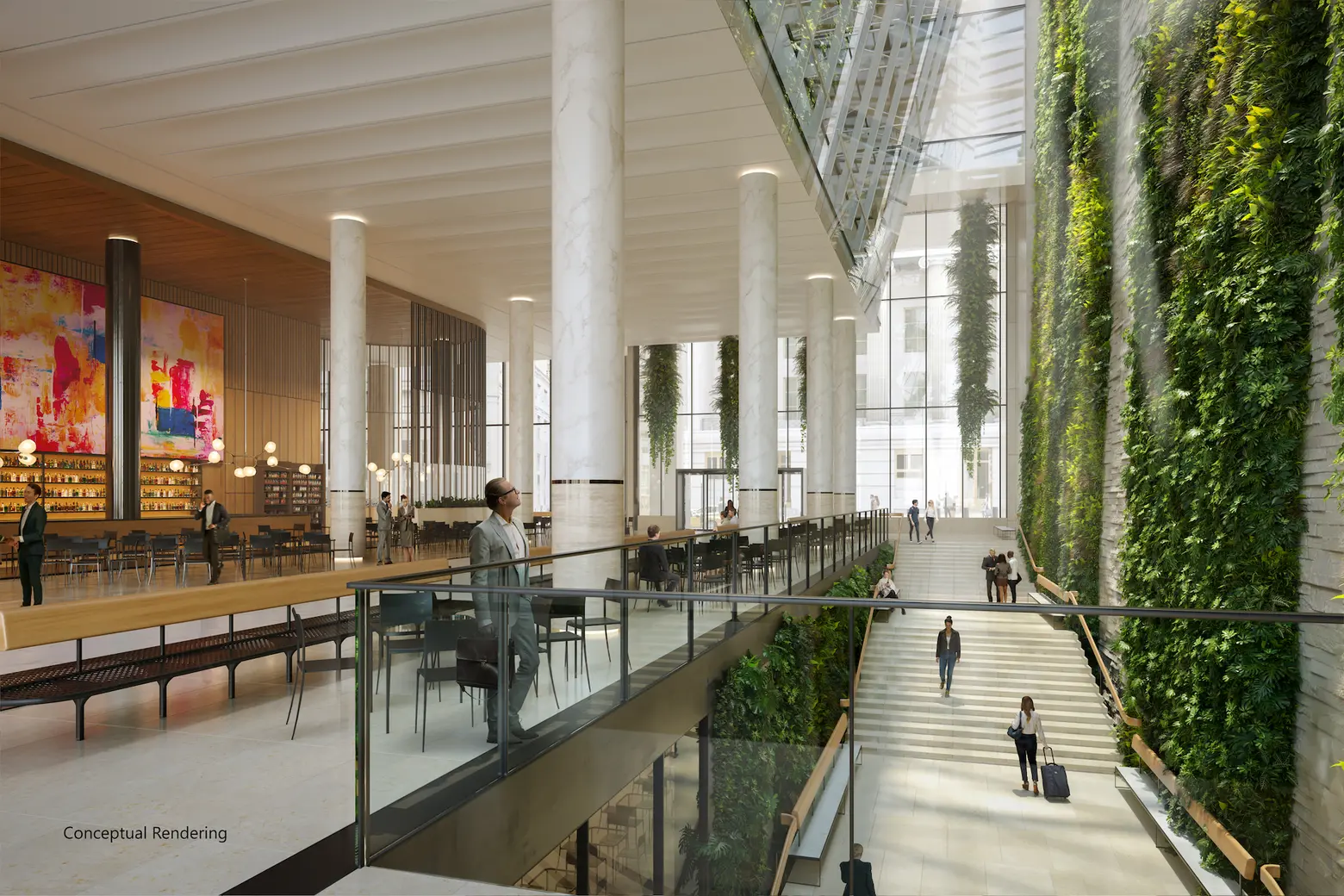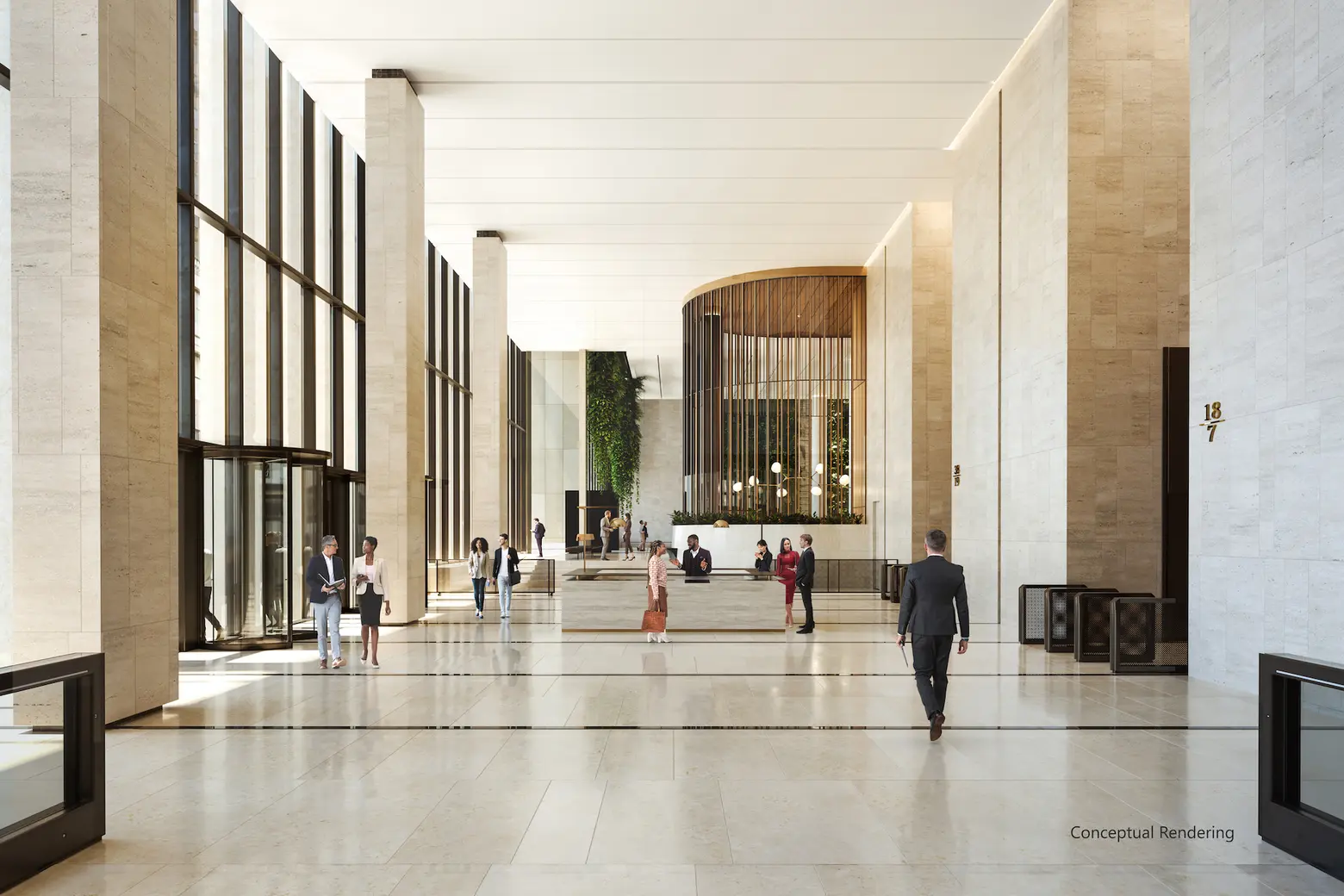 Under the revamp, 60 Wall Street's atrium will be accessible through a staircase that connects to the subway and sits next to the green wall, which spans the full length of the block and will be the largest of its kind in North America, according to Paramount.
A new skylight will create a "visual connection between the atrium and the floors above," while new dining and retail options, as well as additional seating, will help connect both of the building's lobbies.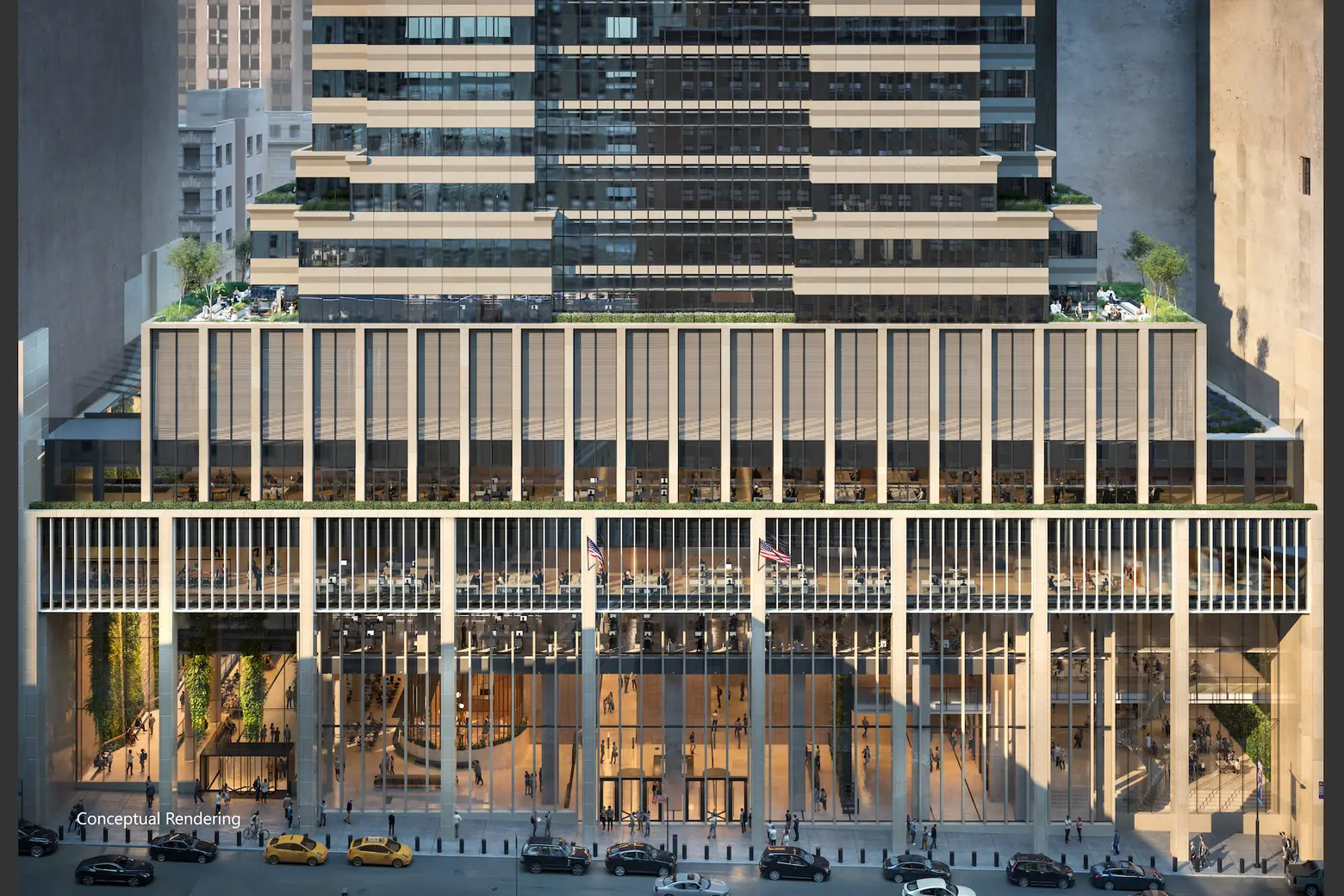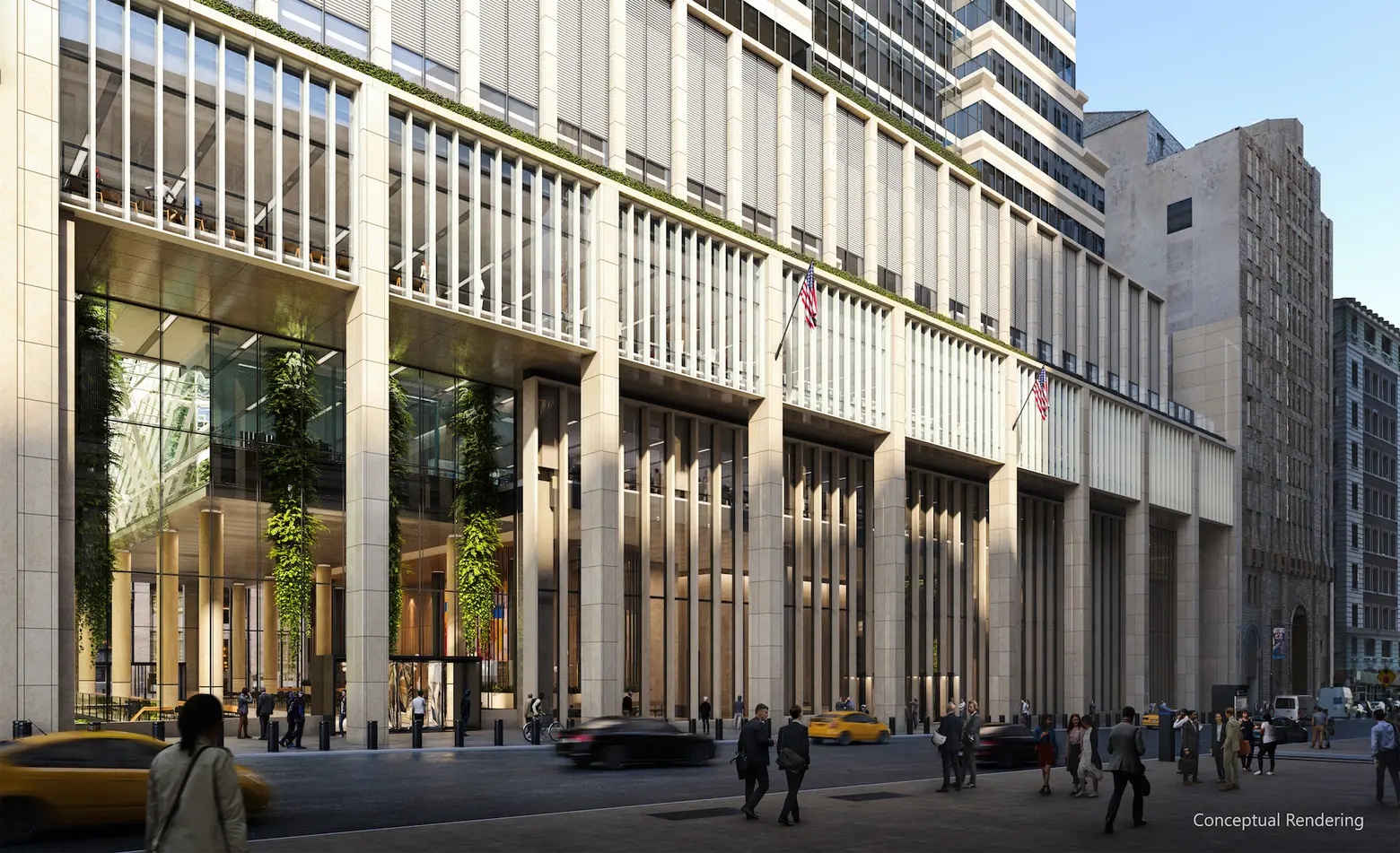 Other upgrades include opening up the facade with a new portico and installing ventilation systems that use MERV 15 filtration. As the New York Post first reported, the renovation project will cost $250 million.
"Our goal for 60 Wall Street, particularly in a time of COVID, was to create an environment that brings a sense of wellness to this intense and exciting urban community," Hugh Trumbull, KPF Design Principal, said. "By opening up the atrium, infusing it with greenery, bringing in natural light and visually uniting the two streets, we aim to bring the people of this neighborhood together where hopefully they will share ideas and chart the path to the future."
Former building owner Deutsche Bank sold the building for $1.2 billion to Paramount in 2007. Deutsche, the only tenant currently, will move to the Time Warner Center later this year. Construction is set to begin in the summer of 2022.
"Redesigned to accommodate a variety of top-tier tenants looking to base and build their future offices within the building, 60 Wall Street's modern, column free floor plates, boasting uninterrupted, panoramic views of Manhattan, Downtown Brooklyn and Jersey City, uphold the building's best-in-class legacy. Situated in a neighborhood rich with restaurants and transit options, the building further appeals to tenants' employee pool," Albert Behler, president and CEO of Paramount, said.
RELATED: 
Conceptual renderings courtesy of Paramount Group