Empty Financial District offices at 55 Broad will be converted to 571 apartments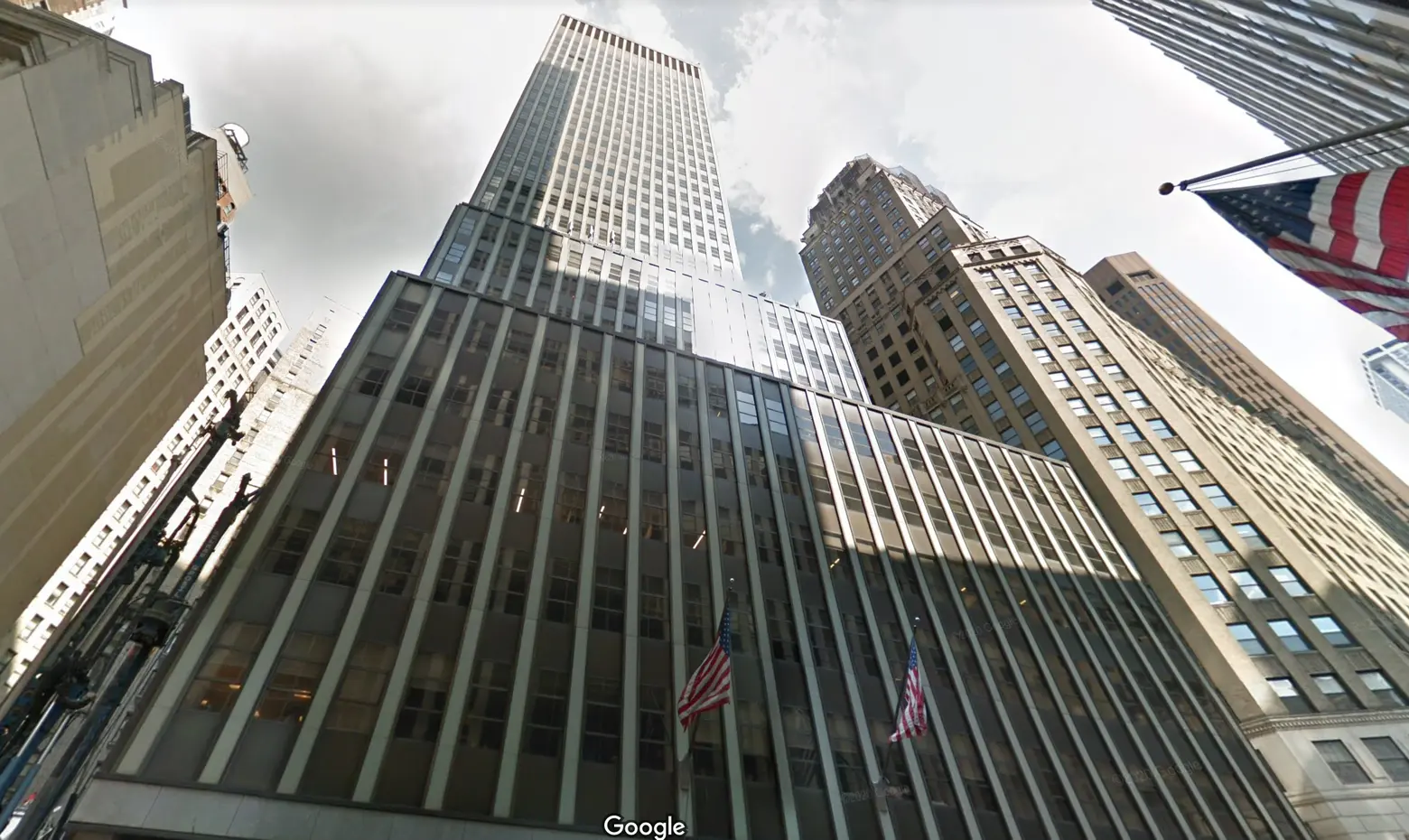 Streetview of 55 Broad. © Google 2022
As many of New York City's workers remain remote and office vacancy shows no signs of reversing, many have suggested the city's empty offices be used for living. In one of the largest office-to-residential conversions to be launched during the pandemic, two local developers have purchased the one-third vacant 55 Broad Street with the intention of creating 571 market-rate apartments, the Wall Street Journal reports.
Silverstein Properties and Metro Loft, operating as a joint venture, will pay $180 million for the 30-story building, which has hosted technology and financial services firms since its completion in 1967. The new apartments will range from studios to three bedrooms and will become available in the next three to four years.
With the workforce slow to fully return to the office, businesses are adopting more flexible hybrid office schedules. Companies require less space, and they're seeking newer buildings that offer modern design, amenities, and desirable locations.
According to WSJ, citing a report by RentCafe, more than 13,000 apartments have been created via office conversions throughout the nation in 2020 and 2021. But the path to converting older office buildings can be steep, as they are often structurally unsuitable as living spaces.
The 55 Broad developers see a clear financial path to their planned residential conversion and are aware that there may be building issues to address. WSJ quotes Metro Loft founder and managing principal Nathan Berman, who calls it "the right evolution of these struggling, underperforming, older office assets that are approaching their obsolescence," adding "There are very few obstacles we can't overcome."
The conversion will, Berman estimates, cost about a third less than the cost of new construction at the site. Zoning laws are also more lenient for converting pre-1977 buildings in the Financial District than in other parts of the city.
Though the new FiDi apartments will be priced at market rate, there has been increasing discussion of using the city's vacant offices and hotel space for affordable housing. Mayor Adams recently introduced the Zoning for Housing Opportunity amendment, which would make it easier to convert office space into housing.
Gov. Kathy Hochul signed a bill that will make it easier to convert underutilized hotels into permanent affordable housing. And State Sen. Michael Gianaris last year sponsored the Housing Our Neighbors with Dignity Act, which would allow New York to buy financially distressed commercial buildings and convert them into housing for low-income and homeless residents, including office buildings and hotels that are up for sale.
RELATED: