18 places to celebrate Oktoberfest in and around New York City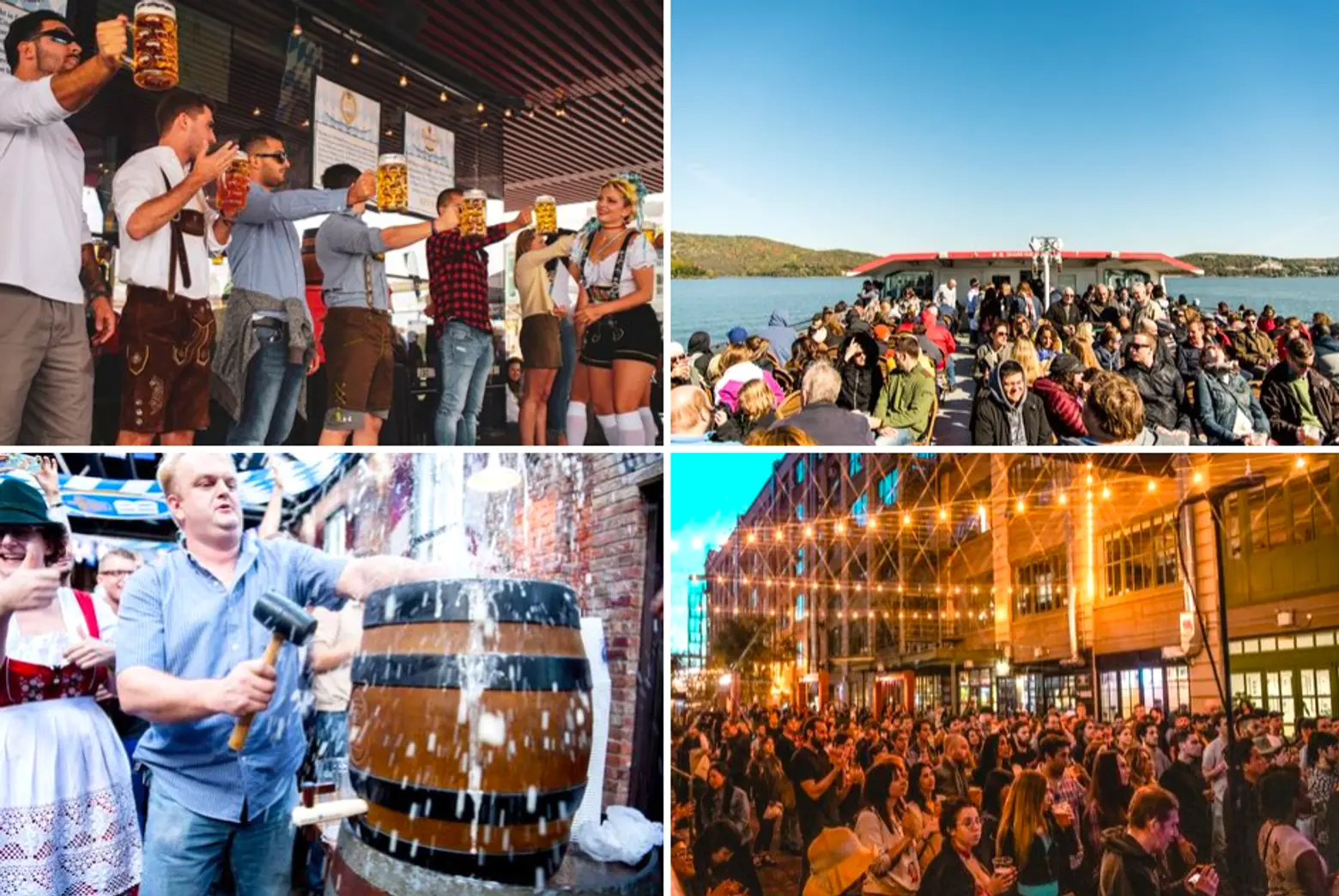 Grab some lederhosen and a giant beer, it's time to celebrate Bavarian culture in New York City. Oktoberfest has officially arrived in the five boroughs and beyond, offering the chance to travel to Munich without a passport. Festivities range from traditional stein-holding competitions and pig roasts to more out-of-the-box events, like the Voelker Orth Museum's Flushing-style Oktoberfest with sauerkraut and kimchi eats and brews in the zoo at Turtle Back Zoo.

 Manhattan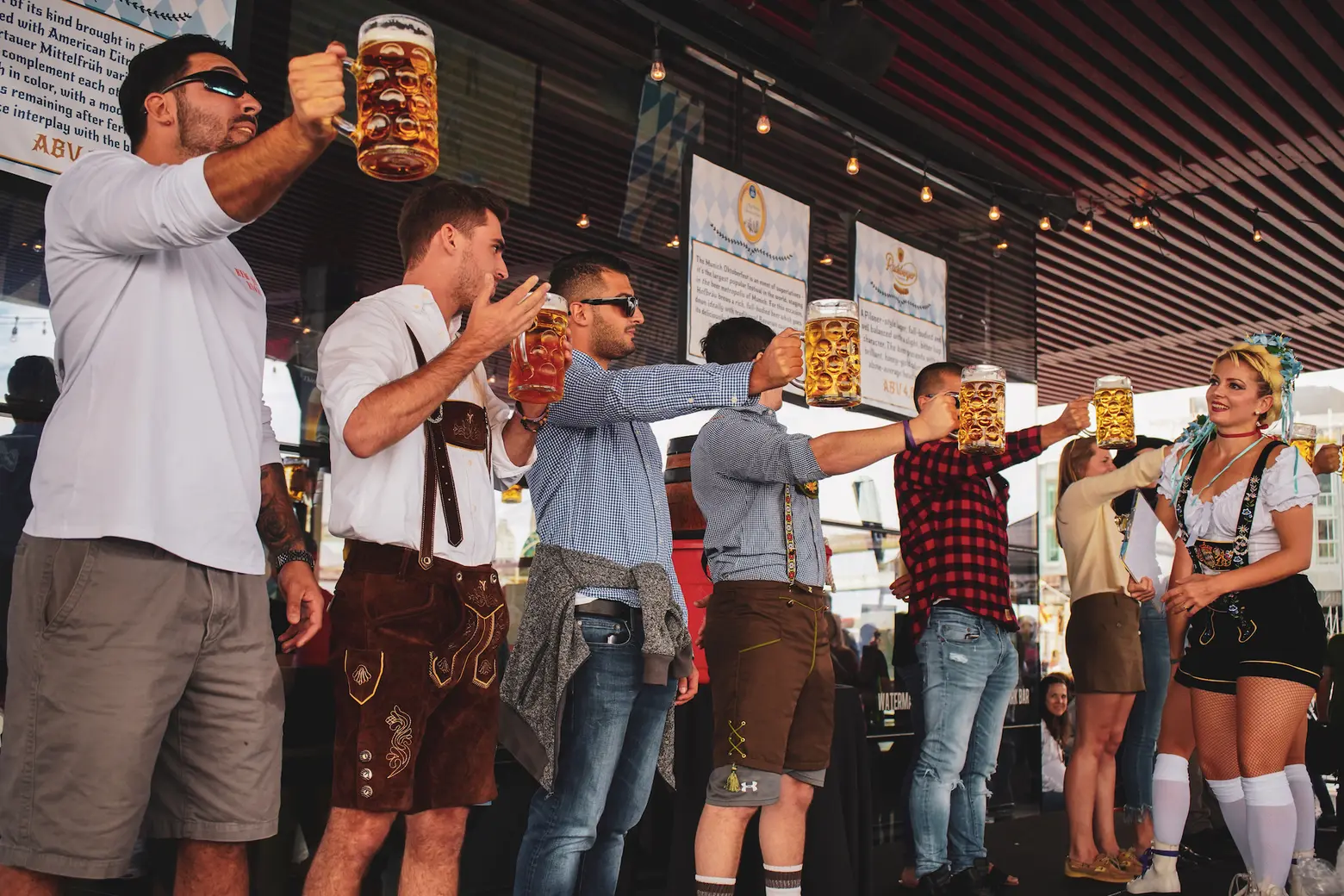 Photo courtesy of Oktoberfest at Watermark
The Watermark at Pier 15
78 South Street, South Street Seaport
Weekends of Sept. 13 to Oct. 20
For six weekends, New York City's largest outdoor Oktoberfest event takes over downtown Manhattan, bringing authentic German beer, food and, decor to Pier 15. Hosted by the Watermark Bar at the South Street Seaport, the event runs each Saturday and Sunday from 11 a.m. to 12 a.m. until Oct. 20. Free general admission provides access to games like ping pong, corn in the hole, and stein-holding contests, while ticketed packages, ranging in price from $50 to $500, include food and beverage options. Get more information and buy tickets here.
Zum Schneider
107 Avenue C at East 7th Street, East Village
Sept. 27 to Oct. 6
Alphabet City's Zum Schneider is hosting its sixth annual Munich on the East River this year. As one of the city's original Bavarian bierhouses, Zum Schneider's event is considered one of the most genuine celebrations outside of Germany. The German-speaking staff serves Oktoberfest beers and Munich meals under a decorated tent, following an age-old tradition. Plus, the restaurant on Avenue C stays open during the Oktoberfest festivities and will offer a free after-party following Munich on the East River, which is a 10-minute walk away. Even after the tent closes on Oct. 6, Zum Schneider will host free parties through October with live music, imported German beers, and more food.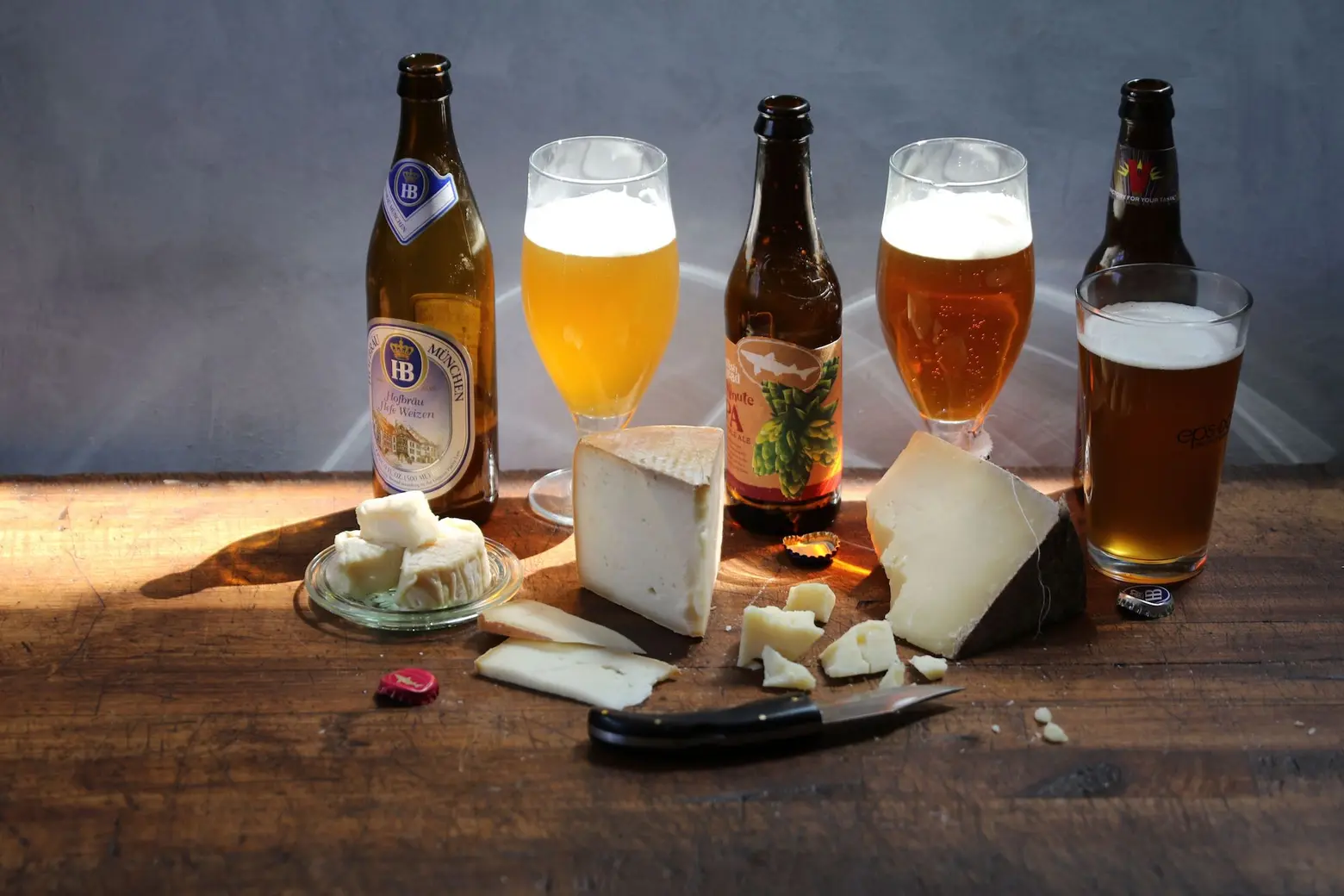 Photo courtesy of Murray's Cheese
Murray's Cheese
254 Bleecker Street, Greenwich Village
Wednesday, Oct. 2
For cheese connoisseurs who also love history AND beer, where better to celebrate this holiday than Murray's Cheese? The Greenwich Village standby is hosting an Oktoberfest party/lecture that will dive into German heritage and the beers that coincide with it. The delicious $85 class pairs classic Oktoberfest brews with cheese. Get the details, and tickets, here.
Brooklyn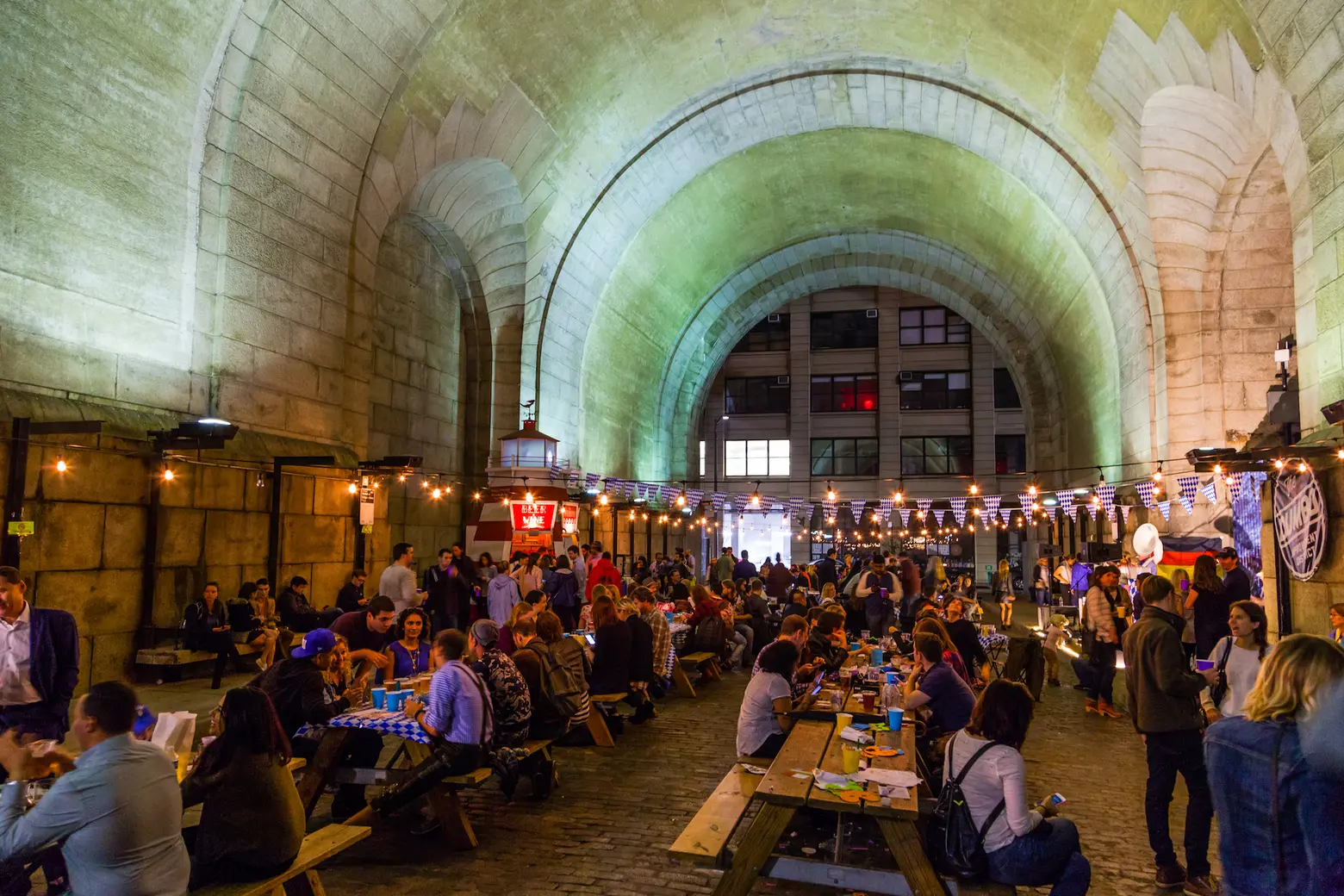 Photo by Noemie Trusty for the Dumbo Improvement District
Dumbo Improvement District's Oktoberfest "Under the Archway"
155 Water Street, Dumbo
Friday, Oct. 4 and Saturday, Oct. 5
Oktoberfest comes to Dumbo's Archway for the fourth time. The Dumbo Improvement District will transform the Manhattan Bridge Archway into a beer hall for two days in October, bringing live musical performances from classic German and Polka bands and themed food and drinks. On Friday, the Oktoberfest event runs from 5 p.m. to 9 p.m. and on Saturday from 1 p.m. to 9 p.m.
Brooklyn Brewery
79 North 11th Street, Williamsburg
Oct. 1, 5 p.m. to 9 p.m. 
The Brooklyn Brewery is offering a Munich-inspired feast in their taproom for one night only. Serving up bratwurst, kielbasa, and pretzels from J&E SmallGoods, alongside the brewery's own Oktoberfest beer, the event celebrates the most famous festival in one of New York's most famous breweries.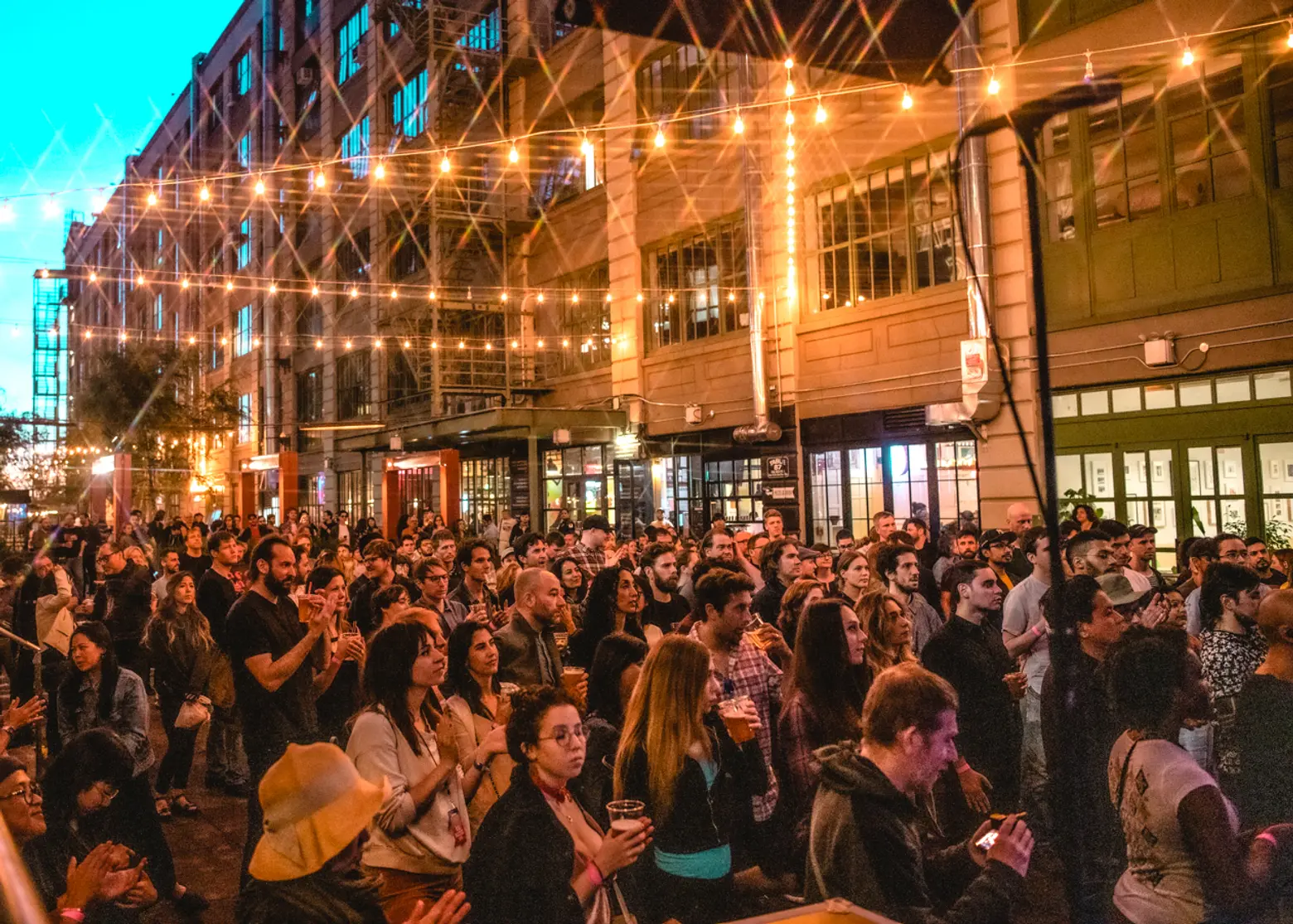 Photo by Julia Drummond for City Farm Presents
City Farm Presents' Brooklyn Reserve
238 36th Street, Sunset Park
Sept. 29  and Oct. 26
Event venue City Farm Presents' Brooklyn Reserve is hosting two events at Industry City this Oktoberfest. On Sept. 29 and Oct. 26, enjoy live music, lawn games, and food from Kotti Berliner Döner Kebab (the first authentic Berliner Döner Kebab in the city) all at Industry City's outdoor courtyards. General admission is free, which includes one complimentary raffle ticket. VIP tickets cost $30 and come with one beer stein, two drink tickets, five raffle tickets, and a commemorative t-shirt. Get tickets here.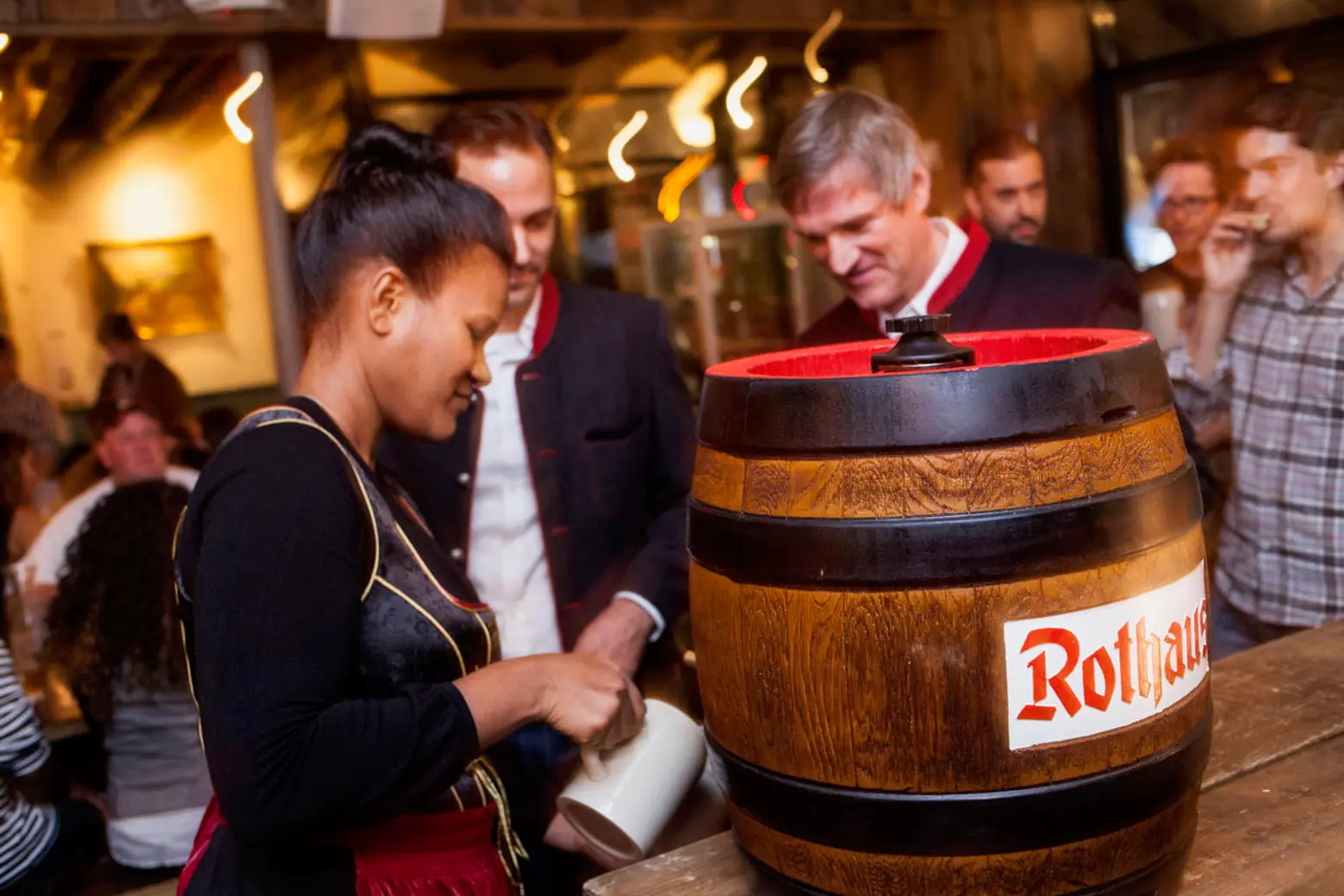 Photo courtesy of Black Forest Brooklyn
Black Forest Brooklyn
733 Fulton Street in Fort Greene and 181 Smith Street in Boerum Hill
Oct. 4 and Oct. 12
Black Forest Brooklyn has been bringing Bavarian eats to the borough since 2013. With two locations, one in Fort Greene and one in Boerum Hill, the restaurants have become neighborhood staples. Oktoberfest festivities kick off on Oct. 4 at the Fort Greene location, featuring Slavic Soul Party!, free beer from the keg tapping ceremony, and a mug holding competition. No reservation required, but there is a $10 cover starting at 9 p.m. On Saturday, Oct. 14, the Smith Street restaurant will host its first-ever Oktoberfest party in its backyard. Along with live music, $45 tickets include a four-course Bavarian meal and "lots of beer in big glasses."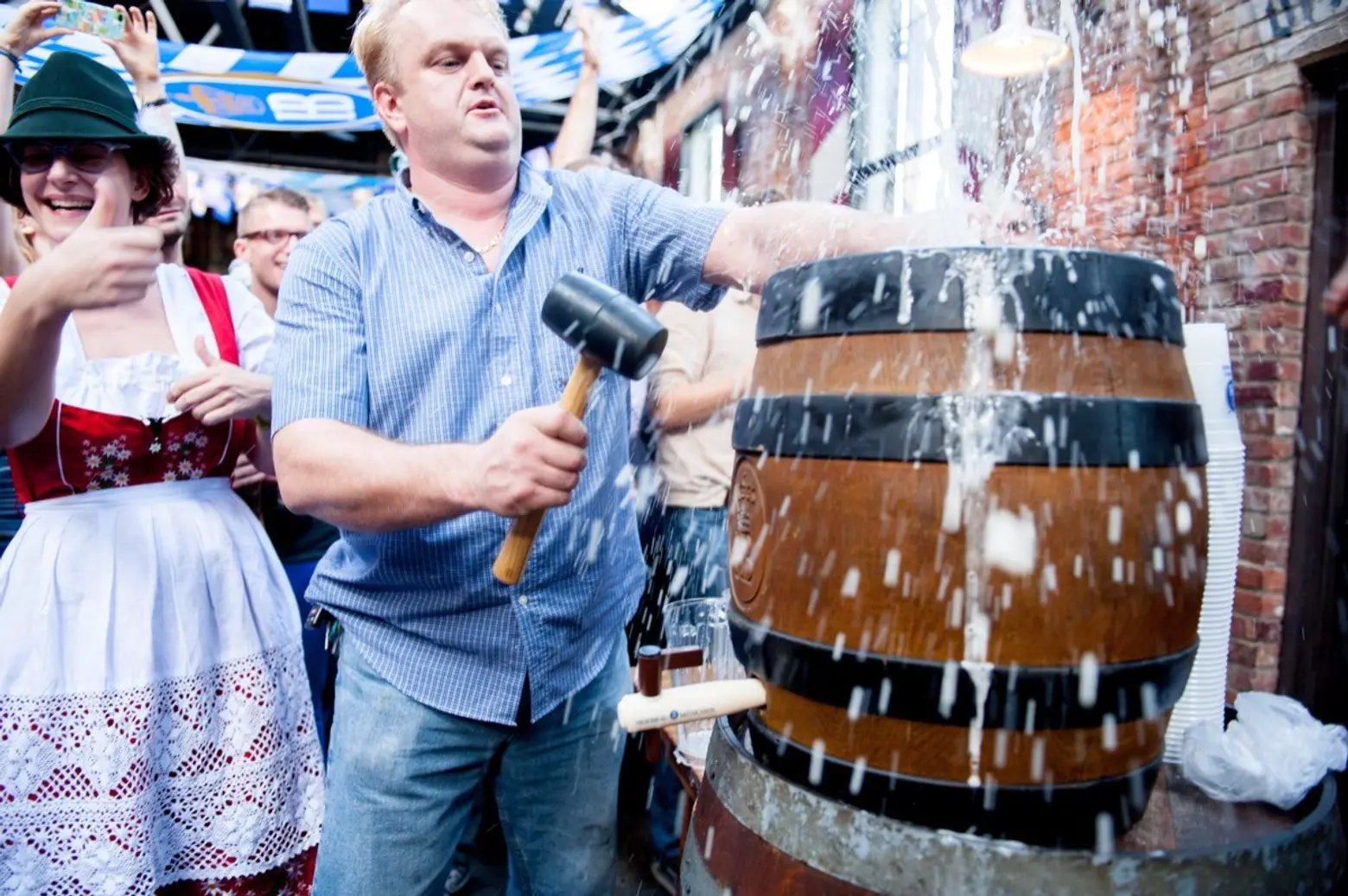 Photo courtesy of Radegast Hall
Radegast Hall
113 North 3rd Street, Williamsburg
Every Saturday during Oktoberfest
Big beers are always in style at Williamsburg's Radegast Hall. But during Oktoberfest, the bar takes it up a notch, celebrating every Saturday during Oktoberfest. Expect mug holding contests, a ceremonial keg tapping, a pig roast, two bands, and a DJ each weekend.
Blocktoberfest 2019
272 Meserole Street, Bushwick
Sept. 28, 1 p.m. to 5 p.m.
An Oktoberfest for local beer snobs, Blocktoberfest brings together nearly 30 of New York City's breweries for one day of brew sampling. In its sixth year, the event, hosted by the NYC Brewers Guild, will take place at The Well in Bushwick, which boasts a generous indoor-outdoor space. In addition to incredible beers, Blocktoberfest includes for-sale food from Pie Culture Pizza, Empanada Papa, and DaleView Biscuits & Beer. Get advanced tickets, which range in price from $14 to $35, here.
Queens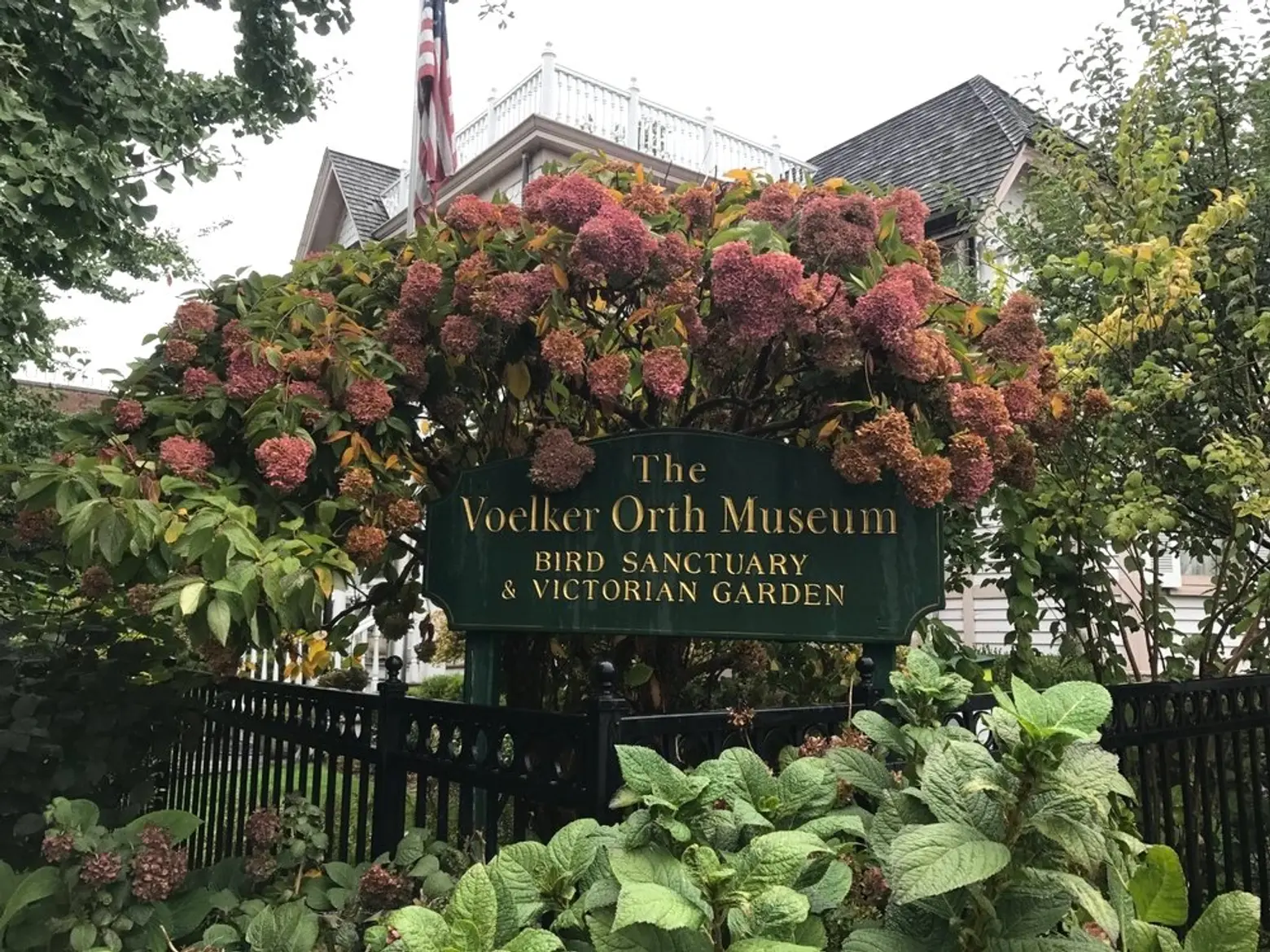 Photo courtesy of Voelker Orth Museum
Voelker Orth Museum
149-19 38th Avenue, Flushing
Saturday, Sept. 28, 5:30 p.m. to 8:30 p.m. 
A museum in Flushing with strong ties to Germany will host its own unique celebration this month. The Voelker Orth Museum, housed in an 1890 two-story home owned by German immigrant Conrad Voelcker, will offer a very Queens Oktoberfest, serving both German-Amerian cuisine alongside Korean-American dishes, "uniting two culinary traditions that feature humble pickled cabbage." In addition to the interesting fare, the Shai Orchestra will perform. Admission, $35 or $30 for members, includes dinner and drinks. Get tickets here.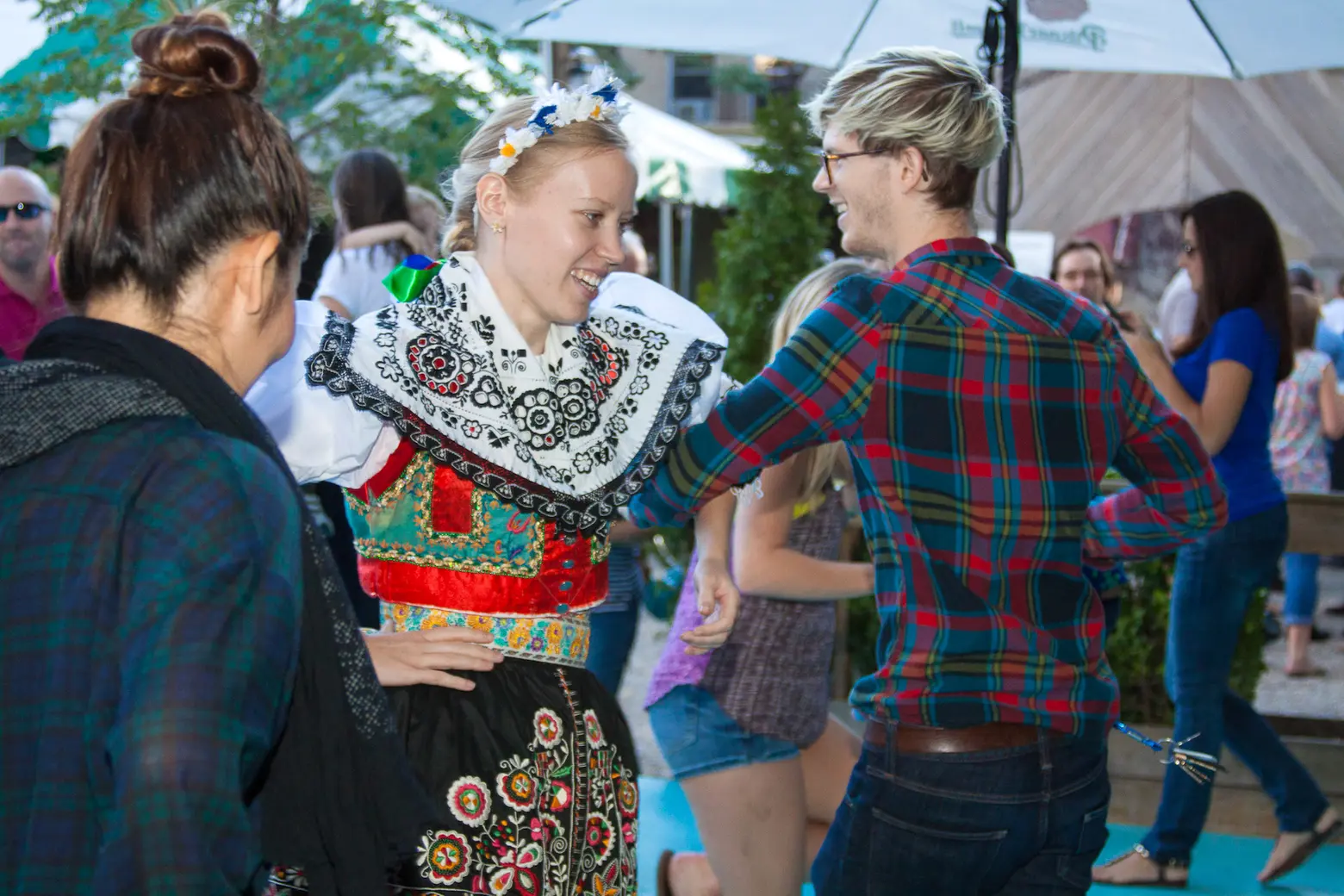 Photo courtesy of Bohemian Hall
Bohemian Hall
29-19 24th Avenue, Astoria
Sept. 26, Oct. 5, 12 and 20th
As one of the oldest beer gardens in New York City, Bohemian Hall (which once served as a 19th-century social club for Czech immigrants) promises plenty of Oktoberfest fun. The historic Astoria bar boasts an ample garden space with plenty of shaded seating, Czech beer on tap, and schnitzel and goulash on the menu. In addition to traditional food and beverages, enjoy a classic Bavarian stein-hoisting contest and Polka music from Chris & Ronnie on Sept. 26, a performance by the Bavarian Kings on Oct. 6, The Street Brass Brand on Oct. 12, and The Polka Brothers on Oct. 20.
Manor Oktoberfest
80-20 Cooper Avenue, Glendale
It definitely doesn't have to be October to celebrate Oktoberfest at this Queens restaurant. The aptly named Manor Oktoberfest brings Munich to Glendale nearly every day of the week, with bratwursts and a handful of German beers on draft. While its location in a shopping mall may not be the most scenic, the wide tables and affordable prices will be enough to draw in revelers all year.
Staten Island & New Jersey
Historic Richmond Town
4 Clarke Avenue, Staten Island
Saturday, Oct. 12, 12 p.m. to 7 p.m. 
Staten Island will be celebrating Oktoberfest all day on Oct. 12. And for a good cause. Hosted by the Rotary Clubs of Staten Island and Rolling Thunder, all proceeds from the event will go to helping veterans in need, according to the event page. Held at Historic Richmond Town, Staten Island Oktoberfest will boast food, beer, rides, live music, and carnival games. The $10 ticket comes with a free drink. Get them here.
Ales 'N Tails at Turtle Back Zoo
560 Northfield Avenue, West Orange, NJ
Saturday, Oct. 5, 6:00 p.m. to 9 p.m.
It's all about brews in the zoo at this West Orange Oktoberfest celebration. The Turtle Back Zoo's annual Ales 'N Tails event returns Oct. 5, serving up dozens of seasonal beers and bites from local food vendors. Tickets to the event cost $60 ($15 for designated drivers) and will benefit the Essex County Parks Foundation. Find tickets here.
View this post on Instagram
Asbury Festhalle & Biergarten
527 Lake Avenue, Asbury Park, NJ
Oct. 12 and Oct. 13, 12 p.m. to 11 p.m.

Headed to the Jersey Shore for Columbus Day weekend? Check out Asbury Festhalle & Biergarten's two-day celebration in Asbury Park. The rooftop of the massive bar, considered the area's first Austro-Hungarian beer garden, will be decked out with a Munich-style tent starting at noon on Saturday, Oct. 12. The bar is also offering a $40 "beer school" on Thursday, Oct. 17, which will dive into the history of Oktoberfest while their house Cicerone guides the group through various beer samples. Learn more here.
Zeppelin Hall Jersey City
88 Liberty View Drive, Jersey City, NJ
Sept. 27 to Oct. 20 
Zeppelin Hall boasts an enormous indoor-outdoor Biergarten, featuring 30-foot-long communal tables and a full bar with more than 100 imported and domestic drafts on tap. The Jersey City restaurant is self-serve, making it easier to sample all of the Munich-imported giant pretzels and specialty sausages. The bar will host Oktoberfest festivities starting Sept. 27 until Oct. 20, offering live "German party bands" on Fridays and Saturdays at 9 p.m.
Upstate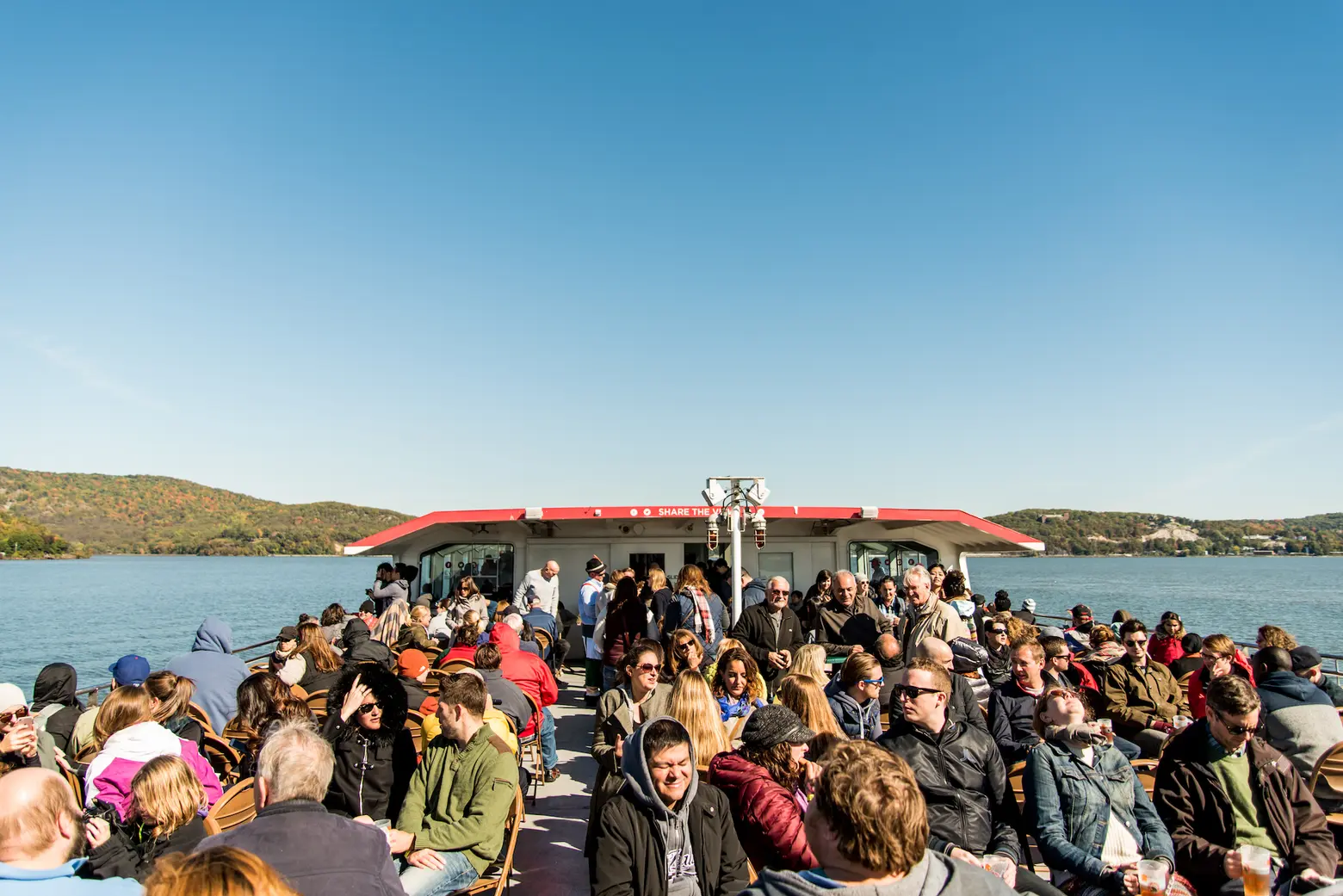 Photo courtesy of Circle Line
Circle Line's Bear Mountain Oktoberfest Cruise
Bear Mountain State Park, Rockland County, NY
Sept. 21 through Nov. 10
This Oktoberfest celebration takes to the water. Circle Line is hosting its annual Bear Moutain Cruise, which takes passengers on an eight-hour tour to check out the best fall foliage of the Hudson Valley. While sailing up the Hudson River, drink German beers, snack on bratwurst and sauerkraut, and listen to a live Oompah band. The boat docks at Bear Mountain State Park for a few hours for guests to take in the scenes, including over 50 hiking and bike trails, a lake with paddleboats, a zoo, museum, and The Bear Moutain Inn. Tickets, which start at $65 for adults, can be purchased here.
Hunter Mountain
64 Klein Avenue, Hunter, NY
Sept. 28-29, Oct. 5-6, Oct. 12-13, Oct. 19-20

The four-weekend-long event at Hunter Mountain has been ranked as one of the ten best Oktoberfest celebrations in the country. And for good reason. With the foliage-full Catskills as the backdrop, the festivities feel like the ultimate autumn adventure. Each weekend offers a different event, including a local cider tasting, off-roading, European model car show, and a wine fest. The events are free to attend, but VIP packages are available.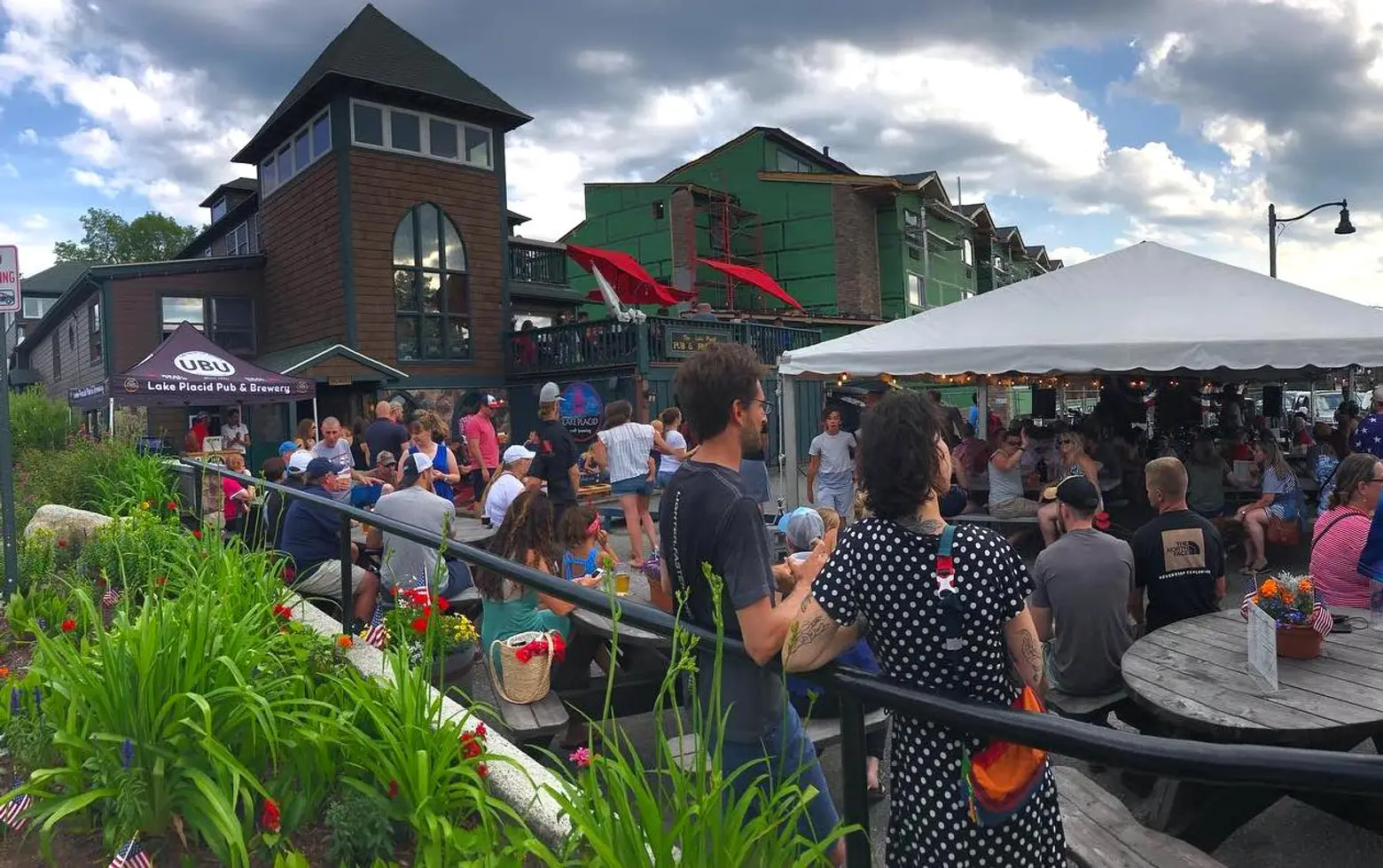 Photo courtesy of Lake Placid Pub & Brewery
Lake Placid Pub & Brewery
813 Mirror Lake Drive, Lake Placid, NY
Oct. 5
Make a weekend feel like Munich by traveling to the scenic village of Lake Placid. While it's a decent drive from New York City, the town offers plenty of history, outdoor activities, and serenity to make it worth the trek. Reward yourself for getting out of the city by checking out Lake Placid Pub & Brewery. On Oct. 5, the microbrewery is hosting its annual 5K race followed by a day of beer drinking, eating, and games.
RELATED: