12 things you need for the perfect picnic in NYC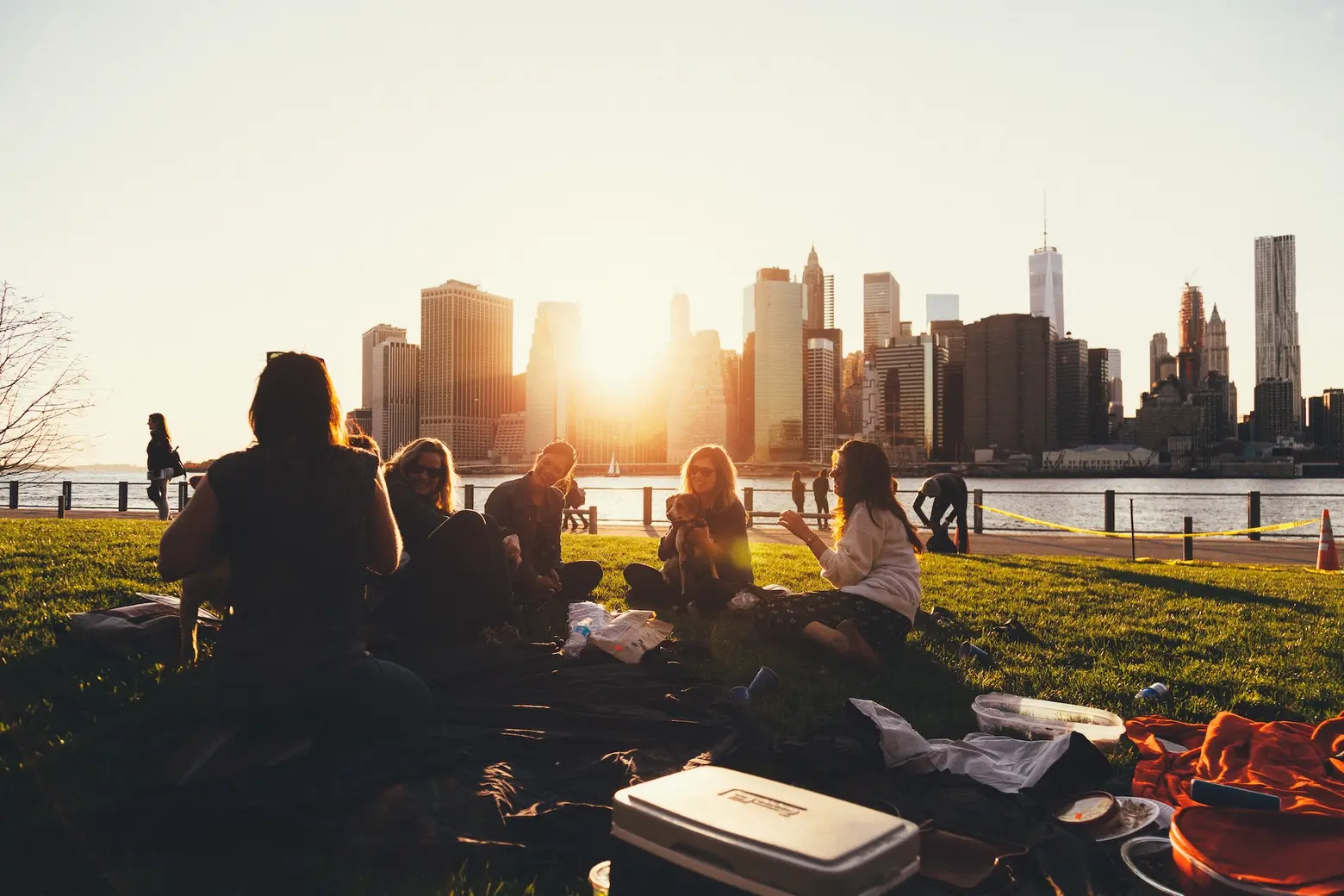 Warm weather has arrived in New York City, which means it's time to dust off your picnic blanket and fill your basket with local goodies for a meal al fresco. To help you throw the best picnic, whether you're impressing a first date or just taking some solo time to recenter in Central Park, we've rounded up all of the essentials for a fantastic meal outdoors in the Big Apple.
All of these products have been hand-selected by Team 6sqft. We may receive a commission for purchases made through these affiliate links. All prices reflect those at the time of publishing.
A picnic backpack
Sure, wicker baskets are cute, but they're not the most practical, especially if getting to your picnic spot involves a Citi bike, the Q train, or several blocks in sneakers. This picnic backpack has smart compartments for cutlery, a blanket, and even stemmed glassware (well, plasticware, but it looks fancy in photos). The interior is even insulated to keep your wine and cheese fresh.
Sunflora Picnic Backpack with Blanket, $79.99 at Amazon
A big enough blanket
Stretch out on the grass without stains or other unpleasantness that lurks in the city park. This extra-large blanket has 3 layers of durable material to keep you, and your meal, clean and comfortable.
Hivernou Picnic Blanket, $26.99 at Amazon
Photo courtesy of Zungleboo
Eco-friendly dinnerware
Just because you're eating on the ground doesn't mean you should give up all trappings of a civilized meal. These lightweight plates from Zungleboo are made from plant-based materials and bring an elevated feel to your picnic.
Namu Salad Plates, $42 at Zungleboo
Photo courtesy of Tacombi
Tacos to-go
Order a Taco Suprema Set from the nearest Tacombi location and load up your tacos with salsa, guac, and elote from the comfort of your blanket. Choose a mix of Tacombi's tasty fillings, including crispy fish, al pastor, and carnitas. And while you're at it, grab a few aguas frescas to wash them down
Taco Suprema Set, $45.95 at Tacombi
Photo courtesy of The Goods Mart
Plenty of snacks
Your picnic certainly needs snacks, but let's go beyond the basics. The Goods Mart in Soho prepares unique snack boxes loaded with tasty treats from small brands, many of which are local and/or have BIPOC, AAPI, Latinx, and female founders. You can have the box packed and shipped from the store or pick it up on your way to a picnic along the Hudson.
The Best of the Best snack box, from $32 at The Goods Mart
Photo by James and Karla Murray exclusively for 6sqft
Fresh bread
Stop by the always-bustling Bread Alone tent at the Union Square Farmer's Market, or any of their many retail locations, to stock up on freshly baked loaves and pastries to fuel your picnic.
Photo courtesy of Murray's Cheese
A cheese collection
There's no better place in the city to fill your picnic basket with cheese than Murray's. You can make your own selection from their vast offerings or order a curated cheese collection to share. You can't go wrong with their "Greatest Hits" basket, which has four fan-favorite kinds of cheese, a sweet spiced jam, crackers, and almonds, enough for six to 10 people.
The "Greatest Hits" basket, $95 at Murray's Cheese
Local brews
Brooklyn-based brewery Threes Brewing is known for its modern take on traditional-style beers. While the popular brewery has locations in Gowanus, Greenpoint, and a seasonal pop-up on Governors Island, Threes also offers local delivery and pick-up service, making it easy to supply the brews for our next outdoor gathering. We like the Threes Brewing Party Pack, which includes 12 assorted cans to please everybody at the picnic.
Threes Brewing Party Pack, $79 at Threes Brewing
Mixed mocktails
Or keep things no-ABV with delicious mocktails made with Three Spirit non-alcoholic tonics. Bring along your favorite sparkling water and fresh lime to whip up a refreshing drink that puts you in a social mood without needing a nap all afternoon.
Social Elixir, $39 at Three Spirit
Spike ball
Work up an appetite with a few rounds of Spike Ball, which is guaranteed to bring out guests' competitive energy, and plenty of laughs.
Spike Game Set Ball Game Set, $39.99 at Amazon
Photo courtesy of Morgenstern's Finest Ice Cream
An ice cream party pack
The first licks of sunshine are enough to awaken any New Yorker's ice cream craving. Satisfy yours anywhere with a party pack from Morgenstern's Finest Ice Cream. Select your size and flavors. The scoop shop will pack up a cooler with cones, cups, napkins, spoons, and all of the toppings you could want.
Photo courtesy of maman
A box of cookies
Cap off a successful picnic with a sweet treat from local favorite Maman. The bakery is selling delightful Spring Cookie Boxes filled with crowd-pleasing flavors: Nutty Chocolate Chip, White Chocolate Raspberry Rose, and Brown Butter Coconut Oat Cookies.
Cookie Box, $65 at maman
RELATED: