When the big dinner is at your (tiny) apartment: How to host a holiday meal in a small space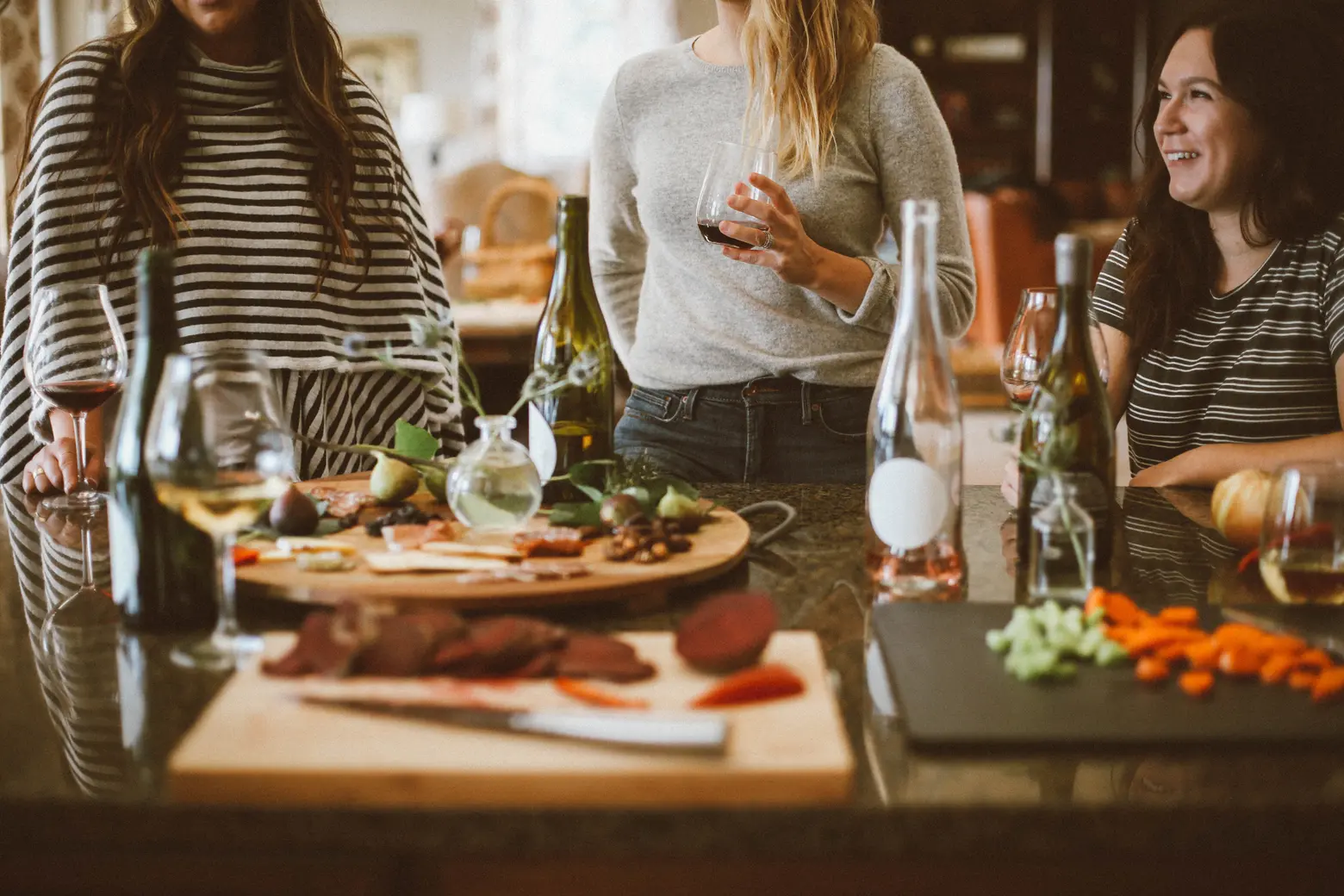 Don't let apartment life stop you from hosting! Forget the turkey and tradition, or start one of your own with a November (or December) dinner to remember. You can even tackle the classic Thanksgiving, or have a low-key, festive "Friendsgiving." The key is to find your own collection of small-space, less-fuss entertaining ideas and go-to goods. Below, a few suggestions to get you started.
All of these products have been hand-selected by team 6sqft. We may receive a commission for purchases made through these affiliate links.
Shortcuts, hacks, and stress-busting ideas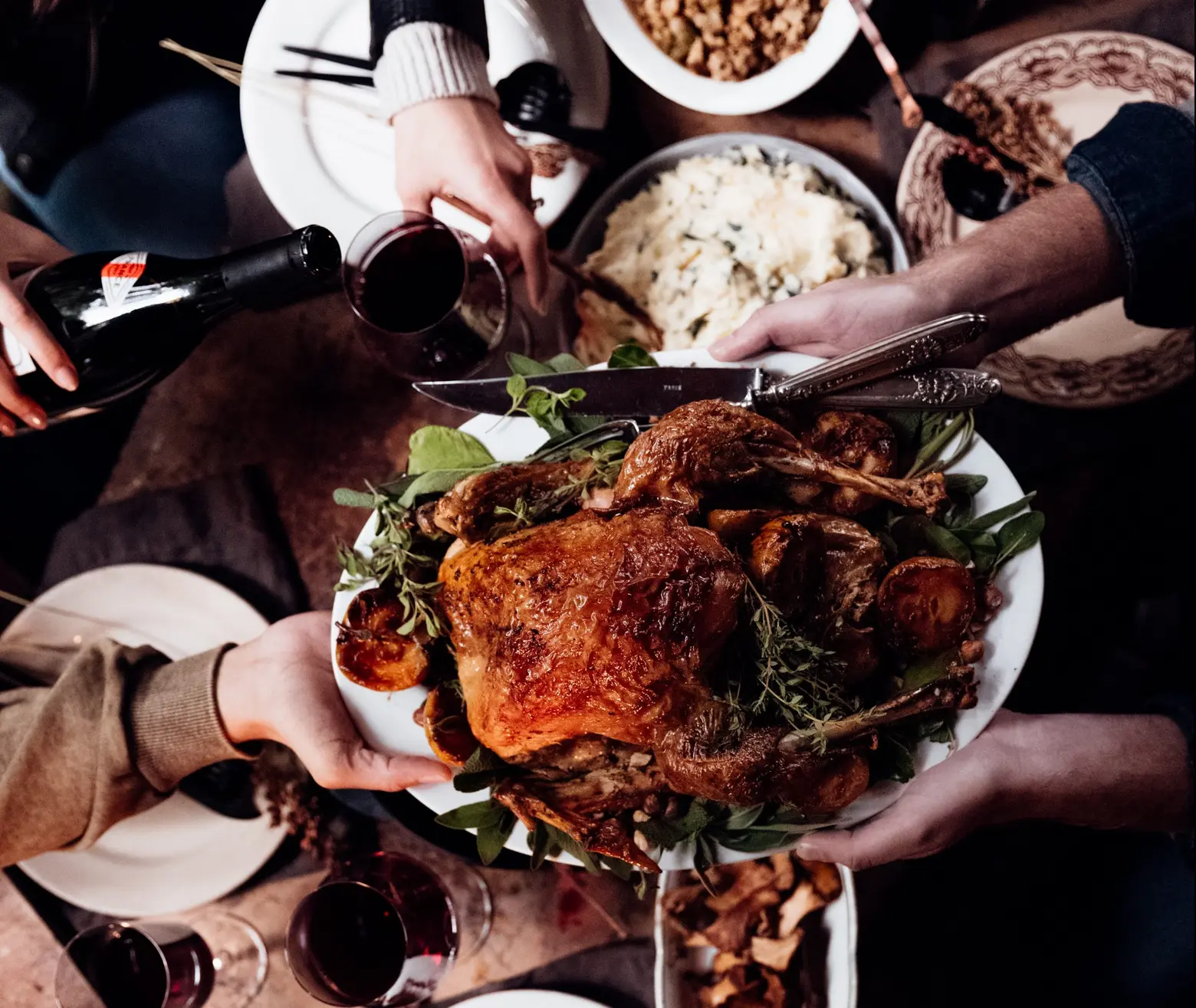 Photo by Christiann Koepke on Unsplash
If you're doing turkey, consider going ready-made instead of slaving over a big bird. It's not like a roast turkey is going to knock anyone's socks off no matter whose treasured recipe you use. Whole Foods and local gourmet markets are a good bet: The former does a sous vide version in a range of sizes. Pick it up, take it home and pop it in the oven for a couple of hours for a browned and impossibly moist main event–and no one need be the wiser. Sides are a no-brainer: Potluck! Have everyone bring their favorite and serve buffet style.
For a seriously low-effort, high-reward hors d'oeuvre, big bowls of popcorn are always a winner. The easiest way to crank it out–and make your place smell amazing–is to use a seriously low-cost old-fashioned, health-conscious (no oil or additives like in that microwave stuff) popcorn pump like the Hamilton Beach Electric Hot Air Popcorn Popper.
Beyond beer and wine, make one cocktail–like a seasonal punch–and fill a cool modern punch bowl Here's a party-tested fall favorite:

2 oz Bourbon
0.5oz lemon juice
0.5oz maple syrup
1 oz fresh organic apple juice
1 oz passionfruit juice
¼ oz campari
1t honey

Shake and strain. Serve in a rocks glass with large ice cubes. Garnish speared apple-slices
Gear up
A little shopping, installing and stocking-up done now will assure you can hit the ground hosting later. Start with some infrastructure items that can become part of your home after the party's over–or fold away until the next one.
| | |
| --- | --- |
| | Folding tables like this one from Amazon make a non-existent dining room into a banquet hall and fold up like a suitcase for carrying and storing. Get more than one for a big feast. Draped with a linen tablecloth, no one will see its humble bones. Use them for serving and buffet tables, too. |
| | Music is up there with food and drink as one of the most important must-haves of entertaining. These compact Sonos Voice Controlled Smart Speakers use your wifi for big sound that's controlled from your mobile phone or by voice. They're well-priced, so you can have tunes in every corner. They're Alexa integrated, too. |
| | Portable tray tables, like this colorful metal end table, are not only extremely on-trend right now, but they're incredibly useful for snacks, drinks or decor items. The tops lift off and become bar and serving trays. A wineglass rack that keeps glasses close at hand is handy. This rustic stemware shelf can put your shiny barware on display, too. |
| | For extra seating around your folding tables, corral every chair in your apartment (hit up the neighbors, too, if you're on good terms). A dining bench is good to have on hand—it lends a casual vibe, seats a few guests and can do double duty in an entryway. This Abstract Geometric Artwork 02 Bench by milankatic makes a mod mood statement. |
| | And this classic Belham Living Ezra Dining Bench from Hayneedle also works in just about any room when the party's over. |
| | Cleaning up after lots of people isn't half the fun, especially if you don't have a dishwasher (or if you do and it's full). The Simplehuman Steel Frame Dish Rack is not small, but you could call it the Cadillac of dish drains. It's actually good looking for such an item, and it holds a party's worth of dishes while they dry, including a rack to keep wine glasses safe. |
Dinner party necessities
For a small space, anything you put on display should have lots of impact even if it's understated. Don't worry if your plates and flatware aren't matched sets; mix-and-match is a good thing. Play with what you've got to find colors and textures that look interesting together.
| | |
| --- | --- |
| | A solid-colored linen tablecloth disguises that folding table (or a door on saw-horses), ties it all together and can be plain or dressed up. The Solino Home 100% linen tablecloth comes in tons of colors; dark grey is a cool moody choice for a fall or winter table. |
| | Natural linen color or white, like this  Bon Appetit Linen Tablecloth is crisp in any season. Despite what you might think, linen does fine in the washing machine. Cloth napkins are one of the main elements that make this night different from all other nights. Cotton Craft Dinner Napkins are a great deal, 100-percent cotton at 12 to a pack, in every color of the rainbow. |
| | Pitchers filled with ice water are probably the most-reached-for thing at any table. Tall, skinny pitchers, like these thirst-quenching Bloom pitchers from Terrain, take up less room and look svelte and stylish doing their job. |
| | This chic Scandi Salt and Pepper Grinder Set from Menu adds tactile interest and visual cool to table duty. |
Must-have tools and helpful gadgets
The most important kitchen tools any host or cook can possess are a very good chef's knife, like the Wusthof Classic 8-Inch Chef's Knife
and tons of prep bowls
. Once you get beyond the necessary, time-saving gadgets are more than helpful when you're in a hurry but still in gourmet mode.
| | |
| --- | --- |
| | You know you can make whole meals in far less time in the Instant Pot, and that it's a pressure cooker, slow cooker, rice cooker, yogurt maker, cake maker, egg cooker, sauté, steamer, warmer, and sterilizer, but did you know you can make pumpkin pies in one? |
| | A food processor makes short work of any dip, sauce or gravy under the sun. The Breville Sous Chef gets top ratings, and the 12-cup model doesn't take up as much space as its big brother. |
Festive decor, sparkles, and lights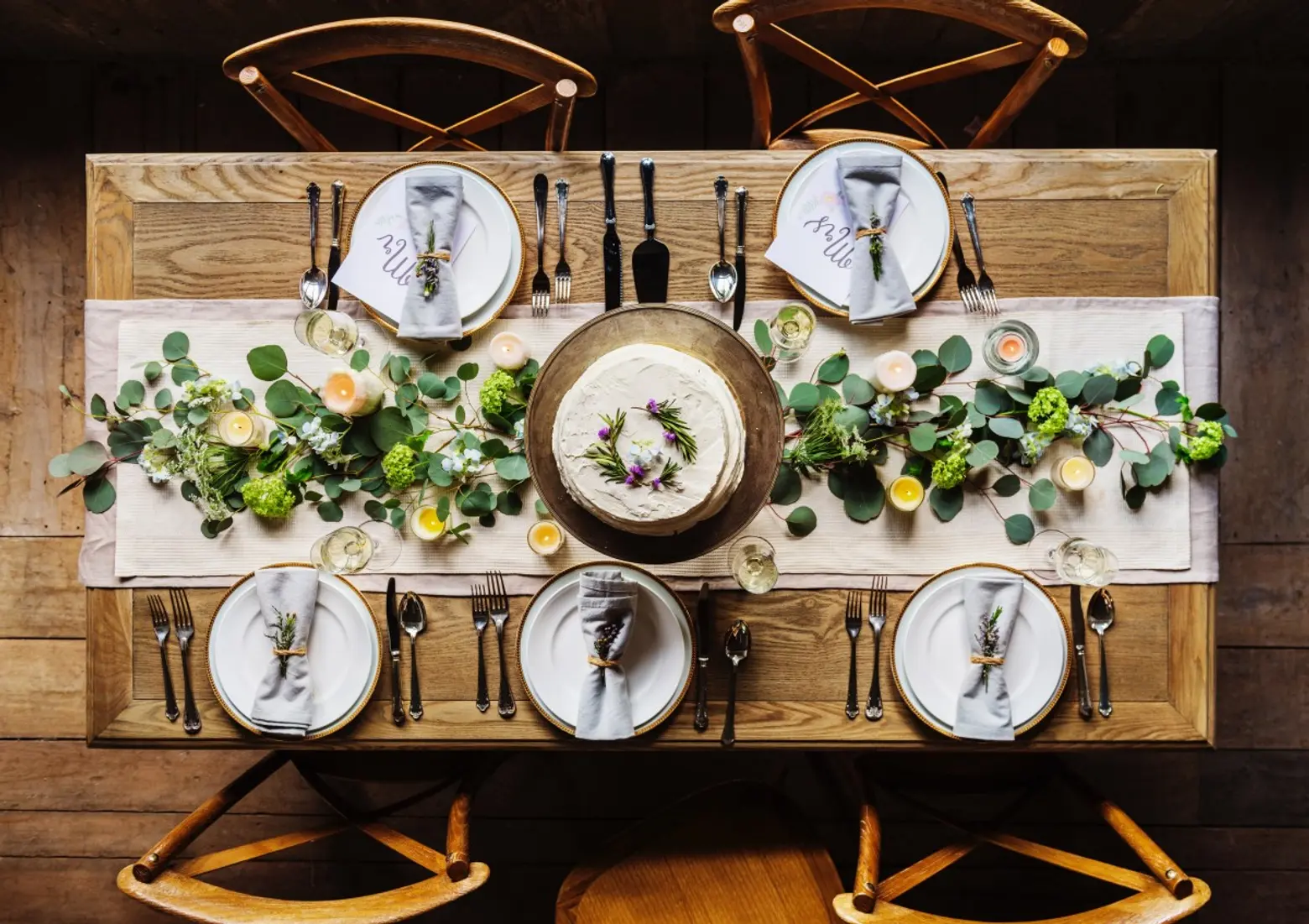 Photo via pxhere
This is where the magic happens, and what people remember, not the size of your living room or your lack of matching cutlery. For the table, make it glow with small candlesticks that take up almost no tabletop real estate. Or cluster some different sized candles on a cutting board for a glowing centerpiece without worrying about drips. Instead of a vase filled with flowers, lay dried nettles, eucalyptus or other seasonal flora across the center of the table for a laid-back woodland forest vibe.
If you're not ready to commit to a tree (or you just aren't into one), try a statuesque houseplant or two. If you're not even ready to commit to plants: go faux! They're making Artificial foliage a lot better these days (yes, it's a thing).
And since it is the season, why not wrap your tree or plant in battery-operated fairy lights? It makes an ethereal, tropical holiday statement.

If you've been putting pretty candles in your decorative, non-working fireplace for years, try something new and add a disco ball! It adds a magical effect once the candles are lit, and sunlight reflecting off of it during the day is just as amazing.

Finally, scent elevates the whole affair. A classic favorite is Votivo's Red Currant, but there are as many of these as there are noses in search of a new favorite.
RELATED: