10 easy home decor ideas to warm up your apartment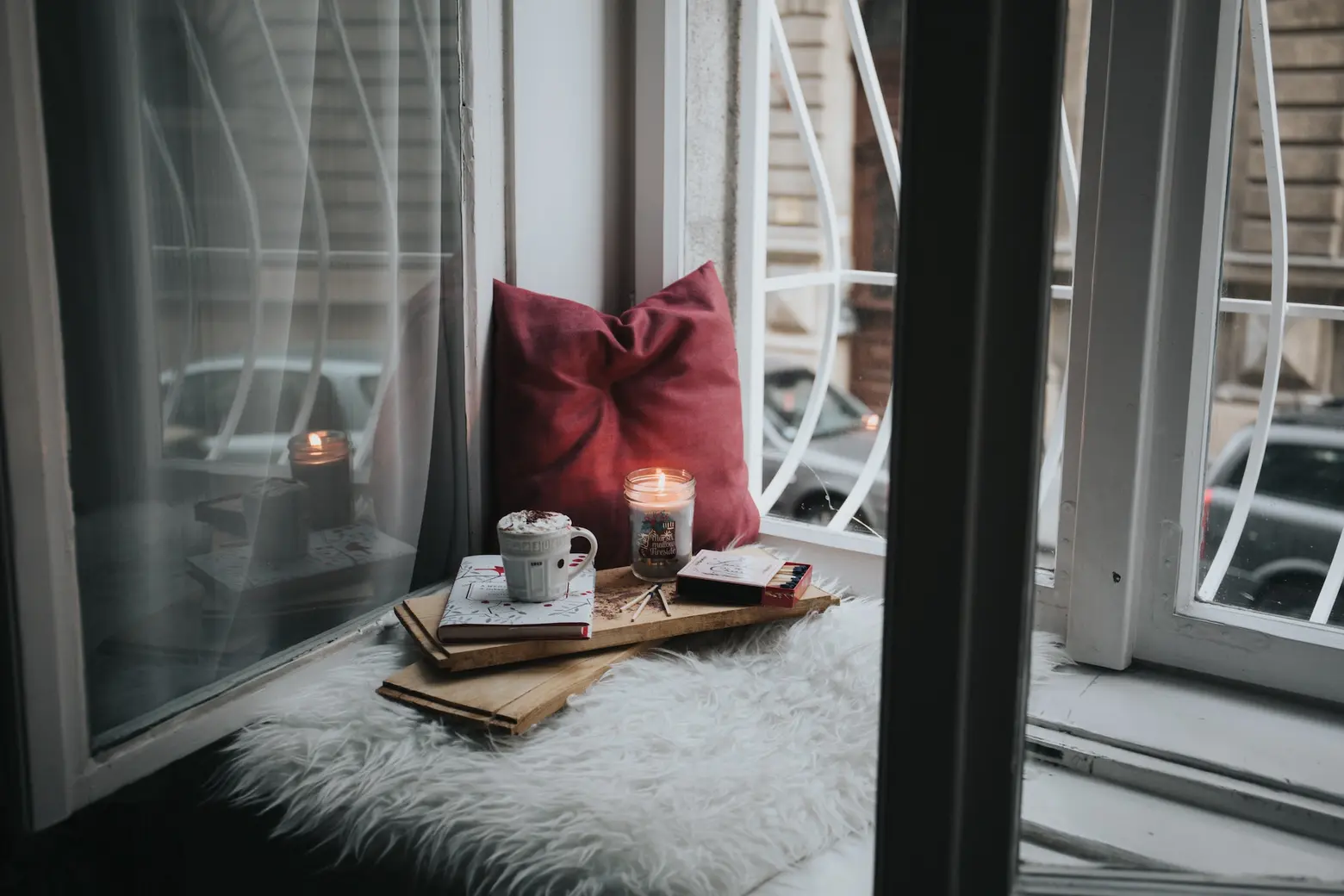 With winter bearing down on us, it can often feel impossible to get warm. But in addition to layering on fuzzy socks and turning up the thermostat (if you're one of the lucky New Yorkers who has this control!), there are some easy tips and tricks for keeping the temperature and mood in your apartment cozy all winter long. Not only is it important to reassess some of our more functional home accessories like bedding and window dressings, but it's also smart to consider how design can help a space feel warmer as we hibernate for the rest of the chilly months.
All of these products have been hand-selected by team 6sqft. We may receive a commission for purchases made through these affiliate links. All prices reflect those at the time of publishing.
1. Update your bedding for cold weather
It's time to switch out your airy linens for something more durable (even if it'll make getting out of bed a little bit harder). Instead of layering several blankets, start with a good wool or down mattress cover that provides insulation. You can also purchase a cozy set of flannel or microfiber sheets. Last but most certainly not least, consider investing in a quality down comforter. If you get one that's all-season you can also swap out light cotton duvet covers for something made from a thicker fabric like wool.
If you want to go the wool route for a mattress topper, this machine-washable and affordable from Amazon will do the trick. Plus, it's an all-year option, as it keeps you cool in the summer, too.

Image courtesy of Brooklinen
Brooklinen has found the perfect combo of comfort ease, and their down mattress topper is no exception. The white duck down-filled top combined with the white duck feather-filled base creates a cloud-like feel.
Image courtesy of Brooklinen
And while we're talking about down, Brooklinen also makes a wonderful down comforter, which comes in three weights depending on your needs/likes–lightweight, all-season, and ultra-warm. If you want to go all out, check out their selection of natural down and down alternative pillows.
For a lower-cost down comforter, this Amazon option has more than 70,000 reviews. It's not real feathers, but rather a microfiber fill (hence the lower price). If you don't want to be bothered with the duvet cover, it also comes in several different colors and patterns.

Linenspa All-Season Alternative Comforter
From $29.99 at Amazon

Nothing says cozy like a set of flannel sheets. Amazon's Queen Mellanni brand has gained a cult following for its softness, durability, and crazy-low price point. The flannel version is no exception.
2. Bundle up with pillows and throws 
This seems like a no-brainer, but swap out that lightweight throw for something velvet or fuzzy. Just drape 'em over the arm of your couch or chairs, so they're easily accessible when you're feeling chilly. Also, consider investing in a cold-weather set of pillow covers. Thicker fabrics and deeper colors can totally change the feel of a room.
Image courtesy of CB2
We love CB2's throw pillows because they're one of the few places that include inserts in the price (choose from down or down alternative). This boucle version adds a subtle texture that's perfect for a warm touch in even the most modern settings. If you like the fabric, they also have it in a lovely pouf ottoman.
This pillow cover looks like it was made from your favorite sweater, and the neutral color scheme means the patterns and textures can do the talking.

Dakota Fields, Stanton Prior Throw Pillow Cover
$54.99 at Wayfair

Image courtesy of CB2
Who wouldn't want to curl up in this fluffy throw?! It's made from 100% Mongolian natural sheepskin.
If you're looking for a cheaper fuzzy blanket, this popular faux-fur version at Amazon looks just as cozy.
3. Lay down a cozy rug
Another simple way to warm up a space is to lay down a rug. Not only will it absorb some of the draft and keep your feet off the cold floors, but fluffy and soft materials will instantly transform a space from stark to cozy.
| | |
| --- | --- |
| | If you haven't yet stumbled upon Ruggable in your Instagram feed, we're here to fill you in. Thanks to a two-piece system–a removable rug cover and a non-slip rug pad, all of their rugs are machine-washable. Simply peel off the cover, throw it in the wash, and voilà! It even pertains to high-pile rugs like this one. The classy Moroccan pattern adds some texture, while the plush material adds plenty of warmth. |
| | This authentic sheepskin rug gives so much character to a room, and it'll also feel like a dream on your feet. |
| | This best-selling rug by Safavieh is two-inches thick, providing optimum soundproofing. It comes in nine colors and is made in Turkey. |
4. Change out your shades 
Efficiently heating your home during winter is both a financially and environmentally responsible decision. Thick curtains can be one of the main ways to protect your house from losing heat through the windows. Swap out your light and airy treatments for a thicker option providing more insulation and natural coziness. Honeycomb or cellular shades are also excellent for improving insulation.
5. Purchase door and window draft guards
Drafts can be one of the peskiest parts of cold weather, wasting up to 30 percent of energy use, especially if you live in an older building. A quick, inexpensive fi is to purchase door and/or window draft guards.
| | |
| --- | --- |
| | This sponge door drafter stopper is great for apartments (no adhesives) and it even comes in different colors. Plus, the detachable cloth covering is machine washable. |
| | When it comes to blocking drafts, you really don't need to spend a lot. Just grab a roll of moisture-resistant, weather-sealing tape and get going. |
6. Get your fireplace going 
Are you one of the lucky few New Yorkers who has a working fireplace? Accessorize the heck out of it! Firewood holders, fireplace screens, and tool sets are the perfect ways to make a fireplace the centerpiece of a room. If your fireplace is merely decorative, these accessories still look great. Just add in a set of faux logs. If you have neither, electric fireplaces can be a great way to get that authentic feel and bring in a functional heater.
This wrought-iron rack is compact enough for small apartments and even comes with a toolset.

Amagabeli Firewood Rack and Fireplace Tool Holder
$60.99 on Amazon

These decorative logs look great with any decor.
The problem with electric fireplaces is they tend to look cheap and tacky. This model on Amazon has a more authentic look and comes in several hues to match your room. It acts as a space heater for up to 1,000 square feet, and you can select an option with a crackling sound.

Duraflame 3D Infrared Electric Fireplace Stove
From $219.99 at Amazon

For something simpler, this tabletop concrete "fireplace" is beyond cute. Just pour a bit of rubbing alcohol in, grab a match, and there you go! The best part is that it's food-safe (did someone say s'mores?!).
7. Buy and light candles 
If the fireplace situation is too much, good old-fashioned candles can go a long way. Plus, if you choose woodsy scents, you can get a similar effect. We're also partial to battery-powered pillar candles. They're inexpensive and you can layer them in large quantities without worrying.
With notes of bergamot, violet, and sandalwood, this hand-poured soy wax candle is sure to have your home smelling like a cozy cabin.
This candle will not only have your house smelling like a fireplace, but sounding like one, too; the special wooden wick crackles as it burns. Choose from scents like fireside, cedar and vanilla, whiskey, and mulled cider.

Wax & Wix Soy Wax Candle with Wood Double Wick
$35 at Amazon

This inexpensive set of nine LED candles is plenty to get your vibe going. They're water-resistant and come with a remote control and timer.
8. Think wood
Metal and glass furniture can feel a little cold, but natural materials like wood remind us of the warmth of winter. If investing in a whole new piece of furniture isn't in your budget, there are plenty of accessories you can pick up to get this feel like picture frames, serving trays, and planters.
| | |
| --- | --- |
| | We love a good tree-stump end table, but this one is a bit more unique than the rest. |
| | If you REALLY want to make a statement, this coffee table is the ticket. It's an apartment-friendly 47-inches wide and is made of a solid teak wood base with a cast iron base. |
| | Not only does this ladder add some rustic charm to a room, but it gives you a place to display all those cozy blankets. |
| | Fill this organic, teak bowl with anything from decorative moss balls (as pictured) in the living room to hand towels in the bathroom. |
9. Buy an indoor plant 
We might associate greenery more with summer, but bringing some nature inside can help your drafty apartment feel more like a tropical oasis. Plus, they purify the air and boost your mood–a must when the days are short freezing.
Snake plants are great for apartments and beginner green thumbs, as they require very low light and water. Bonus: They remove toxins like formaldehyde and benzene from the air.
Orchids are a great way to bring some color into a room. They, too, require minimal watering, and if you have an overactive radiator, they won't be deterred by the warm temps.

Petite Purple Orchid in Earthenware Planter
$75 at The Sill.
10. Get the slow cooker going
There's nothing like smelling a chili or a stew cooking at the end of a long day. All you need is a reliable crockpot and you can set these warming meals in the morning and enjoy them straight away in the evening.
You can't beat this price. And with more than 15,000 reviews on Amazon, you can be sure it'll get the job done. This six-quart, stainless-steel model from the Crock-Pot brand will typically hold a meal that can feed up to seven people. It has a digital countdown control that lets you program cook times anywhere from 30 minutes up to 20 hours.

Crock-Pot 6-Quart Slow Cooker with Digital Timer
$50.01 at Amazon

If you want to go the ceramic route, you know anything from KitchenAid will be of good quality.

6-Quart Slow Cooker with Solid Glass Lid
$99.99 at KitchenAid
+++
Editor's Note: This story was originally published in 2016 and has been updated.
RELATED: