What you need to know about the May 1 rent strike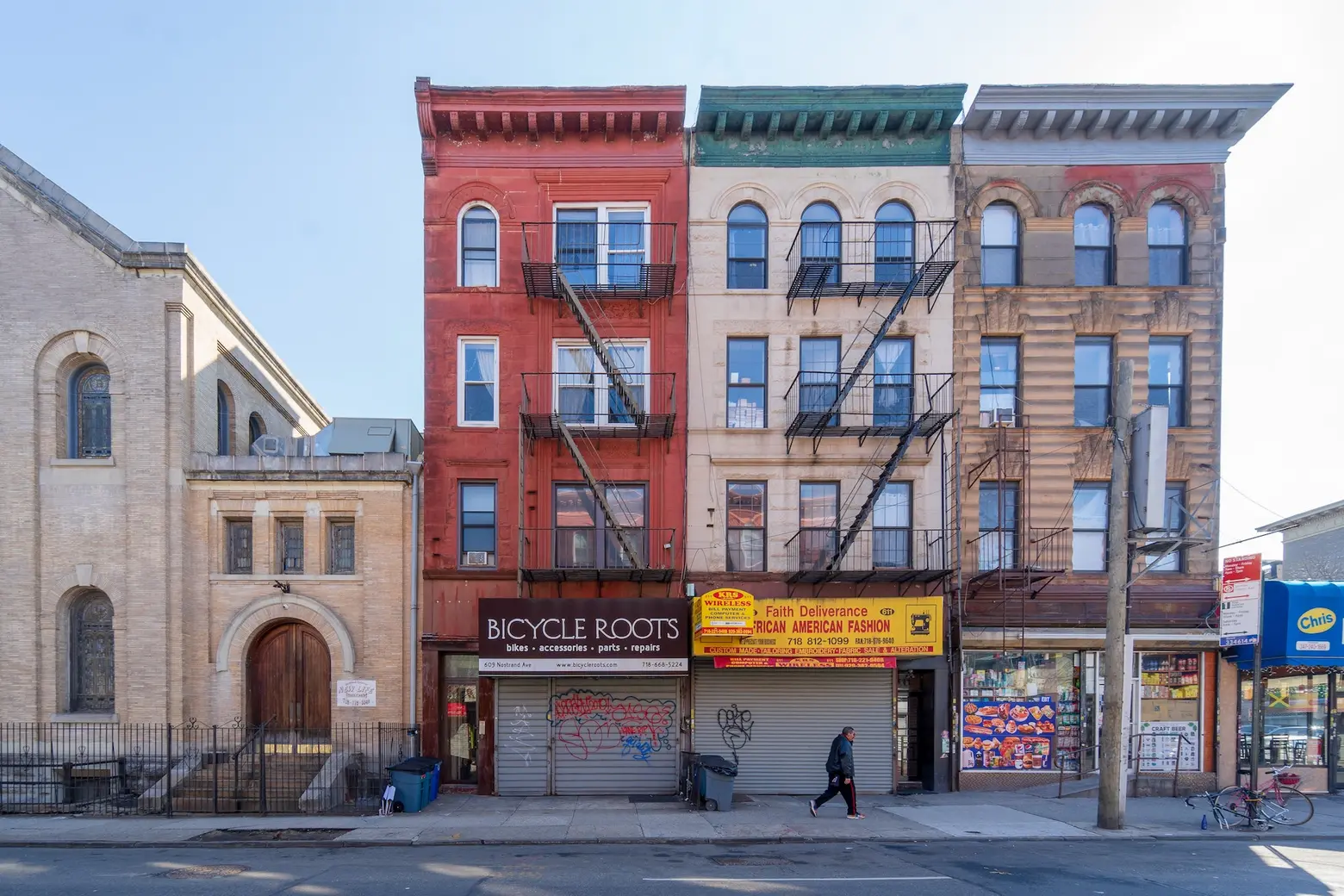 With more than a million New Yorkers out of work as a result of the coronavirus pandemic, many tenants will struggle to pay rent on Friday. Hoping to pressure Gov. Andrew Cuomo to cancel rent for the duration of the health crisis, a coalition of housing advocates is leading a statewide rent strike on May 1, with thousands of renters already pledging to skip payments. But landlords, who argue rental income pays for the growing costs of building maintenance, are fighting for relief themselves.
Who is striking?
The Upstate Downstate Housing, made up of a coalition of housing and tenant advocacy groups including Housing Justice for All and Right to Counsel NYC, is organizing the state-wide coordinated strike.
As of Thursday morning, more than 12,000 people have signed a petition pledging to withhold rent payment for May. According to organizers, at least 57 apartment buildings with more than 1,800 tenants have officially agreed to participate. Advocates hope one million New Yorkers join the rent strike.
"The COVID-19 crisis is making clear what many tenants have known for a long time: we are all just one life event – the loss of a job, a medical emergency – away from losing our homes," the "May Day" petition reads. "Today, millions of New Yorkers are out of work. That means millions of us will be unable to pay the rent on May 1st. So if we can't pay, let's not pay, together!"
What is the goal of the strike? 
The strike aims to pressure Cuomo to take immediate action and prevent a flood of evictions following the current health crisis. The only relief provided to renters at this time is a state-ordered moratorium on evictions. Advocates are seeking cancellation of rents for at least four months, a freeze on rent for every tenant, and a plan to house homeless New Yorkers.
"The expectation among landlords is that 30-40% of rent payments in the next several months will go unpaid — even in the absence of a #CancelRent policy victory," Cea Weaver, the campaign coordinator for Housing Justice for All, said in an email to 6sqft.
"Both renters and landlords agree that the current policy status quo is not adequate in the current moment. Our goal is to heighten the urgency of the crisis by turning a moment of individual fear and inability to pay into a moment of collective action, and to target it at the Governor and demand that he intervene on the side of renters."
Who is struggling to pay rent? 
The city's Independent Budget Office estimated that nearly 60,000 workers across the five boroughs alone could lose their job before July of this year. That number could grow to about 475,000 jobs lost in New York City over the next 12 months.
For many New Yorkers, this unprecedented and sudden loss of income exacerbates existing financial insecurity. According to a report from the Association for Neighborhood and Housing Development, black and Latinx communities are likely to face a greater burden come rent day. The median savings account balance for these households is $1,500, which is not enough to cover rent this month for a majority of New Yorkers. White households have a median balance of $9,700 in savings accounts, ANHD found.
"No one should have to choose between rent and food. To do anything but support the rent strikers is unconscionable," Ava Farkas, executive director of the Met Council on Housing, a tenant advocacy group participating in the strike, told 6sqft in an email. "Without a full and automatic cancelation of rent, mortgages, and utilities, we will see homelessness on a scale not previously imaginable. Each person and building joining is making a brave statement that they deserve a stable & affordable place to live and that our Governor needs to step up and help the tenants of this state."
Despite financial hardships, a majority of renters in NY and across the country still paid rent last month. 
According to the National Multifamily Housing Council, 89 percent of apartment dwellers made a full or partial rent payment by April 19, down a few percentage points from the same time last year.
"It is encouraging that apartment residents continue to meet their rent obligations whether that's with the support of the federal relief funds, credit cards and alternative, flexible options provided by the industry's owners and operators," NMHC President Doug Bibby said. But it's unclear for how much longer tenants can make rent as savings accounts dwindle and a backlog on unemployment benefits in New York remains.
Landlord groups and property owners say without rental income, they will be unable to pay bills and maintain their buildings.
Landlords, particularly those who own rent-stabilized buildings, say rental income is necessary to cover maintenance costs, which now includes disinfecting common areas more frequently. A report released last week by the Rent Guidelines Board, the entity that determines yearly rent increases for rent-stabilized units, found an increase in operating costs for owners between April 2019 and March of this year.
According to the report, the price index of operating costs (PIOC) for buildings with rent-stabilized units increased by 3.7 percent; the PIOC for the next year, without taking COVID-19 into consideration, will see an increase of 2.4 percent. Plus, the RBG said there was a decline in net operating income (NOI) among rent-stabilized apartments, dropping by 0.6 percent from 2017 to 2018.
Mayor Bill de Blasio, who rents out his two properties in Park Slope, said he does not agree with a rent strike. "There are a lot of smaller landlords in particular who if they don't have any income coming in, they're not going to be able to keep their buildings going," de Blasio said during an interview with WNYC earlier this month. "And then you have a very bad situation for everyone. So, we've got to strike a balance here."
Plus, property taxes make up 30 percent of the city's annual revenue. 
Some city officials are wary of the impact a rent strike could have on the city's annual revenue. Property tax collections, which remain the city's largest revenue source, are due in July. The city, which is facing a massive $7.4 billion loss in tax revenue amid the coronavirus pandemic, relies on that property tax revenue, estimated to be roughly $30 billion, according to the Real Deal.
But as the Independent Budget Office points out in a recent analysis, property taxes are usually more stable than income or sales taxes. In a preliminary look at the city's economy, the IBO found property tax would see the "smallest decline in percentage terms," but could see a slump in revenue over the next three years.
Joseph Strasburg, the president of the Rent Stabilization Association, a group that represents 25,000 owners of rent-stabilized apartments in the city, said a rent strike is not rational and would have a "domino effect" on the city's economy.
"It's Economics 101 – no rent revenue stream means no resources for landlords to pay their property taxes and water bills – and with this industry one of the few left standing during this pandemic, the city needs every tax dollar to continue providing essential services and paying public hospital workers, emergency responders, teachers and other municipal workers," Strasburg said in a statement to 6sqft.
"Quite simply, landlords can't shoulder this burden and they certainly won't have the financial resources to pay their property taxes and water bills without rent revenue – period. And the tax bills are due July 1," he said.
Some city and state officials have rallied behind calls to #CancelRent.
State. Sen Michael Gianaris became one of the earliest New York officials to support the idea of canceling rent. Last month, Gianaris, who represents parts of Queens, introduced legislation that would cancel rent for three months for tenants who were laid off or had to close businesses because of the pandemic. He also said Cuomo should issue an executive order to cancel rent payments statewide.
"It has been clear for weeks now that rents cannot be paid with money that doesn't exist and therefore, rent will be cancelled whether or not we authorize it by law," Gianaris said in a statement on the rent strike.
City Council Speaker Corey Johnson has also voiced support for a moratorium on rents. "It's essential that New Yorkers get the rent cancellation they need, but in the meantime, we need to give renters peace of mind that we won't let them suffer irreparable harms," Johnson said in a press release announcing a package of rent relief legislation.
And last month, City Comptroller Scott Stringer said rent should be canceled as New Yorkers face "unprecedented economic turmoil."
"Our office found that more than 572,000 NYC households are severely rent-burdened, paying more than 50% of their income on rent," Stringer tweeted, with a link to a report from 2018. "What are they supposed to do? #CancelRent."
There is support on the federal level for a nationwide cancellation of both rents and mortgage payments. 
Some members of Congress want to move even further for renters and homeowners. Rep. Ilhan Omar of Minnesota introduced the Rent and Mortgage Cancellation Act earlier this month that would totally cancel rent and mortgage payments nationwide during the pandemic. The bill is co-sponsored by eight representatives, including Reps. Alexandria Ocasio-Cortez and Grace Meng, both who represent New York.
"People aren't striking because they don't feel like paying rent," Ocasio-Cortez said on Monday during a virtual meeting with Housing Justice for All. "People are striking because they can't pay rent. They can't. It doesn't matter how many threatening text messages a landlord or a building sends to their tenants. It doesn't matter much you threaten legal action. It doesn't matter how much you intimidate anybody. People can't pay."
Currently, the only protection for renters is a temporary moratorium on evictions.  
In March, Cuomo ordered all eviction proceedings and pending eviction orders to be halted for three months as a result of COVID-19. The moratorium applies to both residential and commercial tenants. The governor has not released any further rent relief plans but said "we have a number of options," when the moratorium expires in June, according to the Real Deal. Following the freeze on evictions, any unpaid rent will still be due.
City officials are calling for evictions to be blocked for a full year. Other leaders say smaller landlords need relief too. 
Johnson introduced a City Council bill last week that would extend the moratorium of evictions for all New York City residential and commercial tenants throughout the pandemic. For New Yorkers impacted by COVID-19, landlords would not be able to perform evictions or collect debts until April 2021, under the proposed legislation, theoretically giving renters more time to pay rent.
In an email sent to members on Tuesday, REBNY called Johnson's legislation illegal and asked for help to defeat the bill. "This legislation signals to all renters that they don't have to pay rent for a year, whether they can afford to or not," the email reads. "This is reckless, irresponsible and most importantly, illegal."
While de Blasio said he does not support the rent strike, he has asked the state to act on a number of other rent relief plans, including an extension of the eviction moratorium, the use of pre-paid security deposits for rent, and a deferment of rents for tenants. He has also asked the Rent Guidelines Board to enact a rent freeze during the state of emergency for the city's more than one million rent-stabilized apartments. The board is expected to vote on whether to increase rents in June.
Others have called for more federal support for renters, particularly in the form of Section 8 vouchers for all low-income households, as Alicia Glen, the city's former Deputy Mayor, argued in a Daily News op-ed this week. "This would ensure the long-term stability of our most vulnerable Americans, the ones who were at risk of homelessness before the COVID-19 outbreak," Glen, along with Rafael E. Cestero, the president of the Community Preservation Corporation, wrote. "The cost would be significant, but allowing them to fall through the cracks would have a much higher cost by creating massive pressures on our other social safety nets."
Strasburg of the Rent Stabilization Asociation said it's "no time to play pandemic politics" and any relief proposals should support both renters and landlords. "Instead of half-baked political schemes like rent strikes, rent forgiveness and rent freezes, they should be driving to D.C. and beg the federal government for rent vouchers that would pay 70% of the rent for all tenants that are paying $3,000 or less a month," he said, referring to the city's elected officials.
RELATED: