13 virtual things to do this week: Pizza, mozzarella, African dance, and affordable housing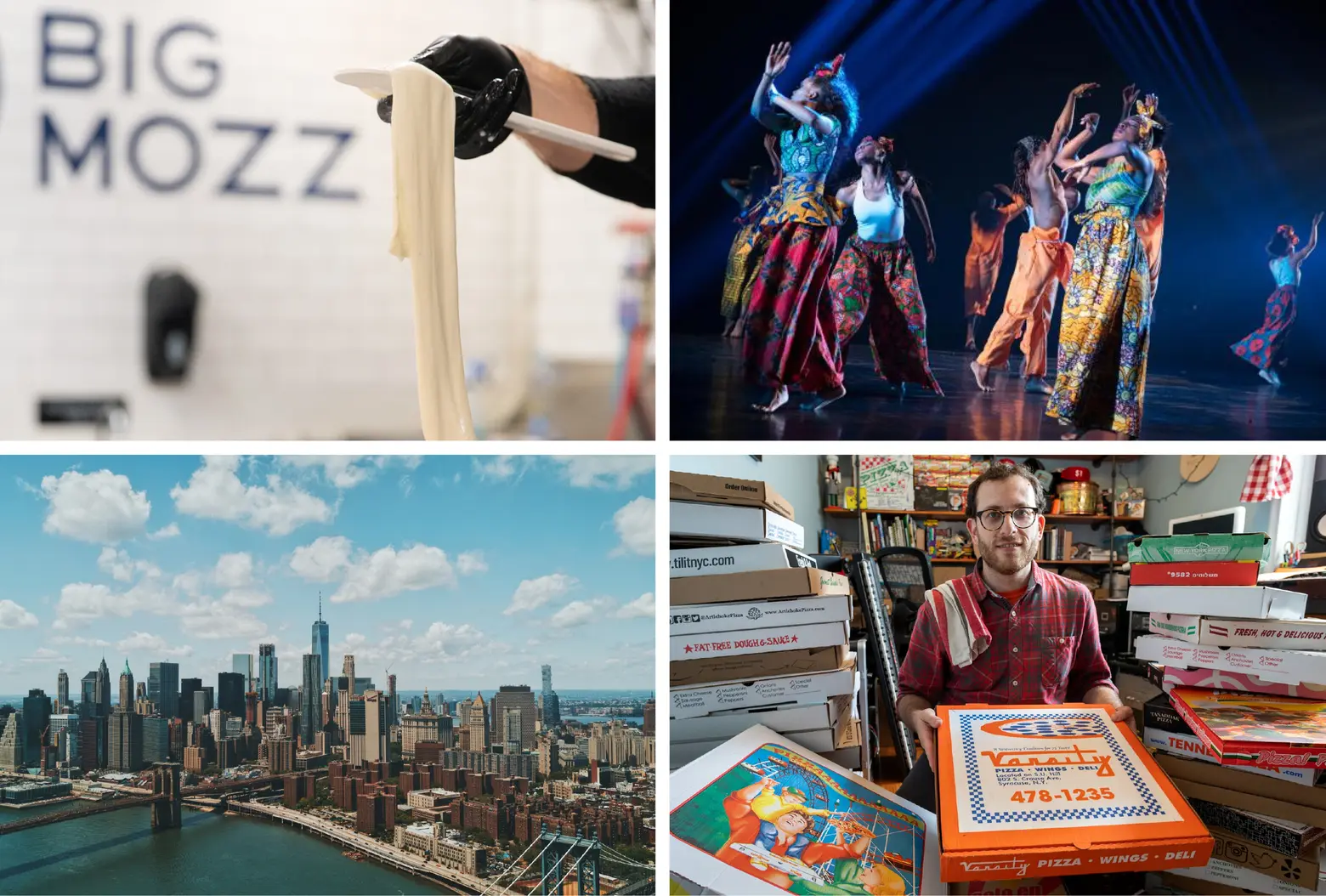 With the warm weather sticking around it's getting a bit harder to stay inside, but this list of fun virtual events and ideas for things to do will help make this week much more bearable. From an online mozzarella-making class to a chat with the man who possesses the world's largest collection of pizza boxes, there are plenty of foodie options. You can also enjoy BAM's DanceAfrica programming, learn about affordable housing, take a virtual tour of the Merchant's House Museum, and much more.
Order food from B&H Kosher Dairy Restaurant
Untapped Cities brings us the news that 82-year-old Kosher dairy restaurant B&H has reopened for takeout and delivery. If you live close enough to the East Village institution, consider ordered up some knishes, smoked whitefish salad, matzo ball soup, or the famous challah.
DanceAfrica digital programming from BAM
Through May 29; free
BAM is celebrating DanceAfrica, the nation's largest African dance festival, for two full weeks. Digital programming includes conversations with DanceAfrica creatives and members of the Council of Elders, online dance classes, streams of past performances, the annual FilmAfrica series, "and other programs that bring the joy of DanceAfrica into audiences' homes."
During its May 25 program, the celebration continues with a virtual dance party with a set from DJ YB. Donations will be encouraged to Bed Stuy Strong, a mutual aid group helping residents in the Brooklyn neighborhood during the coronavirus crisis.
New York We Love You: LMCC's online benefit auction
Through June 1
The Lower Manhattan Cultural Council (LMCC) is holding an online benefit auction featuring artworks by NYC-based artists like Camille Henrot, Julie Mehretu, Richard Mosse, Vik Muniz, Yoko Ono, Paul Mpagi Sepuya, and Arlene Shechet. Proceeds will directly support LMCC's initiatives to sustain the arts community and the work and livelihood of our artists.
NYC LGBT Historic Sites Project #DamesAtHome
Monday, May 18 at 6:15pm; free
The non-profit dedicated to preserving LGBT history across NYC is hosting a virtual event in celebration of Greenwich Village's Caffe Cino and the birthplace of gay theater. Today marks the 54th anniversary of the premier of Dames at Sea, the Cino's most successful production ever and the stage debut of Bernadette Peters. Take a virtual tour of Caffee Cino and engage in a Q&A and community conversation.
A Night of Covenant House Stars
Monday, May 18 at 8pm; free
Covenant House, which has been providing housing and supportive services to youth facing homelessness since 1972, is bringing its annual night of stars gala virtual for the first time. There will be appearances by Jon Bon Jovi, Rachel Brosnahan, Stephen Colbert, Deborah Cox, Morgan Freeman, Audra McDonald, Jodi Picoult, Dolly Parton, Andrew Rannells, Tony Shaloub, Meryl Streep, and countless others.
World Monuments Fund: Cultural Heritage in Times of Crisis
Tuesday, May 19 at 12pm; free
World Monuments Fund's annual Spring Spotlight will be a virtual conversation about the role heritage sites will play in the months and years to come. Donations will go towards the newly created will go toward the World Monuments Relief Fund, which will "have an immediate economic impact on communities that help conserve and protect humanity's most important treasures."
Streets, Sidewalks, + Public Space in a COVID-19 City
Tuesday, May 19 at 1pm; free
Join the Downtown Brooklyn Partnership for a panel discussion on what the future holds for NYC's public spaces and what can be done in the short- and long-term to accommodate a new normal. The conversation will be moderated by New York magazine's Justin Davidson, and the panel will include Vishaan Chakrabarti, Mara Gay, Ben Kabak, and Regina Myer.
You Live, You Learn: A Night with Alanis Morissette and "Jagged Little Pill"
Tuesday, May 19 at 8pm; free
Alanis Morissette and the cast of the Broadway Musical Jagged Little Pill will perform live for this benefit in support of the Covid-19 emergency relief efforts of The Actors Fund.
Applying for Affordable Housing in NYC
Wednesday, May 20 at 6:30pm; free
The Actors Fund's Housing Resource Center is hosting a two-hour seminar that helps participants get organized to apply for current affordable housing opportunities and provide current updates on "the eviction moratorium and other policies that impact mortgage payments, utilities, and rent."
Virtual Tour of the Merchant's House Museum
Thursday, May 21 at 6pm; free
Join Village Preservation for a virtual tour of the Merchant's House Museum, the 1832 house museum in Noho/the East Village that is one of the finest surviving examples of domestic architecture from the period.
Happy Hour with The Times
Thursday, May 21 at 6pm; free
Yewande Komolafe, NYT Cooking contributor and author of the Times' Essential Nigerian Recipes, will join assistant managing editor Sam Sifton for cocktail and conversation about cooking under lockdown, favorite foods, missed ingredients, recipe development, food styling, restaurants, and more.
Potting & Soil Online Workshop with The Sill
Thursday, May 21 at 6:30pm; $10
Join modern houseplant destination The Sill for an online workshop that will teach you everything you need to know about potting your houseplants.
Pizza Party with the World's Largest Pizza Box Collection!
Friday, May 22 at 6pm; $13
Atlas Obscura's Wonder From Home series is teaming up with Scott Weiner of Scott's Pizza Tours for a super fun and pizza-filled event. "Scott will discuss his passion for pizza and share his lifelong quest to collect and archive unique and unusual pizza boxes from around the globe, resulting in a collection deemed the world's largest by Guinness World Records in 2013."
Big Mozz virtual mozzarella making class
Friday, May 22 at 7pm; $65
Gourmet mozzarella stick maker and Smorgasburg original Big Mozz is bringing you virtual mozzarella-making classes each Friday evening. Put your order in by Tuesday at 6pm to ensure that you're pound of mozzarella curd (shipped straight from their dairy farm) arrives in time. You'll also receive pre-portioned stretching salt. The Zoom class will include step-by-step instructions for an hour followed by a Zoom after-party where you can "show off your new mozzarella creation."
Lead image: Skyline photo by Patrick Tomasso on Unsplash; Photo of Scott Wiener by by James and Karla Murray; Photo from DanceAfrica: 2019 Rwanda Reborn: The Remix_Photos by Julieta Cervantes; mozzarella-making photo courtesy of Big Mozz