VIDEO: Spend a Night in a 300-Square-Foot Micro-Apartment at Carmel Place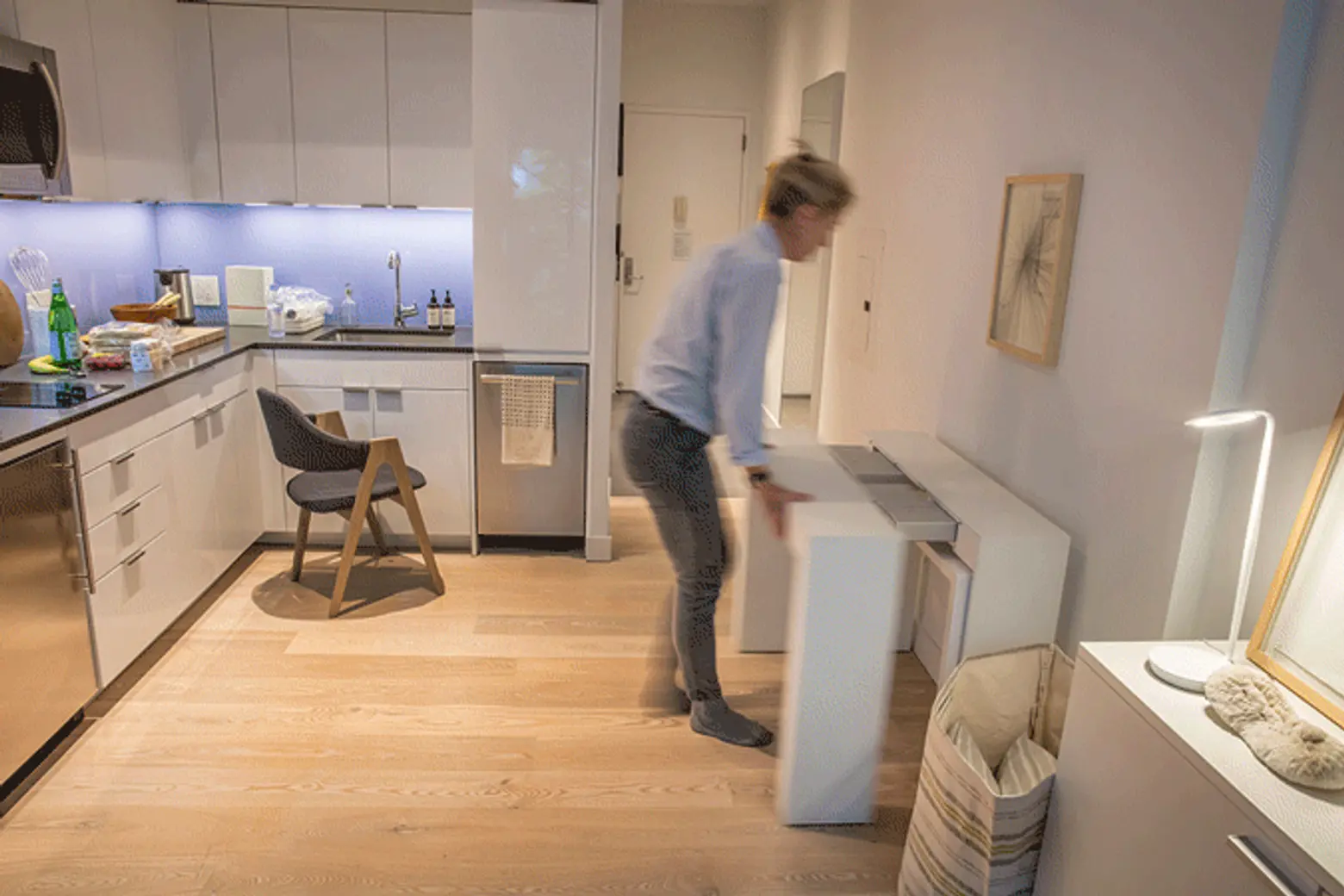 Just yesterday, 6sqft took a look at the available market-rate units at Carmel Place, the city's first micro-housing development. If you're debating submitting an application for one of these apartments–which at less than half the size of traditional studios are still asking from $2,570 to $3,200 per month–this video from the Times may help firm your decision. In it, reporter Penelope Green spends a night in a 302-square-foot unit that rents for $2,670 a month and features the building's host of space-saving furniture like a sofa-wall bed combo (which, though surprisingly comfortable, will give you your daily upper body workout) and a 17-inch deep desk that extends to a 10-person dining table.
Green says that she can walk from one end of the apartment to the other in six seconds, but also that she's impressed with the "surprisingly functional" interior design by nARCHITECTS, which aesthetically reads as "hipster Scandinavian." With this in mind, she invites over five friends to see how this translates when there's multiple people in the space. It's admittedly tight (there's no room to open the fridge with people sitting in the chairs and it's a challenge to get to the bathroom), and she makes a point to note that the wide-angle photos used in listings make the apartments look roomier than they actually are.
But in the end, Green describes drifting off to sleep, imagining "a life swept clean of my grubby, needy possessions" and replaced by a sparely accessorized one with "independent succulents, neutral art prints and soft baskets." She concludes, "So lightly encumbered, I would spring easily from my tasteful and tidy micro unit into the cultural soup of the city. Which is the point, of course."
As 6sqft previously reported, "The 120-foot tall, 9-floor structure hosts 55 studios, 22 of which are earmarked as affordable; more than 60,000 micro-hopefuls applied to the housing lottery last fall." To view the available market-rate listings, visit CityRealty.
[Via NYT]
RELATED:
Video and animation via Tony Cenicola/The New York Times