The oldest house in the Village? It's not what you think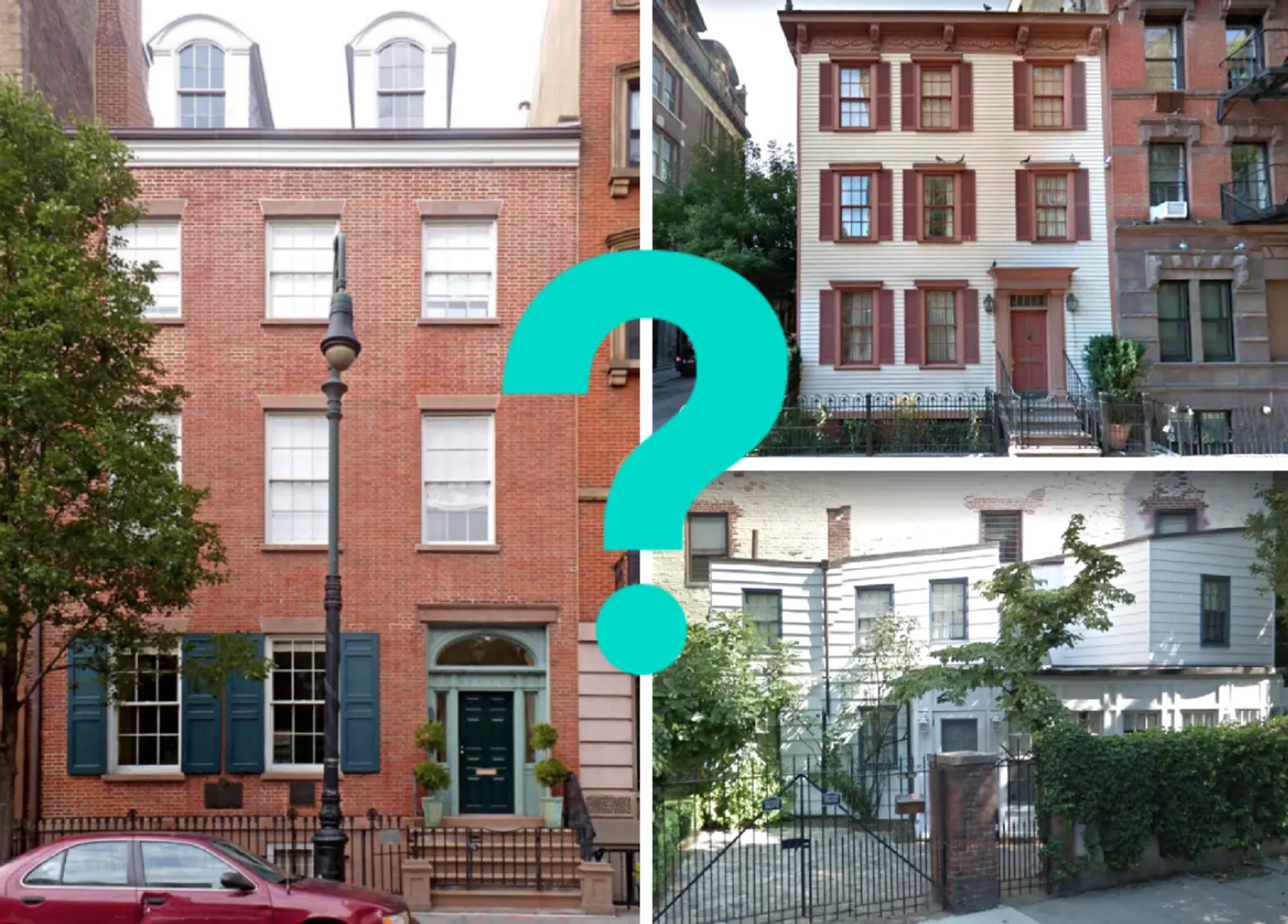 The Village is known as one of the oldest parts of New York City, where historic architecture can be found everywhere, and charming houses from a bygone era still stand. Here at the Greenwich Village Society for Historic Preservation, a perennial question we're asked is "which is the oldest house in the Village?" It's a great question, with a complicated answer. Is it one of the two charming wooden houses? The "brick" house with connections to Paul Revere? The Merchant's House Museum, Manhattan's first individual landmark? The handsome Stuyvesant Street house built by Peter Stuyvesant's great-grandson?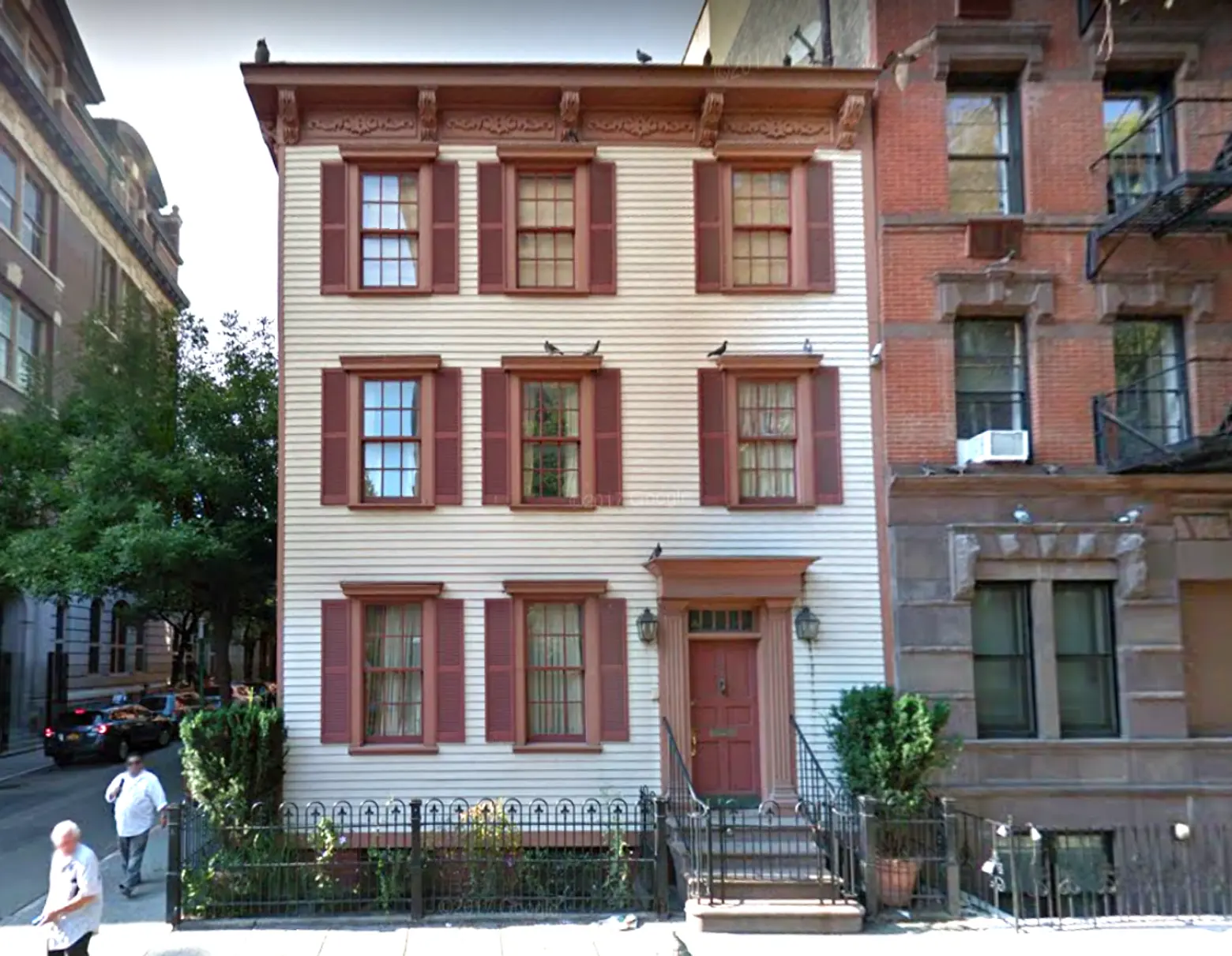 Google Street View of 17 Grove Street
Starting in the westernmost stretches of the Village, the wooden house at 17 Grove Street (at Bedford Street) is often assumed to be one of the oldest houses, if not the oldest house, in the neighborhood.  It's a good guess since wooden house construction was banned in Manhattan starting in the early 19th century as a response to fires in these densely-packed precincts. The prohibition was enacted first below Canal Street in 1816, then below 32nd Street in 1849, and finally below 155th Street in 1882.
But 17 Grove Street only dates to 1822 (actually, just the first two original floors do; the third floor was added in 1870). This makes it a relative youngster compared to some of the houses found in these parts, in spite of its charmingly anachronistic look.
Google Street View of 121 Charles Street
Perhaps even more out-of-place looking, in the best of ways, is the wooden house at 121 Charles Street at the corner of Greenwich Street. Set behind a deep yard, "Cobble Court" or the "Goodnight Moon House" as it's sometimes known (Margaret Wise Brown wrote the book while living in the house in the 1940s) has a good reason for looking out of place – it was moved several miles to this spot in 1967. It was originally located on the rear of a lot at 71st Street and York Avenue, and in one of the more incredible stories of urban preservation, the house was picked up and transported down to the Village by an enterprising young Swedish couple when it was slated to be demolished.
While the exact date of construction of the house is unknown, saw marks on the wood indicate it was built after the introduction of sawmills in the early 1800s, and some evidence indicates it could date to 1810 or later.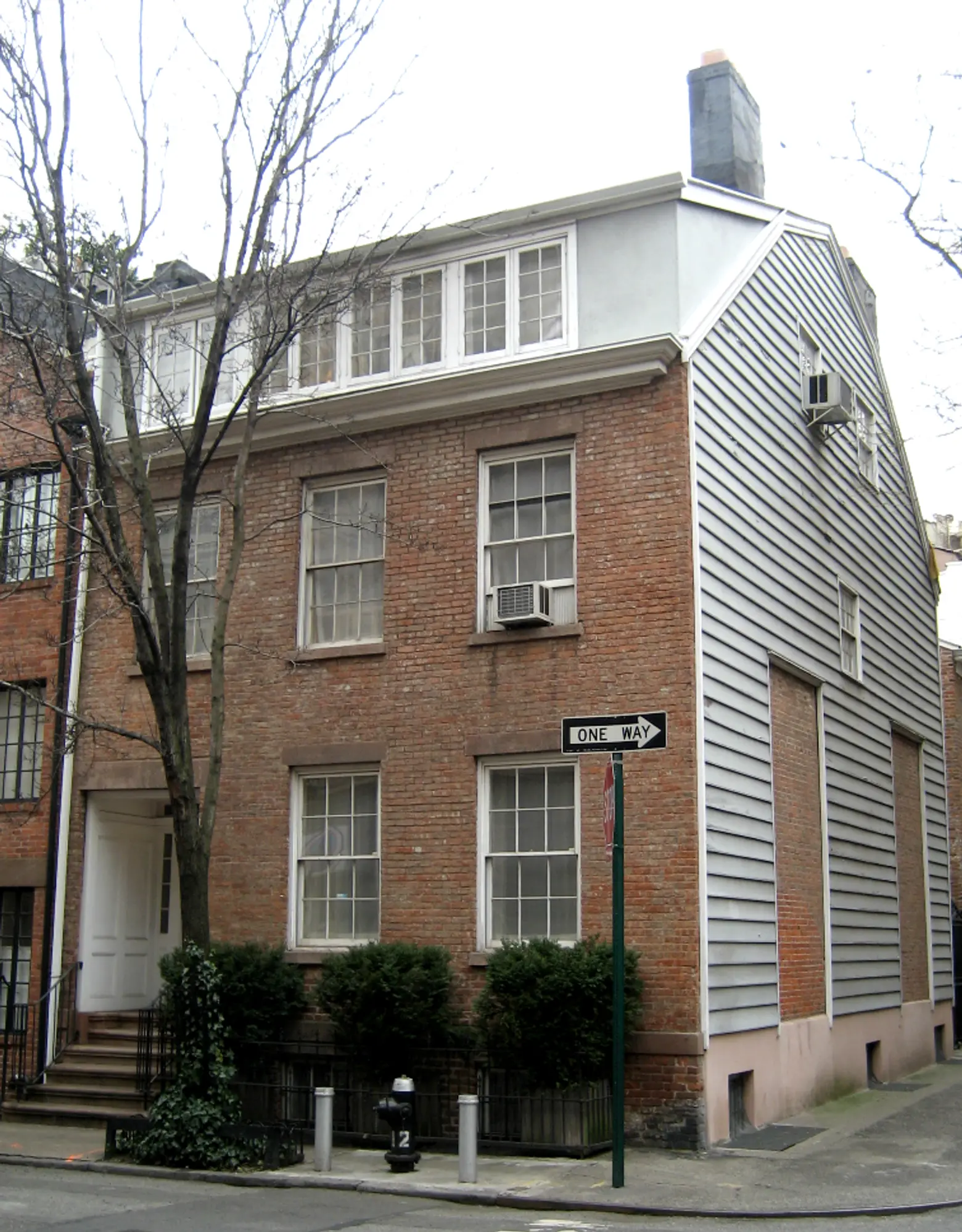 77 Bedford Street via Wally Gobetz/Flickr
Not far away lies a house which might look like countless others in Greenwich Village. It could, therefore, be easily overlooked, but shouldn't be. 77 Bedford Street, at Commerce Street, appears to be just another brick rowhouse in Greenwich Village, but it's neither made of brick nor actually a rowhouse. The brick façade is a later addition from 1836, and the house is otherwise made of wood.  It was originally constructed as a free-standing structure surrounded by open space, and only later made part of a "row." The house is known as the Isaacs-Hendricks House for its early owners Harmon Hendricks and his brother-in-law Simon Isaacs, who were New York agents of Paul Revere.  When it was built in 1799, the surrounding Greenwich Village was still more country than either Village or urban neighborhood.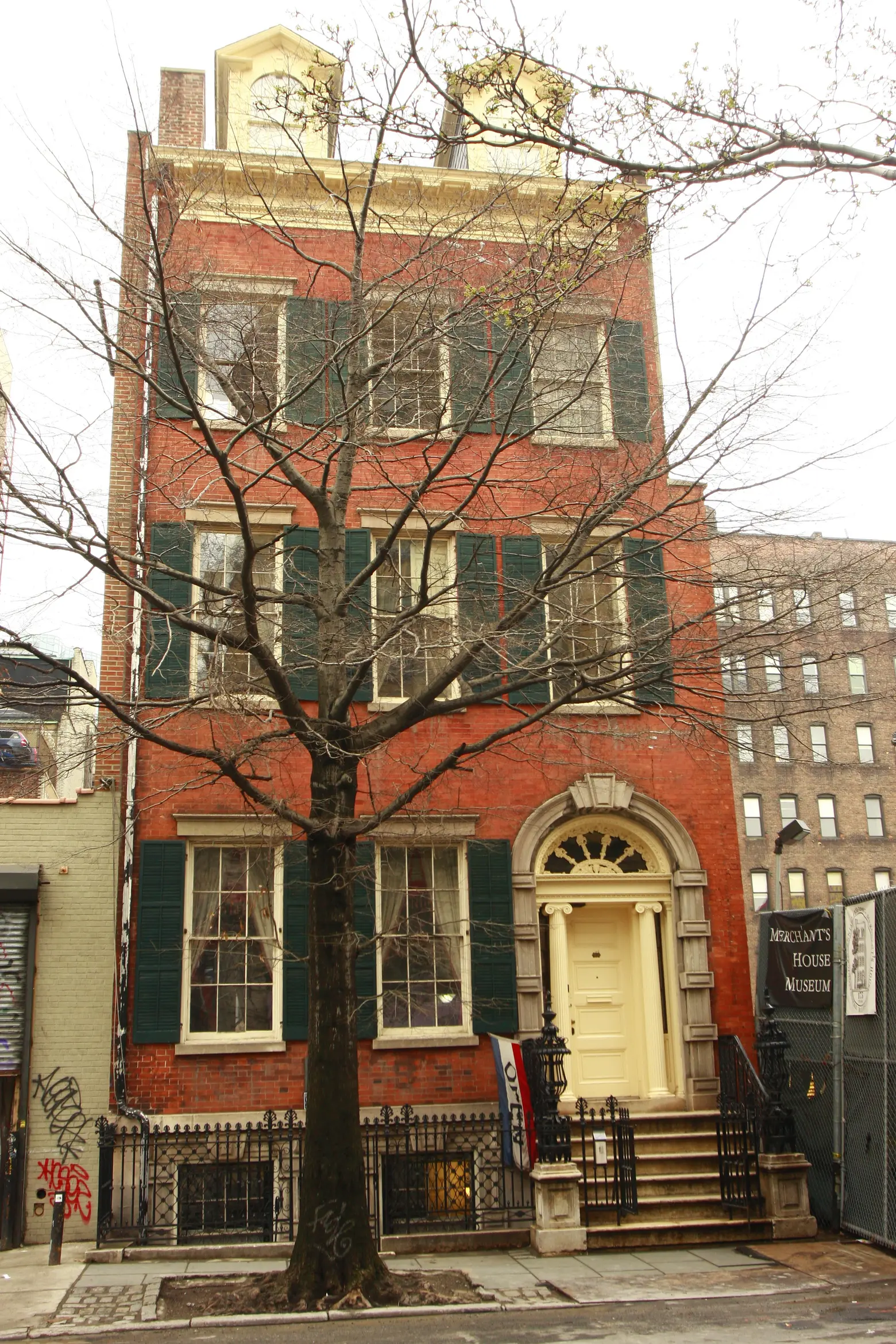 Merchant's House Museum via Wiki Commons
Heading east, an obvious contender is the Seabury Tredwell House at 29 East 4th Street, also known as the Merchants House Museum. This house museum was Manhattan's first individual landmark, and one of the city's rare interior and exterior landmarks, as well as the only surviving intact 19th century home on the interior. It's a veritable icon of old New York in a way few other buildings are. But is it the Village's oldest house? In spite of its otherwise impeccable pedigree, its construction date of 1832 means that it's not even close.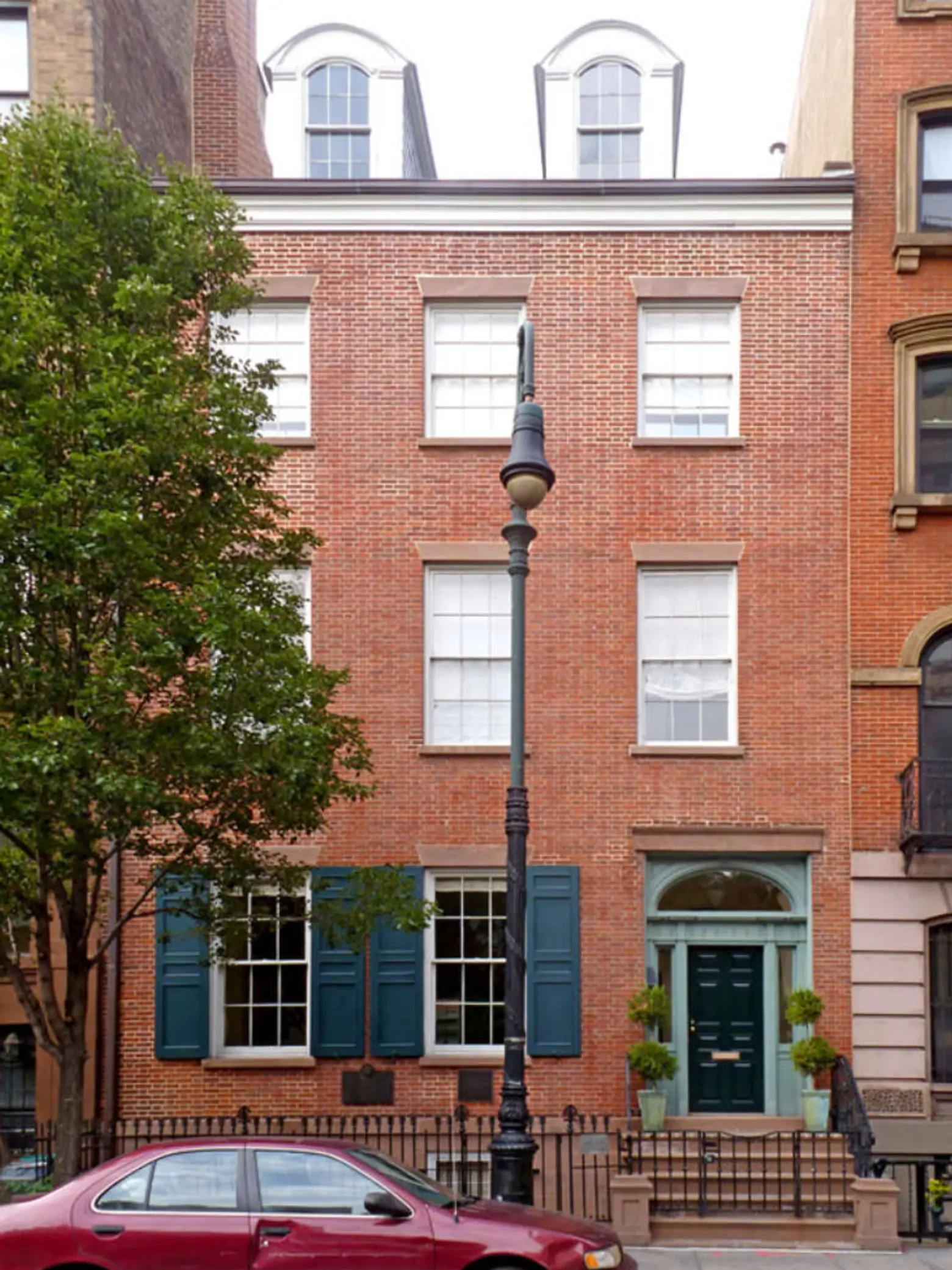 21 Stuyvesant Street via CityRealty
Another obvious contender lies just a few blocks away at 21 Stuyvesant Street, home of the Stuyvesant Fish House. It was built by Petrus Stuyvesant, the great-grandson of Peter Stuyvesant, the last Dutch Governor of New Netherland. Petrus built the house for his daughter, Elizabeth, upon the occasion of her marriage to Nicholas Fish, a close friend of Alexander Hamilton. Fish's son Hamilton would later become Secretary of State and both New York Governor and Senator.
The house appears more or less today as it did when it was built, except that, like the Isaacs-Hendricks House, it was once surrounded by open land, a garden that belonged to Elizabeth Stuyvesant Fish. When she died in 1854, the garden was sold off and the beautiful houses now known as Renwick Triangle were built. But in spite of all this history, the house dates to 1803 – old indeed, but not old enough to make it the oldest in the Village.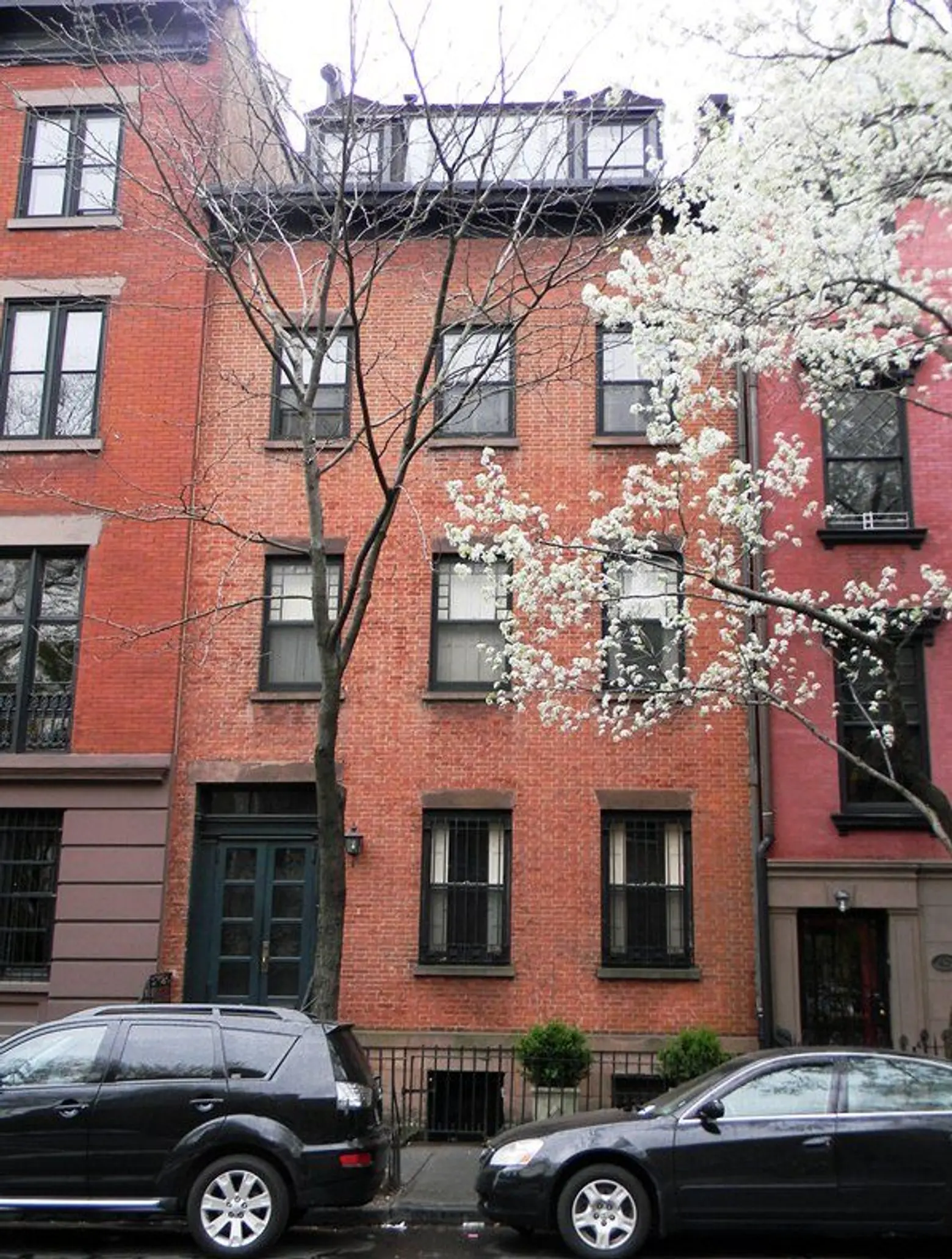 44 Stuyvesant Street, via GVSHP
Somewhat surprisingly, a little-known dark horse nearby takes that title. Just across Stuyvesant Street at number 44 is a Federal-style house built by Nicholas William Stuyvesant in 1795. The house has all the signature elements of a Federal-era (1790-1835) home, including a sloped roof, double dormers, and Flemish bond brickwork (bricks laid in alternating short and long configurations).  There are a few more modern updates, including an artist's studio window inserted in the early 20th century (more on that here) and a doorway of more recent vintage.
But while this house, unlike some of its competitors, does not have a fancy name or title attached to it, it is, in fact, the oldest house in the Village. But that's not its only distinction; it's also the oldest building in Manhattan still used as a residence. And it's one of a very small number of 18th-century structures which survive in Manhattan – an exclusive list that includes Upper Manhattan's Dyckman Farmhouse and Morris Jumel Mansion, both of which are now museums and no longer functioning residences.
Like the Stuyvesant Fish House and the Isaacs-Hendricks House, as well as the Dyckman Farmhouse and Morris Jumel Mansion, 44 Stuyvesant Street was originally surrounded by open land. And while the farmhouse and mansion maintain that distinction, the three Village houses are now tightly packed in among their younger cousins on Stuyvesant and Bedford Street, their advanced age discreetly hidden within their charming streetscape.
+++

This post comes from the Greenwich Village Society for Historic Preservation. Since 1980, GVSHP has been the community's leading advocate for preserving the cultural and architectural heritage of Greenwich Village, the East Village, and Noho, working to prevent inappropriate development, expand landmark protection, and create programming for adults and children that promotes these neighborhoods' unique historic features. Read more history pieces on their blog Off the Grid.