The top 12 websites and resources for no-fee NYC rentals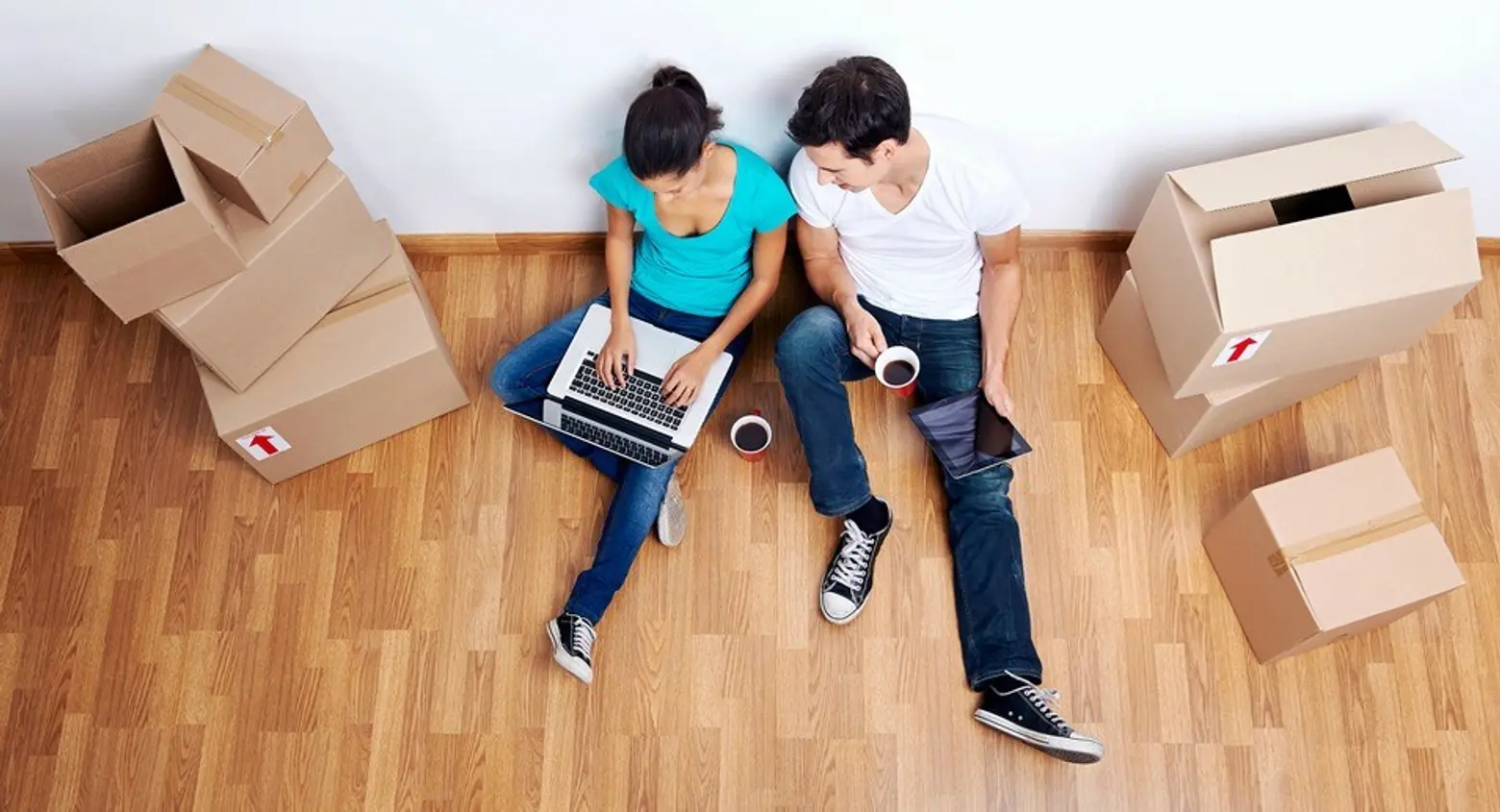 6sqft's ongoing series Apartment Living 101 is aimed at helping New Yorkers navigate the challenges of creating a happy home in the big city. This week, now that the city is in high renting season, we've researched the best resources for finding a no-fee apartment.
More than half of New Yorkers spend 30 percent or more of their income on rent. Tack on a broker's fee that could be as high as 15 percent of an apartment's annual rent, and that burden becomes even worse. Thankfully, there are more and more resources popping up to find no-fee rentals. Aside from the go-to listing aggregators, there's now roommate-share options, lease break sites, artist-centric search engines, and good old fashioned networking. 6sqft has put together our 12 favorite options, along with the basics of each so you can figure out what will work best for you and how to prioritize your search.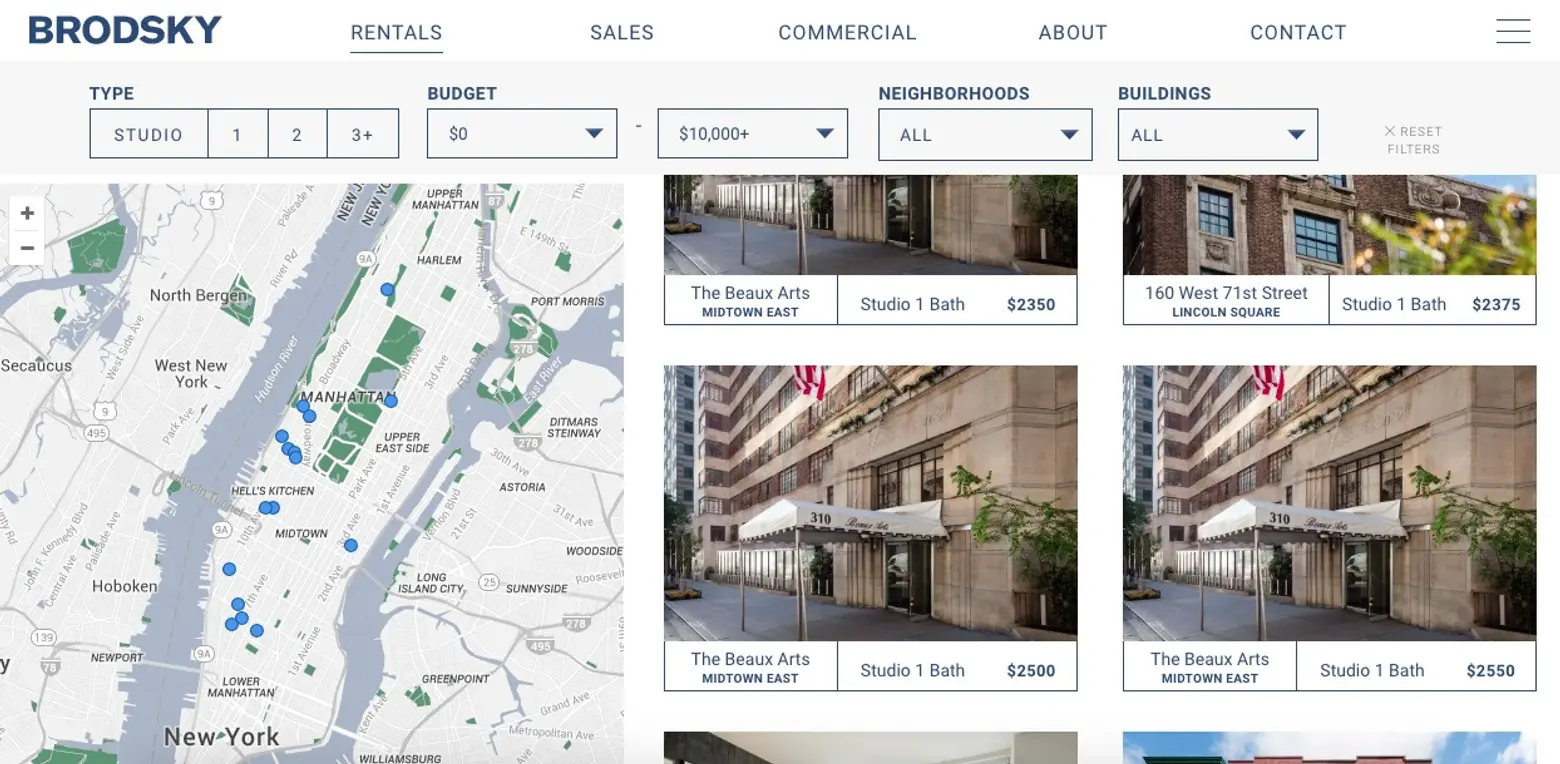 1. Go Directly Through Management Companies and Property Owners ↑
This first suggestion is perhaps the simplest way to find a no-fee rental in NYC. Know of a management company or property owner with a sizable portfolio? Contact them directly and ask what they have available. Some may not work directly with prospective renters, but many larger companies (like Brodsky and SW Management) have searchable databases online. On the other hand, some smaller operations prefer to bypass the broker hassle. Consider asking friends and co-workers about their management companies to find some lesser-known entities.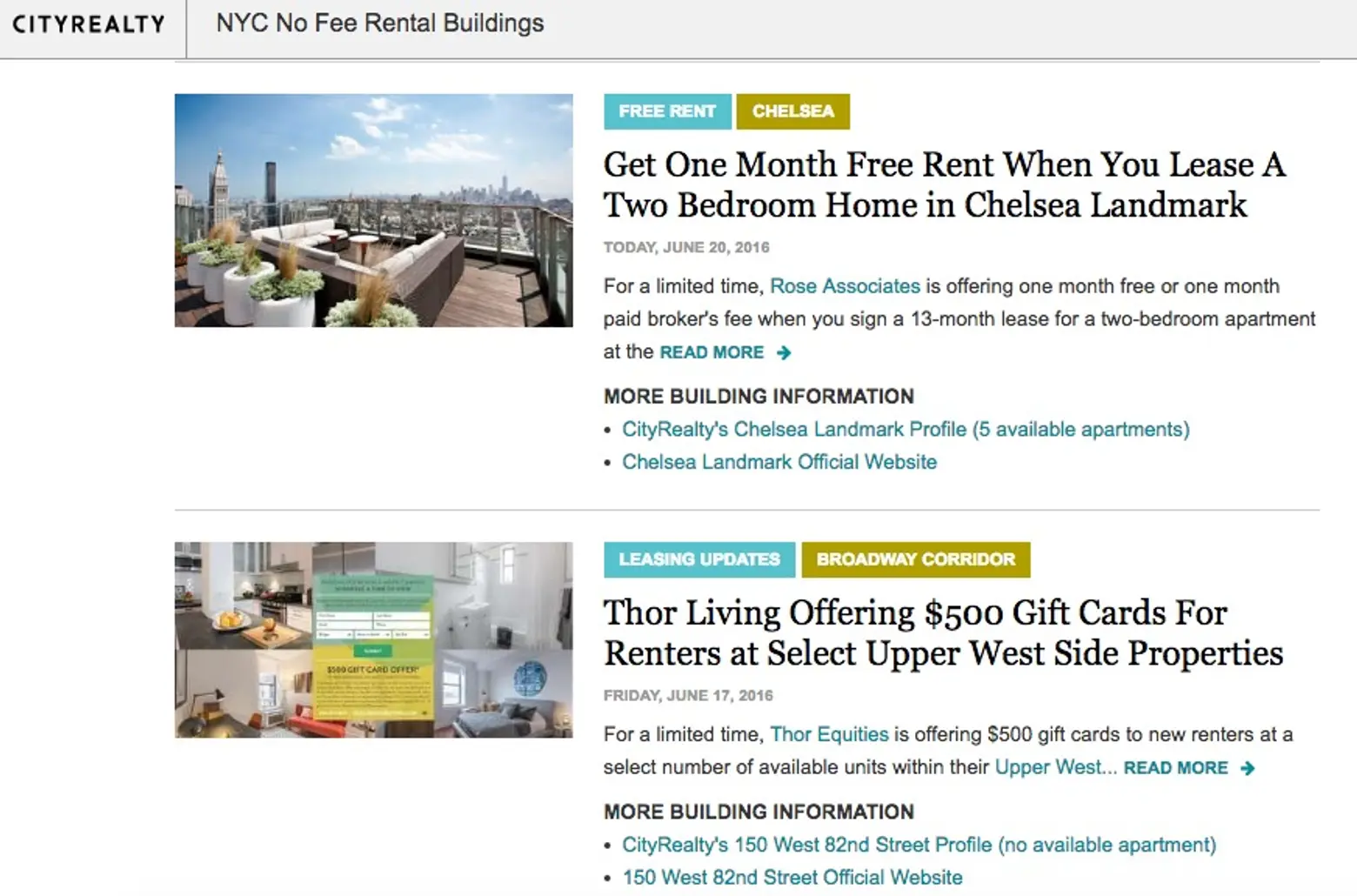 2. CityRealty ↑
CityRealty, the oldest, continuously operating real estate website, has been hard at work honing its no-fee rentals page, which not only offers a searchable database of these apartments but publishes profiles of management companies with their direct contact so users can bypass brokers. Plus, they go beyond the no-fee and also publish information on apartment deals, such as new buildings offering free month's rent or doling out gift cards and big screen TVs to new tenants.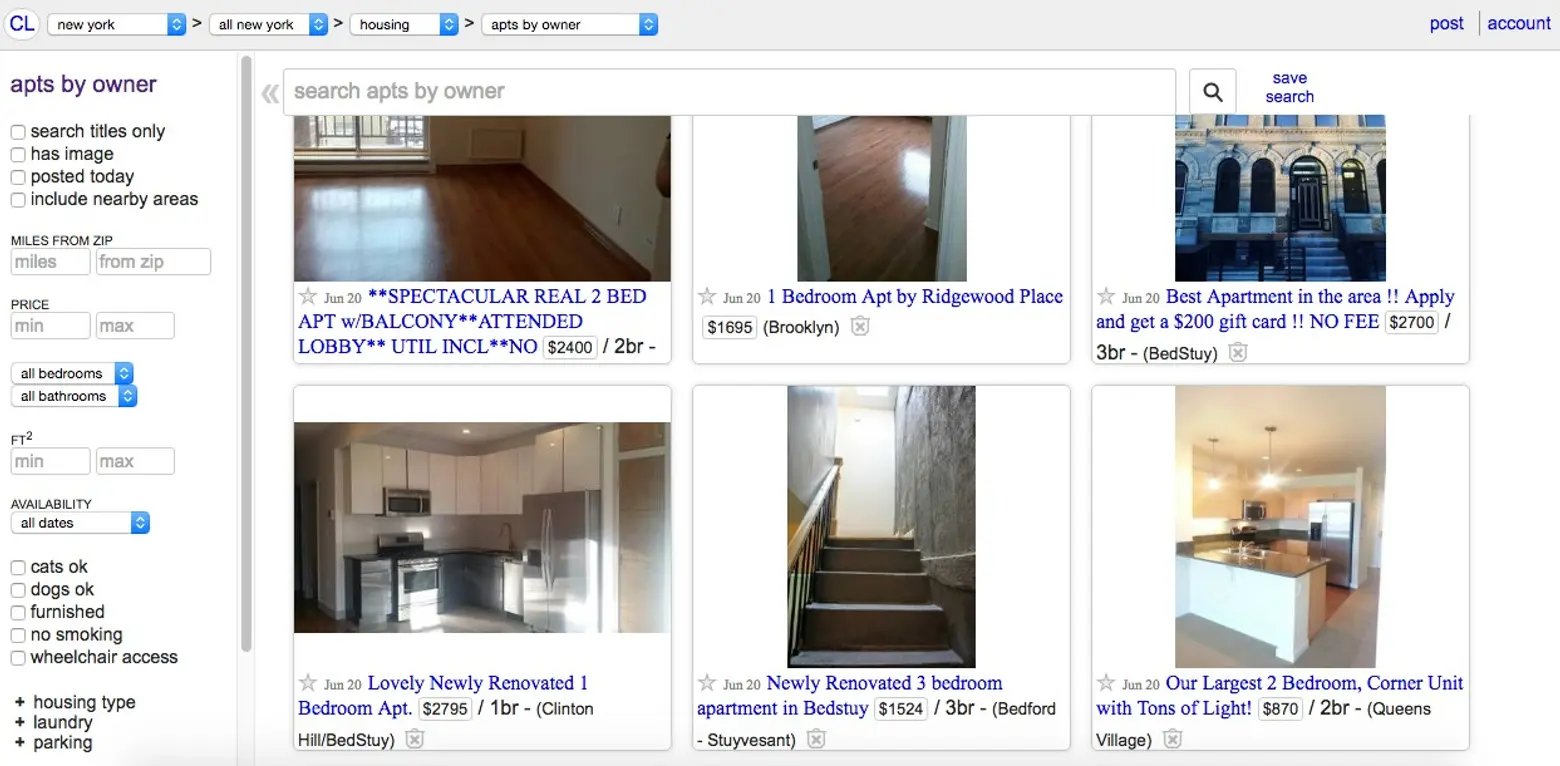 3. Craigslist ↑
It'll take some time to weed through all the nonsense, but it's certainly worth it to find a diamond in the rough on Craigslist. There are filters for no-fee rentals and by-owner rentals, the latter of which seems to be the real reason to check out this site. It's much easier for independent owners to upload some pictures and a quick description to Craigslist than it is for them to deal directly with a broker or larger site.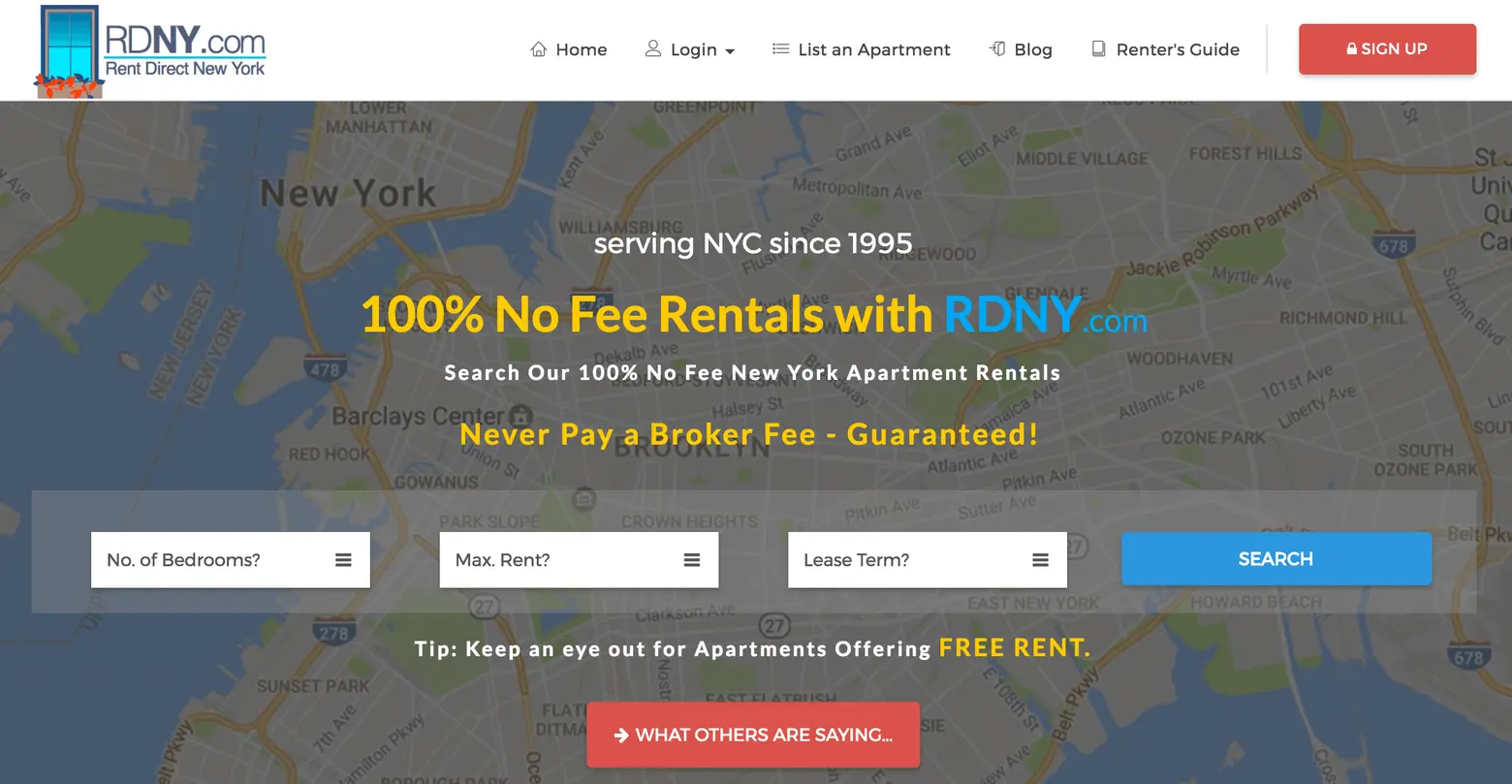 4. Rent Direct New York ↑
RDNY guarantees that all their listings are 100 percent no broker fee. Since these rentals go fast, they have an alert feature that's quite handy. But unlike a lot of the other sites on the list, this one is not free; there's a $79 + tax one-time fee for 90 days of service. RDNY explains that this charge covers the fact that listings aren't put up by brokers, but rather directly by landlords. They also offer personal phone and email support.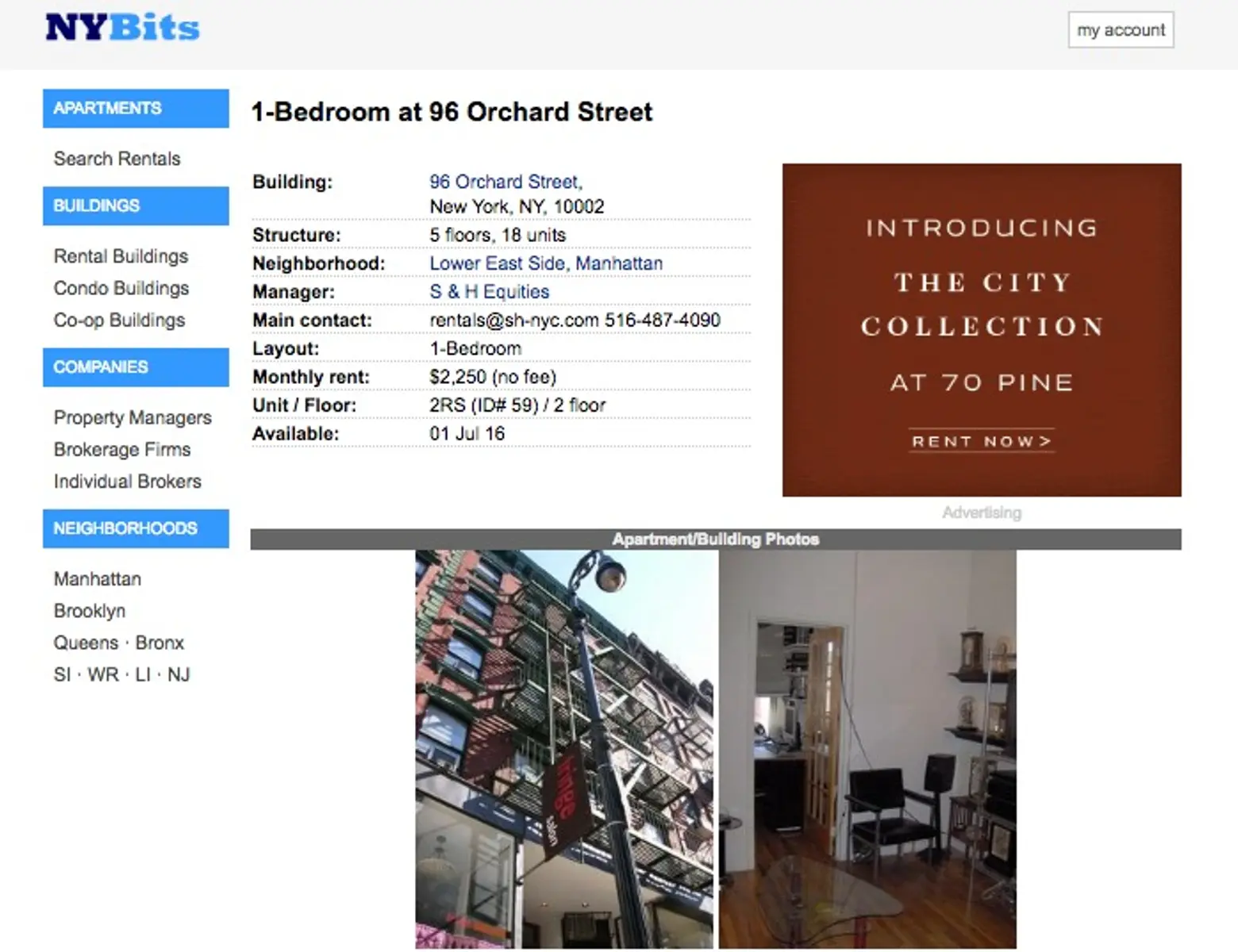 5. NYBits ↑
Though only 75 percent of the listings on this site are no-fee, NYBits allows users to contact owners, building managers, and select no-fee brokers directly, which means if you like a building you can reach out to see if anything else may be coming down the pipeline. They also publish an actual address for each listing and ensure their validity before they're posted.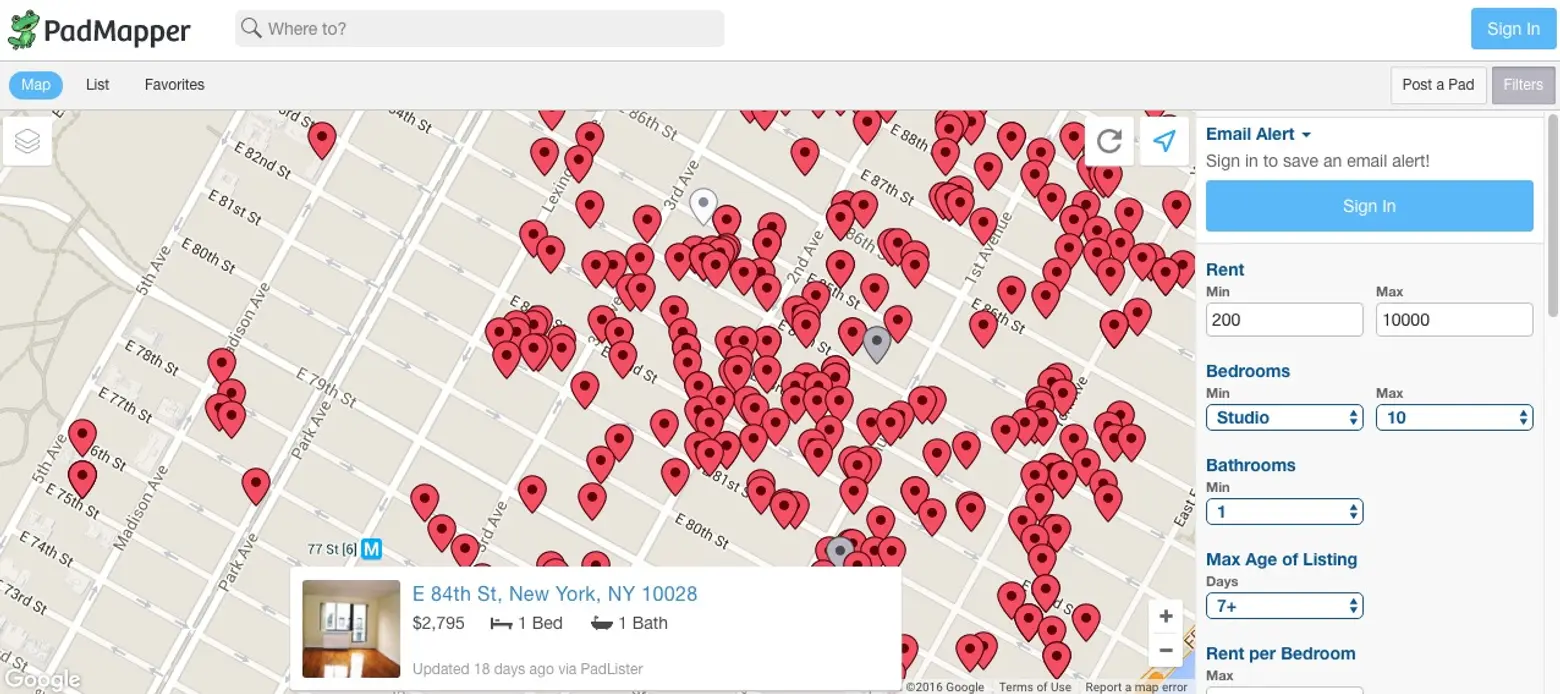 6. Padmapper ↑
The first map-based search platform, Padmapper culls listings from various places around the web such as HomeSuite and Airbnb and features not only no-fee rentals but sublets and single rooms, too. Because of this, it's popular with college students and recent grads.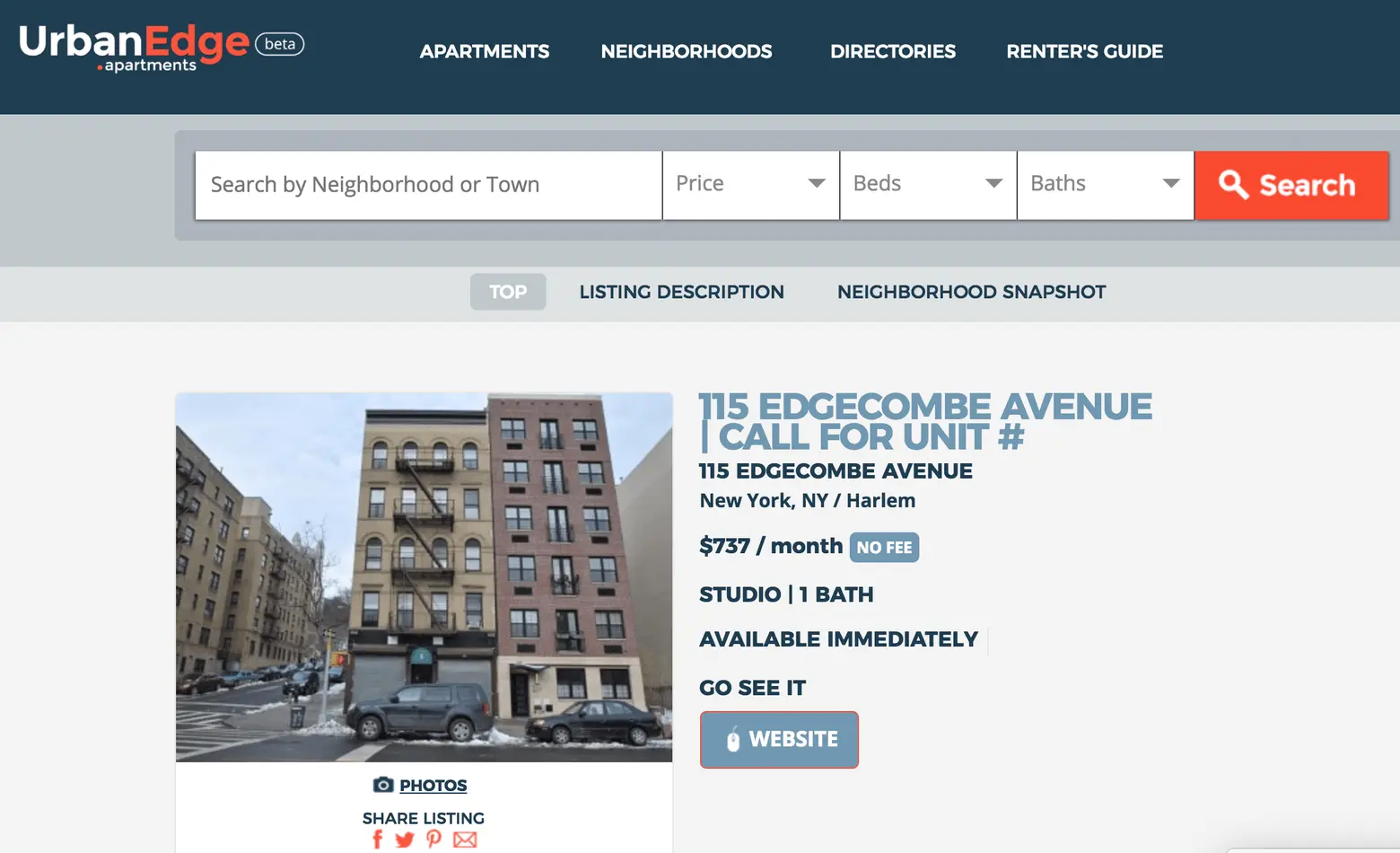 7. Urban Edge ↑
Urban Edge was created as a way for owners and property managers to directly market their no-fee apartments. It's free and unlike most other sites, users don't have to create an account to view the offerings. Listings are updated one-three times a week, and if one hasn't been updated in 14-18 days it'll be removed.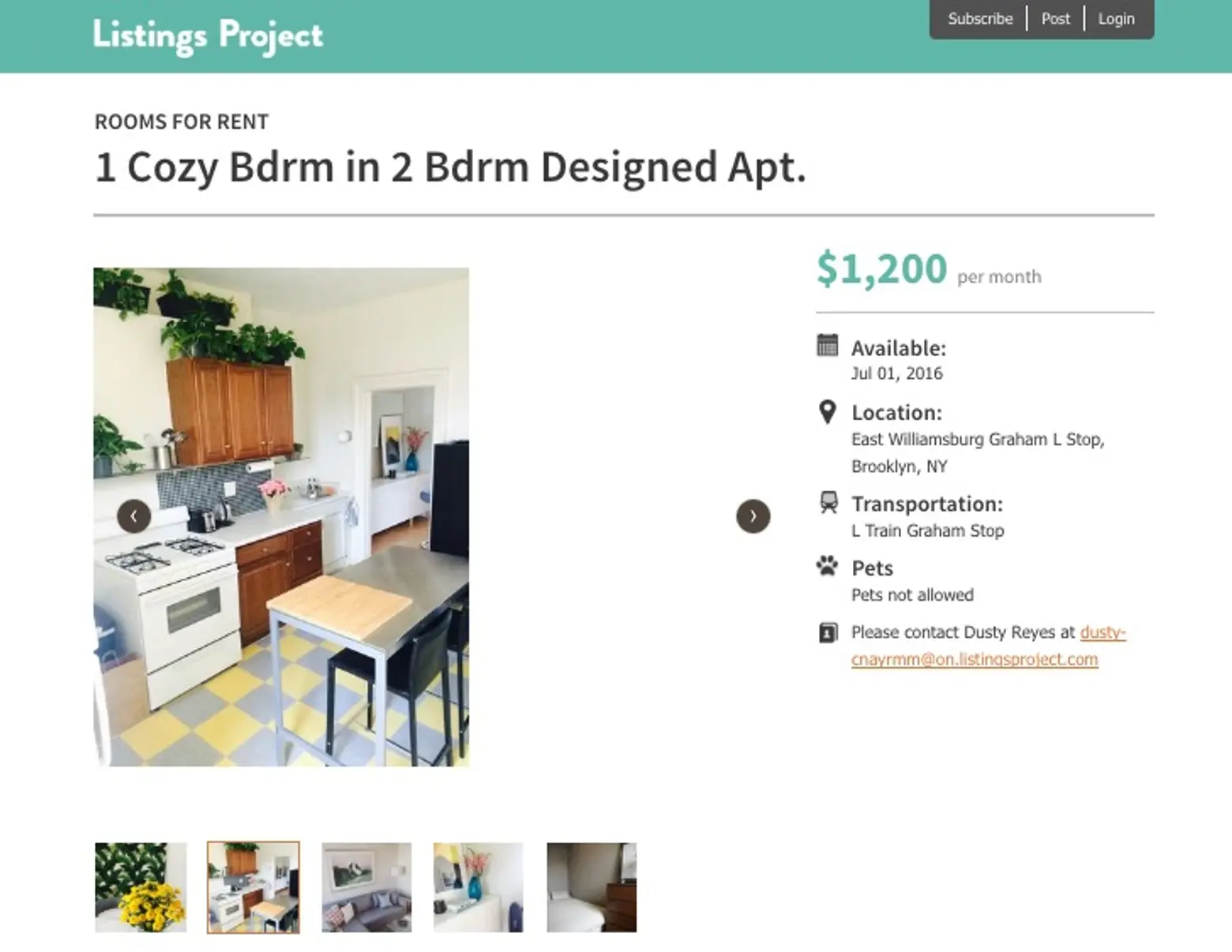 8. Listings Project ↑
Social practice artist Stephanie Diamond started Listings Project in 2003 as a personal email list, but it's grown over time to have a huge subscriber base of creatives looking for no-fee housing. The listing stock includes traditional apartments, artists' studios, live/work spaces, rooms for rent, houses for rent and for sale, sublets, swaps, offices, co-working spaces, housesitting, as well as exhibition, rehearsal, and event spaces. They cover all five boroughs and have around 300 new listings each week.
9. MySpace NYC ↑
Even the sites that cover the boroughs tend to have a larger stock of Manhattan apartments, but MySpace NYC caters specifically to Brooklyn. They aim to provide a full Brooklyn experience, sharing neighborhood info, local news, and events. The listings include apartments, condos, houses, commercial spaces, and roommate openings.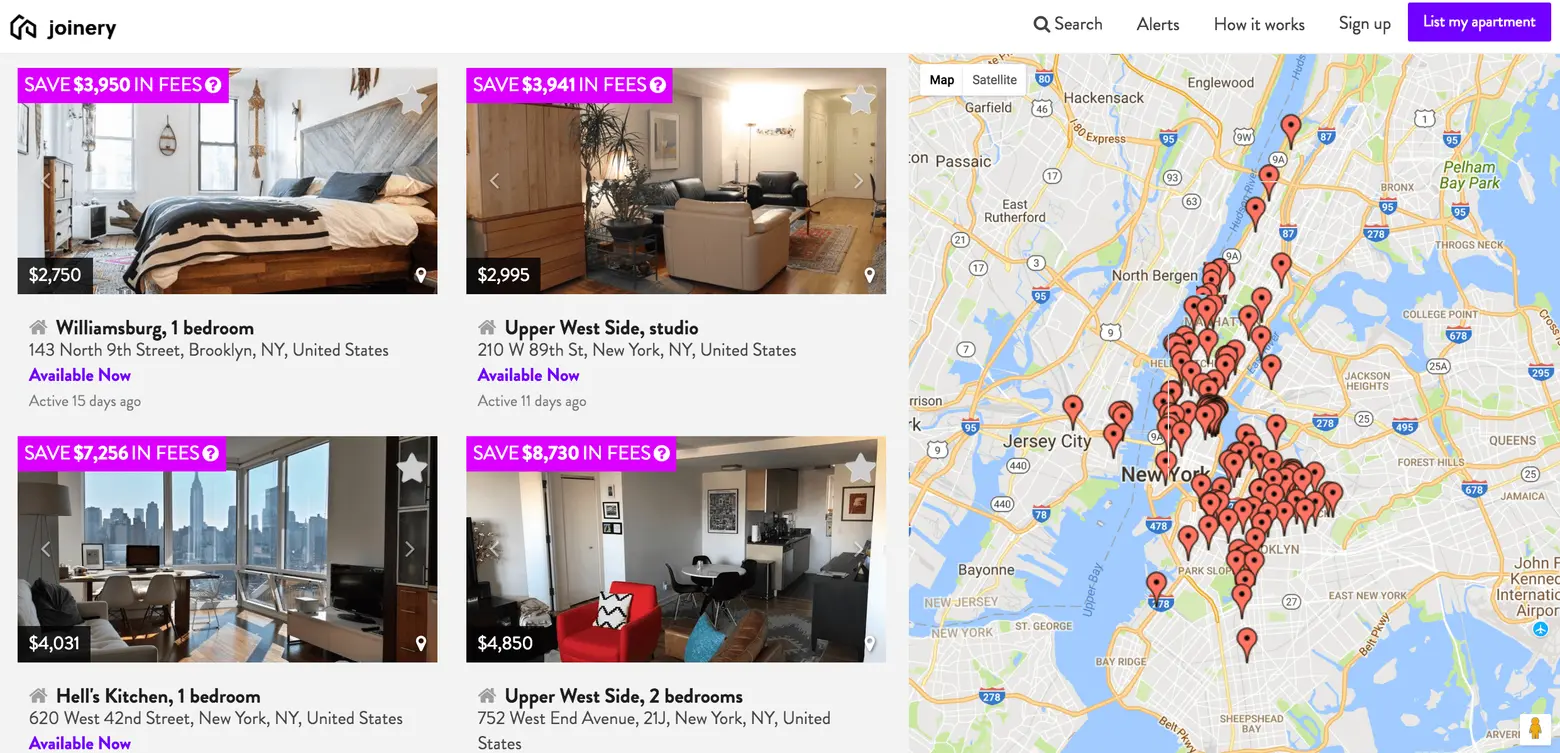 10. Joinery ↑
Joinery connects outgoing tenants with incoming renters, eliminating the need for a broker or third party. The party moving out, however, collects a finder's fee, which is capped at half a month of rent, roughly three times less than the average broker fee. Joinery's own fee is less than one percent of the annual rent.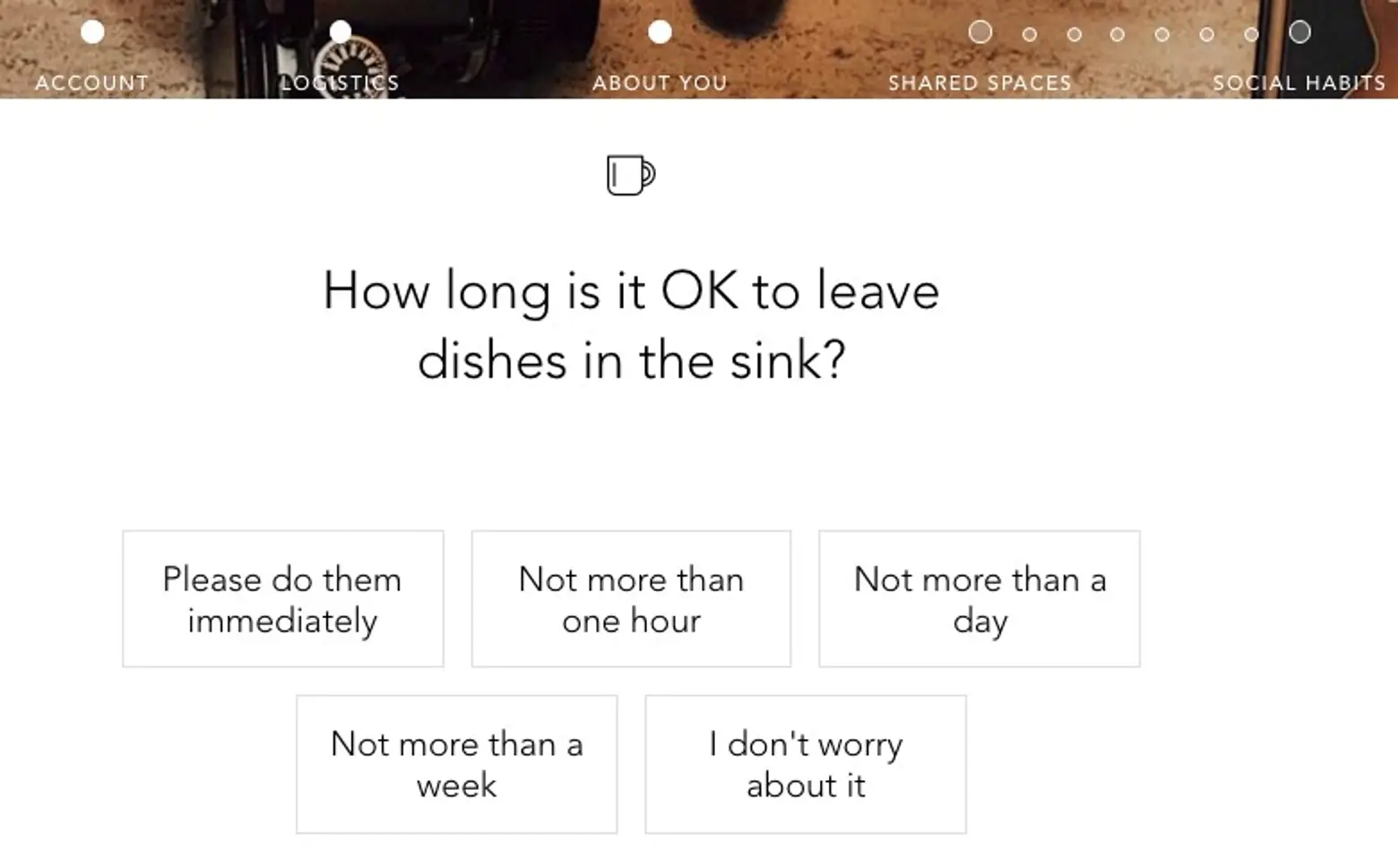 11. Room Zoom ↑
This free roommate-matching app asks users a series of basic questions about budget, lifestyle and personality to create a ranked list of possible matches. Then, in very Tinder-esque fashion, Room Zoom matches can choose to message each other and get the ball rolling.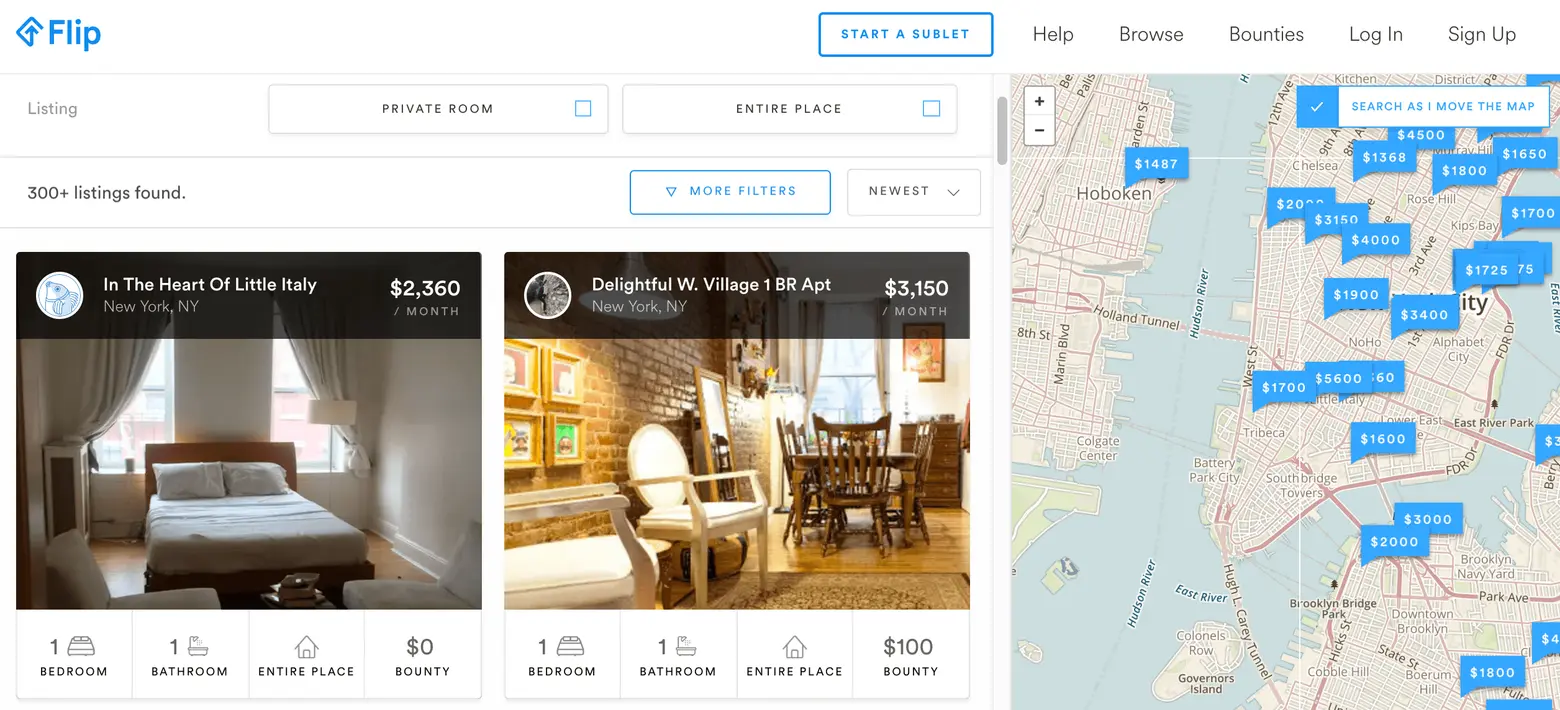 12. Flip ↑
As 6sqft previously noted, "Being a lease breaker here in New York can be like wearing a scarlet letter around town, and on top of that there's the hefty fees often associated with moving out early." But new app Flip lets renters "sell" the remaining months of a lease to pre-qualified tenants who pay $50 for a Flip Report, which is based on credit, income history, rental history and education. This gets shared with both the leaseholder and the landlord, and once a decision is made the financial transfer happens easily via Venmo.
+++
RELATED:
All images are screenshots from the sites referenced; they do not represent current listings or pricing