The 10 most romantic spots in NYC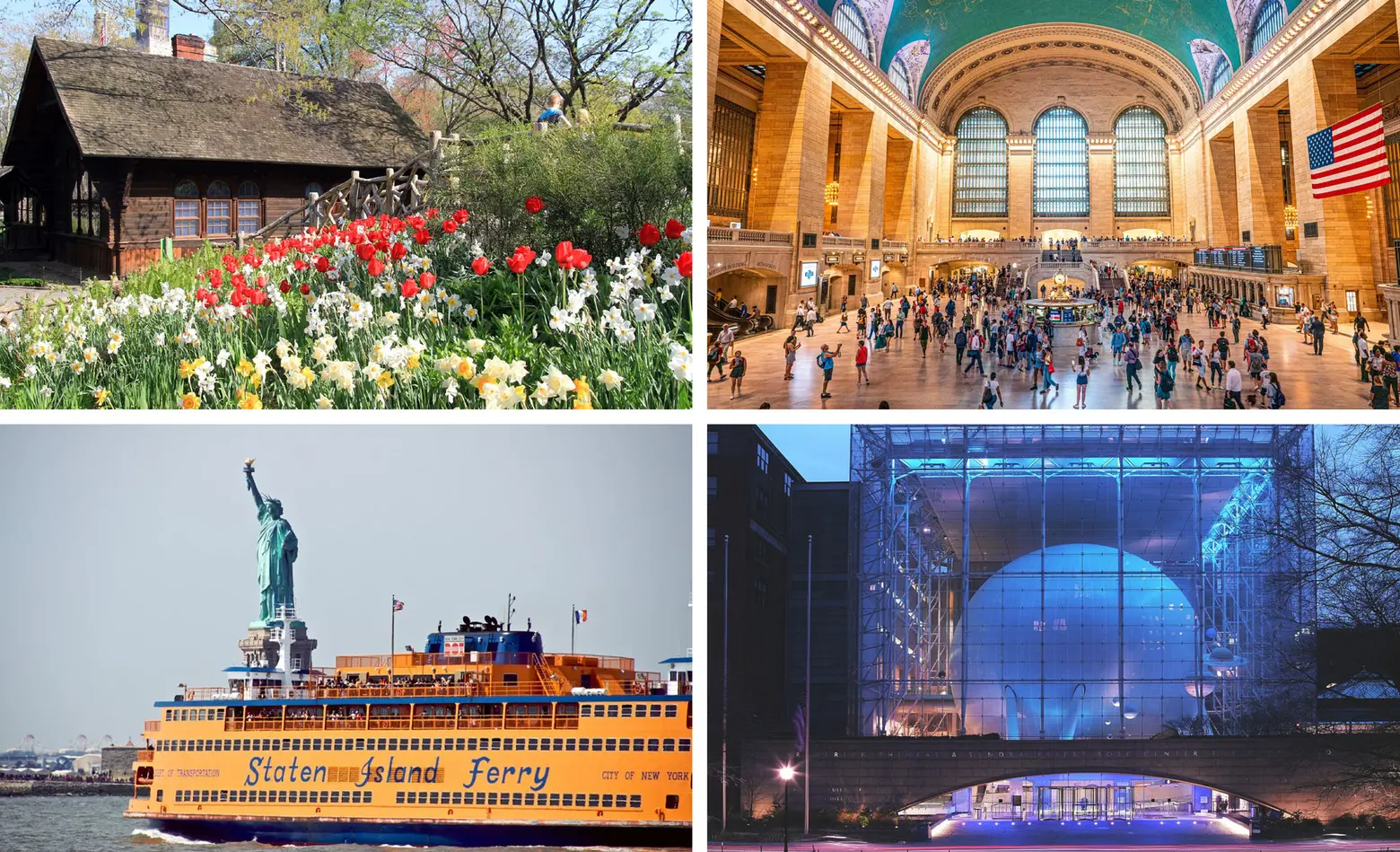 It's sometimes hard to see New York's romantic potential, considering the city's sheer quantity of subway rats and mysterious street sludge. But despite some of New York's less love-inspiring qualities, there are a lot of beautiful, heart-stopping spots that set the right tone for romance, even if you have to contend with yellow snow on your way home. Just in time for Valentine's Day, we've rounded up our 10 favorites, from a medieval monastery to a cozy restaurant haunted by Aaron Burr to tried-and-true favorites like the top of the Empire State Building.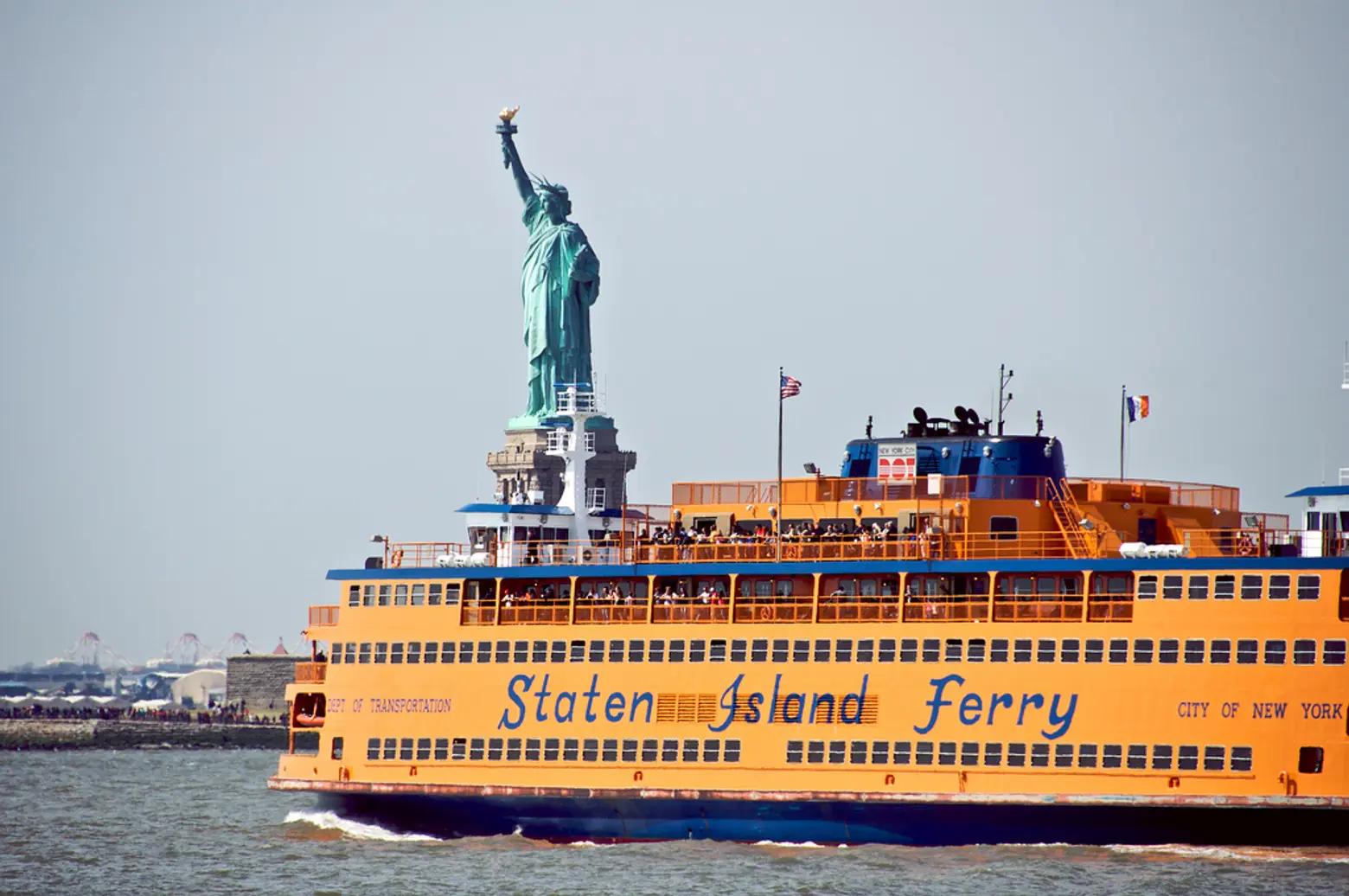 Photo by Natalie Maguire via Flickr cc
1. The Staten Island Ferry
Whitehall Terminal, 4 South Street, Lower Manhattan
Everyone always talks about how the Staten Island Ferry is the city's most unexpected good date spot, and it's true. It's free to ride the ferry, for one thing; you can drink cheap beer and eat soft pretzels on board, and you get the best view of the Statue of Liberty and the New York Harbor. If you're crossing from Manhattan to Staten Island, be sure to stop at Pier 76 for some pizza before heading back.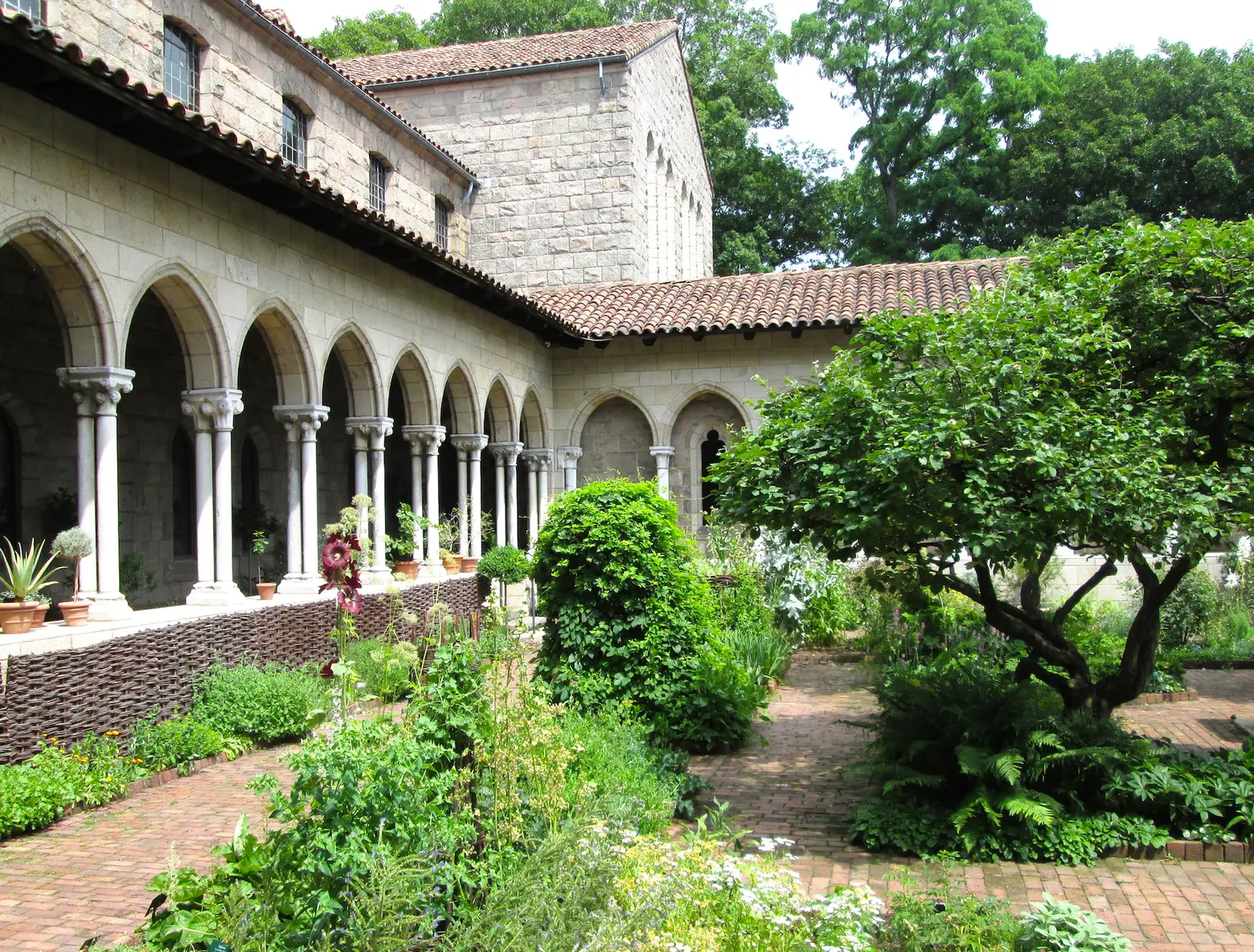 Photo by Beyond My Ken via Wikimedia Commons
2. The Cloisters
99 Margaret Corbin Drive, Fort Tryon, Manhattan
It seems antithetical that austere religious art would serve as a good setting for luuuurve, but The Cloisters is a surprisingly lovely date spot. The museum, located on four acres in Fort Tryon Park, is quiet, secluded, and surrounded by beautiful gardens, which visitors are welcome to walk through. You can also take in the greenery from the Saint-Guilhem cloisters, which were taken from a medieval monastery in Southern France and surround the museum proper; the cloisters have lots of dark nooks for canoodling and hand-holding, assuming you don't mind getting a couple of stern looks from a watchful Madonna statue.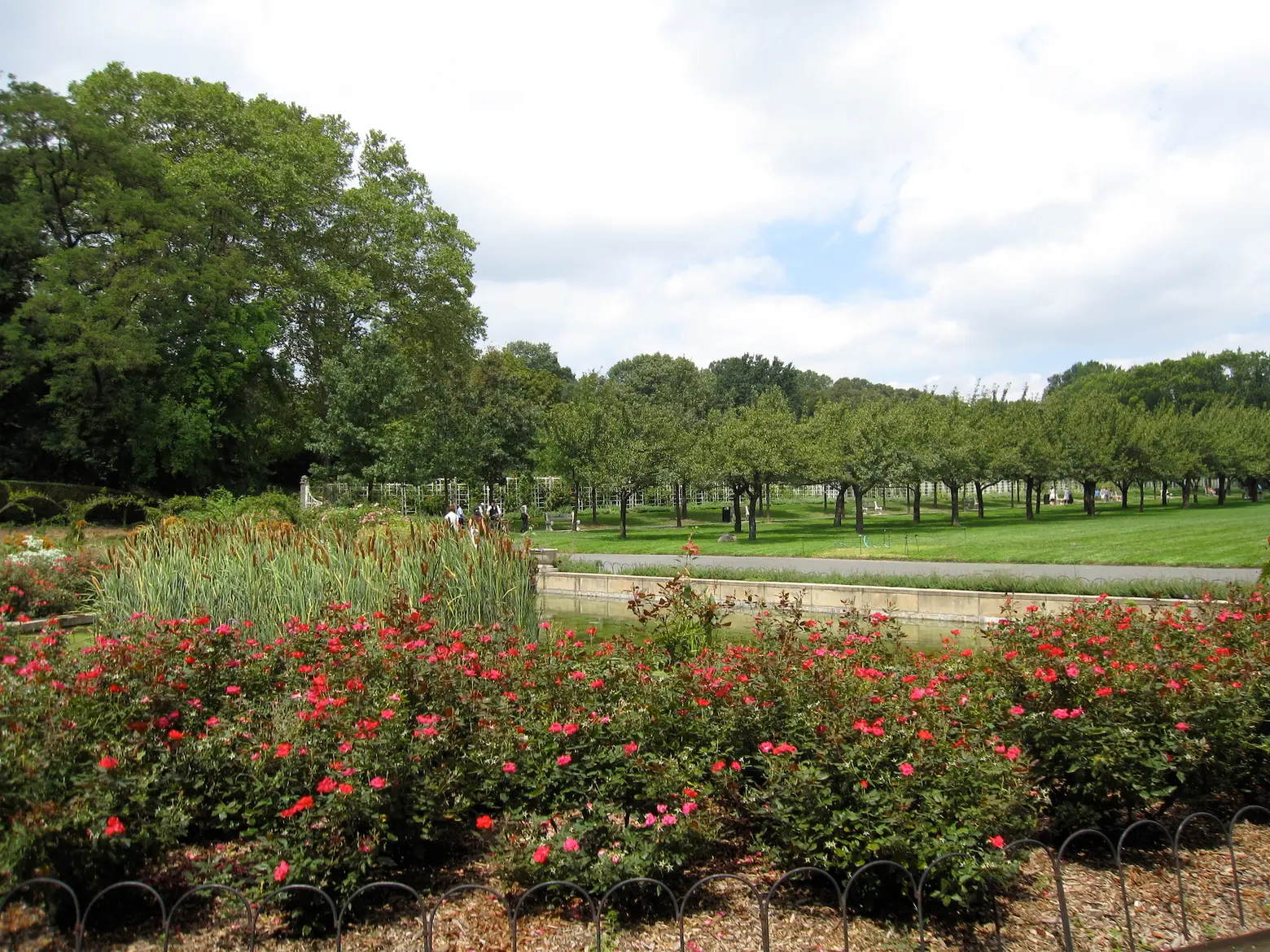 Photo by Gryffindor via Wikimedia Commons
3. Brooklyn Botanic Garden
990 Washington Avenue at Montgomery Street, Crown Heights, Brooklyn
The Brooklyn Botanic Garden might not be as expansive as its counterpart in the Bronx, but the small setting makes it even more romantic. The Cranford Rose Garden, consisting of over 1,000 different breeds of rose and the gorgeous Roses of Yesterday statue, is a particularly lovely spot, as is the Cherry Walk, which is replete with pink cherry blossoms and lush greenery. In the off-season, the BBG's indoor offerings offer a nice respite from the cold, and you can snuggle up against each other in the steamy Tropical Pavilion.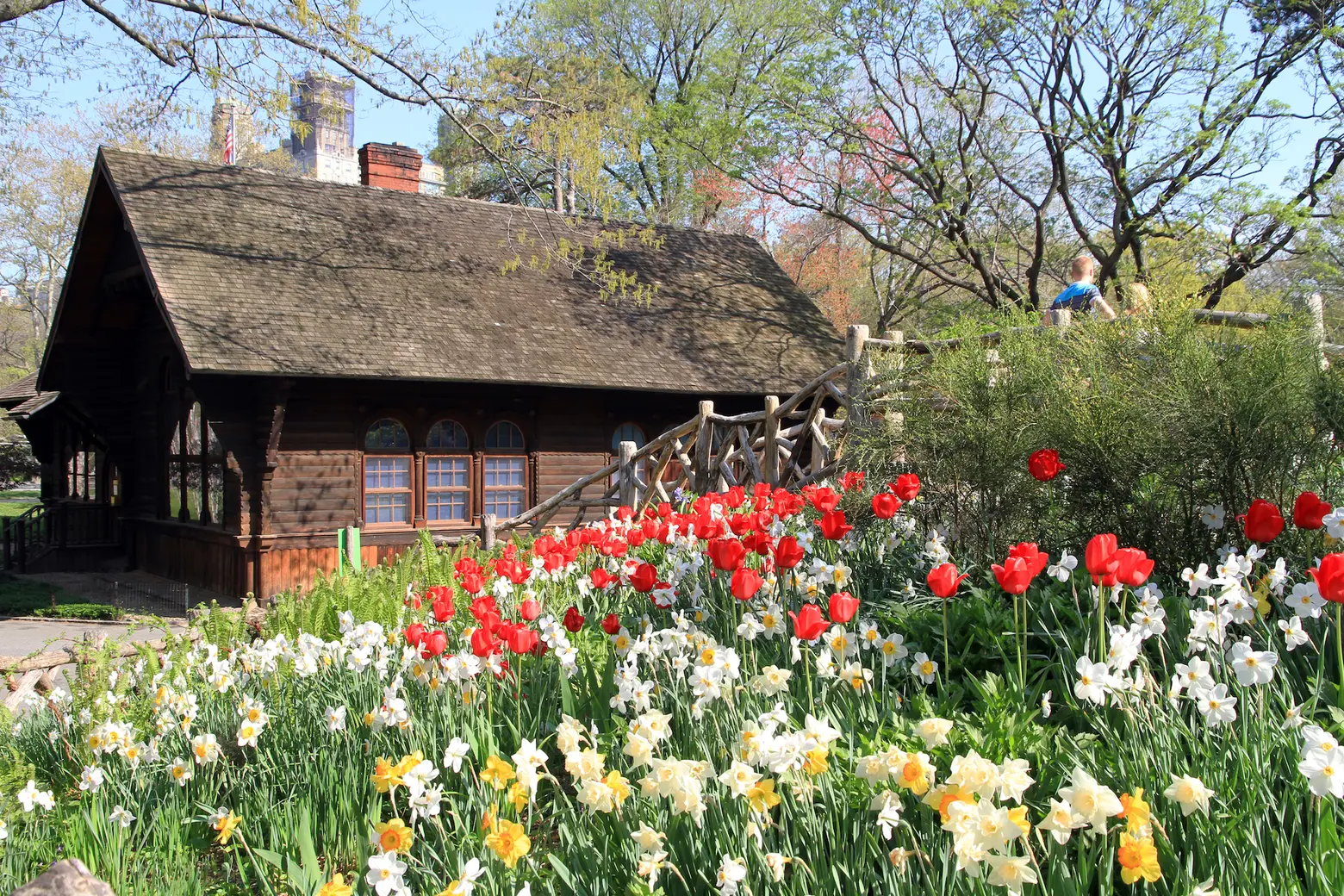 Photo by Ingfbruno via Wikimedia Commons
4. Shakespeare Garden
Central Park, Manhattan
Central Park is full of romantic spots—there's Bow Bridge, for instance, where wedding proposals abound, and the Loeb Boathouse, where visitors can rent rowboats for leisurely lake dates. But the Shakespeare Garden, located on the park's West Side, is an oft-overlooked date spot, which is part of what makes it such a good one. The four-acre garden is home to heaps of seasonal plants and flowers, which you can enjoy while strolling stone paths or while seated on elegant wood benches. Do note that an occasional wedding might disrupt your alone time, though that just cements the garden's romantic draw.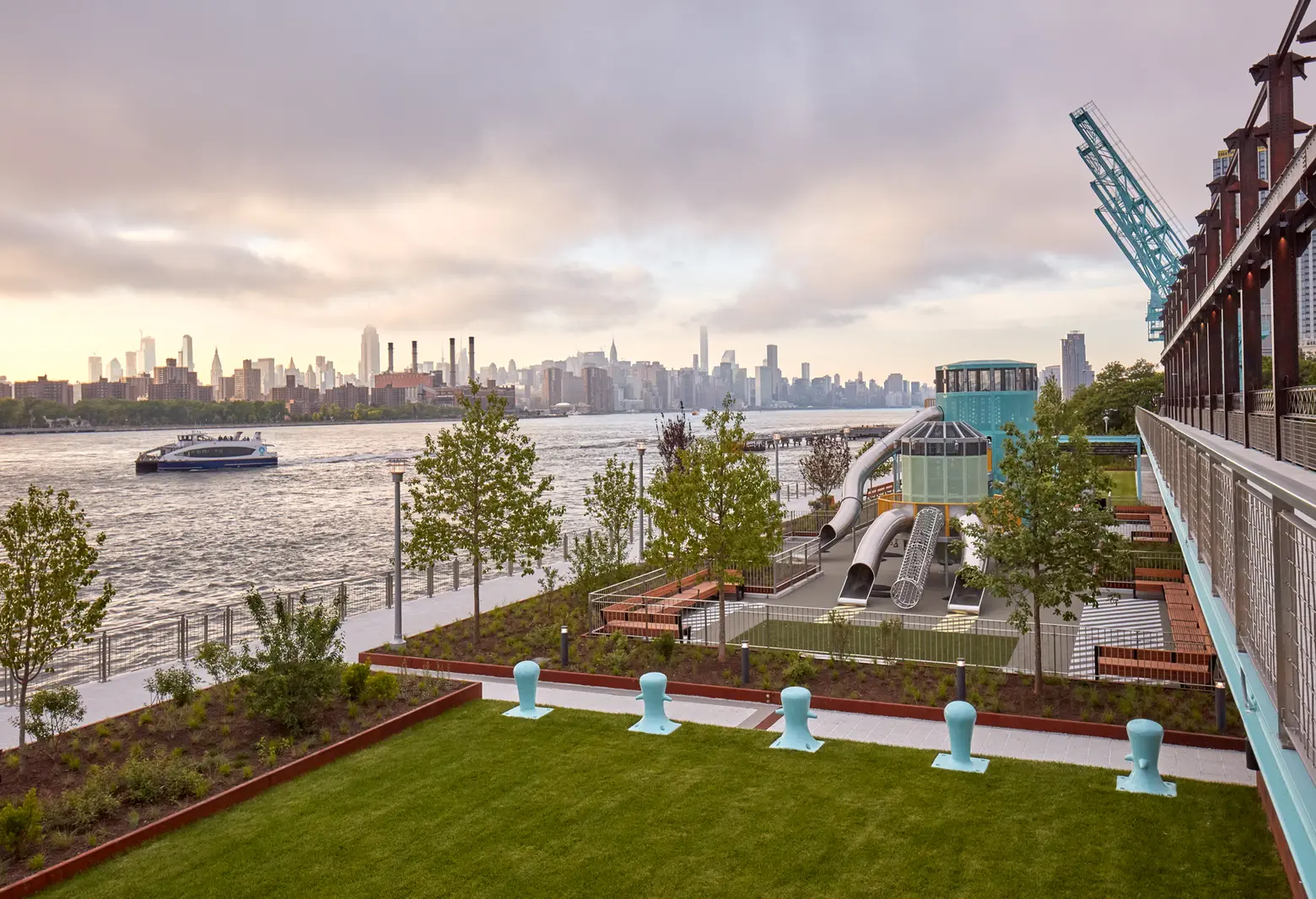 Photo credit: Daniel Levin
5. Domino Park
15 River Street, Williamsburg, Brooklyn
Domino Park is a relatively new addition to the city's list of romantic destinations, having opened in 2018. But in its short time on Earth, it's managed to become one of the best date spots in Brooklyn, thanks in large part to the park's incredible view of the Williamsburg Bridge and Manhattan. Sunset is the best time to visit Domino Park, and once the sky is dark, the area is lit up by bridge lights and park lights alike. There's also tasty Danny Meyer taco spot Tacocina, where you can get Mexican eats, margaritas, and beers, then post up at one of the park's many inviting tables, before or after strolling the industrial-esque grounds.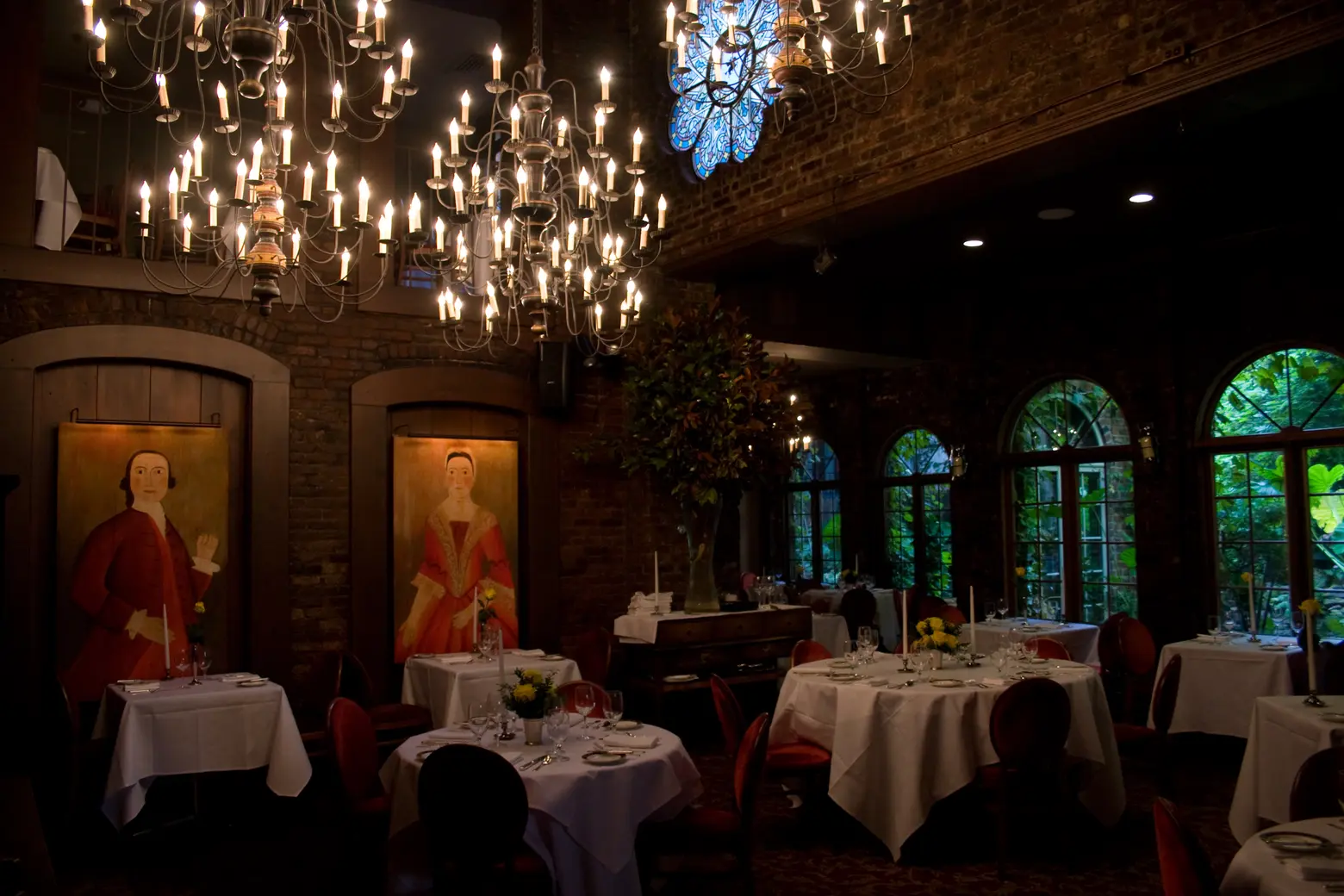 Courtesy of One if by Land, Two if by Sea
6. One if by Land, Two if by Sea
17 Barrow Street between 7th Ave South and 4th Street, West Village, Manhattan
There are lots of allegedly romantic restaurants in New York if you don't mind loud talkers and equally loud music. But One if by Land, Two if by Sea is the real deal. The restaurant, located in Hamilton-slayer Aaron Burr's old carriage house (and reportedly haunted by his and his daughter's ghosts), maintains some of its old-world glamour, decorated with exposed brick, fireplaces, and elegant light-filled chandeliers. The restaurant is outfitted with white-clothed tables lit up by real candles, and diners get to sit in plush velvet-backed chairs. Add in an exquisite seven-course tasting menu and many bottles of rosé champagne, and you'll understand why the restaurant hosts at least one proposal a night.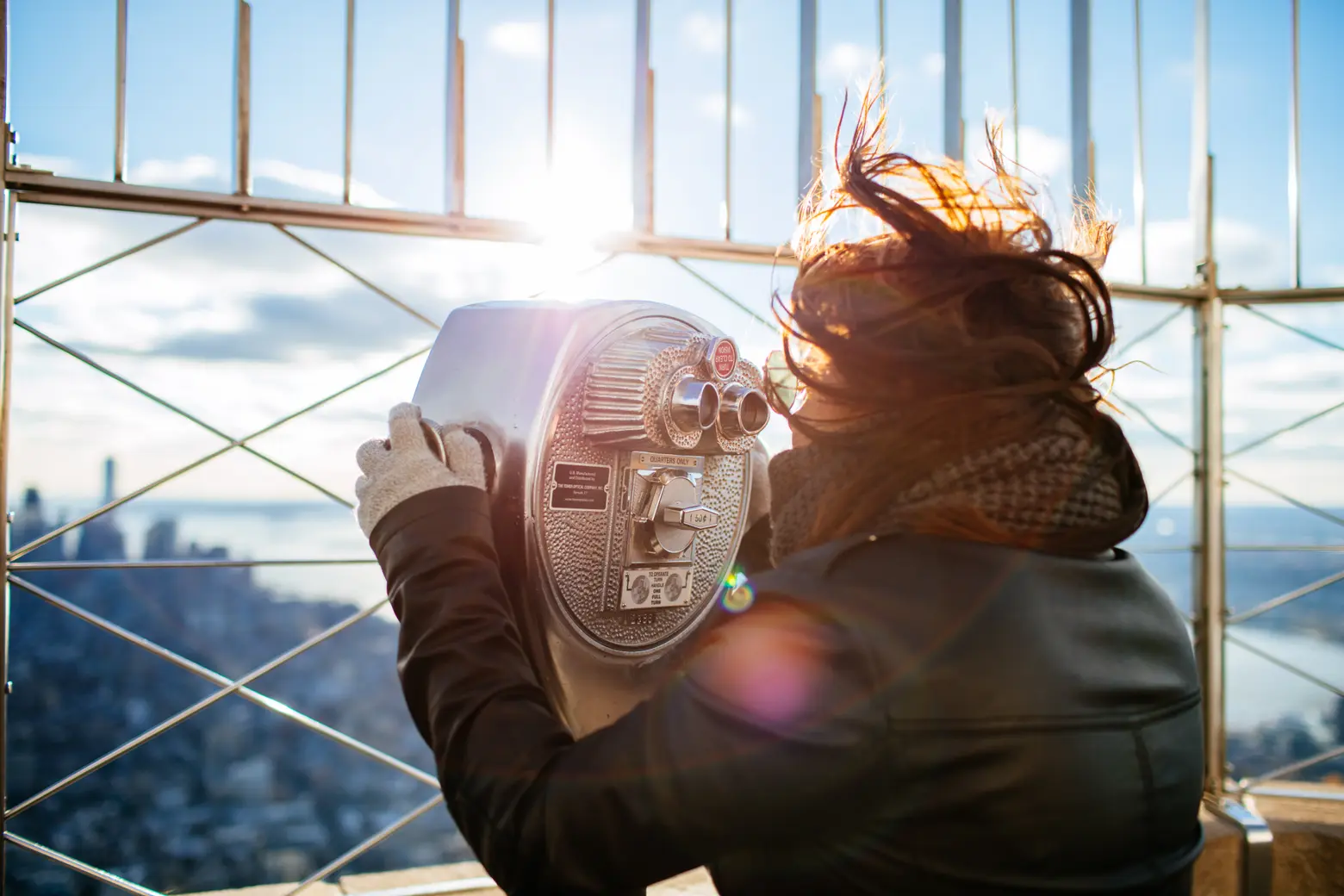 Photo by Freddy Marschall on Unsplash
7. Top of the Empire State Building
347 5th Avenue in Midtown East
The Empire State Building is probably the most clichéd addition to this list since all too many romantic comedies (and The Mindy Project) have used it as a meeting spot for otherwise star-crossed lovers. Still, it is one of the best date spots in the city, if you don't mind stealing Tom Hanks's thunder. The view from the 86th-floor Observatory is spectacular; the view from the 102nd floor is even better, though you'll have to take in that one indoors, which might kill the buzz on a warm day. Try to go late at night, or in the tourist off-season to avoid crowds.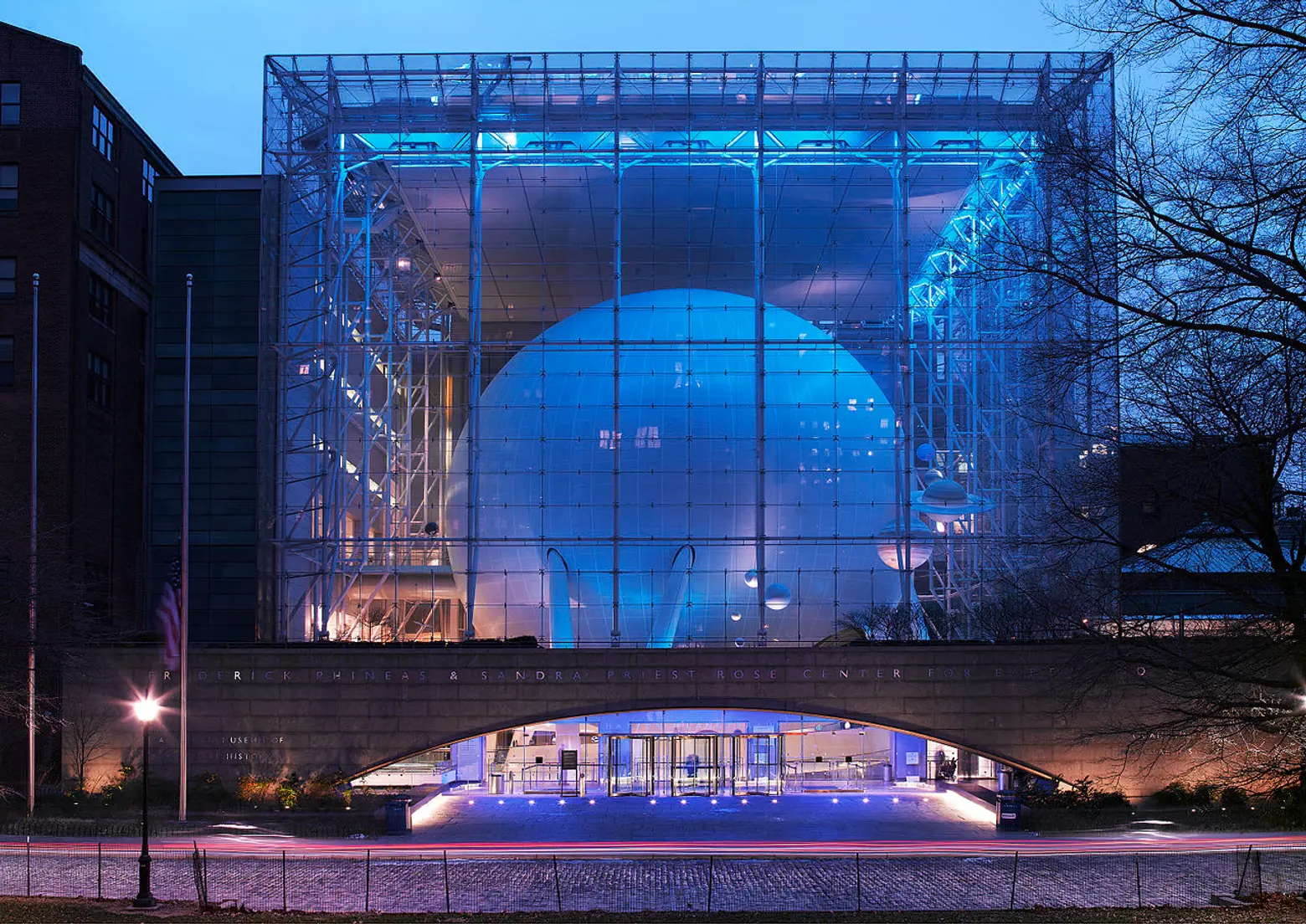 Photo by Carol M. Highsmith via Wikimedia Commons
8. Hayden Planetarium
Central Park West at 79th Street, Upper West Side, Manhattan
What's more romantic than sitting under the stars? Sitting with the stars, which is basically what happens when you see one of Hayden Planetarium's star shows. Sadly, the Harrison Ford-narrated show has departed the 429-seat Space Theater, but you can still catch Dark Universe, which is narrated by Neil Degrasse Tyson and takes you on an incredible journey exploring everything from the Big Bang to dark matter, to distant, sparkling galaxies. Stare into the Cosmos, then later, find a nice space rock to make out behind.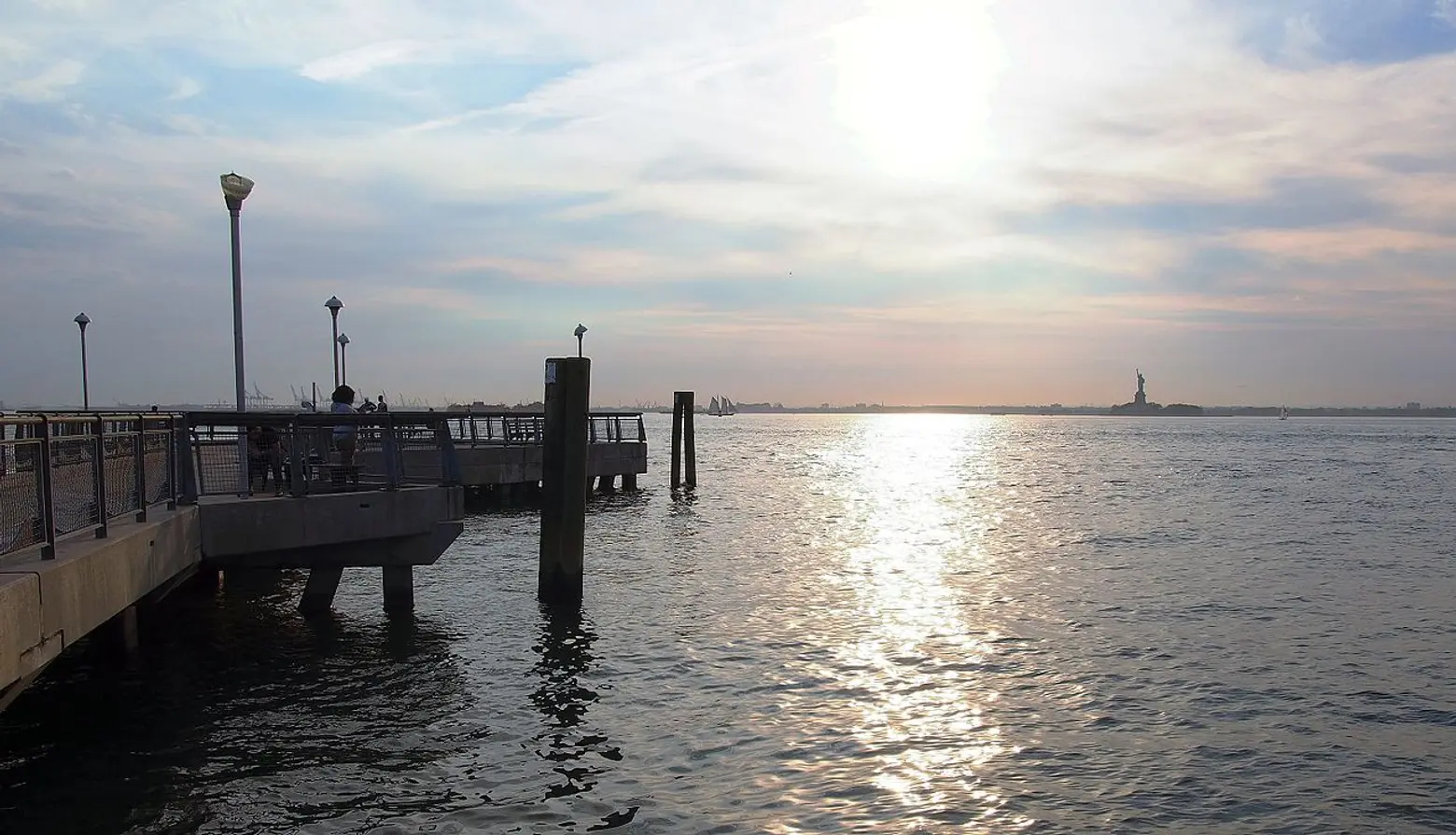 Photo by Rhododendrites via Wikimedia Commons
9. Red Hook and the Columbia Street Waterfront
Most people say the Brooklyn Heights Promenade is the most romantic waterfront spot, but Red Hook and the Columbia Street Waterfront don't get their due. The Louis J. Valentino Park and Pier has one of the best sunset views in the city, boasting an epic shot of the harbor and the Statue of Liberty. The Red Hook Winery has great local wine tastings and equally great waterfront views, and Mexican restaurant Alma has a lovely rooftop fit for drinking and dining.
Photo by Stephen H on Unsplash
10. Grand Central Terminal
There's something about this historic location that makes us feel all nostalgic and romantic. Maybe it's the dreamy constellations on the ceiling or the sheer grandness of the building. After meeting under the stars, share a cozy cocktail at the 1920s-style Campbell Bar and then slurp down oysters like you're in the "Mad Men"-era at the Grand Central Oyster Bar. Top it all off by sending a special message to your sweetie via the whispering gallery.
RELATED: 
Editor's note: The original version of this post was published on February 5, 2019, and has since been updated.