Study: A former freight line on the Lower Montauk branch could help a Queens transportation desert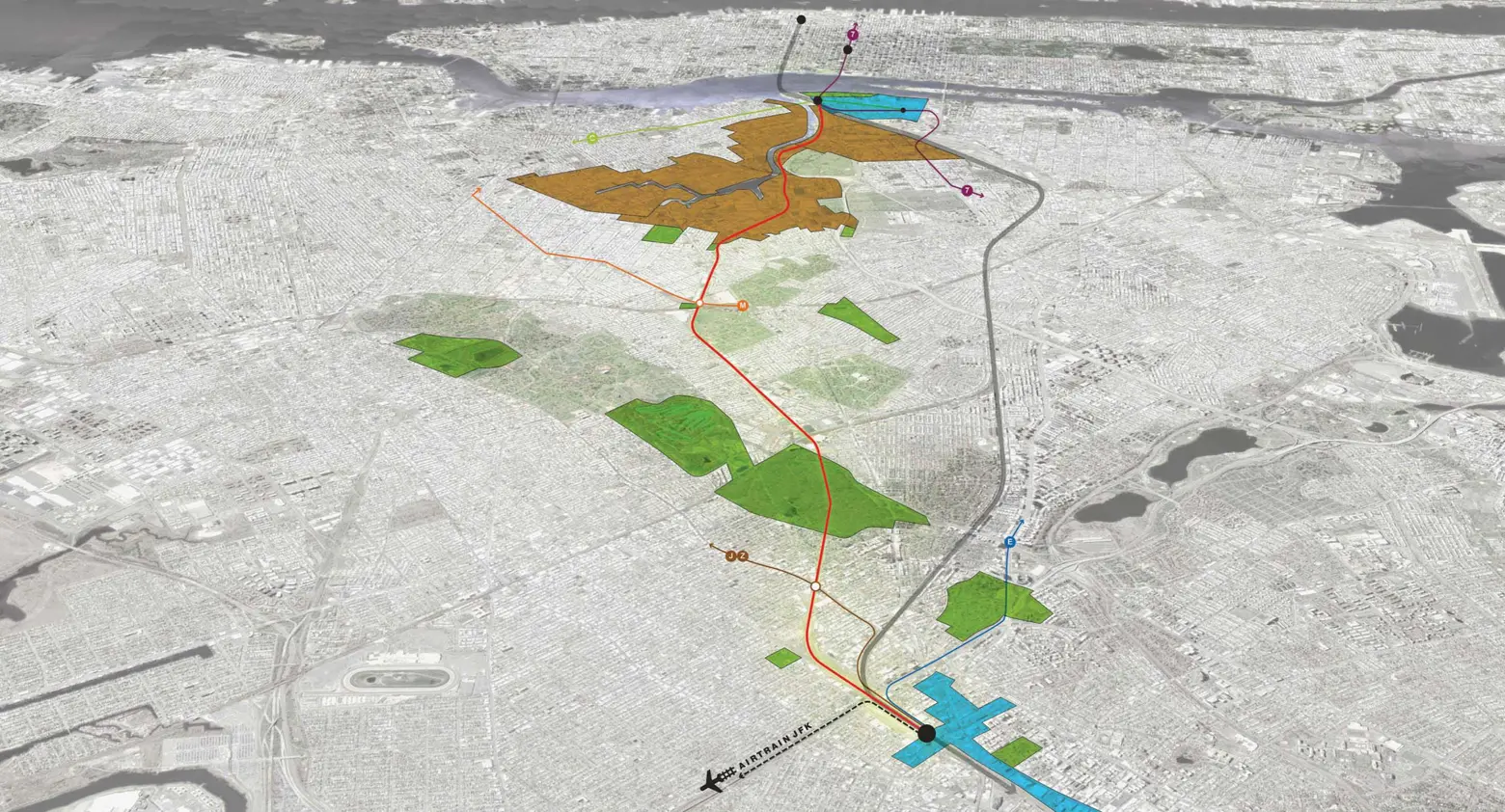 How do you connect the fastest-growing census tract in the U.S. to New York City's public transportation hubs? Architecture firm Kohn Pedersen Fox (KPF), whose New York City work includes the master plan for Hudson Yards, One Vanderbilt and Two Waterline Square, has released a "visioning study" that explores how the repurposing of the QNS, an 8.5 mile Lower Montauk Branch rail line, into a new transit line in Queens that could revitalize neighborhoods, provide affordable housing, create jobs and add transit service to the over nine square miles of New York City that contain three of the city's largest and most successful Industrial Business Zones (Maspeth, Long Island City, and North Brooklyn) and two of Queens' largest central business districts (Long Island City and Jamaica Center), adding to the long-term growth of those districts and creating thousands of potential new jobs.
KPF, along with the Queens Chamber of Commerce and former Council Member Elizabeth Crowley, put their urban design skills to work and devised a transportation plan and vision. Without major rezoning or shifts in land use, the existing rail line–previously used for freight–could also support passenger access from Jamaica Station to Long Island City directly through what is currently a public transportation desert.
The reactivated line would provide service to several neighborhoods currently out of reasonable travel distance from the city's central business districts (including Maspeth, Ridgewood, Fresh Pond, Middle Village and Glendale), and reduce commute times for many Queens residents. The QNS would add system capacity, increase system resiliency, relieve pressure on the Queens Boulevard Line (E, F, G, R), and allow for less disruptive repairs to the L train.
KPF's vision compliments a feasibility study by AECOM for the New York City Department of Transportation (NYC DOT). Both studies suggest that the implementation of the QNS is uniquely attainable in the conceivable future. The Metropolitan Transit Authority (MTA) owns the full right-of-way of the existing rail line, which allows for improvement without eminent domain. KPF's vision shows that the QNS lies within a half-mile of sites with over 129 million square feet of currently unused development rights, allowing growth without zoning changes or increased density.
With an eye to expediency and budgetary viability, the QNS rail vision compares its cost to that of the recent extension of the Q train up 2nd Avenue on the Upper East Side. Repurposing the QNS rail line to accommodate passengers has an estimated cost is of $2.2 billion, which, stretched across 8.5 miles of track, calculates to a full build out of $260 million per mile. The creation of the Second Avenue Subway, by comparison, racked up $2.5 billion per mile, totaling $4.5 billion over 1.8 miles.
RELATED: