Sou Fujimoto will design co-living complex at former Slave Theater site, his first New York project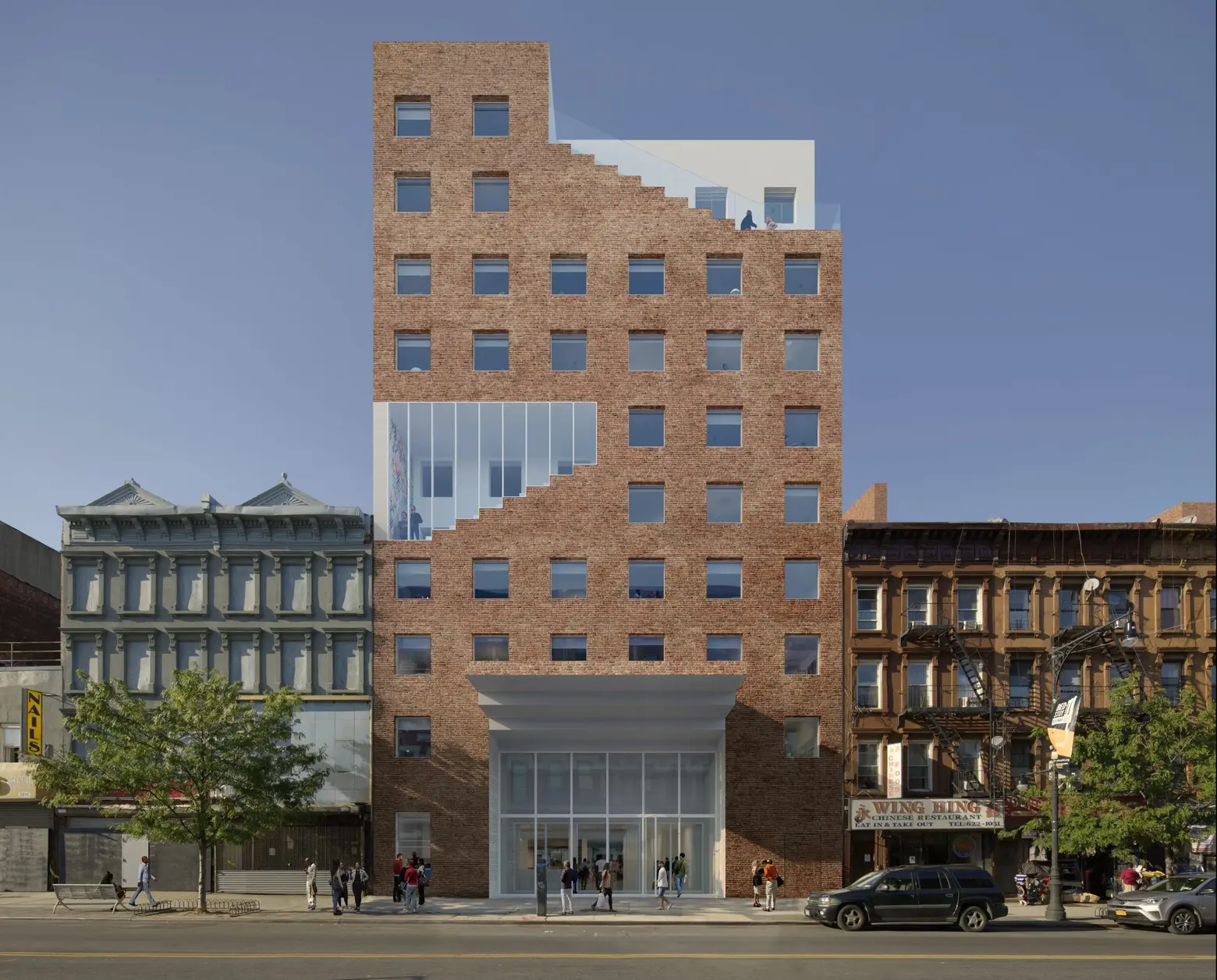 Renderings courtesy of The Collective and Artefactorylab
Days after filing building permits for 1215 Fulton Street in Bed-Stuy—the site of the former Slave Theatre—London-based co-living startup The Collective has announced it will be partnering with renowned Japanese architect Sou Fujimoto on the design, his first in New York. The 10-story structure will span over 240,000 square feet and be comprised of three buildings connected by an expansive "ground-floor hub" designed to feel like "an extension of the street." The project aims to create "a new idea of how a community can come together in a building," as the architects explained in a design statement.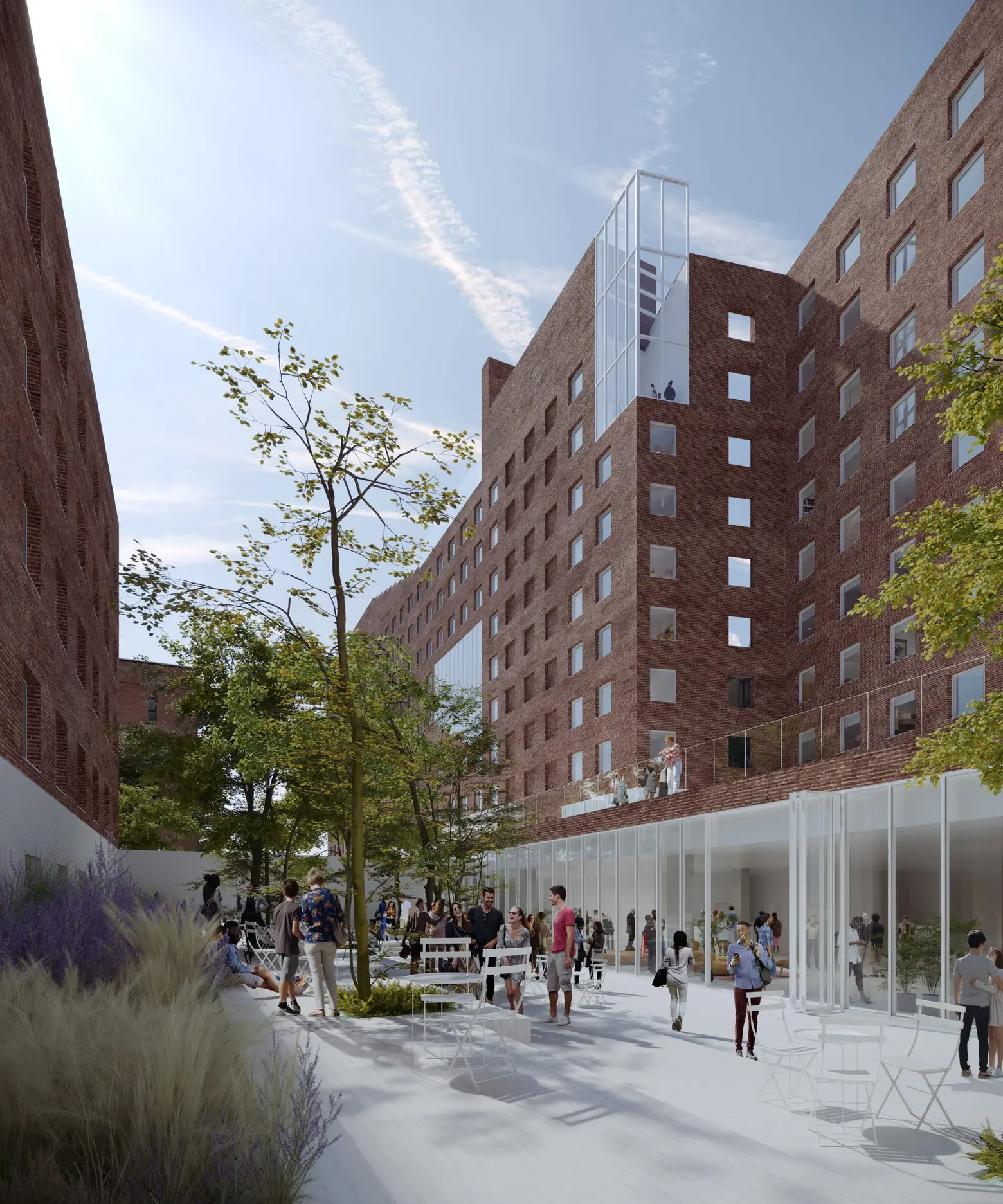 "Our core inspiration is the site itself," the architects noted. "A social gathering point, a nexus of black culture, and a place of activism and education, The Slave Theater has an incredible legacy. Our project's architectural design is based on these ideas, offering a space that will be as valuable to the surrounding neighborhood as it will be to The Collective's community."
In terms of design, that inspiration can be seen in a number of ways. Fujimoto chose to work with red brick for the first time (most of his projects are very minimal and very white) as an homage to the material palette of the neighborhood. "It was important to us to preserve a sense of local identity, not only through the use of brick, but also with the design of the amenity spaces and entrance marquees, whose step motif is inspired by the original theater aesthetics," Fujimoto's team stated.
The brick surface of the facade is punctuated by a series of dramatic, glass-enclosed areas—Fujimoto calls them "theaters"—that are designed to reveal glimpses of the communal spaces inside. This kind of visibility is central to the project's concept, and a nod to the ways in which co-living has introduced "a collective quality to spaces that are usually considered private."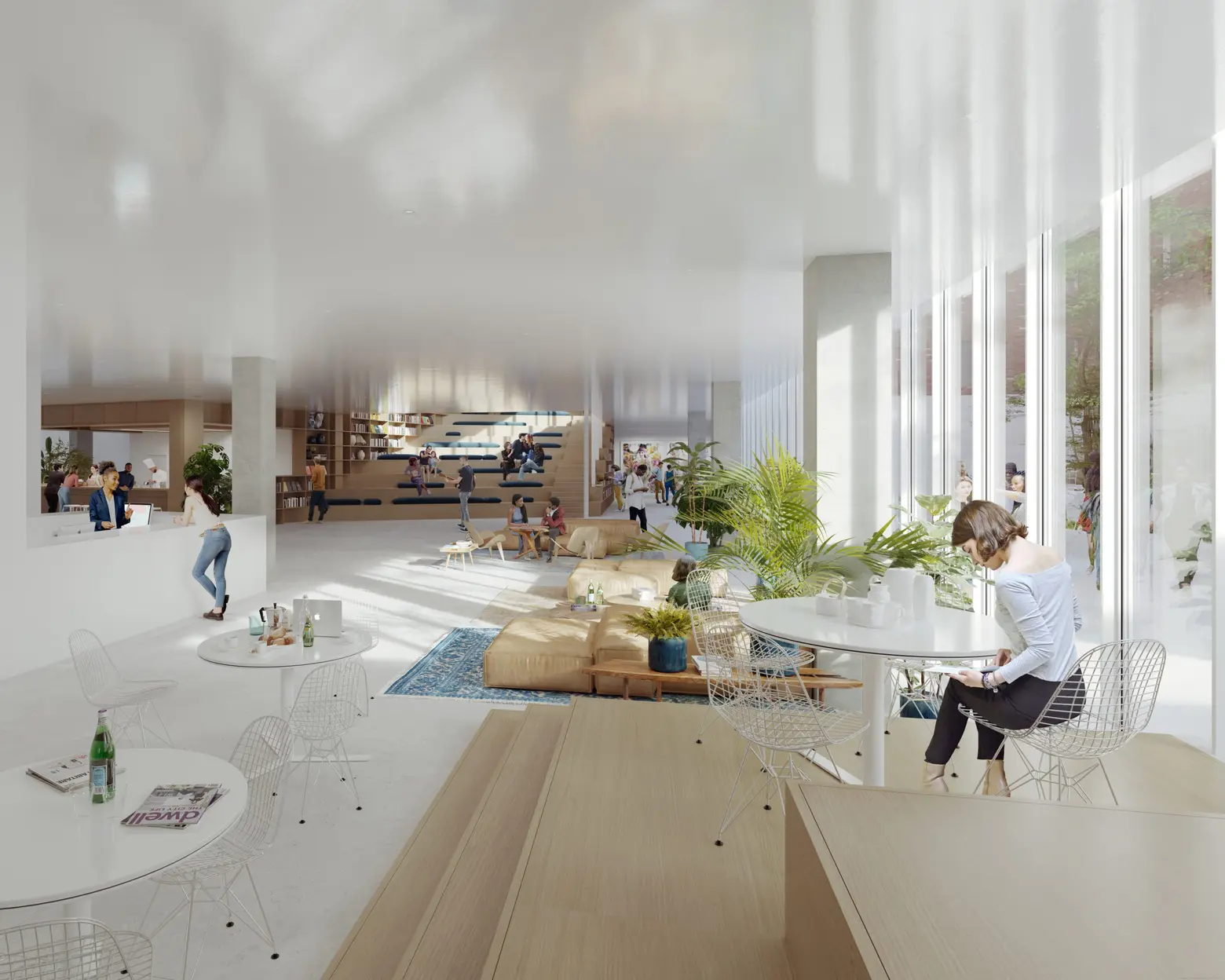 Once complete, the building will be home to The Collective's second-largest member base currently planned for the U.S. It will accommodate approximately 440 members across a variety of unit types, ranging from studio apartments to 2-3 bedrooms, for year-long, month-to-month, or nightly stays. There will be 30,000 square feet of amenities dispersed throughout the building, including a mix of indoor and outdoor public spaces for exhibitions, theater and performance, and co-working. Members will have access to even more amenities, including a gym and terrace.
"We plan to explore multiple approaches to collaborate with local groups, imbuing our space with programming that is of value to our community, oriented around education, culture, technology, and the arts," the company said in a press statement. "As part of our long-term plan, we aim to activate various theater and gathering spaces that will be operated in an alliance with local artists and organizations." More details on those programs are to come, they added, but for now they have confirmed an ongoing artist residency at 1215 Fulton Street, providing free housing and studio space for 6-10 participants a year.
As 6sqft recently reported, the startup has ambitious plans in New York. Alongside 1215 Fulton Street, they're planning to open a massive flagship with 500 units at 555 Broadway in addition to a "short-stay" co-living concept at the Paper Factory in Long Island City. Ismael Leyva Architects will serve as architect of record for 1215 Fulton Street and completion is expected by 2022.
RELATED:
Renderings courtesy of The Collective and Artefactorylab